Super Easy 10 Minute Macaroni and Cheese is PERFECT for a simple and romantic DATE NIGHT dinner! It's cheesy, hearty, and delicious. One pot meals are my favorite!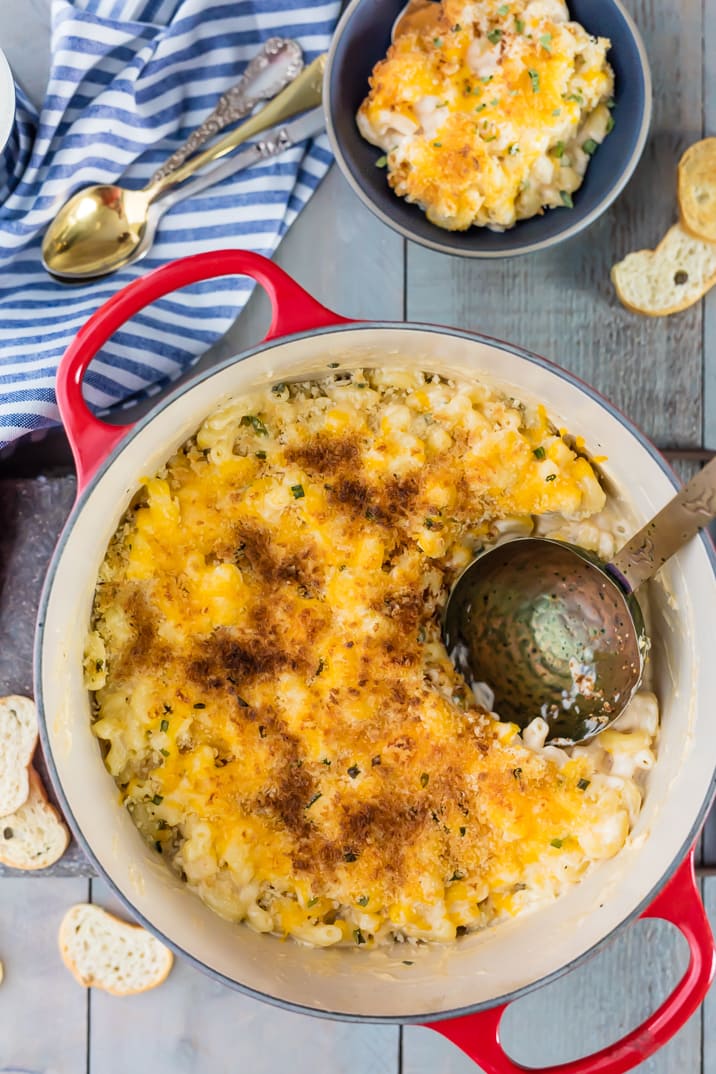 Tis the season for TOGETHERNESS. For some that means working out together. For others it means going out for an expensive dinner and enjoying great company. For us…it means a SUPER EASY comfort food recipe at home, delicious wine, and hours of catching up on our favorite TV shows. Fargo, Homeland, and so many more. If I have my way, I would throw some reality TV in there. But that's a convo for another day. Tonight is about cozying up together, enjoying our favorite wine, and fixing SIMPLE comfort food that can be made in minutes.
This 10 Minute Macaroni and Cheese is a new favorite and was tailor made for a romantic date night dinner on the couch. Come on over!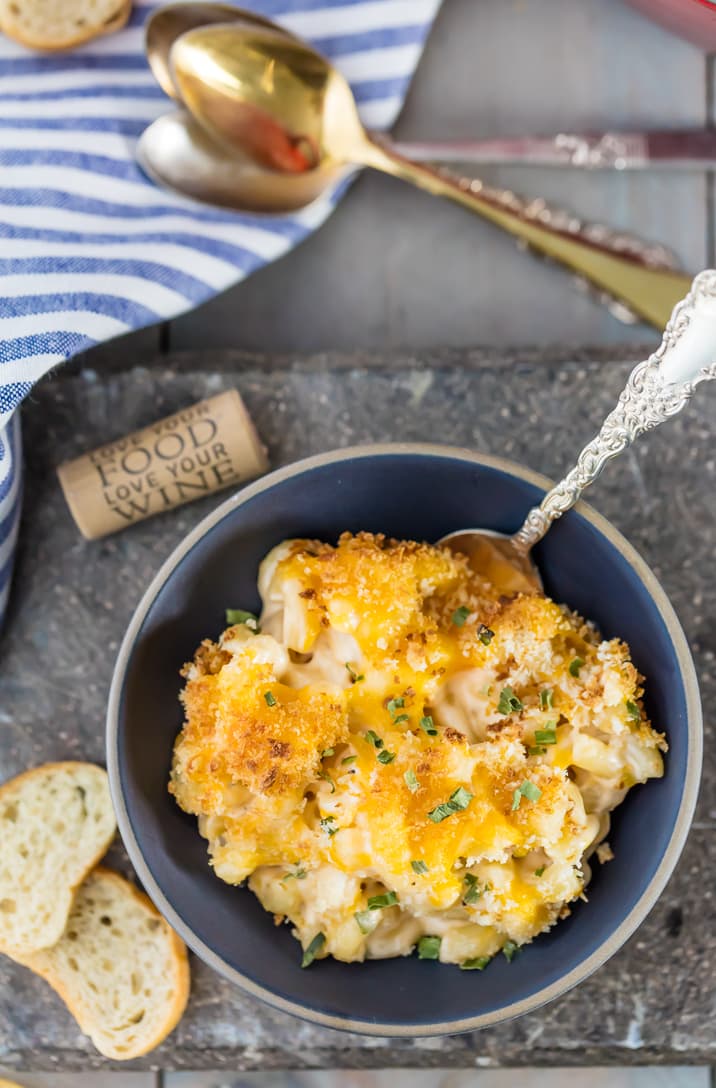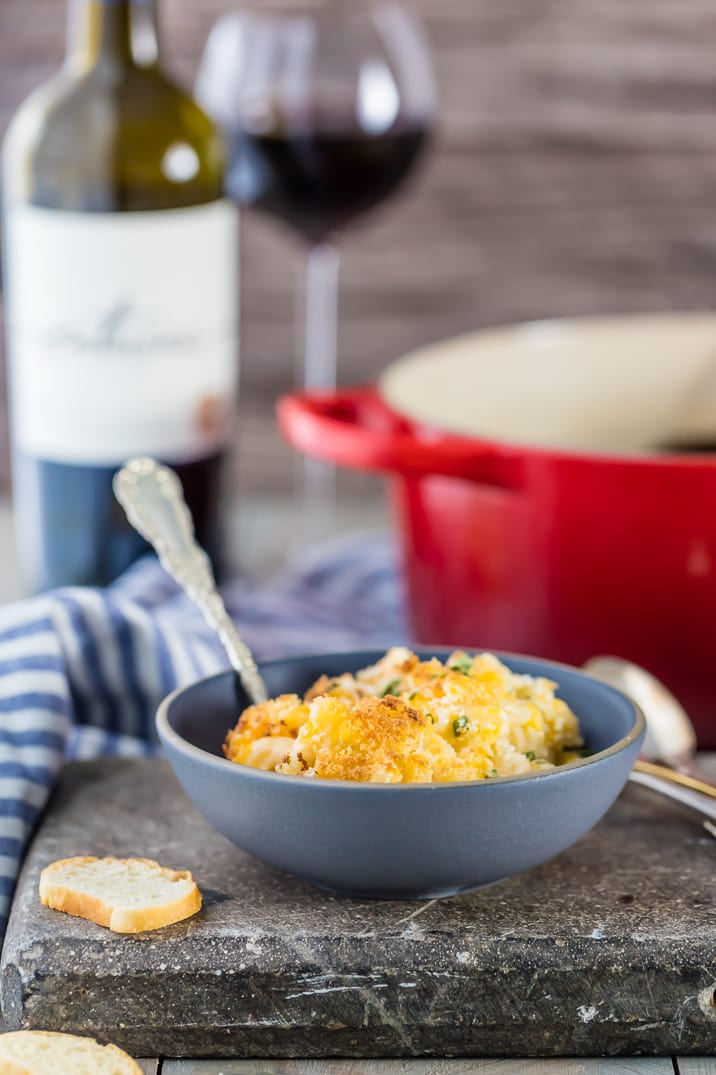 I've tried a couple Stovetop Mac and Cheese recipes and this is BY FAR my favorite. The sauce is super creamy and ready in minutes, and the pasta is finished off in the broiler to make that cozy crunchy topping. I LOVE IT. Almost as much as I love binging on TV with Pat.
The other key to this successful date night is WINE. Guess what? Wine and cheese are a match made in heaven. Like me and reality tv, but even better. Our new GO TO easy wine pairing is always entwine Wines! It's my favorite for lots of reasons.
1) When Wente Vineyard comes together with Food Network, you KNOW the product will be perfection.
2) Every bottle of entwine has easy pairings listed on the back. They make it way too easy for us to enjoy delicious wine!
3) Their bottles are beautiful and their prices are totally affordable. You'd be surprised how much a beautiful bottle means to me.
4) EVERY VARIETAL TASTES SO GOOD! I paired this 10 Minute Mac and Cheese with entwine Merlot and it was such a fab combo. Like I said, cheese and wine. Meant to be.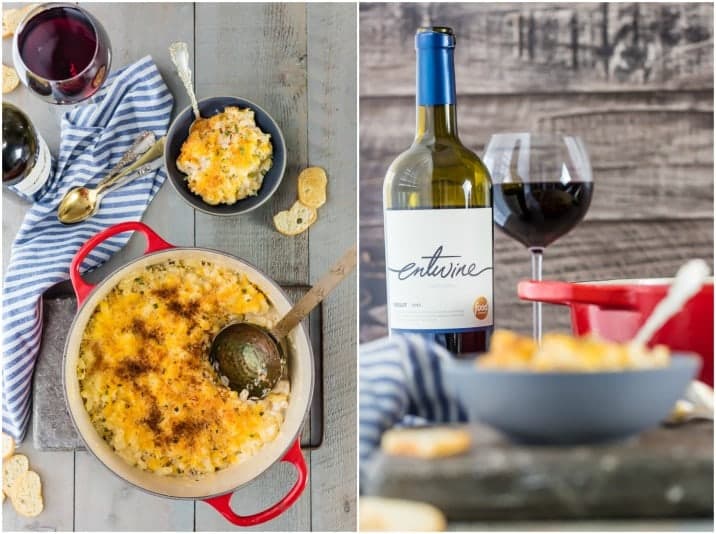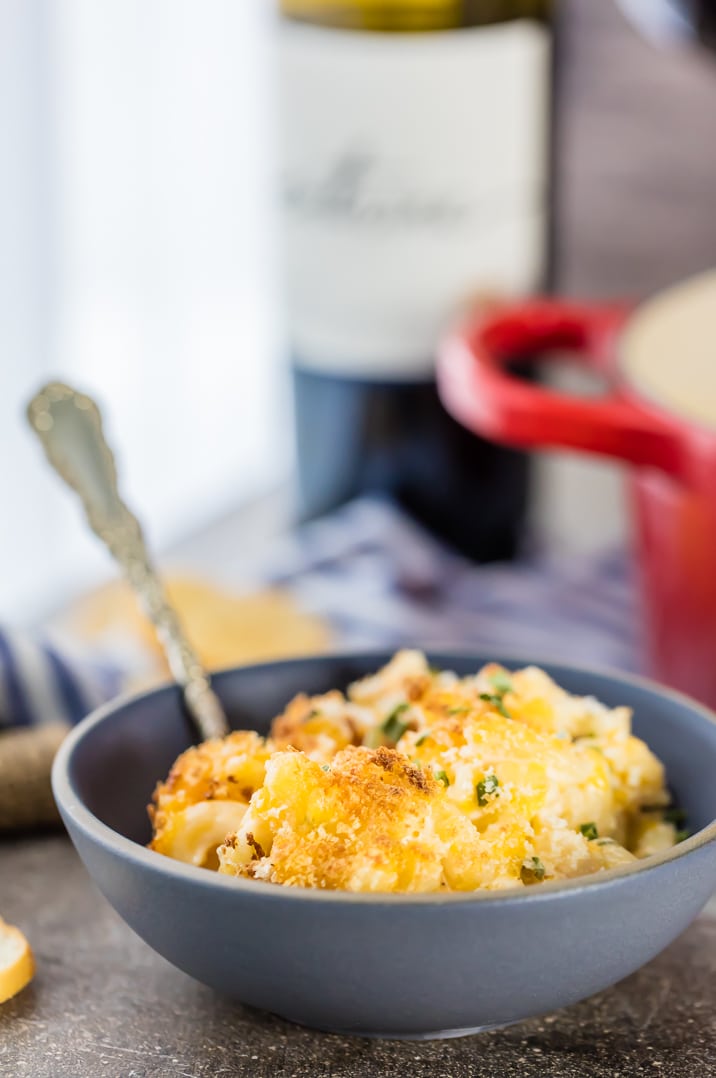 So this meal checks all of my boxes! SUPER EASY, check! LOADED WITH CHEESE (duh), check! READY IN UNDER 10 MINUTES, check! PAIRS WELL WITH WINE, check! LOADED WITH CHEESE…did I already say that??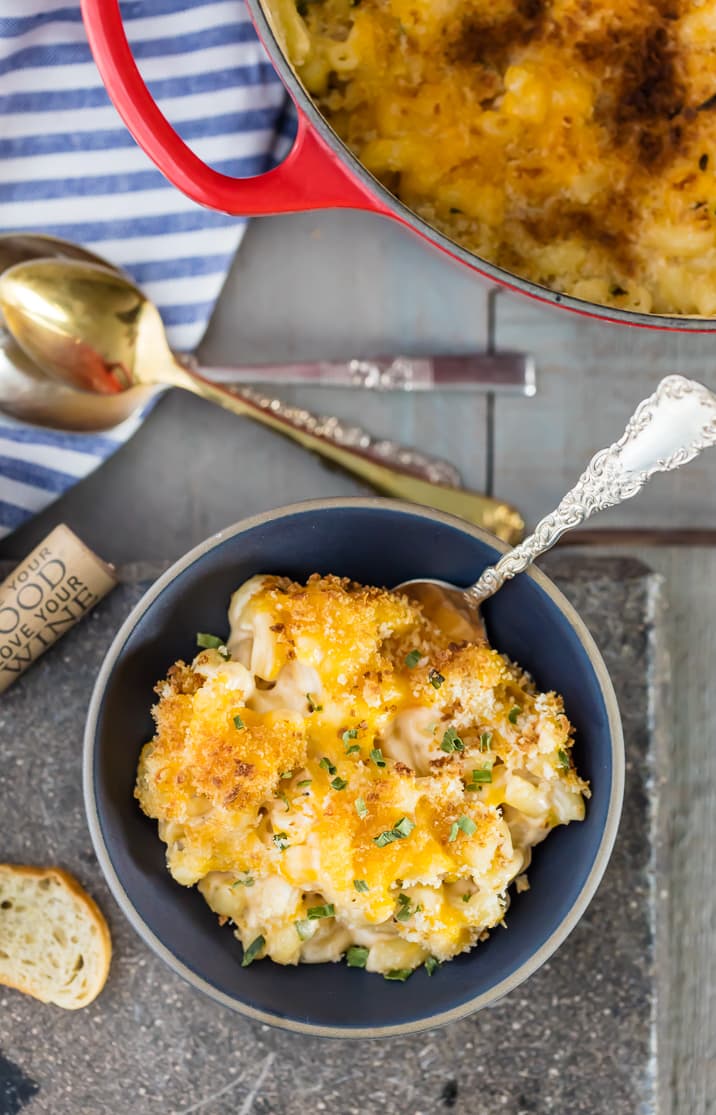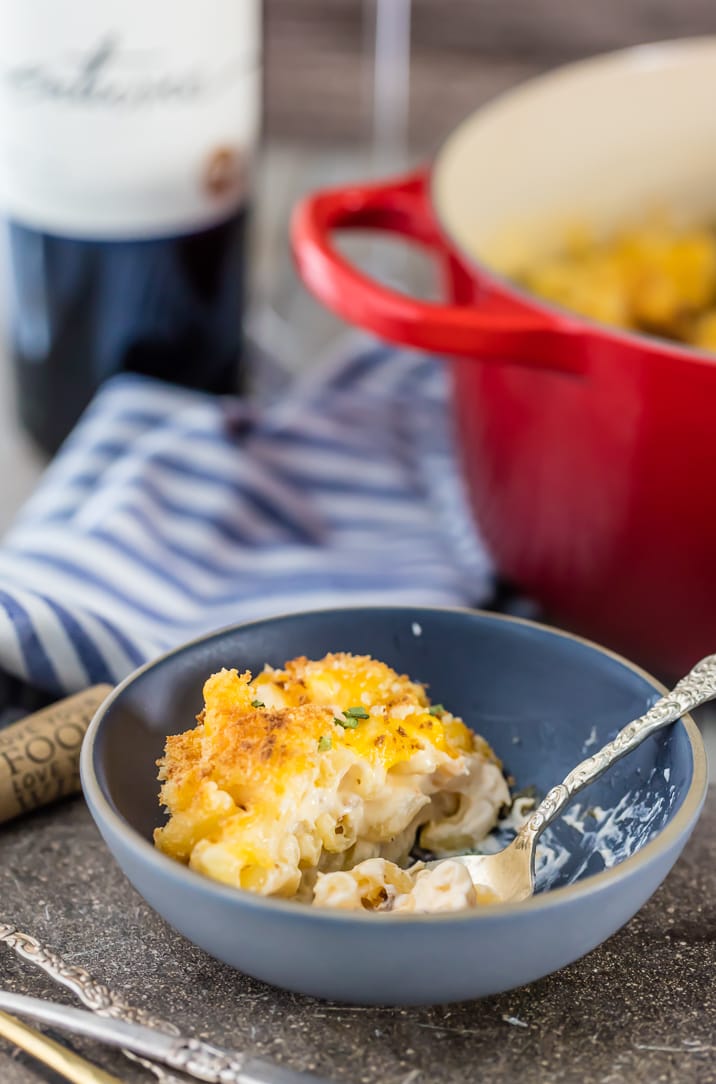 Click HERE to find out more about entwine Wines (you will not be disappointed!) and click HERE to find out where you can purchase near you!
Here's to happy date nights with super easy 10 minute macaroni and cheese for all!!
Don't tell me what's happening on Homeland, we are behind!!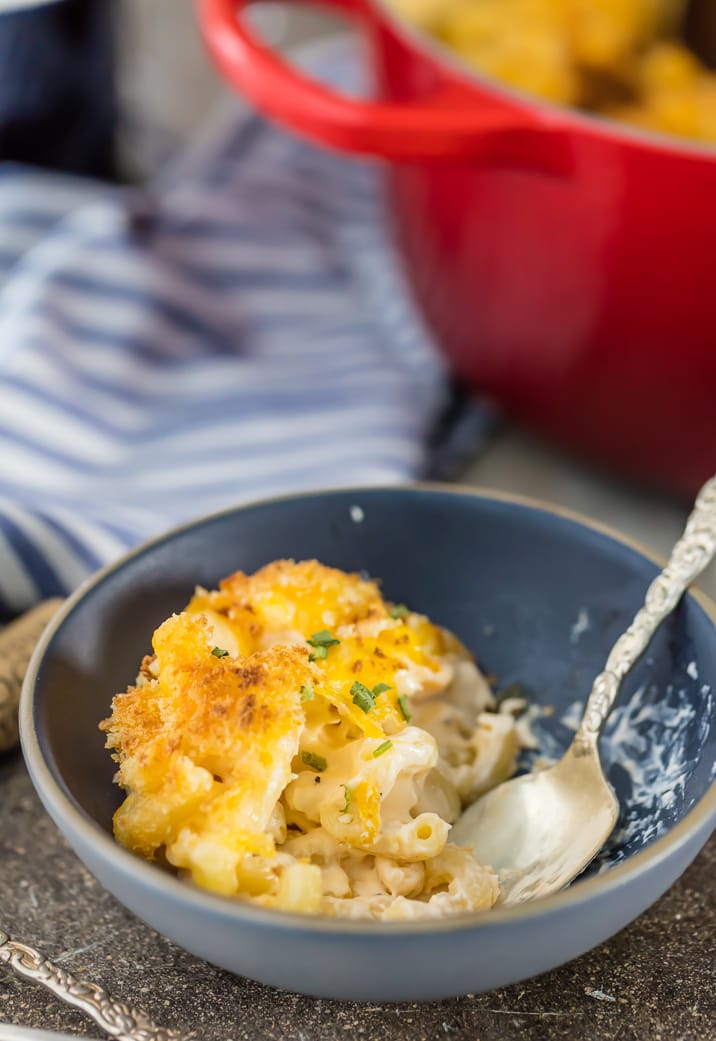 Enjoy!
Romantic Date Night Recipe!! Super Easy 10 Minute Macaroni and Cheese
10 minCook Time
10 minTotal Time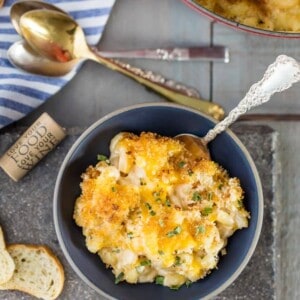 Ingredients
16 ounces elbow pasta
3 tablespoons salt
2 cups heavy cream
1 tablespoon minced garlic
1 teaspoon ground mustard
salt and pepper to taste
1 teaspoon Franks Redhot sauce
8 ounces low fat cream cheese
8 ounces shredded cheddar cheese, divided
1/2 cup chopped chives
1/2 cup panko bread crumbs
Instructions
In a large oven safe pot or dutch oven, bring 5 quarts water to boil. Add 3 tablespoons salt. Add the pasta and cook for 1 minute less than the package instructions, about 8 minutes. Until al dente but not too soft. Occasionally stir so that it won't stick to the pot or together.
After you add the pasta to the water, start making your sauce. Heat cream over medium heat in a medium sized sauce pan. Add garlic, ground mustard, hot sauce, and salt and pepper to taste. Bring to a simmer and then allow to cook down for about 4 minutes. Add the cream cheese and stir until fully melted and combined. Whisk in 6 ounces (about a cup and a half) of the shredded cheese and stir until fully combined. Turn heat down to low.
Drain your pasta and return to the dutch oven. Pour the cheese sauce over the pasta and stir to combine fully. Stir in the chives.
Top the pasta with the remaining two ounces of cheese and the panko bread crumbs.
Place dutch oven uncovered under your ovens broiler for 1-2 minutes or until the cheese has melted and the bread crumbs are toasted.
Remove and serve warm, paired with entwine Merlot if desired!
Enjoy!
7.8.1.2
2041
https://www.thecookierookie.com/10-minute-macaroni-and-cheese/
I'm in a working relationship with entwine Wines. All opinions are 100% my own. Please remember to drink responsibly and only if you are over 21. Thank you SO much for supporting the brands that help support The Cookie Rookie!