5 Unique Dipping Sauces you can make at home. Every type of sauce you need for sandwiches, dipping, and more! Delicious and Unique Dipping Sauces are a must for any get-together! These fun options are just the ticket!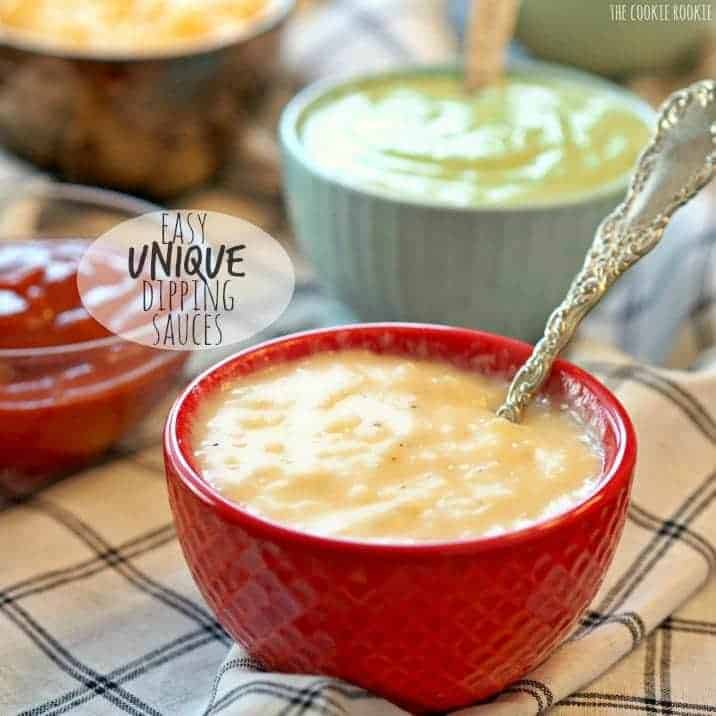 I love dips. I think they're a must for any get together or party, but what about dipping sauces?? Until recently I've been content with plain ole' ketchup or bbq sauce, but its time to step that up a bit! These fun and unique dipping sauces jazz up so many sides, and are ready in minutes. Let the dipping party begin!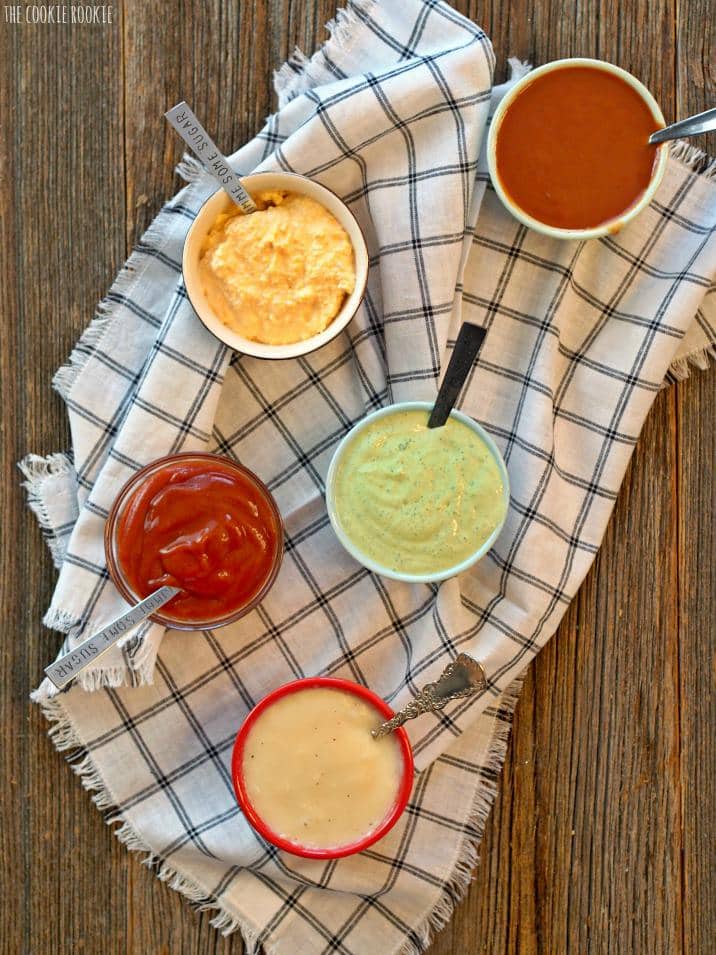 Boring side dishes are a thing of the past. Let's get snazzy with 5 Easy Unique Dipping Sauces!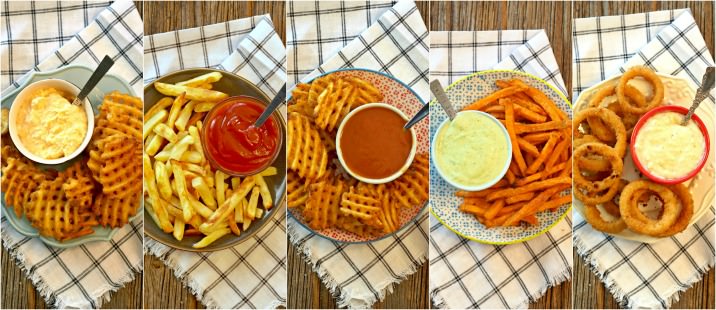 When Alexia Foods asked me to come up with some fun pairings for their DELICIOUS sides…I said heck.yes. We love cooking at our house, but that's just not always feasible. When you can't make something from scratch, you still want to be able to feed your family food that's delicious and natural. Alexia breads, potatoes, and sides are all-natural, unique, and seriously yum. There is something for everyone, especially when you pair them with these 5 Easy Unique Dipping Sauces.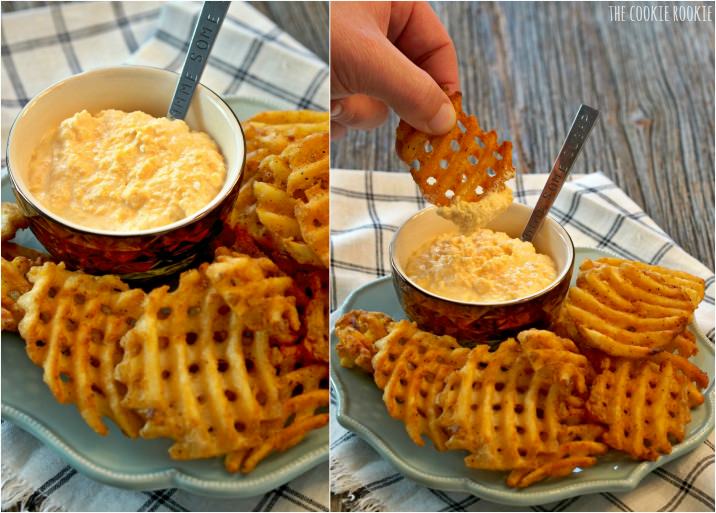 First I made a Cheesy Horseradish Cream Sauce to pair with their seasoned waffle cut fries. You know my weakness for cheese! These fries were made in under 30 minutes and were SUPER crispy and delicious. And I must say, the Cheesy Horseradish dip was delish. I love recipes where the prep says "put all of the ingredients in a food processor and pulse until smooth". So easy. So good.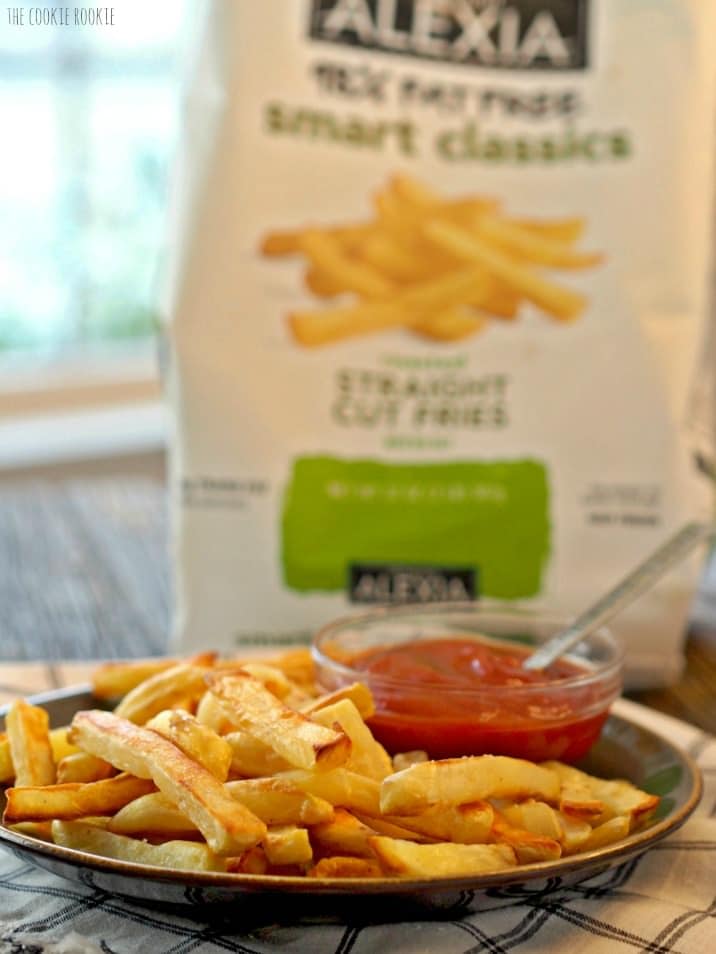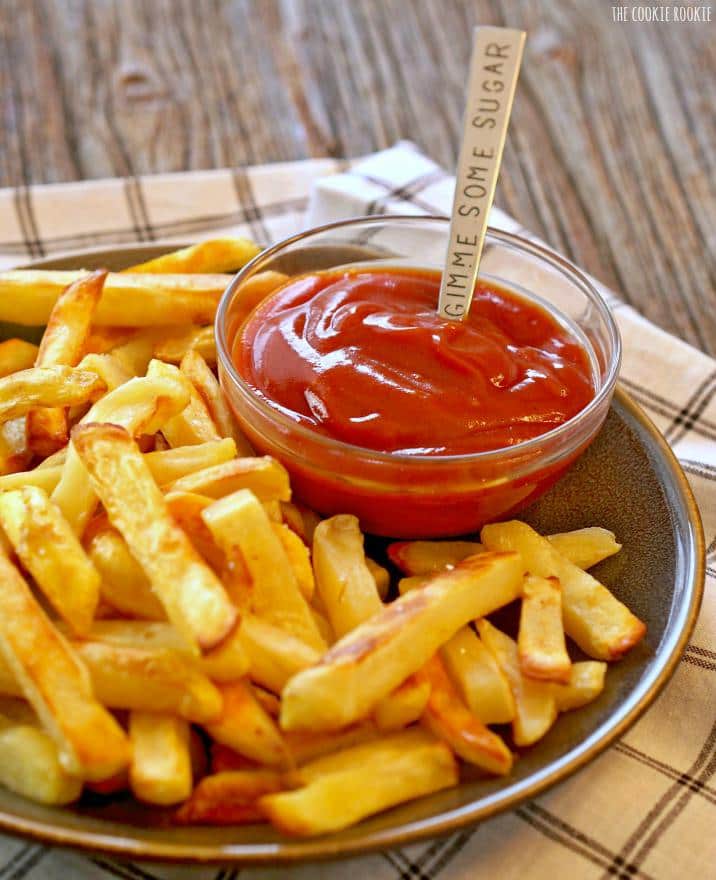 Next up, Vanilla Bean Ketchup with Alexia Smart Classics Straight Cut Fries. I'll get to the Vanilla Bean Ketchup in a second…but let's chat about these fries first. Here are the stats: 98% fat free, naturally roasted, 0 grams trans fat, and ONLY 100 CALORIES PER SERVING. Say what? My niece LOVES these, and I can feel pretty darn good about serving them to her. Her palette isn't quite refined enough for Vanilla Bean Ketchup…but mine is! I first had something similar at a restaurant on the Plaza in KC. After testing a couple versions, I finally hit the sweet spot. This stuff is good! Smart fries go with smart ketchup. Yum.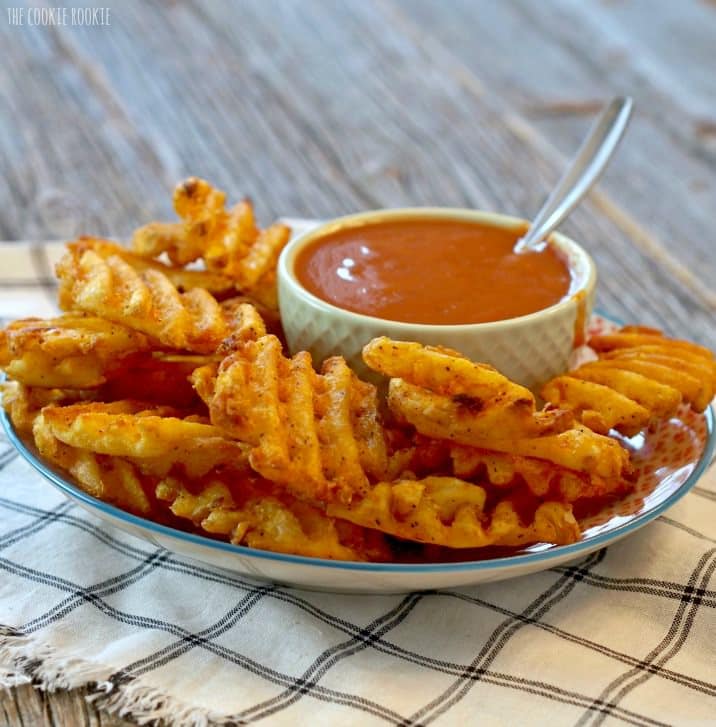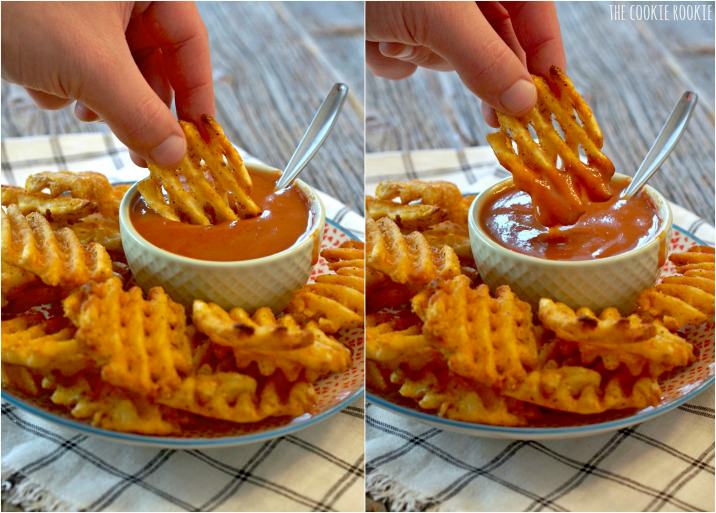 My fave of the day was Honey Mango BBQ Sauce paired again with those delicious waffle fries. Dannnnnnnnnnnnnnnng that's the stuff! Scout agreed. She's never far from a recipe shoot! See those doggie eyes? Beggar.
She's very stealth, that girl.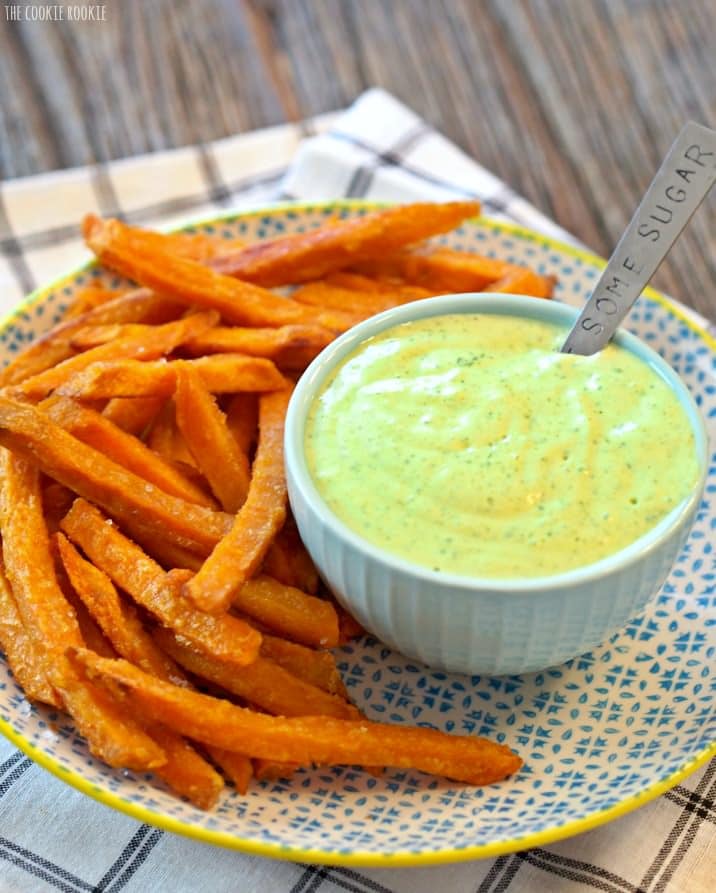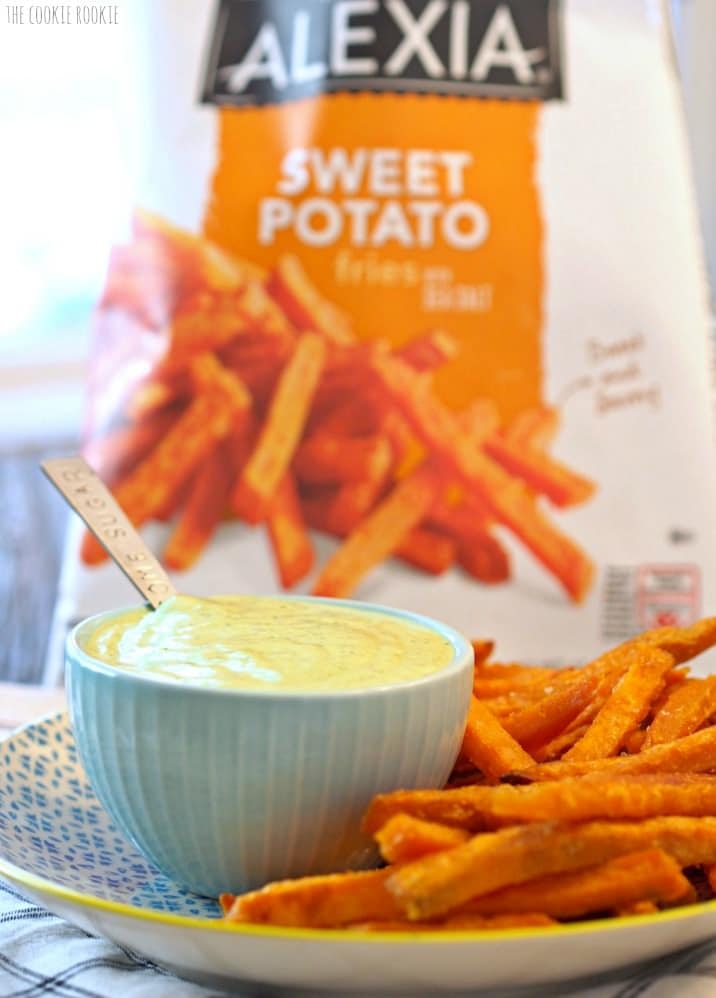 Another favorite of the day was Cilantro Lime Cream Sauce paired with Sweet Potato Fries with Sea Salt. I love sweet potato fries, but let's get real for a minute, they're really hard to make. Every time I try, they're never quite right. So I've decided that this is one thing I can buy at the store. Ready in 20 minutes and the perfect side for so many dishes. Burgers, chicken, anything. LOVE. And Cilantro Lime Cream Sauce?? Speak to me. I love cilantro. I'm currently attempting to grow some (say prayers for me…I have a black thumb), because I need fresh cilantro in my life daily. This cream sauce is fun for dipping, and would also be great in so many recipes. I can't wait to experiment!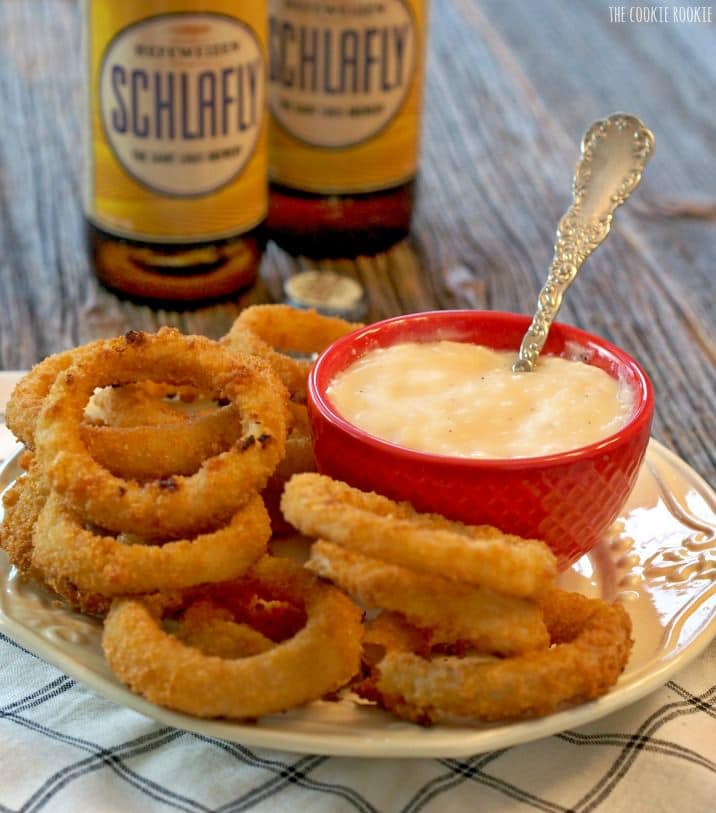 Finally, we have Pat's favorites, White Cheddar Beer Cheese Dip with Alexia Onion Rings. Who would have guessed that Pat's favorites would be the cheese and the onion rings. Very predictable indeed. Guys, these onion rings. They're panko breaded so they're extra crispy. We were able to eat normal servings of everything else, but with these, we splurged. Seriously delish. And the cheese sauce. Beer Cheese has always been a favorite flavor, and this sauce is SO easy. A little stovetop stirring and it's all yours. Creamy, delicious, amazing. It would be awesome on nachos, and I have to say it rocks with onion rings!
Be sure to check out Alexia Foods to see where to buy their products, check out lots of great recipes, and sign up for their Club 350 eNewsletter! (DEALS!) As always, thank you so much for indulging me and helping to support the brands that support The Cookie Rookie. I love sharing my favorites with you! Which sauce are you trying first???
Hope you love these 5 Easy Unique Dipping Sauces.
Enjoy!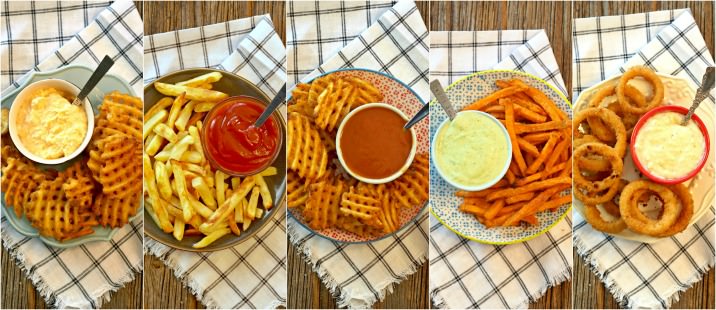 Cheesy Horseradish Cream Sauce
Ingredients:
2 cups shredded cheddar cheese
½ cup plain Greek Yogurt
1 tablespoon prepared horseradish
pinch of salt
Instructions:
Put all of the ingredients into a food processor and pulse until well combined.
Vanilla Bean Ketchup
Ingredients:
1 (6-ounce) can or jar tomato paste
1 teaspoon onion powder
1 teaspoon garlic
2 tablespoons honey
1 tablespoon yellow mustard
Pinch of sea salt
1⁄4 cup white wine vinegar
1⁄4 cup water
1 tablespoon vanilla bean paste (or 1 1/2 teaspoon vanilla extract)
Instructions:
Stir all of the ingredients together until well combined. Store in t fridge until ready to be consumed. (For a super easy option, you can add the vanilla to a store-bought low sugar ketchup)
Honey Mango BBQ Sauce
Ingredients:
1 tablespoon extra light olive oil
2 cloves garlic, minced
1/2 cup honey
1 (8 ounce) can tomato sauce
1/4 cup balsamic vinegar
2 teaspoons Dijon mustard
1/4 cup mango juice
1 teaspoon cayenne pepper
2 teaspoons chili powder
salt to taste
Instructions:
Stir all of the ingredients together until well combined. Store in t fridge until ready to be consumed. (For a super easy option, you can add the honey and mango juice to your favorite prepared BBQ sauce)
Cilantro Lime Dipping Sauce
Ingredients:
6 tablespoons light sour cream
4 tablespoons low fat mayonnaise
Juice from 1 lime
4-5 tablespoons fresh cilantro
Instructions:
Put all ingredients into a food processor or blender and mix until totally combined. Enjoy!
White Cheddar Beer Cheese Dip
Ingredients:
1 tablespoon butter
2 tablespoon flour
1 cup half and half
6oz of beer (I used hefeweizen)
3 cup shredded white cheddar cheese
1 tablespoon black pepper
Instructions:
Melt the butter and flour in a saucepan and let cook for one minute.
Stir in the half and half and whisk until the sauce thickens, about 2-3 minutes.
Pour in the beer and add the pepper and allow to simmer. Continue to stir.
Stir in the shredded cheese one cup at a time. Stir until each cup melts, and then add the next cup.
It should take about 10-12 minutes in entirety for the recipe to be complete. Serve warm. Enjoy!
Alexia frozen sides are a delicious addition to any weeknight meal! They are that little something extra to help create a balanced meal with real ingredients and an exceptional taste!
Sign up for the Alexia Club 350 newsletter to be the first to hear about new products & promotions, get recipes and tips from other members and even contribute your own ideas!
This is a sponsored conversation written by me on behalf of Alexia Foods. The opinions and text are all mine. Thanks for supporting the brands that help support The Cookie Rookie!