Apple Pie Popsicles are a creamy, fruity, healthy treat to enjoy any time of the year! Super simple to make and oh so delicious. Whip up a batch today!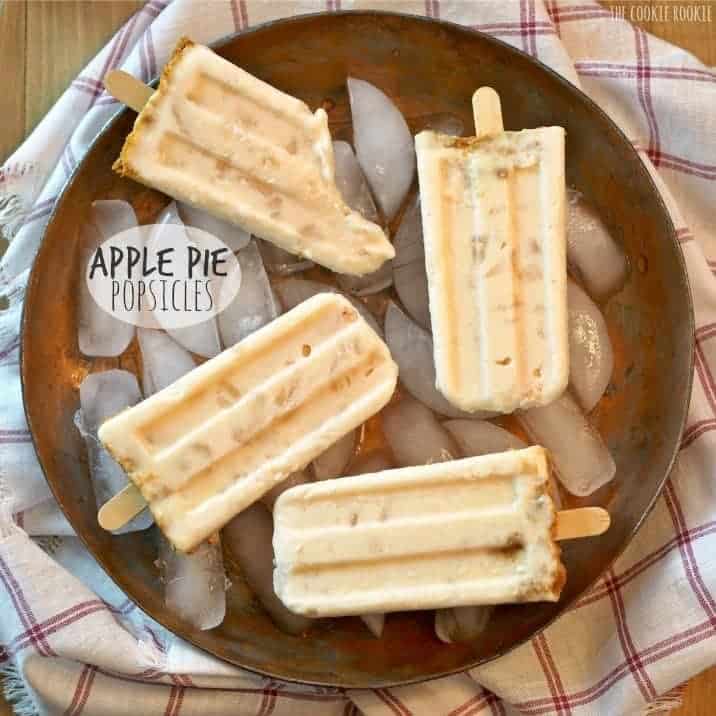 Apple Pie Popsicles
Apple Pie Popsicles turn my favorite kind of pie into a cold, sweet treat that's perfect to serve up no matter the season. Made with a creamy milk base, real apple pie filling and crunchy cookie crumbles, this healthy pop would even make a delicious breakfast! Now that's my idea of the perfect popsicle.
Ingredients for Apple Pie Popsicles
This Apple Pie Popsicle recipe could not be easier! Made with wholesome, healthy ingredients, it's a no-guilt treat that everyone will love! Here's all you need:
Half-and-half or whole milk. Don't skimp here. You'll be glad you used a creamy base for these popsicles. Believe me, the extra calories are totally worth it!
Next, you'll need a can of your favorite apple pie filling.
Then, add your favorite apple sauce. Regular or cinnamon, even sugar free would work great.
Apple cider or apple juice adds plenty of rich flavor.
And finally, you'll need some crushed up Biscoff cookies or graham crackers.
That's it! Easy ingredients that you probably already have in your kitchen.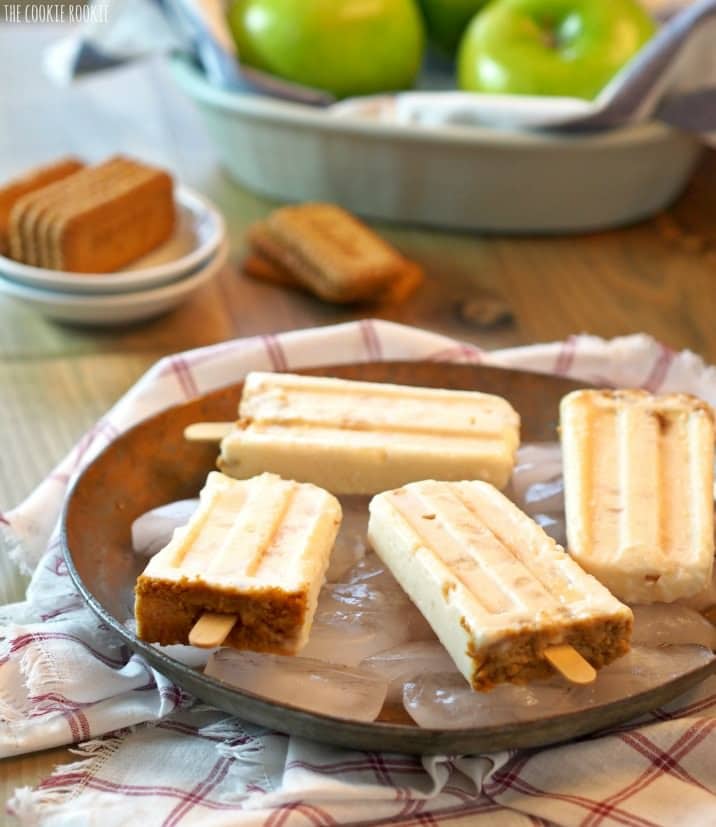 Check out the recipe card below for details on how to make Apple Pie Popsicles. Enjoy!
How Long Will Apple Pie Popsicles Last?
Store your Apple Pie Popsicles in a freezer safe container and they'll stay nice and fresh in the freezer for up to a month! They're the perfect dessert to keep on hand for after school snacks, late night munchies, or even breakfast!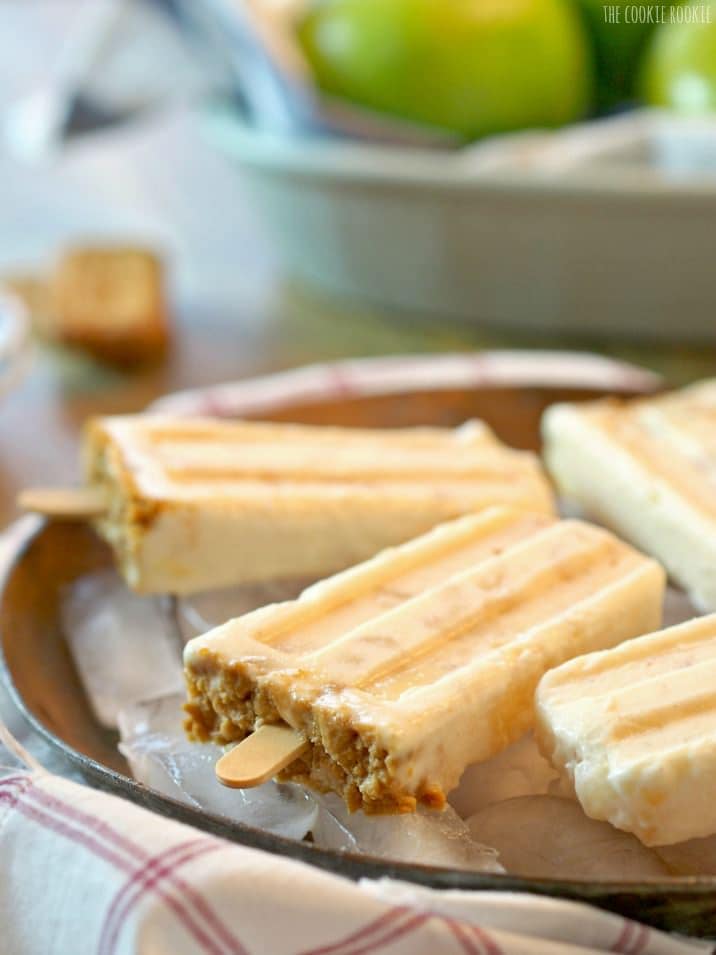 These delicious popsicles have all the flavors of apple pie but in frozen form. A refreshing treat on a hot summer day, or a quick breakfast in fall months. Anytime is a good time for an Apple Pie Popsicle!
How to Make Apple Pie Popsicles
These creamy pops could not be easier to make! Just follow some simple steps and you'll have a freezer full of frozen fruit pops in no time!
Chop apple pie filling into bite size pieces. Here's a great tip: to easily chop the pie filling into bite size pieces, use a knife to slice the apples right in the can. Or if you don't want any chunks, pop the pie filling into the blender.
Next combine the filling with two cups of half-and-half or whole milk. You can also use vanilla yogurt to make it even more thick and creamy.
Then, stir in a quarter cup of your favorite apple sauce and some apple cider.
Spoon the mixture into popsicle molds, leaving a little extra room at the top.
Then gently push crumbled cookies or graham crackers on top of the popsicles, making sure they stick to the mixture.
Freeze about an hour, then gently insert popsicle sticks into the center of each pop.
Then freeze for another couple of hours, preferably longer (up to 8 hours).
Once they're frozen, you can wrap foil or plastic wrap and store in a freezer safe container.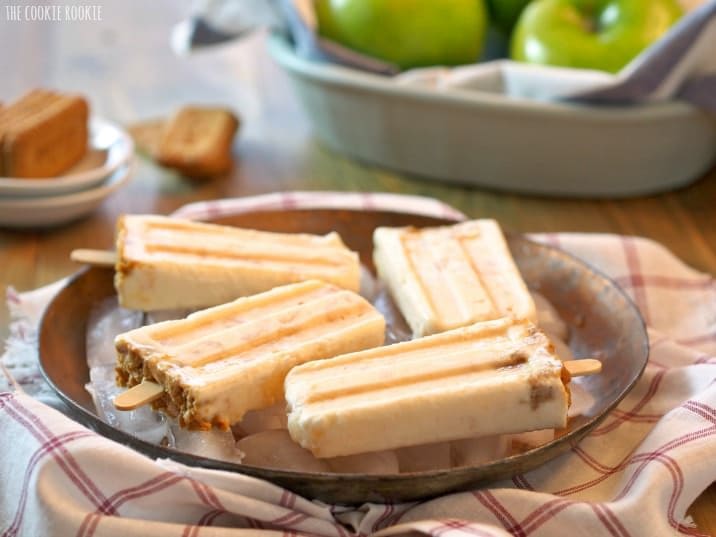 More Creamy and Frozen Treats
Isn't it wonderful when you find healthy foods that taste like dessert? Try a few of these delicious recipes and see what I mean: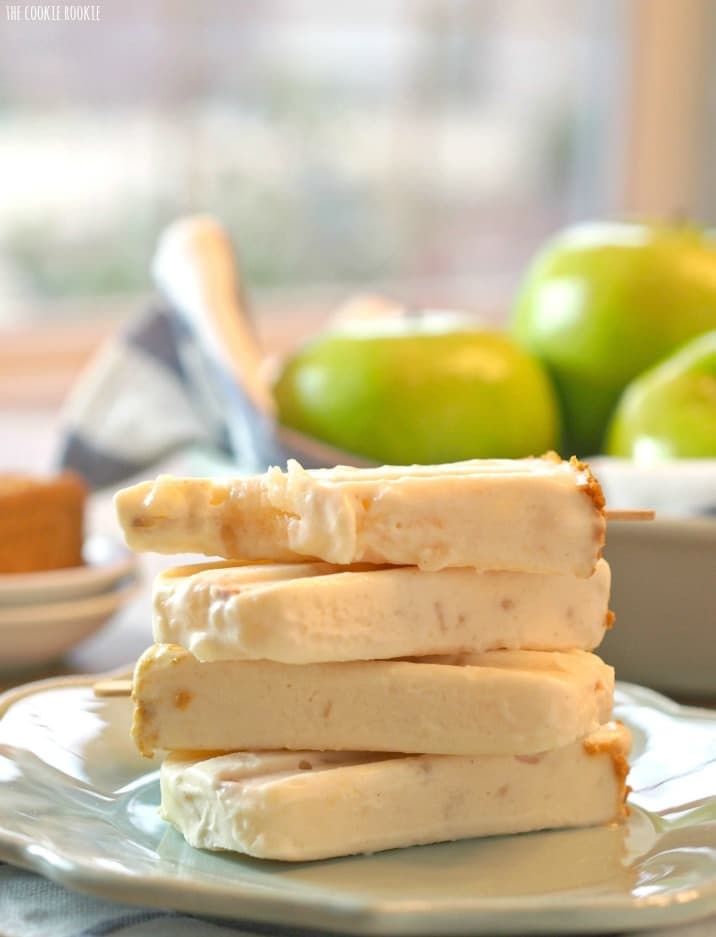 I love to keep a few of these in the freezer for a quick snack any time of day. Your kids will love them too! Hope you enjoy these delicious popsicles!