This glazed salmon recipe is so unique and so delicious! Apple and Horseradish Salmon is an easy baked salmon recipe that can be made in minutes for any night of the week. The apple jelly and horseradish salmon glaze recipe is so tasty, and it really gives the salmon a kick of flavor!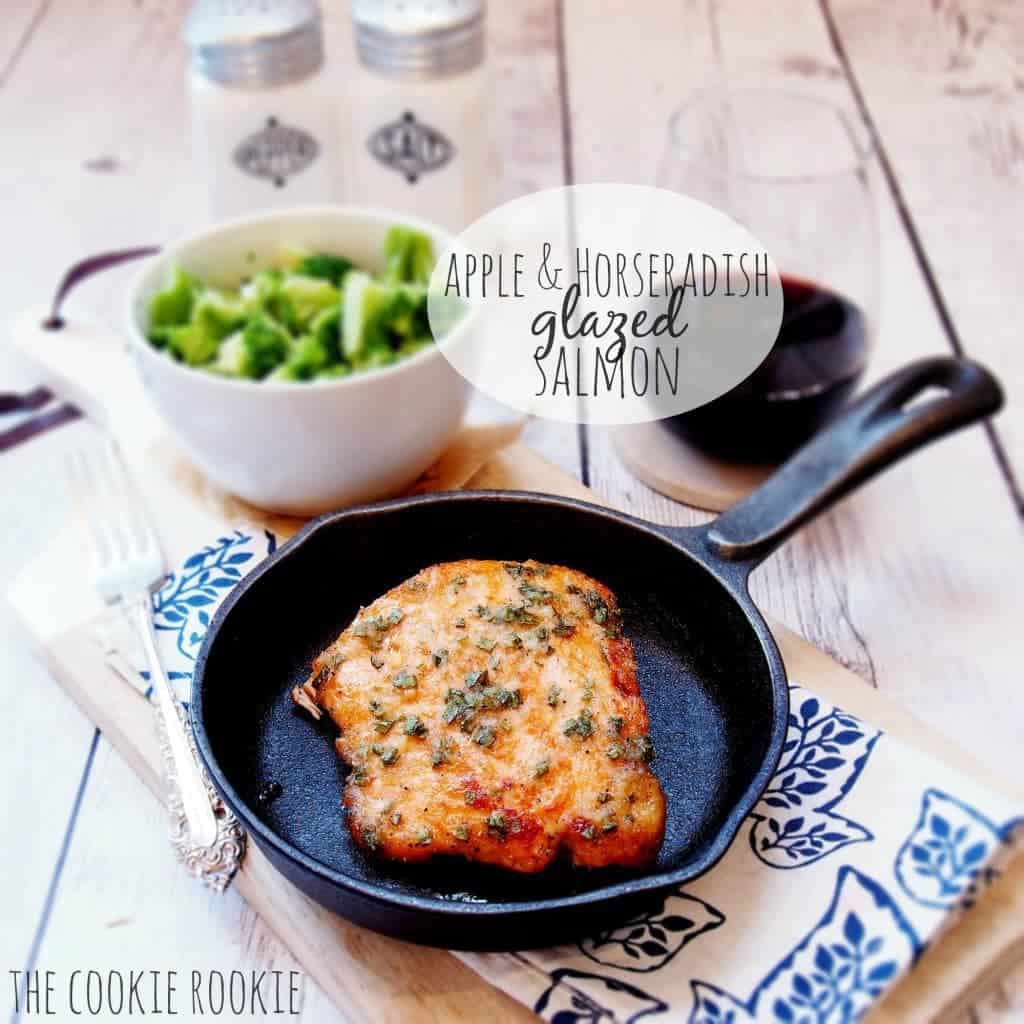 Glazed Salmon Recipe
This glazed salmon recipe is one of the quickest and healthiest things I've ever made, and the apple horseradish salmon glaze makes it super tasty too!
One of the most popular recipes on this site has been my Whole30 Salmon and Avocado recipe. It was one of the first truly healthy recipes I attempted, and it inspired me to keep trying healthier options. It made me realize just how quick and easy salmon is to prepare, and now I'm inspired to make all kinds of healthy salmon recipes!
This Apple Jelly and Horseradish Glazed Salmon recipe is probably one of the most unique when it comes to flavor. The salmon glaze recipe has a nice mix of sweetness (from the apple jelly) and a bit of spice (from the horseradish) to create one tasty glazed salmon recipe.
I'm usually more of a chicken kind of girl, but delicious recipes like this have really got me on the salmon train! Here's to more healthy (and easy) dinners!
Make a healthy and delicious dinner tonight with this Apple Horseradish Salmon dish!
Apple & Horseradish Salmon Glaze Recipe
Apple and horseradish? It might be a surprising combination to a lot of you, but trust me, it is the perfect blend of sweet and spicy. It's such an interesting flavor, but overall just plain TASTY. The apple jelly and horseradish salmon glaze cooks into the salmon so well, and I think it goes just perfectly with the natural salmon flavors.
So what's in this unique salmon glaze recipe?
Apple Jelly
Horseradish
Chives
Apple Cider Vinegar
Salt
The glaze just gets brushed on before and after baking the salmon, so plenty of flavor gets cooked in AND added on just before serving. It's absolutely YUMMY.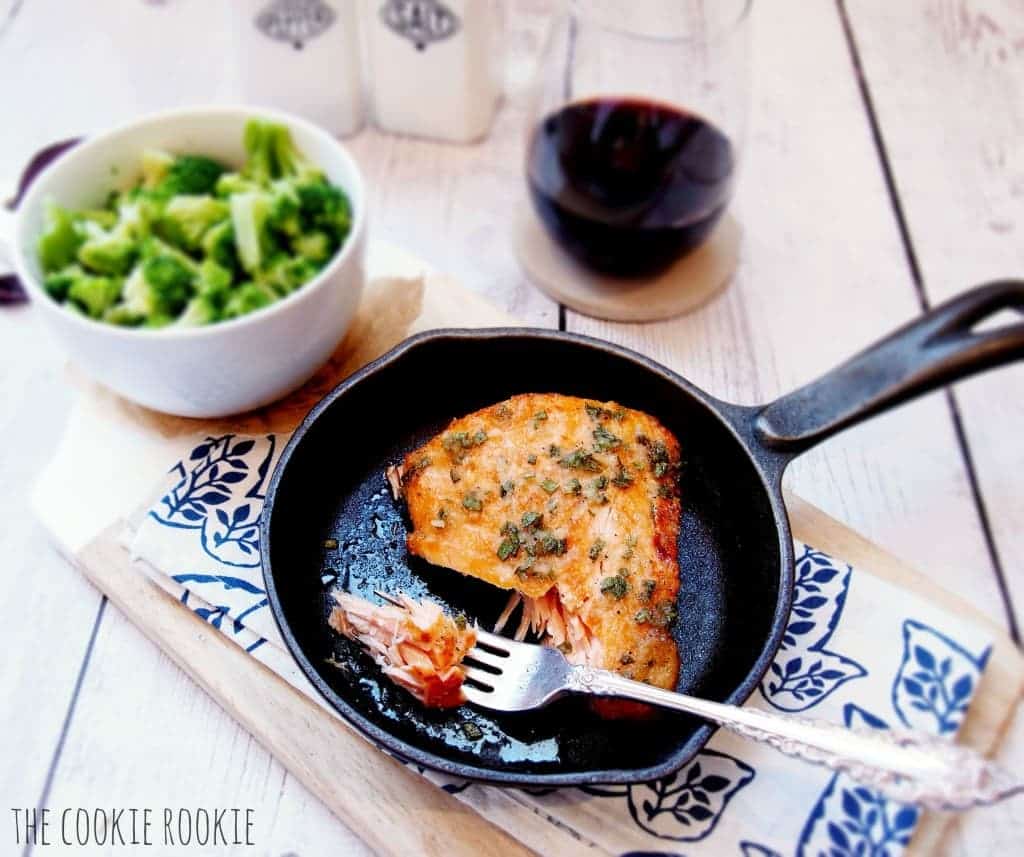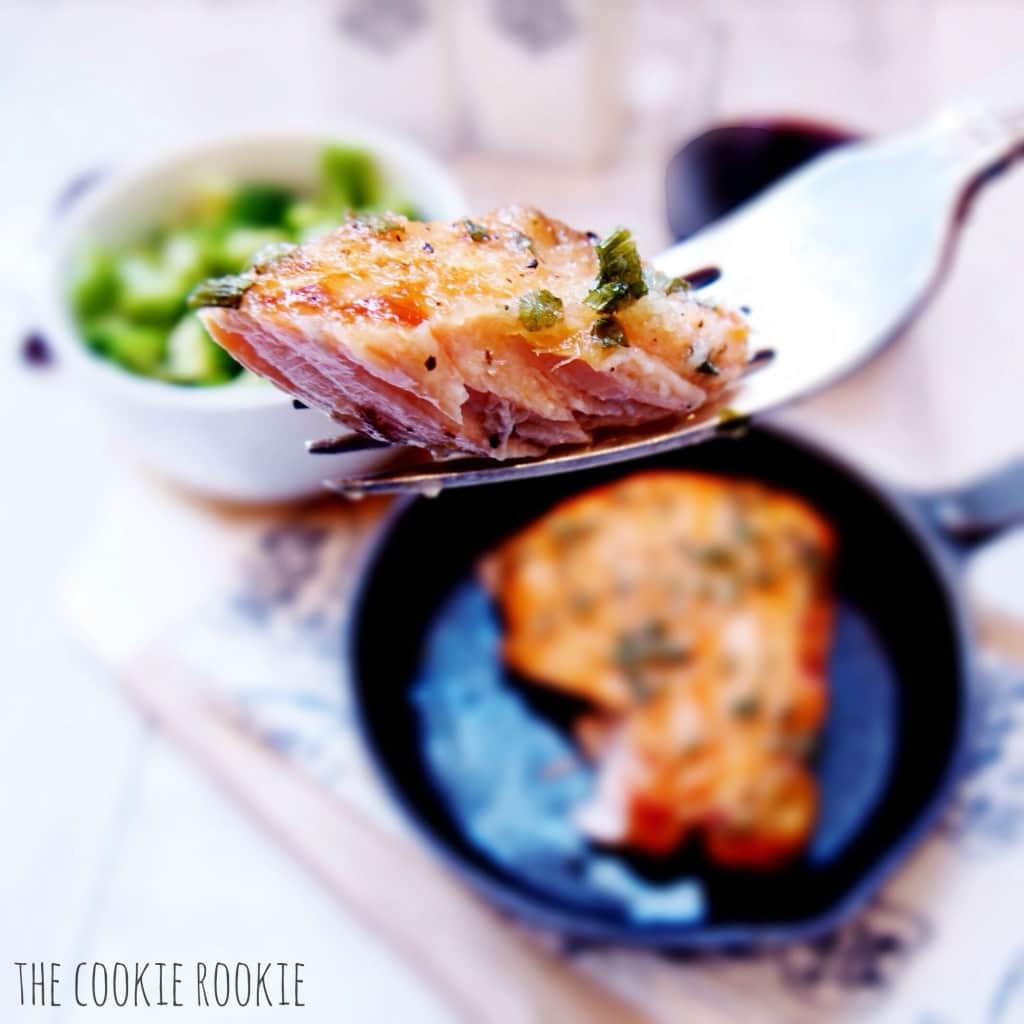 How to Make Horseradish Glazed Salmon
The horseradish glazed salmon recipe is a simple one. The salmon fillet is cooked briefly on the stove top, brushed with an apple jelly and horseradish salmon glaze, and then finished in the oven until cooked through. It comes out perfectly flaky, tender, and full of flavor!
How to make this glazed salmon recipe:
Preheat oven to 350°F.
Make the salmon glaze recipe by whisking together the apple jelly, chives, horseradish, apple cider vinegar, and salt. Set it aside until it's time to glaze.
Sprinkle the salmon fillets with salt and pepper, and heat oil in a skillet.
Once the oil is hot, place the salmon in the skillet and cook for 3 minutes on one side. Then flip the fillets and brush the other side with the apple horseradish salmon glaze.
Move the skillet to the oven and bake the salmon for 5 minutes at 350°F.
When the salmon is done baking (fully cooked and flaky), take it out of the oven and brush the fillets with the rest of the glaze.
Serve it up hot and fresh! To complete the meal, I like adding in some roasted, sauteed, or steamed veggies on the side. You could also add rice to fill things out. I love how light and simple this meal is, without missing out on taste. And the fact that this glazed salmon is done in only 15 minutes always blows my mind!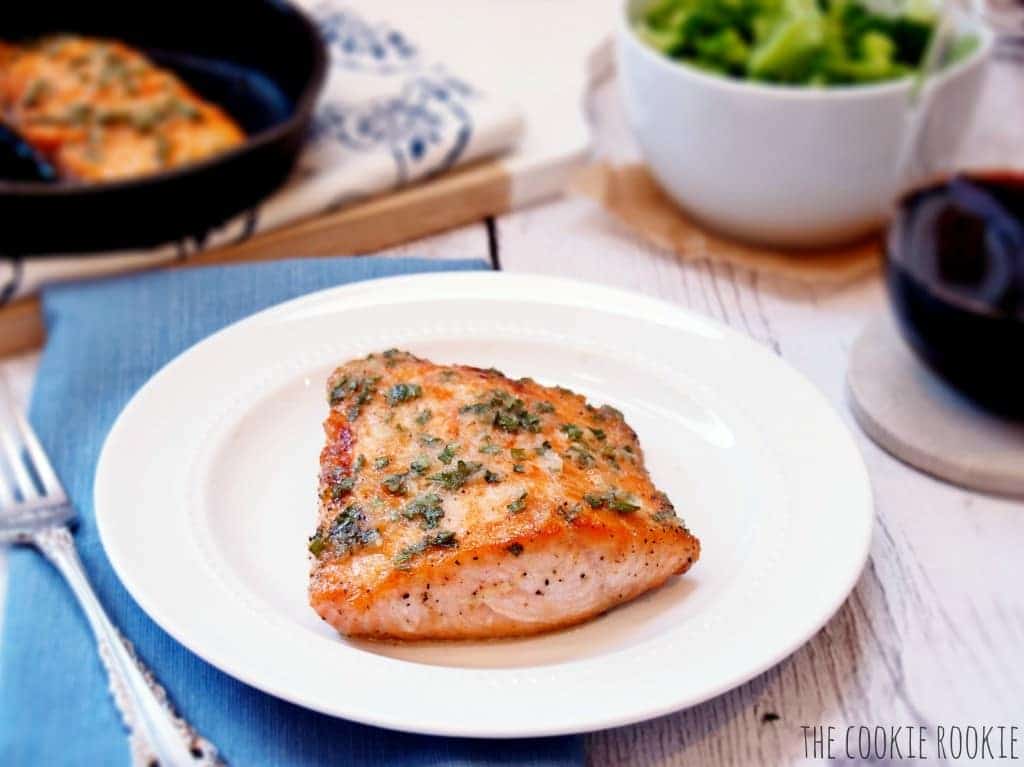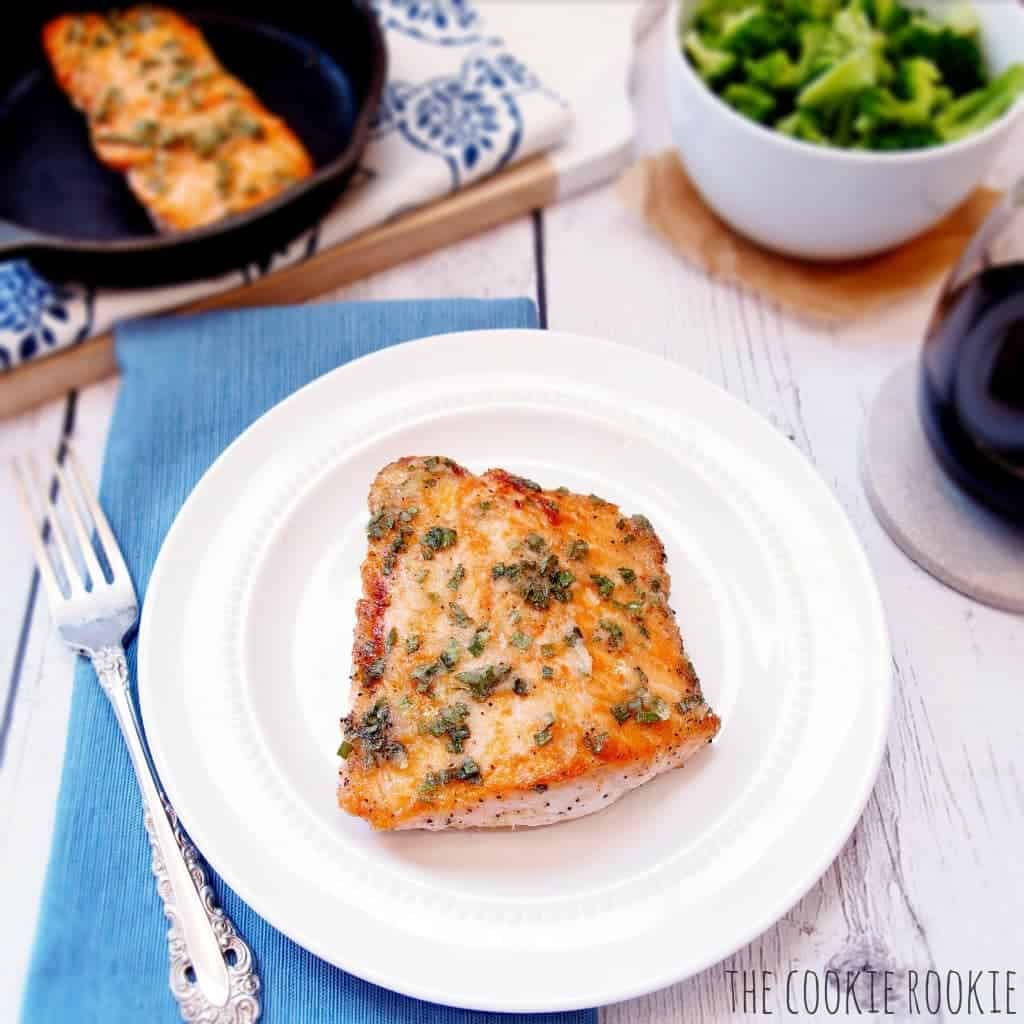 Easy Salmon Recipes
Who knew that salmon was one of the EASIEST things to make in a hurry? Whether you make it in the oven, on the grill, or on the stove, it doesn't take long to cook! That's good news for everyone that is trying to eat healthy while being short on time. This glazed salmon recipe is one of my favorite EASY salmon recipes, but there are plenty more of them around here. Here are a few favorites I recommend you try: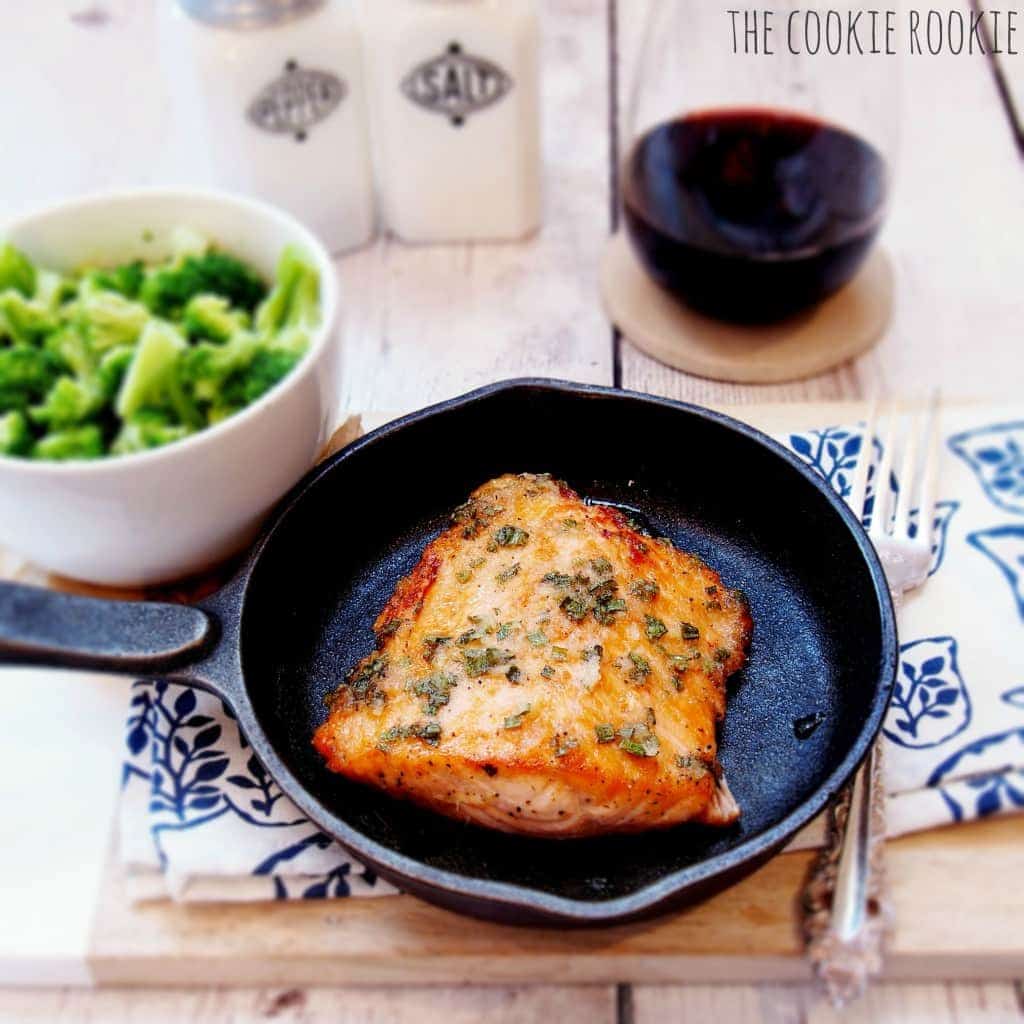 I'm so excited to make more easy healthy dinners now that I know how much I love salmon! This glazed salmon recipe is just one of many. Let me know what you think of salmon! are you a fan?
See the recipe card for details on how to make this Apple Horseradish Glazed Salmon recipe. Enjoy!
If you like this easy salmon recipe, try some of our other easy seafood recipes: