No Bake Candy Corn Cheesecake Parfaits are a fun, easy and delicious Halloween sweet treat!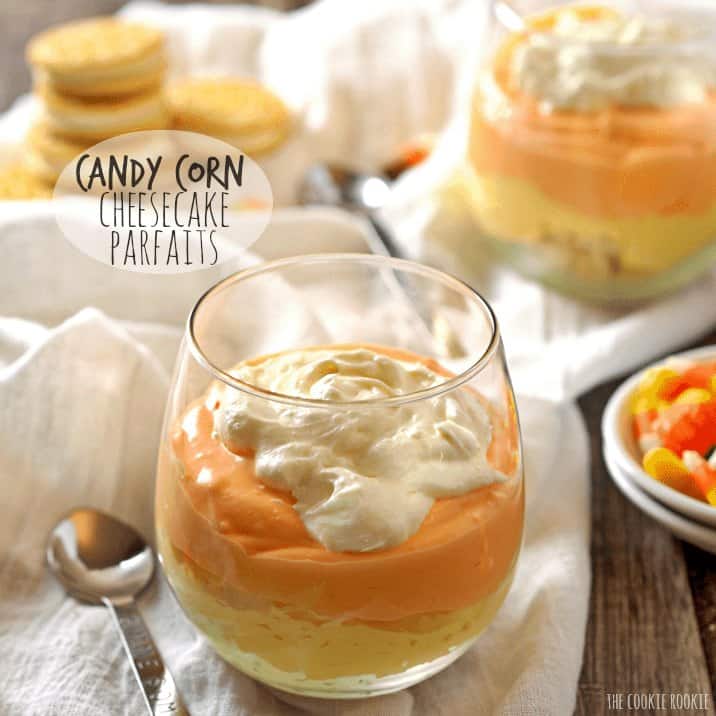 No Bake Candy Corn Cheesecake Parfaits
Halloween is one of my favorite holidays, but it sneaks up on me every year. These delightful little Candy Corn Cheesecake Parfaits are so simple to put together and even more fun to eat! With a cookie crunch, luscious layers of cream cheese and whipped cream, these sweet parfaits are perfect for any occasion!
You will love how simple this no bake cheesecake parfait is to make! It's so versatile; you can switch out the colors for Christmas, Valentine's Day, or 4th of July!

What Ingredients Do I Need for No Bake Candy Corn Cheesecake Parfaits?
These tantalizing treats come together in no time with just a few simple ingredients. I grabbed mine at a recent trip to Dollar General, where I may have really stocked up for trick-or-treating. (ahem)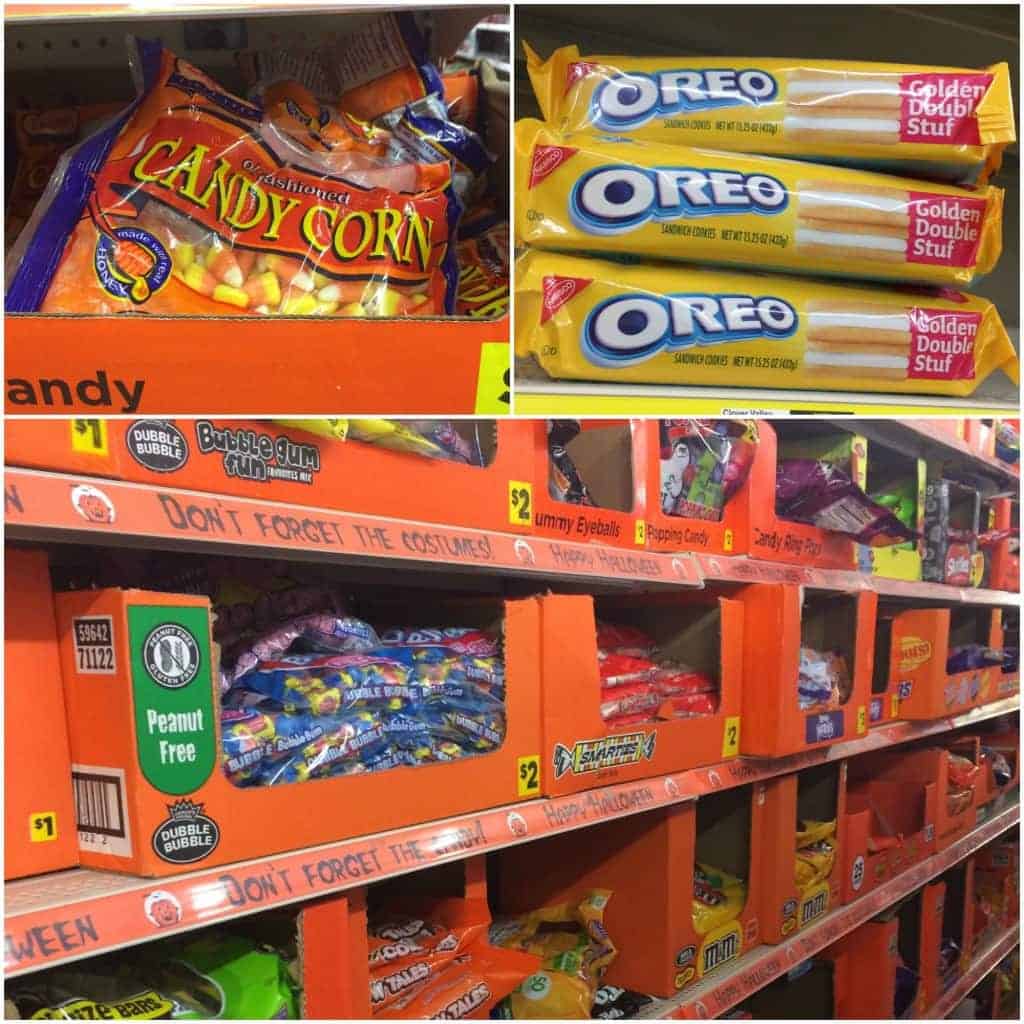 First you'll need cream cheese, at room temperature.
Next a tub of your favorite whipped topping.
Then, make sure you have plenty of Golden Oreos on hand. You'll only need about a dozen for the recipe, plus a few for snacking.
The rest of the ingredients are pantry and refrigerator staples: vanilla extract, lemon juice, food coloring and a pinch of salt.
How Do I Make No Bake Candy Corn Cheese Cake Parfaits?
Crush the Oreos in either a food processor or by putting them in a plastic bag and rolling them out with a rolling pin. This will be the "crust" for these divine desserts.
In a separate bowl, whip the cream cheese until smooth, then fold in the thawed whipped cream.
Add the vanilla, lemon juice and a dash of salt and mix together.
Next comes the fun part! Divide the mixture and make your colors using red and yellow food coloring. Make sure to leave some white for the top of the parfaits.
Spoon each layer on top of the cookie crumbles, then top with extra whipped cream.
These can be made ahead of time and chilled in the refrigerator until serving. They taste even better after they've had a little time to set up.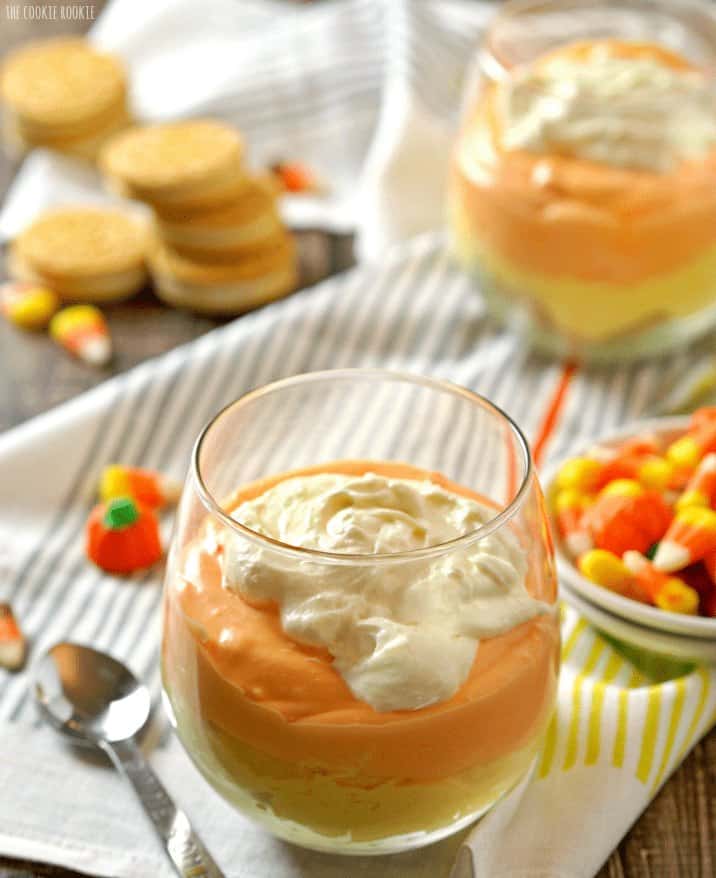 Parfaits for Any Party
Puddings and Parfaits make wonderful after dinner desserts, when you want something sweet but not too heavy. They're also fun to serve up at parties or buffets in individual cups. Try a few of these yummy favorites: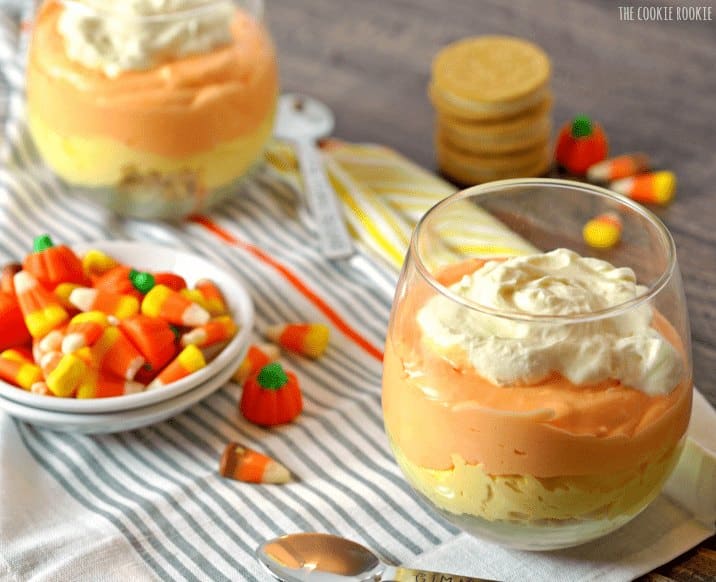 More Mouth Watering No Bake Cheesecake Recipes
If there is one perfect food in this world, cheesecake would arguably be at the top of the list. Baked or not, there are endless possibilities for whipping up a decadent cheesecake for dessert. Try these: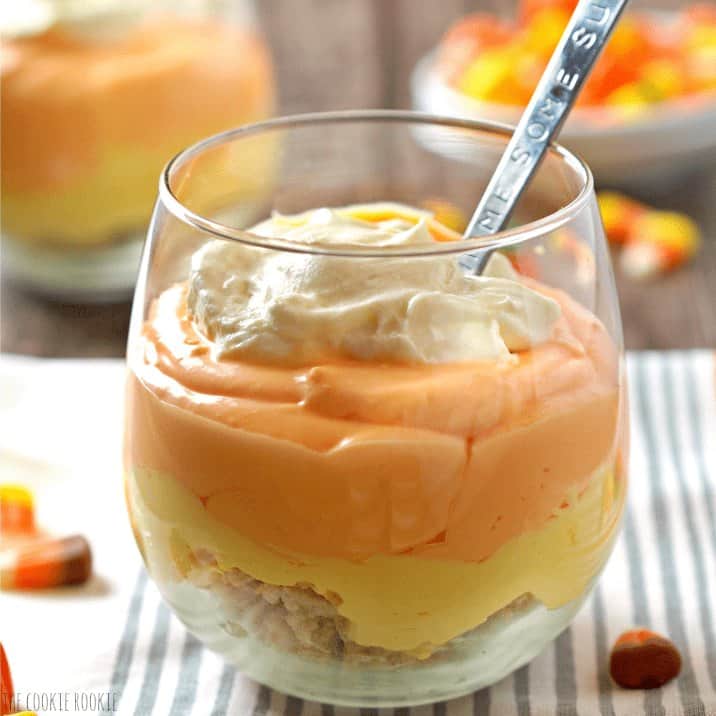 These yummy parfaits are perfect to make with your children for Halloween. Have them help you make these and they'll feel like little rock stars. Bask in this delightful time of year and keep the desserts coming!
See the recipe card below for all the details on how to make these No Bake Candy Corn Parfaits. Enjoy!