This post brought to you by Dollar General. All opinions are 100% mine.
No Bake Candy Corn Cheesecake Parfaits are a fun, easy, and delicious Halloween sweet treat!
I've really slacked on the Halloween recipes this year! The year if flying by at an incredible pace, and all of a sudden Halloween is only 2 weeks away.  Mom made some adorable Ghostly S'mores Hot Chocolate for me…and has some awesome recipes on her site, but me…I'm at a loss.  It's one of my very favorite holidays, and its about to quietly pass me (and my kitchen!) by!  So I buckled down tonight and made something quick and easy.  And fun.  Candy Corn Cheesecake Parfaits.  A sweet Halloween treat that can keep me company all Autumn.  My kind of recipe!
Since I needed this recipe to be super quick (who has time to actually bake a cheesecake this fall??), I headed to Dollar General.  There is one within walking distance of my work.  Its dangerous for the days where I don't have a grocery trip planned.  Dangerous in a good way.  Its so easy to pop in, get the things I need for any recipe cravings, and head home to whip up the deliciousness! For recipes like this one, they had all that I needed and I got the ingredients SUPER cheap.  If you can get things at a cheaper price…why not? I buy so much food.  I'm all about a good deal!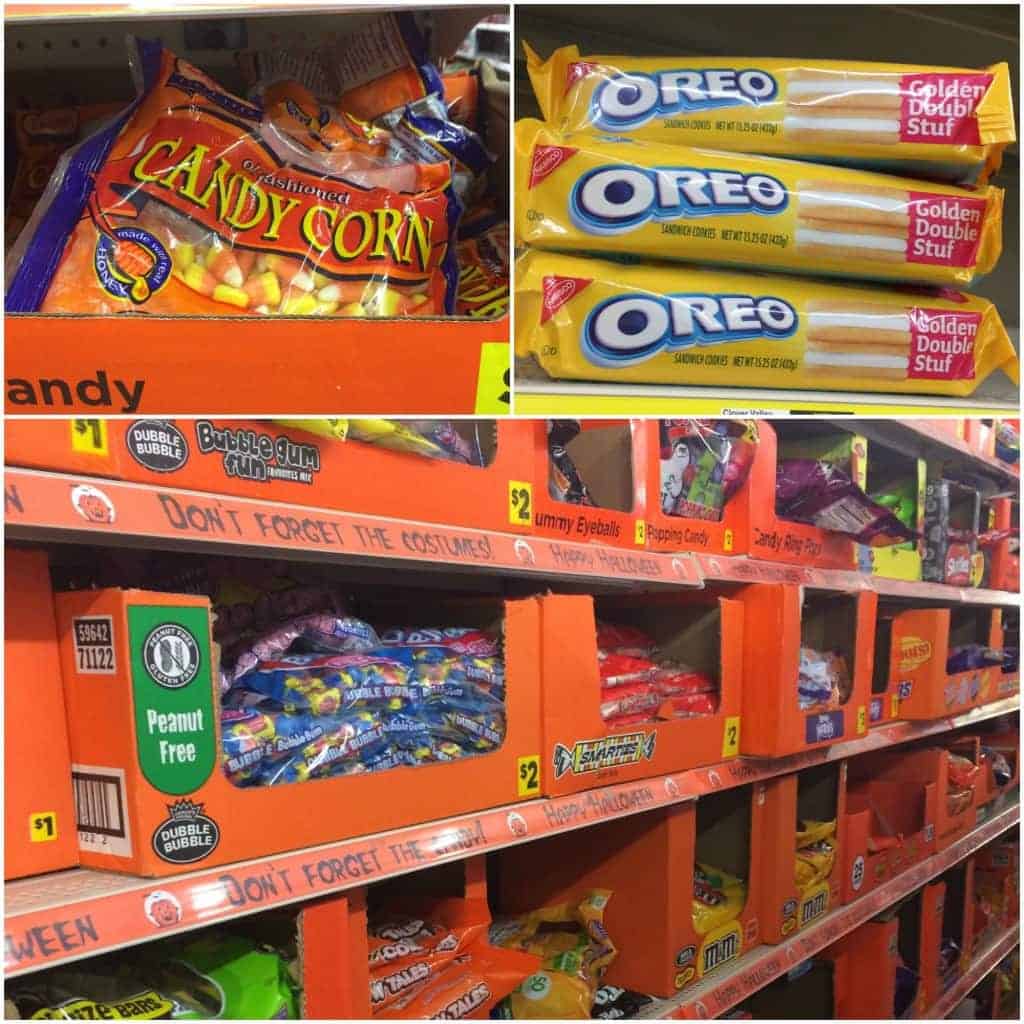 Back home with all of my goodies from Dollar General, making these No Bake (thank goodness) Candy Corn Cheesecake Parfaits were the perfect end to a long day.  
They took about 10 minutes to prepare.  Its so great that the recipe could be made to represent any holiday! Make them pink for a girls birthday (I was inspired by my friend Meg at The Housewife In Training Files recipe!) or Green and red for Christmas.  Red White and Blue for the 4th.  BLUE FOR THE ROYALS??? Wouldn't that be cute? This recipe is getting saved for the future for sure!
For the crust, I just crushed up some Golden Oreos.  Delish.  Simple perfection.  I could eat these all day!
Happy Halloween!! Be sure to check out Dollar General on Pinterest, Facebook, and Instagram; as well as these other Dollar General Easy Meals! Like I said, wonderfully dangerous :)
(No Bake) Candy Corn Cheesecake Parfaits
Print
Ingredients
2 8

ounce

packages cream cheese

2 8

ounce

containers cool whip

1

teaspoon

vanilla extract

pinch

salt

1

tablespoon

lemon juice

8-10

golden oreos

red food coloring

yellow food coloring
Instructions
Place the cookies in a ziplock bag and seal. Using your hand, or a rolling pin, crush the oreos until they're in small pieces. Set aside.

Using an electric mixer, beat the cream cheese until smooth. Fold in cool whip and continue to mix until smooth.

Mix in vanilla, salt, and lemon juice.

Take out 1/3 of the mixture and set aside.

Add yellow food coloring to the remaining mixture and beat until full incorporated. Add as much as you like to get the desired color.

Take out 1/2 of the mixture and set aside with the white mixture.

Add red food coloring to the last bit of the cheesecake mixture to make orange. It won't take much, the red is usually very potent!

Once you have your white, yellow, and orange cheesecake mixtures, you're ready to assemble!

Spoon 1/4 of the cookie crust into the bottom of a glass. Top with yellow, then orange, then white. Repeat for the remaining three glasses.

Top with more whip cream if desired.

Enjoy!