BAKED CHICKEN ALFREDO NACHOS are a must-try appetizer! The Pulled Chicken Alfredo is made in a slow cooker, then baked onto tortilla chips along with lots of cheese, alfredo, sun dried tomatoes, and basil. These Italian Nachos are the best of two of my favorite cuisines!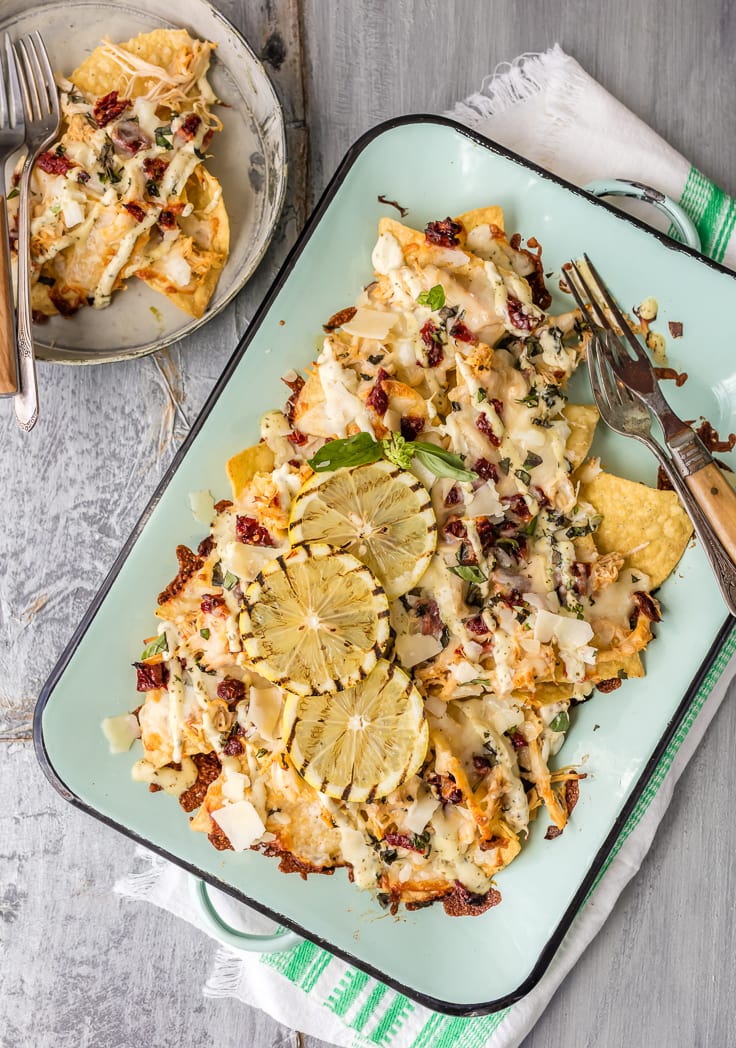 Baked Chicken Alfredo Nachos
Baked Chicken Alfredo Nachos are a cheesy and delicious appetizer that will blow your mind. These Italian Nachos bring an Italian twist to a Tex Mex classic!
Remember those Slow Cooker Chicken Alfredo Sandwiches I made earlier this year? I DO. I had so much pulled chicken left over that I thought I should get creative, and boy am I glad I did! These Baked Chicken Alfredo Nachos are the stuff dreams are made of. I'm talking INSANELY good and totally addicting. Don't you want to just dive in and try them?
I love this Italian Nachos recipe for a tasty and creative appetizer. I'll never get tired of Mexican food (especially nachos), so putting a fun twist on nachos by using Italian inspired ingredients seemed pretty genius to me. Chicken Alfredo is one of my favorites when it comes to pasta, but it's just as good served up baked and cheesy in nacho form!
These Baked Chicken Nachos are perfect to serve at parties, on game day, or to keep for yourself as a snack, appetizer, or tasty dinner. There's never a bad time for these!
Baked Chicken Alfredo Nachos are a must try recipe! These tasty Italian Nachos are cheesy, creamy, and so delicious!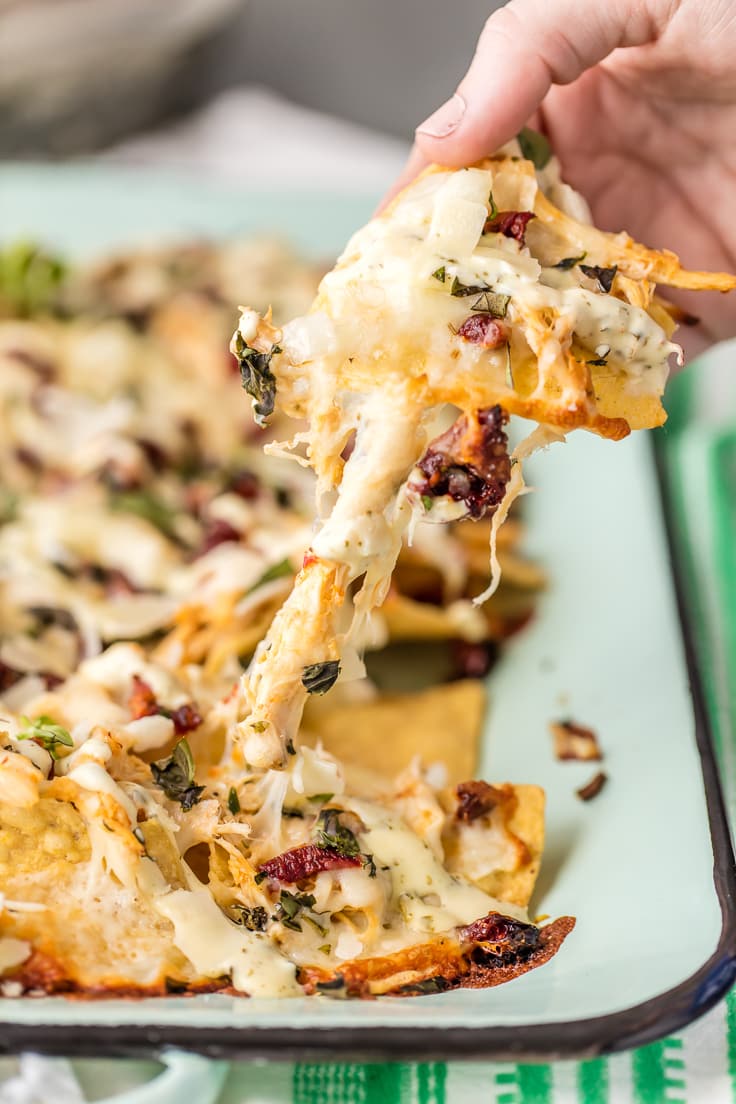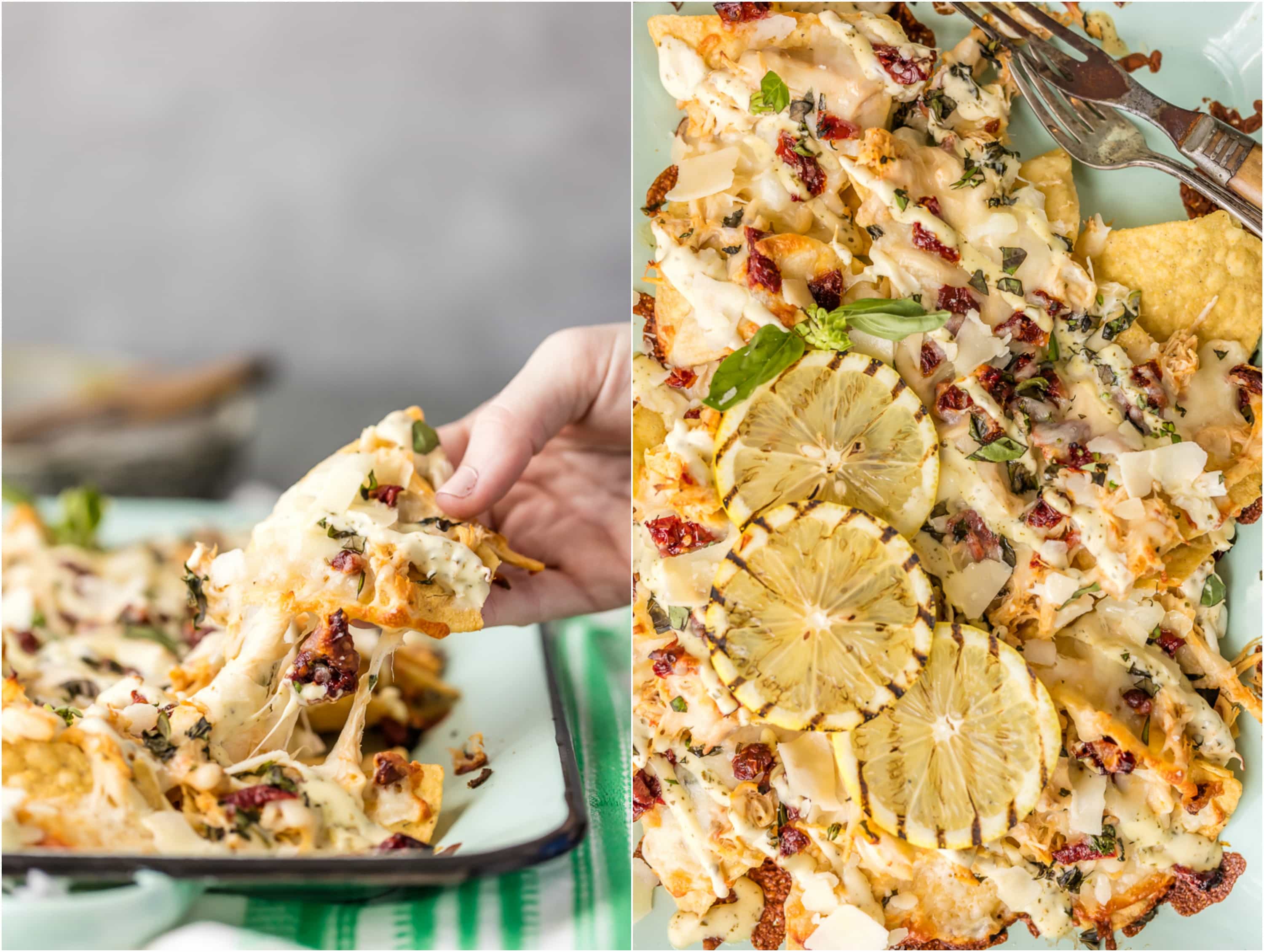 Slow Cooker Chicken Alfredo Nachos
If you didn't catch the Chicken Alfredo Sandwiches post, let me just bring you up to speed. You put some chicken in a slow cooker with alfredo sauce and some spices, let it sit for a few hours, then shred with two forks. You're left with the most tender and delicious pulled alfredo chicken! It's perfect for sandwiches, wrapped in a burrito, and it's especially good on nachos! These baked chicken alfredo nachos are still a favorite recipe, even a couple years after first making them!
Want more Alfredo recipes? Try our One Pot Alfredo Chicken Skillet, Fettuccine Alfredo with Sausage, or Chicken Alfredo Pasta Bake.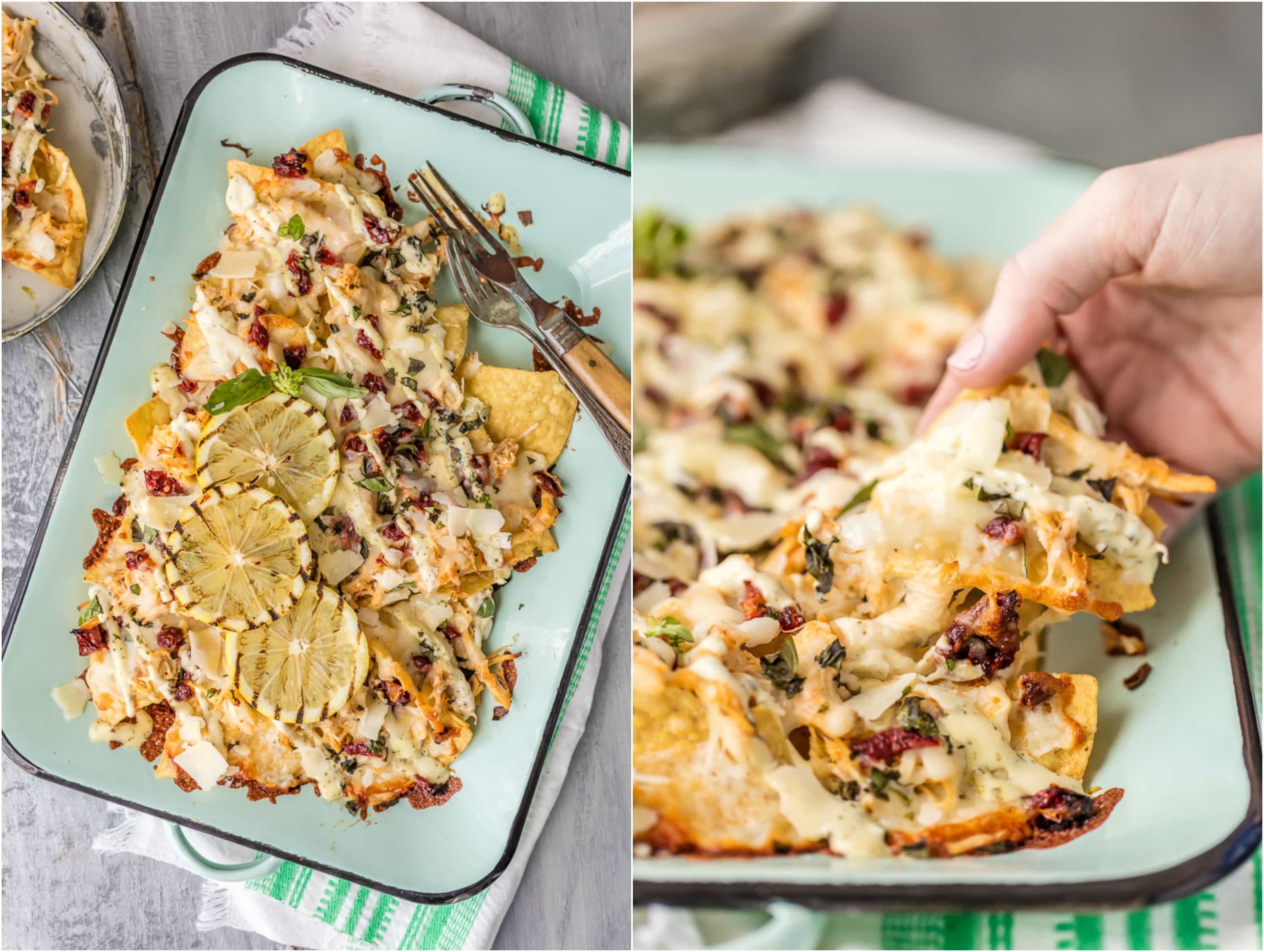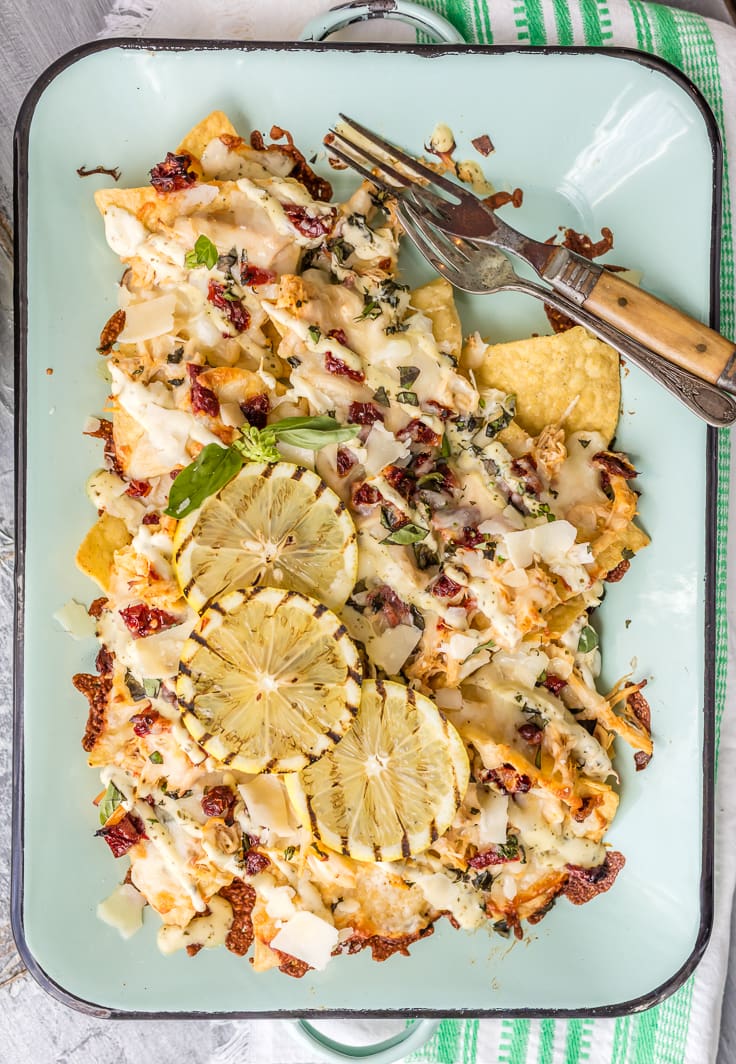 Italian Nachos
Nachos are amazing. What's not to love about tortilla chips topped with CHEESE and tons of other tasty ingredients? You'll typically find things like black beans, jalapenos, and green chiles as toppings, but not with these fun Italian nachos!
Try something different and make your nachos with ingredients inspired by your favorite pasta dishes. In addition to the alfredo chicken, I topped mine with basil, parmesan, tomatoes, onions, and some lemon instead of limes. You could even use Homemade Tequila Lime Tortilla Chips if you want an extra special treat!
Isn't this a fun option for an easy dinner! Load on your favorite toppings and go to town. You really can't go wrong! These baked chicken alfredo nachos are so versatile and most importantly, EASY!
How to Make Baked Chicken Alfredo Italian Nachos
These Baked Chicken Alfredo Nachos are so easy to make! This recipe is for the nacho part of the equation, so you'll need to start by making the Pulled Alfredo Chicken in a slow cooker, which you can find in this recipe here. Once you have your pulled chicken ready, then it's time to assemble the nachos!
Lay tortilla chips on a sheet pan in a single layer
Place Alfredo chicken and onion on the chips
Drizzle the Alfredo sauce over the chips, then sprinkle on the shredded cheese
Top with basil, parmesan, and sun-dried tomatoes
Bake Italian nachos for 10-15 minutes
Serve while they're hot and cheesy! This is a good size to share with a handful of people as an appetizer or snack. For a party, I'd recommend making a couple of batches to serve.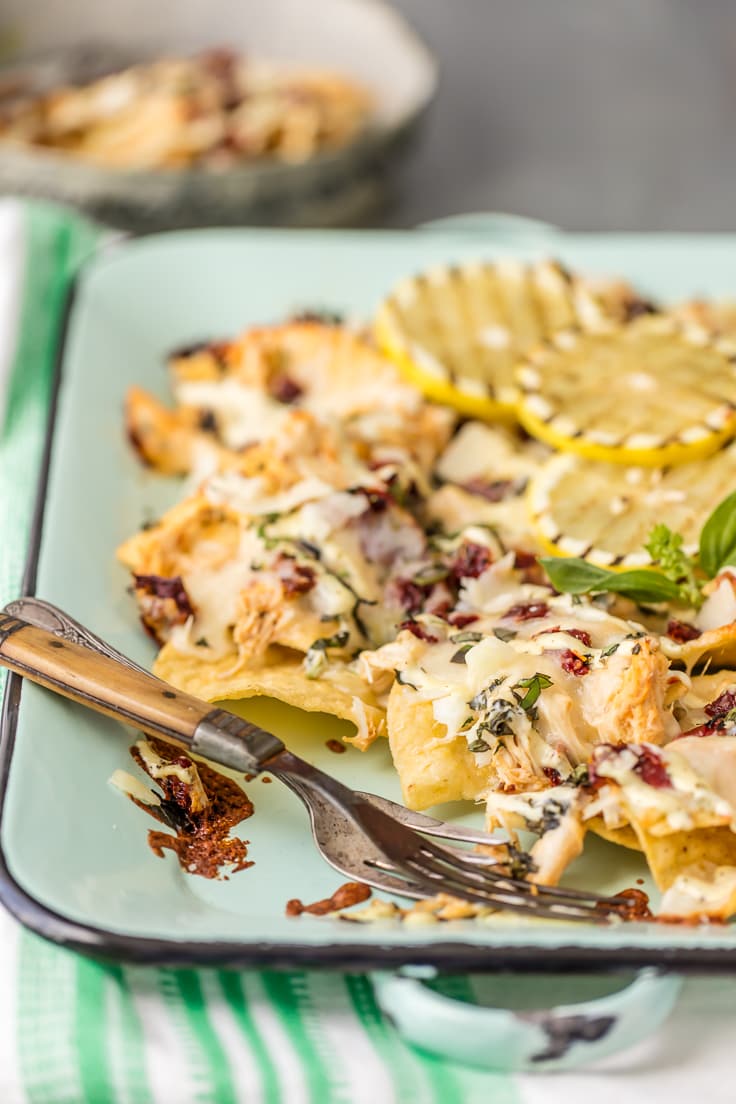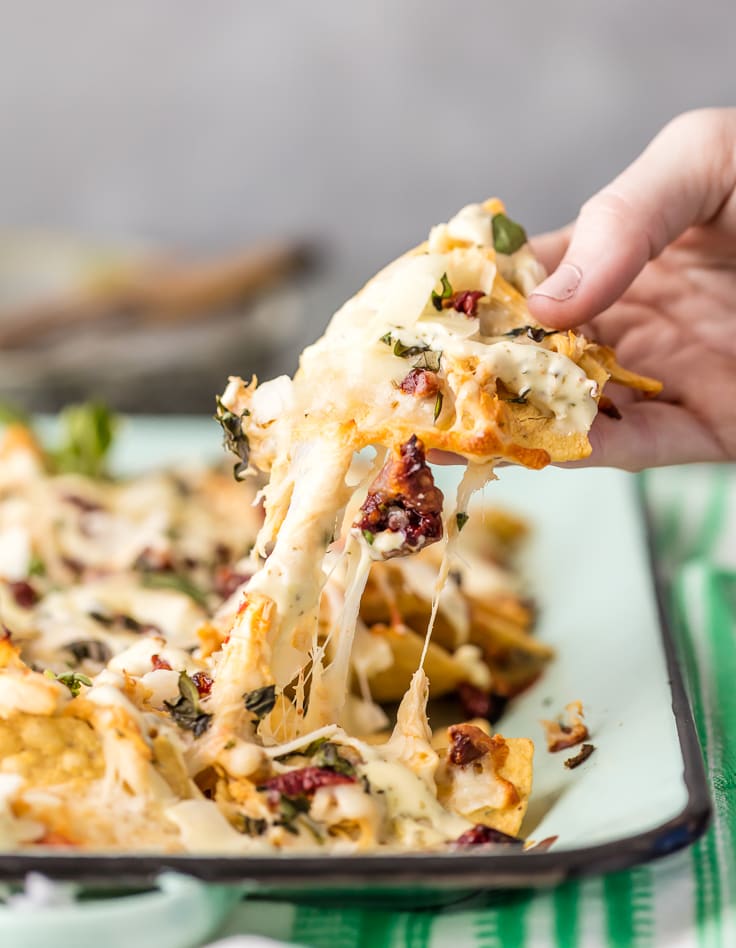 I hope you love these Baked Chicken Alfredo Nachos as much as we do! They're so cheesy and so delicious. It's a fun twist on nachos, something different that is perfect for an appetizer. Italian Nachos covered in cheese and Alfredo sauce…these are hard to resist!
See the recipe card below for details on how to make Baked Chicken Alfredo Italian Nachos. Enjoy!
If you like this recipe, try these other delicious nacho recipes too: