Chicken Roll Ups make for an easy and delicious dinner. This baked mozzarella chicken dish is the perfect thing to serve any night of the week. It's full of flavor, with plenty of cheese!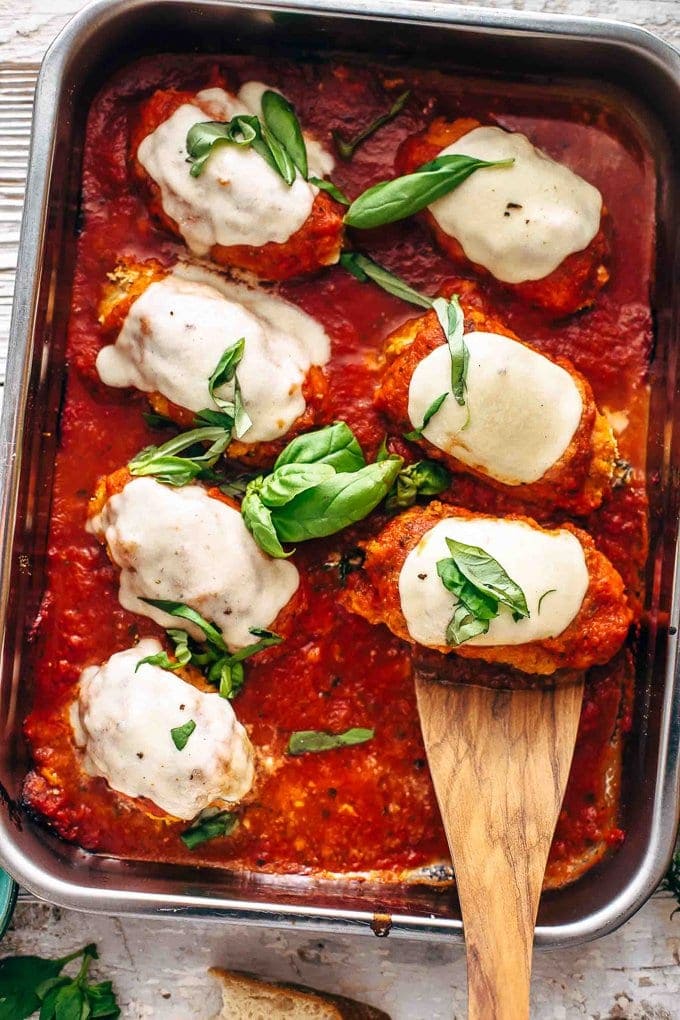 Mozzarella Chicken Roll Ups
Baked Mozzarella Chicken Roll Ups are the perfect mix of Italian and bake chicken. Lots of cheese, spinach, and marinara sauce baked together with chicken breast. Yum!
What's better than incredibly tasty Italian food made at home? Incredibly tasty Italian food made at home that also happens to be semi-healthy! These Baked Mozzarella Chicken Roll Ups will change your life.
Okay, I'm not going to go so far as to say this recipe is healthy…because I like my cheese and I refuse to live without it. But it is definitely lightened up a bit to make it semi-healthy.
And that's good enough for me! Compare this baked chicken recipe to say, Chicken Parmesan. It's got all the same great flavors, but for a lot less calories.
I just love these little mozzarella chicken roll ups, filled with spinach and ricotta, and topped with marinara and mozzarella. It's such an easy chicken recipe, and it's still so delicious. You'll want to eat these up all by themselves, but you could also serve it with veggies, rice, or (better yet) some pasta.
Make these melt-in-your-mouth delicious Baked Mozzarella Chicken Roll Ups. It's an easy chicken recipe that you can serve any night of the week!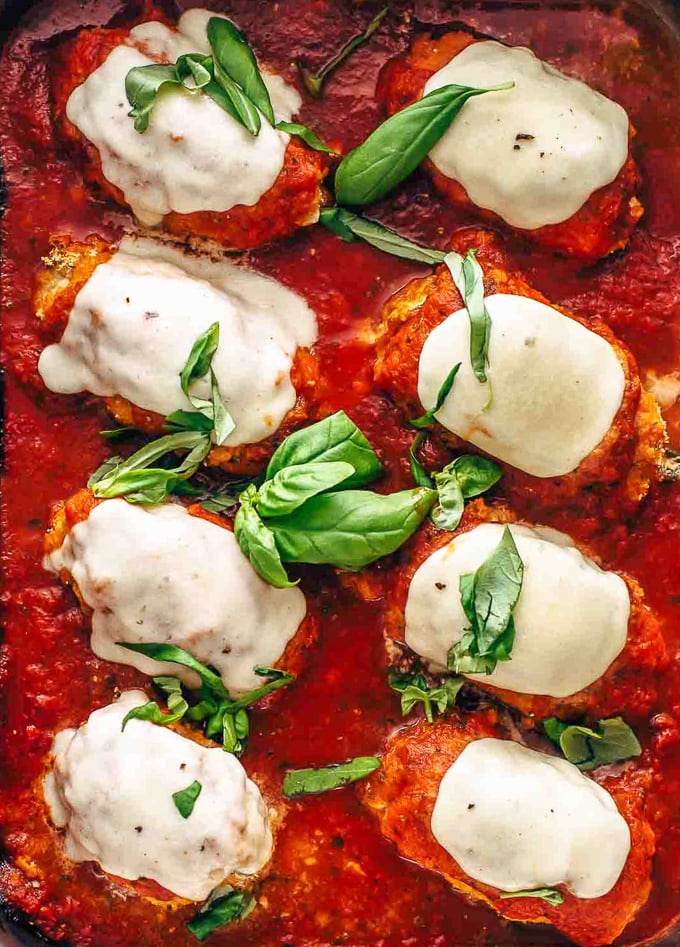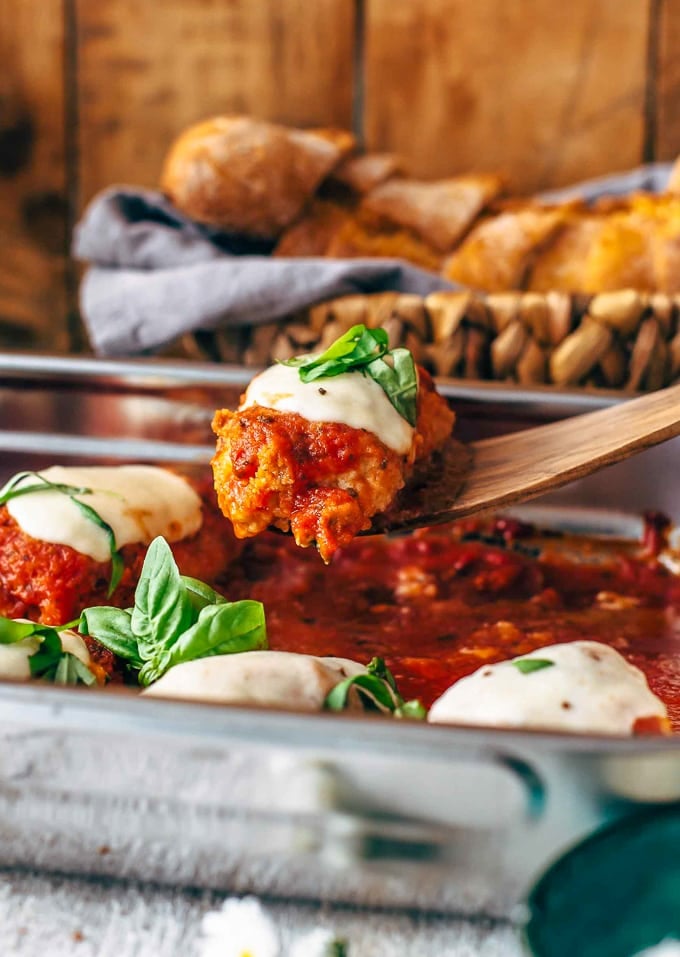 Baked Mozzarella Chicken
I just love these Baked Mozzarella Chicken Roll Ups. They're delicious straight out of the oven, AND they make great leftovers. I made this recipe yesterday, and then finished off the extras for dinner tonight.
There's nothing better than an easy meal that you can save to eat again and again. This baked mozzarella chicken is a must try. I like this dish served with a bit of rice, and you should definitely add this homemade garlic bread along with it!
If you like this dish, I think you'll love these Chicken Lasagna Roll Ups too.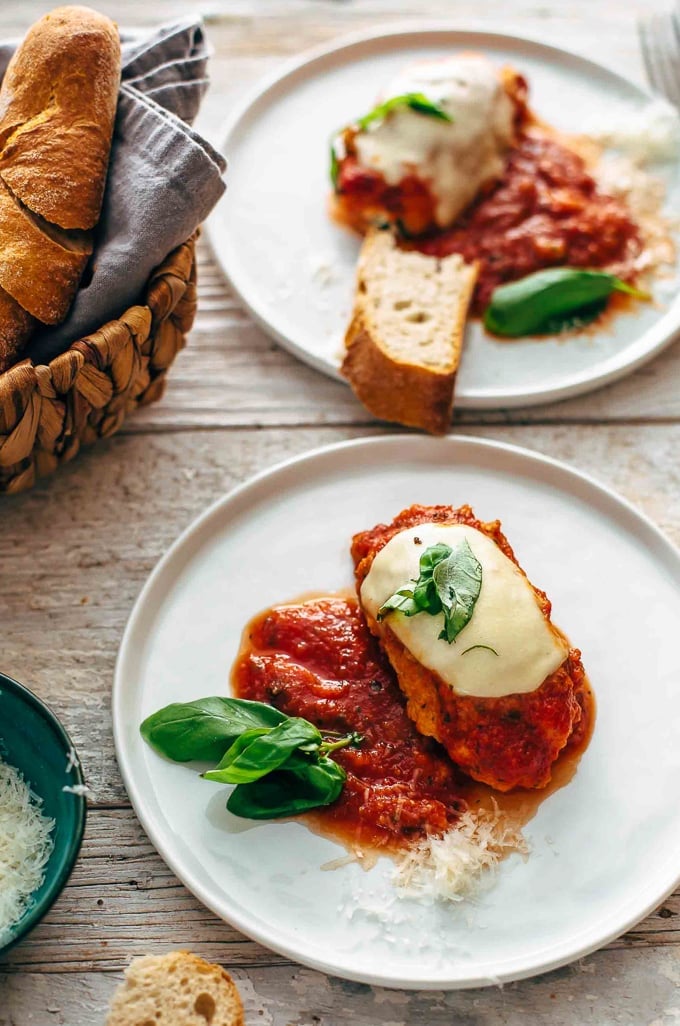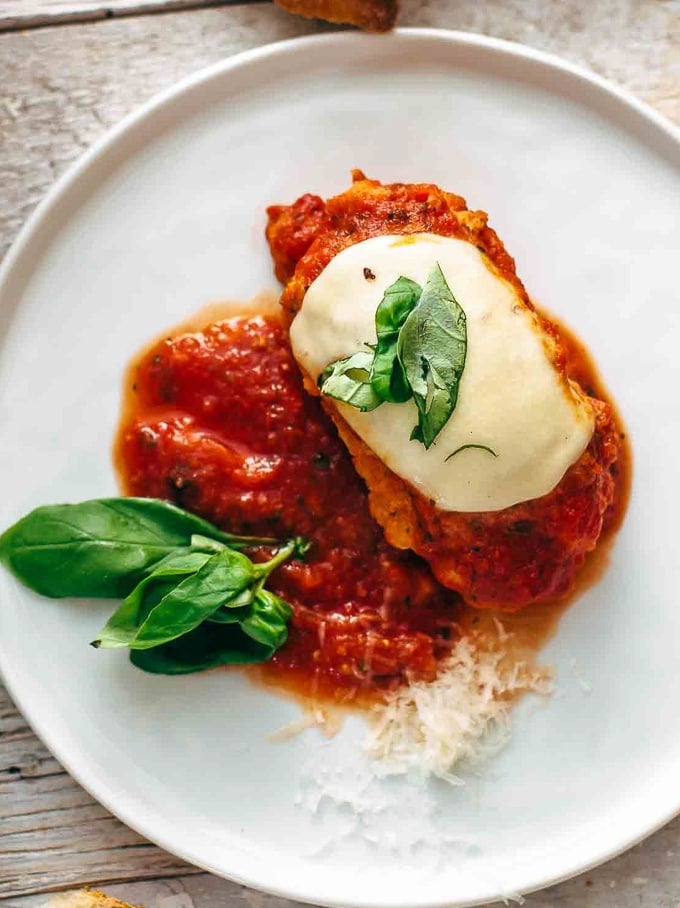 How to Make Mozzarella Chicken Roll Ups
Baked Mozzarella Chicken Roll Ups are the kind of meal your family will request again and again. My picky father-in-law even threw it a couple of compliments! It's cheesy, it's flavorful, and it's oh-so-good.
The chicken is stuffed with sauteed spinach and ricotta cheese, rolled up to seal all the goodness in, and then topped with marinara, fresh mozzarella, and chopped basil. All of my favorite flavors have come to dinner!
Cut the chicken breasts in half (making 8 pieces of chicken total), and pound them into thin pieces.
Combine breadcrumbs with parmesan cheese in a small mixing bowl & set aside.
Chop up the spinach and saute it with garlic with 2-3 minutes (just until it starts to wilt).
Combine spinach with ricotta, parmesan, and egg whites, then place the rest of the egg whites in a separate bowl.
To make the chicken roll ups: spoon the ricotta spinach filling into each piece of chicken, and roll them up. Then dip each roll into the egg whites and then the breadcrumbs.
Place the chicken in a baking dish, and pour the marinara sauce into the dish around the chicken.
Bake for 25 minutes at 450°F.
After 25 minutes, pour the rest of the marinara sauce over the chicken, and place a slice of mozzarella on top of each roll up.
Bake for another 3-5 minutes to melt the cheese, then add some basil before serving.
Serving Suggestions
These baked mozzarella chicken roll ups are so easy! They are just perfect on their own, or you can serve them along with rice, veggies, or pasta.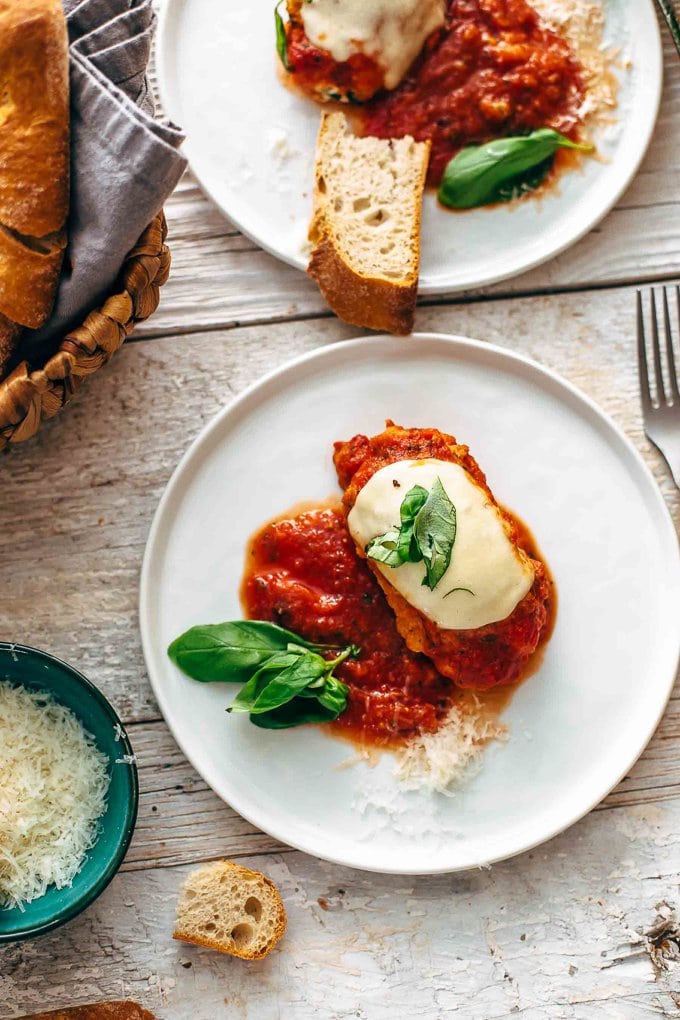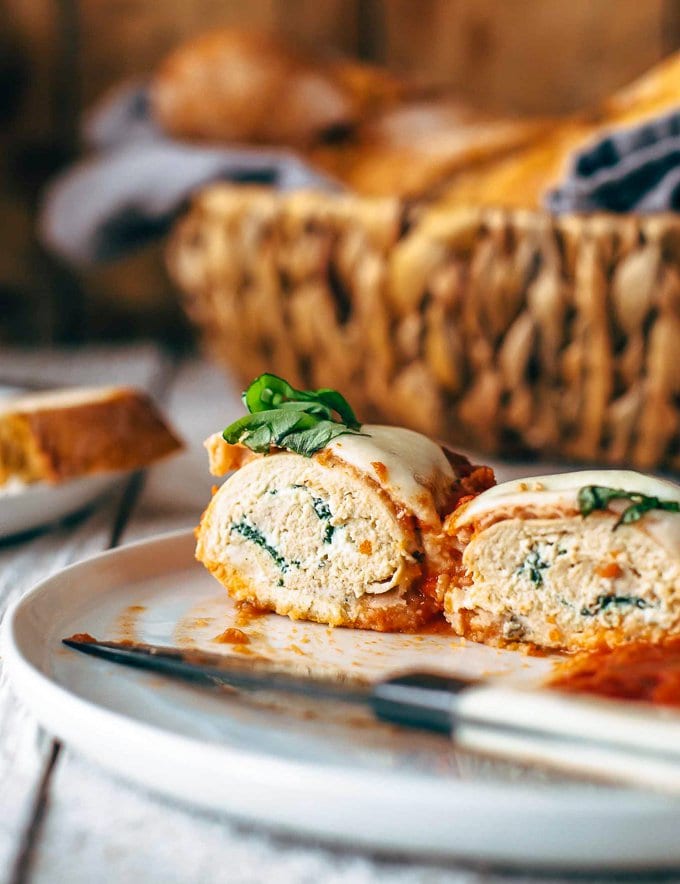 Baked Chicken Recipes
Baked chicken recipes are my favorite! They're delicious, they're versatile, and they're so easy to make. I have tons of easy chicken recipes here on the site, and baked is usually my favorite.
These Baked Mozzarella Chicken Roll Ups fit right in! Here are a few favorite recipes to try, or check out our full Baked Chicken Guide.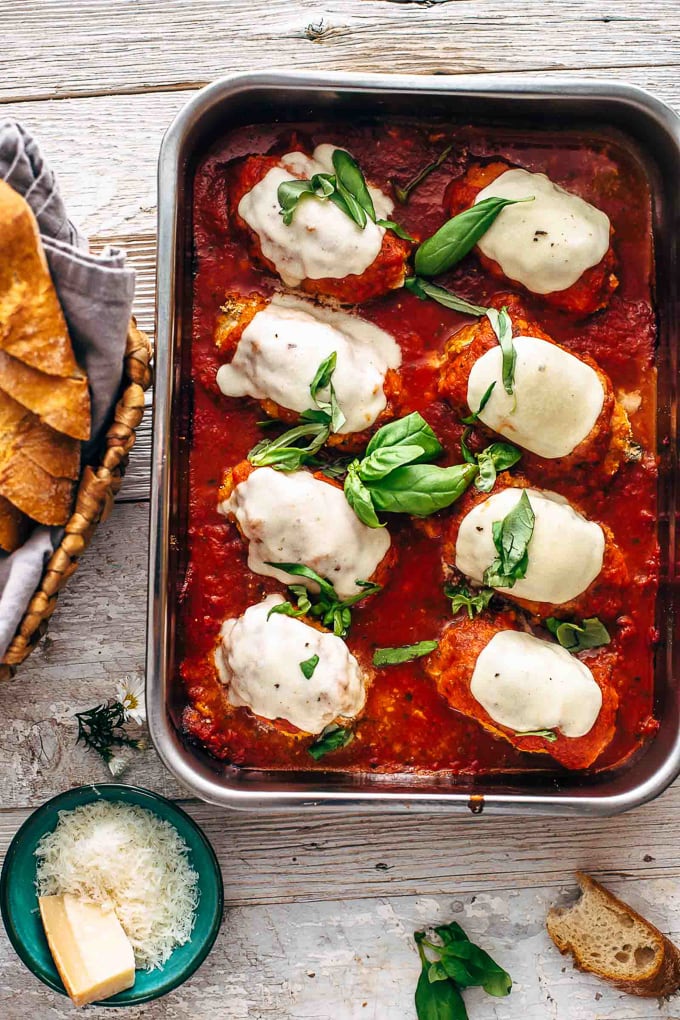 These Baked Mozzarella Chicken Roll Ups just made it to the top of my favorites list! Right up there with this Avocado Salmon and this Mediterranean Chicken.
If you like this recipe, try these easy chicken recipes:
If you make this recipe be sure to upload a photo in the comment section below or leave a rating. Enjoy! You can also jump to recipe.