Chicken Tacos are the PERFECT quick weeknight dinner! OVEN BAKED chicken tacos have lots of flavor and none of the stress. This Baked Spicy Chicken Tacos Recipe is the most popular recipe on TCR, being pinned over 2 million times and viewed over 5 million times! This is the BEST CHICKEN TACOS recipe ever. Guaranteed.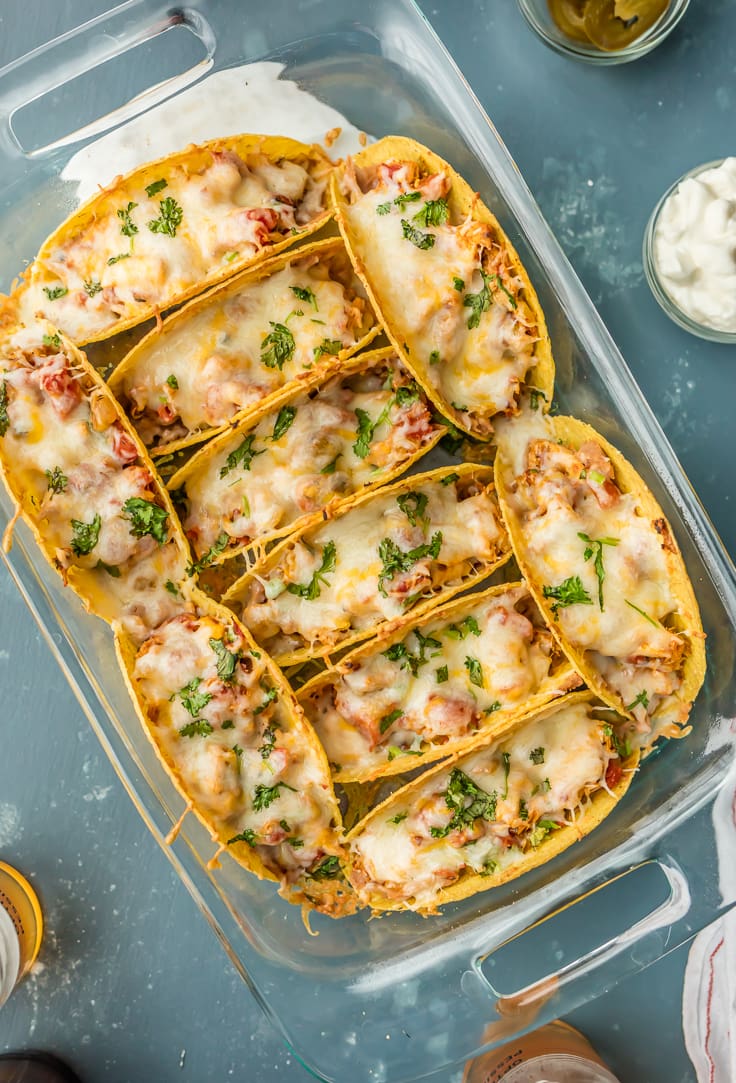 Best Chicken Tacos Recipe
These Chicken Tacos are the most popular recipe on The Cookie Rookie!I've published a lot of posts on this site. Over 1000 to be exact. But these Oven Baked Spicy Chicken Tacos are the #1 recipe by a landslide. There's something about an easy baked chicken taco recipe that people just go crazy for!
These Chicken Tacos are the ultimate easy recipe for serving a crowd, taking to a potluck, chowing down on for a tailgating party, and of course, Cinco de Mayo!
Baked Chicken Tacos can be made in any flavor combination! You can make these as Baked Breakfast Tacos, BBQ Chicken Tacos, and so much more! The possibilities are endless and I love that.
Chicken Tacos are one of the easiest, one of the tastiest, and one that is made most often at our house. Do you see all that melty cheese? What's not to love?? If you're looking for a Baked Chicken Tacos Recipe…you're in the right place.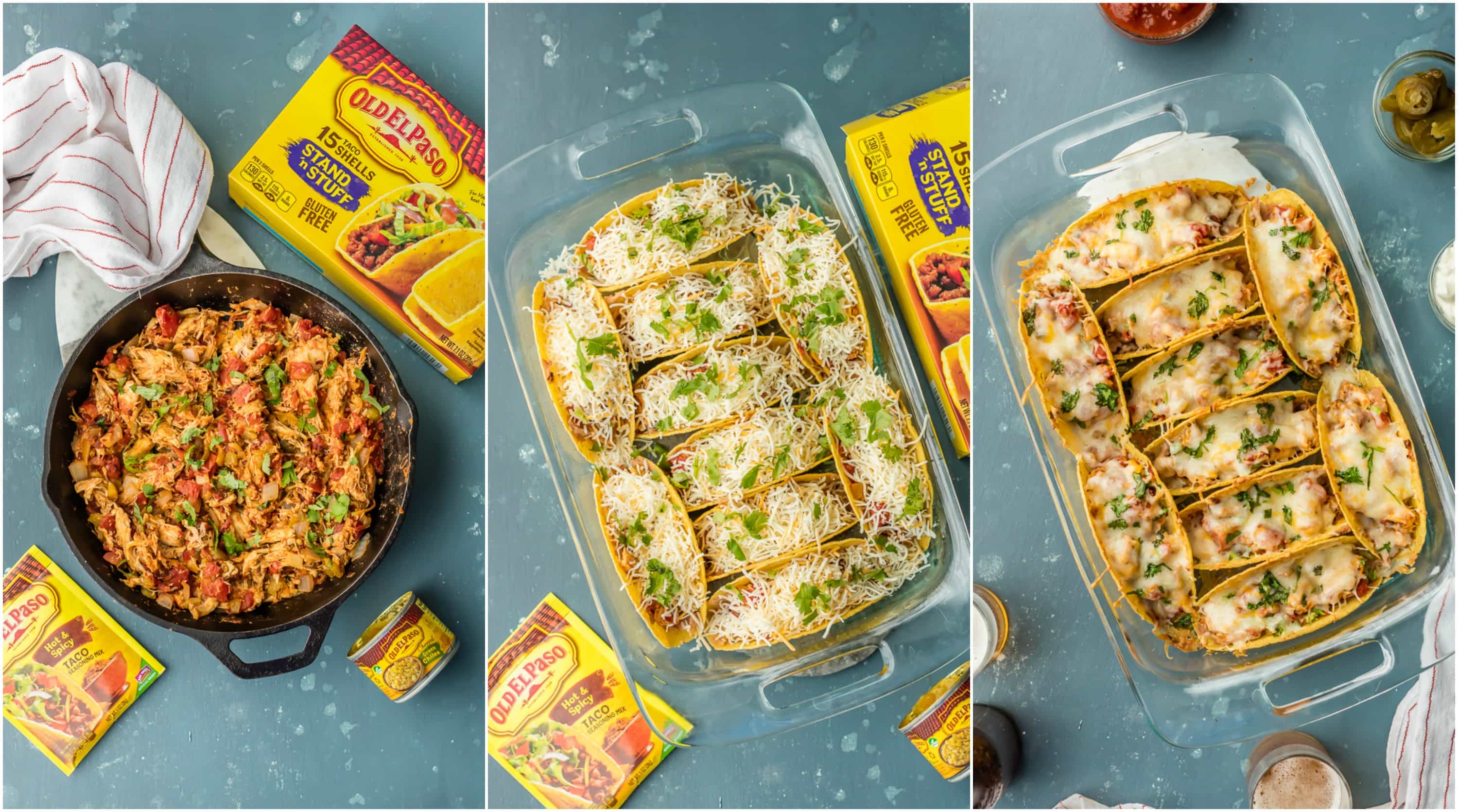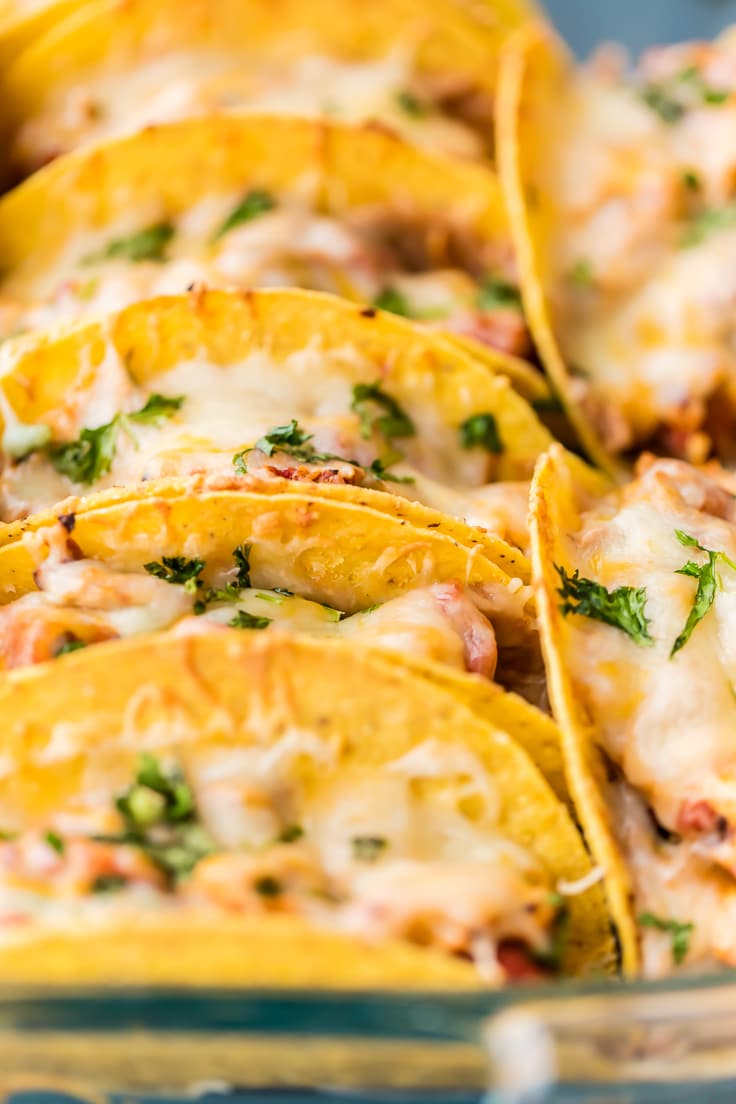 Oven Baked Spicy Chicken Tacos – Step by Step
Preheat oven to 400F. Spray a 9×13 baking dish with nonstick spray.

Heat olive oil over medium heat in a medium skillet.

Add onion to skillet and cook for 2-3 minutes, or until the onion is translucent and fragrant.

Stir in the chicken, taco seasoning, tomatoes (FULLY DRAINED), and green chiles (FULLY DRAINED) *see note. Stir to combine fully. Reduce to simmer and allow to cook for 5-8 minutes.

Place the taco shells in the baking dish, standing up. I was able to fit 10 taco shells in the dish by adding 2 on each side.

Bake the taco shells for 5 minutes by themselves to allow them to crisp up. Remove from the oven.

Spoon 1 tablespoon of beans into the bottom of each taco shell. Top with the chicken mixture, almost to the top of each shell.

Sprinkle each shell generously with shredded cheese, the more the better!

Bake for 7-10 minutes or until cheese is fully melted and the edges of the shells are browned.

Remove from the oven and top with your favorite items such as jalapenos, sour cream, cilantro, and salsa.

Enjoy!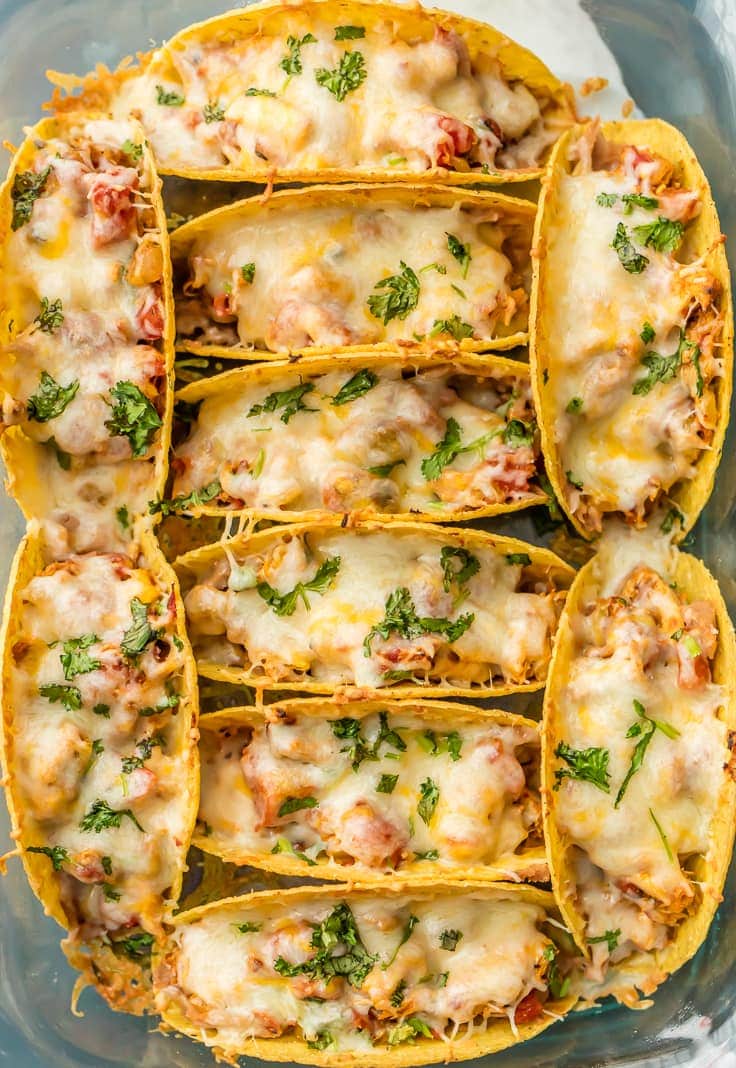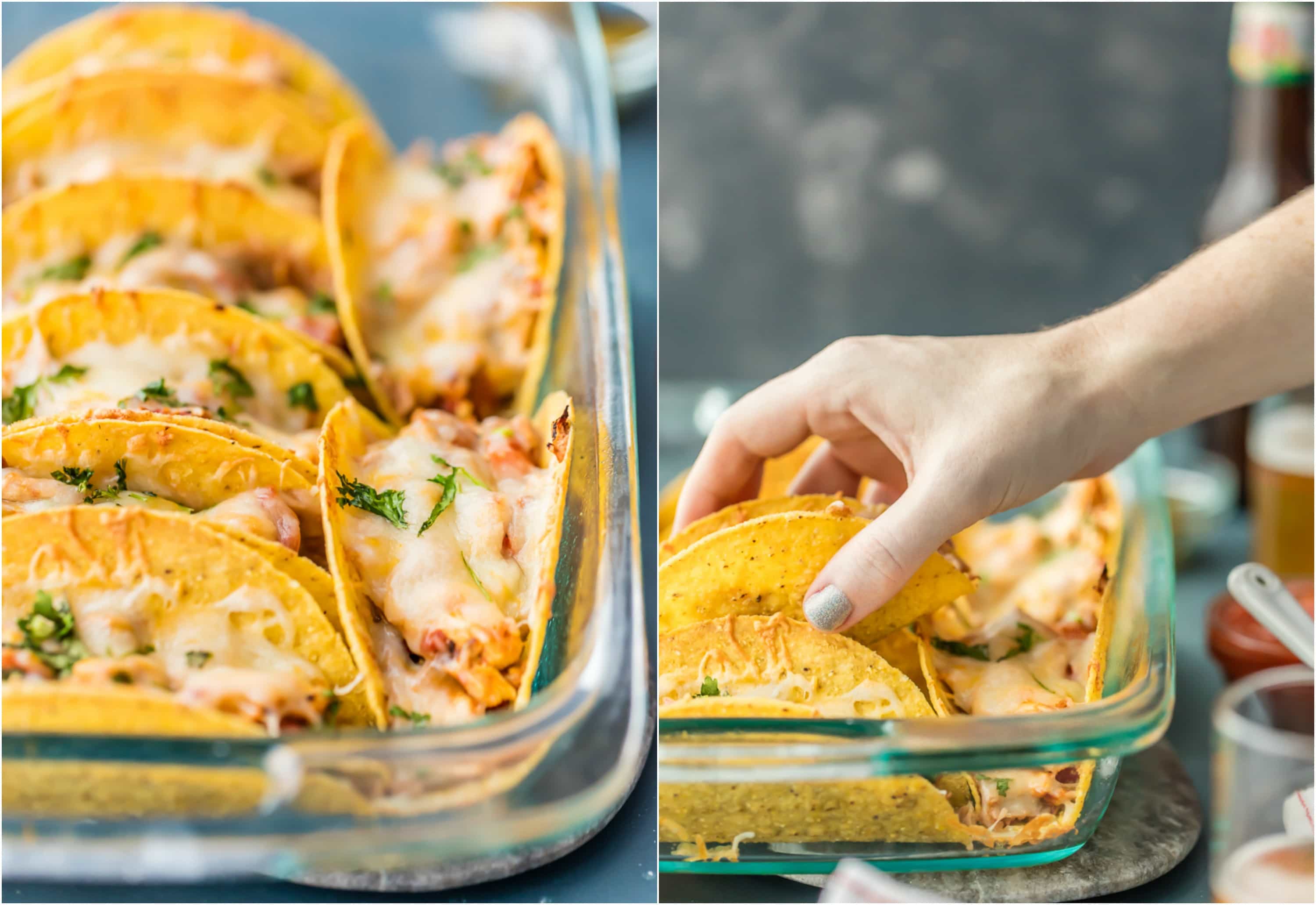 Tips for making Chicken Tacos
So many people have written in about how much they love this baked tacos recipe, and there's nothing I love hearing more. If you've made these baked chicken tacos be sure to tag me on Instagram and let me know! I'd be honored!!
I make these baked tacos so often at our house, and they're one of the recipes Pat asks for the most. When he comes home and sees these babies are ready to go, he's a happy camper. You can make them with so many different flavor combos. Be creative and enjoy!
Don't forget to top these Chicken Tacos with a LOT of cheese! That's the only way to make them. We aren't playing around when it comes to melted cheese.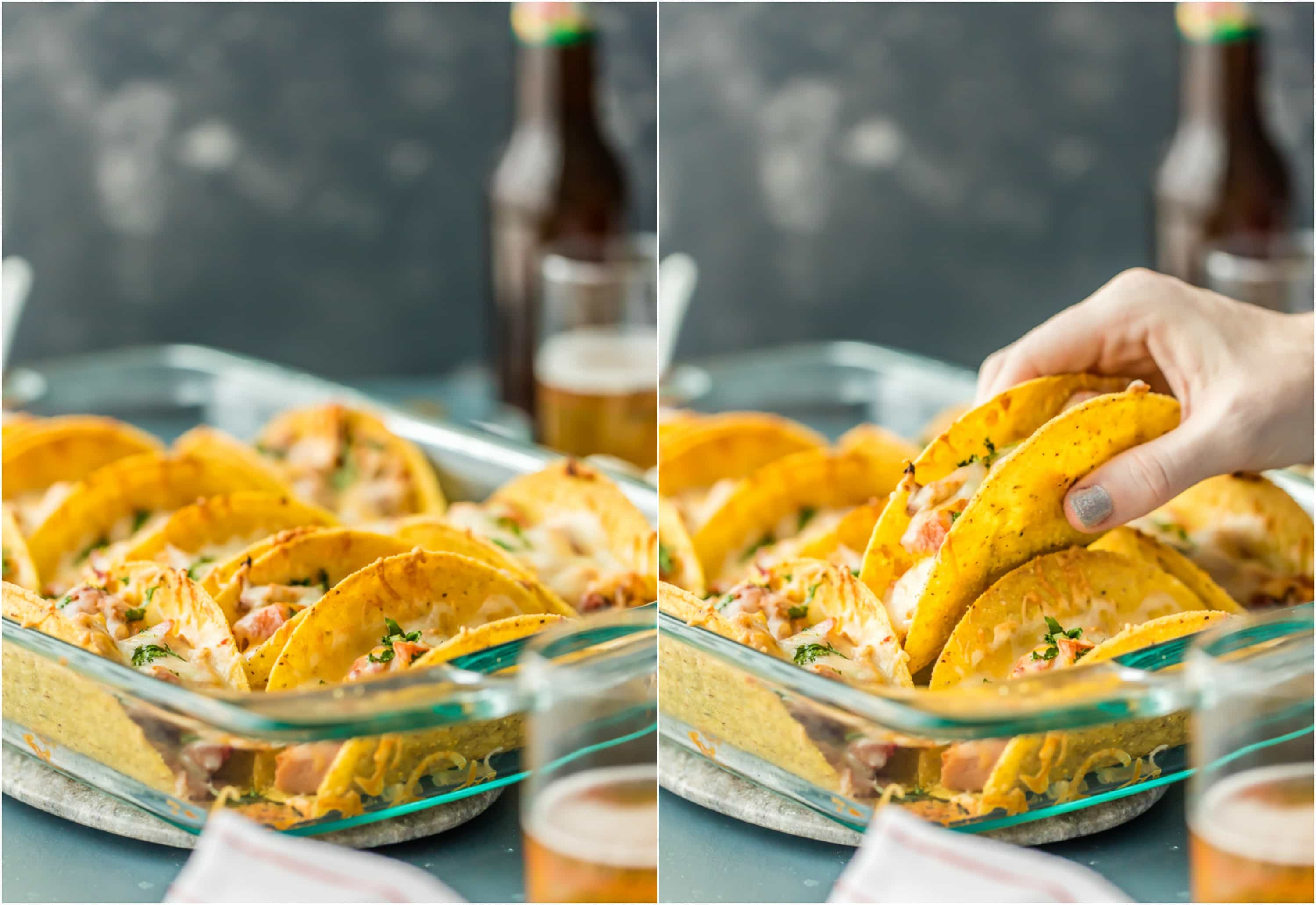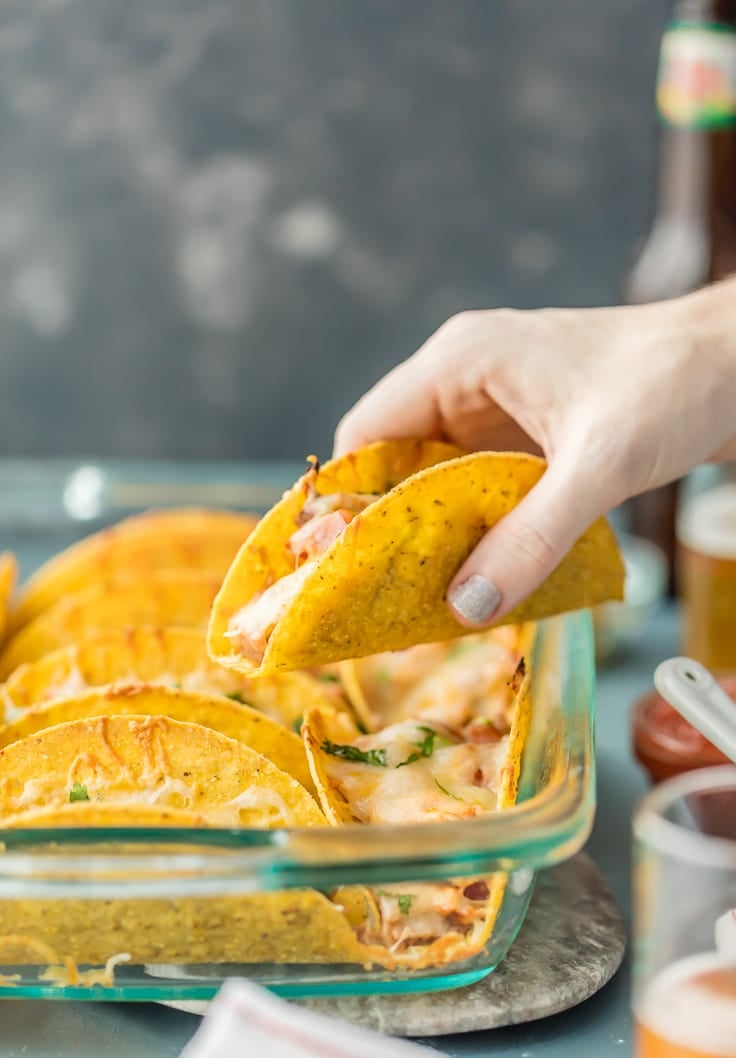 Where to serve Chicken Tacos:
I'm pretty sure these are the perfect easy appetizer or meal for New Years Eve, the Super Bowl, Cinco de Mayo, Summer BBQs, Taco Night and more. Why slave away in the kitchen when you can have these Chicken Tacos (for a crowd!) ready in around 30 minutes?
Chicken Tacos just so happen to be our very favorite easy weeknight dinner recipe. The family NEVER gets tired of these Easy Baked Tacos!
Taco Night is the perfect time to make these Baked Chicken Tacos. Check out the full Taco Tuesday Guide for more tips, ideas, and recipes!
What drinks to pair with Chicken Tacos
There's nothing better to pair with Easy Chicken Tacos than an amazing Margarita! We have compiled all our favorite Margarita Recipes in the ULTIMATE MARGARITA GUIDE. From classic to unique to flavored to frozen, we have you covered! Be sure to check it out today.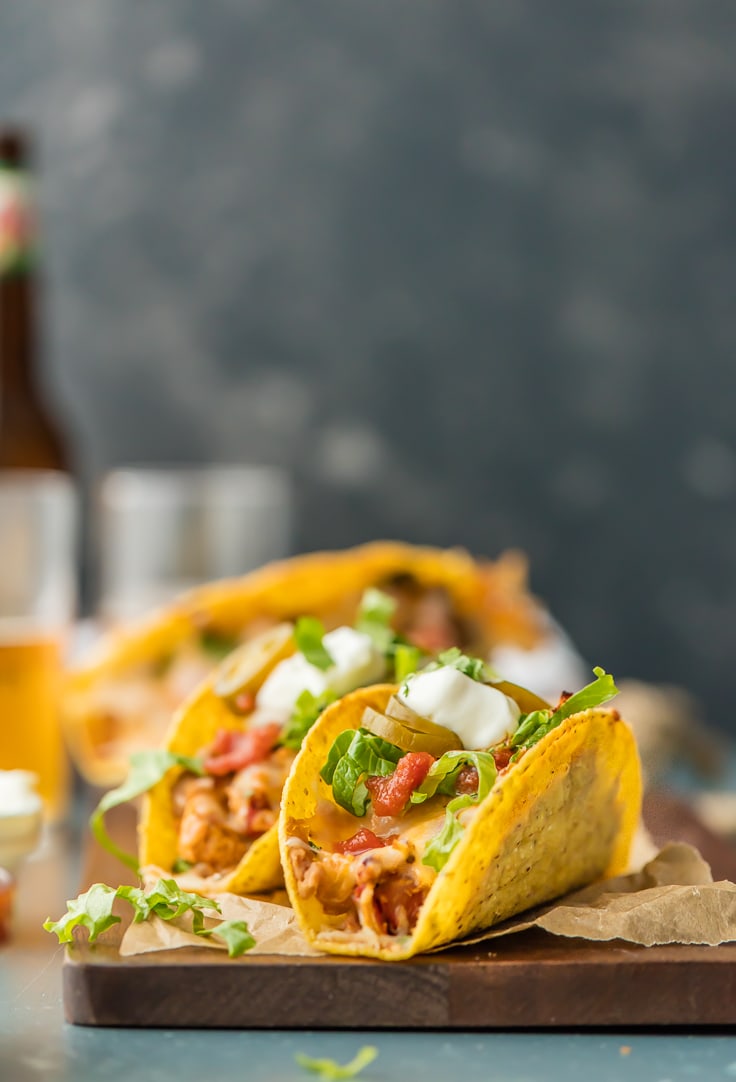 Tips for Crispy Taco Shells
IT'S A GOOD QUESTION! It's one I get often, so I've done my best to troubleshoot the problem. I always bake the shells for 5 minutes on their own before stuffing them with all the delicious toppings and cooking all the way. This way they have the chance to really crisp up on their own before you get started.
I also make sure refried beans are the bottom layer, creating a bit of a barrier between the chicken mixture and the shell. The shells are bound to be less crispy on the bottom than they are at the top, and that's just part of what happens when you bake them, but they SHOULD NOT break or be soggy.
The other truly important step is FULLY DRAINING the tomatoes and green chiles before adding into the chicken mixture. I recommend first draining, then letting sit over a bowl in a strainer for about 5 minutes to make sure they drain all the way. This will help to keep the shells crispy, so important!
Side Dishes to serve with Chicken Tacos?
Almost every time we make these baked spicy chicken tacos we serve them with my Easy Cheesy Tex Mex Rice and simple black beans with cojita cheese. If we really want to indulge, we will make some White Queso and Tequila Lime Chicken Nachos! That's for parties like the Super Bowl where calories have been shown to actually not count. :)
Here are some other great pairings for these Chicken Tacos:
Cocktail Pairings for Easy Chicken Tacos
Oh okay, so you're my people! My fave pairings are either a Classic Skinny Margarita or our Sparkling Strawberry Margarita Punch. You can also go with a great Mexican beer and be in business. Every great meal needs a great drink, especially if you're entertaining a crowd, but that doesn't mean you have to make something fancy. Have fun with the cocktail pairings and you'll be a star in no time!
Want more fun cocktails to chase down these Chicken Tacos? We've got you covered!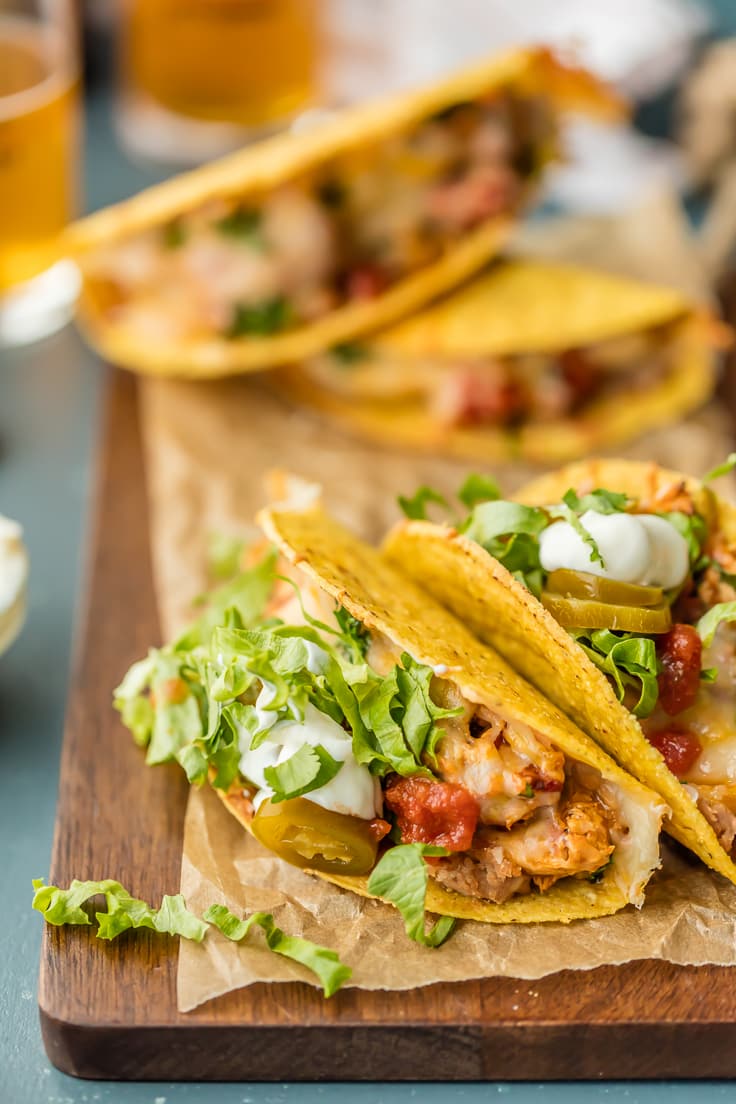 This Chicken Tacos recipe is the MOST popular recipe on The Cookie Rookie and I hope you love it as much as we do! Remember to let me know if you make it. If you make it on Instagram, tag #thecookierookie for your chance to be featured in my IG stories! I love to see what readers are making!
FREE CHICKEN EBOOK
The Cookie Rookie is practically famous for amazing Chicken Recipes, mostly due to these Chicken Tacos. We have so many other chicken favorites that I hope you check out, and even have a FREE EBOOK for subscribers (click to find out more). I'm here for all your easy chicken recipes needs!
Other Chicken Breast Recipes we love:
Watch the Video for How to Make Chicken Tacos!
Other Mexican Recipes you MUST MAKE to eat with these Chicken Tacos: