This post brought to you by Chiquita Banana. The content and opinions expressed below are that of The Cookie Rookie.
Cheesecake Watermelon Pizza is a delicious and fun sweet treat that everyone will enjoy! I'm holding on to the last bit of warm weather with this fun Banana Cheesecake Watermelon Pizza! Fun and tasty for the whole family!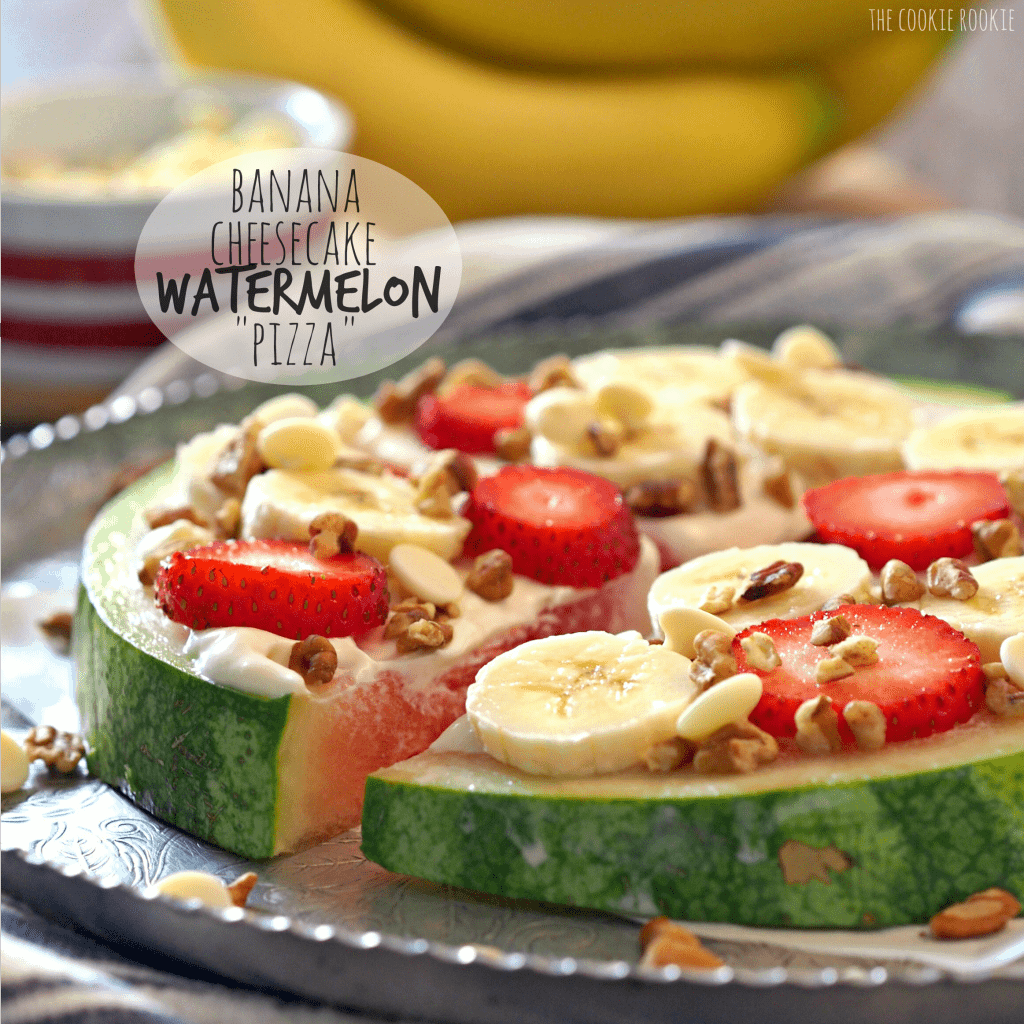 Okay, okay, okay.  I know its October and 50 degrees outside.  At least here in Missouri.  But in my mind I'm still living in Florida where the weather allowed for year round flip flops and tank tops.  I saw pictures on facebook of my friends at the beach last week.
So somewhere in the world…this Banana Cheesecake Watermelon "Pizza" is still acceptable.
When I saw Watermelon still at my local grocery store…I needed it.  I wanted to hold on to the last glimpses of Summer before Winter creeps in.  Is that so wrong??
In the spirit of celebrating the last days of (semi) warm weather, I have a super fun contest for you!! Chiquita Banana, bringing the world delicious bananas for years and years, has created the Chiquita Cooking Lab and wants one of us to win a LOT of money by creating recipes! Secretly, I don't want you to win.  I want to win.  But I'll be happy if a Cookie Rookie reader wins.  VERY happy!! We can do it!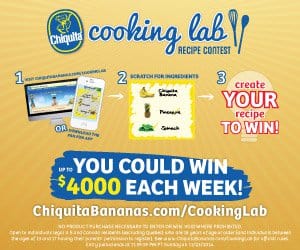 Here's how it works.  Each week (from now until Nov. 24), Chiquita will be naming three new ingredients for you to use in order to come up with an original recipe.  They'll pick a winning recipe each and every week, and the creator will win $4000! Um…yeah.  That's awesome.  They'll also be picking 4 random winners a week that will get gift bags. Check out the contest at #ChiquitaCookingLab and their Facebook page at: #ChiquitaCookingLab.  Good luck! I just know one of us will take home the prize!
If the money isn't enough, they're also making the winning recipes into stop motion videos and promoting them via social media.  That is SO fun.  Again…I am partial to my own recipe, but I'm sure yours will be great too :) :)
K, back to the summer-y recipe at hand.  The recipe that is making me miss my Florida gals and their amazing weather.  The recipe that I'll be bringing to lots of BBQs in the future (EASY RECIPES ARE THE BEST RECIPES).  Banana Cheesecake Watermelon Pizza.  That's a lot of yum right there.
My contest ingredients were bananas, watermelon, and yogurt.  What will your winning ingredients be?? Check out the contest at #ChiquitaCookingLab.  Good luck all!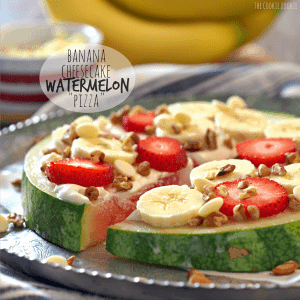 Banana Cheesecake Watermelon "Pizza"
Print
Ingredients
1

round slice of watermelon

about 1 1/2 inch thick

4

ounces

vanilla greek yogurt

4

ounces

low fat cream cheese

1/4

cup

powdered sugar

optional

4-5

strawberries

sliced

1

banana

sliced

1/4

cup

white chocolate chips

1/4

cup

chopped pecans
Instructions
Using an electric mixer, mix together greek yogurt, cream cheese, and powdered sugar until well combined. Set aside.

Place your watermelon on a large plate/platter

Spread cream cheese mixture over watermelon, like a "pizza sauce"

Top with banana slices and strawberries

Sprinkle on the pecans and white chocolate chips

Cut into slices (like pizza slices) and serve cold. Enjoy!