Watermelon Pizza is a delicious and fun sweet treat that everyone will enjoy! Juicy watermelon topped with a low-fat cheesecake sauce, fresh strawberries, bananas, white chocolate chips, and pecans is the ultimate (but still indulgent) healthy dessert. This refreshing cheesecake watermelon pizza is an easy summer dessert you'll be eating all season long!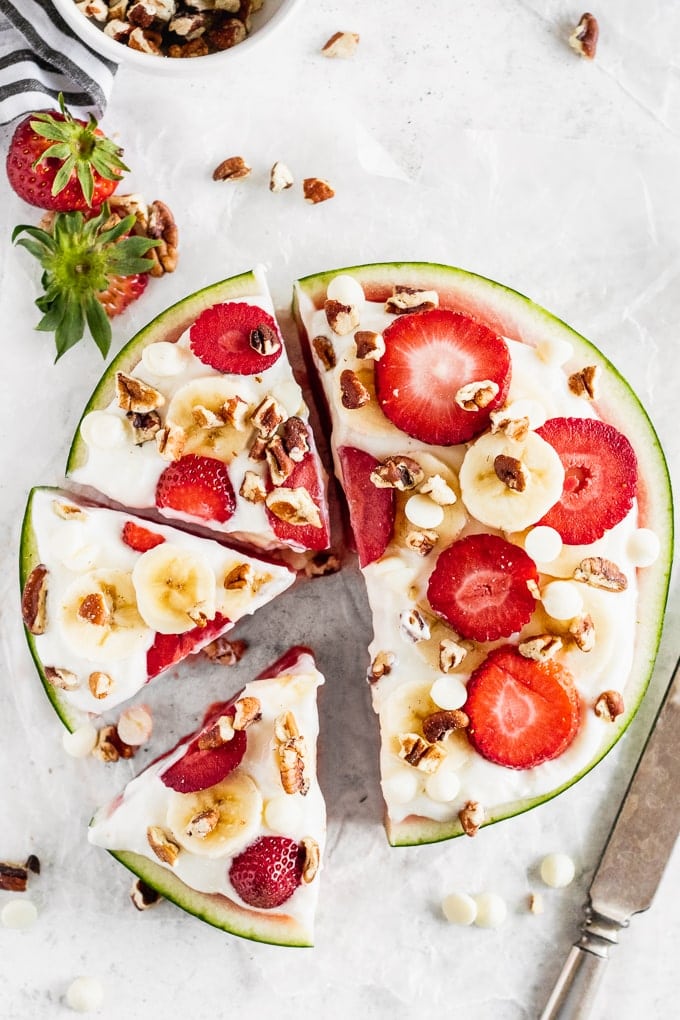 Watermelon Pizza
Watermelon Pizza is a refreshing, light, delicious dessert pizza perfect for summer. This easy summer dessert is topped with a cheesecake sauce, so it's still rich & indulgent!
Cheesecake Watermelon Pizza is a fruity, sweet, guilt-free dessert pizza you'll want to eat all summer long. It starts with a thick slice of fresh watermelon, add on the low-fat cheesecake sauce, and top it off with white chocolate chips, strawberries, bananas, and pecans…talk about YUMMY!
This easy summer dessert recipe is such a fun thing to serve on a hot summer night, or bring it to the next BBQ. Everyone will be amazed by this pretty and unique dessert! I love that it has such a rich, sweet flavor, yet it's still healthy. Besides all of the nutritious fruit, the cheesecake sauce is made with low-fat cream cheese and greek yogurt, so it's a healthy dessert you can feel good about.
I love watermelon, and I love cheesecake, so this Cheesecake Watermelon Pizza is a winner in my book! And it's so easy to make, I know I'll be making this over and over again for the rest of the season.
This Cheesecake Watermelon Pizza is topped with fresh strawberries, sliced bananas, white chocolate chips, and chopped pecans.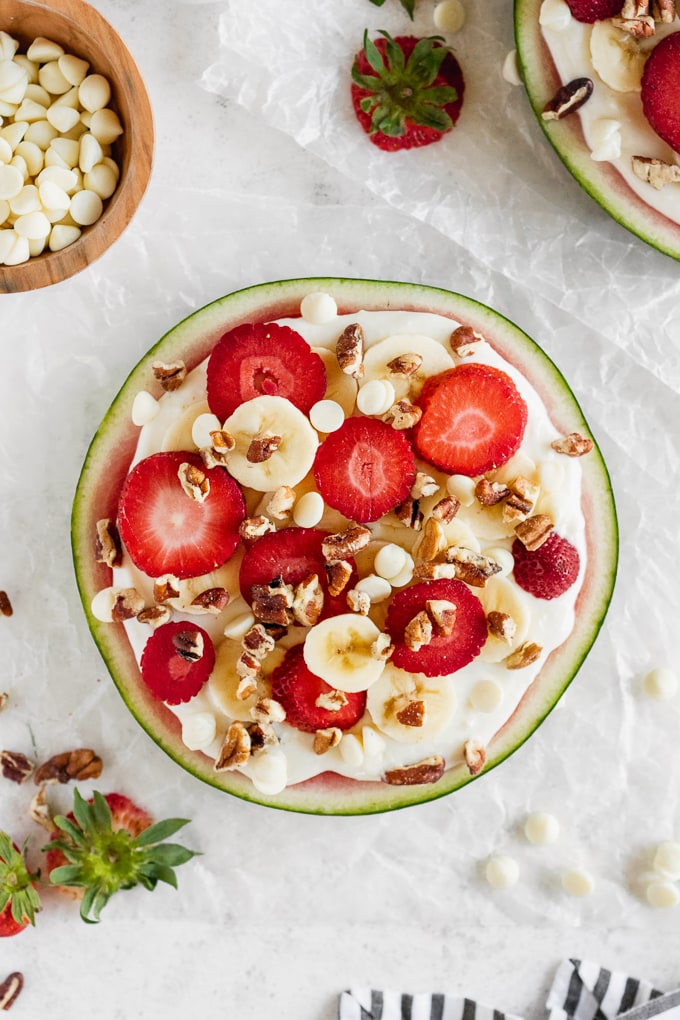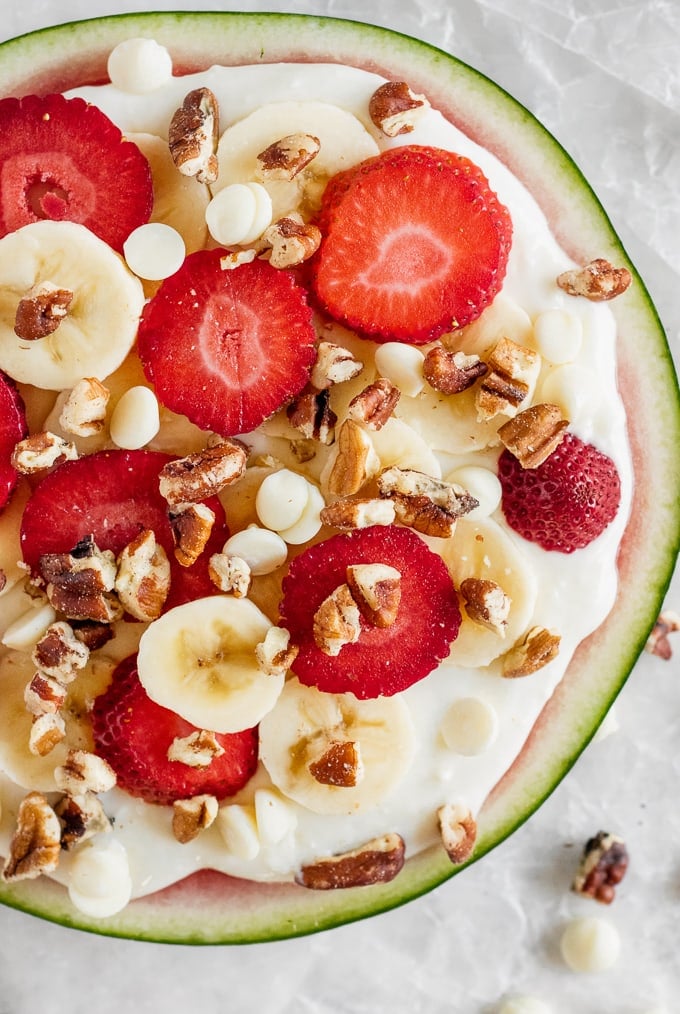 Healthy Dessert Pizza filled with Fruit
I LOVE desserts, so I love coming up with creative, delicious, HEALTHY desserts that I can eat guilt-free. Don't get me wrong, I definitely indulge in the regular, calorie-filled desserts to, but it's so nice to have healthy option like this cheesecake watermelon pizza. Not only is it good for you, but it's SO amazingly yummy. There's not sacrificing taste or sweetness for this low-fat, nutritious dessert.
This recipe is all about the fresh fruit (watermelon, strawberries, bananas), with just the right amount of white chocolate chips and cheesecake sauce for that rich indulgence.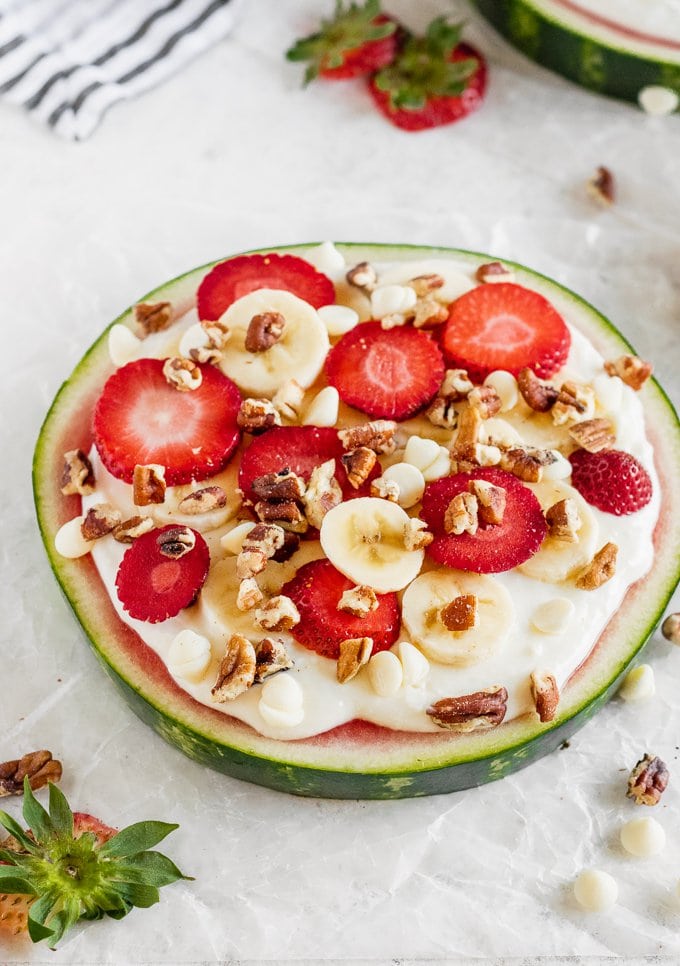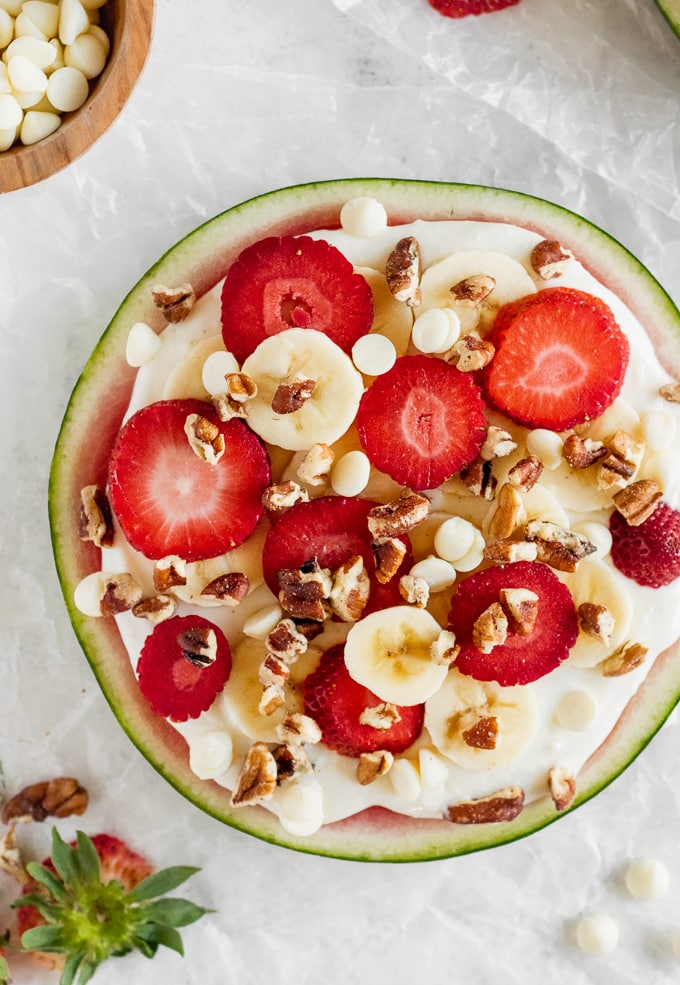 Kid Friendly Healthy Dessert Recipe
Henry (15 months) was OBSESSED with this fun and healthy Watermelon Pizza! He felt like such a big boy holding a piece on his own and taking a bite. I could feel good about feeding it to him and I know we will be eating it all Summer long. I can't wait to try it in his other favorite fruit combination, banana and blueberry! The kid is legit fueled on blueberries at this point. No one tell him that blueberries aren't actually candy…ok?
How to Make Cheesecake Watermelon Pizza
The sweet, fruity flavor of this healthy dessert recipe is exactly what I love to eat during the summer. There's just the right amount of creamy cheesecake sauce and chocolate chips to give it that extra desserty feel. And you guys know I live for an easy recipe, so this one is just perfect. It only takes a few minutes to prepare!
How to Make Cheesecake Watermelon Pizza:
Cut a thick (1 1/2 inch) round slice of watermelon for your "pizza" base
Mix greek yogurt, cream cheese, and powdered sugar
Spread the cheesecake mixture over the watermelon like a pizza sauce
Top with slices of bananas and strawberries
Add chopped pecans and white chocolate chips on top
Slice the watermelon pizza and serve!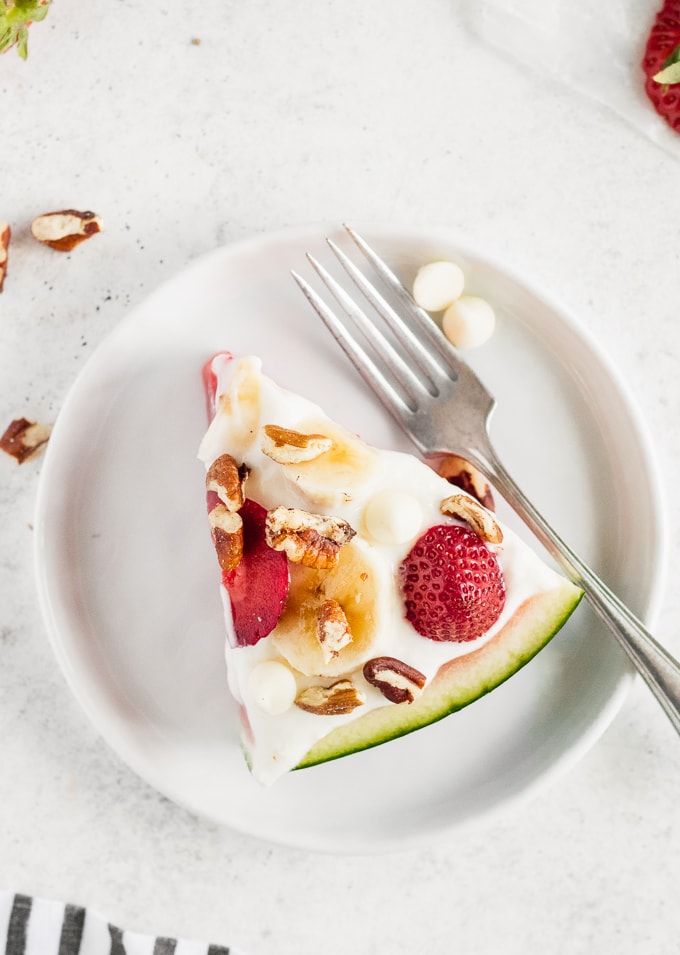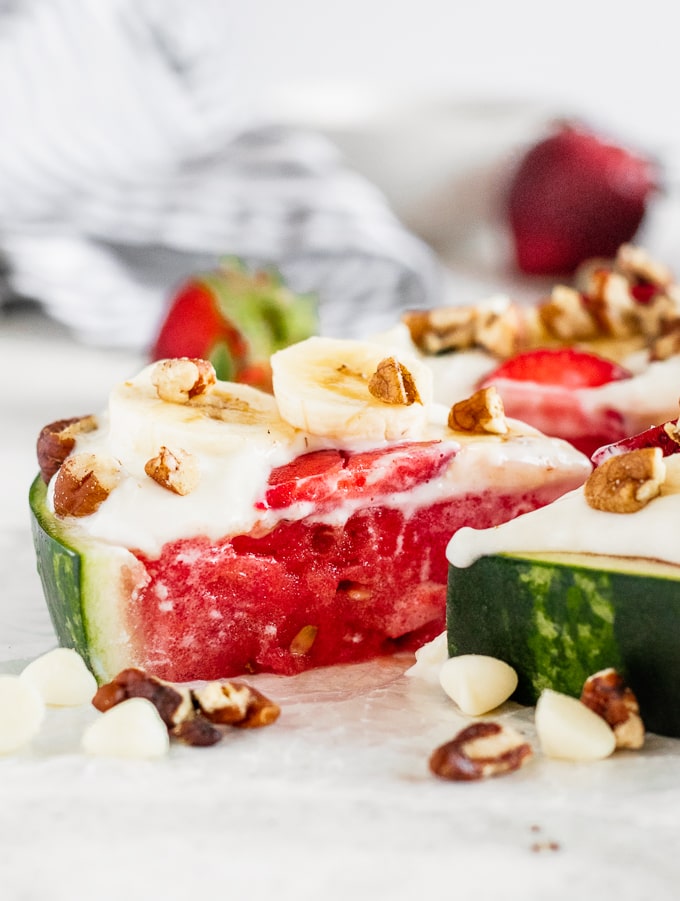 Easy Summer Desserts
When the heat starts to take over during the summer, it's so nice to have light, refreshing desserts to serve day or night. We all need easy summer desserts that are filled with fresh ingredients to keep us cool. Ice cream is great, of course, but the best summer desserts have high water content to keep us hydrated in the heat. That means things like fruit and ice should be major ingredients!
There's nothing more refreshing than fruit, and that's what makes this cheesecake watermelon pizza so perfect for summer.
Try these other easy summer desserts too: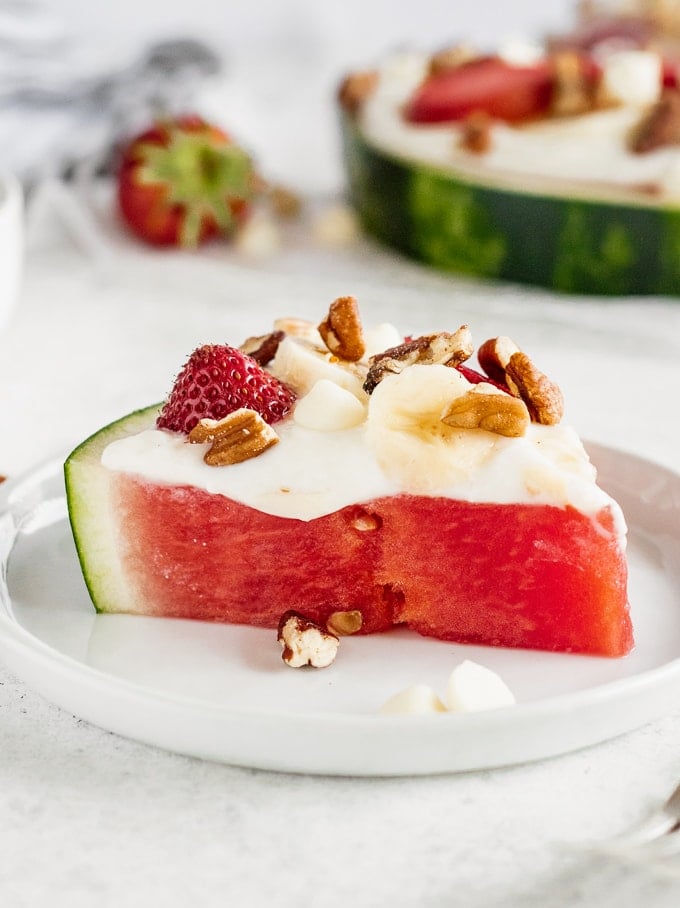 I can't enough of this Cheesecake Watermelon Pizza! I love that it's a healthy dessert I can eat all summer without feeling guilty. Juicy watermelon, fresh strawberries & bananas, and low-fat cheesecake sauce. So refreshing and delicious! An easy summer dessert recipe to serve all season.
See the recipe card below for details on how to make this Cheesecake Watermelon Pizza. Enjoy!