Farro salad is a flavorful and healthy option for a light lunch or a fun side dish. This BLT salad is made with bacon, arugula, cherry tomatoes, onions, feta cheese, and farro, and then tossed with a mayo salad dressing. I just love this healthy arugula salad for summer!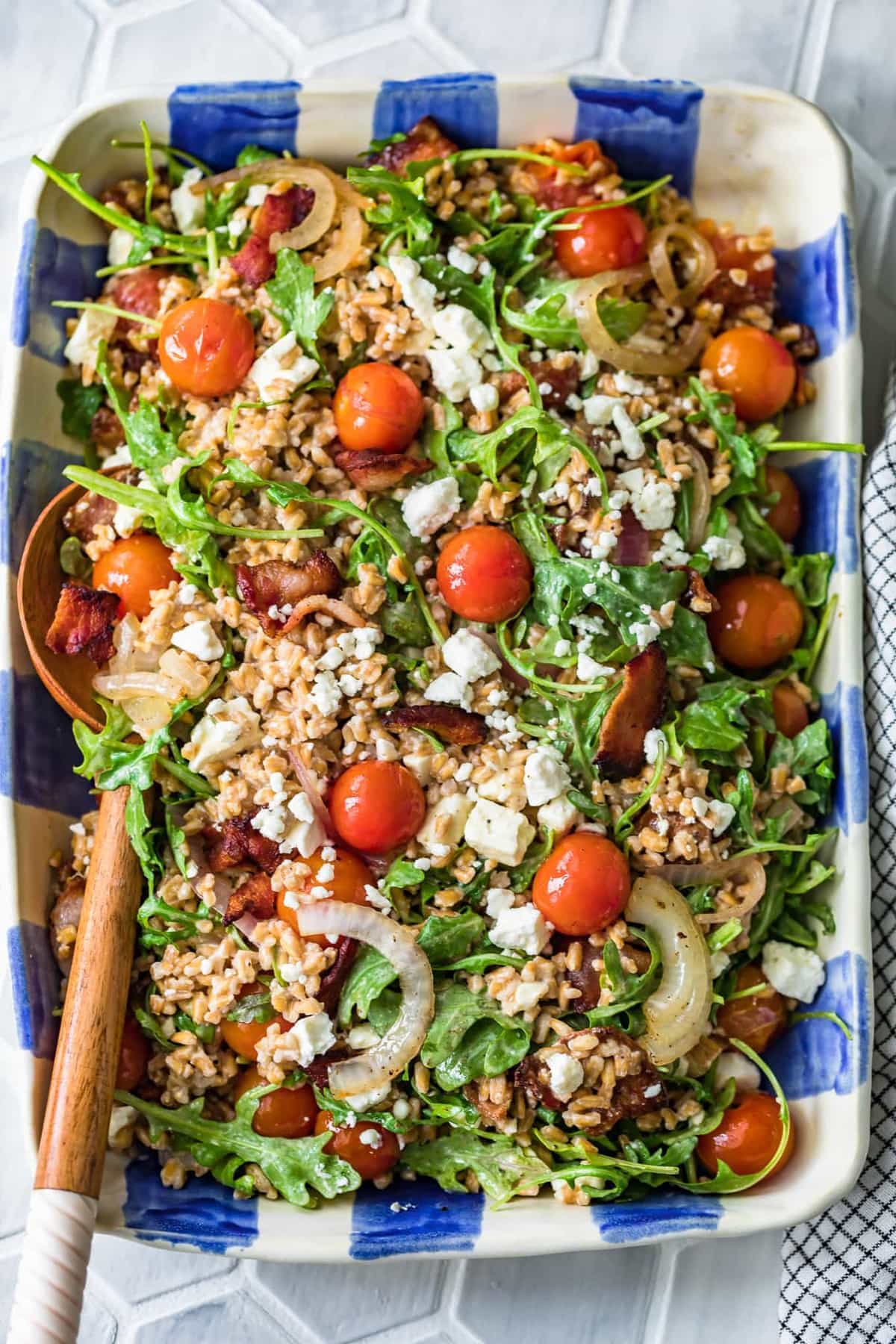 BLT Farro Salad
Need a fun summer salad? Then you're going to love this BLT farro salad recipe! Filled with amazing ingredients, lots of flavor, AND it's good for you.
Summertime calls for lots of fresh salads. Something about warm weather just makes me want to eat a little bit healthier, but that doesn't mean I want to sacrifice flavor. So this farro salad recipe is exactly what I need.
This BLT salad puts a twist on that classic combo; it's filled with bacon, arugula (lettuce), and cherry tomatoes. It's also got feta cheese, onions, farro, and a delicious dressing. This isn't your typical boring salad! You'll want to eat allll the time, and it just so happens to be good for you.
Add this arugula salad on the side with your next meal, or make it for a nice light lunch!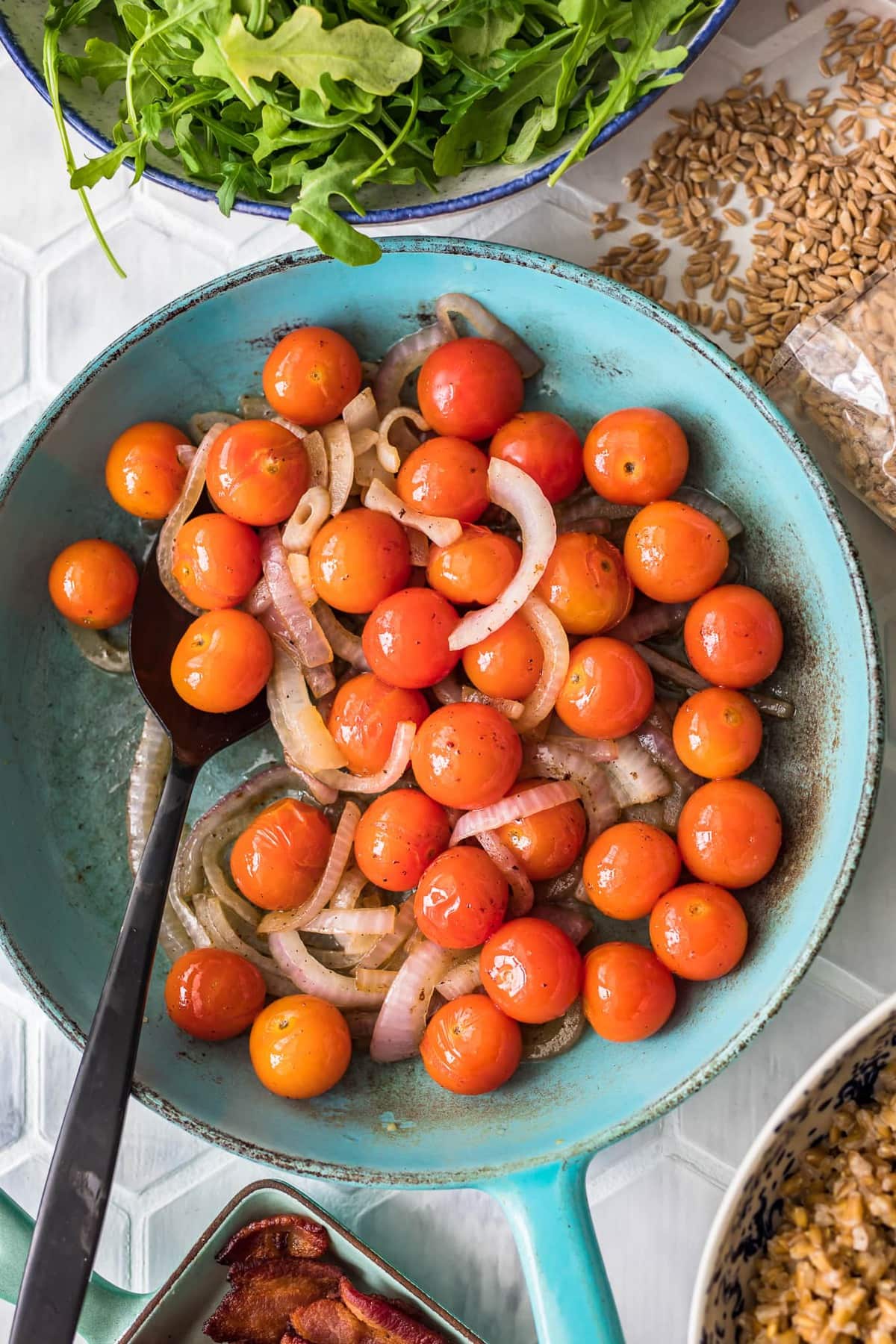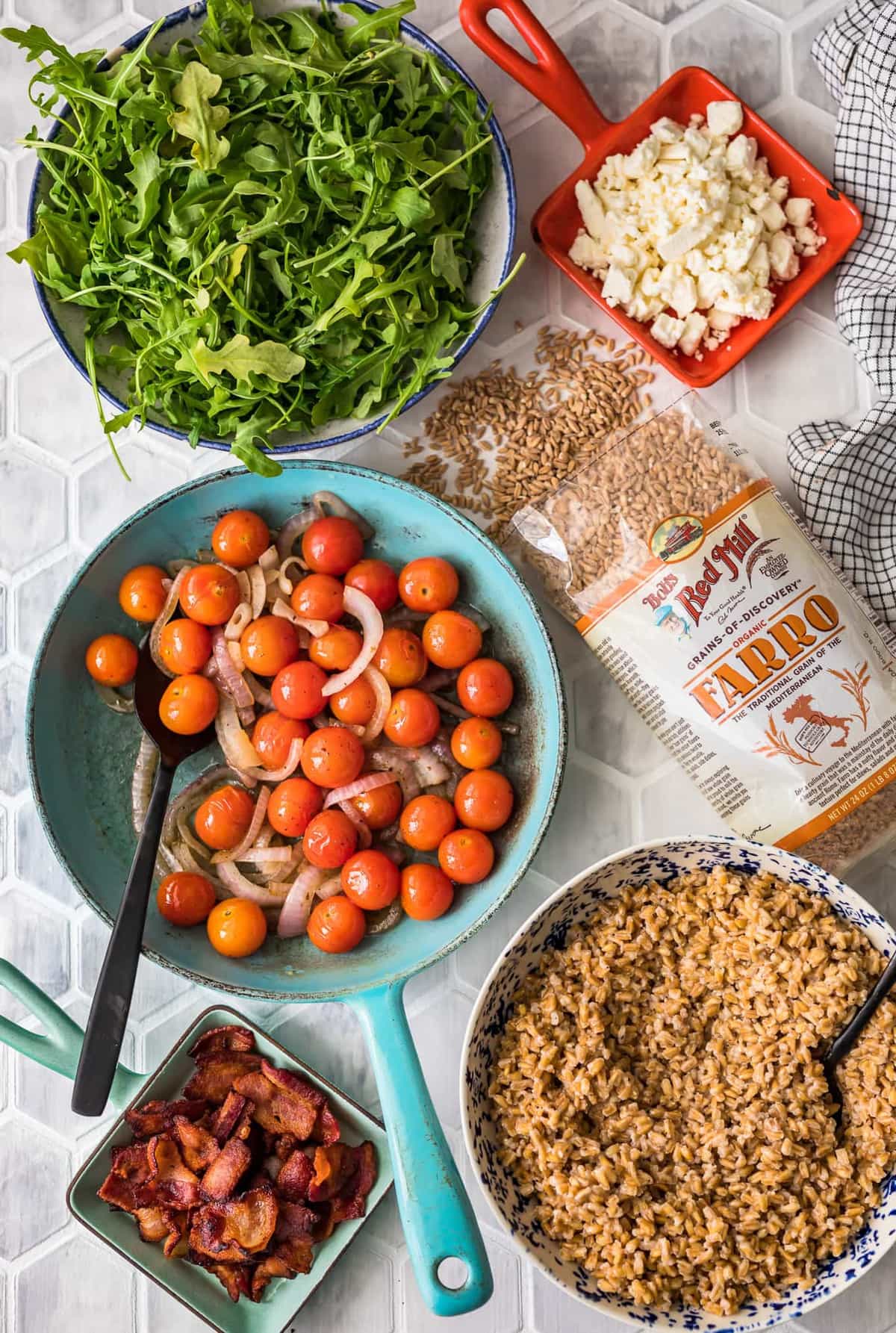 What is Farro?
If you haven't tried Farro, you're truly in for a new favorite ingredient! You guys know that I'm a hug fan of Bob's Red Mill, and their Organic Farro is a pantry staple I simply can't live without. You might remember me using it with our Caprese Farro Salad, which makes an appearance at so many family parties and friend bbqs throughout the years.
Farro is a type of hulled wheat, typically prepared by cooking in water, and is eaten on its own or is perfect in salads, sides, and even soups. It's a great way to make any meal that much heartier while still keeping things fresh and light. It tastes a bit like quinoa or rice, and lends itself to literally any flavor combination. You can use it in breakfast recipes, sweet treats, or savory recipes like this BLT Farro Salad.
As with everything they make, Bob's Red Mill has the top quality Farro on the market. It's available almost everywhere, even on Amazon! Click HERE to see where to buy. You won't regret it!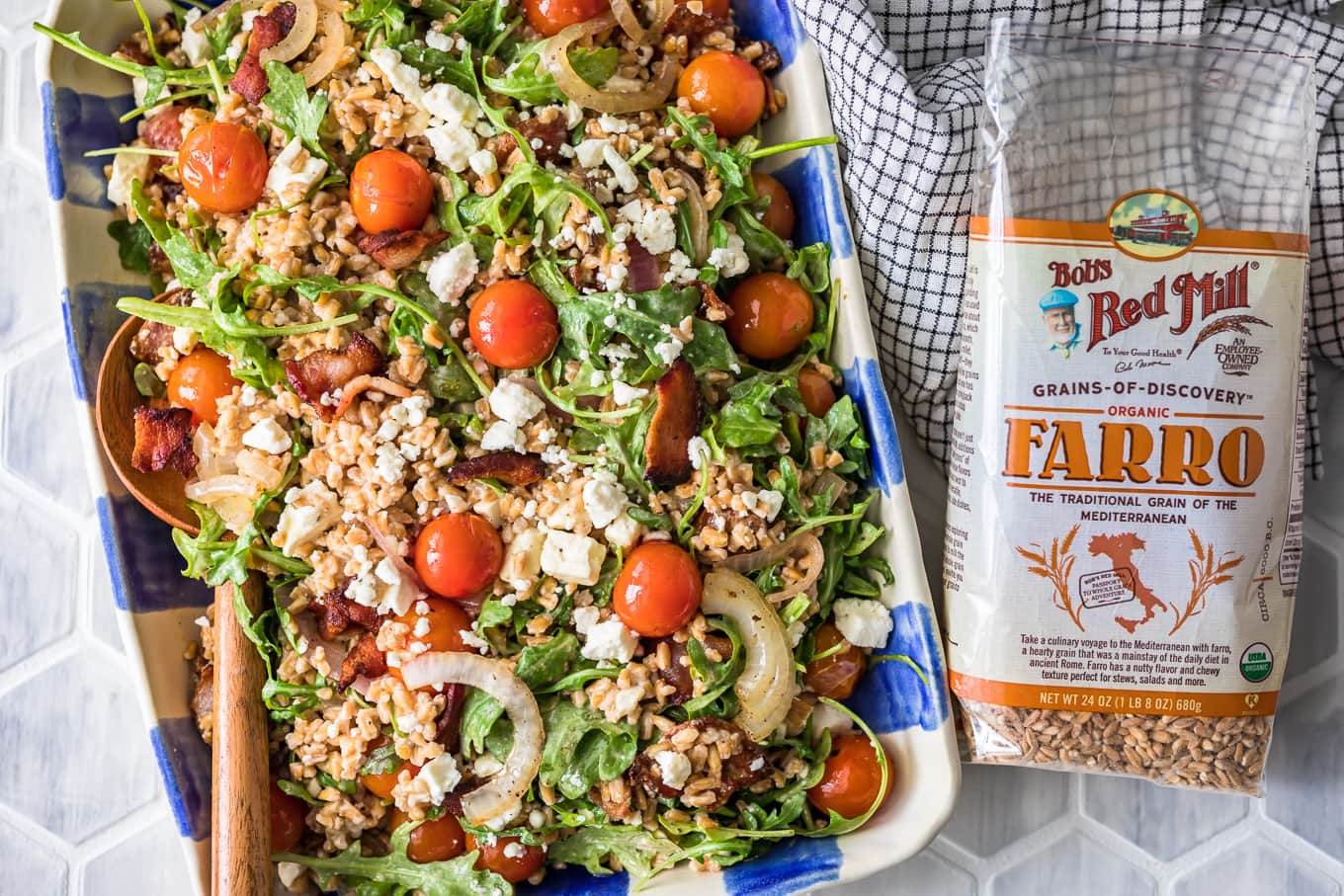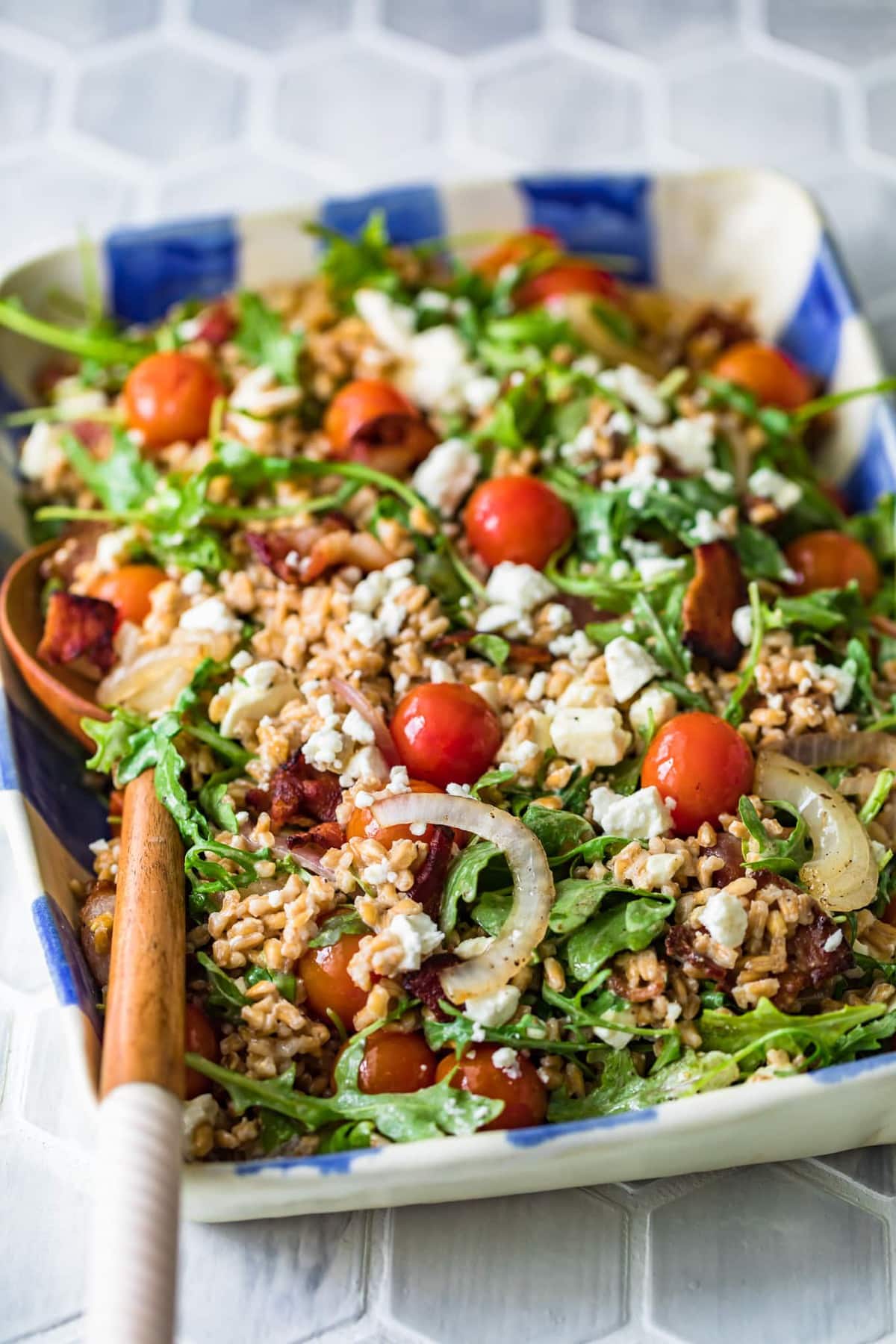 Bacon, Tomato, Onion, Arugula Salad
Bacon, lettuce, and tomato is a classic combination, but I think a healthy salad deserves an upgraded version: bacon, arugula, and cherry tomatoes. Add in the onion and farro and you've got a beautiful, tasty farro BLT salad recipe to serve any time.
The dressing is the perfect flavor, and really complements the sauteed tomatoes and onion. The cherry tomatoes get sooo juicy and sweet, and they might be my favorite part of the salad…besides the bacon.
Salad Ingredients:
Farro
Bacon
Cherry Tomatoes
Arugula
Feta Cheese
Dressing Ingredients:
Mayonnaise
Garlic Powder
Red Wine Vinegar
Olive Oil
Salt & Pepper
How to Make Farro Salad
This is such an easy salad to throw together. I love the mix of cold and cooked ingredients; it just tastes so fresh, it's warm, and it's AMAZING.
How To:
Combine vinegar, mayo, olive oil, garlic powder, salt & pepper to make the salad dressing.
Cook the farro according to the package instructions.
While that is cooking, cook the bacon in a skillet, then set it aside and leave the grease in the skillet.
Add tomatoes and onion into the skillet, and cook for a few minutes (until tomatoes start to burst and onions become transparent).
Place the cooked faro into a large bowl, stir in the vinegar dressing, then add the bacon, tomatoes, onions, feta, and arugula. Toss everything to combine.
It's as easy as that to make a healthy arugula salad!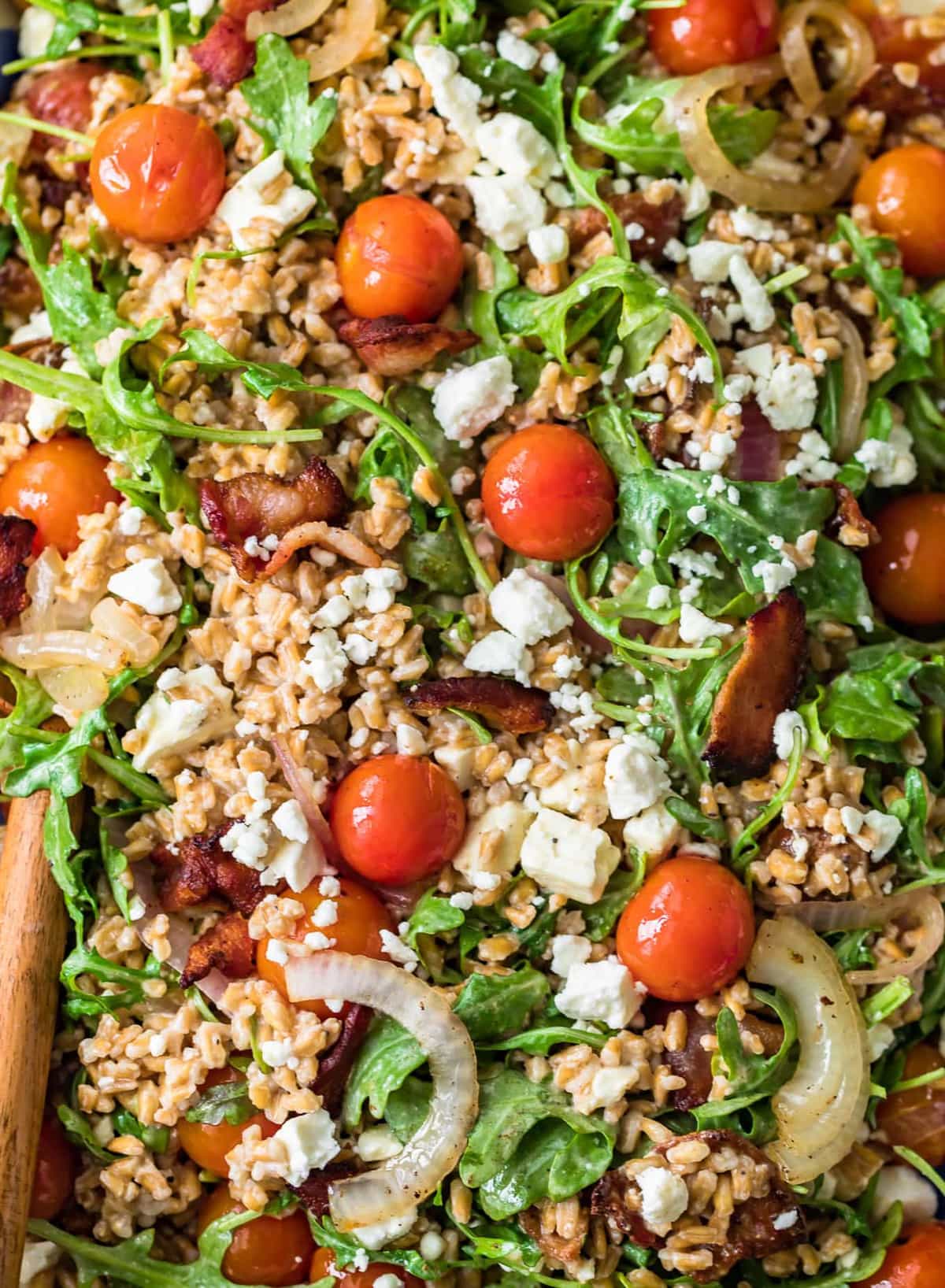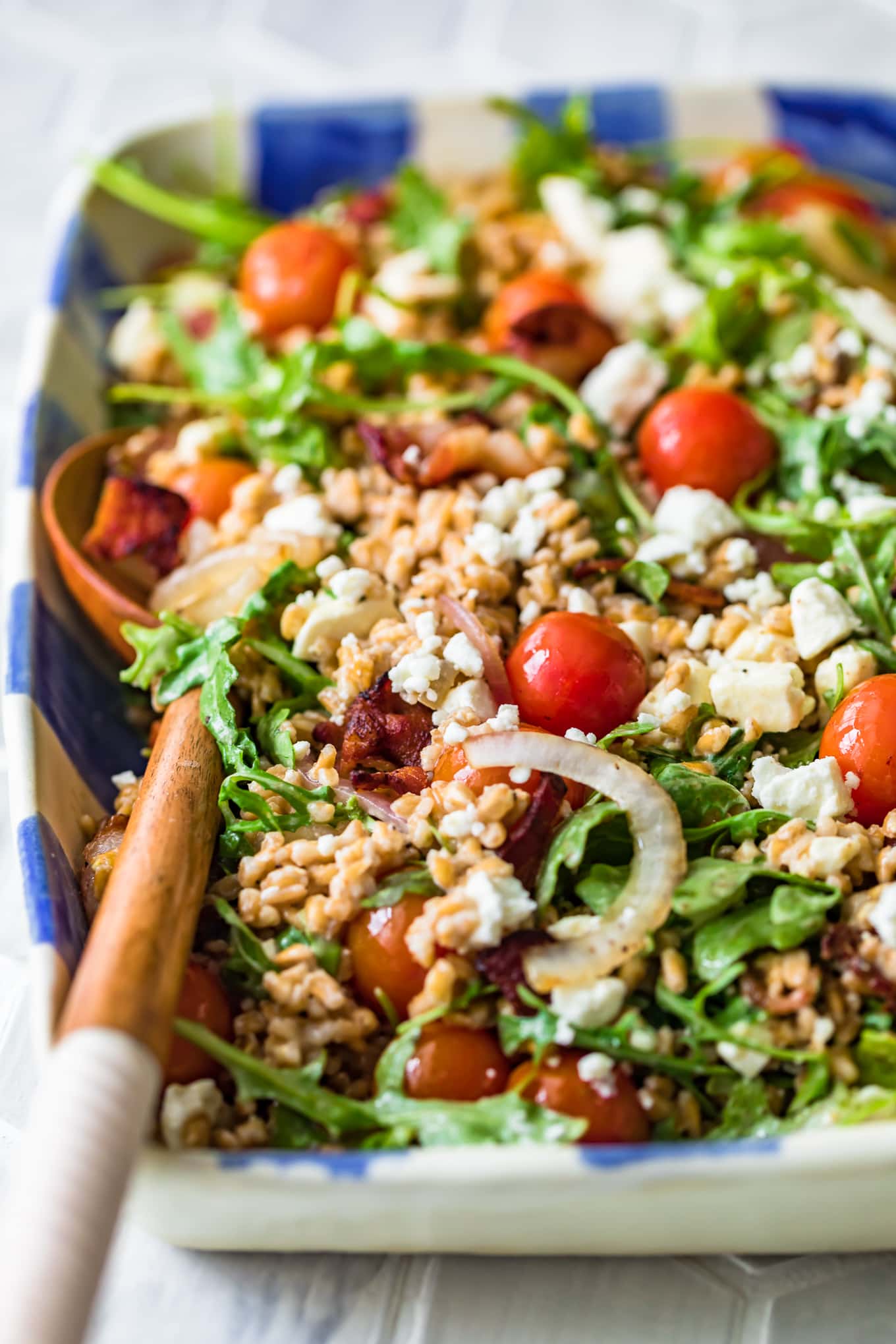 Summer Salad Recipes
After you try this BLT farro salad, you're going to want all the tasty healthy salad recipes for summer. I might not be a salad every single day kind of girl, but I do have plenty of delicious recipes to share.
From classic salads to pasta salads to unique combinations like this arugula salad, there's plenty to keep your plate full here.
Easy Summer Salad Recipes
These salads are perfect for summer!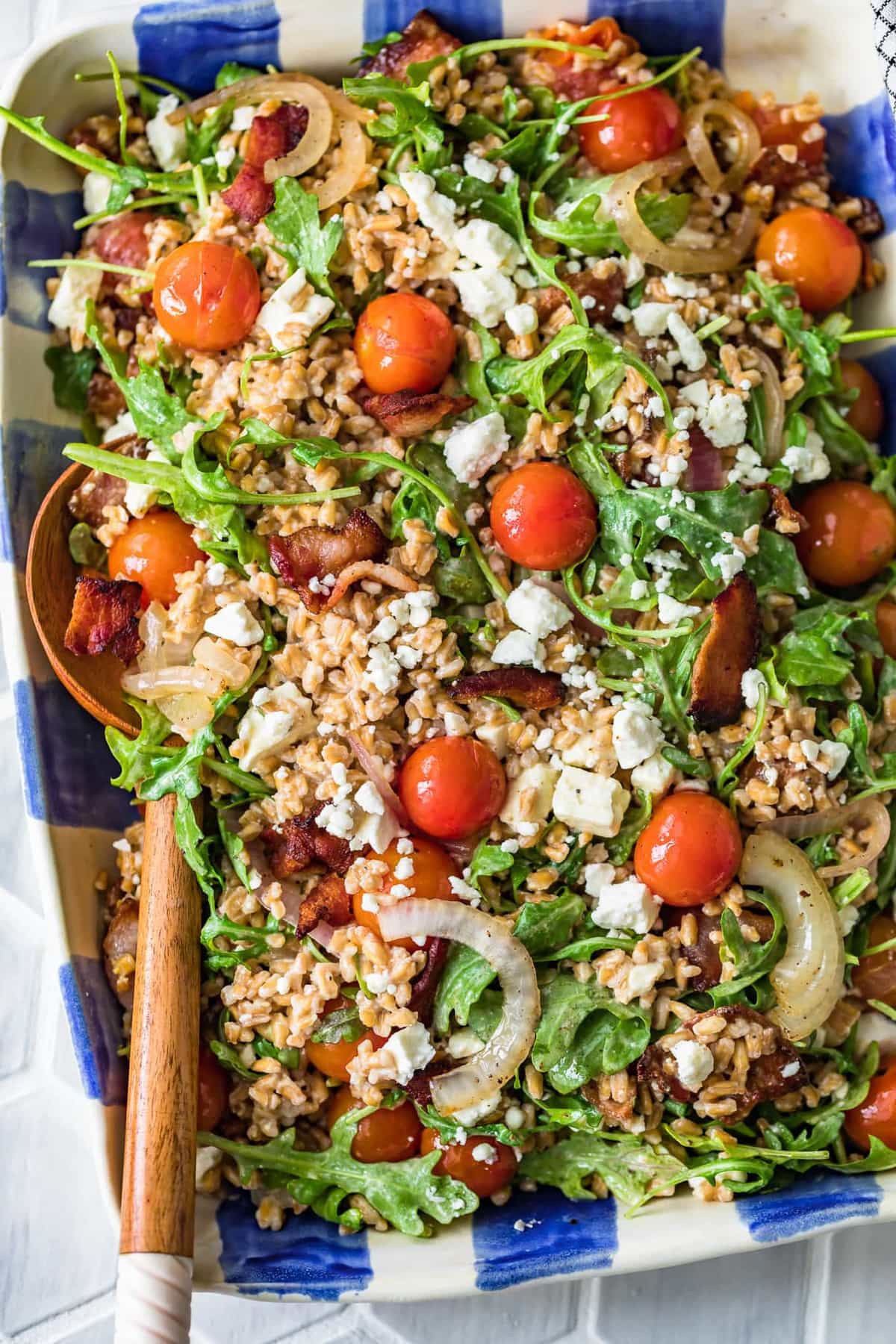 Be sure to add this farro, BLT, arugula salad recipe to your plate this summer. So fun, fresh, and healthy! And it's an easy meal prep recipe for quick lunches or healthy sides to add to dinner.
See the recipe card for details on how to make Farro BLT Salad. Enjoy!
Here are some more salads to try: