Breakfast sandwiches are the perfect morning meal. Kick your breakfast game up a notch with the ULTIMATE Breakfast BLT with egg and avocado mayo. English Muffin, Over easy egg, lettuce, bacon, and tomato!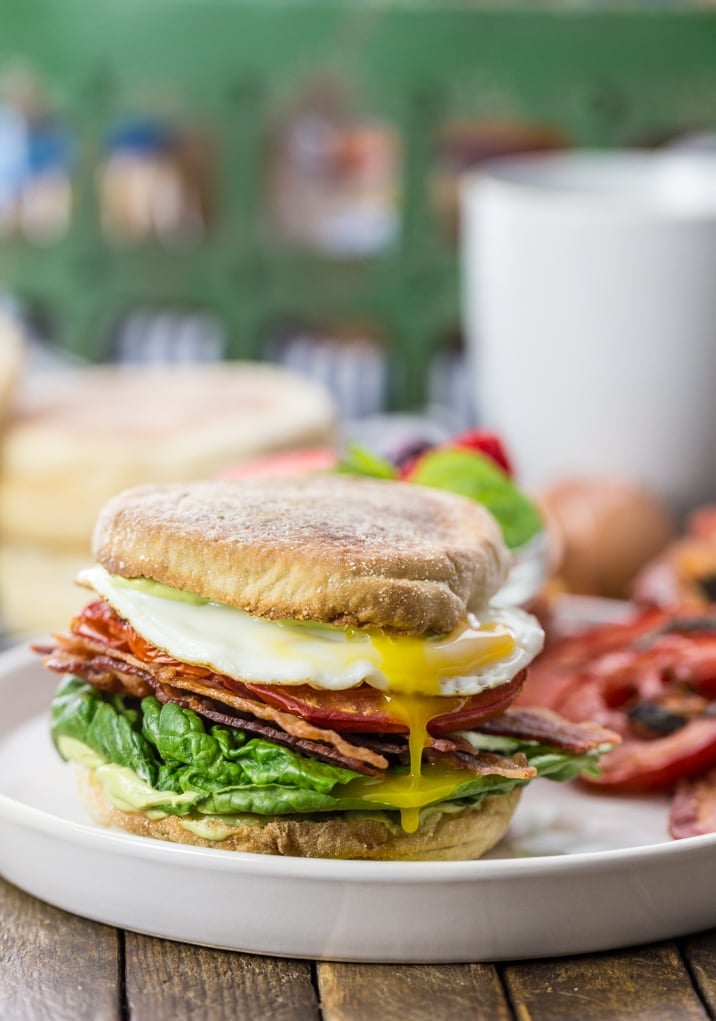 Mornings are the hardest part of the day in my world. Besides not wanting to get out of bed, trying to make a delicious breakfast before my coffee kicks in isn't always fun. But these Breakfast BLT Sandwiches are the ultimate breakfast that are totally worth waking up for!
Why You'll Love This Breakfast Sandwich
BLT for Breakfast – Have you ever wanted to eat a BLT (bacon, lettuce, tomato) for breakfast? Well now you can, with the addition of an egg to make it the perfect morning meal.
Better Than Fast Food – Admittedly this is more time-consuming than running through the drive-thru in the morning, but it tastes a million times better!
Delicious Ingredients – This sandwich is filled with eggs, bacon, Roma tomatoes, lettuce, and avocado mayo, all on an English muffin.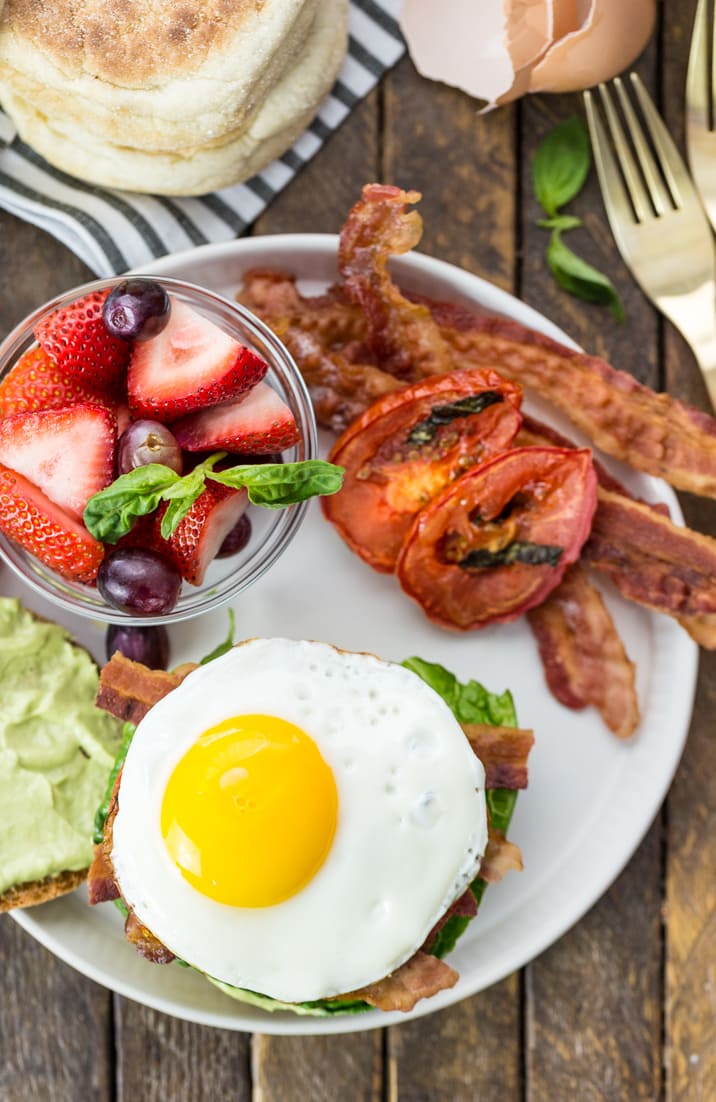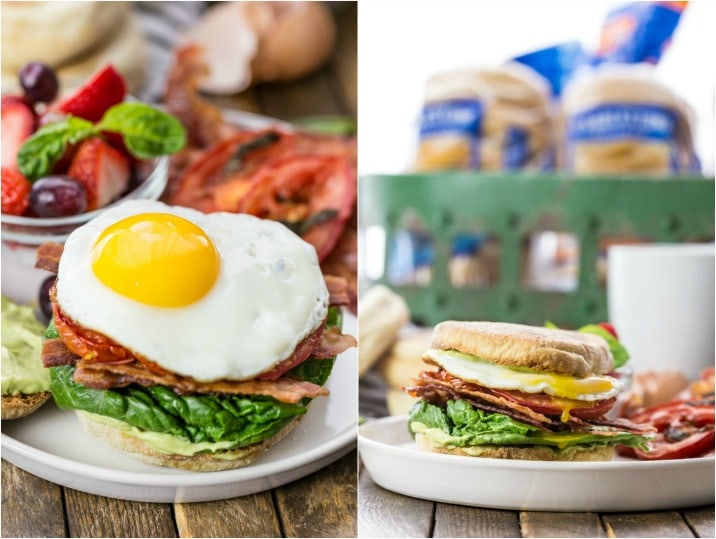 Ingredients
English Muffins
Eggs
Tomatoes – I recommend using Roma tomatoes for the beautiful flavor, but you can use any kind of tomatoes for this recipe.
Bacon
Lettuce – I like using a nice leafy green (like Romaine), but you can use any kind of greens you have.
Avocado Mayo – A mixture of avocado, mayonnaise, and garlic.
Basil
I personally feel like this breakfast sandwich is the perfect combination of ingredients, but I love how easy it is to make substitutions. You might want to leave out the basil if you don't like it, or if you're vegetarian you could skip the bacon (or use tempeh). And if you want to add a slice of cheese, go ahead!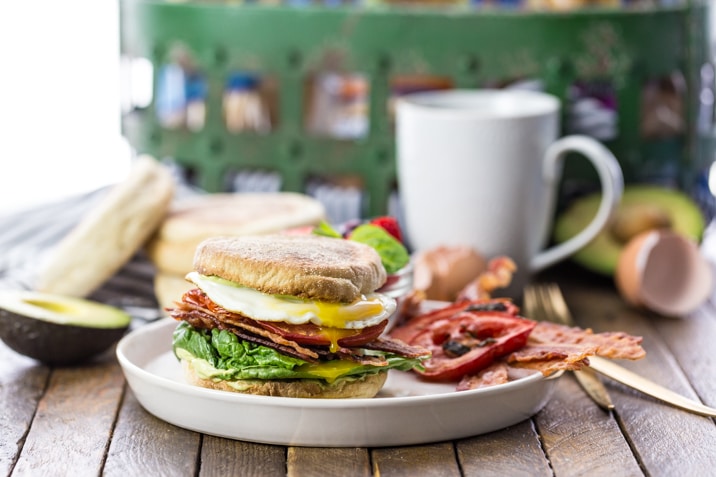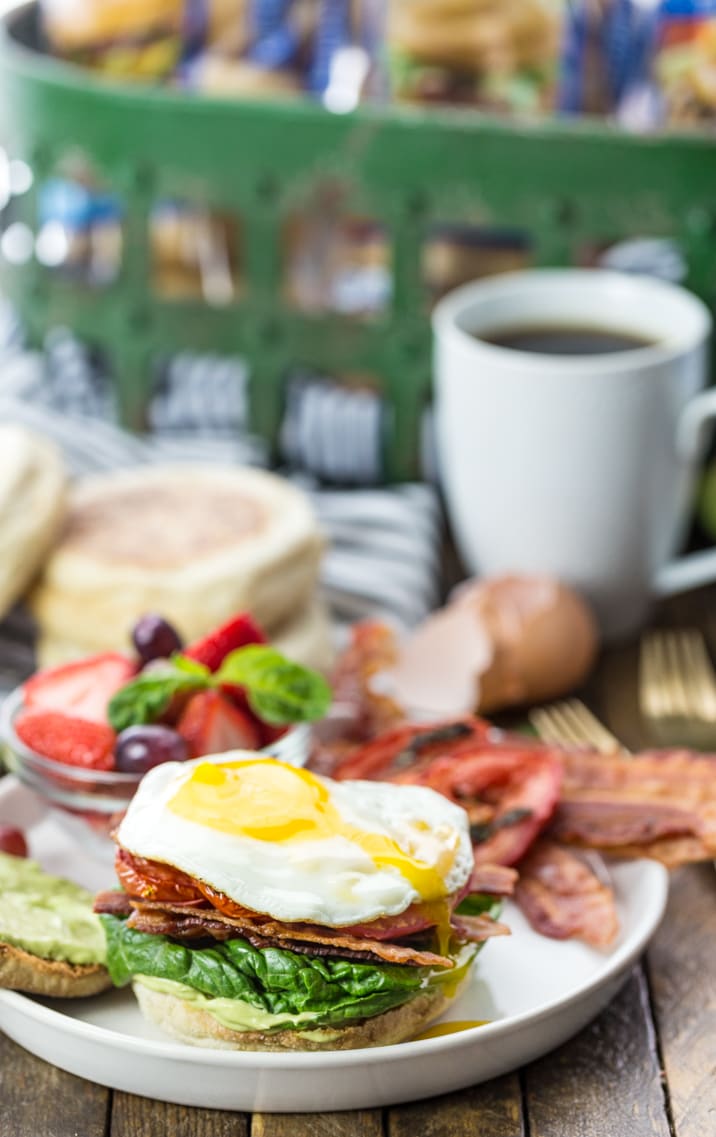 How to Make this Breakfast BLT
Start off by roasting the tomatoes. This will take the longest out of all the steps, but you can do everything else while they cook.
While those are in the oven, make the avocado mayo by blending together avocado, mayonnaise, and garlic.
Fry up the eggs in the last 10 minutes of tomato roast time, so they're still warm when you make the sandwiches.
Assemble your breakfast sandwiches and enjoy!
Check the recipe card below to get the full step by step recipe instructions!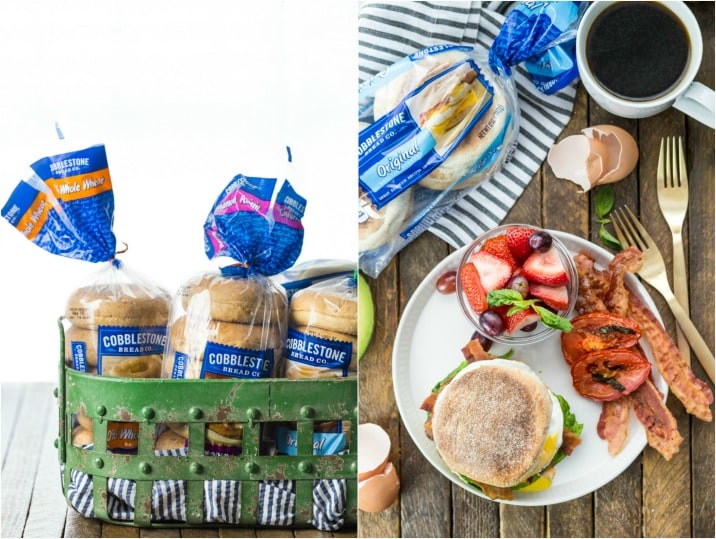 Can I make these breakfast sandwiches ahead of time?
These breakfast sandwiches are best when made fresh, but you can do a few things ahead of time/the night before to speed up the process in the morning.
Roast the tomatoes so they're ready to go in the morning. You can also use uncooked tomatoes to skip the cook time.
Cook the bacon ahead of time. You can keep it in the refrigerator for a day or two before adding it to your sandwiches.
The avocado mayo can also be made ahead of time and refrigerated. The top layer might brown in the fridge overnight, but you can just skim it off if that bothers you.
If you do all of that, you can just quickly assemble the breakfast BLTs in the morning. All you'll need to do is cook the eggs fresh and reheat some of the other ingredients (if you prefer).
Servings Suggestions
These breakfast BLTs are FULL of ingredients. With every food group inside the sandwich itself, this makes a great all-in-one meal. But I love serving these with a side of fruit to add a little something light and sweet.
If you have time to sit down and enjoy these, you could serve them with a side of breakfast potatoes. And don't forget the coffee (I like Bulletproof Coffee or Iced Coffee).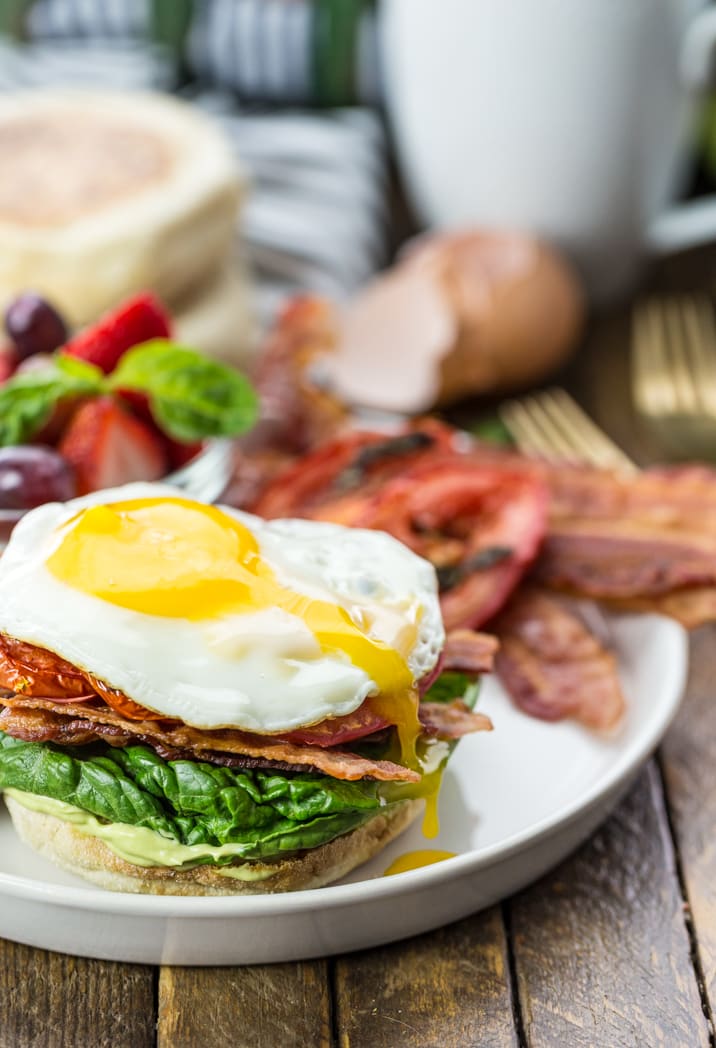 Breakfast BLT Sandwich Variations & Tips
You can make the bacon however you like. I recommend trying this Baked Candied Whiskey Bacon for an extra flavor twist.
I like my eggs sunny-side up on these breakfast sandwiches, but you could also make scrambled, over easy, or any way you like. Fried eggs work best.
To make it a little bit healthier, you can mix the avocado with Greek yogurt instead of mayonnaise. You could also just use fresh avocado slices instead. Other than that, this breakfast BLT is a pretty good balance of ingredients.
If you're vegan, skip the eggs and bacon, use the Greek yogurt avocado mixture, and if you want, add tempeh in place of bacon. It's still a super delicious (faux BLT) sandwich!
For a little more decadence, replace the avocado mayo with this easy hollandaise sauce.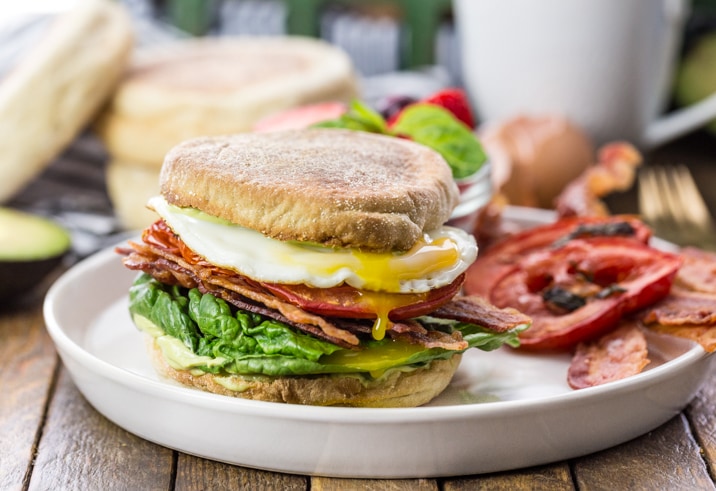 Now it's time to go enjoy those Breakfast BLT sandwiches! I love eating these and they seem to be a big hit with everyone.
More easy breakfast recipes to try: