Chocolate covered pretzel sticks are a fun and easy snack to serve for the holidays – or any time of year! These festive treats are made with just three ingredients and are perfect to make with the kids!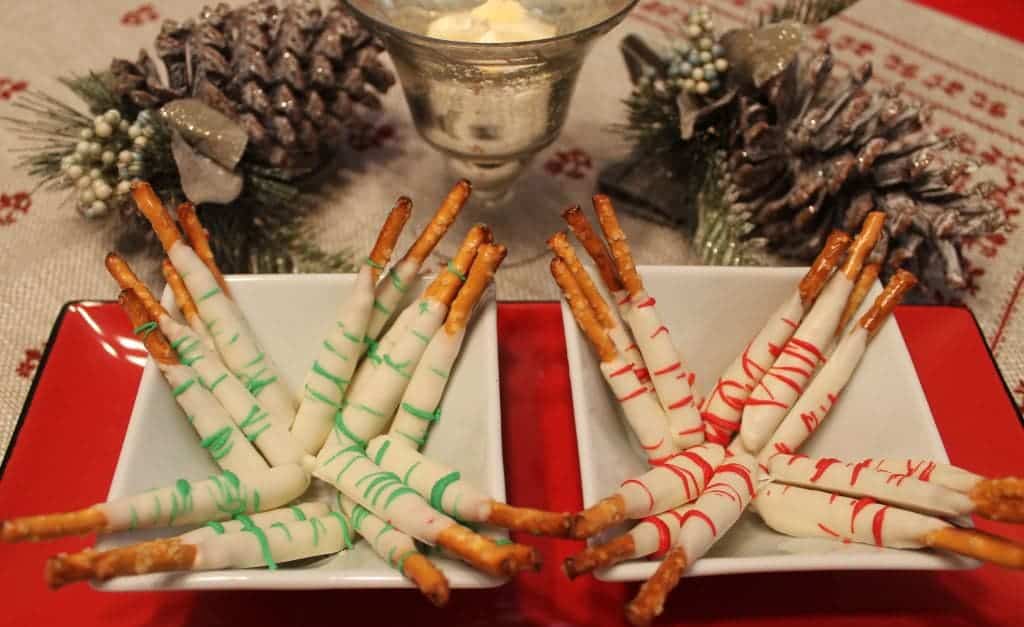 Christmas Pretzels
Christmas pretzels are a staple in my house and we will find any excuse to dip something in chocolate and call it a treat! Who's with me on this?
It really isn't officially Christmas until I've made a batch of Chocolate-Covered Pretzels. I LOVE chocolate covered pretzels! These are so festive, fun, and easy to make for a large group.
They're great to take to work, to parties, to make a bunch and send home with your kids (wink, wink, mom!)…they're so good! And I can assure you, they'll always be greeted with big smiles!
Be sure to check out my Pink Yogurt-Covered Pretzels and Caramel Pretzels if you love salty-sweet flavors!
Why You'll love Chocolate-Covered Pretzel Sticks
They're quick and easy to make.
Everybody loves 'em!
It's a great recipe for kids to help make.
How To Make Chocolate-Covered Pretzels
Be sure to see the recipe card below for full ingredients & instructions!
Prep: Place wax paper on a baking sheet. Melt half of the chocolate in the microwave with a little cooking oil.
Make: Dip each pretzel stick in the melted chocolate and lay on the wax paper. Melt the rest of the chocolate and add in food coloring. Drizzle the colored chocolate over the pretzels with a spoon.
Finish: Let the chocolate set before enjoying or storing.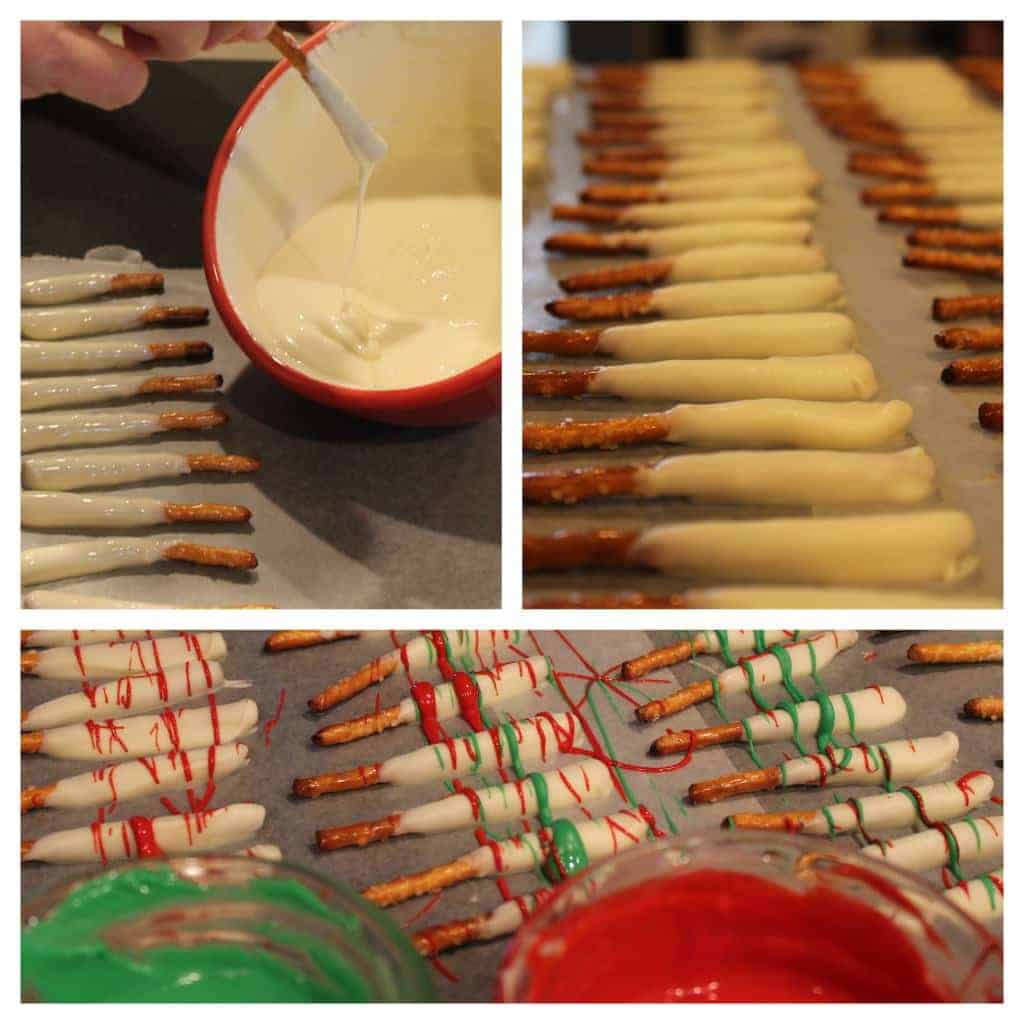 They're not just for Christmas!
Chocolate-Covered Pretzel Sticks are one of my favorite Christmas treats, but don't stop there; you can enjoy them all year round! They are super cute for baby showers or wedding showers.
You can change up the colors and use whatever fits the occasion.
What type of chocolate works best in this recipe?
There's just something about chocolate and pretzels together that gets me every time. They are so addictive!
I like to use white chocolate, which is sweeter and really works with the pretzels, but you can use milk or dark chocolate if you prefer.
How many pretzel sticks does this recipe make?
It depends on the size of the pretzels you are using. This recipe makes 24 standard-sized pretzel treats, but if you use jumbo pretzel rods, you'll have enough chocolate for about 12.
How do you store Chocolate-Covered Pretzels?
Let the chocolate on the pretzels set completely and then transfer to an airtight container. You can keep them at room temperature or in the fridge and they will keep well for around 2 weeks. Ours always disappear pretty quickly though!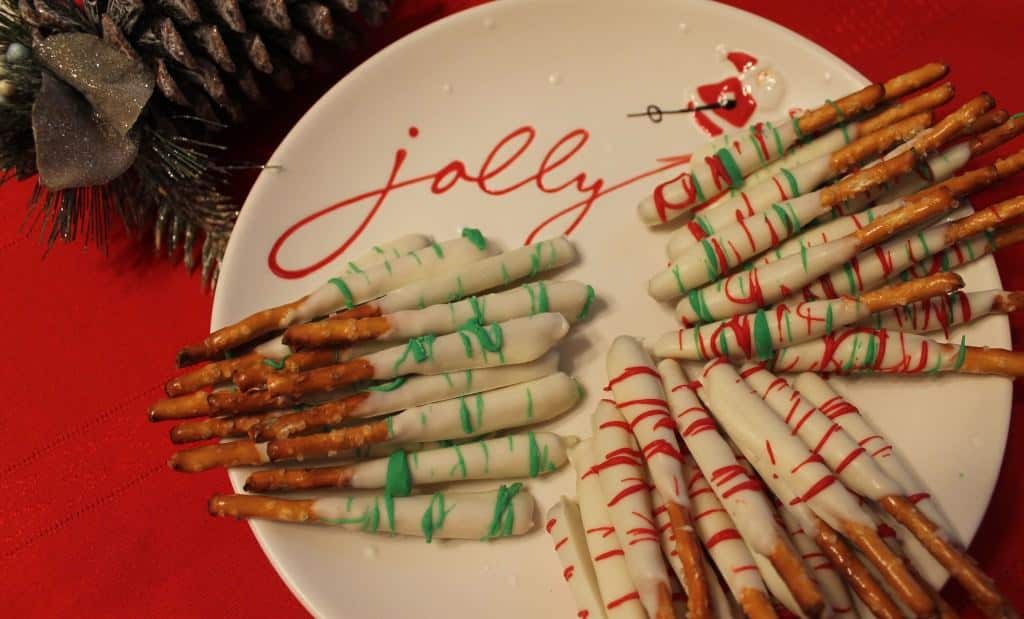 Tips!
You can also melt the chocolate on the stovetop in a bain-marie (AKA over a pan of simmering water). If you melt it in the microwave be sure that you do it in increments so that it doesn't burn.
Let the chocolate completely set before storing the covered pretzels.
Variations: Try them with milk or dark chocolate and use different colors depending on the occasion.

More Holiday Recipes
If you make this recipe be sure to upload a photo in the comment section below or leave a rating. Enjoy!