Caramel Macadamia Nut Pumpkin Pie Bars are heaven on Earth! A twist on a classic that will be the absolute WINNER on your Thanksgiving Menu! So delicious!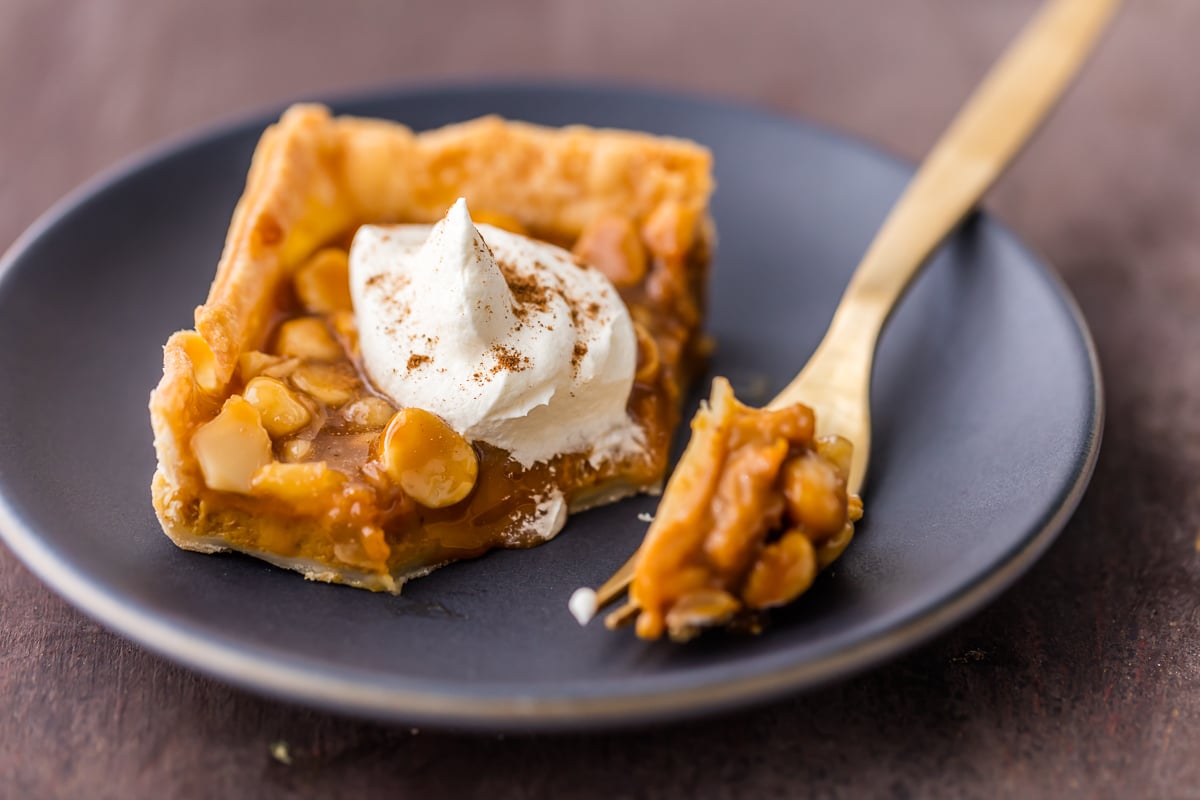 Pumpkin Pie is my very favorite dish at Thanksgiving every single year. I love a classic pumpkin pie, and there's no shortage of amazing recipes on the internet to keep us all fat and happy. These Caramel Macadamia Nut Pumpkin Pie Bars are a fun twist on classic pumpkin pie, and an absolutely amazing Thanksgiving dessert that's sure to please all your guest!! That is, if they last long enough for your guests to eat them.
When they're in my kitchen, they certainly don't last very long! Back off, Pat!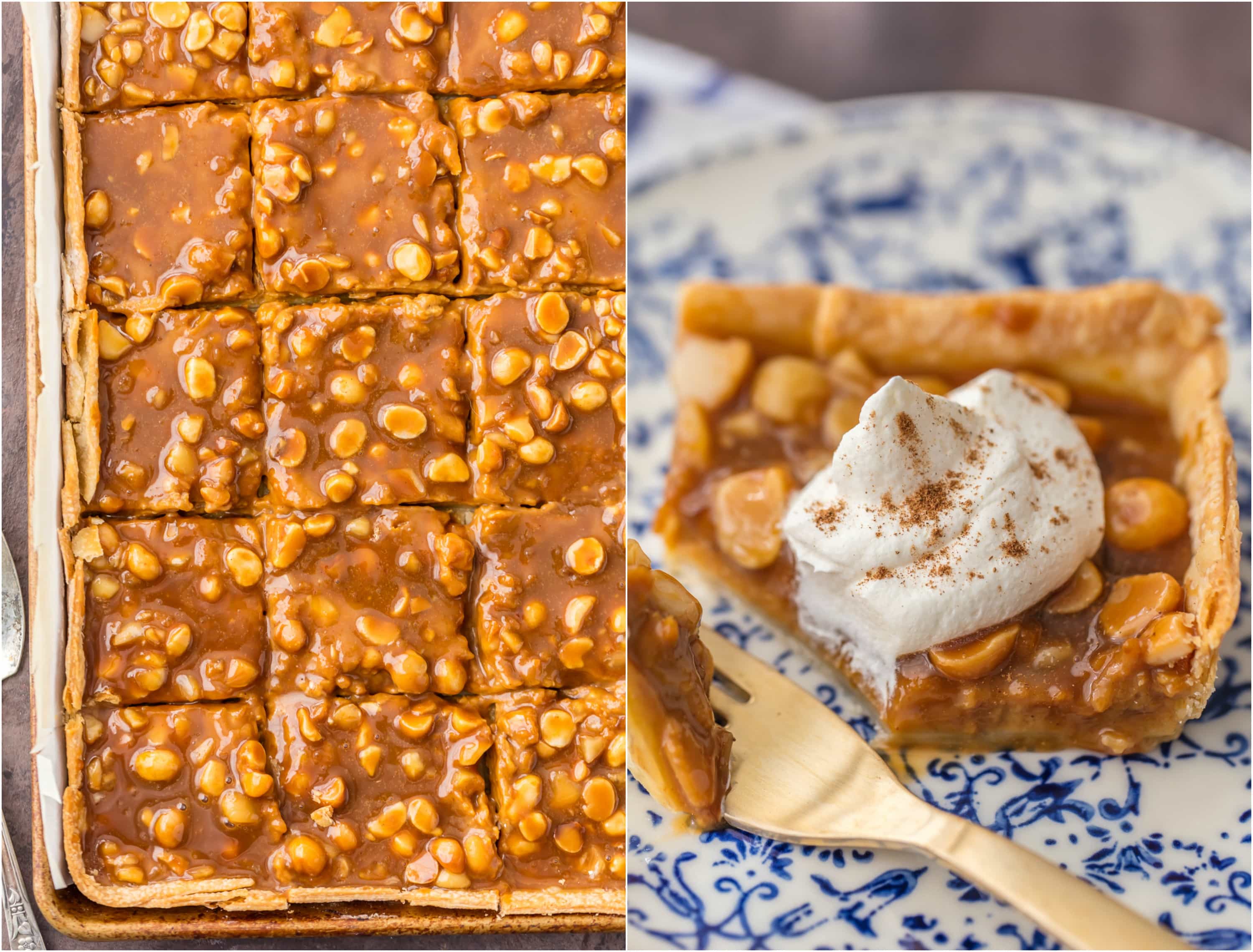 A few years back mom made this Caramel Macadamia Nut Cheesecake and the topping had me like WHOA. SO GOOD and SO CRAVE-WORTHY! Something about caramel and macadamias…I'm just telling you. It's the perfect topping for classic pumpkin pie bars…you'll be drooling in no time!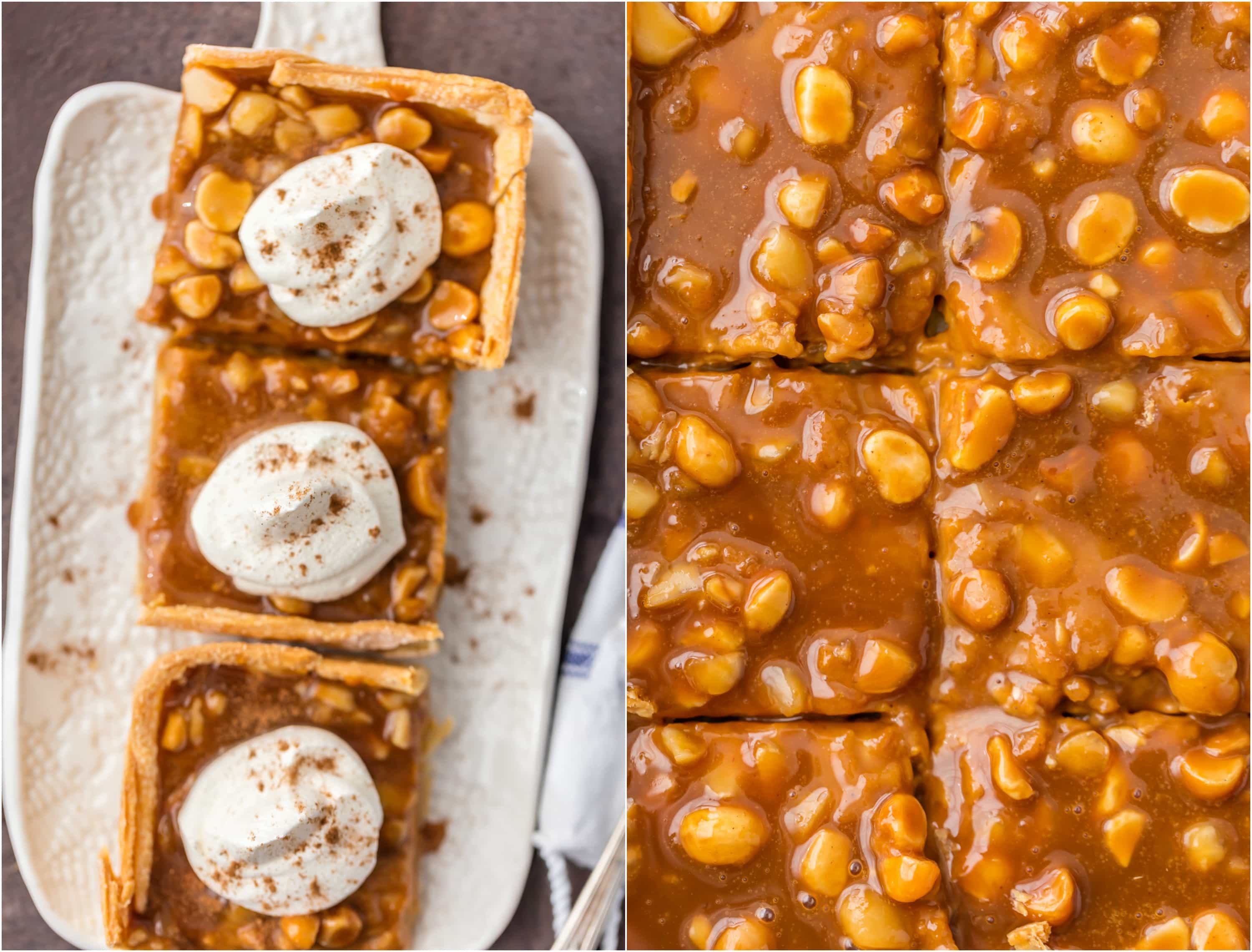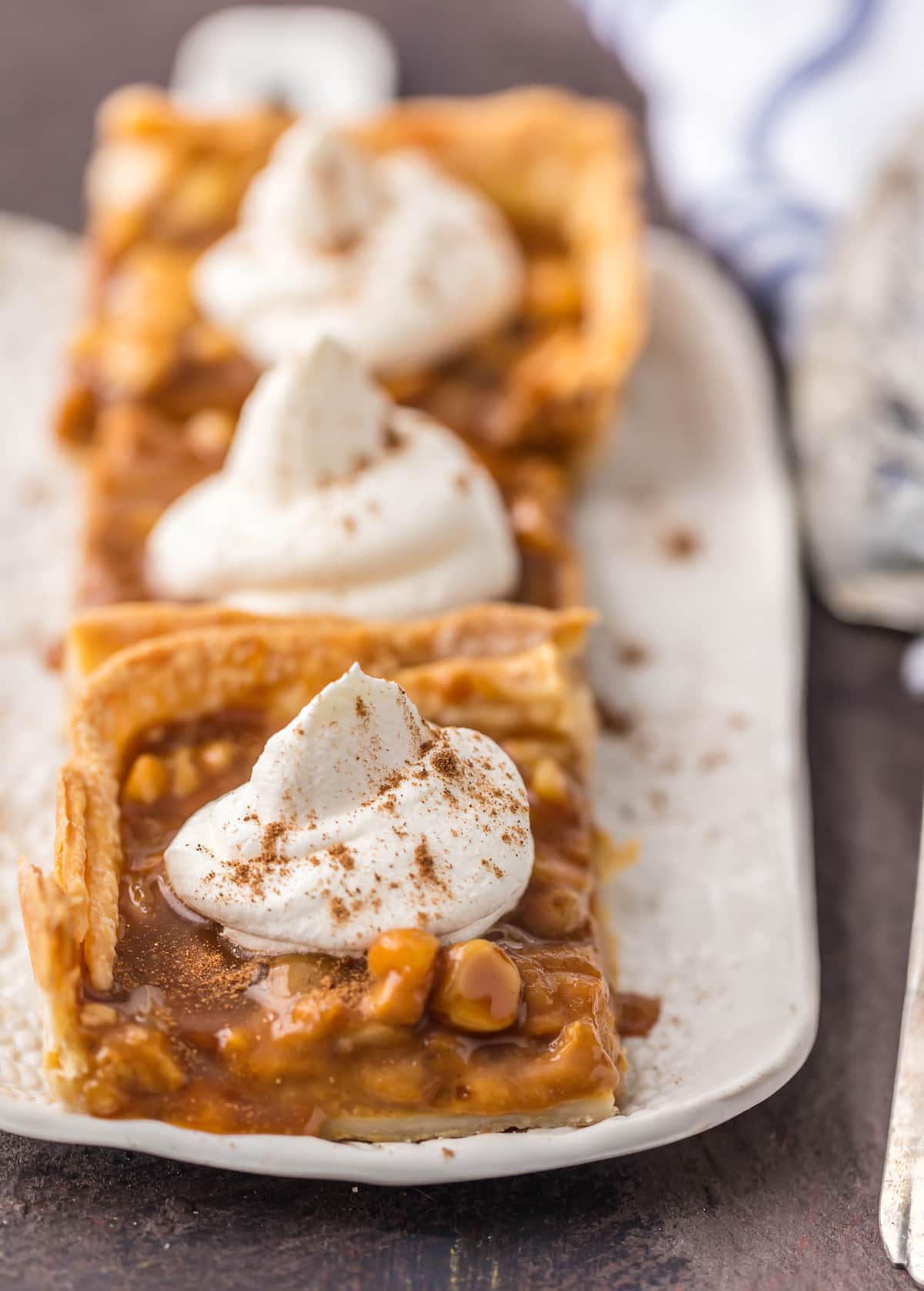 They're the perfect size, the perfect sweetness, and the perfect wow factor. Top with some whipped cream and you're REALLY in business. Thanksgiving is going to be awfully delicious this year! And don't limit yourself to just Thanksgiving, these can be made year round! I'm never the person that only wants pumpkin in the Fall. Give me pumpkin ALL THE TIME. Pumpkin pie is simply the best, don't you agree??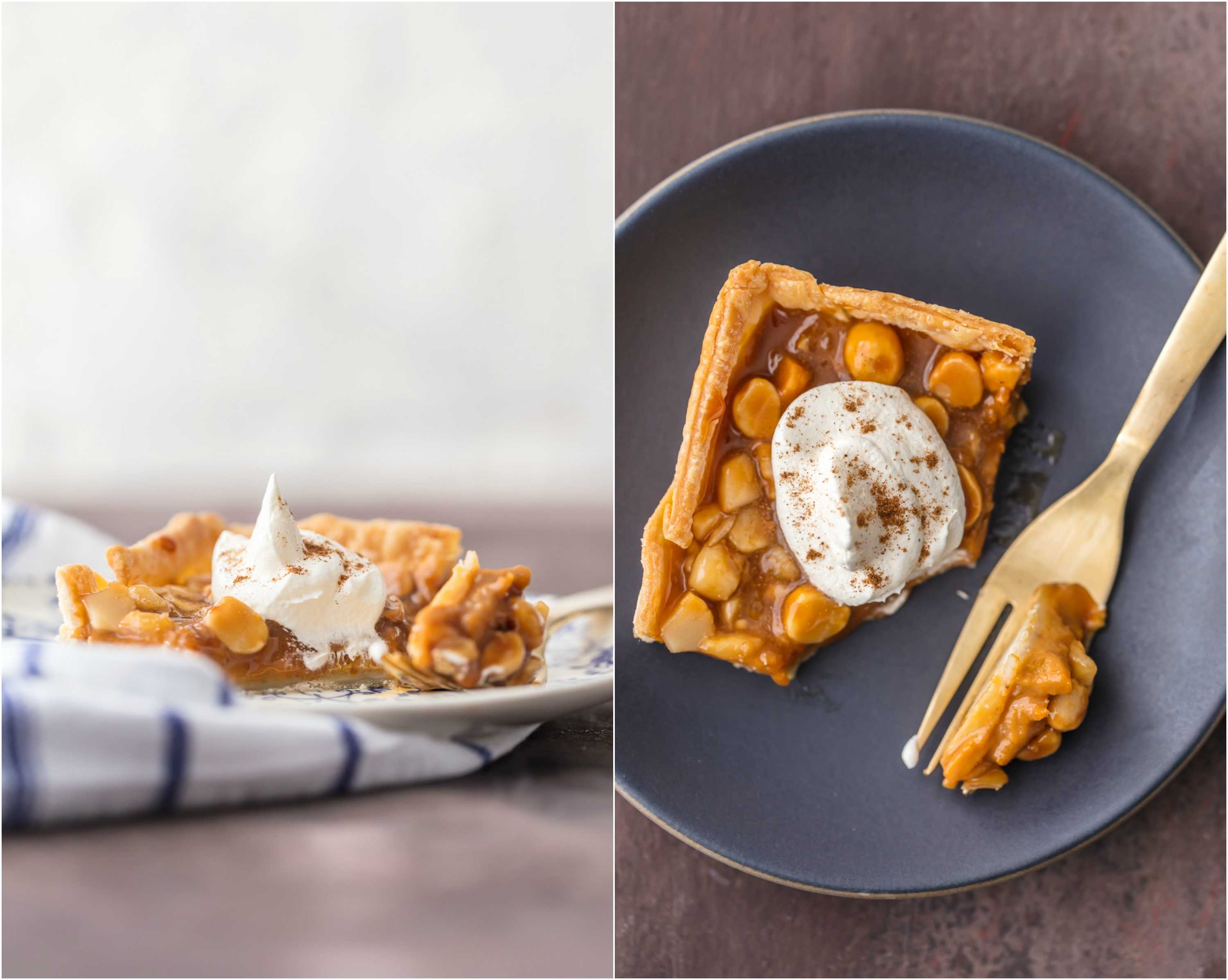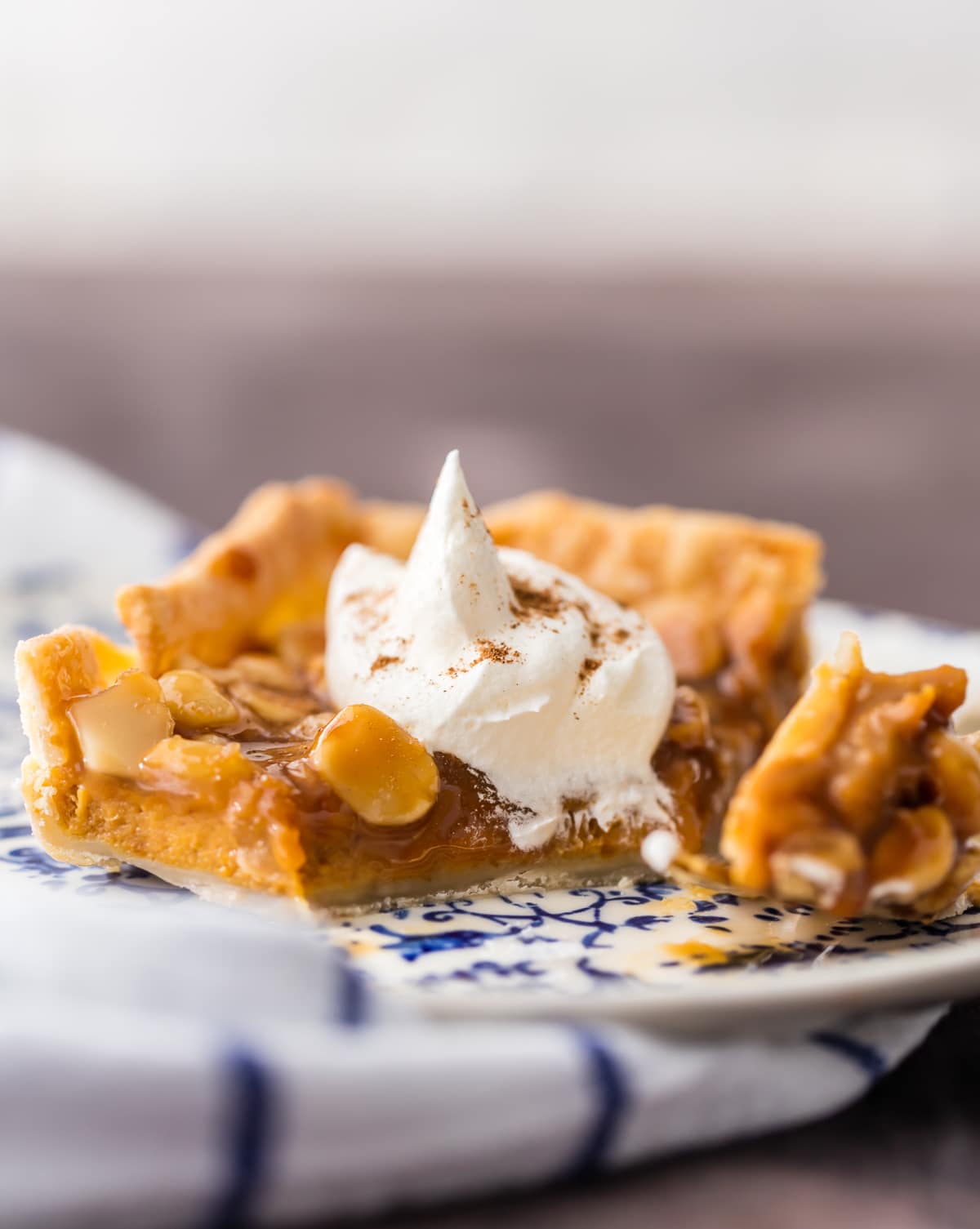 The only problem with these is that they're a tad bit difficult to cut with all that caramel. But in what world is that a problem?! I say the more caramel the better. Especially on top of Caramel Macadamia Nut Pumpkin Pie Bars! You'll be as hooked as me in no time! Happy Thanksgiving!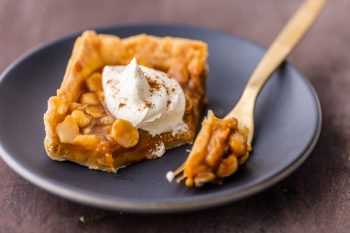 Caramel Macadamia Nut Pumpkin Pie Bars
Caramel Macadamia Nut Pumpkin Pie Bars are heaven on Earth! A twist on a classic that will be the absolute WINNER on your Thanksgiving Menu! So delicious!
Print
Ingredients
Ingredients for the Pie:
2

premade pie crusts – enough for 2 single crust pies

½

cup

granulated sugar

½

teaspoon

salt

1

teaspoon

ground cinnamon

½

teaspoon

ground ginger

½

teaspoon

pumpkin pie spice

¼

teaspoon

ground cloves

2

large eggs

slightly beaten

1

can

15 oz. Libby's 100% Pure Pumpkin

1

can

12 fl. oz. evaporated milk

Garnish: freshly whipped cream or whipped topping
Ingredients for the Caramel Macadamia Topping:
1

cup

Hot Caramel Topping

Smucker's works well

1

cup

dry roasted Macadamia nuts

rough-chopped
Instructions
Directions for the Pie:
Preheat oven to 450 degree F.

If using premade piecrusts, remove from the crusts from the refrigerator 15 minutes before using.

Line a jellyroll baking pan* (10 1/2 x 15 1/2 x 1) with parchment paper, allowing 2 inches of overhang on the two longer sides. Roll pie dough discs into one rectangular piecrust, and transfer dough to the pan. Press the dough up the sides and across the bottom of the pan. Trim any overhanging dough.

Now, it is time to "blind bake" the crust: cover the top crust with parchment paper or aluminum foil. Cover the parchment paper with beans and bake the crust until it is partially cooked – about 10 minutes. Remove the crust from the oven and remove the beans and parchment (or foil). Save the beans for another "blind bake" and set the crust aside to cool until filling is ready.

In a medium bowl, combine sugar, salt, cinnamon, ginger, pumpkin pie spice and cloves. Mix well and set aside.

In a larger bowl (or in a mixer bowl), combine eggs and canned pumpkin and mix together two minutes. Add sugar/spice mixture and mix well. Slowly add evaporated milk and mix until completely incorporated.

Pour filling into prepared crust and bake 10 minutes at 425F. Reduce temperature to 350F and bake 19-24 minutes more, until filling is set

(a toothpick inserted in the middle should come out clean).

Transfer pan to a cooling rack to cool completely before topping with caramel macadamia sauce.
Directions for Caramel Macadamia Sauce:
Mix together caramel and macadamia nuts. Spread mixture evenly over the pumpkin pie bars.

Refrigerate at least 3 hours or overnight to allow caramel to set.

Cool completely before cutting into bars.

Optional: top with whipped cream and sprinkle with pumpkin pie spice

Enjoy!

*If using a ½ sized baking sheet, double the filling recipe and use 1-2 more pie crusts.

**Refrigerate unused pumpkin pie bars.
Nutrition Facts
Caramel Macadamia Nut Pumpkin Pie Bars
Amount Per Serving
Calories 346
Calories from Fat 144
% Daily Value*
Total Fat 16g 25%
Cholesterol 54mg 18%
Sodium 448mg 19%
Potassium 75mg 2%
Total Carbohydrates 44g 15%
Protein 5g 10%
* Percent Daily Values are based on a 2000 calorie diet.