This GIANT COOKIE RECIPE is perfect for SHARING! Similar to those incredible skillet cookies you find at restaurants, our giant CHOCOLATE CARAMEL COOKIE recipe is the stuff dreams are made of! This is our favorite oh so decadent dessert to make for any and every celebration. Gooey chocolate caramel cookies for the win!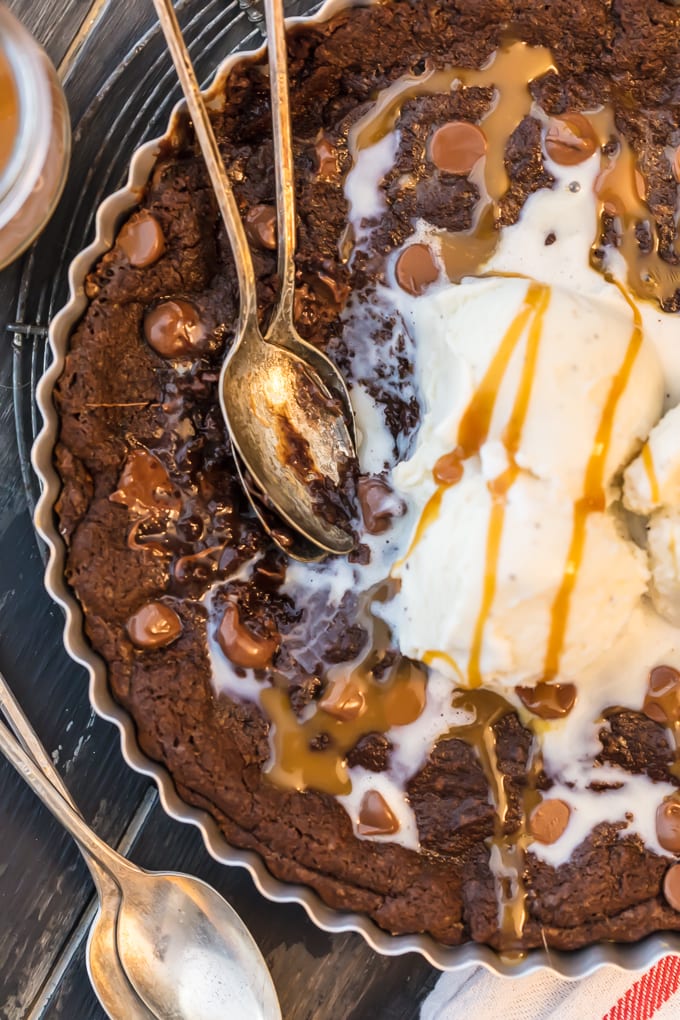 Giant Cookie Recipe is Perfect for Sharing!
Giant cookie? Yes please! This giant chocolate caramel cookie is the most delicious dessert to share with family and friends.
What's better than a cookie? A GIANT COOKIE! Um…yeah. Today is a good day. Today is the day we dive into this Giant Chocolate Caramel Cookie. Mom and I were brainstorming about this recipe and she thought it might be too gooey. TOO GOOEY!? Excuse me? She still thinks that but I definitely DO NOT. Call me crazy, but I love the ooey gooey texture and I love the indulgent sweetness.
This giant cookie is meant to be eaten with a spoon and it's meant to be shared. It's absolutely HUGE (I guess that's why we call it a GIANT COOKIE), delicious, over the top, and so fun! Wow your guests when you bring out this monster skillet cookie at your next dinner party!
This GIANT Cookie is meant for sharing! Bake this incredible Chocolate Caramel Cookie, add ice cream, and dig in.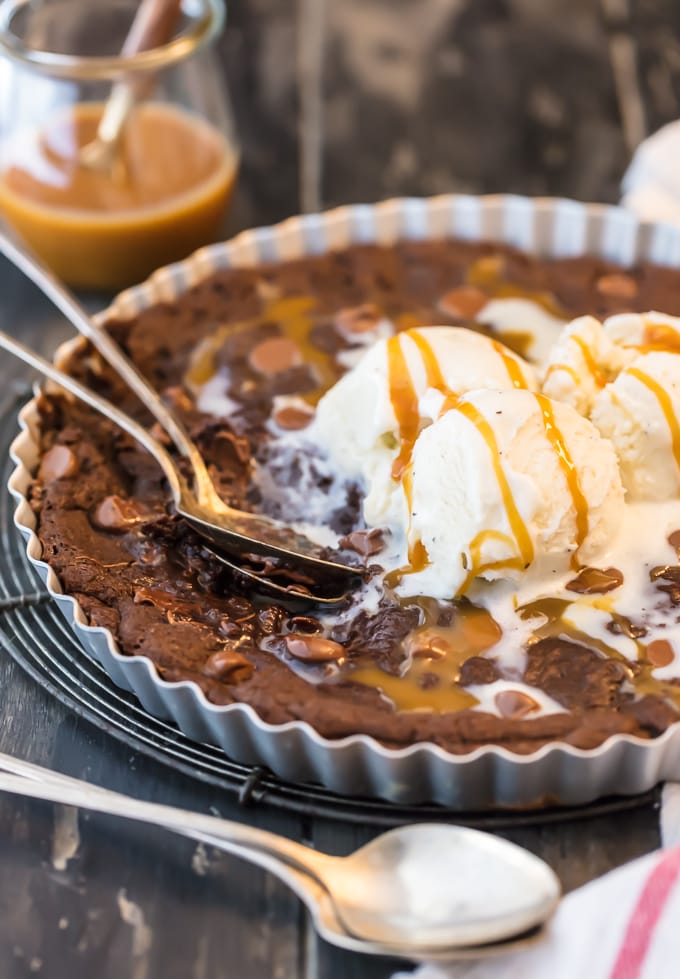 Chocolate Caramel Cookie
This Giant Chocolate Caramel Cookie is so rich that a little goes a long way. We start with a delicious double chocolate cookie recipe (chocolate chocolate chocolate!), and then we stuff it with sweet caramel sauce. Yup, told you it was rich. Just how we like it.
Once this giant cookie is baked, top it with vanilla or caramel ice cream and share it with 6-8 of your closest friends or family. They'll love you forever and like you for always (can you tell I have a 10 month old at home?) after this! Nobody can resist a giant cookie.
In my world, there's never enough caramel and never enough chocolate. Combine the two for this chocolate caramel cookie and you're really in business. It's like a brownie on overdrive. YUM!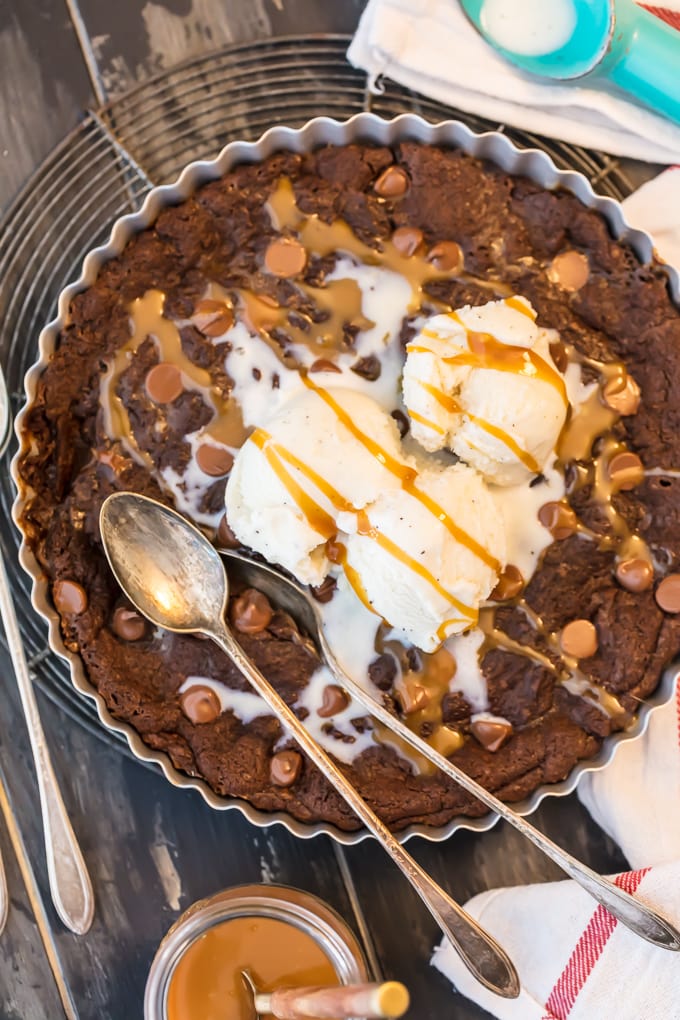 How do you make a skillet cookie?
A lot of people are used to seeing giant cookies made in skillets. Skillet cookies are awesome, but you can also get the same effect by baking your giant cookie in a pie tin or large baking tin instead.
I'm so happy with the result of this delicious giant cookie made without a skillet.
How long does it take to bake a giant cookie?
This giant cookie takes about 20-25 minutes to bake in the oven. Imagine, in just about half an hour, you can have this gooey, decadent, chocolate caramel cookie ready to serve!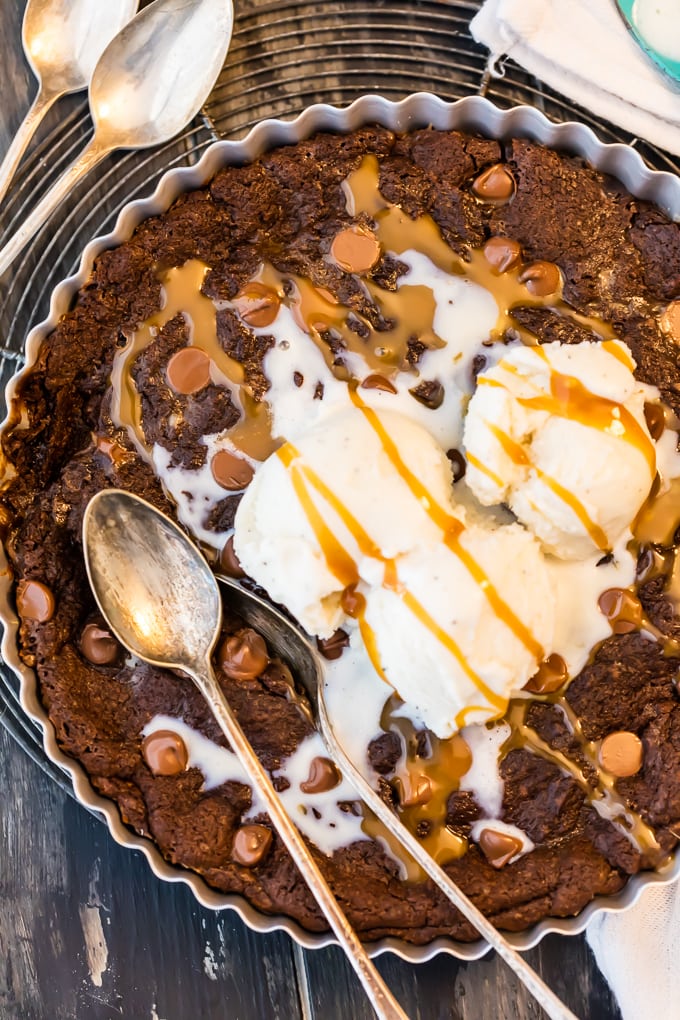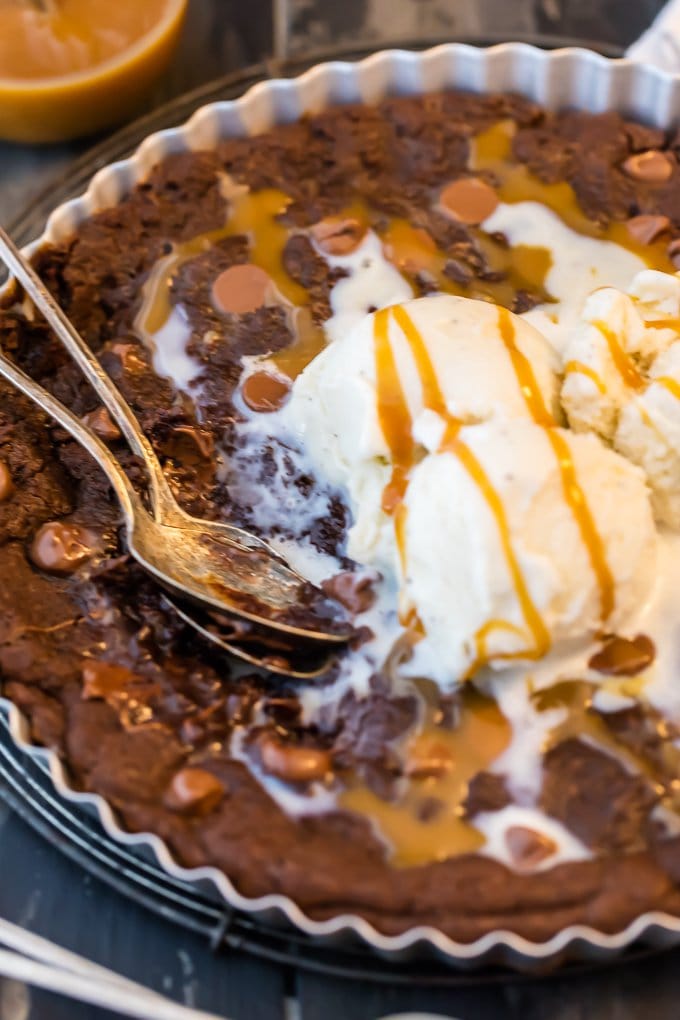 You don't really need extra caramel sauce to top off this Giant Cookie, but why not! You've already gone this far…what's a little bit more? I keep dreaming about this decadent chocolate caramel cookie and wish I would have shared it with fewer people so that I could have had a little more for myself.
This is like one of those amazing skillet cookies at your favorite steak restaurant…except you made it in your own home. Winning!
If you love this GIANT COOKIE recipe, try these other shareable dessert recipes:
See the recipe card below for details on how to make this GIANT Chocolate Caramel Cookie recipe. Enjoy!