Mini Cheese Ball Bites are the perfect easy appetizer to serve at holiday parties. These tasty little cheese balls are made with dried fruit and cream cheese, rolled in bacon or nuts, and served on a pretzel stick to make a bite-sized snack. Make these individual-sized cheese ball appetizers for New Year's Eve, Christmas parties, game day, or any other occasion!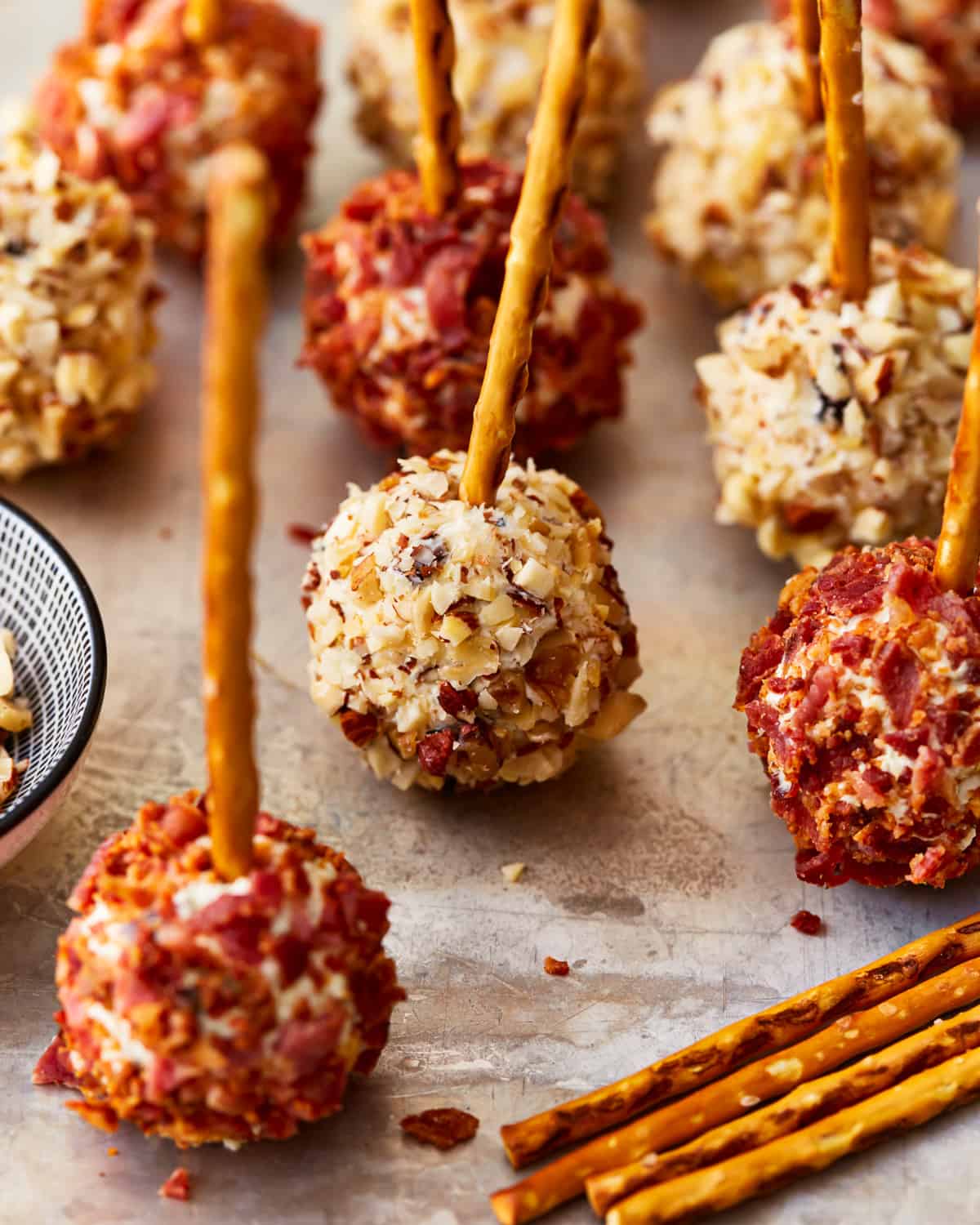 What's in this Mini Cheese Balls recipe?
Everyone loves a cheese ball at parties, and these cheese ball bites on pretzel sticks mean you won't have to share! They're quick and easy to make with just a few ingredients.
Cream Cheese: This is the base of the mini cheese balls. It's easiest to work with at room temperature, so leave it out an hour or two before making.
Shredded Cheese: Adds an extra cheesy flavor. I like to use white cheddar, but you can use another type.
Dried Fruit: Adds texture and flavor into the cheese bites. I used a mix of dried apricot, cherries, and cranberries.
Italian Seasoning: Adds a savory flavor to the cheese. You can add as much or as little as you like, or skip it if you prefer.
Mixed Nuts: Finely chopped nuts add crunch to the outside of the balls.
Bacon Crumbles: Another option for coating the cheese balls.
Pretzel Sticks: Stick these into the bite-sized cheese balls to serve, so you can easily pick them up and pop them into your mouth.
Pro Tip: These are best served very cold, so I recommend making them the night before, and chilling them in the fridge right up until serving.
Variations on Cheese Ball Bites
This mini cheese ball appetizer is so versatile. Just by choosing your preferred dried fruit and nuts, you can really change the flavor and look of each one. But there are more ways to change these little cheese bites, so you can serve them at any and every party.
Use your favorite nuts (mixed nuts, pistachios, candied walnuts, pecans, toasted almonds); any dried fruit (apricots, cherries, cranberries, mango); another type of seasoning (garlic & onion powder, everything bagel seasoning, herbs de Provence); or another coating (breadcrumbs, dried herbs, dried fruit or nuts, crumbled crackers, sesame seeds).
How long do mini cheese balls need to chill in the fridge?
Give the cheese mixture at least 2 hours to chill and set in the refrigerator before finishing and serving them.
What kind of cheese is best for cheese balls?
These cheese balls are a mix of cream cheese and shredded white cheddar cheese. You can use other types of shredded cheese for a different flavor.
Does the cream cheese need to be softened?
The ingredients will not mix together properly unless the cream cheese is fully softened–I recommend working with it at room temperature. The easiest way to do this is to simply set it out on the counter for a couple of hours before using it.
How to Make Ahead and Store
Once you've made the mini cheese balls, store them in the refrigerator until you're ready to serve them. Keep them in an airtight container, or cover the plate with plastic wrap.
I like to make them the night before so they have plenty of time to set up in the fridge, but you can make them up to 48 hours ahead of time, or as little as 2 hours (they do need time to chill).
You can also keep leftovers in the fridge for up to a week.
How to Freeze
Layer cheese ball bites between pieces of parchment paper in an airtight container or resealable bag. You may want to wrap individual balls in plastic wrap to keep them separated if using a bag. Freeze for up to 2 months, then thaw in the fridge. Store them without the pretzel sticks.
Serving Suggestions
This mini cheese ball bites are the perfect appetizer for New Year's Eve, holidays, and parties of all kinds. They make a fun addition to charcuterie and cheese boards too.
Serve them along with other tasty party appetizers, like cocktail meatballs, pigs in a blanket, sausage balls, and bacon-wrapped shrimp.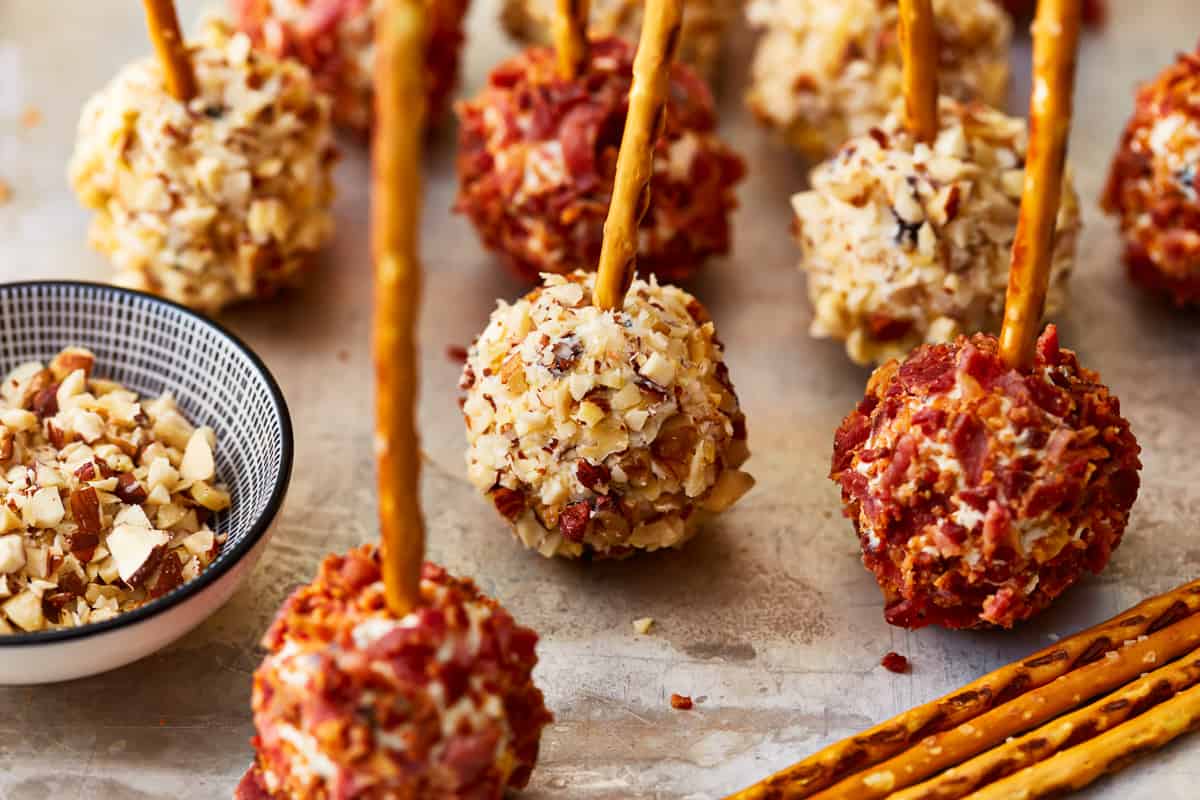 5-Star Review
"Doubled the recipe and every one was eaten!" – Dana
More Cheese Ball Recipes We Love