Hot Cherry Pie Goat Cheese Dip is an easy dip recipe, perfect for entertaining! Beautiful easy appetizer recipe all baked in a skillet.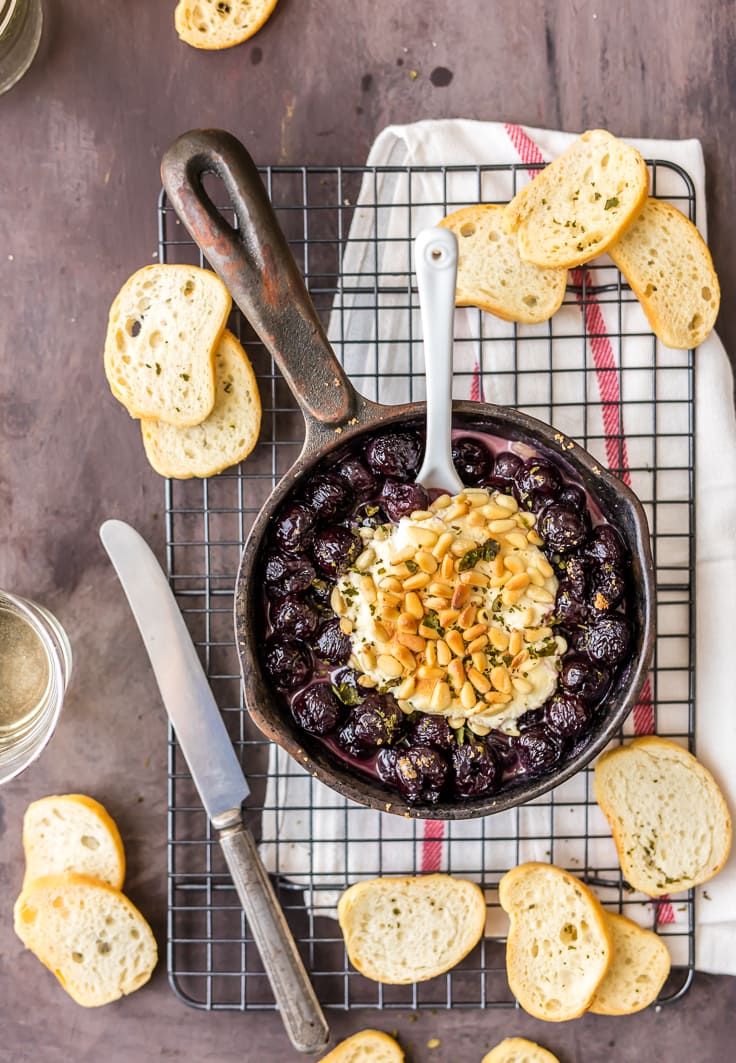 This is one of those recipes that was a very happy accident. I had a variation in my mind (Candied Pineapple and Pistachio Goat Cheese Dip if you must know) for a long time that I still might make in the future, but laziness prevented me from going to the store for the ingredients. It was just one of those weeks.
I mean, some days the grocery store is my happy place and some weeks I avoid it like the plague. This was one of the plague weeks. But when I crave goat cheese, I have to have goat cheese! Looking through my pantry, I saw canned cherries and thought…what about HOT CHERRY PIE GOAT CHEESE DIP?! It was just that simple, and what a happy accident it was.
This hot cherry pie goat cheese dip IS SO DELICIOUS! You have GOT to try it!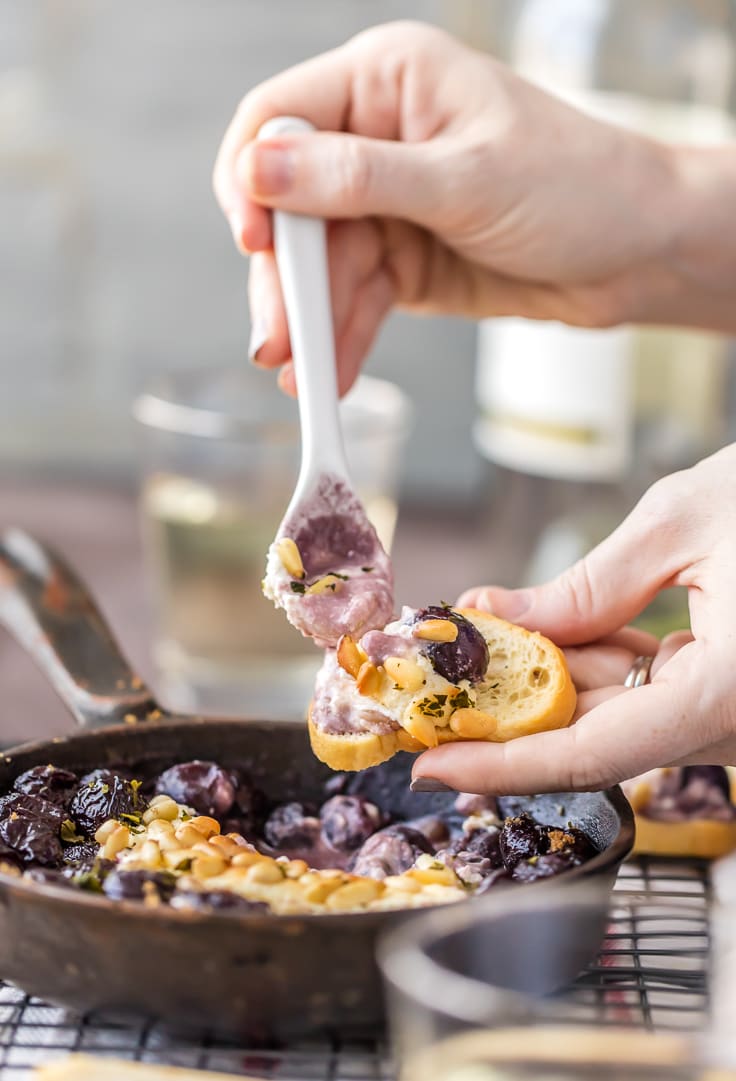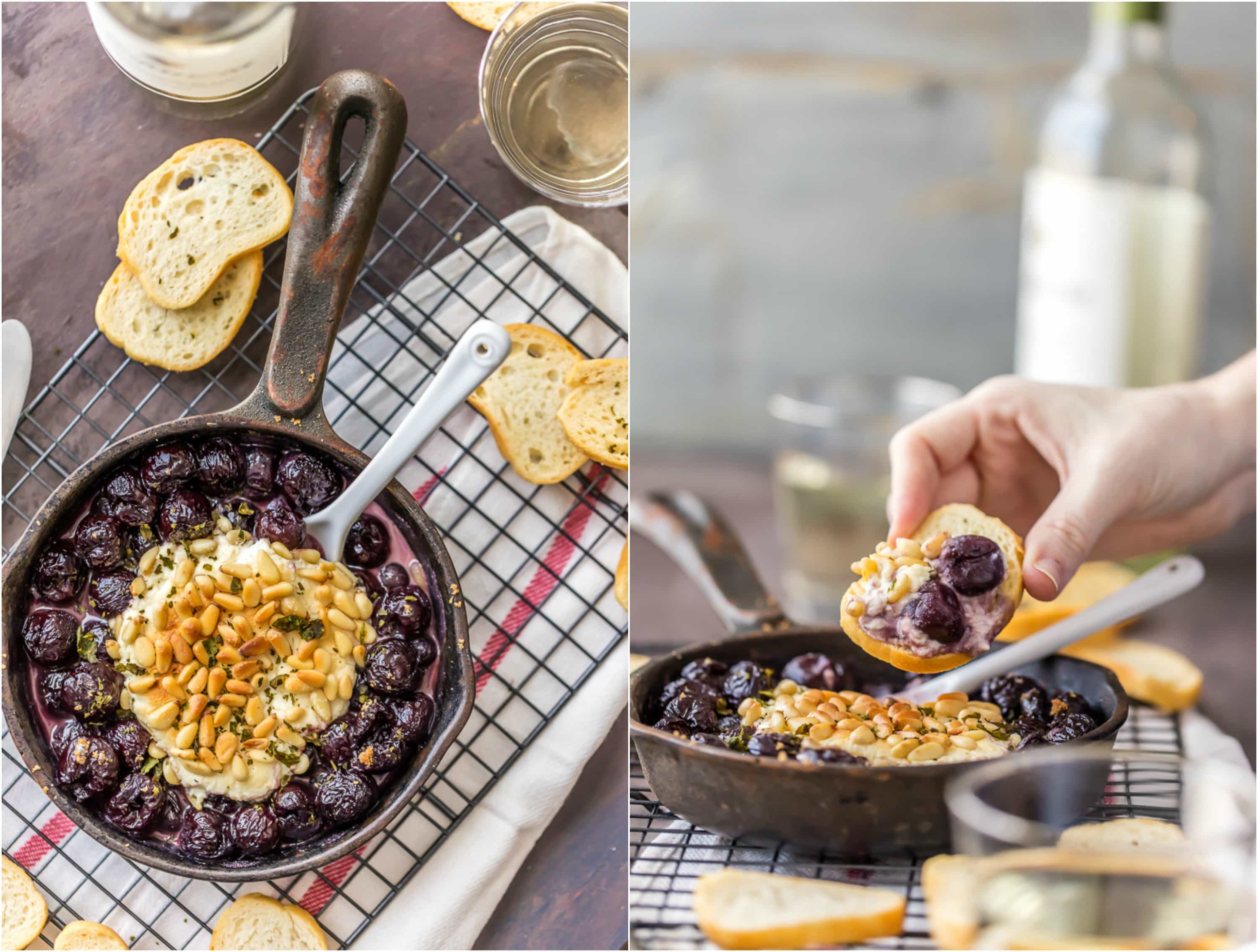 I know this is a small skillet, but I'm ashamed to admit that I ate this entire Hot Cherry Pie Goat Cheese Dip ALL BY MYSELF. In like 6 bites. Because it's that addicting. It's partly a dessert dip, but also it's not. It's hard to explain. I guess you're just going to have to try it!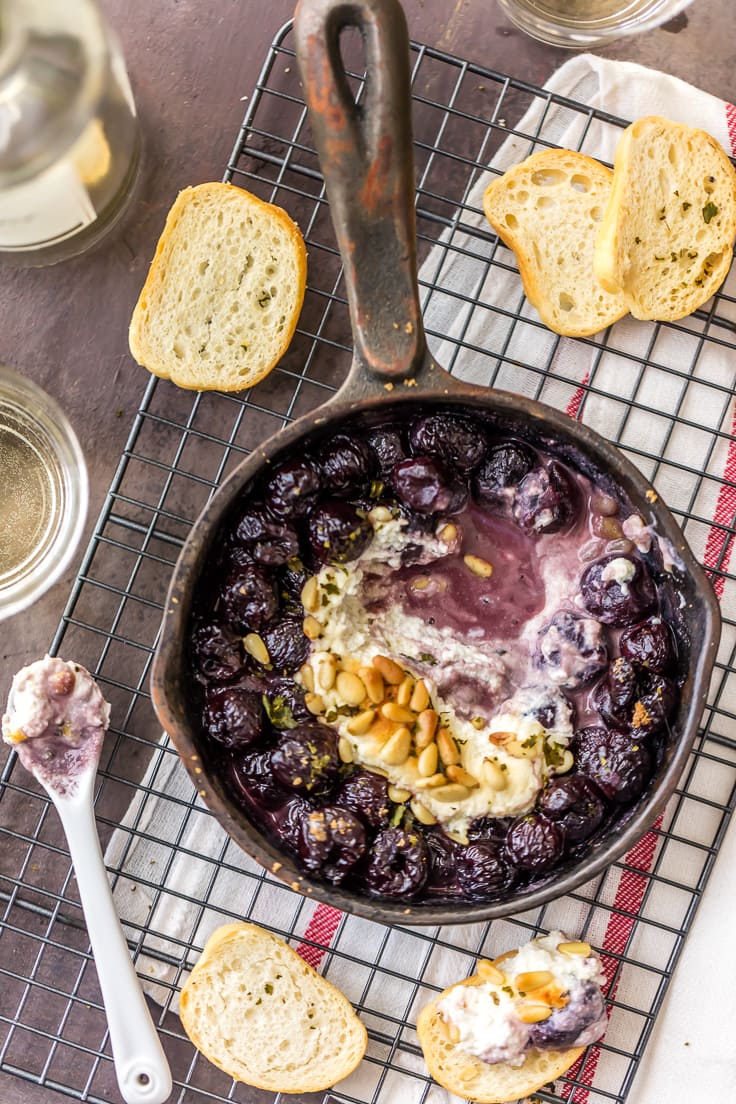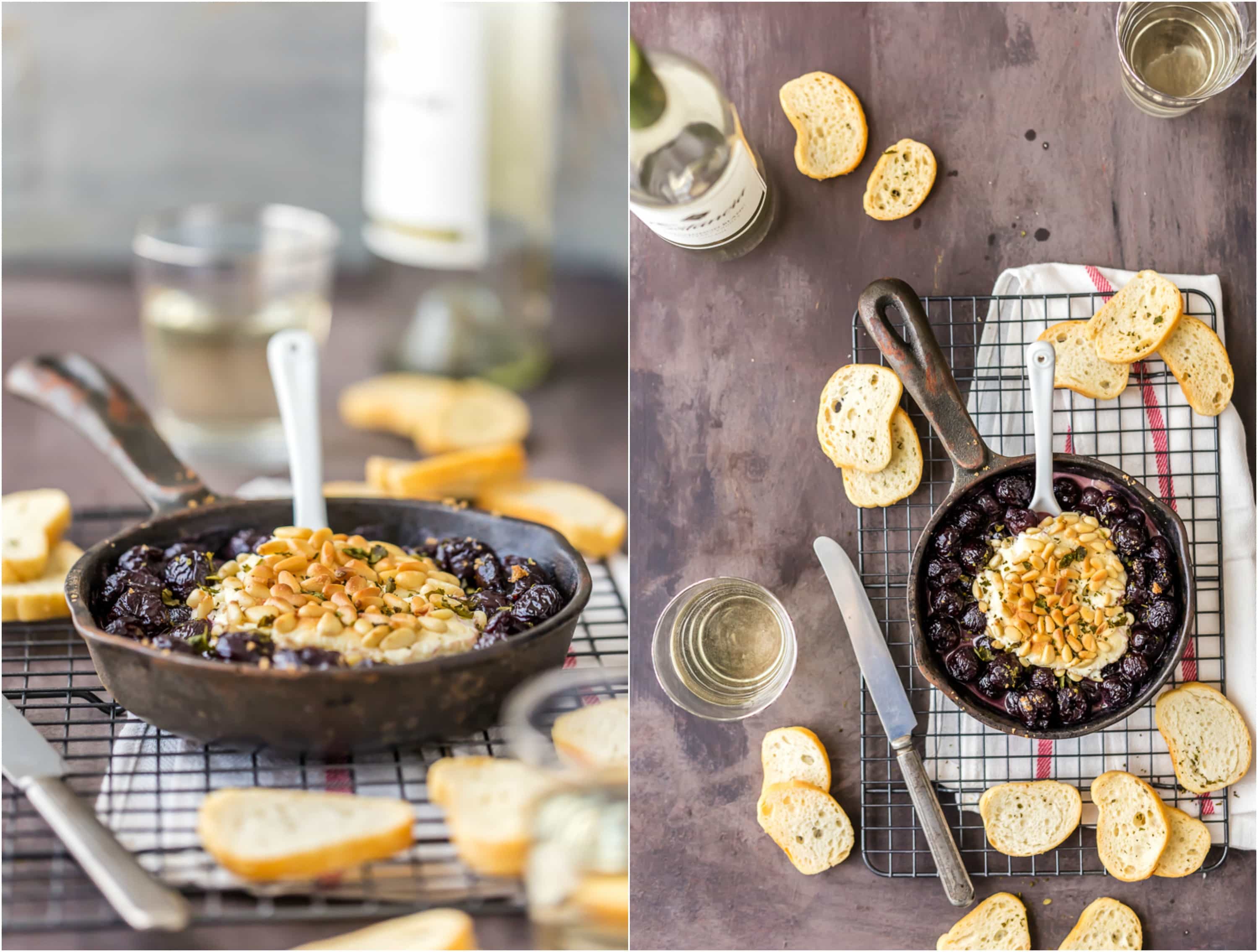 Sweet and savory PERFECTION. I'm a big big fan of happy accidents. BIG FAN! You will be too once you try this. And feel free not to share it. We can make a club of people who eat this all by themselves.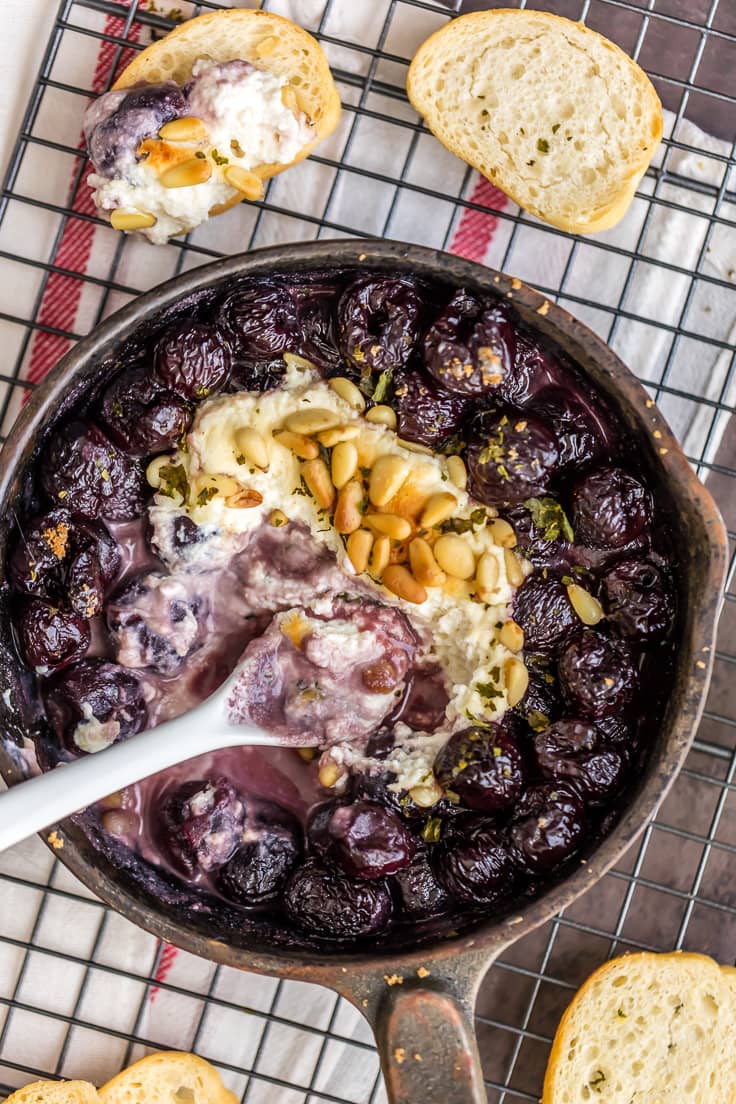 Cheers to happy accidents and lots and lots of goat cheese. There's simply never enough.
Enjoy this Hot Cherry Pie Goat Cheese Dip recipe!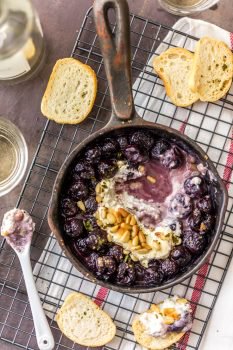 Hot Cherry Pie Goat Cheese Dip
Print
Ingredients
6

ounces

goat cheese

4

ounces

low fat cream cheese

1/2

tablespoon

finely chopped basil

1

tablespoon

honey or agave nectar

2

tablespoons

pine nuts

1

16 ounce can sweet dark cherries, drained

2

tablespoons

dark brown sugar

toasted bread slices for serving
Instructions
Preheat oven to 350F

Spray a small (5 inch) skillet with nonstick spray

Place cream cheese, goat cheese, honey, and basil in a high powered blender. Pulse until creamy and fully combined.

Use your hands to form goat cheese mixture into a ball and place in the middle of the skillet.

Sprinkle the goat cheese mixture with the pine nuts and press down to make sure they adhere.

Spoon the drained cherries around the goat cheese, filling the skillet to the edges.

Sprinkle the cherries with the brown sugar.

Bake for 25-30 minutes or until cheese is hot and bubbly. If desired, you can also broil the skillet for 5 minutes to toast the pine nuts.

Serve warm with toasted bread slides and enjoy!
My friends have amazing goat cheese dip recipes, too. Check 'em out!
Pumpkin Bacon Goat Cheese Dip, from Living Locurto.
Garlic Leek Goat Cheese Dip, from Lemons for Lulu.
Roasted Tomato Basil Goat Cheese Holiday Spread, from Kalyn's Kitchen.