Chicken Pita Sandwiches are a healthy and delicious lunch option. This Chicken Avocado Sandwich is perfect for work days. Easy to make and so much flavor! These Chicken Avocado Pita Pockets prove that healthy lunches don't have to taste boring.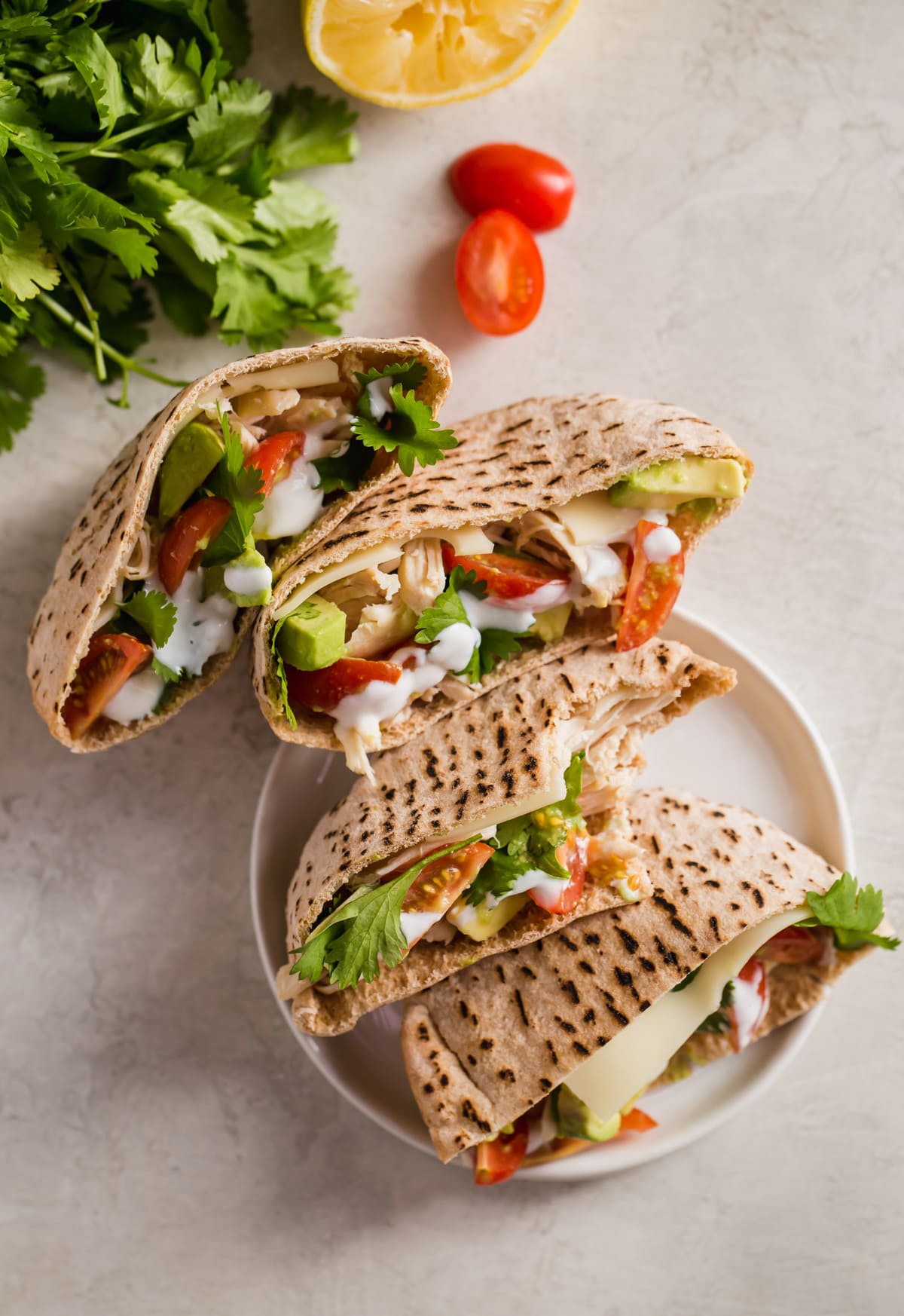 Chicken Pita Pocket
This chicken pita pocket is so easy to make, and it's filled with good stuff. Chicken Avocado Pita Sandwiches make the perfect healthy lunch!
You know what I love? When the healthy meals turn out to be the tastiest! I'm not always the biggest fan of healthy recipes, but we all know we need them. So there's nothing better than finding a light recipe that is just as delicious as a fattening one! This Chicken Avocado Pita Sandwich is exactly that. It tastes good AND it's good for you. Win!
These healthy chicken pita pockets are filled with good ingredients, like avocado, chicken, tomatoes, and greek yogurt. It's packed full of nutrients, it will keep you full during the day, and it's easy to make. This chicken avocado sandwich is all tucked into little pita pockets, making it easy to eat too!
Chicken Pitas are one of our absolute favorite healthy sandwiches for work days. Throw them together in minutes, and you've got a delicious lunch to eat at the office. They are SO good!
These Healthy Chicken Avocado Pita Pockets are a lifesaver. They're easy to make AND they're good for you!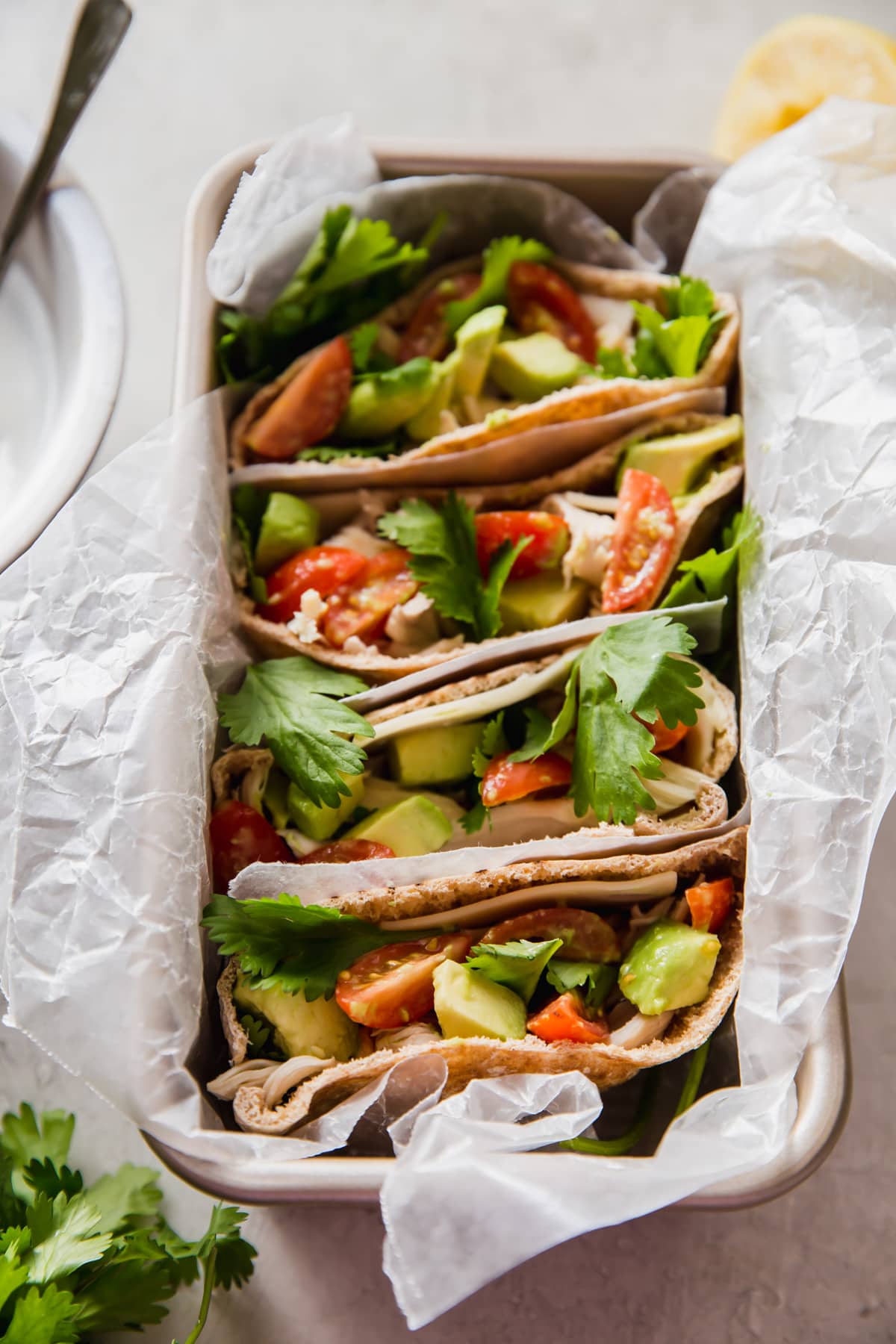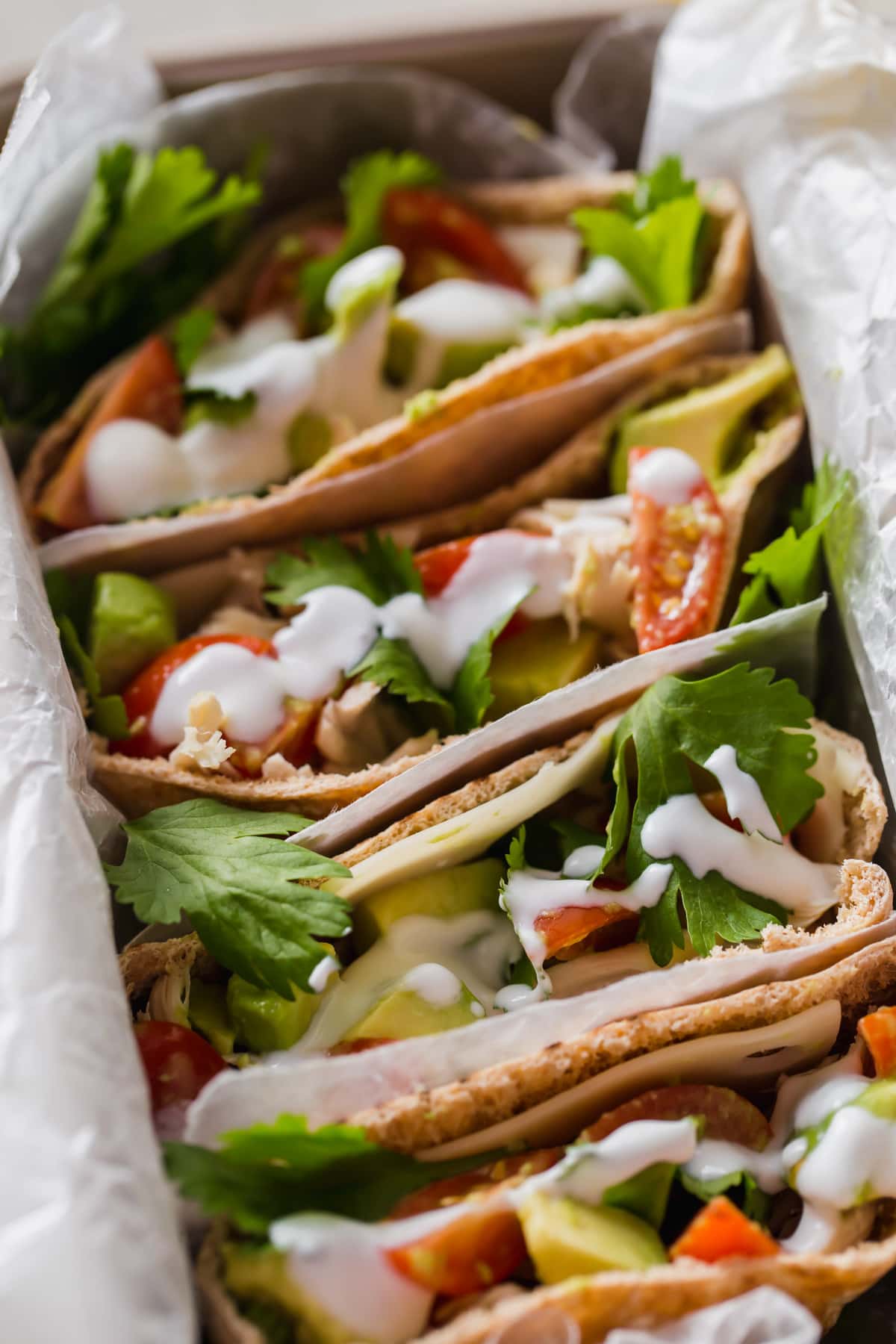 Healthy Chicken Avocado Sandwich
If a recipe is healthy, then it better be tasty and it better be easy. Luckily, these Chicken Pita Sandwiches are all of the above! It's easy to eat well when it takes no time at all to put lunch together. These are a regular meal during busy days.
Once the weather gets warmer, I envision us making these Chicken Avocado Sandwiches, sitting out on the deck drinking Spiked Raspberry Sweet Tea, and watching Dill explore the great outdoors. So whether you're planning lunches for work or for more relaxed days at home, these pita pockets are perfect!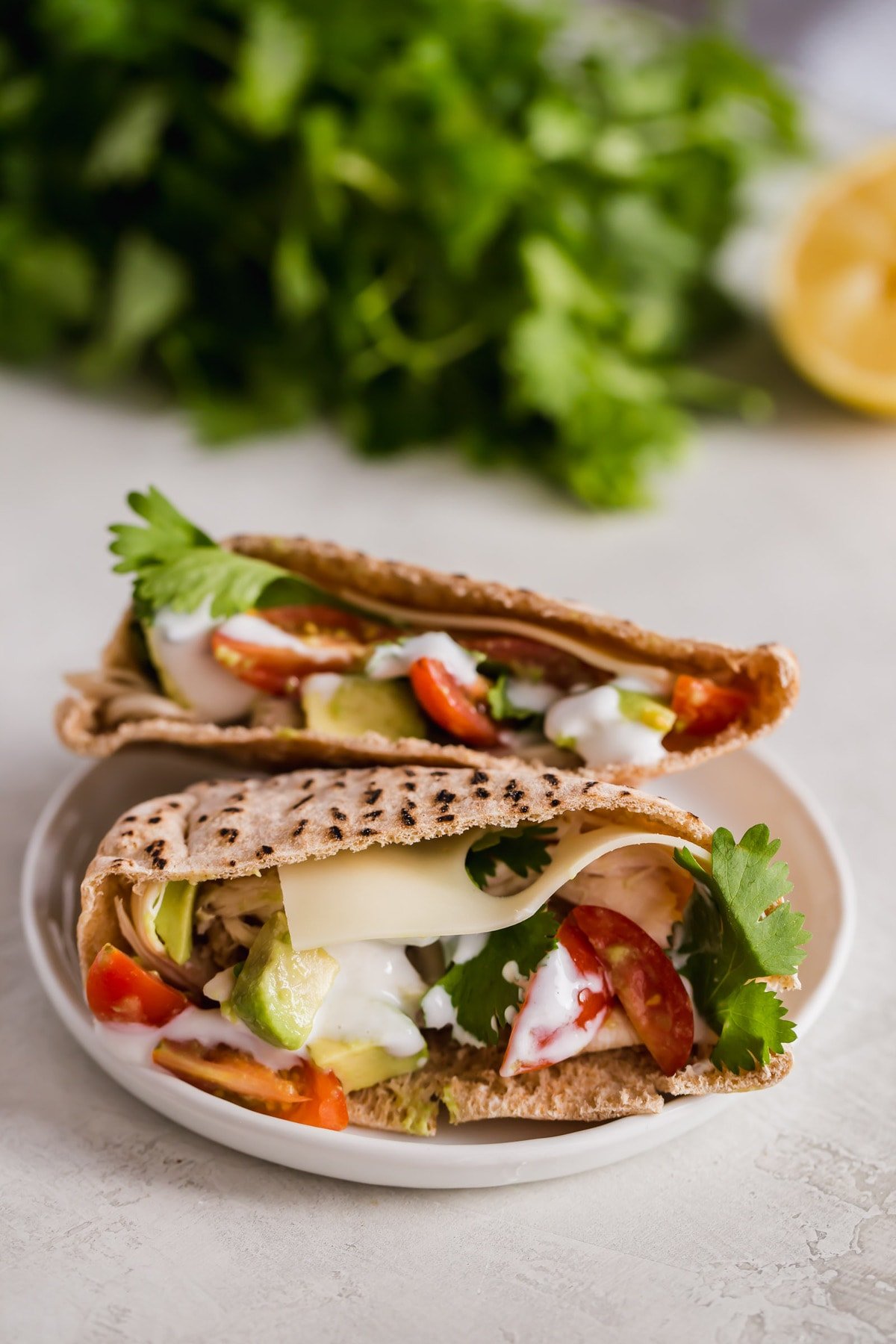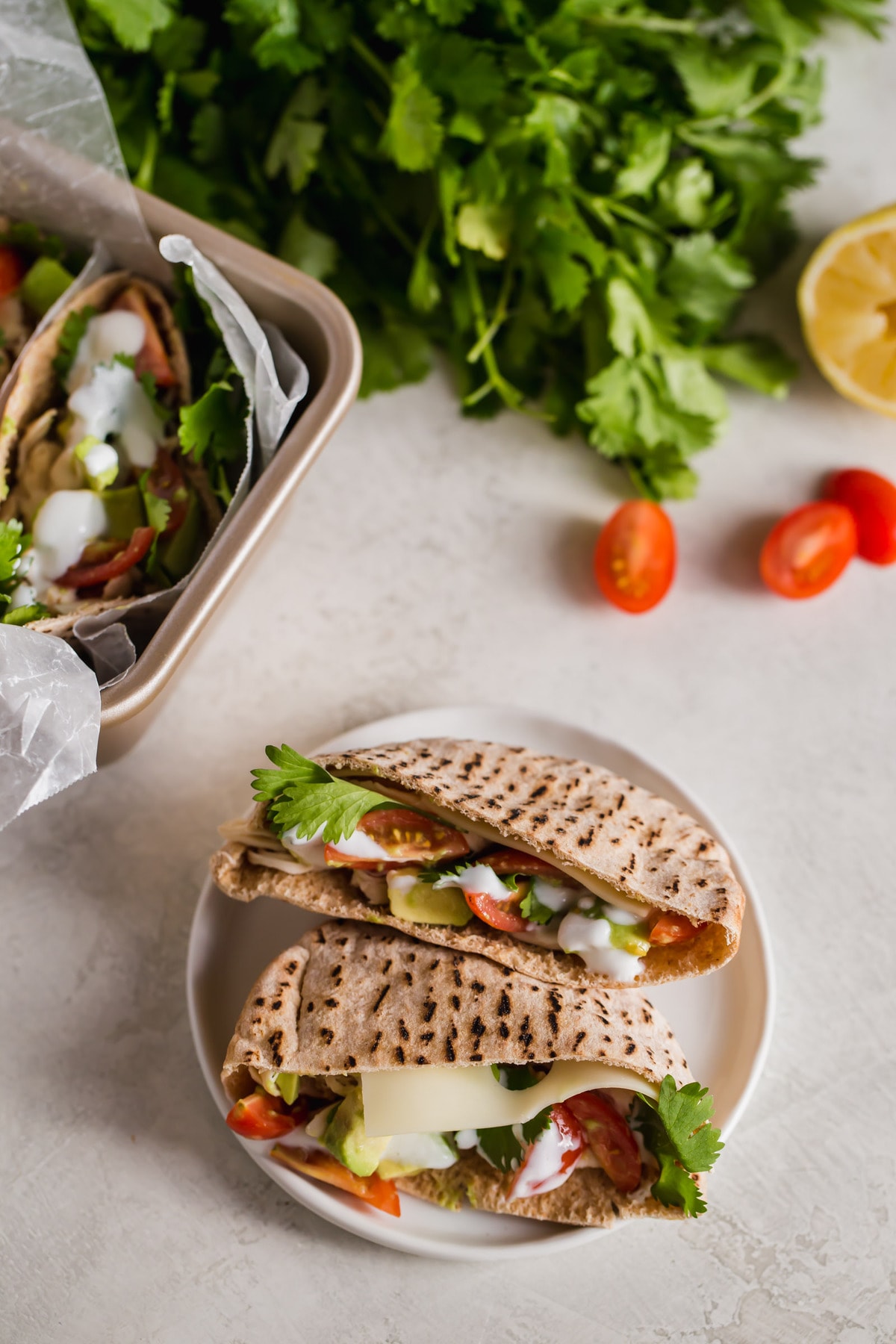 How to Make Chicken Pita Sandwiches
These Chicken Avocado Pita Sandwiches can be whipped up in a jif, and they can be served hot or cold. They will satisfy even the pickiest crowd! I love the bright colors of the cherry tomatoes and fresh avocado, and the sandwiches are made extra creamy with greek yogurt sauce. You don't need to feel guilty for enjoying these chicken pitas so much, because healthy meets delicious with these chicken pita pockets!
Chicken Avocado Pita Ingredients:
Pita Pockets
Shredded Chicken
Avocado
Greek Yogurt
Cherry Tomatoes
Swiss Cheese
Cilantro
Garlic Salt
Lemon Juice
How to Make Chicken Pita Pockets:
Place a slice of cheese in each pita pocket.
Combine Greek yogurt and garlic salt in a small bowl, and set aside.
In another bowl, combine avocados, tomatoes, lemon juice, and cilantro.
Brown the pre-cooked chicken in a skillet, then divide the chicken between each pita pocket.
Drizzle the yogurt mixture over the chicken, and then fill each pita with the avocado/tomato filling.
They taste amazing served cold, but you could also heat them up on the skillet or in a sandwich maker. Either way, they are so delicious!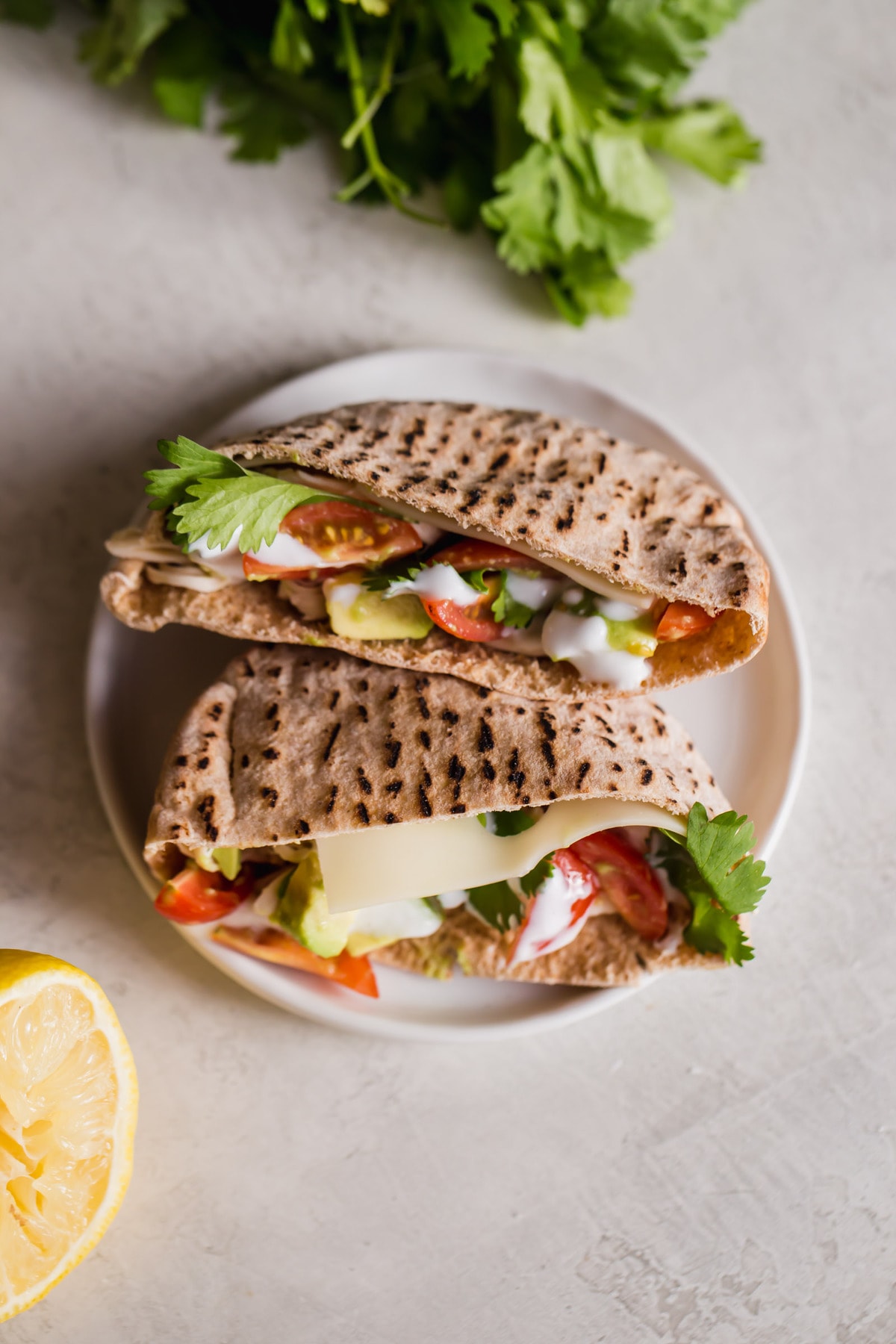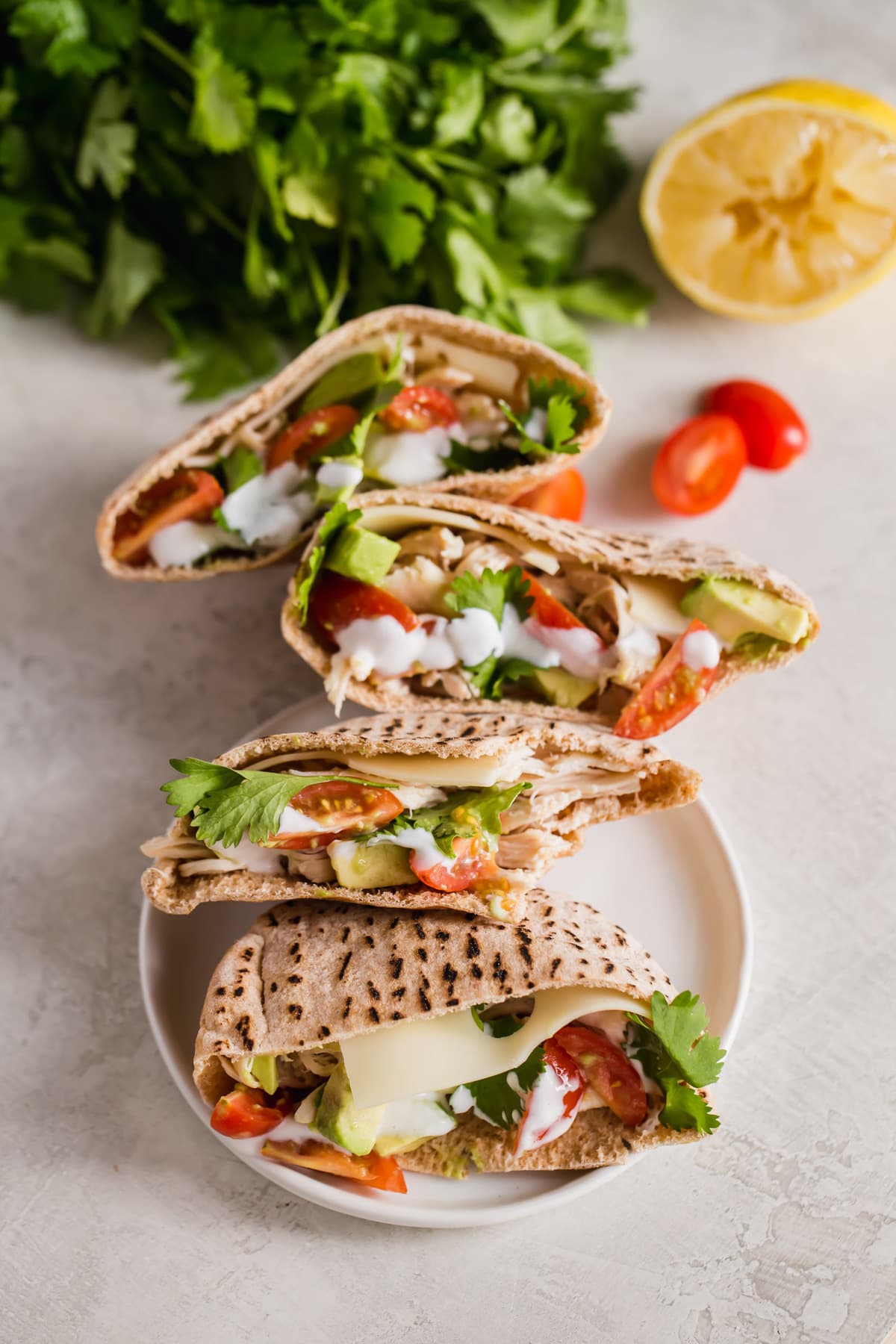 Healthy Pita Sandwich for Lunch
It can be really hard to eat healthy during the week. You barely have time to prepare food in the morning, and not much time to eat at work. Healthy sandwiches are one of the best and easiest things to make for weekday lunches. This chicken avocado sandwich takes almost no time to make and it's filled with good stuff. Throw one together in the morning and bring it with you so you don't have to resort to something junky for lunch.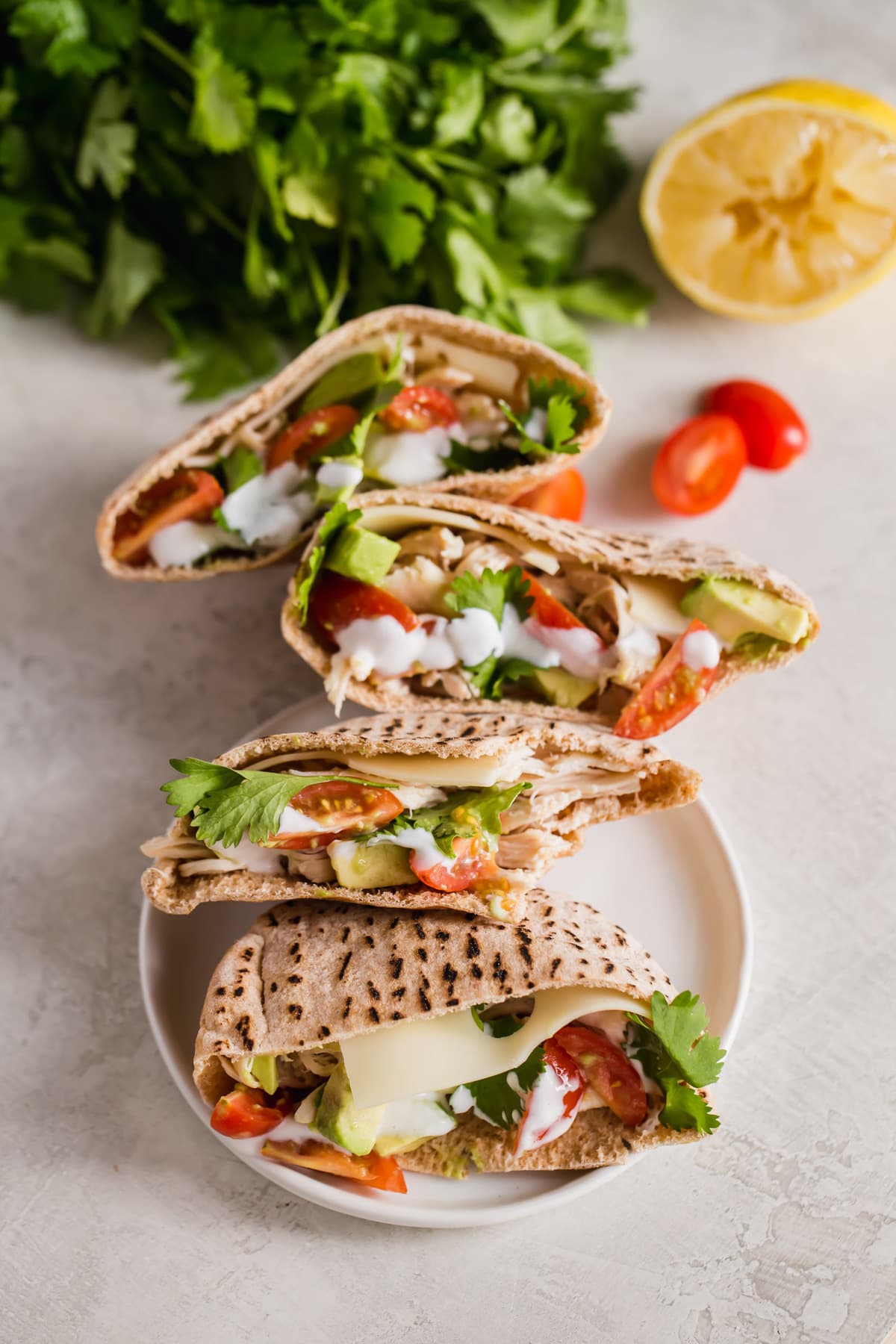 I hope you enjoy these Chicken Avocado Pita Sandwiches as much as we do. There's nothing better than a healthy meal that tastes amazing!
See the recipe card below for details on how to make Avocado Chicken Pita Sandwiches. Enjoy!
If you like this chicken avocado pita pocket, try these other easy sandwich ideas: