This chicken Mexican pizza recipe will make you never think about Taco Bell again! Succulent shredded chicken, cheese, taco seasoning, enchilada sauce, all served up on a crispy tortilla base. Quick and easy to make and only 500 calories!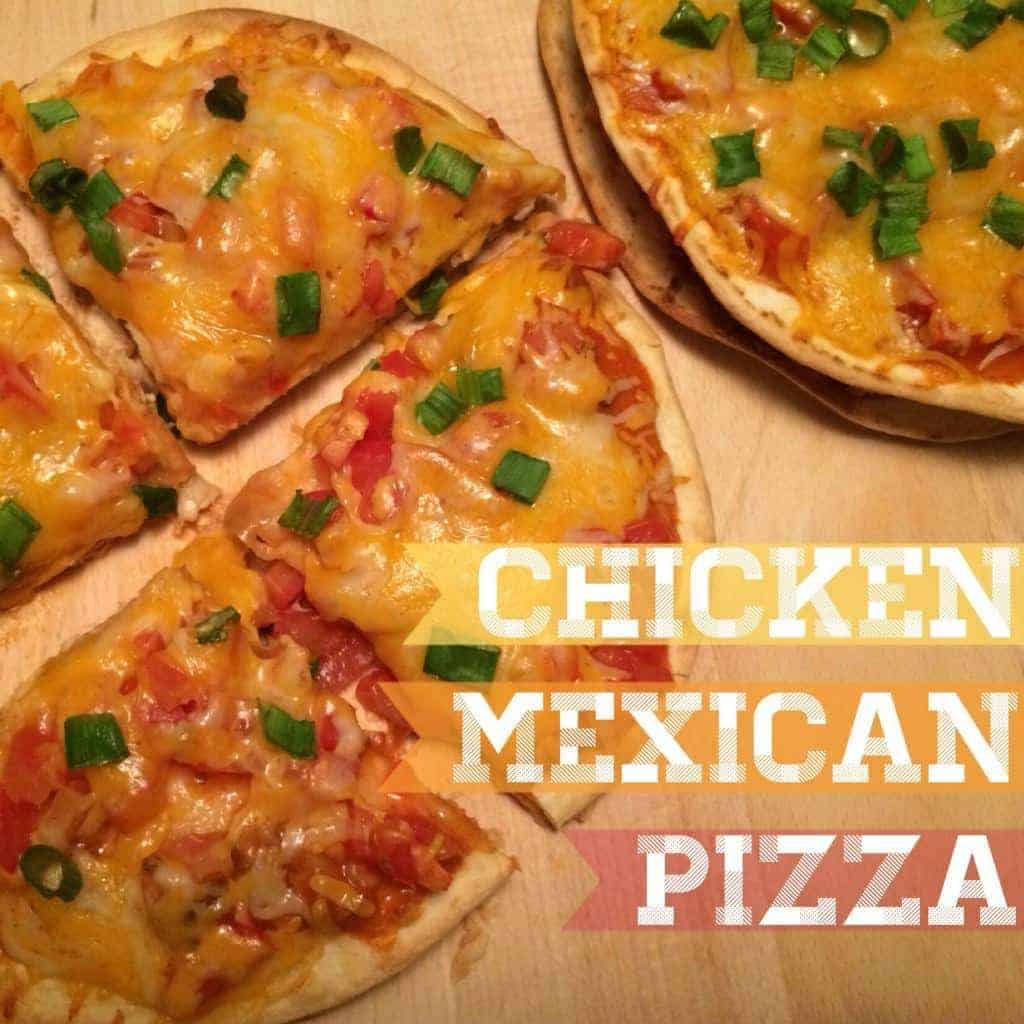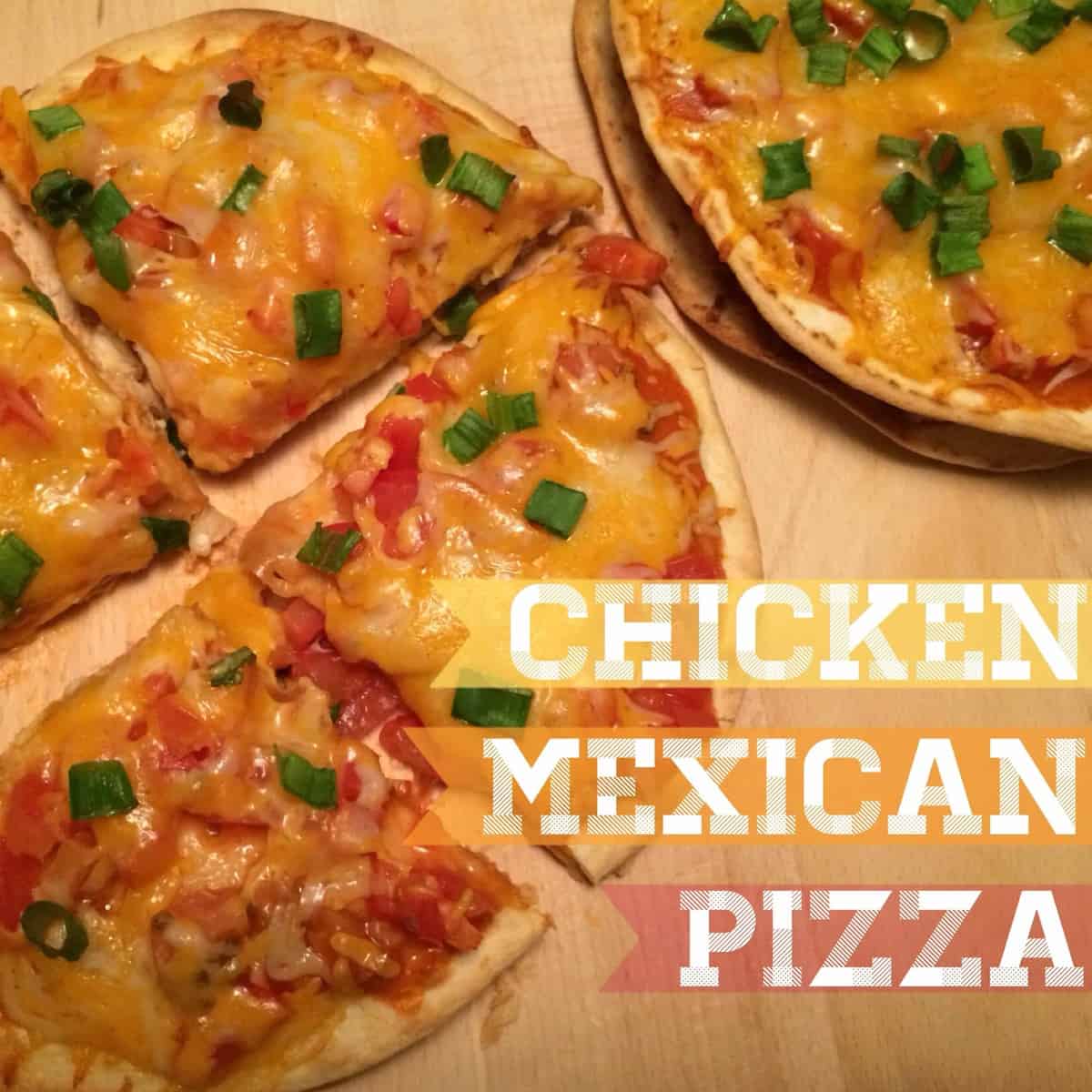 These Chicken Mexican Pizzas taste so much like the real thing, but better because of the fresh ingredients. it was also really fun to make together. Cheaper, tastier and quicker than ordering takeout. It's makes for a quick and delicious dinner.
Why this Mexican pizza recipe is so good
Tastier than Taco Bell and cheaper too!
Only 500 calories.
Easy to make, only 20 mins from pantry to table.
Loaded with Mexican flavors.
Ingredients
Shredded Chicken – cooked. You can use rotisserie chicken.
Tomatoes – Roma work best, dice em up good!
Shredded Cheese – a Mexican blend works well, blended with a bit of taco seasoning. Ipt for gluten free cheese if you want it gluten free.
Tortillas – opt for low carb, or make it gluten free with gluten free tortillas.
Taco seasoning – use your favorite packaged seasoning.
How to make this chicken Mexican pizza recipe
Be sure to scroll to the bottom for the full recipe
'Fry' the tortillas in a hot skillet, flipping frequently so they don't burn. Chop the veggies, then toss the chicken in the seasoning, lime juice and hot sauce. Heat up the refried beans and spread them on the tortillas.
Heat the refried beans and spread on the tortillas, then top the pizzas with the chicken, enchilada suace, veggies and cheese. Bake for 10 mins, then serve – enjoy!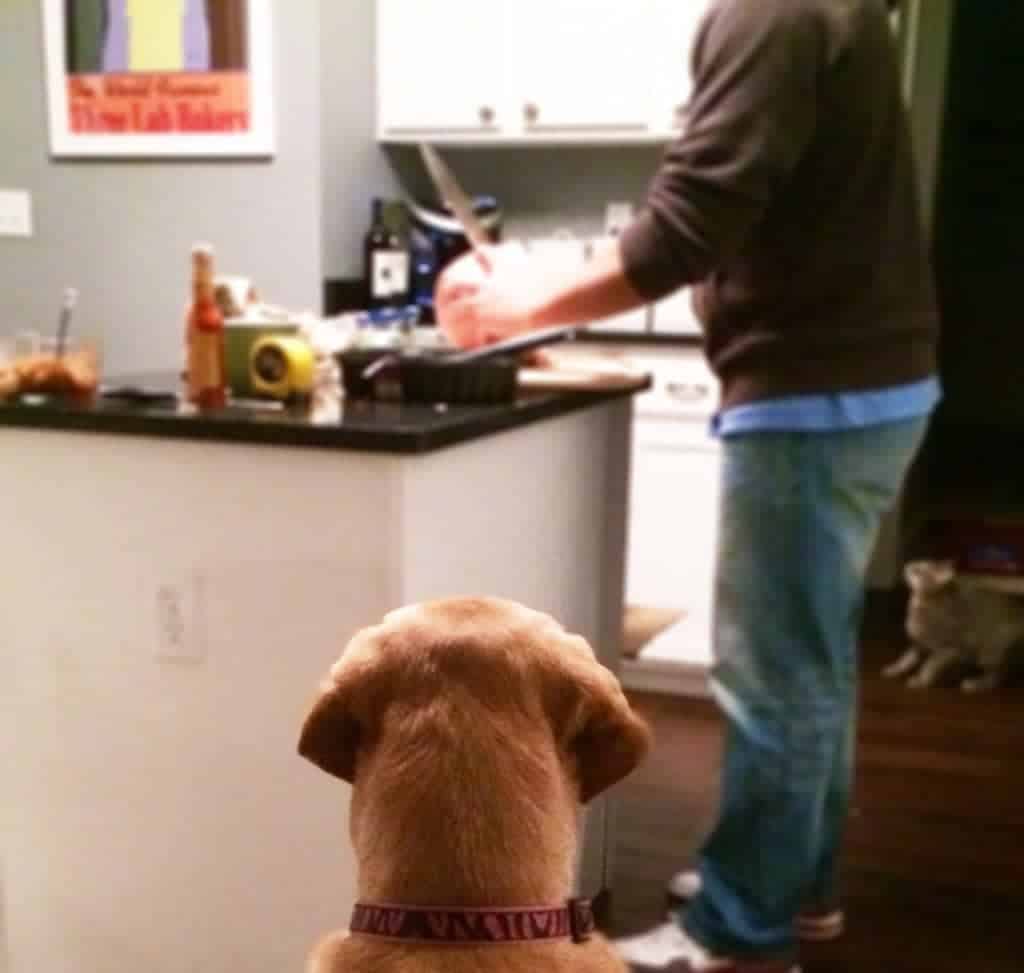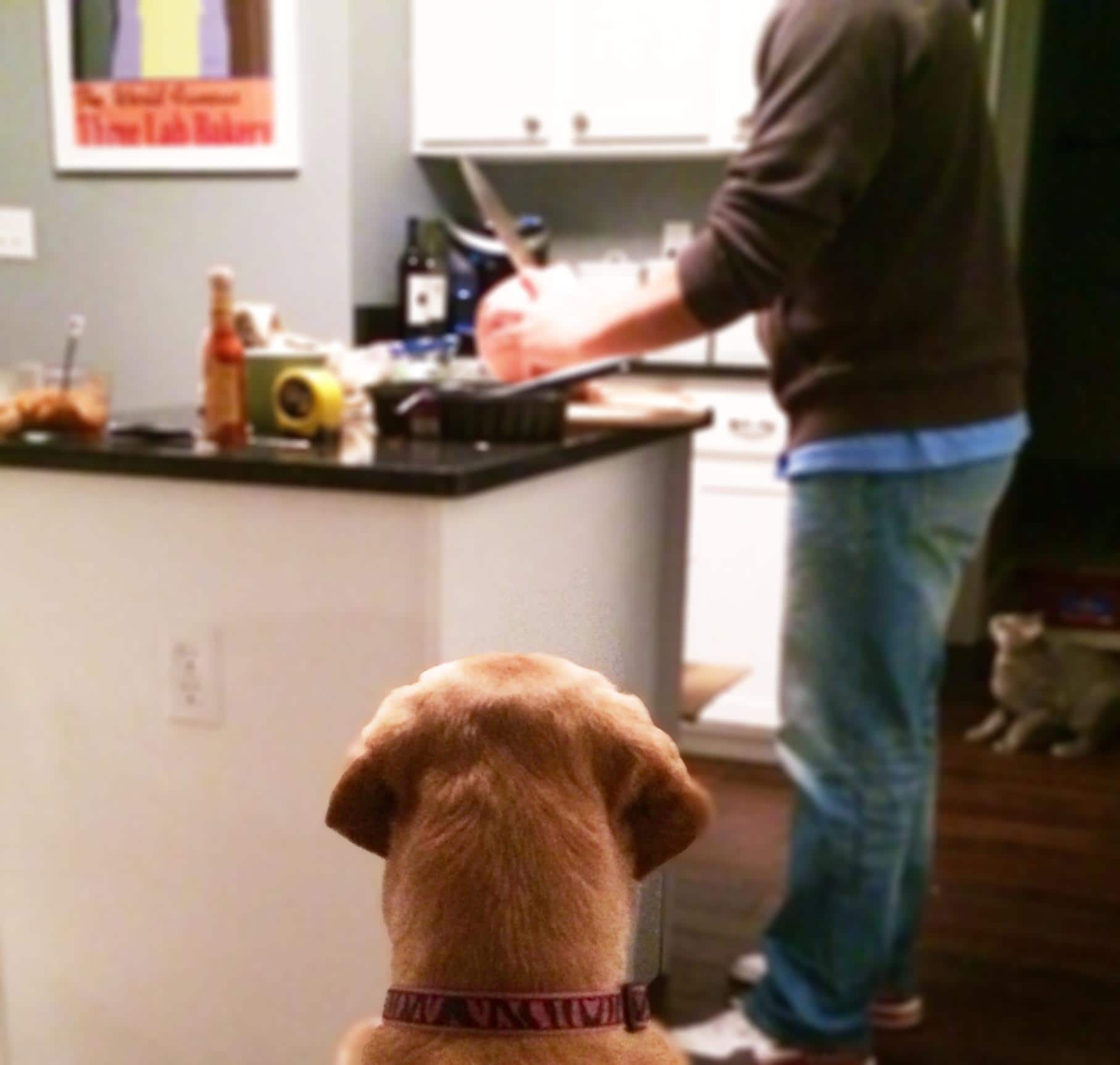 Low Calorie Mexican Pizza Recipe
This Mexican Pizza recipe clocks in at 500 calories, it's perfect as a treat or cheat meal! You can opt for low calories tortillas or go gluten free with gluten free tortillas. It's a homemade pizza that is packed with veggies and Mexican flavors. If you're hankering for takeaway, this will scratch that itch! You can dial down (or up!), the amount of cheese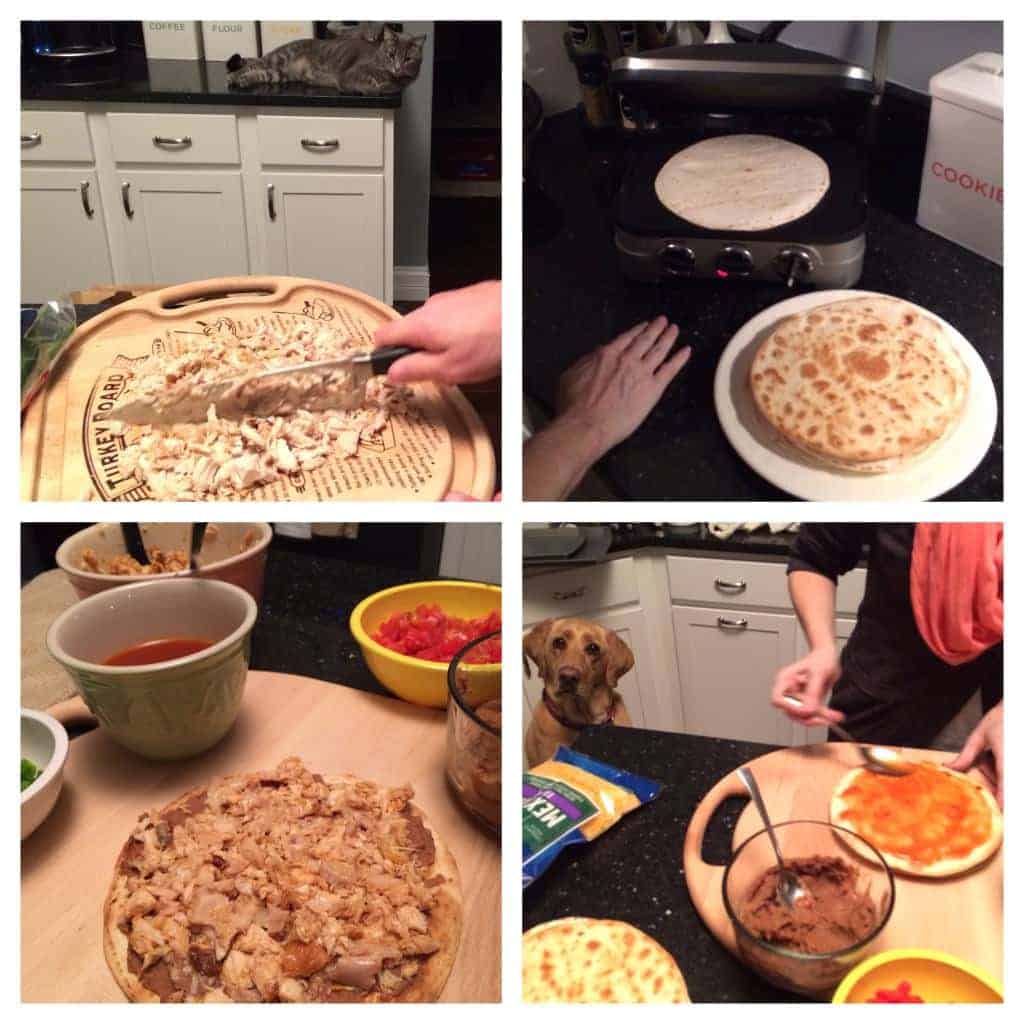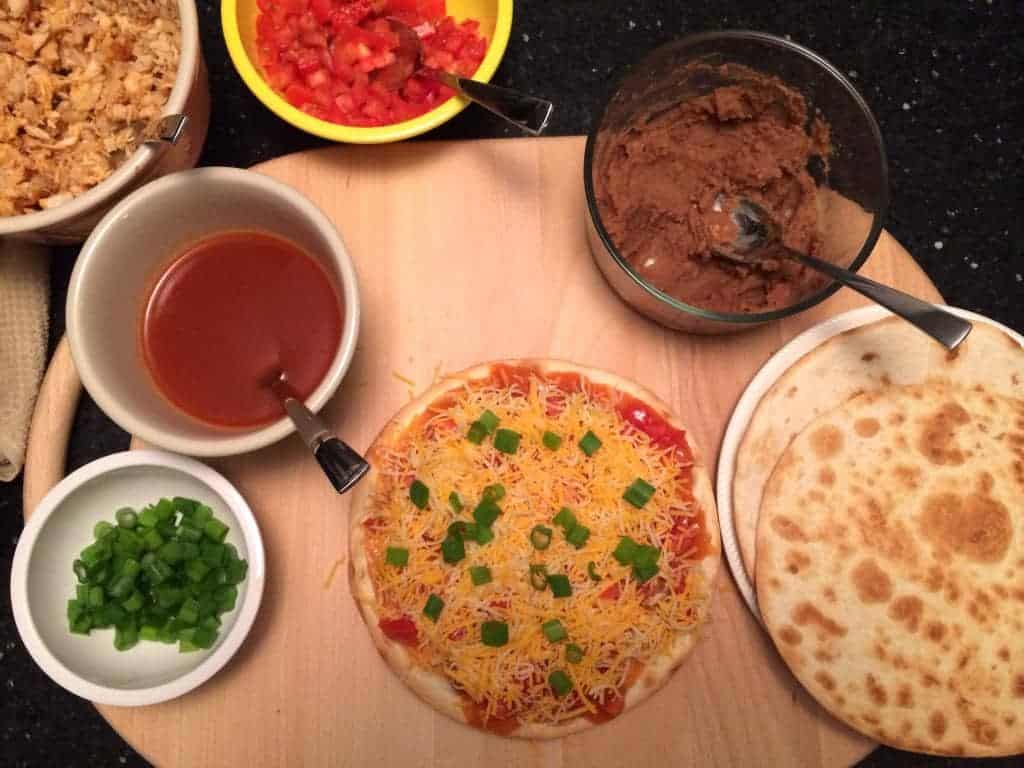 The Perfect Base
I crisped my tortillas in our griddler…which i'm obsessed with. If you don't have a griddle, you can make these in a frying pan with just a little bit of cooking spray. you want them to get brown and crispy but you can keep them pretty healthy by doing it that way. Once the tortillas are nice and crispy, you make your pizzas!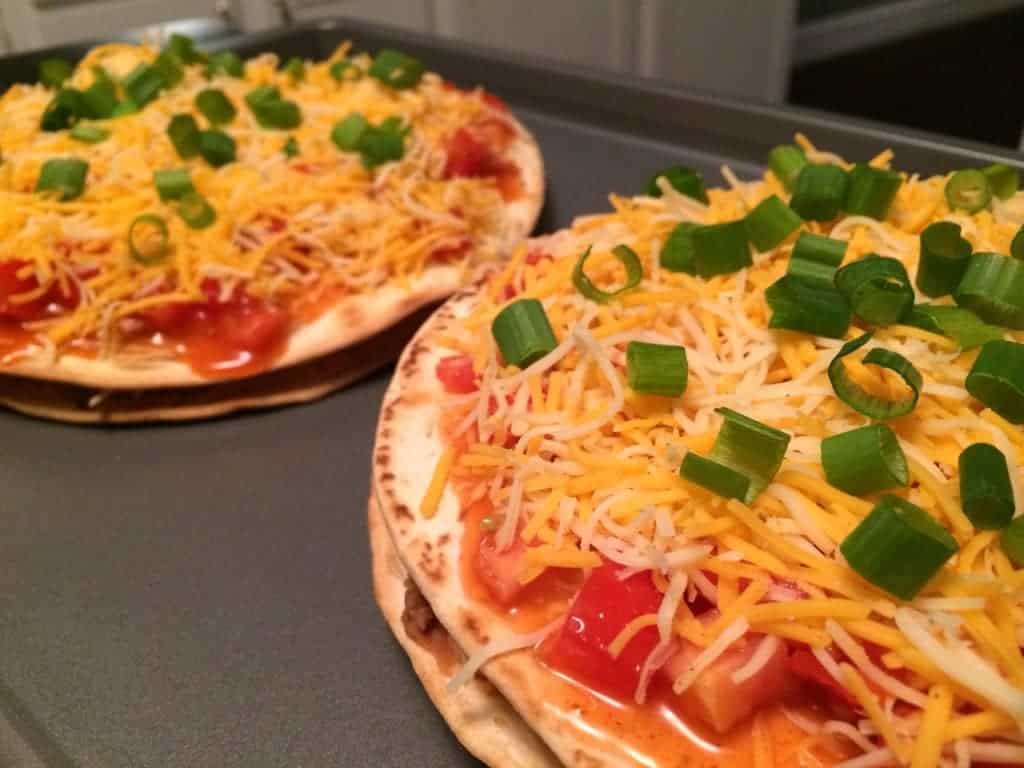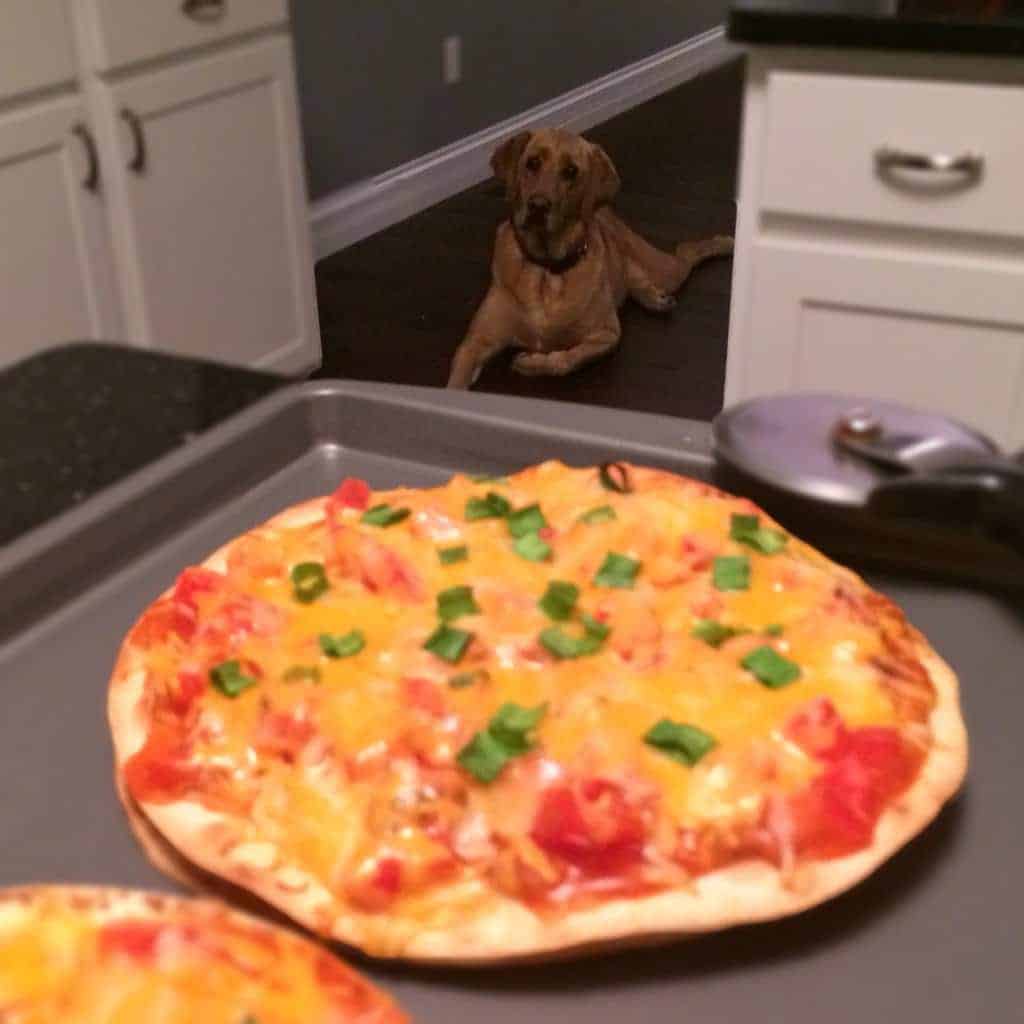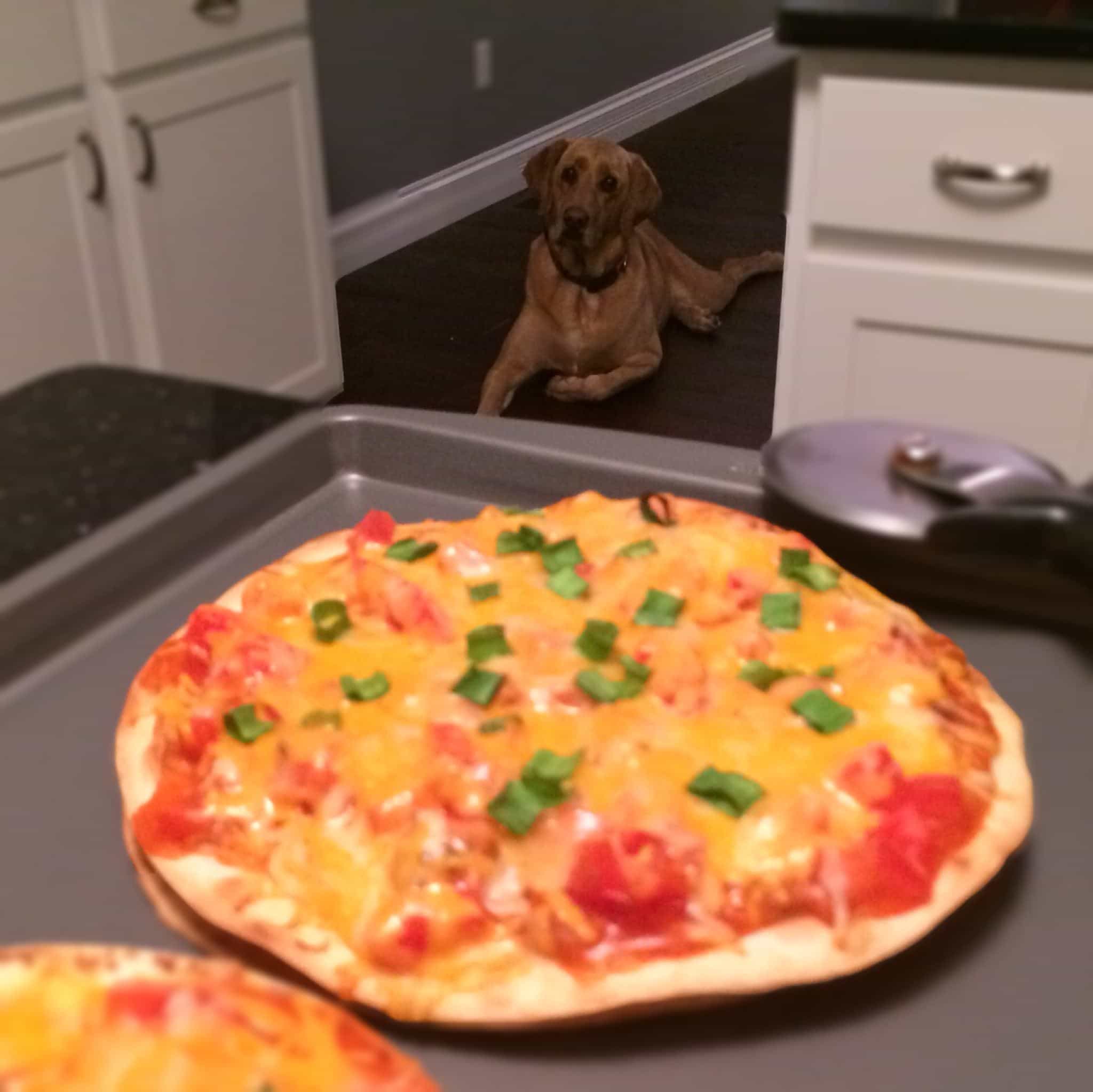 An easy Mexican pizza recipe
This is a breeze to whip up, most of the ingredients will likely reside in your kitchen already. It only takes 20 mins from start to finish, it's way quicker than ordering take out! Just start with one tortilla, layering on beans and chicken. We added a bit of enchilada sauce to this layer as well because we like a lot. If you prefer less, skip the sauce on this step. cover with your second tortilla. Top with enchilada sauce, then tomatoes and finally cheese. sprinkle on green onions if desired, cook for 10 mins and done!
We cut them with a pizza cutter and were able to eat them without any utensils. even better! i think kids would love making these. so fun!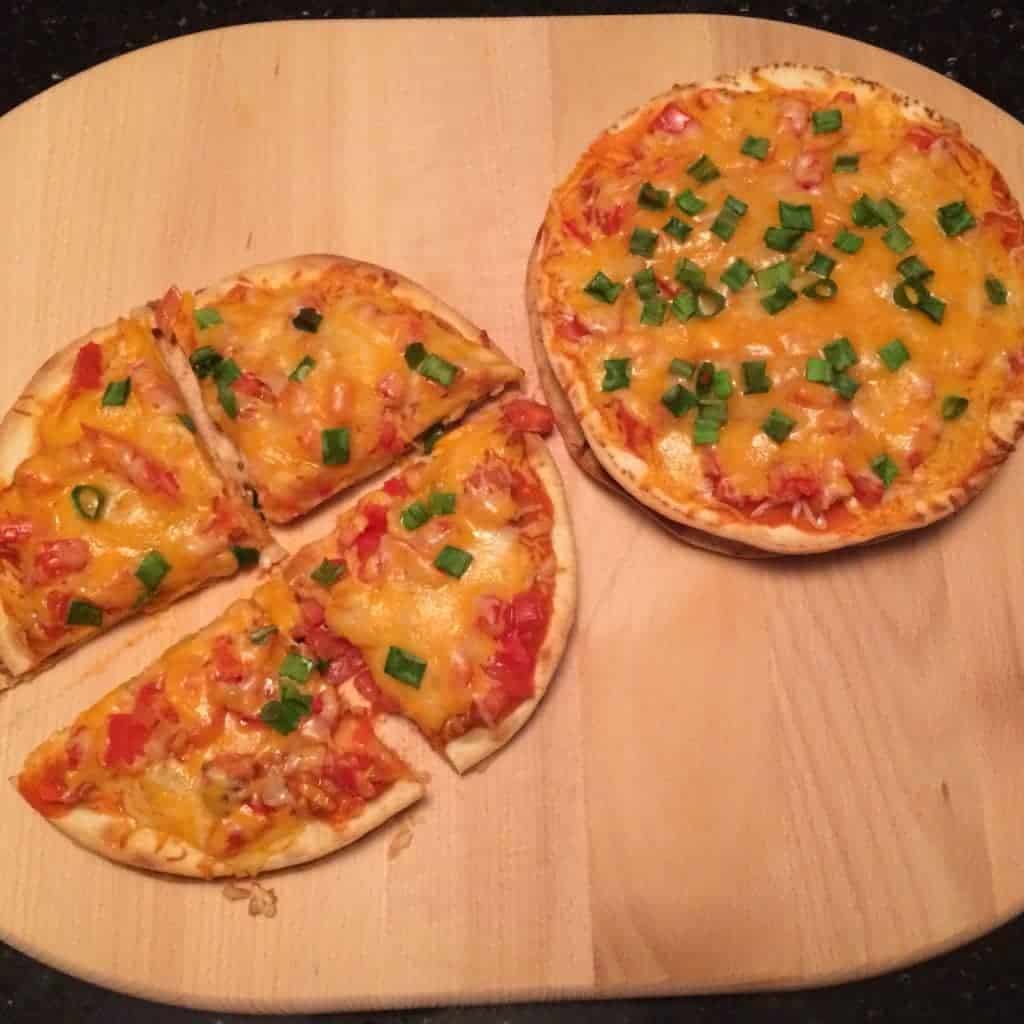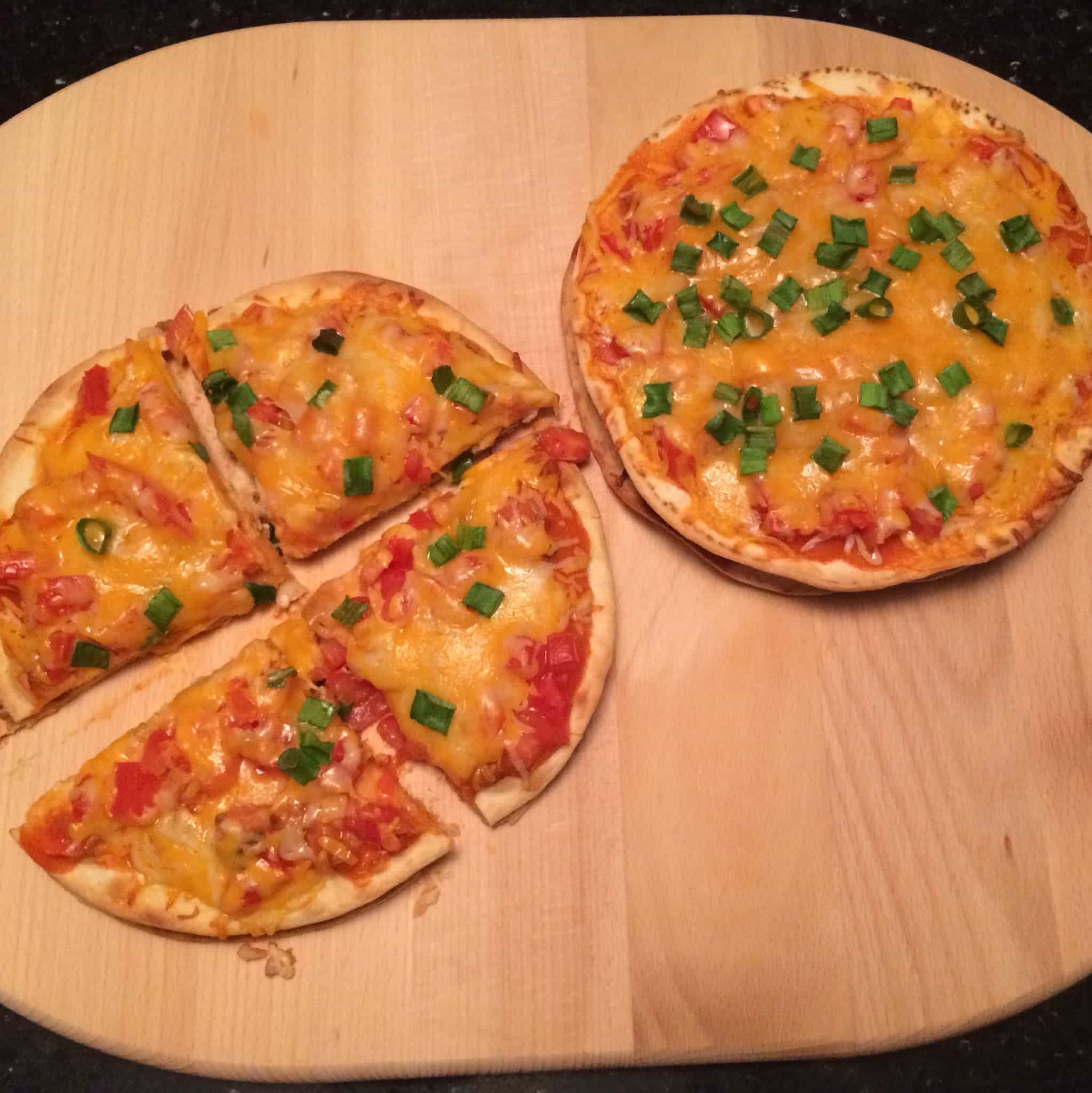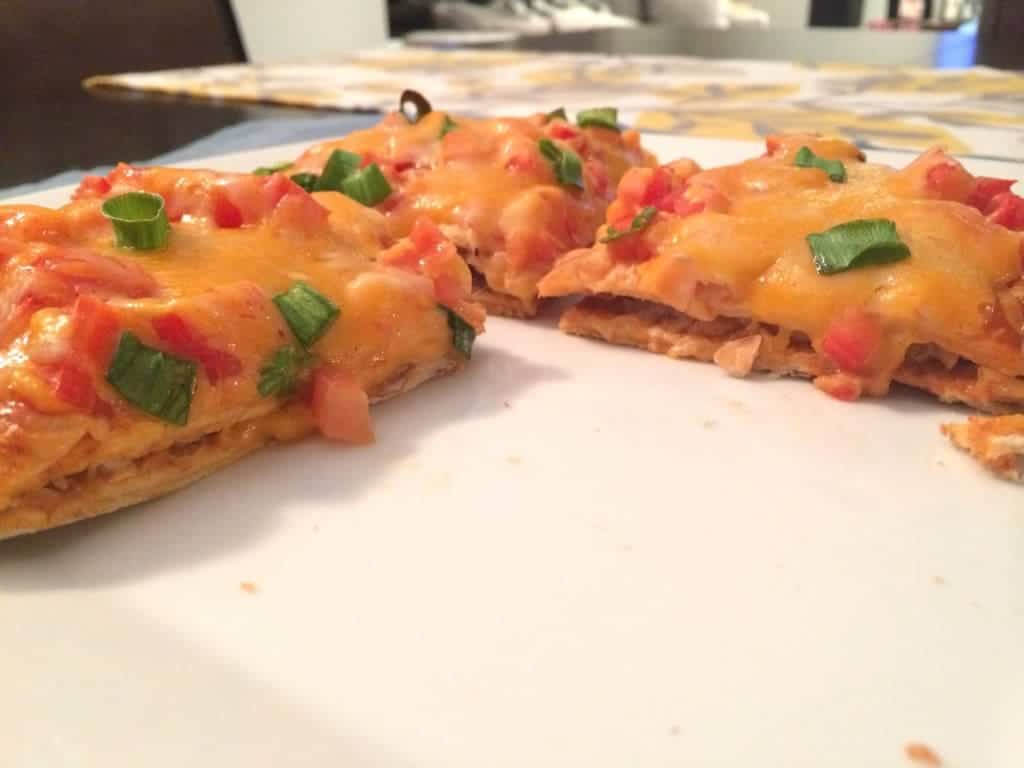 Top Tips For Chicken Mexican Pizzas
Opt for gluten free shredded cheese and tortillas, to make gluten free.
You can use rotisserie chicken, or pre shredded chicken to make things even quicker.
Adjust hot sauce to your liking.
Mix in some taco seasoning to the cheese blend, for more Mexican flavor.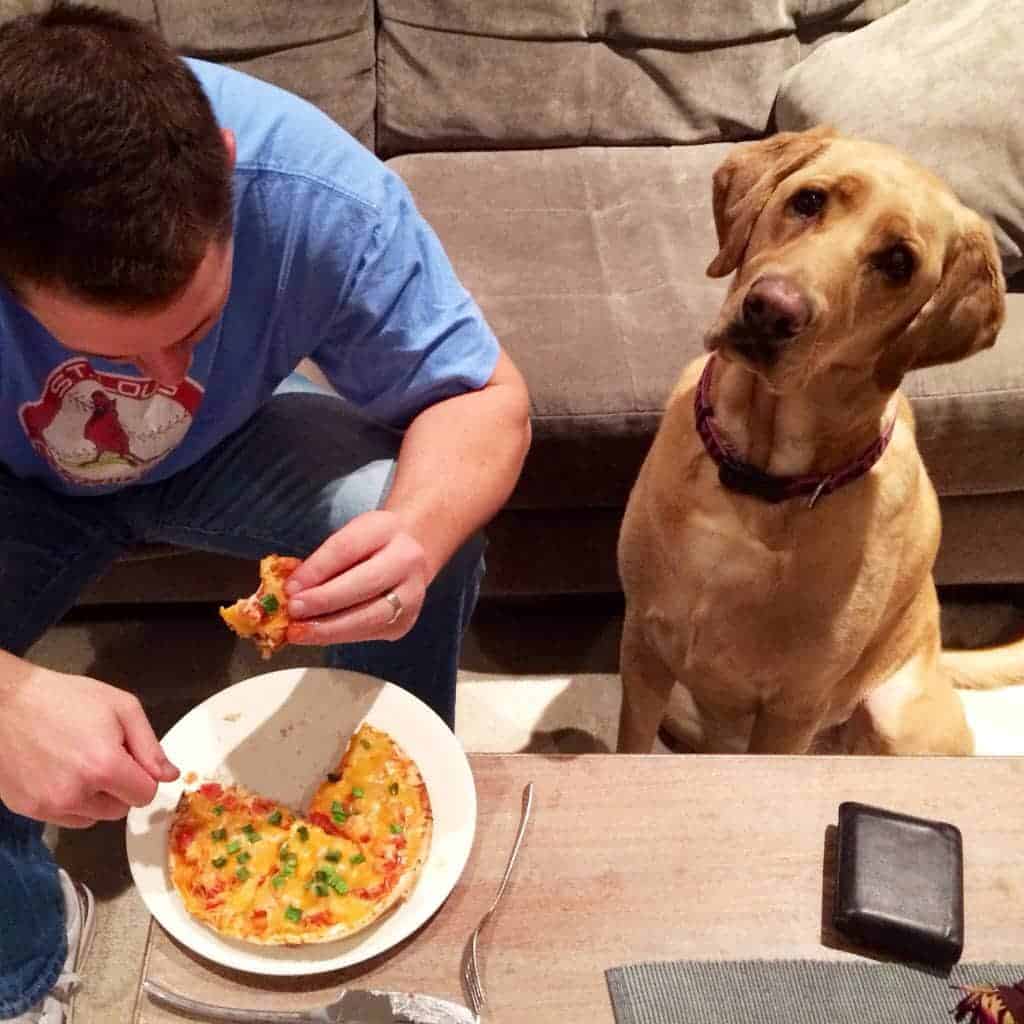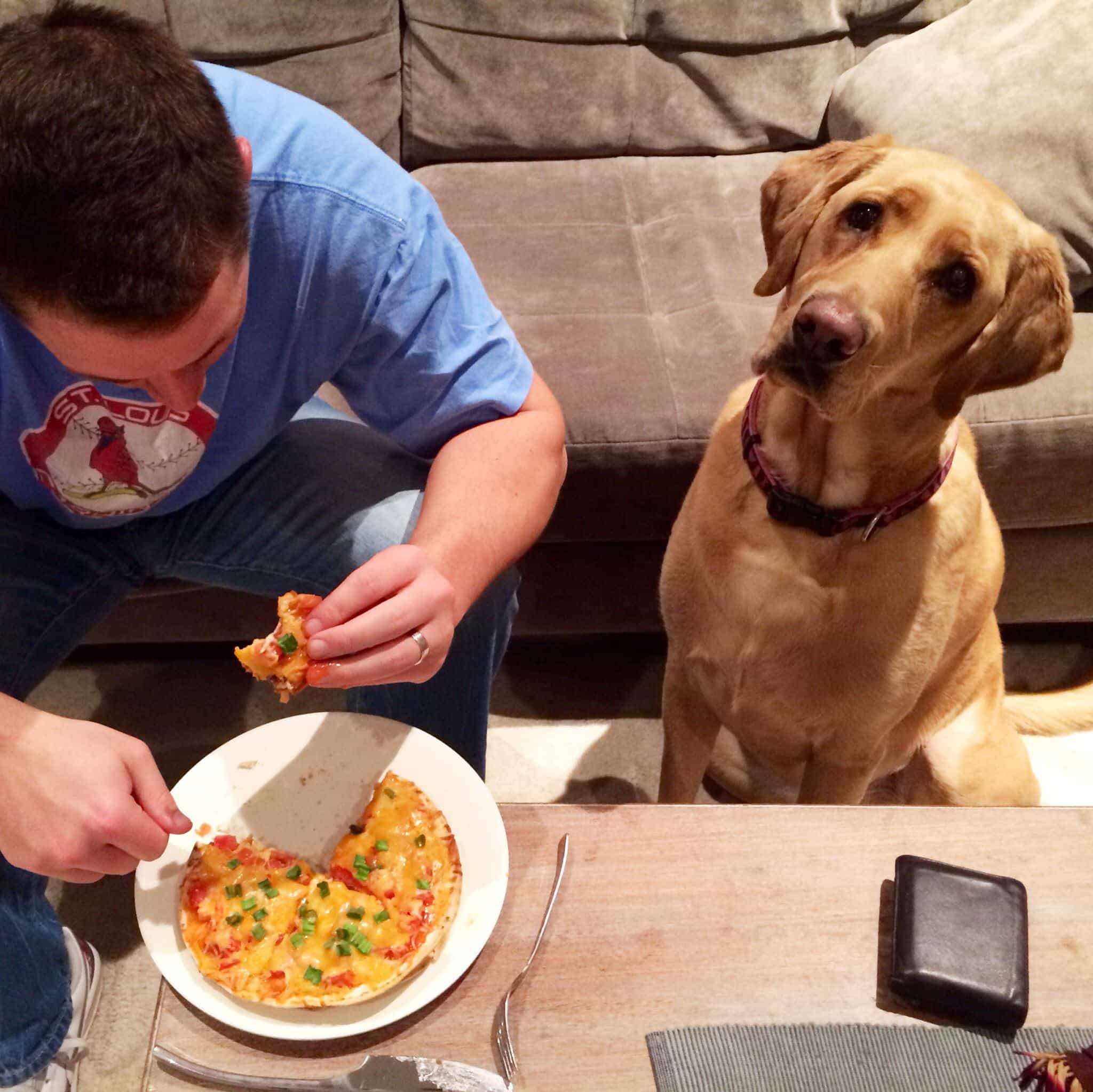 I recommend checking out my newest Mexican Pizza recipe is you prefer to use beef (although you could substitute ground chicken as well)!
Check out these other delicious pizzas recipes
Have you tried this Chicken Mexican Pizza recipe? Feel free to leave a star rating and I'd love to hear from you inthe comments below!