ONE PAN Chicken Parmesan Pasta Skillet uses only 6 ingredients! This is our go-to easy dinner recipe anytime we are craving comfort food. A delicious one pot pasta recipe everyone in the family will love!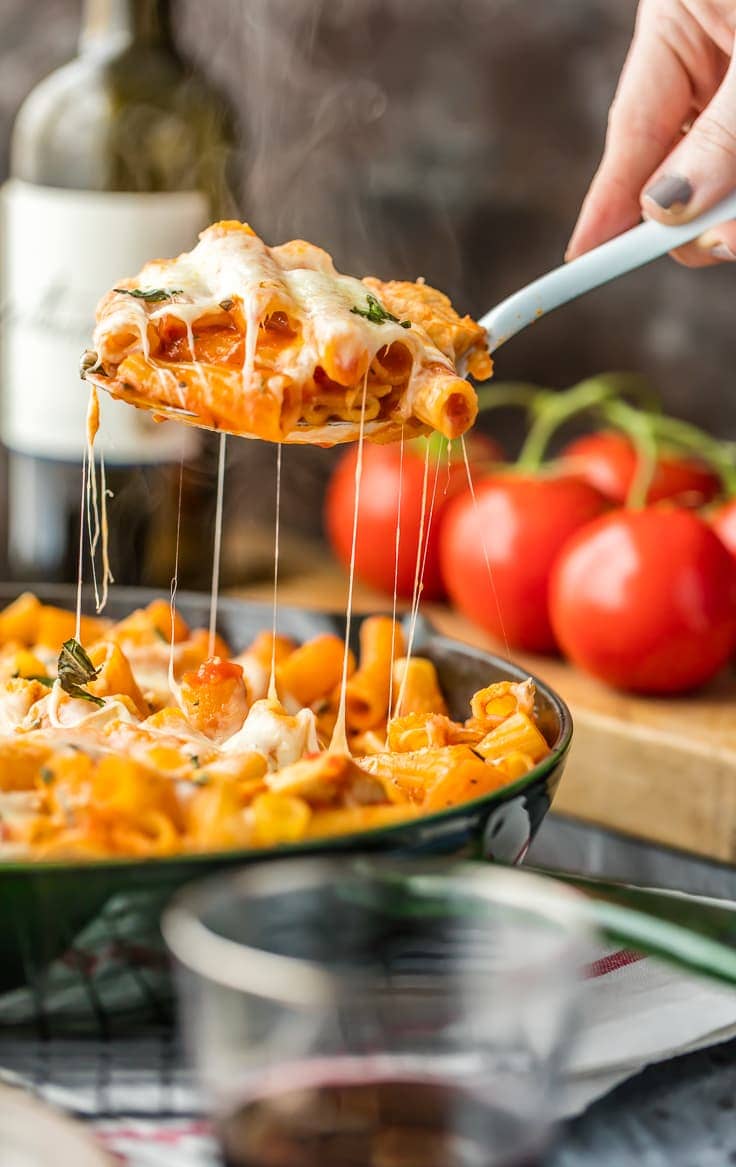 DO YOU SEE THAT CHEESE? I have a love affair with stretchy cheese. Don't tell Pat. Actually, he's quite aware. If comfort food is going to be a favorite at our house…it MUST have stretchy cheese, be super easy to make, and pair well with wine. Is that too much to ask?
This One Pan Chicken Parmesan Pasta Skillet is TO DIE FOR. Full of flavor, only 6 ingredients (THAT'S RIGHT), and obviously, the most amount of cheese legally possible. Obviously.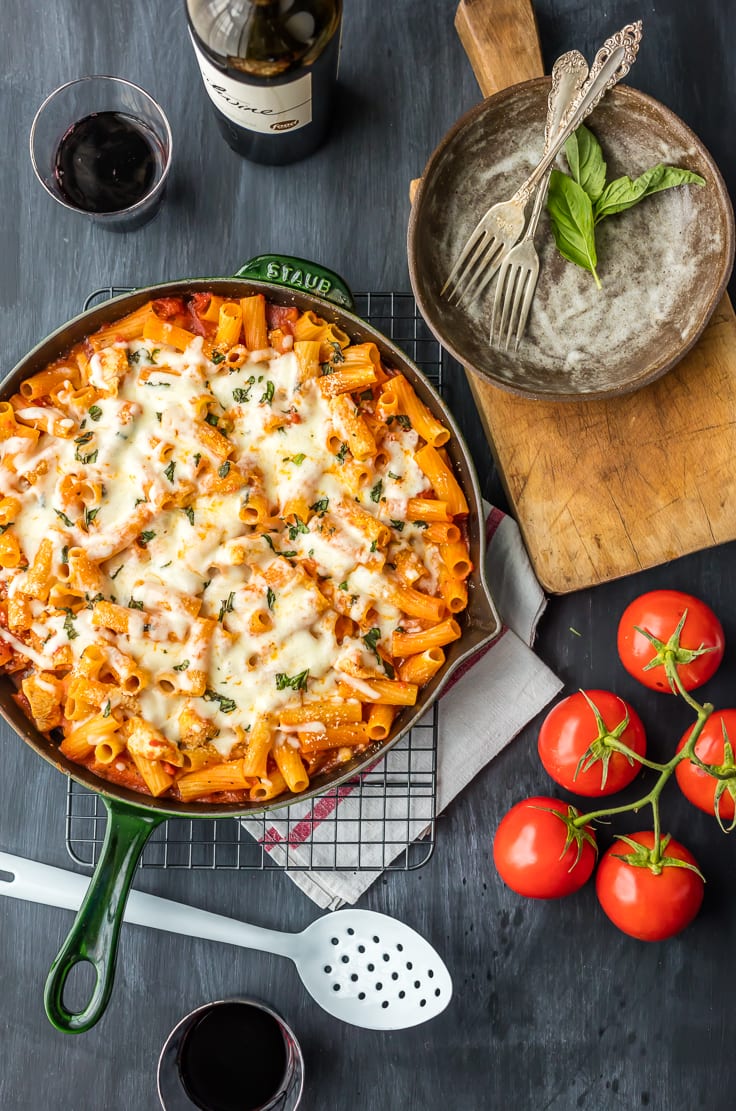 I have wanted to make something like this for a long time. I'm all about the easy skillet meals, and you wouldn't believe how easy pasta is to make in a skillet! Just cover that bad boy and it does all the work for you! Virtually zero cleanup (because you will finish all the Chicken Parmesan Pasta, trust me), and no fail. Impress friends or family with virtually no effort at all. Comfort food made easy, that's my specialty.
Watch me make the one pan chicken Parmesan pasta in this quick video tutorial to see just how easy it is!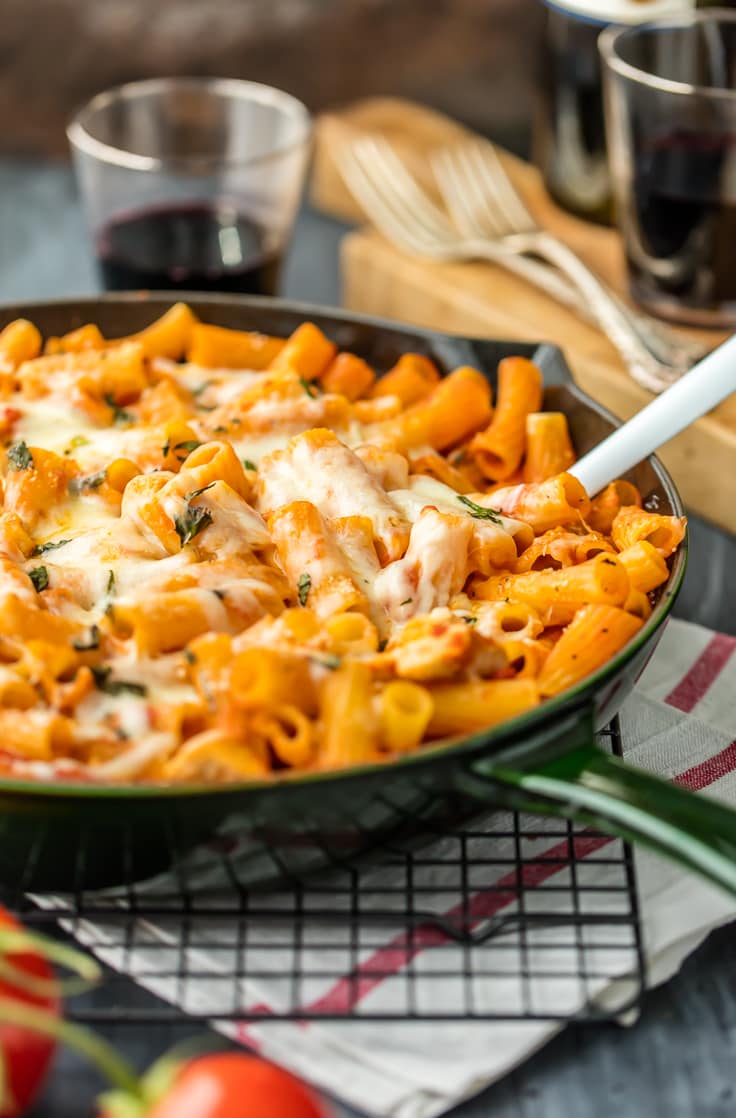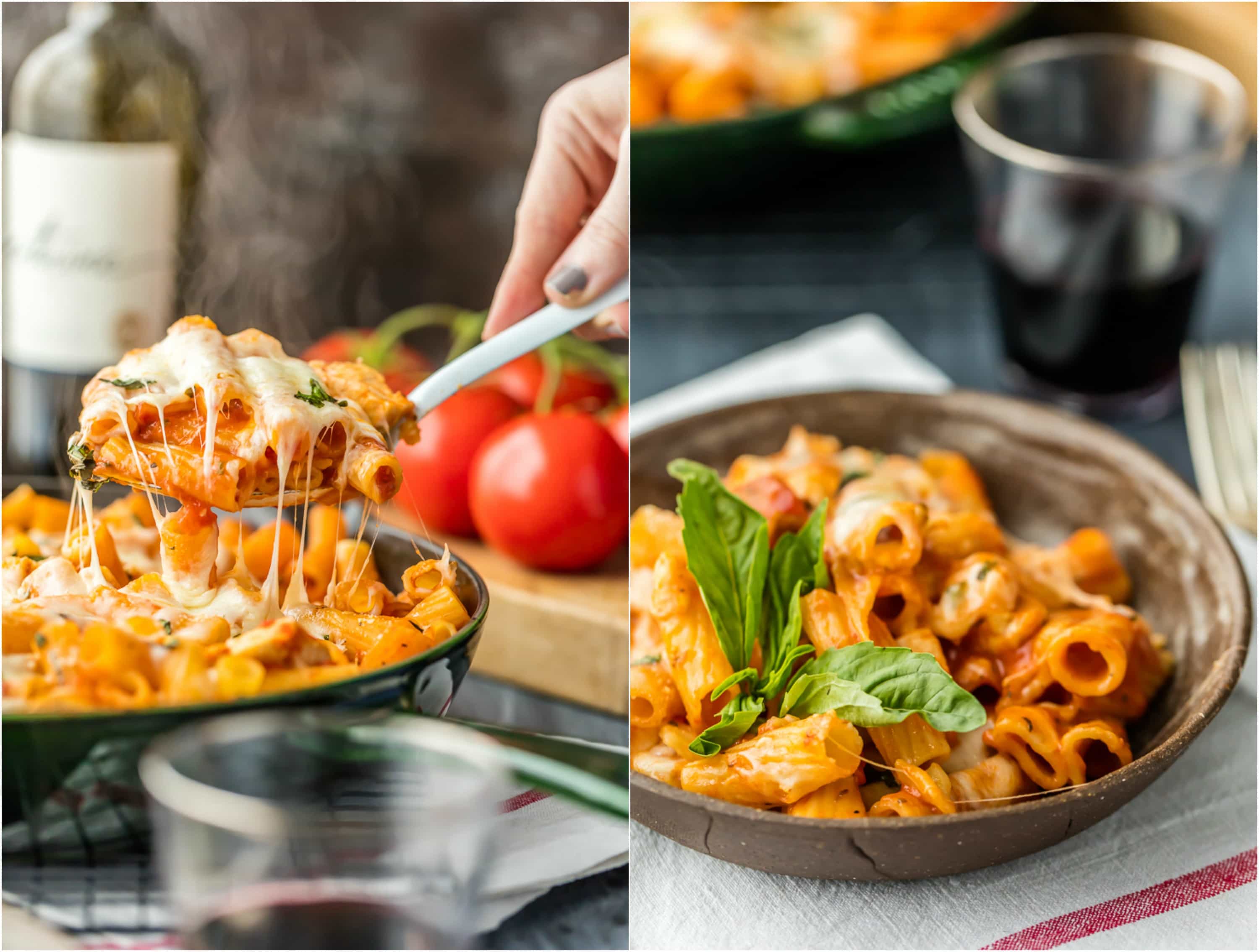 Usually getting the perfect stretchy cheese shot can be quite a chore. Adding extra around the edges, reheating, snapping hundreds of pics just to get the right one. But not with this recipe. It stays nice and toasty and melty right there in the skillet and there's so much cheese to go around, you look like a natural right away. How great would spooning that up to your loved ones look on your dinner table? THE. BEST.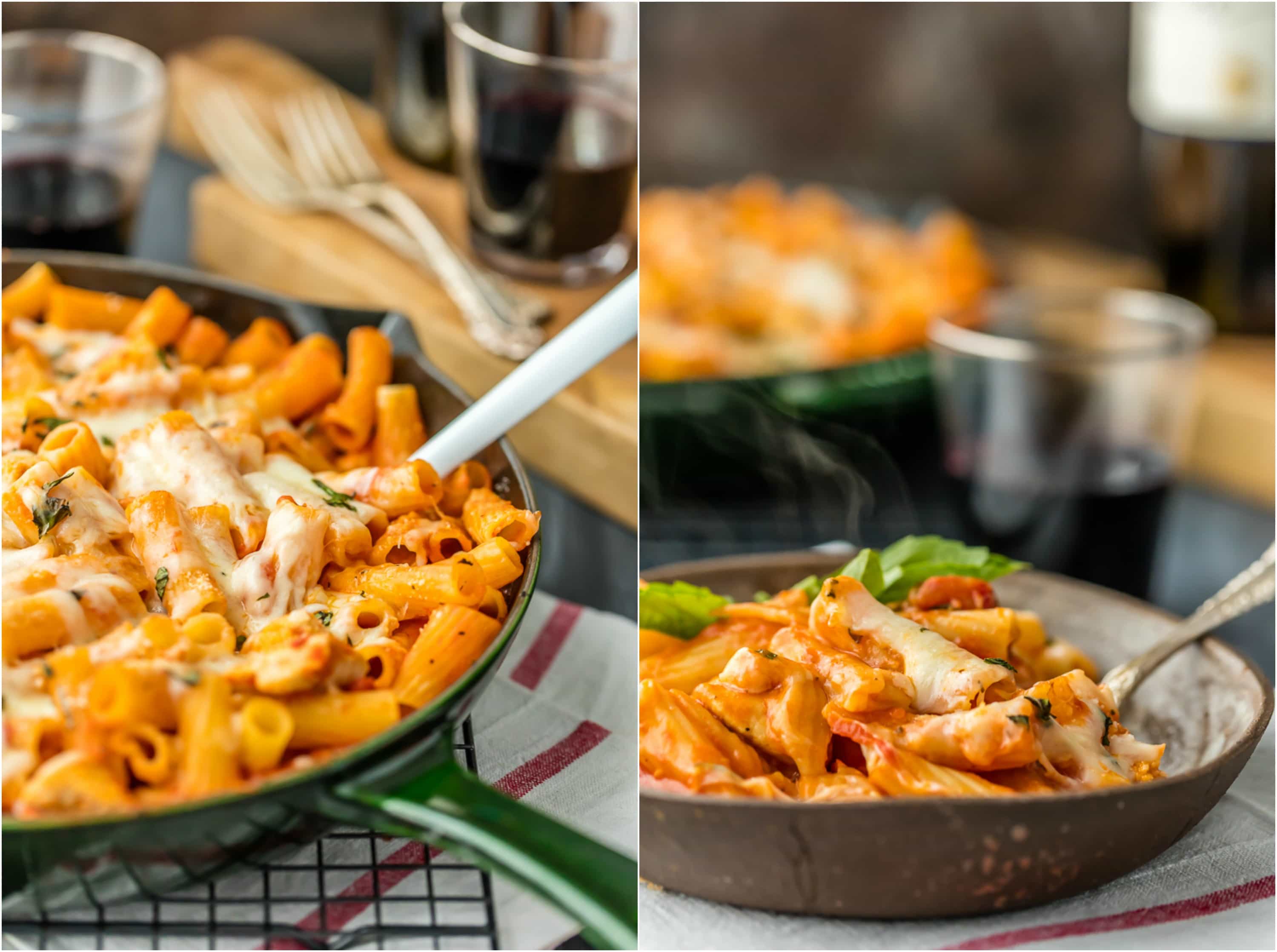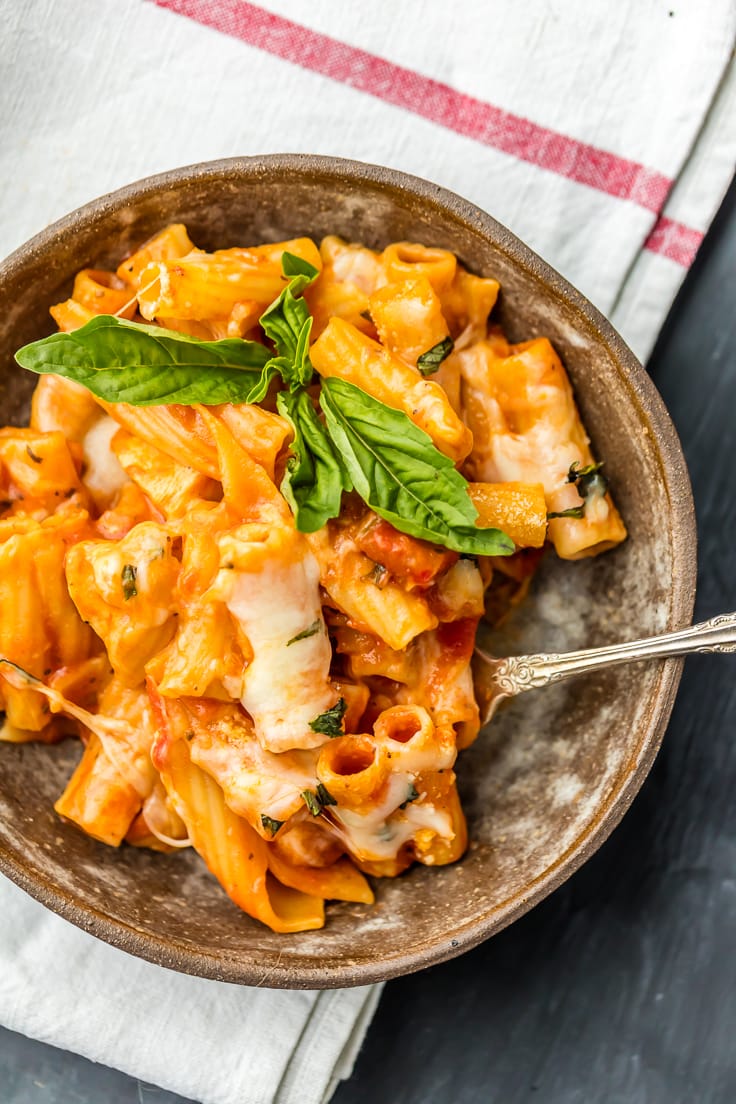 Simple ingredients, flavors, and lots of cheese. The perfect combo. I think you're going to love this one!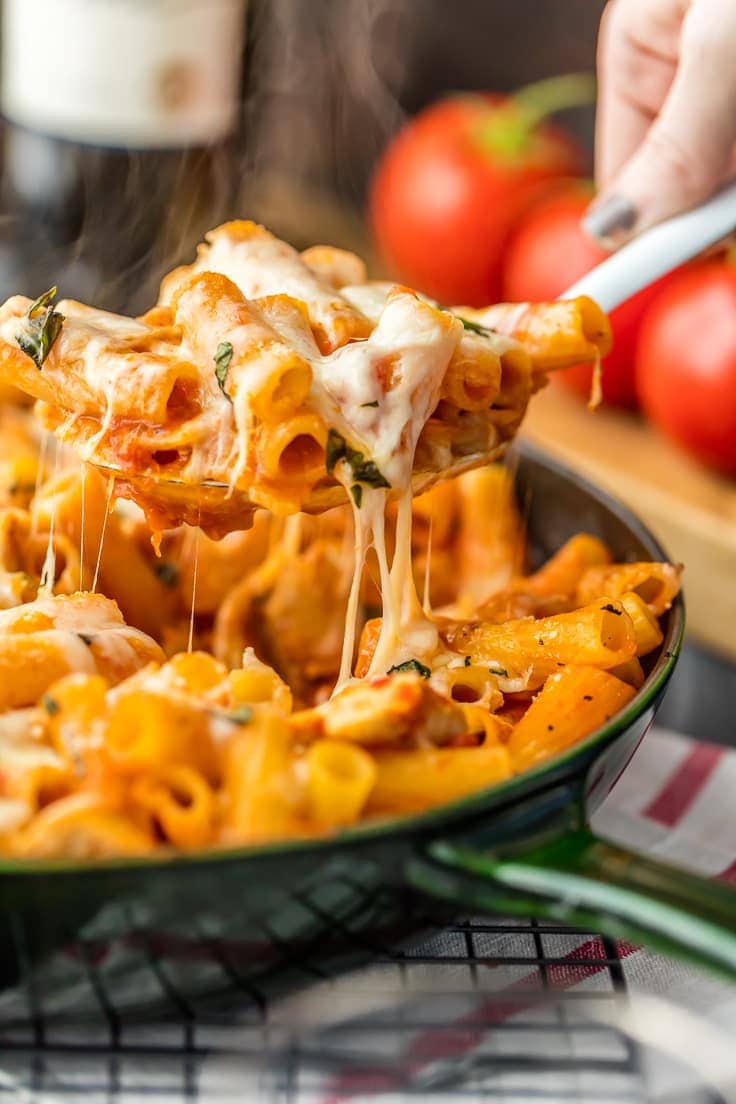 One Pan Chicken Parmesan Pasta Skillet. Heaven on Earth. Enjoy!!
Chicken Parmesan Pasta Skillet (ONLY 6 INGREDIENTS!)
5 minPrep Time
25 minCook Time
30 minTotal Time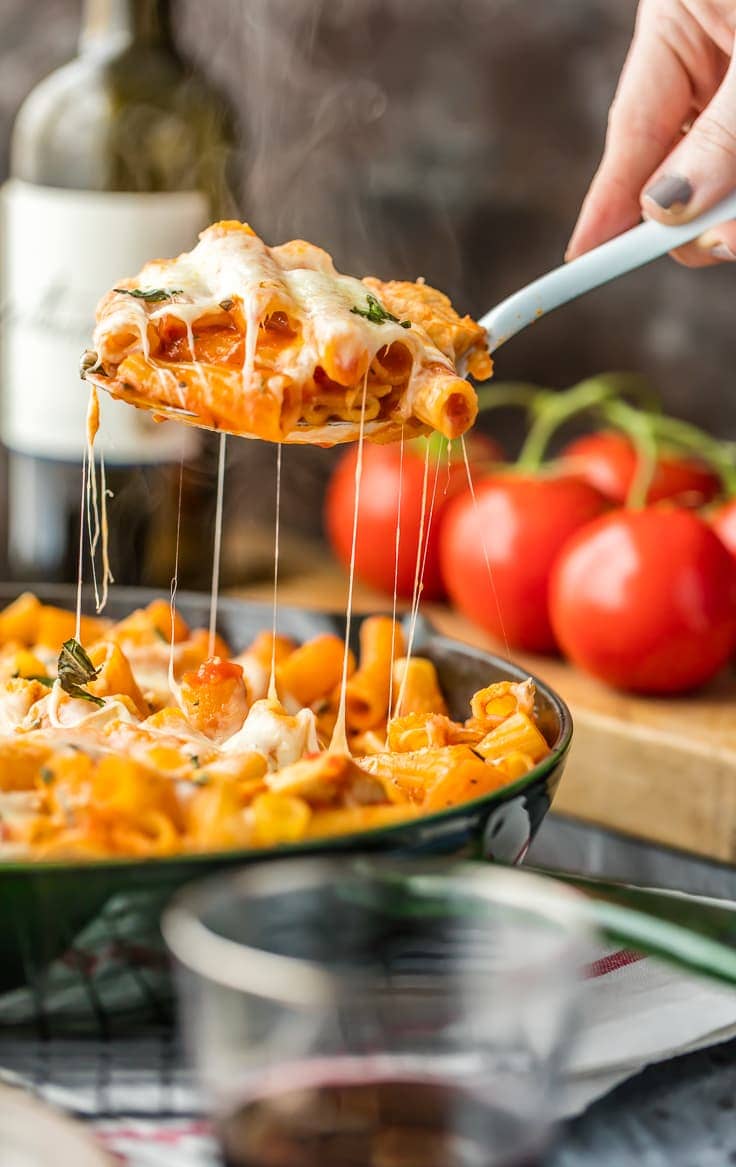 Ingredients
2 tablespoons Italian dressing (not the creamy kind)
3 boneless skinless chicken breasts, cut into cubes
16 ounces small/medium sized rigatoni pasta
1 24-ounce jar of your favorite Marinara pasta sauce (I love Delallo's)
1/2 cup shredded mozzarella cheese
1/2 cup grated parmesan cheese
salt and pepper to taste
Chopped fresh basil for garnish (optional)
Instructions
Heat chicken and Italian dressing in a large 12 inch skillet over medium high heat (If you don't own a large skillet, you can use a stock pot). Season chicken with salt and pepper to taste.
Cook chicken until browned and just cooked through, about 5 minutes depending on thickness of chicken.
Add the box of pasta and the entire jar of marinara. Fill the empty marinara jar with water and add to the skillet. If using a stockpot, use 2 cups water. Lightly stir the mixture to combine.
Bring mixture to a boil and then reduce to a simmer. Cover and cook for 15 minutes or until pasta is tender to your liking. ***
Cover with grated parmesan and then shredded mozzarella. No need to stir. Continue to cook for 2-3 more minutes or until cheese is fully melted. You can also broil the entire skillet for about 4 minutes to make the cheese extra melty!
Top with chopped basil (optional) and serve! Enjoy!
***The pasta in the middle of the skillet and underneath will be more tender than the outside pasta. It's okay if those pieces are a bit toastier and less soft. The inside will be plenty soft.
7.6.7
2210
https://www.thecookierookie.com/chicken-parmesan-pasta-skillet/
If you love the one pan chicken Parmesan recipe, I bet you'll love these easy comfort food favorites, too!