These Teriyaki Chicken Skewers are such a fun meal. This grilled chicken skewers recipe is loaded with grilled onions, peppers, pineapple, and teriyaki meatballs. Fire up the grill for this healthy and delicious meal!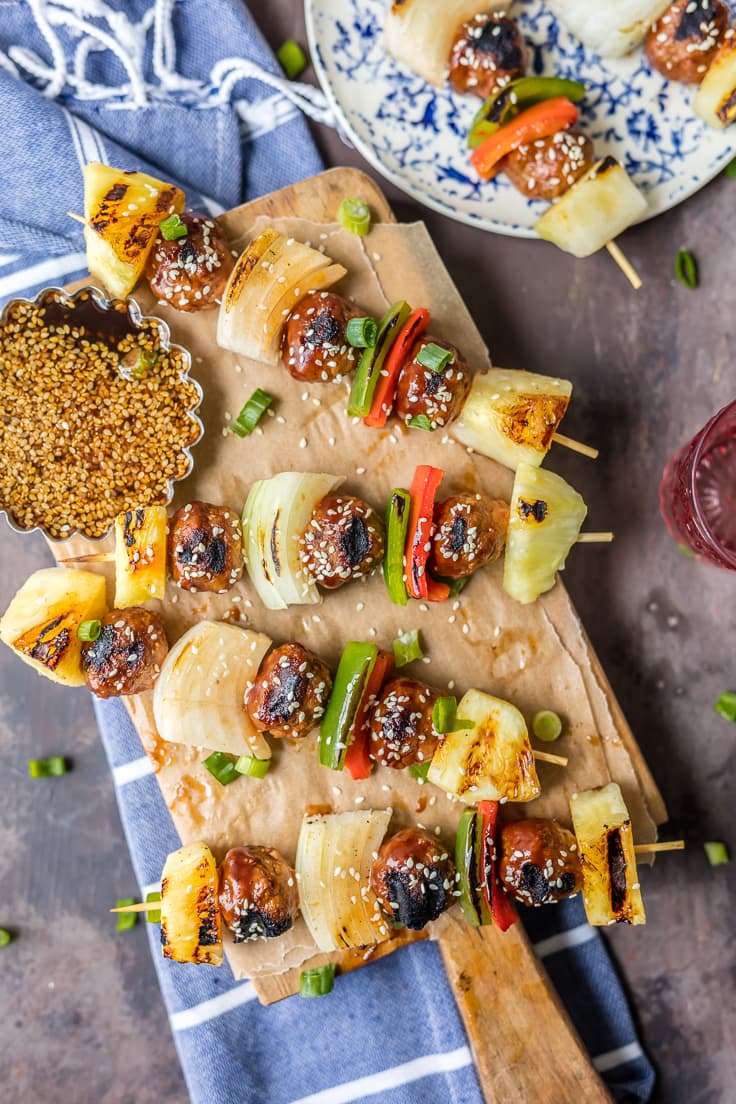 Teriyaki Chicken Skewers
This chicken skewers recipe is just perfect for summer. Make chicken teriyaki meatballs then load them up with onions, peppers, and pineapple!
I could not be more excited about today's recipe: Teriyaki Chicken Skewers! These babies have all the flavor and they're so simple. It's such a fresh flavor combo, and the mix of chicken and veggies makes for a balanced meal.
The center of these grilled chicken skewers is the teriyaki meatballs. I know meatballs don't seem like the most simple thing to make, but I swear they are! Are they messy? Yes. But are they EASY? Also yes. Are they worth the messy prep? OH MY GOSH YES.
You will never regret making these delicious grilled skewers. They are so great for summer time dinners on beautiful evenings. I love eating these out on the patio and digging into the great flavor.
These skewers are so easy to make and so delicious! The perfect summer meal!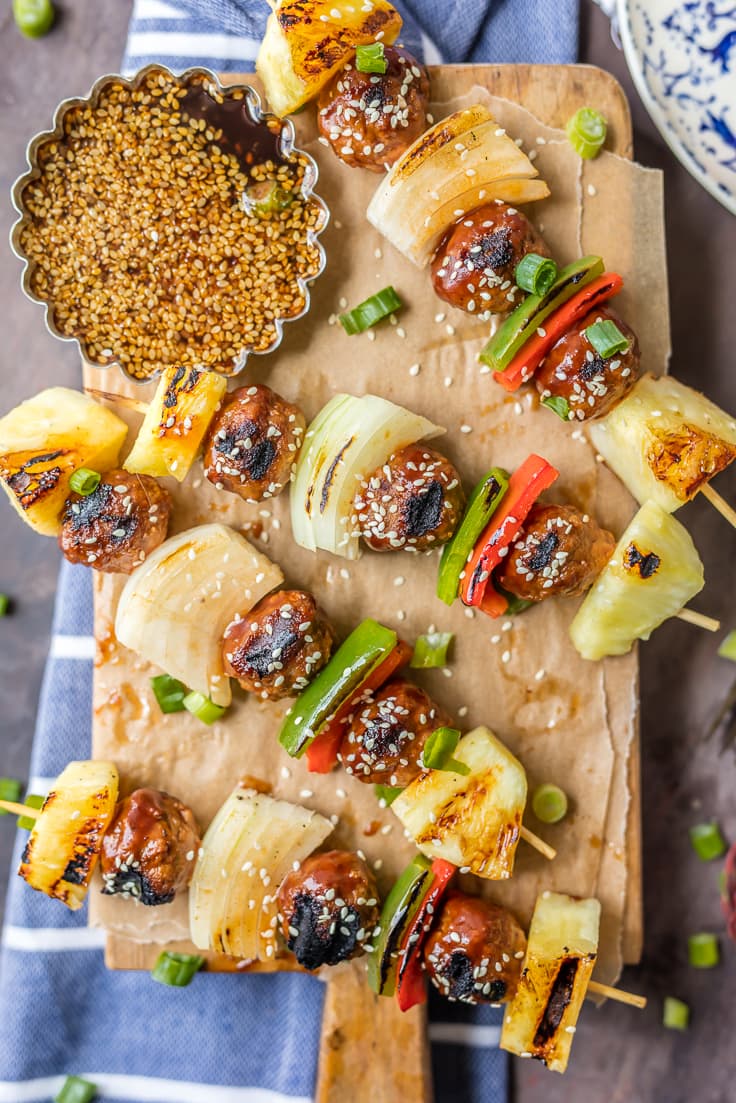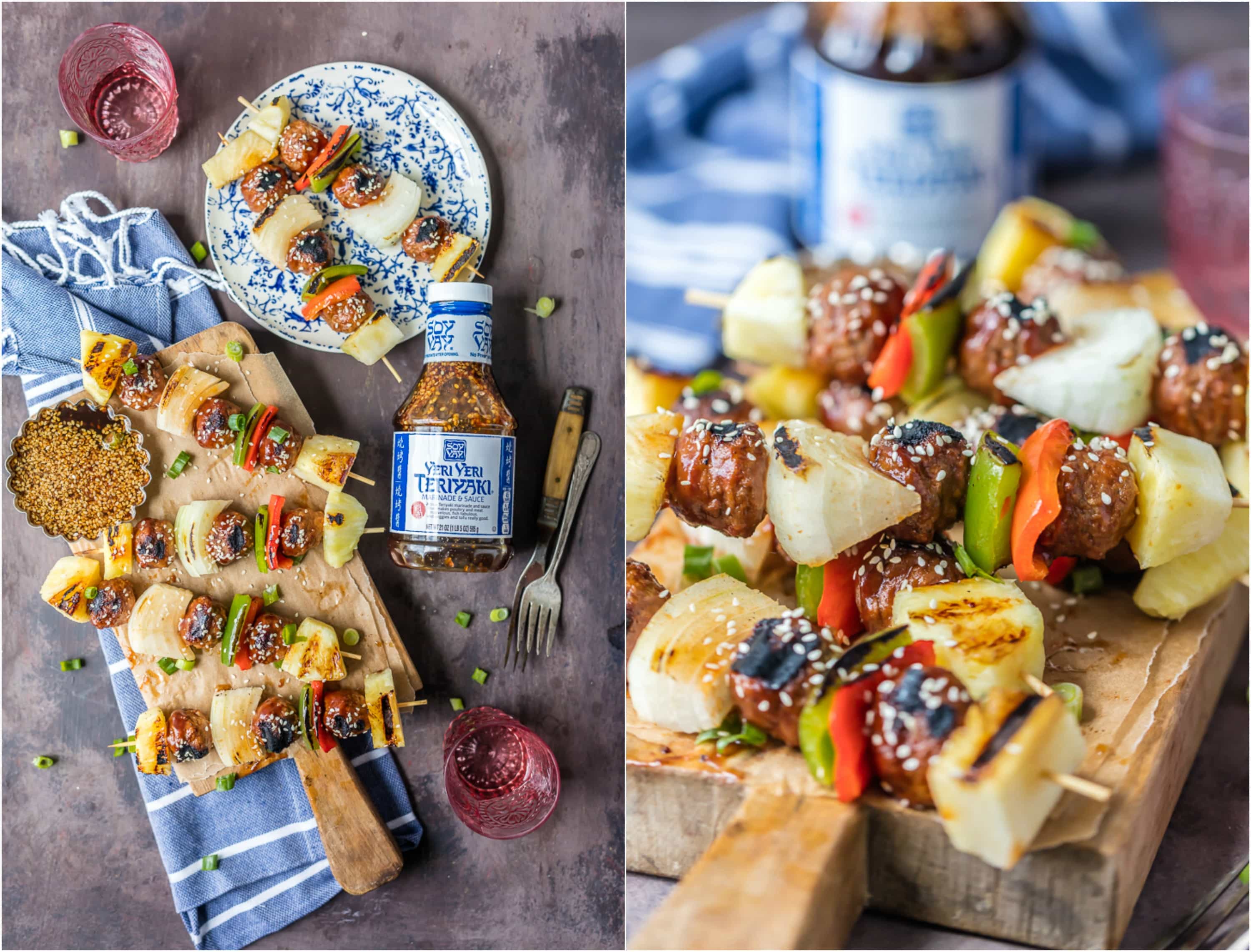 Teriyaki Meatballs
One of my favorite new finds for summer grilling is teriyaki marinade! You can easily find it in the Asian section of grocery stores, and you will not regret trying it. It takes a simple grilling recipe from good to AWESOME! It's such a nice flavor to add into the typical grilled dishes.
I used the marinade to make the chicken teriyaki meatballs, and it goes so well with the pineapple. I also love the sesame seeds added in. Everything together has a really tasty Pacific-Asian influence.
The meatballs on their own would be so great as an appetizer for parties, but they're extra good as a part of these grilled chicken skewers!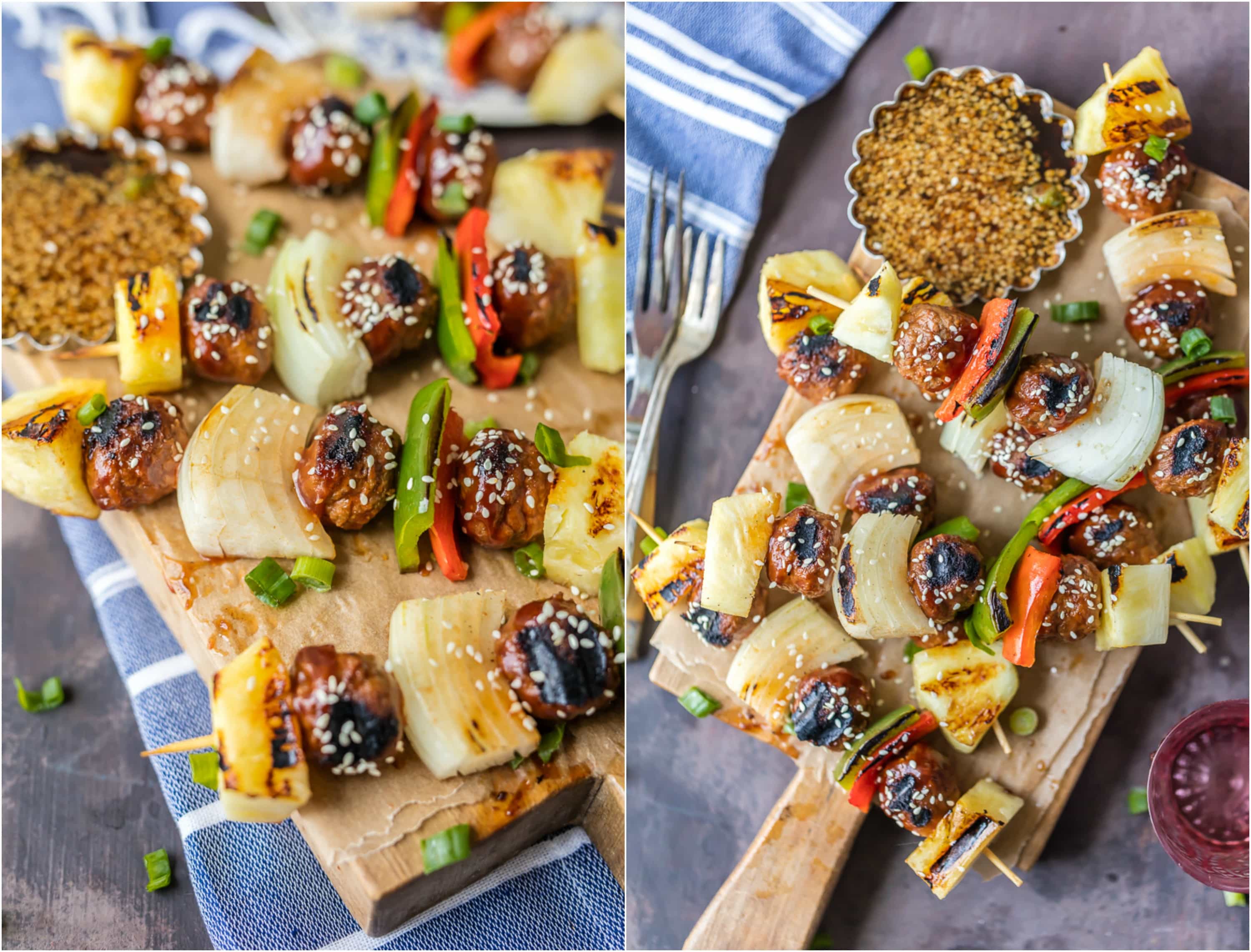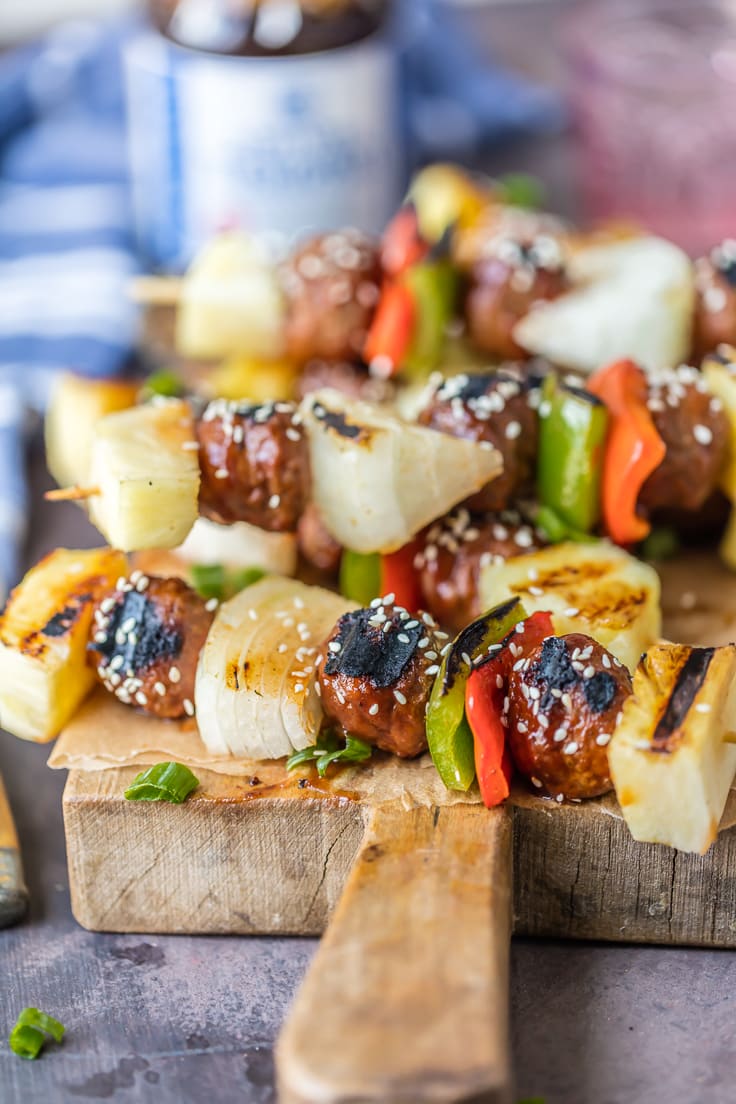 Grilled Chicken Skewers
All of my favorite things are loaded onto this teriyaki chicken skewers recipe: onions, pineapple and lots of peppers! Combined with the teriyaki chicken meatballs, all the flavors together are simply perfect. The best summer grill recipes EVER! Pat is pretty darn happy when he comes home to these, let me tell you!
How to Make Teriyaki Chicken Skewers
If using wooden skewers, soak in water while you prepare the meatballs.

In a large bowl, stir together the skim milk and breadcrumbs. Add in the chicken, garlic, egg, teriyaki marinade, pineapple, and salt and pepper. Use your hands to crush and combine all the ingredients until fully mixed.

Use your hands (or a small ice cream scoop) to form the meatballs into small balls equal to about 2 tablespoons of the mixture.

Place the meatballs onto a parchment lined baking sheet and brush all sides with more teriyaki marinade. Sprinkle with sesame seeds.

Heat your grill or grill pan over medium/high heat. Brush with canola oil to prevent sticking.

To make your skewers, start with a chunk of pineapple, then a meatball, then both types of pepper, then another meatball, then a chunk of onion, then a meatball, then more pineapple. (You can really assemble however you like, but this is how I did it.)

Grill each skewer for 8-10 minutes, rotating every 2 minutes to make sure the meatballs are fully cooked on every side.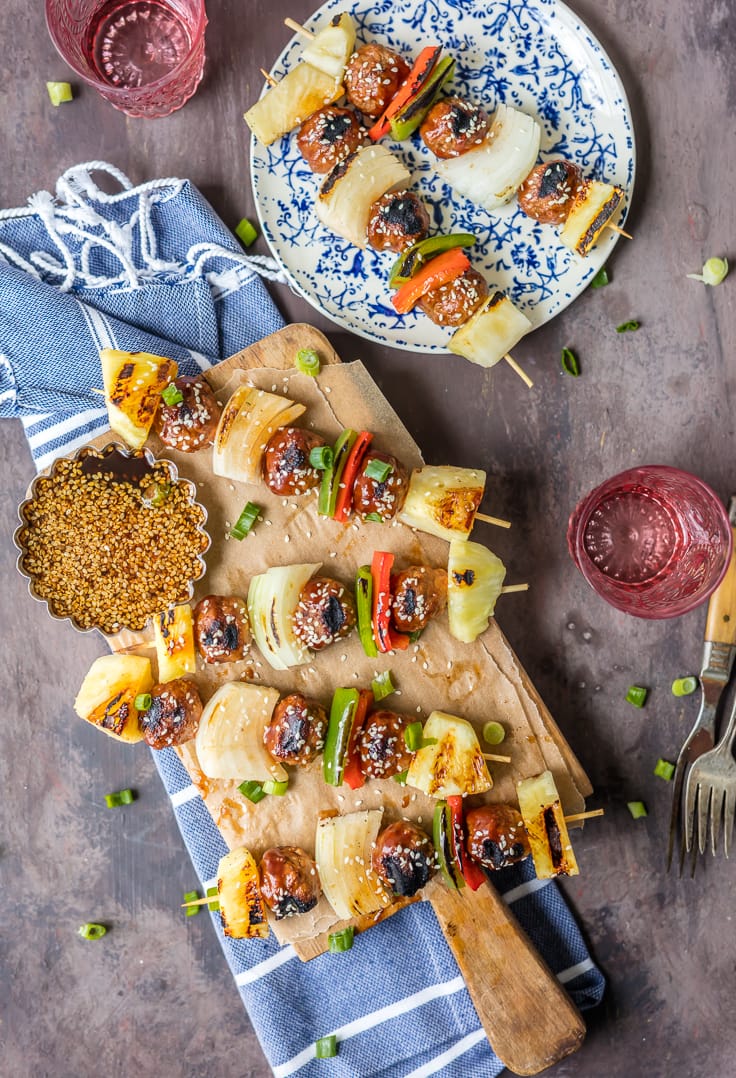 This grilled skewers are so perfect. Here's to SUMMER!
See the recipe card for details on how to make Grilled Chicken Skewers with Teriyaki Meatballs. Enjoy!
Be sure to try these other easy recipes: