A Strawberry Chocolate Wine Smoothie inspired by delectable chocolate covered strawberries. This chocolate strawberry smoothie is the perfect Valentine's Day drink! A tasty wine cocktail that's easy to make, delicious, and absolutely beautiful!
Strawberry Chocolate Wine Smoothie
This delectable strawberry chocolate wine smoothie is inspired by chocolate covered strawberries, just in time for the perfect Valentine's Day drink!
Today's post is short and VERY sweet. A tasty Valentine's Day drink with only 3 ingredients? Yes, very short indeed!
This Strawberry Chocolate Wine Smoothie is one of my favorite quick and easy cocktail recipes. This chocolate covered strawberry inspired treat is great for any occasion, but it's especially great for Valentine's Day! When you combine three of my favorite things (fruit, wine, and chocolate), what do you get? A dang good wine cocktail in the form of a chocolate strawberry smoothie!
If you're in search of something fun and simple, this THREE INGREDIENT Chocolate Covered Strawberry Wine Smoothie is exactly what you need. It tastes decadent, but it's SO easy to make. Exactly the way I like it.
Try this amazing Strawberry Chocolate Wine Cocktail for the perfect Valentine's Day drink! There's nothing like a sweet dessert cocktail to celebrate the day of love.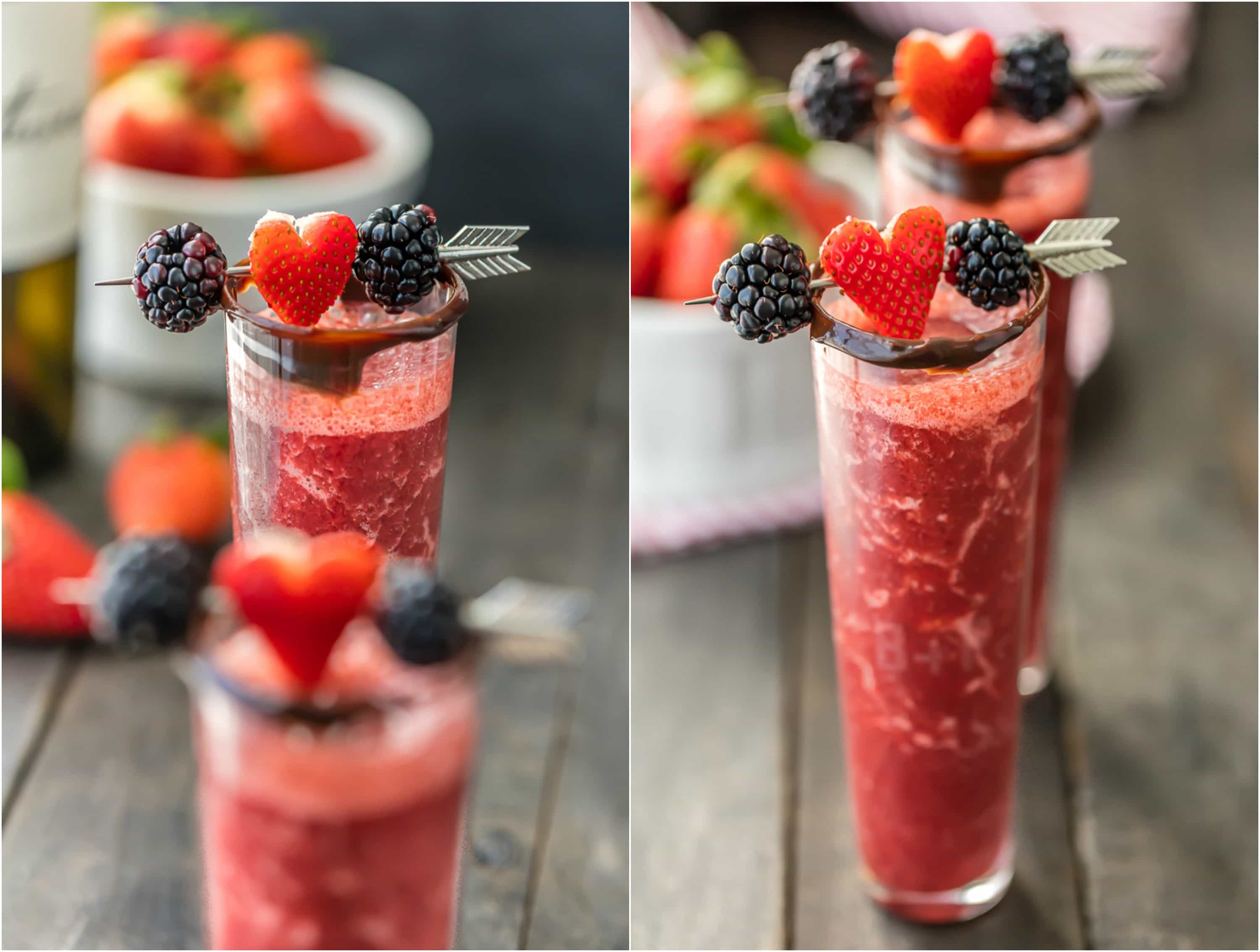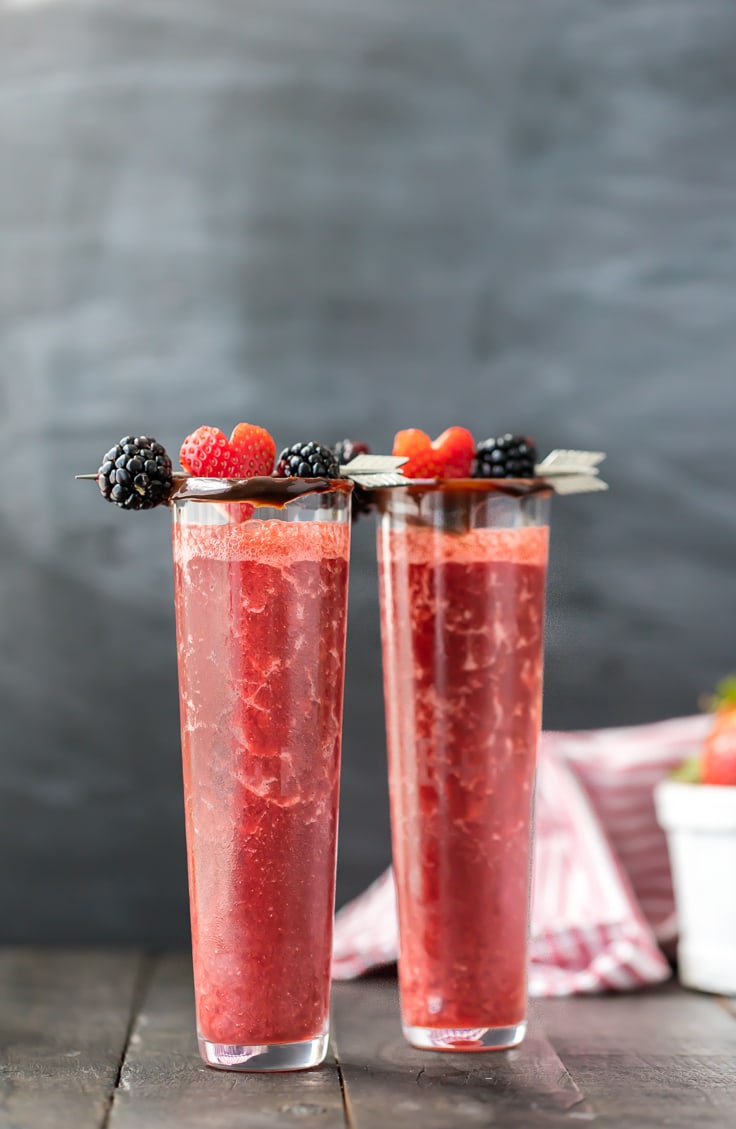 Chocolate Strawberry Smoothie Cocktail
Chocolate covered strawberries are one of my favorite treats. They just scream ROMANCE, which I guess is why they're so popular on Valentine's Day. I love turning those flavors into other fun recipes, like my Chocolate Covered Strawberry Brownies, or Chocolate Covered Strawberry Baked Oatmeal.
So this chocolate strawberry smoothie just seemed like a no brainer. Add in the wine to make it a cocktail (of course), and we have this amazing Strawberry Chocolate Wine Smoothie.
Valentine's Day Drinks
The day of love deserve a special Valentine's Day drink, and I think this chocolate strawberry smoothie is just the thing. Chocolate, strawberries, and red wine are three of the main ingredients on VDay, and they're all mixed together beautifully in this strawberry chocolate wine smoothie. Yum!
If you're looking for some other cocktails to sip on Valentine's, try these other recipes: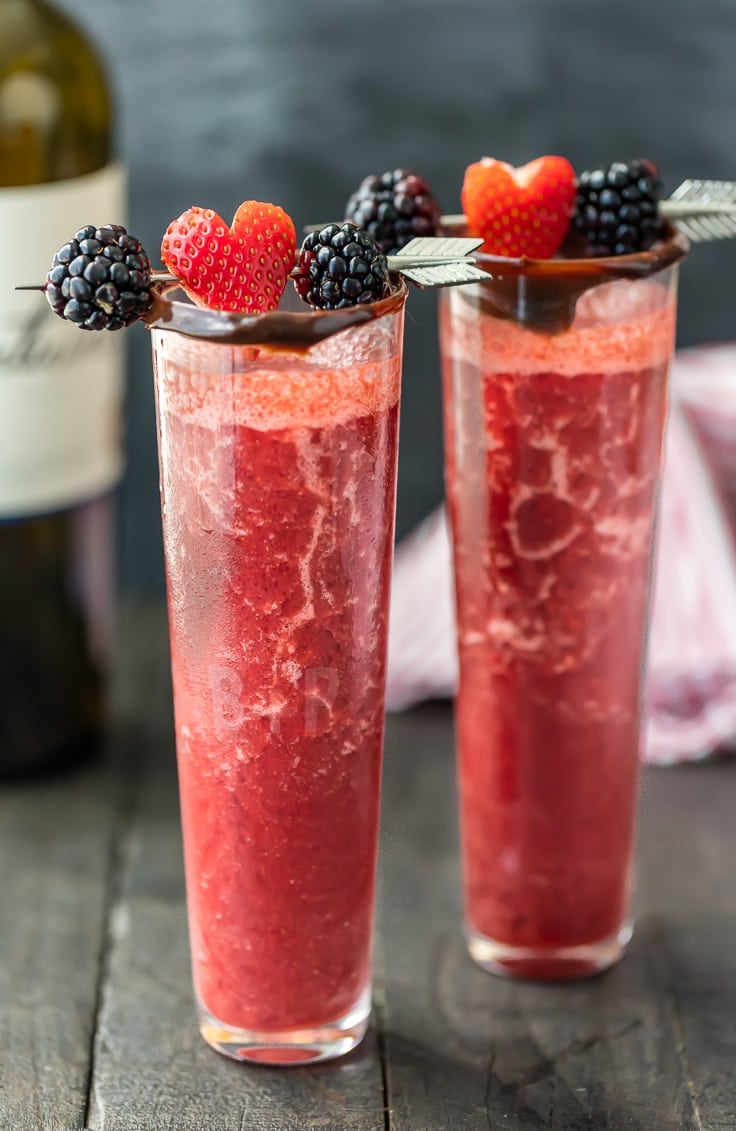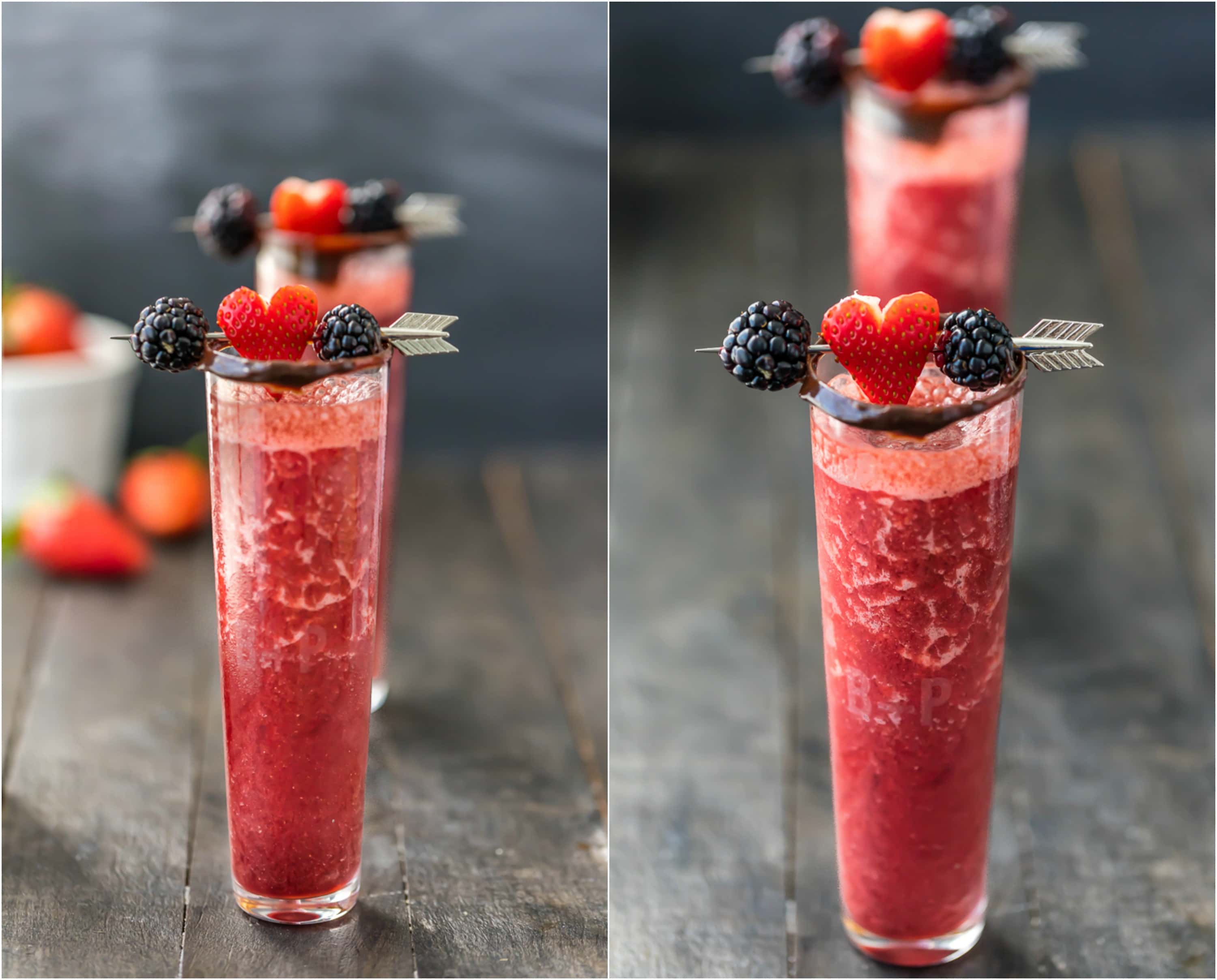 How to Make a Strawberry Chocolate Wine Smoothie
This strawberry chocolate wine smoothie couldn't be easier! With just three ingredients and a bit of mixing, you'll have the perfect Valentine's Day cocktail ready in no time. All you need is chocolate sauce, red wine, and some strawberries (frozen works best).
How to make Chocolate Strawberry Smoothie Cocktail:
Combine strawberries, chocolate, and wine in a blender.
Mix until everything is fully combined into a smooth consistency.
For the perfect presentation, dip the rim of your glasses in hot fudge, and then pour the smoothie in.
Finish off with some berries.
This wine cocktail is so beautiful, and so delicious. Exactly what you need on a romantic day!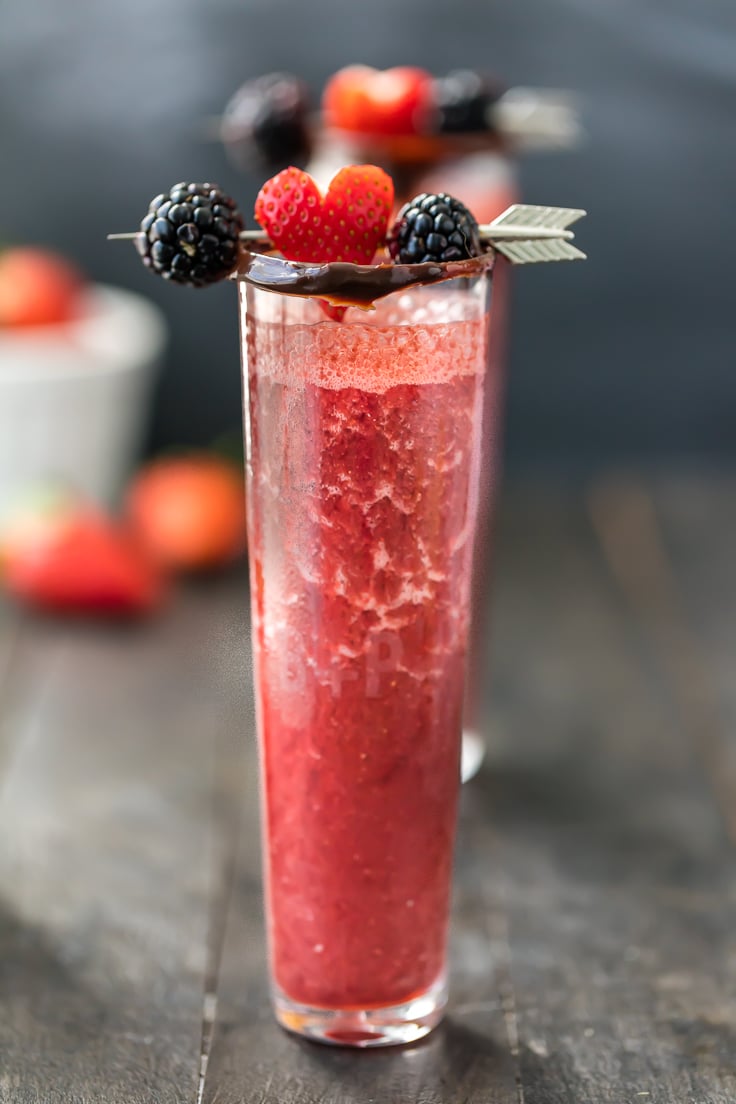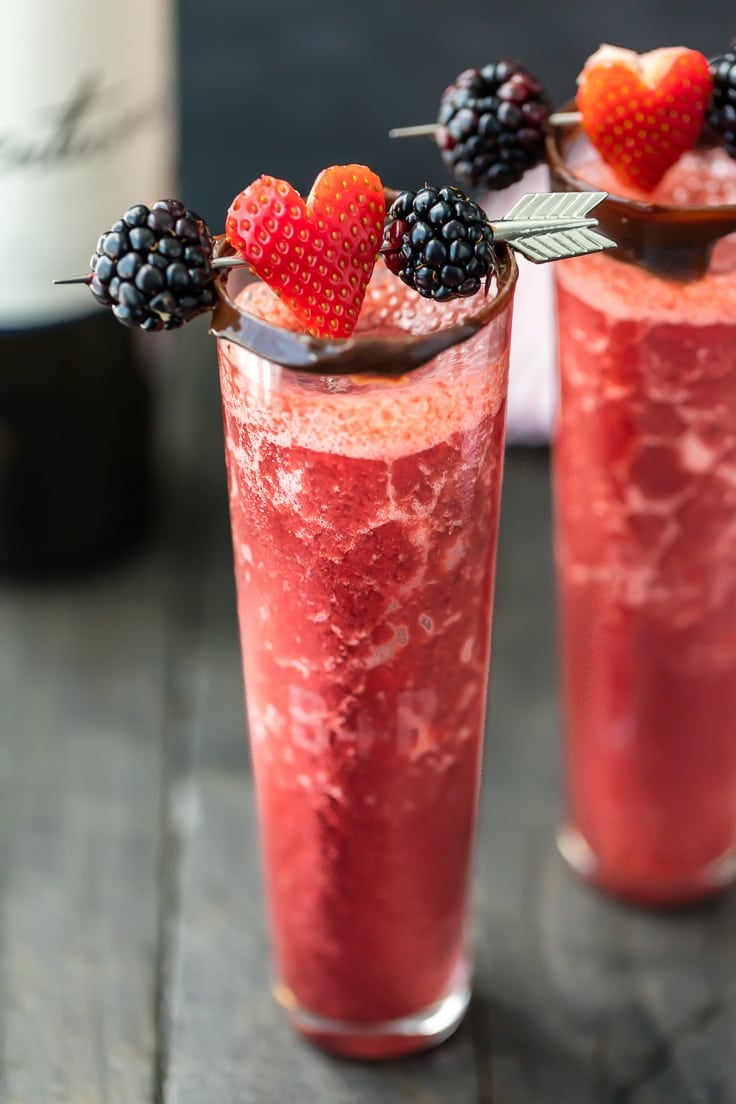 I just know you all are going to love this amazing Chocolate Covered Strawberry Smoothie as much as we do. Smooth, delicious, easy, and pretty romantic too. Happy Valentine's Day!
See the recipe card below for details on how to make this Strawberry Chocolate Wine Smoothie. Enjoy!
If you like this recipe, try these other beautiful Valentine's Day recipes: