Anyone that knows me, knows I am NOT a morning person.  Sleeping in is one of my very favorite things.  Even as a little kid, "5 more minutes" was my go-to bargaining phrase every morning.  I just love a good nights sleep.  But if i could have breakfast this good every morning, things might be different.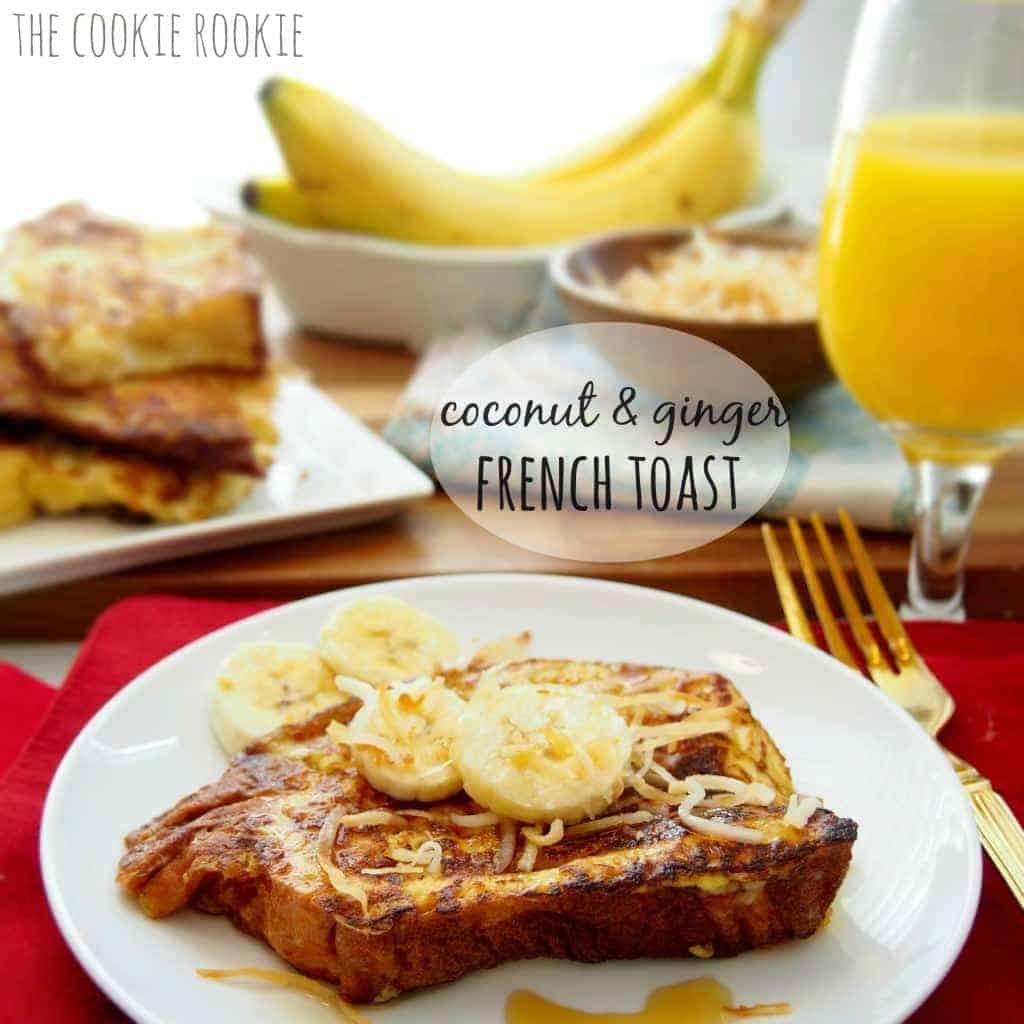 Mom came up with this recipe after having something similar on a trip to San Diego.  The woman's brain is a constant cookbook, and we can all benefit from that! These flavors are DELICIOUS.  Fresh, warm, and inviting.  Enough to make waking up early worth every minute.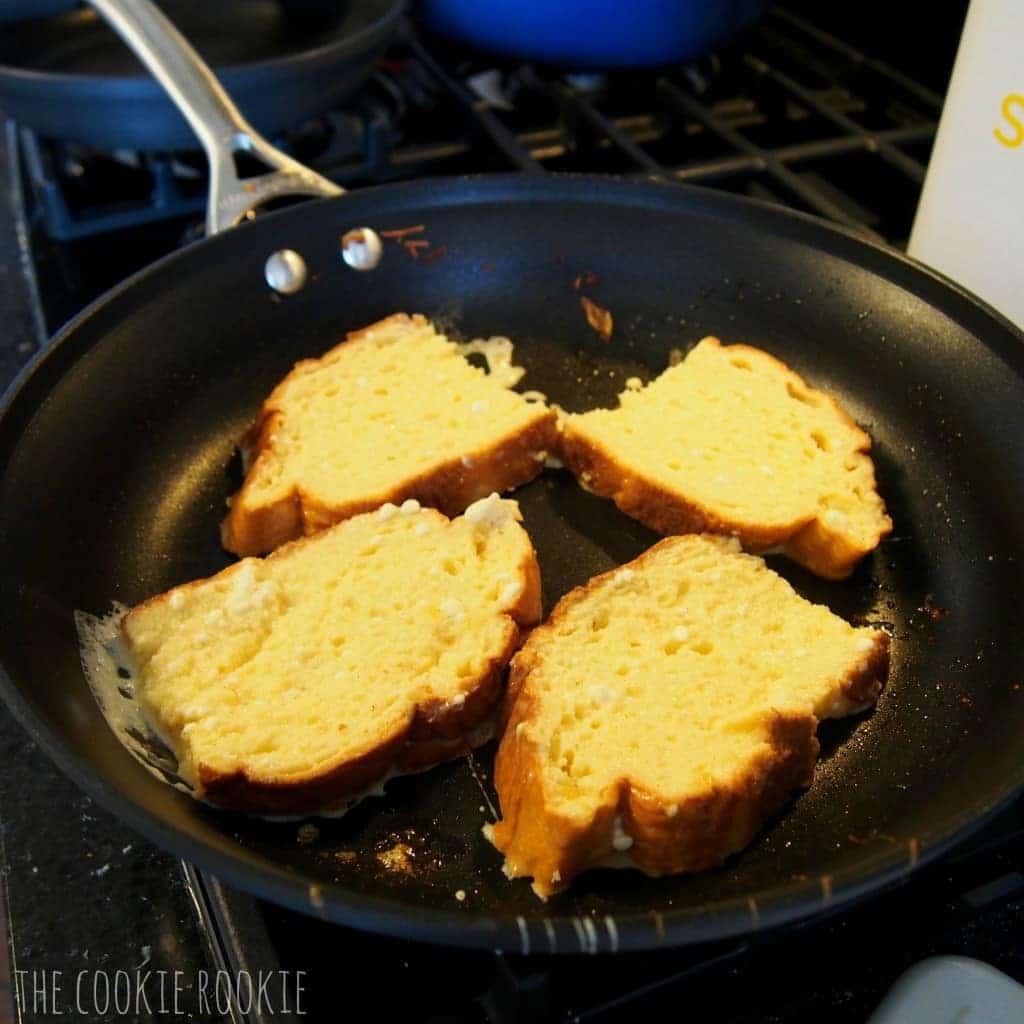 Not only does it taste like pure heaven, it smells just as delicious.  I think this would make quite a perfect and romantic Valentine's Day breakfast!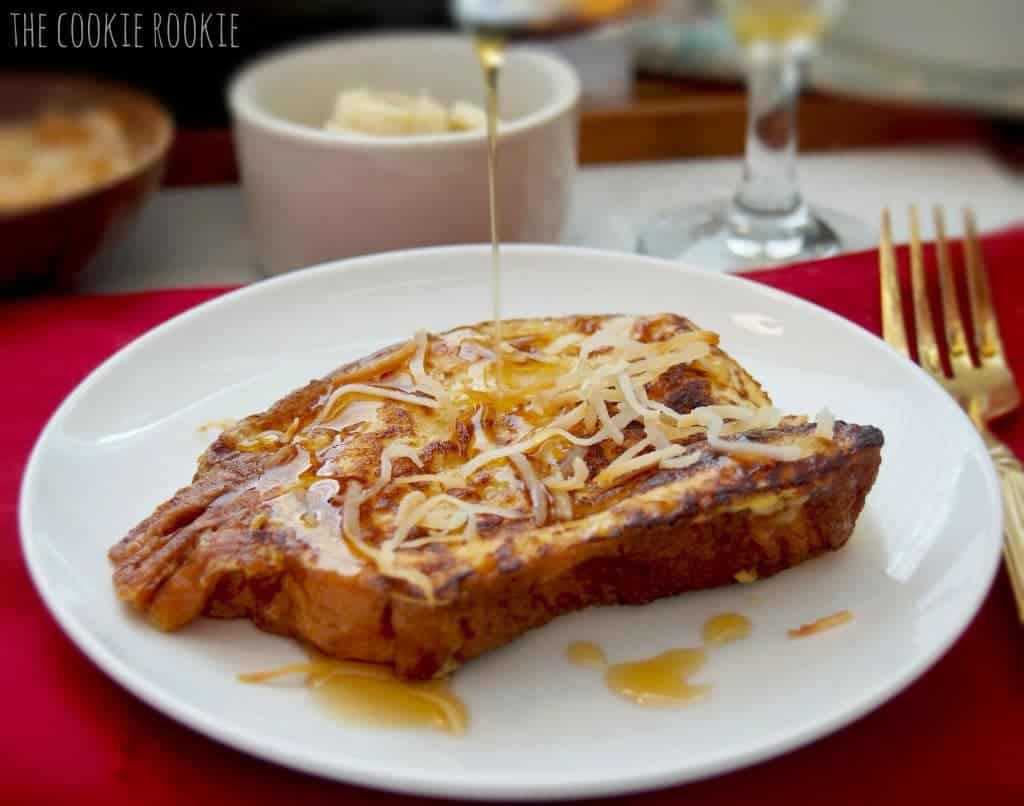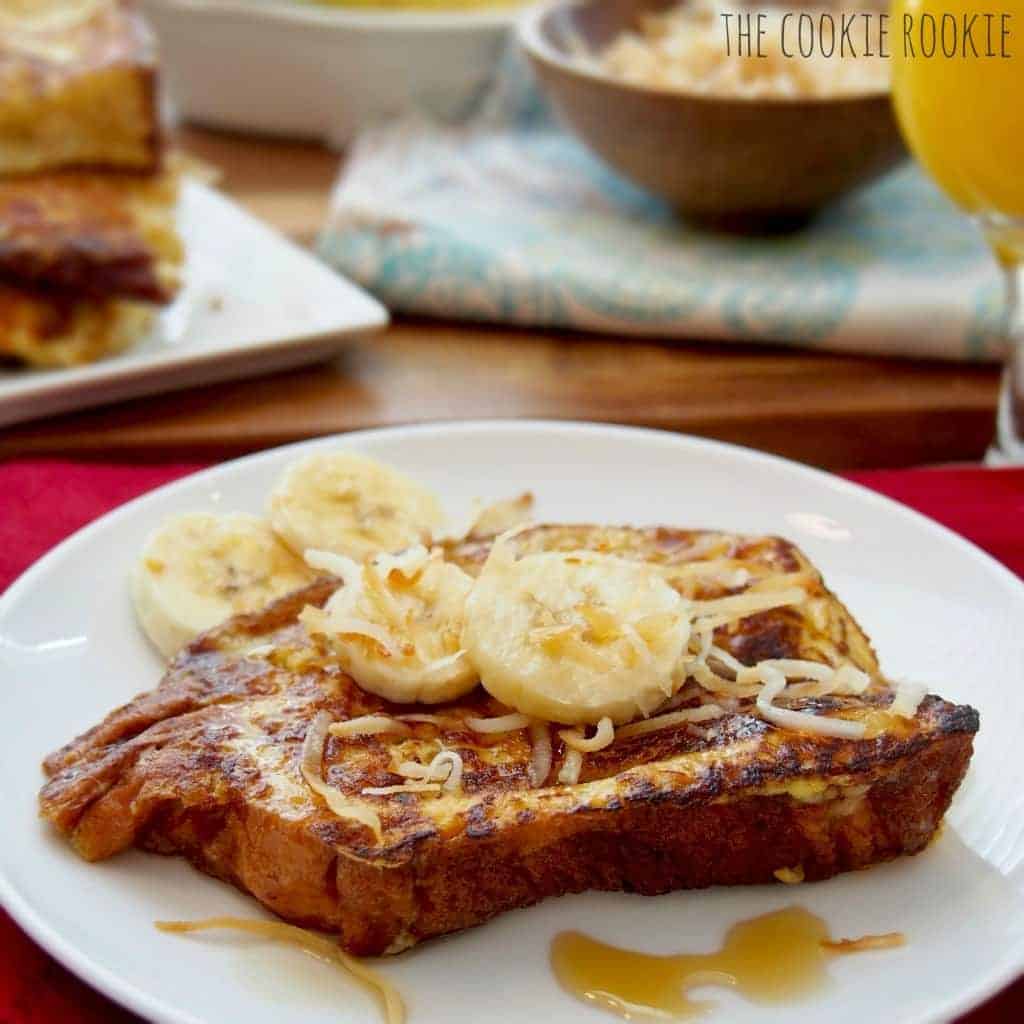 The flavor combination doesn't need a ton of toppings, but adding toasted coconut, real maple syrup and banana slices made this dish total perfection.  I can taste it just looking at the pictures.  I hate it when that happens!! Its 10pm and I want to go to bed.  Now i'll probably have to stay up and make french toast! Or just wake up really early and make it.  WORTH IT. (who am I???)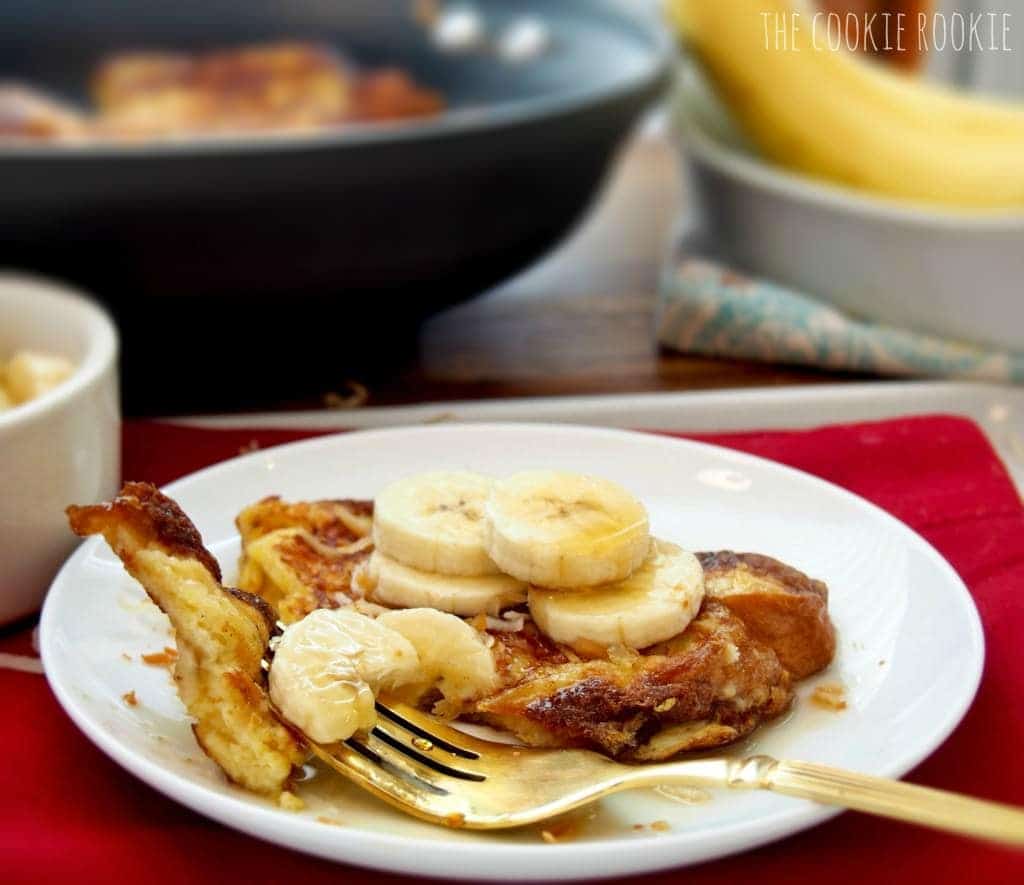 You guys, its just SO delicious.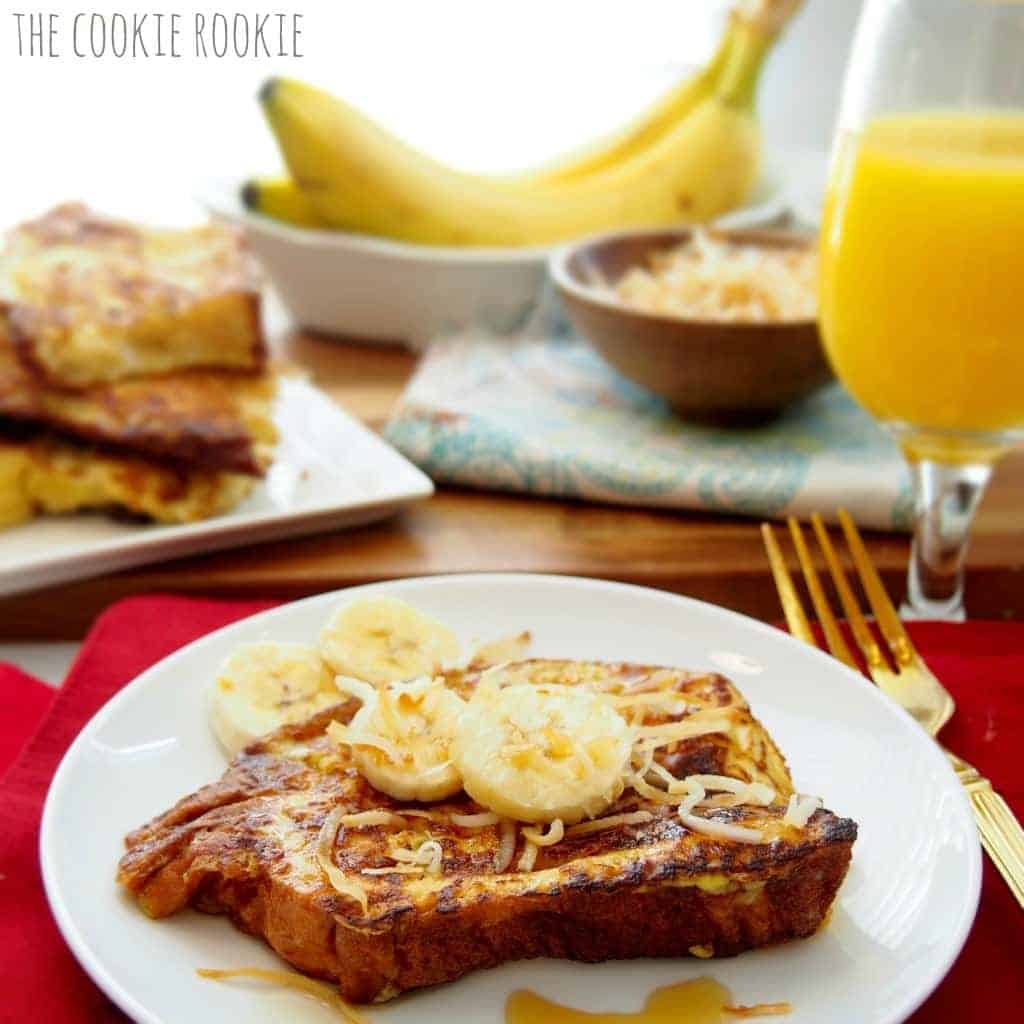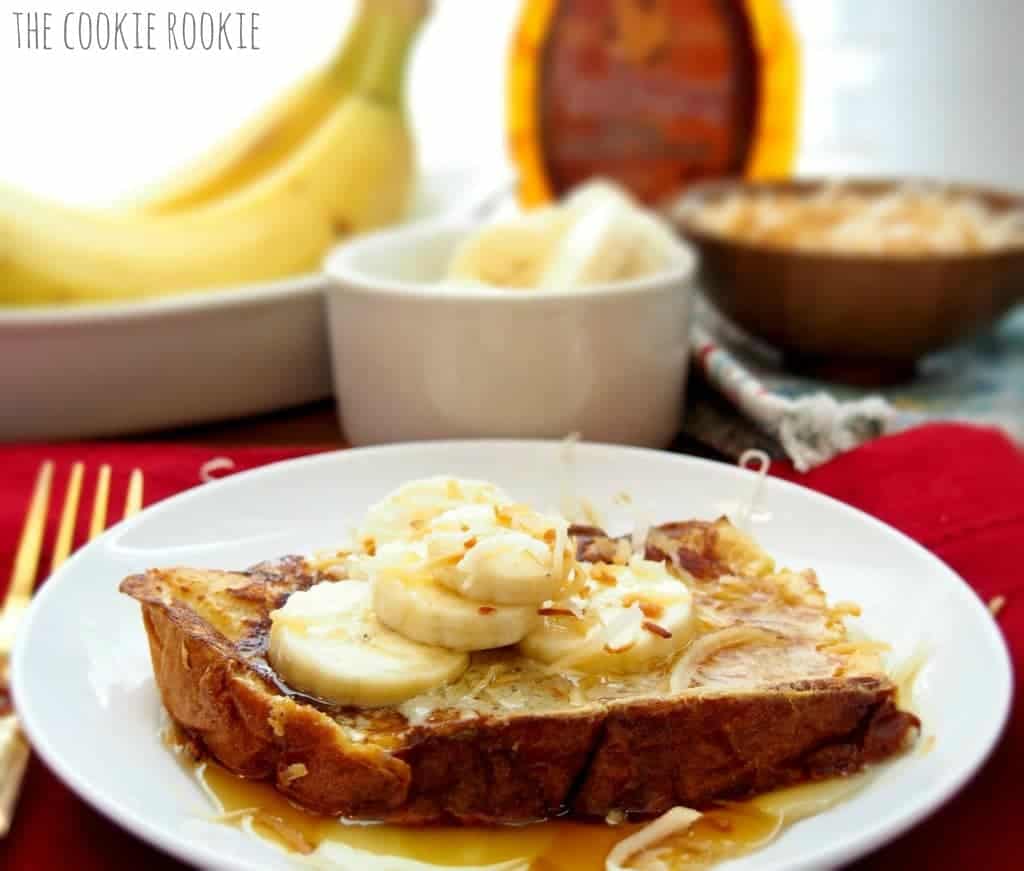 ENJOY!
the cookie rookie
coconut & ginger french toast
delicious and fresh combination, coconut & ginger french toast. topped with bananas and maple syrup. delicious!
Ingredients
8 slices challah, country white or brioche bread
6-8 T butter
3 eggs
1 1/2 c Half & Half or whole milk
1/4 t ground ginger
3/4 t ground cinnamon
2 T brown sugar
2 t vanilla extract
2 c. sweetened coconut - toasted
crystallized ginger - minced is opt. but so good
2 bananas - sliced
maple syrup
butter - cut into 1/2" slices or whipped
Instructions
Preheat oven to 250 degrees F.
Place a wire rack over a rimmed baking (or cookie) sheet.
Place bread on the wire rack and place the baking sheet on the middle rack in the oven. Bake until bread is slightly dry for approximately 10-15 minutes then turn the bread over after 6 minutes.
While the bread is drying, place the coconut in a non-stick, stovetop skillet and toast. Stir the coconut continuously to prevent from burning. Take the coconut off the heat, place in a bowl and set aside.
When bread is slightly dry, remove it from the oven and let cool. Once the bread has cooled, place it on a plate until ready to use.
Whisk together eggs, half n half (or milk), ginger, cinnamon, brown sugar and vanilla.
Transfer the egg mixture to a shallow dish; approx. 8x8.
Heat 2 T butter in a 12" non-stick skillet over medium heat just until the butter is hot but not burning.
While the butter is heating, dip 1 slice of bread in the egg mixture and let soak for just 15 seconds.
Using a slotted spatula (or fingers), lift the bread and allow the excess egg mixture to drip off then place that slice in the skillet.
Repeat the process with 1-3 pieces of bread, but don't crowd the pan.
Do NOT turn the bread until the first side has turned a golden brown, 3-4 minutes. Then, flip the bread and cook the other side until golden another 3-4 minutes.
Place the cooked toast on the cooling rack on the baking sheet and place it in the oven to keep the bread warm while cooking the other slices.
Wipe the skillet with a paper towel and repeat the process until all bread has been toasted.
To serve: Cut each piece of toast in-half diagonally. Place 3 half-slices on a plate. Sprinkle with toasted coconut and crystallized ginger (if using). Top with sliced bananas, maple syrup and a pat of butter (if desired).
7.6.4
2101
https://www.thecookierookie.com/coconut-ginger-french-toast/

CHECK OUT SOME OTHER BREAKFAST FAVORITES!: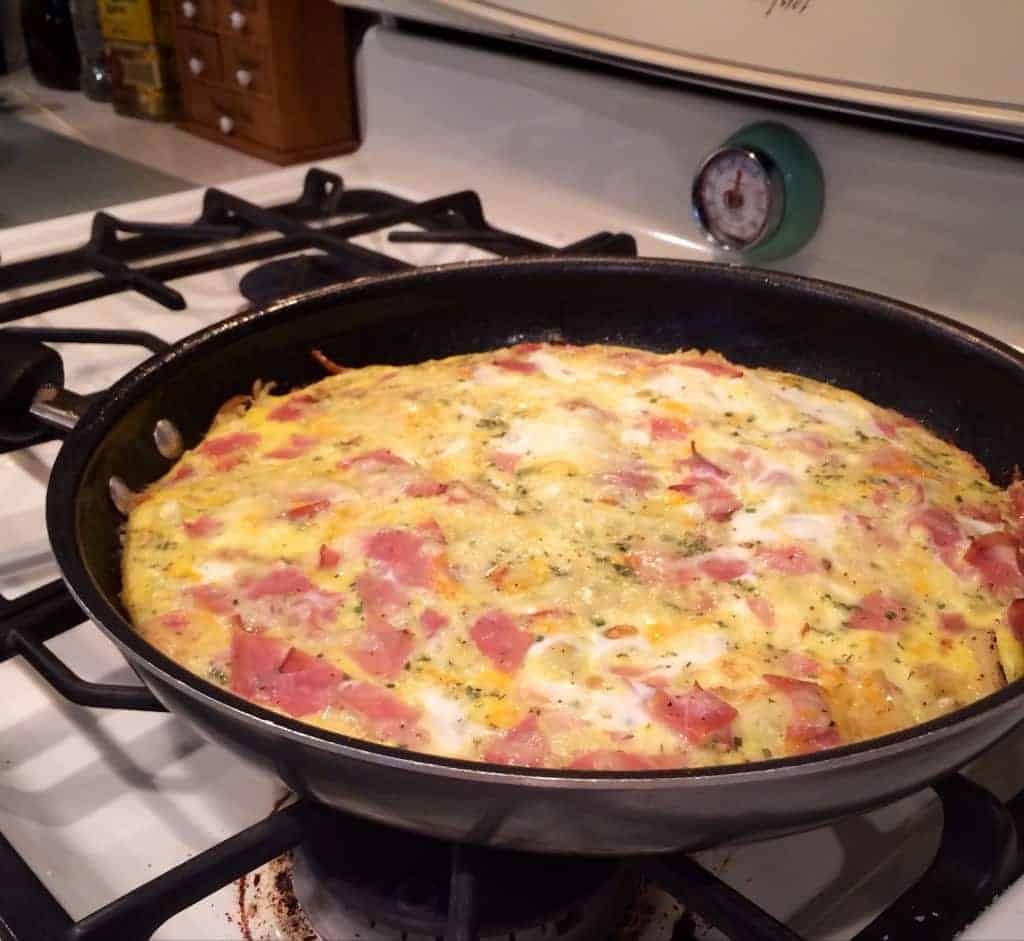 PUMPKIN NOG FRENCH TOAST BAKE: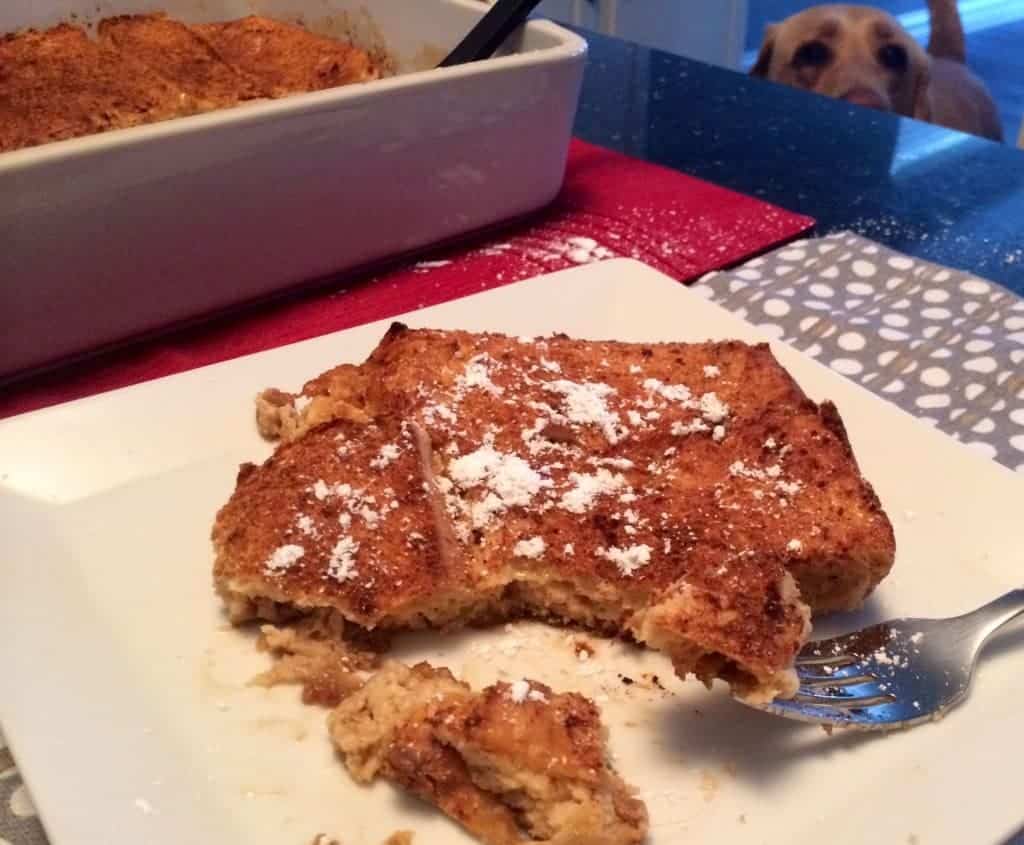 VANILLA INFUSED FROZEN ORANGE JUICE:

JOIN OUR MAILING LIST
TO GET COOKING!
Subscibe to recieve all the latest, greatest, and EASIEST recipes sent straight to your email inbox. If we post something yummy, you'll be the first to know.