Coffee and Donuts is a classic American breakfast combination, and this breakfast bake recipe puts those two flavors together beautifully. Use the mini chocolate and powdered sugar donuts we all love to create this easy breakfast casserole recipe!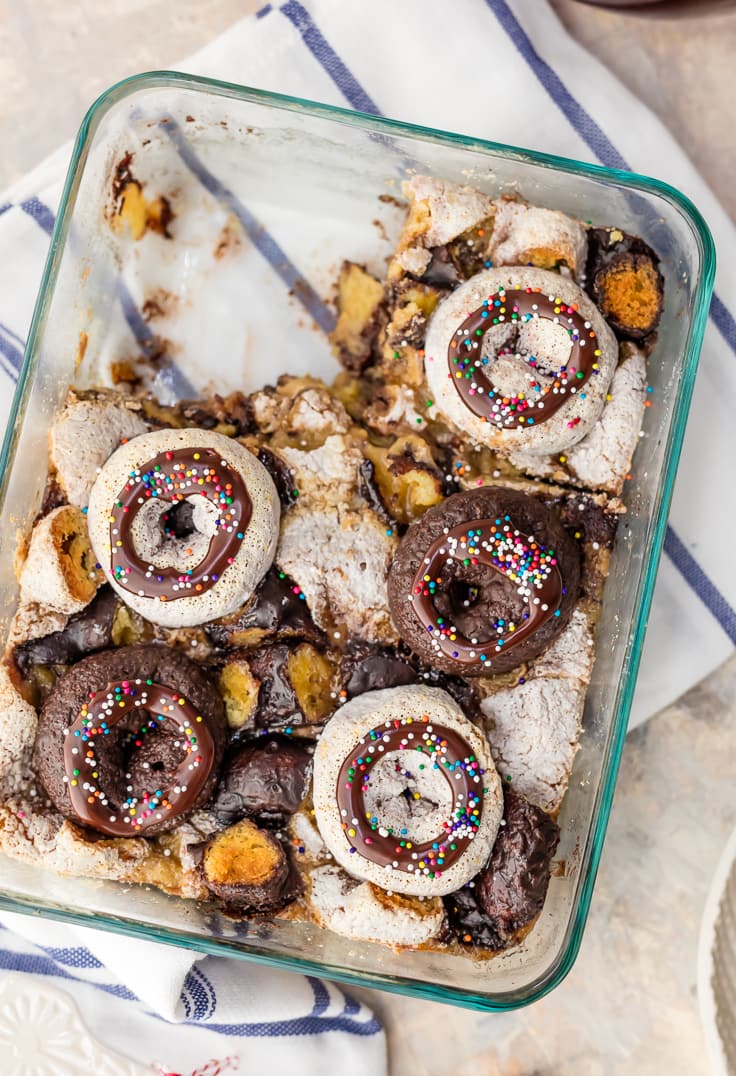 Coffee and Donuts Breakfast Bake
Coffee and Donuts are a match made in heaven. So we combined the two into a tasty breakfast bake recipe that makes them even more fun to eat!
Coffee and donuts just GO together. Like Romeo and Juliet, peanut butter and jelly, margaritas and tacos (that's a classic combo if you ask me)…They're a foodie romance right up there with beer and wings or wine and cheese. One should never be enjoyed without the other. Come to think of it, one should always be enjoyed WITH the other!
I mean, it's already perfect for breakfast as it is, but I wanted to combine them even more by baking them together. Those cute mini doughnuts are baked along with an amazing chocolate coffee reduction and turn into something super tasty. This easy Coffee and Donuts Breakfast Bake recipe is fun, cute, and of course delicious!
So get creative in the kitchen this week with this breakfast recipe, while having your morning caffeine at the same time!
Are you a fan of coffee and donuts? Then you'll LOVE this easy breakfast bake recipe!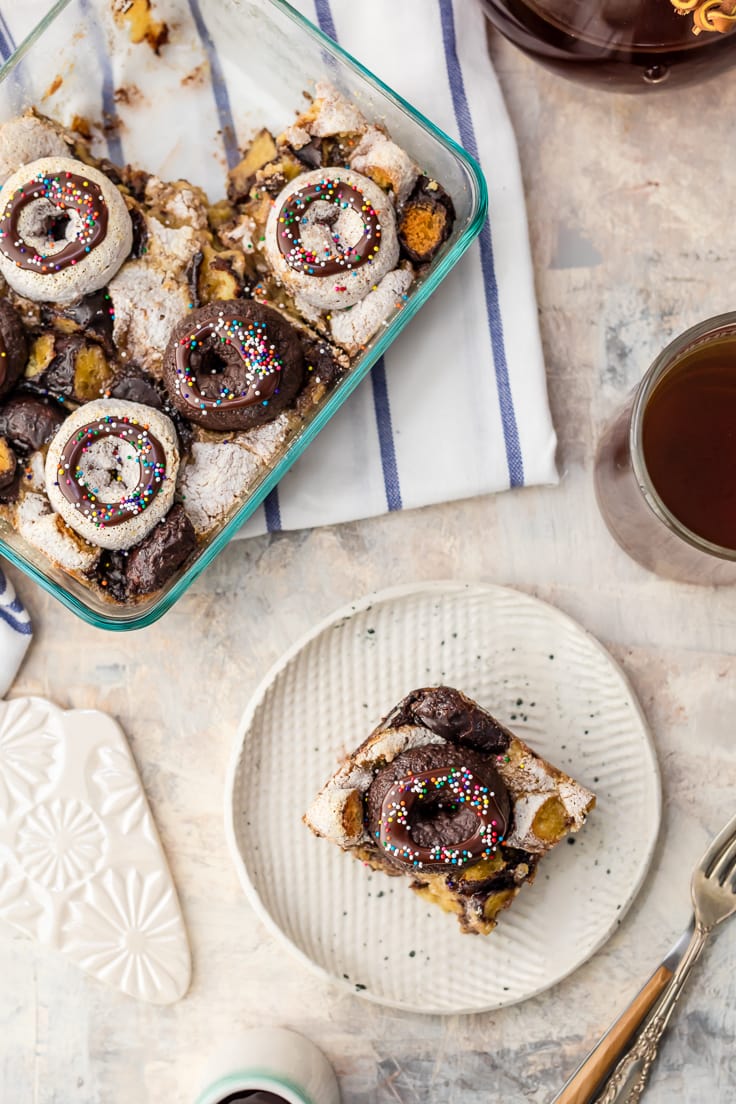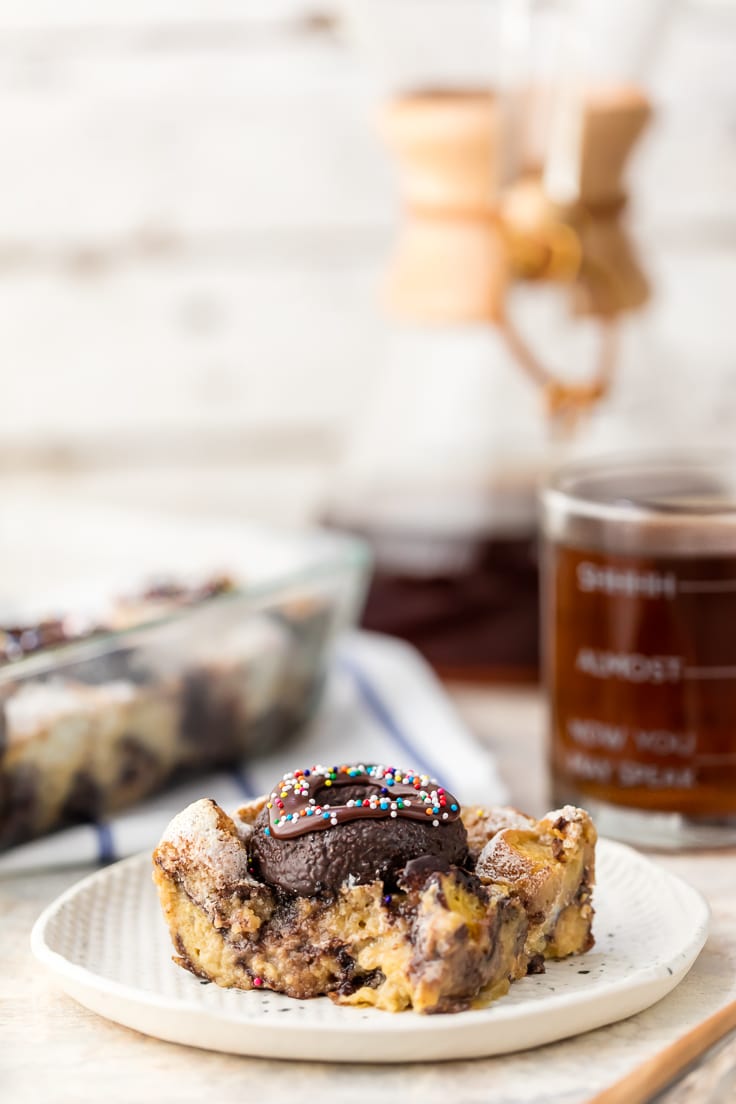 Breakfast Bake Recipe
Okay I am well aware this breakfast bake recipe is going to make the "from scratch" cooks furious and the New Years Resolutionists shake their head (but that's okay). This recipe is not homemade and it is definitely not healthy, but it's cute and yummy and some mornings that's just what I need.
Coffee and donuts are meant to be fun anyways, not healthy!
Chocolate Coffee Reduction
Oh I DEFINITELY need this Chocolate Coffee Reduction EVERY MORNING. And every night on my ice cream too! It has the perfect blend of coffee and chocolate flavors, so it mixes so well with the donut breakfast bake. It's made from equal measures of coffee and sugar, plus cocoa powder. Just combine it in a saucepan, let is simmer while the rest of the dish is baking, and then drizzle it over the whole thing before serving!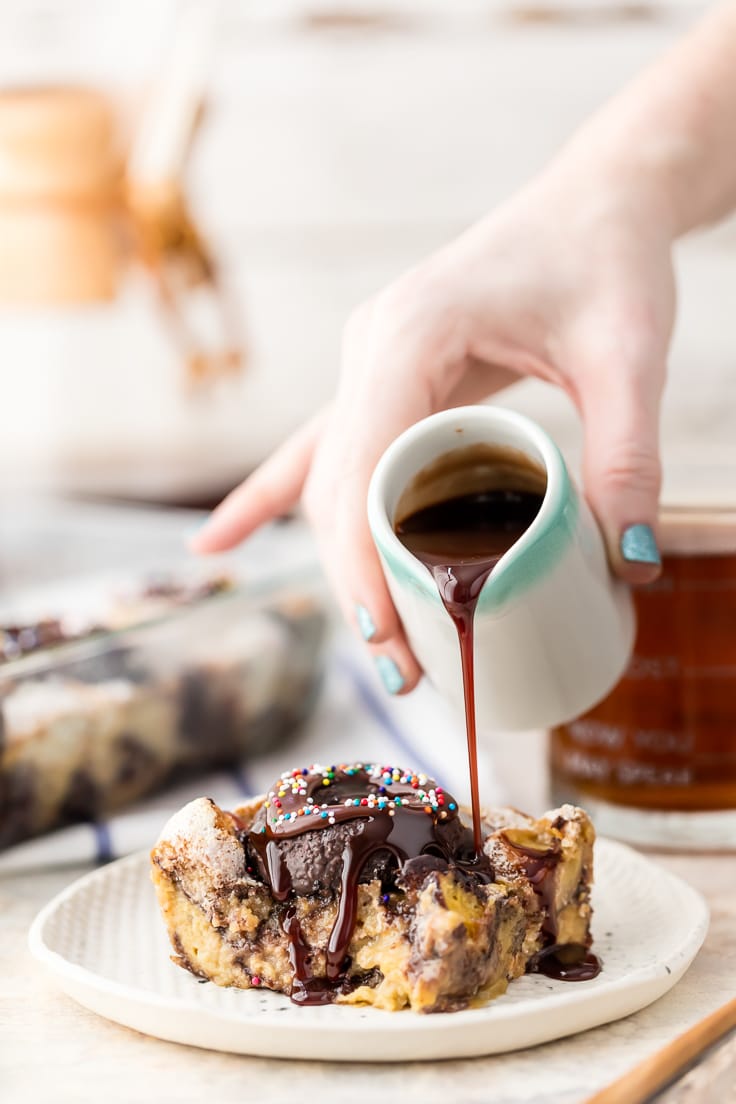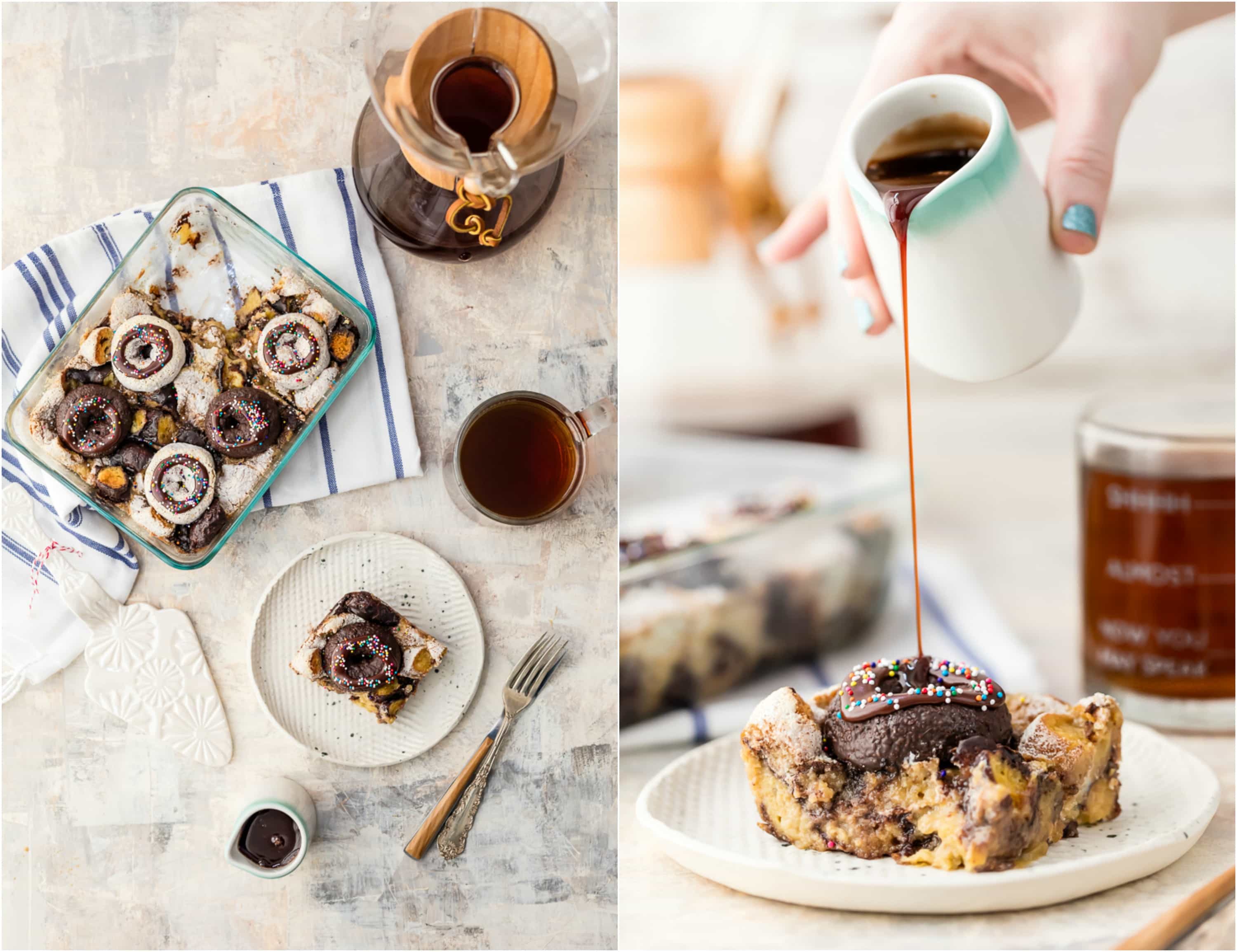 How to Make Coffee and Donuts Bake
This coffee and donuts recipe is super simple. All you need is mini donutes, coffee, heavy cream, sugar, eggs, and vanilla. Cook the donut bake, make the coffee reduction, combine everything, and done!
How to make this Breakfast Bake recipe:
Cut the mini donuts into quarters, and place them into the bottom of your baking dish. The donuts should mostly cover the entire dish.
In a mixing bowl, whisk together the eggs, coffee (brew and cool to room temperature before beginning), heavy cream, sugar, and vanilla.
Cover the dish with foil and let it sit in the refrigerator for about an hour (to soak up the liquid, kind of like french toast). You can skip this step if you want, but I think it gives it more flavor and a better texture.
When you're ready to bake, preheat the oven to 350°F and then let it bake (covered) for about 30 minutes.
While it's in the oven, prepare your coffee reduction. Combine ingredients in a saucepan, bring it to a boil, reduce heat to let it simmer for 30-40 minutes.
Remove the donut bake from the oven, and place the remaining mini donuts on top. Then put it back in the oven and let it bake uncovered for about 15 minutes.
Let it cool for 5-10 minutes before serving.
You can add icing and sprinkles if you like, and then drizzle on the chocolate coffee reduction.
A warm, delicious, flavor-filled recipe for breakfast any morning. I love this as a fun holiday breakfast for family, or as a extra sweet brunch treat!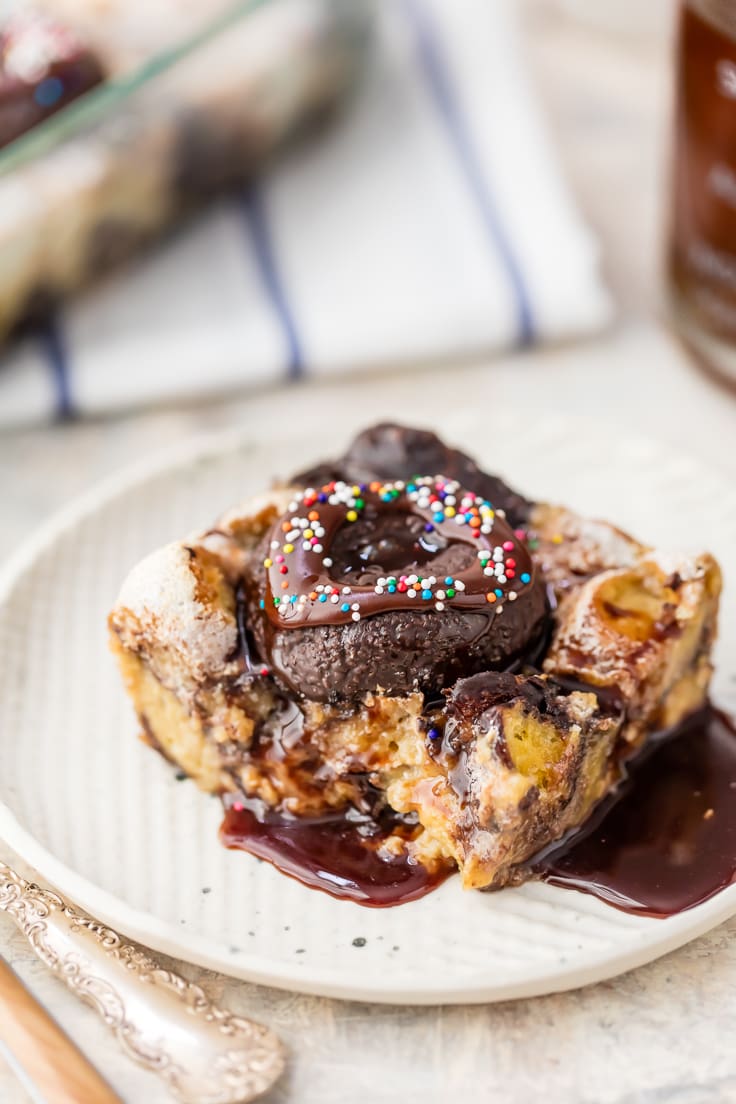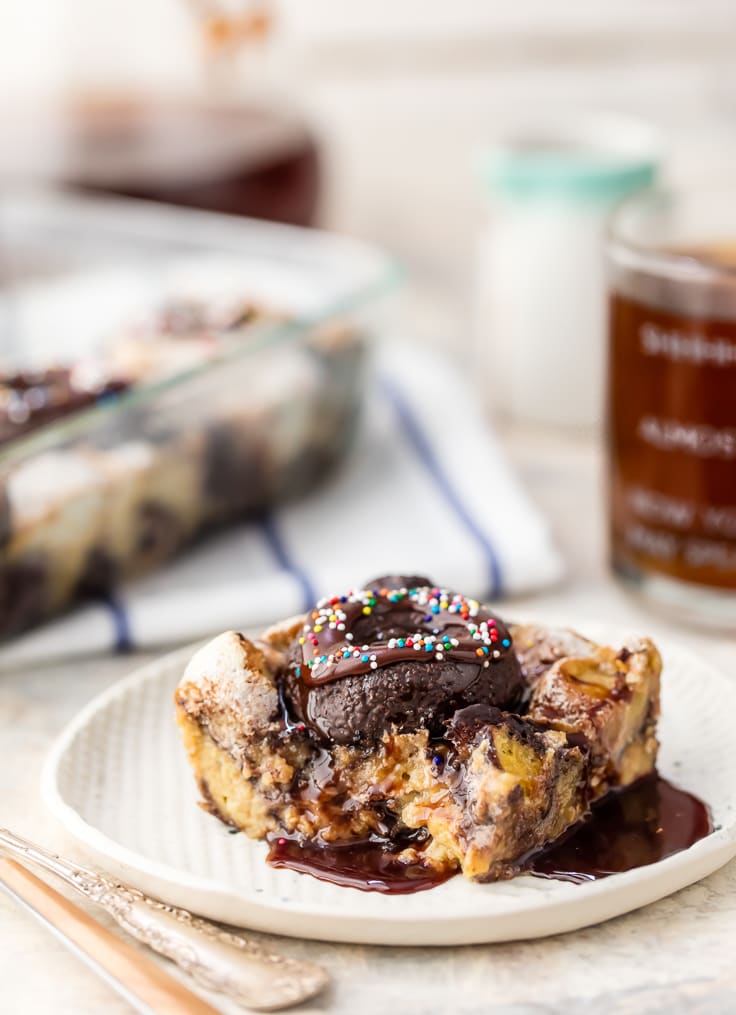 Fun Donut Recipes
CONGRATS CATE!! We can't wait to hear all about your baby girl and see her sweet face! We are all so excited for you! You can find what everyone else is bringing to the party below the recipe card! SO MUCH GOODNESS! I made this fun concoction for one of my very favorite bloggers, Cate from Chez CateyLou! She is having a baby GIRL and we are all just so excited for her. She loves donuts…don't we all…so her shower is full of extra special sweet donut recipes from all of us that want to say congrats to her by eating and eating!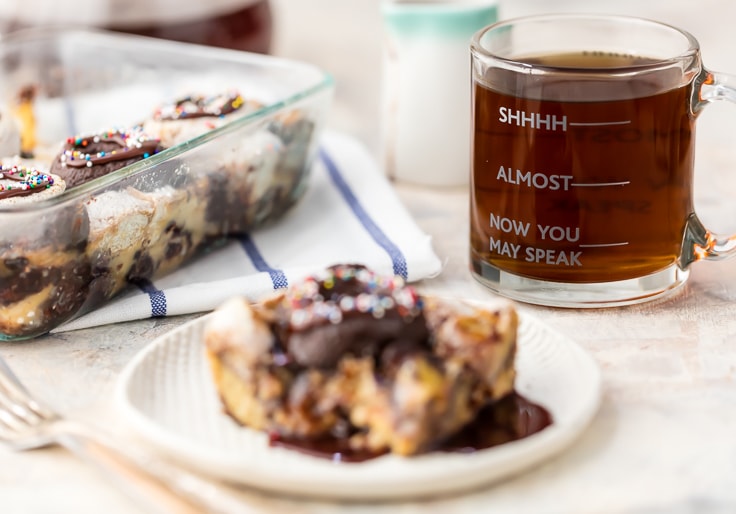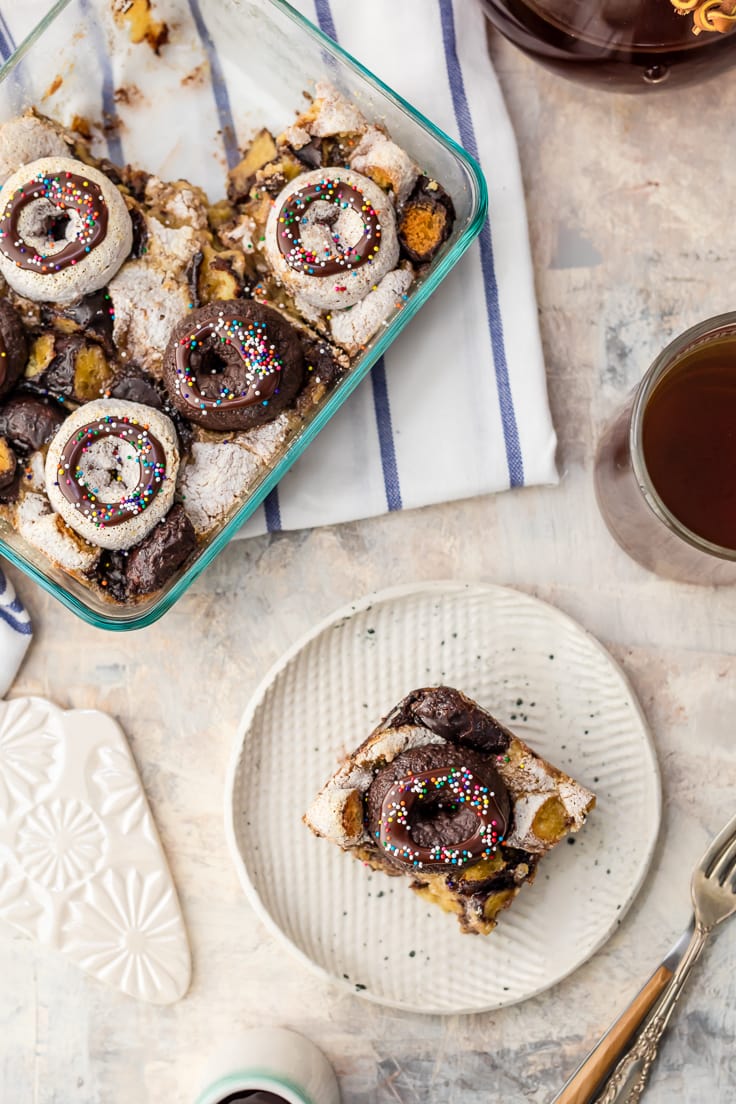 Enjoy this coffee and donuts breakfast bake recipe! It's so tasty and so easy. Everyone will love it!
See the recipe card for details on how to make this Coffee and Donuts Breakfast Bake recipe. Enjoy!
Try some of our other easy and delicious breakfast recipes:
And of course a few coffee recipes to enjoy along with it: