COFFEE and DONUTS BREAKFAST BAKE! Use the mini chocolate and powdered sugar donuts we all love to create this easy breakfast casserole recipe!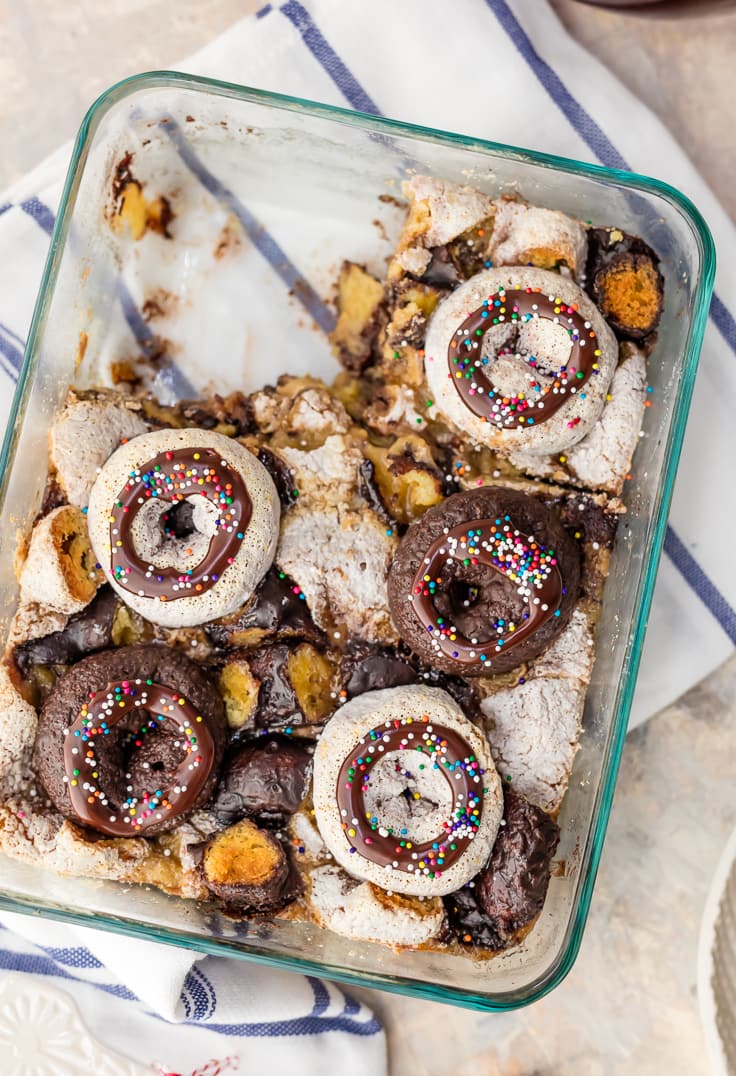 Coffee and donuts just GO together. They're a foodie romance right up there with beer and wings and wine and cheese. One should never be enjoyed without the other. Come to think of it, one should always be enjoyed WITH the other!
This super easy Coffee and Donuts Breakfast Bake recipe is fun, cute, and of course delicious.
Get creative in the kitchen this week while having your morning caffeine at the same time. :)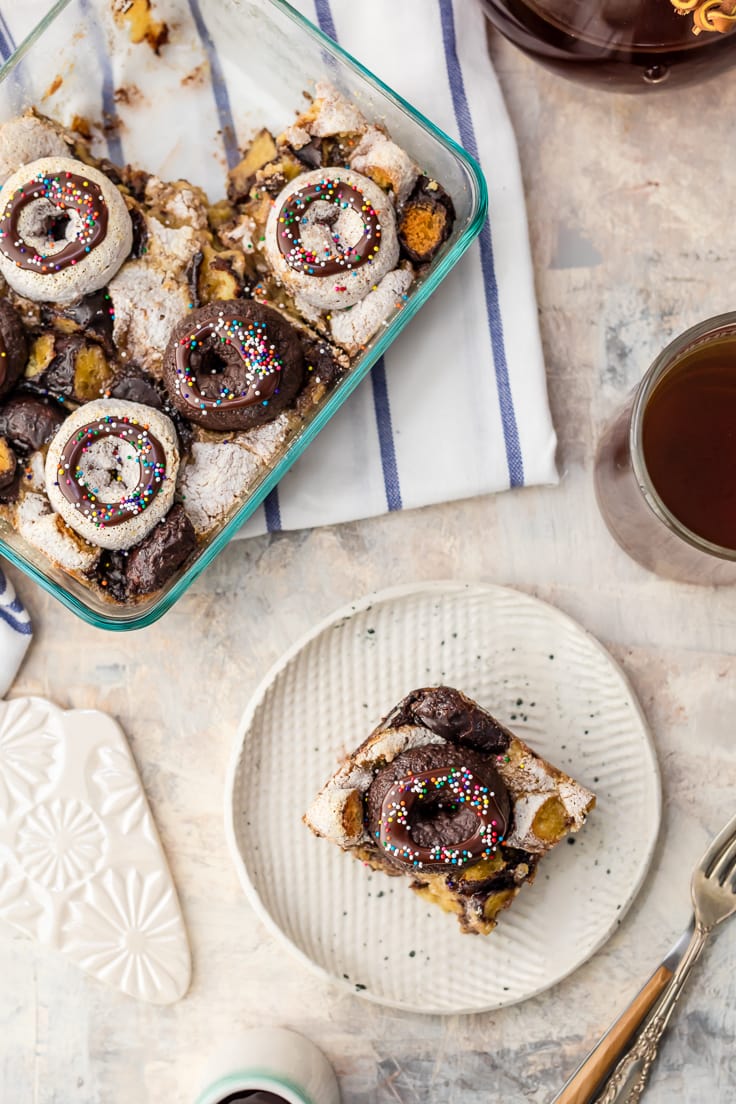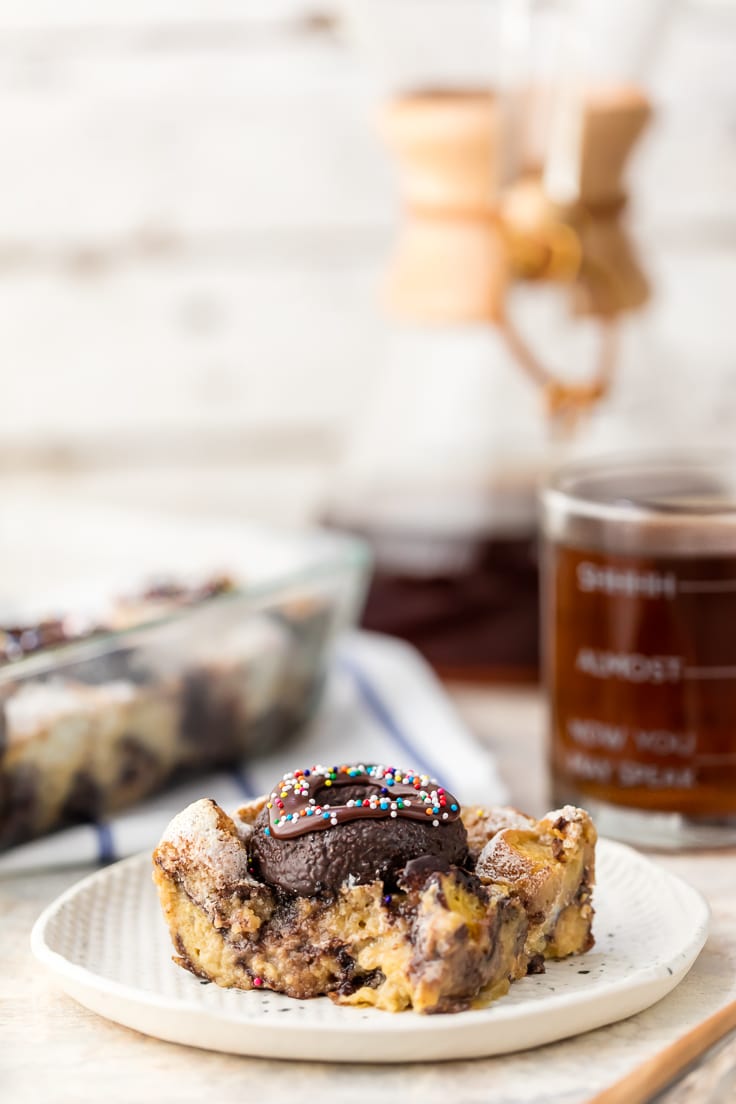 Okay I am well aware this baked breakfast recipe is going to make the "from scratch" cooks furious and the New Years Resolutionists shake their head. It's not homemade and it's not healthy. But it's cute and yummy and some mornings that's just what I need. Oh and I DEFINITELY need the Chocolate Coffee Reduction EVERY MORNING. And every night on my ice cream too.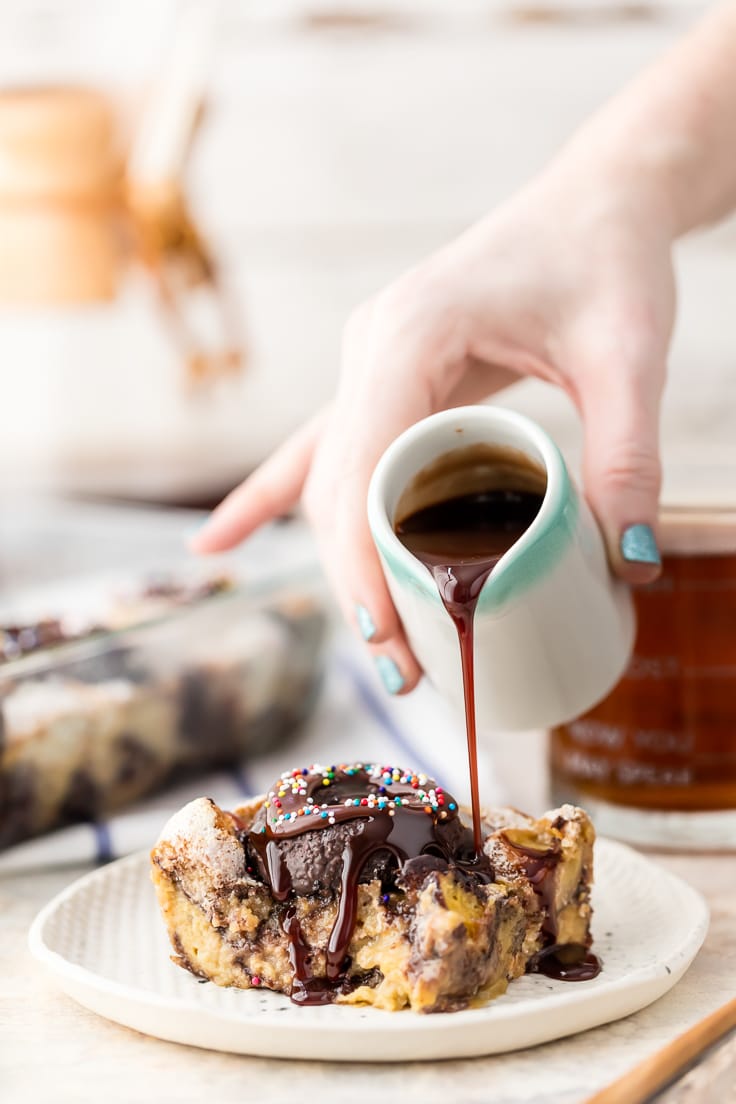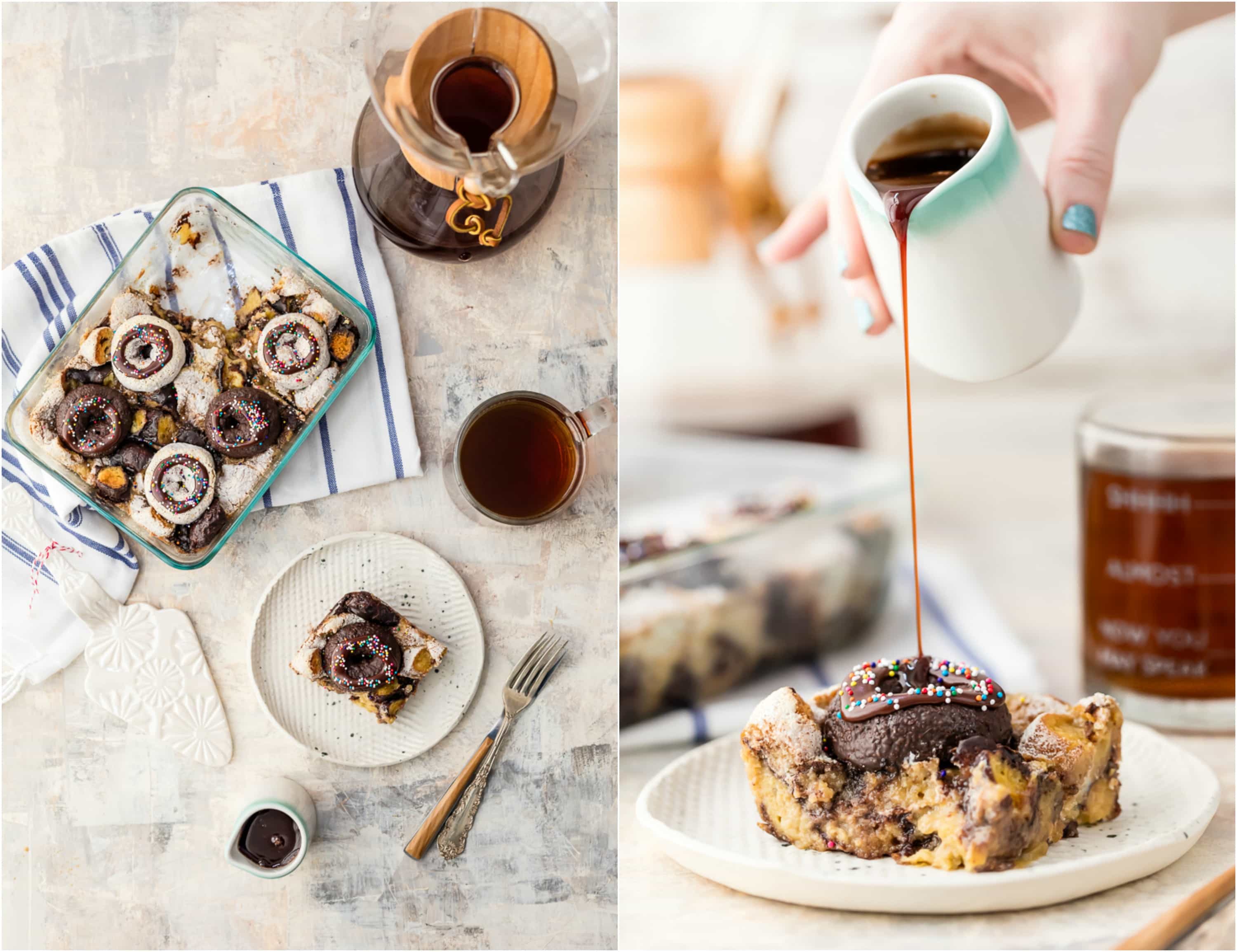 I made this fun concoction for one of my very favorite bloggers, Cate from Chez CateyLou! She is having a baby GIRL and we are all just so excited for her. She loves donuts…don't we all…so her shower is full of extra special sweet donut treats from all of us that want to say congrats to her by eating and eating! :)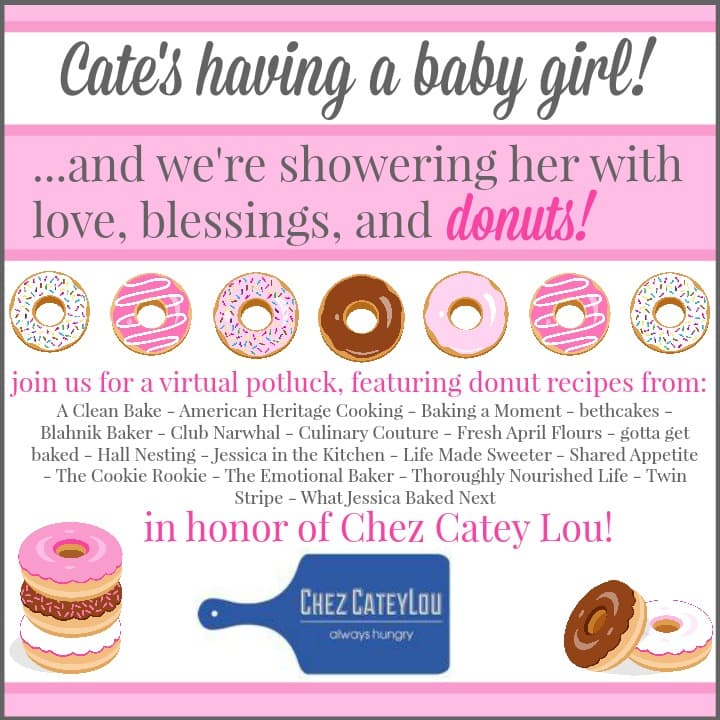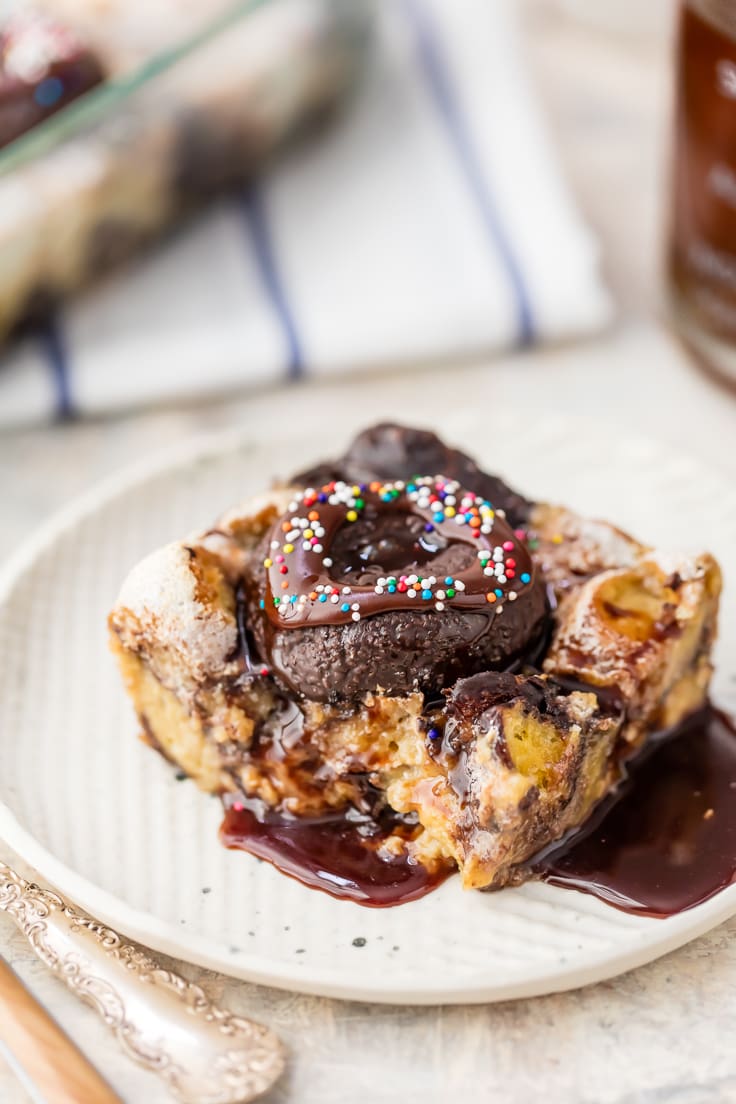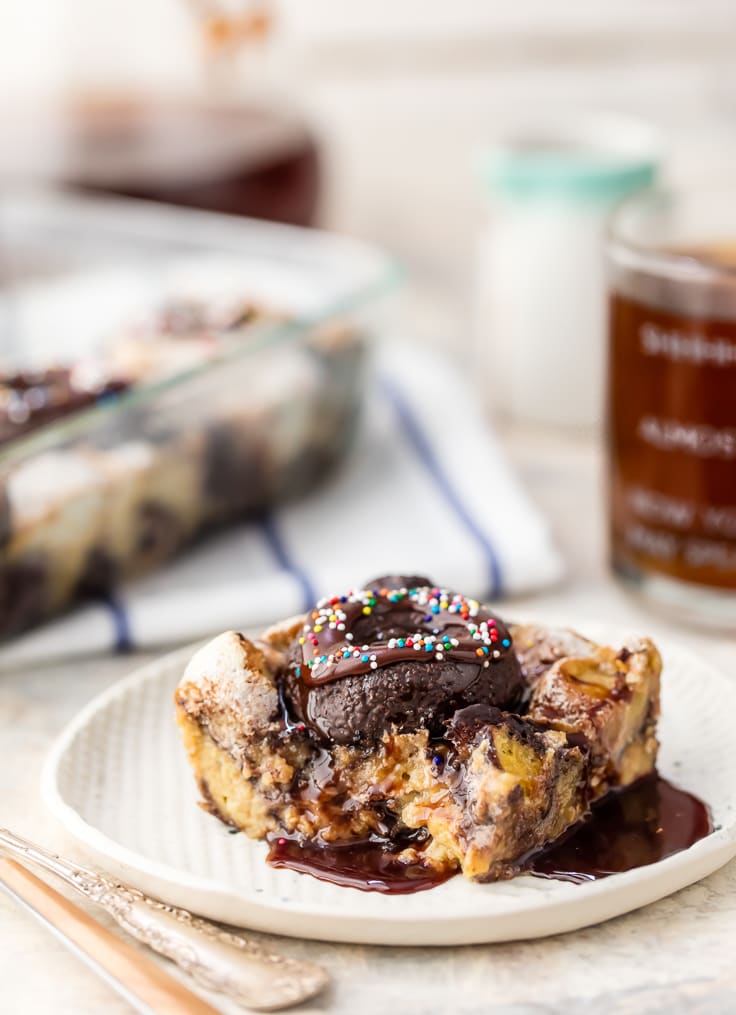 CONGRATS CATE!! We can't wait to hear all about your baby girl and see her sweet face! We are all so excited for you!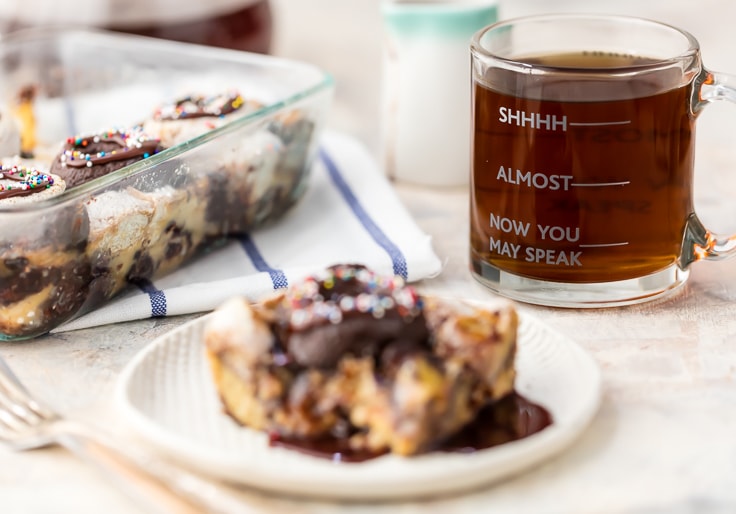 You can find what everyone else is bringing to the party below the recipe card! SO MUCH GOODNESS!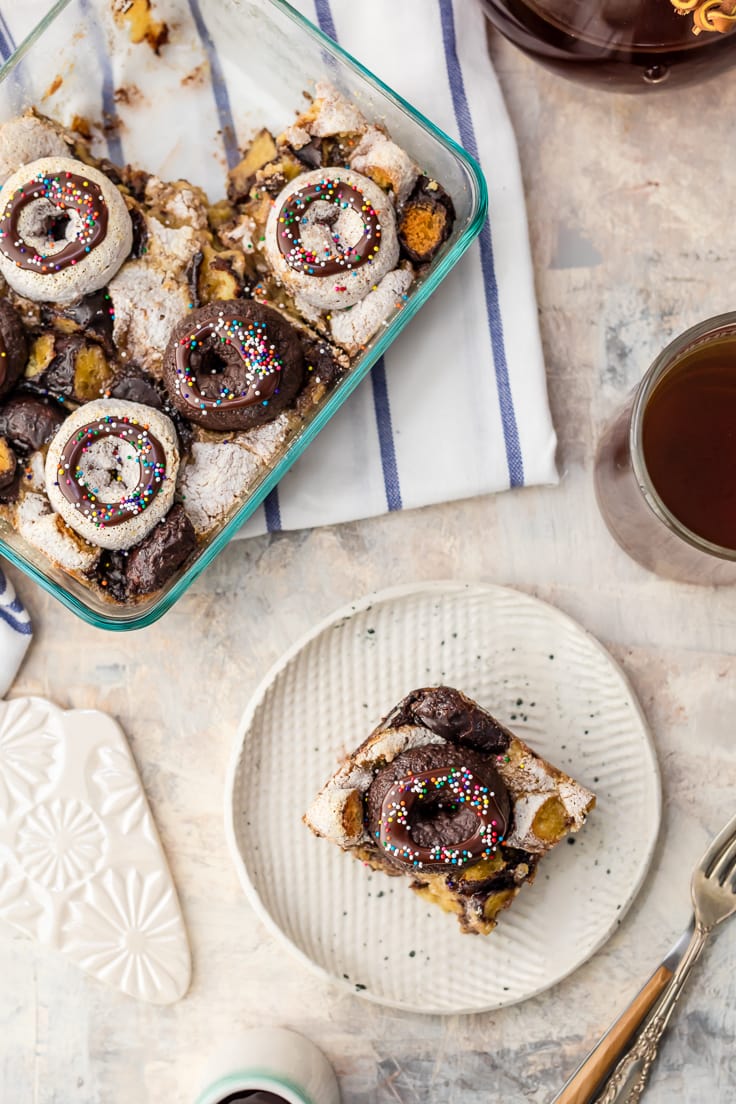 Enjoy this coffee and donuts breakfast bake recipe!
Coffee and Donuts Breakfast Bake
10 minPrep Time
45 minCook Time
55 minTotal Time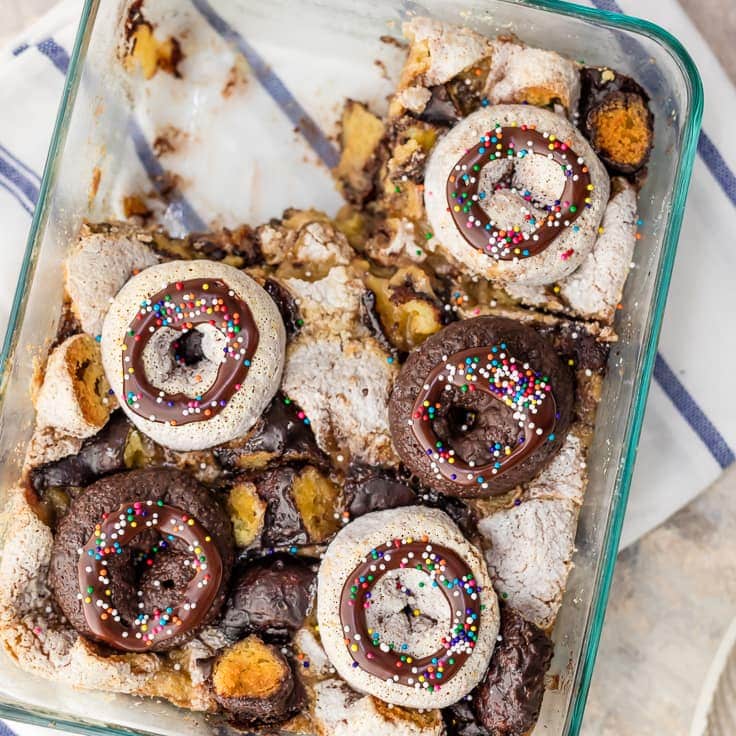 Ingredients
1 (11.25 ounce) bag mini chocolate donuts, plus 3 more for garnish
1/2 (10.5 ounce) bag mini powdered sugar donuts, plus 3 more for garnish
1 cup brewed coffee, cooled to room temperature
1 cup heavy cream
1/2 cup sugar
6 eggs
1 tsp vanilla

FOR CHOCOLATE COFFEE REDUCTION:

1 cup coffee
1 cup sugar
2 tablespoon cocoa powder

FOR GARNISH:

chocolate frosting and rainbow sprinkles (optional)
Instructions
Spray a 2 quart baking dish with nonstick spray.
Cut each mini donut into fourths and place into a 2 quart baking dish, mixing the two types of donuts throughout the dish. You want the donut cubes to fill the dish completely, use more or less donuts according to how they fit in your dish.
In a separate bowl, whisk together the eggs, coffee, cream, sugar, and vanilla.
Pour the egg mixture into the baking dish, leaving about an inch at the top. You might have a bit of the egg mixture left over.
Cover with foil and place in the fridge for 1 hour. The donuts soak up liquid fast, so it's not necessary to let it sit longer than this. If you'd like to skip this step, that's okay too!
When you're ready to bake, preheat oven to 350F.
Bake, covered, for 30 minutes.
While the dish is baking, make your reduction. Combine 1 cup coffee, 1 cup sugar, and 2 tablespoons cocoa powder in a small saucepan and bring to a boil. Reduce to a simmer and simmer for 30-45 minutes. Set aside.
Remove from the oven and place the 6 extra donuts on top as garnish, as shown, one per serving.
Return to the oven and cook for another 15 minutes, uncovered.
Remove from the oven and allow to cool for 5-10 minutes.
If garnishing the donuts, ice each donut with chocolate icing and sprinkle with rainbow sprinkles.
Drizzle with the Chocolate Coffee Reduction and serve!
Note: The coffee reduction is also DELICIOUS drizzled on ice cream! You can store in the fridge for up to a week :)
7.8.1.2
2187
https://www.thecookierookie.com/coffee-and-donuts-breakfast-bake/
BE SURE TO CHECK OUT WHAT EVERYONE ELSE IS BRINGING TO CATE'S BABY SHOWER!
Baked Dark Chocolate Strawberry Donuts – Club Narwhal
Baked Lemon Donuts – What Jessica Baked Next
Biscoff Donuts – Baking a Moment
Chai Donuts – Fresh April FloursChocolate Cake S'mores Donuts – Jessica in the Kitchen
Chocolate Pretzel Donuts – The Emotional Baker
Coconut Matcha Donuts with White Chocolate Glaze – Blahnik Baker
Coffee and Donuts Breakfast Bake – The Cookie Rookie
Doughnut Tiramisu – bethcakes
GF Lemon Donuts with Raspberry Glaze – Thoroughly Nourished Life
Maple Glazed Donut Holes – Hall Nesting
Old Fashioned Sour Cream Cake Donuts – American Heritage Cooking
Paleo Chocolate Frosted Donuts – A Clean Bake
Raspberry Jam Filled Cupcakes – gotta get baked
Sausage, Egg, and Cheese Donut Breakfast Sandwich – Shared Appetite
Strawberry Margarita Oreo Donuts – Life Made Sweeter
Baked Mini Samoa Donuts – Culinary Couture
Donut Holes with Sweet Strawberry Dipping Sauce – Twin Stripe