CORN BISQUE is the perfect cold weather soup. This smoky, sweet, and spicy CURRIED CORN BISQUE is one of our absolute favorites. It's perfect for Fall and oh so flavorful.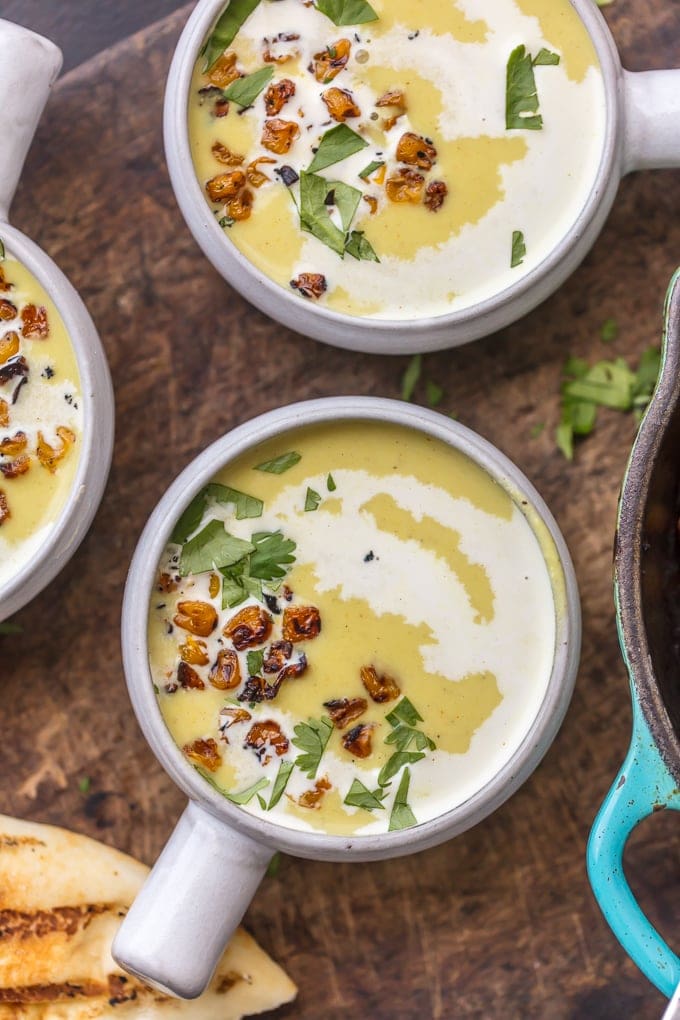 Corn Bisque with a delicious Curry flavor
Bisque is perfect for winter, and this Curried Corn Bisque is our favorite bisque recipe right now!
I'm such a sucker for an amazing cold weather soup. To me, there's just nothing better than a cup or bowl of warm comforting soup or bisque on a chilly winter day. With the Bomb Cyclone facing a lot of our country (OMG you guys, please be safe! That is a scary weather term…bomb cyclone??) literally TODAY, I thought this Curried Corn Bisque would be appropriate to keep us all warm and toasty…and full and satisfied to boot!
I live in Missouri, so while I'm not about to see a huge blizzard…we do have temps under 0 and feeling like the south pole. It's…not great. But sitting under a blanket catching up on reality tv and eating some of this soup sure does sound delightful!
Try this creamy Curried Corn Bisque recipe to warm things up.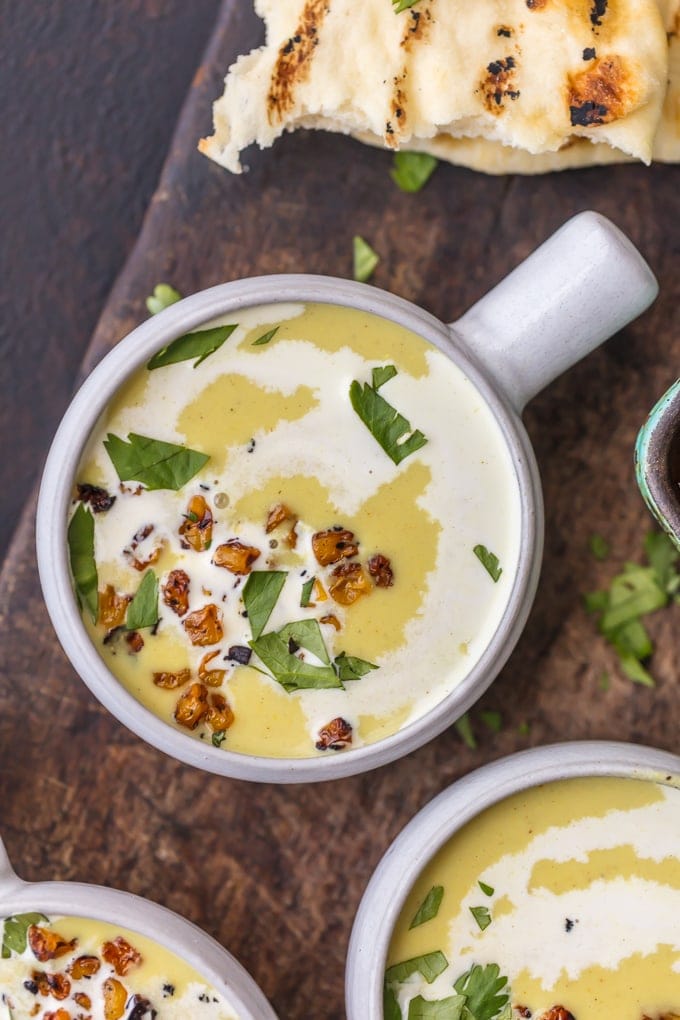 Make this Creamy Curried Corn Bisque as an appetizer!
We have eaten this corn bisque as a main course, but what I really love it for is an appetizer. It's a little bit sweet, which makes it the perfect unique starter to any meal. If you're entertaining guests in your home (or trying to impress your sweet heart for Valentine's Day!), this might just be the recipe for you.
This tasty corn bisque is smokey, sweet, and a little bit spicy…I'm in love! I love the little bit of cream and fried corn on top too…it's just divine. Don't you want a bowl of bisque now? I made some just for you!
What's the difference between Bisque, Soup, and Chowder?
The difference between bisque, soup, and chowder is a mystery to many, but I'm here to clear things up for you today!
Bisque and chowder are both types of thick soup. So when in doubt, you can call all three a soup and you won't be wrong! Bisque and chowder are both traditionally seafood-based (which is why you'll find them in seafood restaurants), however not all contain seafood these days (this one is vegetarian-friendly; no seafood here). In general, you can just consider any thick soup a bisque or chowder.
Now, the difference between a bisque and chowder: Bisque is a smooth, creamy soup, while Chowders are much chunkier since they usually contain pieces of seafood or vegetables.
For example: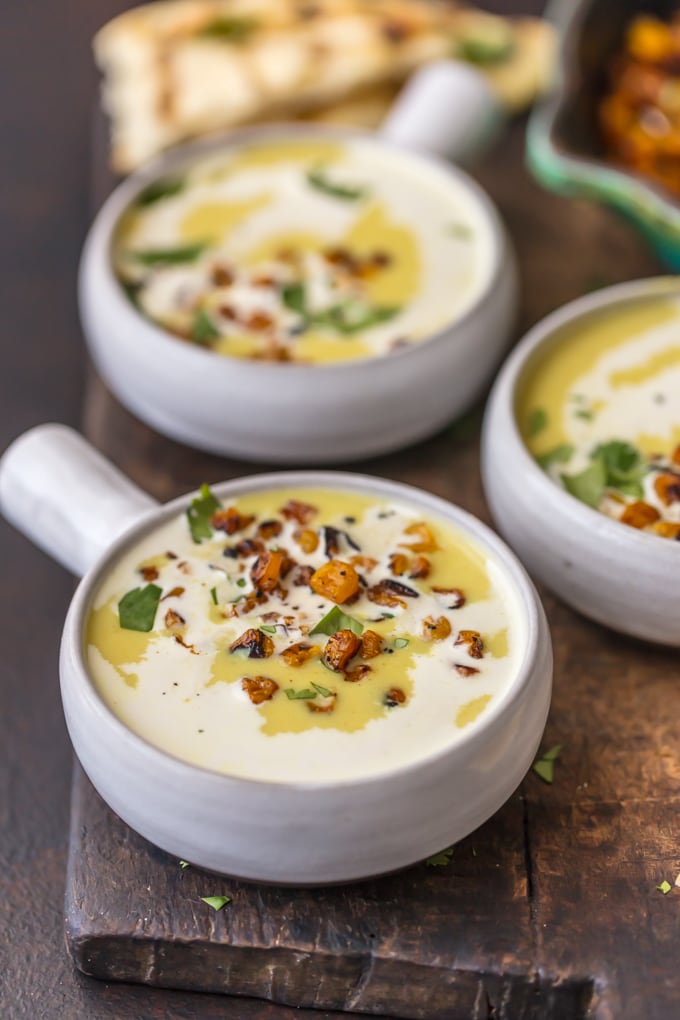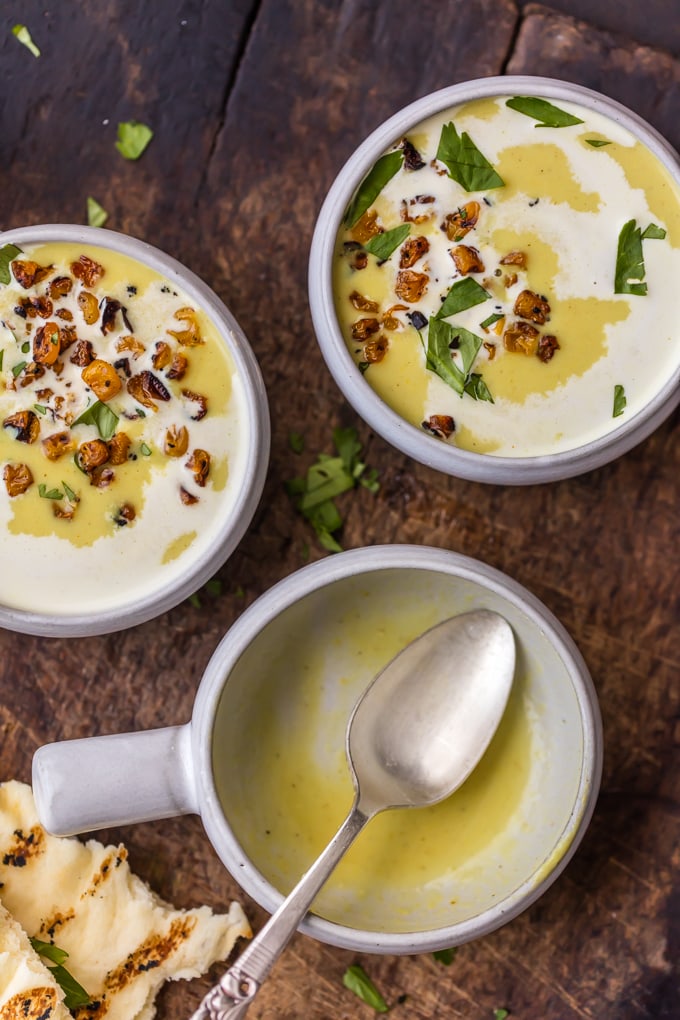 If you're struggling to find easy and warm recipes during this VERY COLD Winter, I hope you'll give this Curried Corn Bisque a try. I have a feeling you just might love it as much as we do. It's one of those soups (like Mom's Creamy Chicken Soup) that I just crave. The unique and delicious flavor is hard to forget!
See recipe card below for details on how to make this Curried Corn Bisque recipe. Enjoy!
Craving more soup recipes? Try out these favorites: