DRUNKEN ORANGE GINGER CARROTS are the most creative and easy side dish for Thanksgiving! Sliced carrots cooked in ginger beer, orange juice, and brown sugar, caramelized to perfection. These drunken carrots need to be on every holiday table!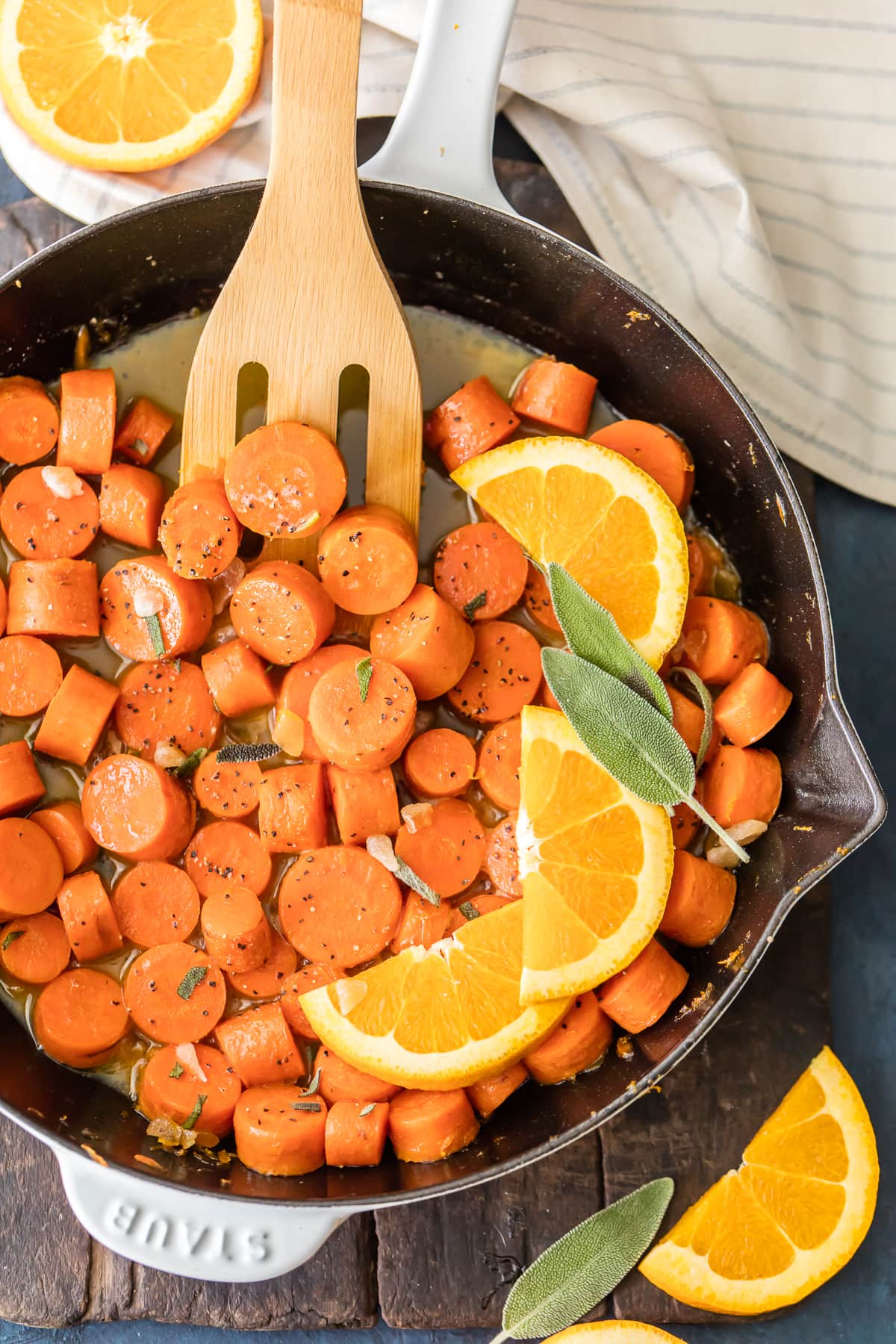 Orange Ginger Carrots
Ginger Carrots are so full of flavor, and they make a unique side dish that's perfect for the holidays. These Drunken Orange Ginger Carrots are just so good!
Can you believe it's already mid October? Thanksgiving will literally be here before we know it. It's time to start writing those grocery lists, pinning all your favorite holiday recipes, and deciding how best to feed your family during this huge holiday season. Side dishes have always been a struggle for me, so these Drunken Orange Ginger Carrots are a life savor!
I'm usually more of an appetizer and dessert type of gal, but these drunken carrots have taken me over to side dish extraordinaire. I'm ready to face any potluck, party, or get together with this easy and delicious recipe. This perfect Thanksgiving side dish is so much easier than you might think, and sure to please!
Drunken Orange Ginger Carrots are cooked in ginger beer, then mixed with brown sugar, sage, orange juice, and a bit more ginger for good measure. These are a must make for Thanksgiving!
Drunken Orange Ginger Carrots are one of the most unique and flavorful vegetable side dishes I've ever had. They're sure to steal the show at Thanksgiving!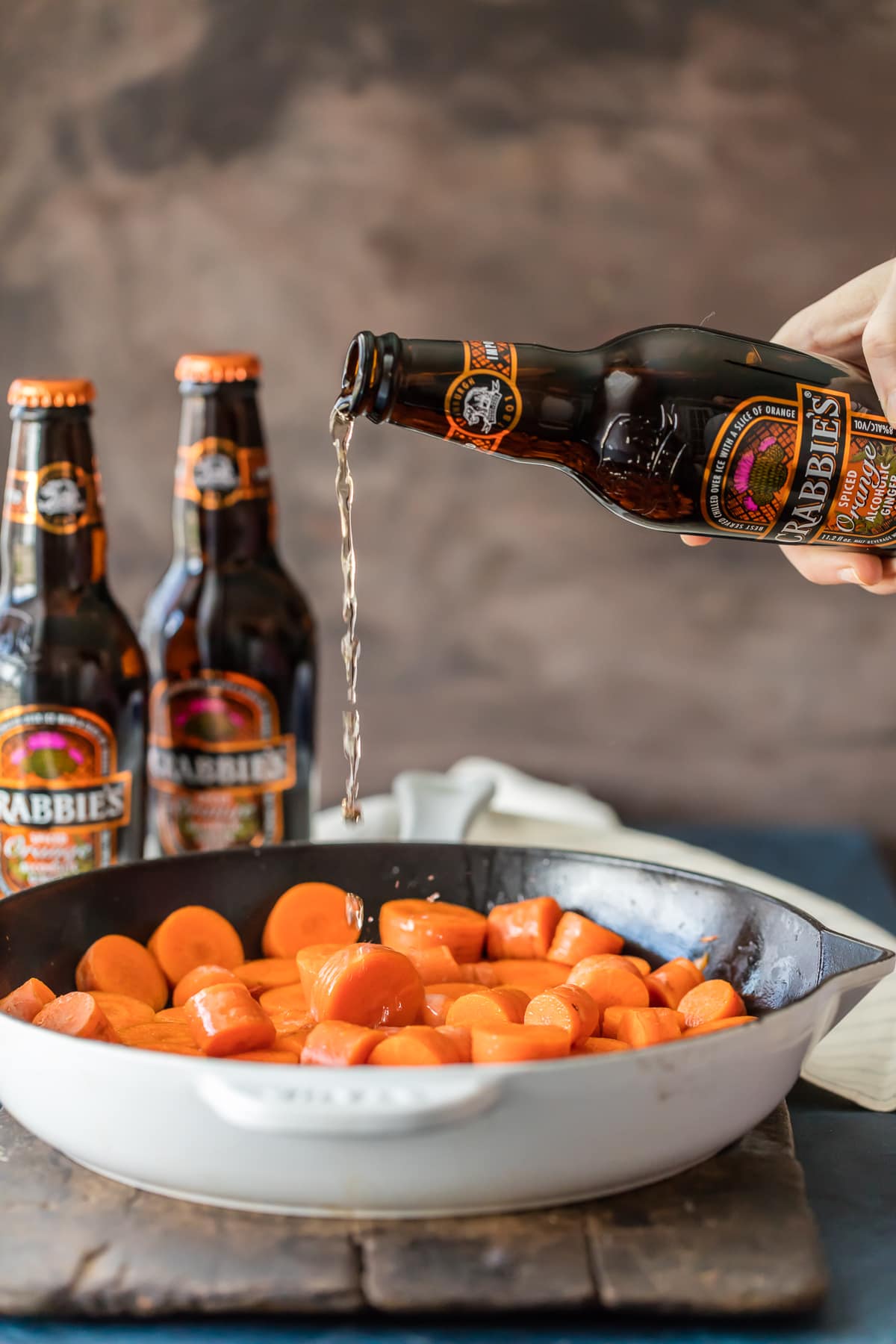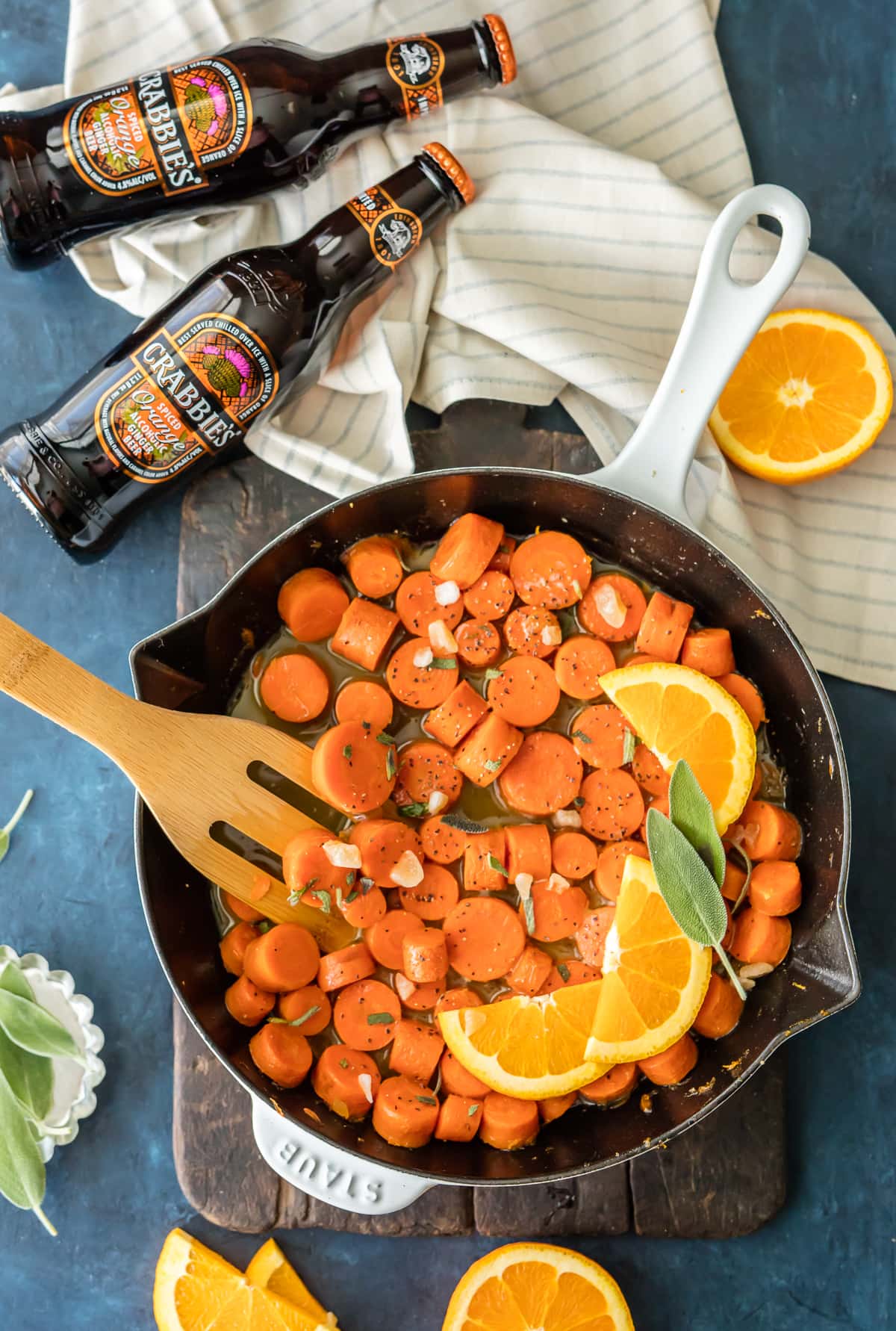 Drunken Carrots with Ginger Beer
I've made no secret of my obsession for Crabbie's Alcoholic Ginger Beer. YOU GUYS…this stuff is my everything. (You might remember my Garlic Ginger Pulled Pork, Raspberry Moscow Mule Bundt Cake, and Moscow Mule Mimosas from earlier in the year!) Crabbie's originated in Edinburgh, Scotland with a rich history that dates back to 1801, and has recently made its way to the states and I couldn't be more excited. Obviously, I love to drink it.
It's the perfect combination of crisp and refreshing; made from a secret recipe of four special ingredients and natural ginger that is cold-steeped for up to six weeks! I love that it's not too sweet; making it the absolute best ingredient for cocktails OR cooking! You can find more recipe ideas and of course where to buy near you HERE.
The other thing that's great is that it comes in FLAVORS! I used the Spiced Orange flavor for these Drunken Orange Ginger Carrots and it was perfection. It adds a bit of zip to the carrots without being overpowering. Exactly what I was going for!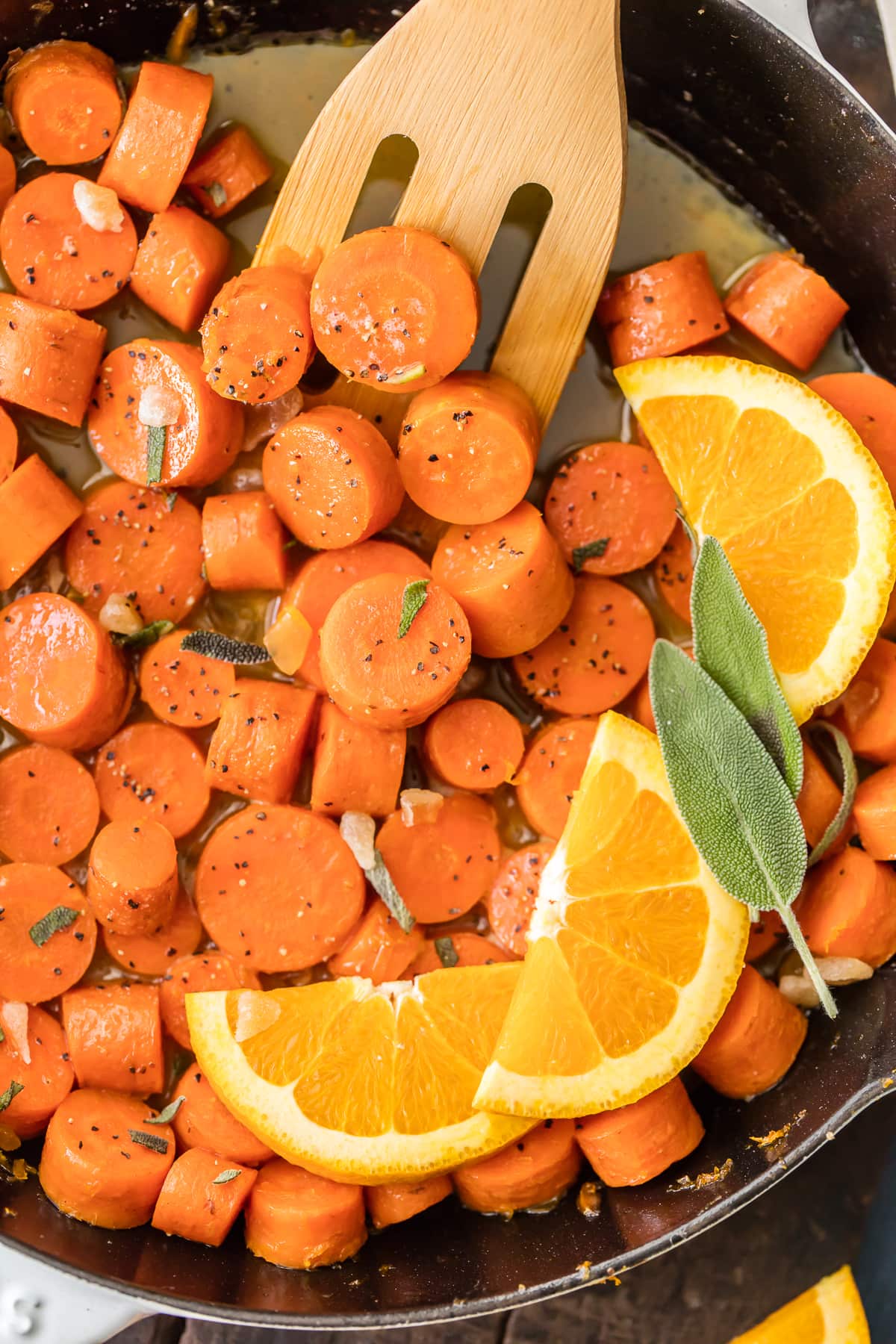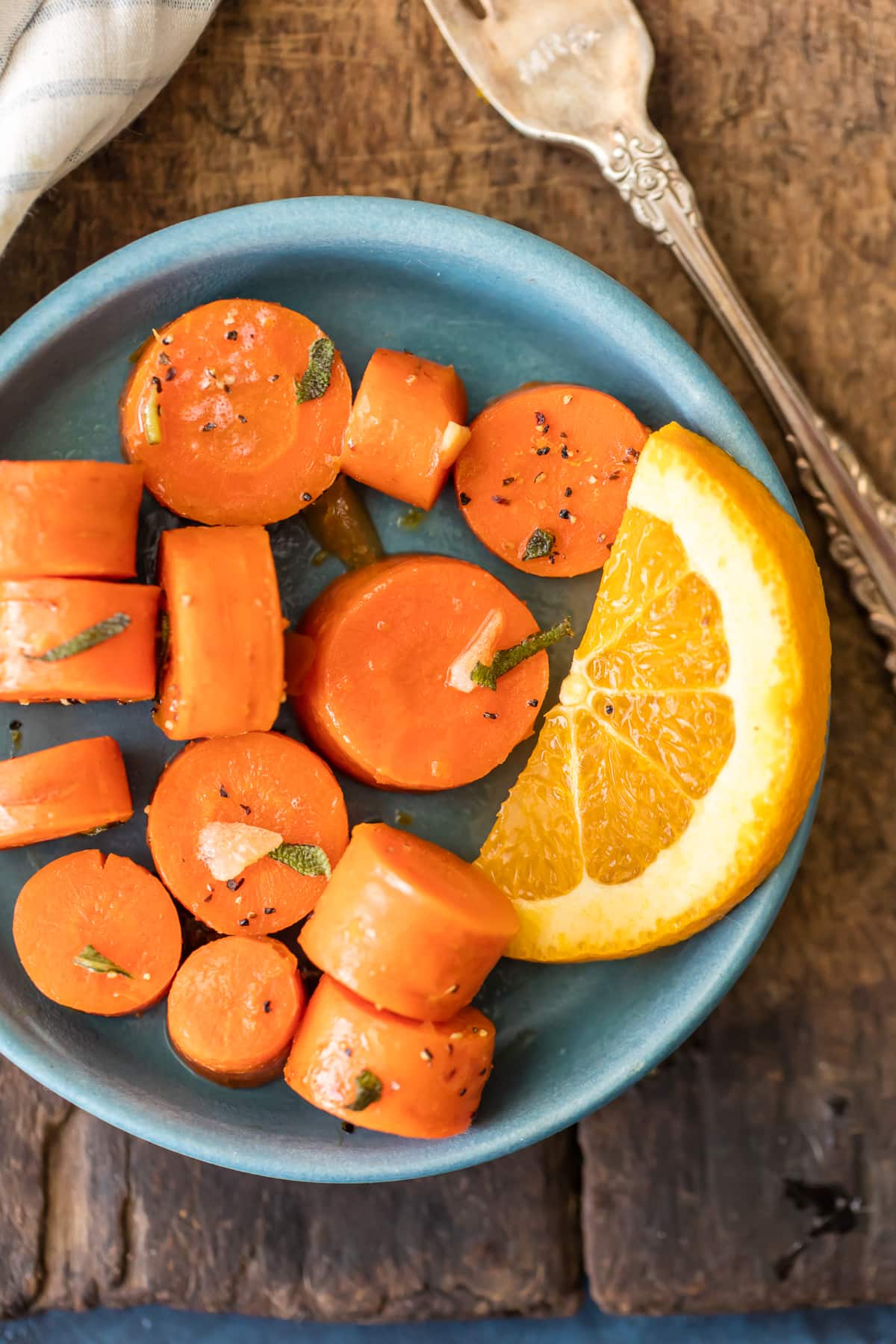 How to Make Orange Ginger Carrots
These delicious orange ginger carrots are so easy to make. All the more reason to love them! Carrots cooked in orange ginger beer, plus fresh orange juice and crystallized ginger to really get that flavor in there. This carrot side dish is so perfect for Thanksgiving, with that citrusy, gingery flavor that complements all of my fave holiday recipes.
How to make drunken orange ginger carrots:
Heat olive oil in a skillet, then add sliced carrots and cook for a couple of minutes
Add ginger beer, orange juice, and ginger
Bring to a boil, then reduce heat and simmer (covered) for 10 minutes
Stir in salt, pepper, & sage, then sprinkle with brown sugar and cook 10 more minutes
Add in butter and stir to combine
I can't get over the amazing taste of these orange ginger carrots! It's such a kick of flavor, exactly what the carrots need.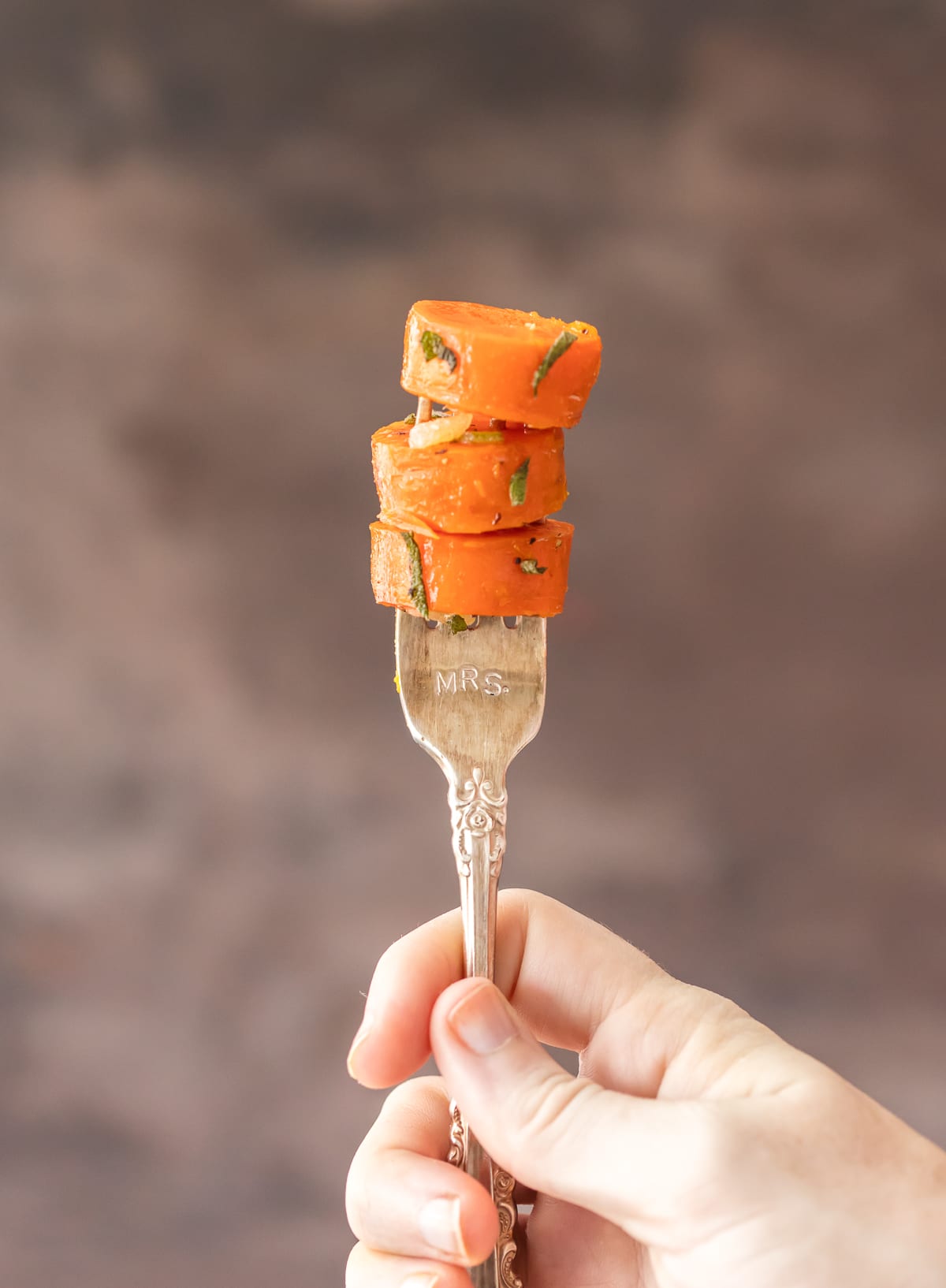 You can bet these Drunken Orange Ginger Carrots will be making an appearance at our Thanksgiving table. They're just so easy and fool-proof that I have to make them again and again. The unique flavor is one to remember, while still being subtle enough to please both kids and adults. (Don't worry, the alcohol all cooks out!)
See the recipe card below for details on how to make Drunken Orange Ginger Carrots. Enjoy!
If you like these orange ginger carrots, try these other favorite veggie side dishes: