DRUNKEN ORANGE GINGER CARROTS, the best creative easy side dish for Thanksgiving! Carrots cooked in ginger beer, orange juice, and brown sugar; carmelized and perfect for any holiday table!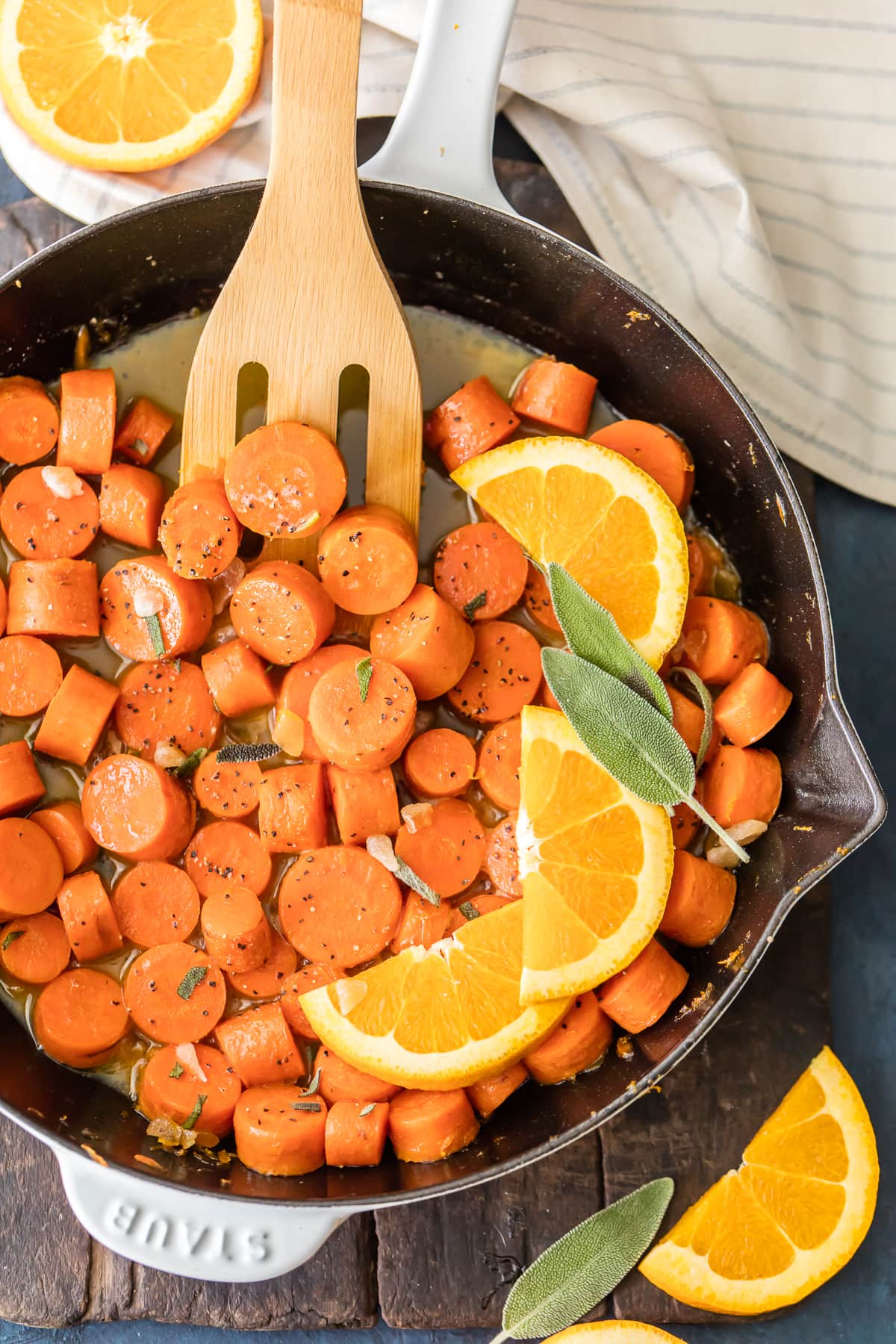 Can you believe it's already mid October?! WHAT. IS. HAPPENING? Thanksgiving will literally be here before we know it. It's time to start writing those grocery lists, pinning all your favorite holiday recipes, and deciding how best to feed your family during this huge holiday season! Side dishes have always been a struggle for me. I'm usually more of an appetizer and dessert type of gal, but these DRUNKEN ORANGE GINGER CARROTS have taken me over to side dish extraordinaire. I'm ready to face any potluck, party, or get together with easy and deliciousness. This perfect Thanksgiving side dish is so much easier than you might think, and sure to please! A must make for Thanksgiving!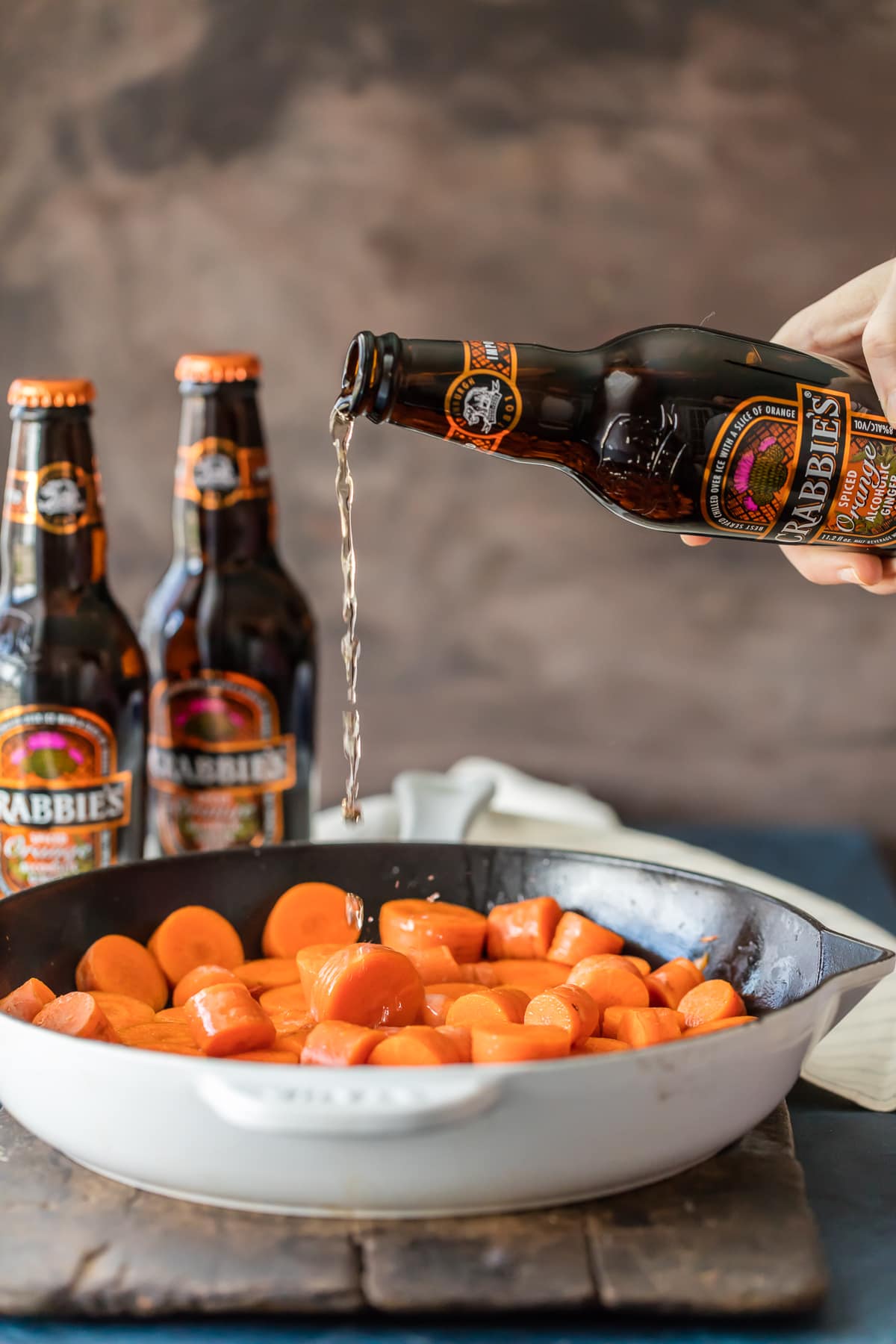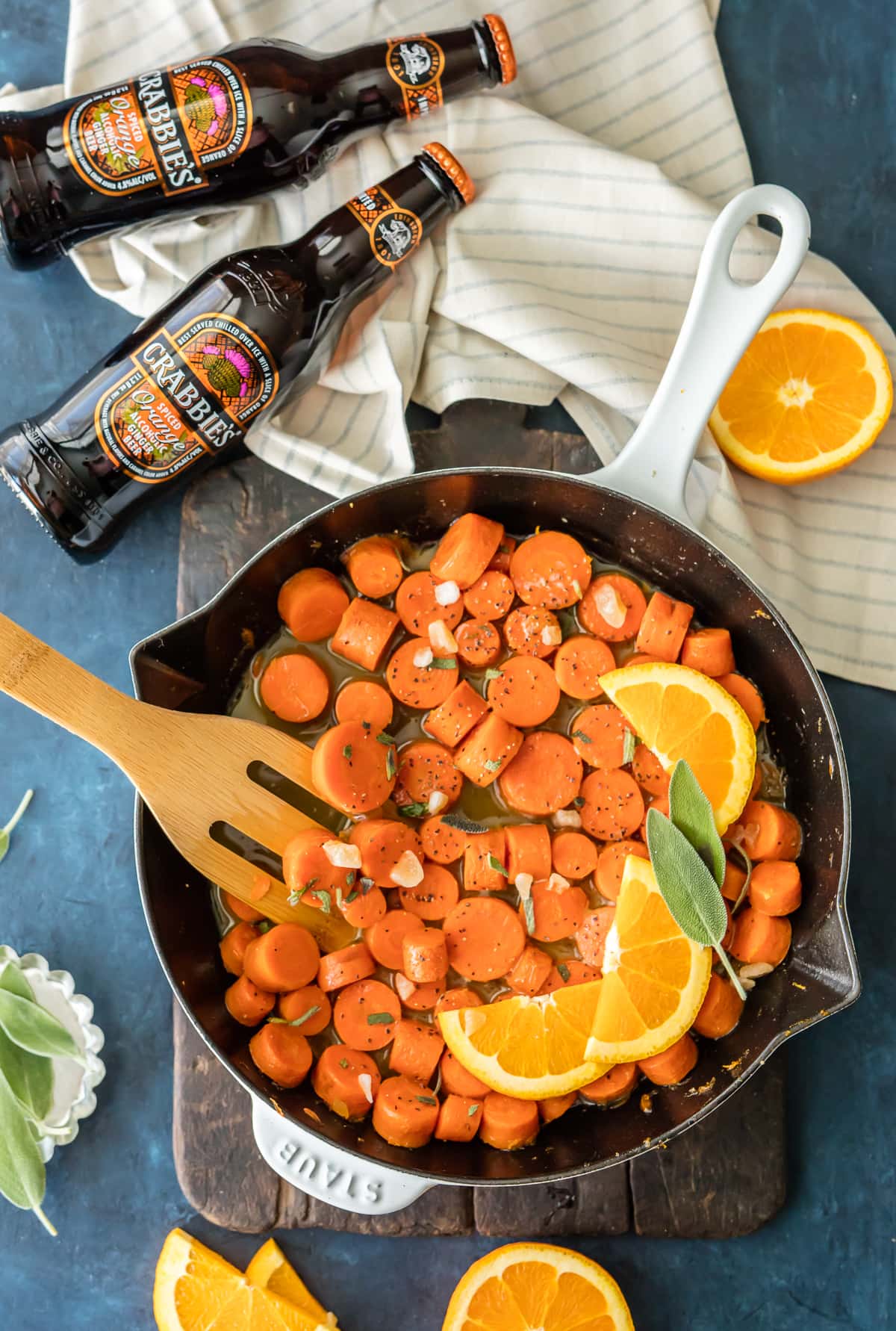 I've made no secret of my obsession for Crabbie's Alcoholic Ginger Beer. YOU GUYS…this stuff is my everything. (You might remember my Garlic Ginger Pulled Pork, Raspberry Moscow Mule Bundt Cake, and Moscow Mule Mimosas from earlier in the year!) Crabbie's originated in Edinburgh, Scotland with a rich history that dates back to 1801, and has recently made its way to the states and I couldn't be more excited. Obviously, I love to drink it. It's the perfect combination of crisp and refreshing; made from a secret recipe of four special ingredients and natural ginger that is cold-steeped for up to six weeks! I love that it's not too sweet; making it the absolute best ingredient for cocktails OR cooking! You can find more recipe ideas and of course where to buy near you HERE. The other thing that's great is that it comes in FLAVORS! I used the Spiced Orange flavor for these Drunken Orange Ginger Carrots and it was perfection. It adds a bit of zip to the carrots without being overpowering. Exactly what I was going for!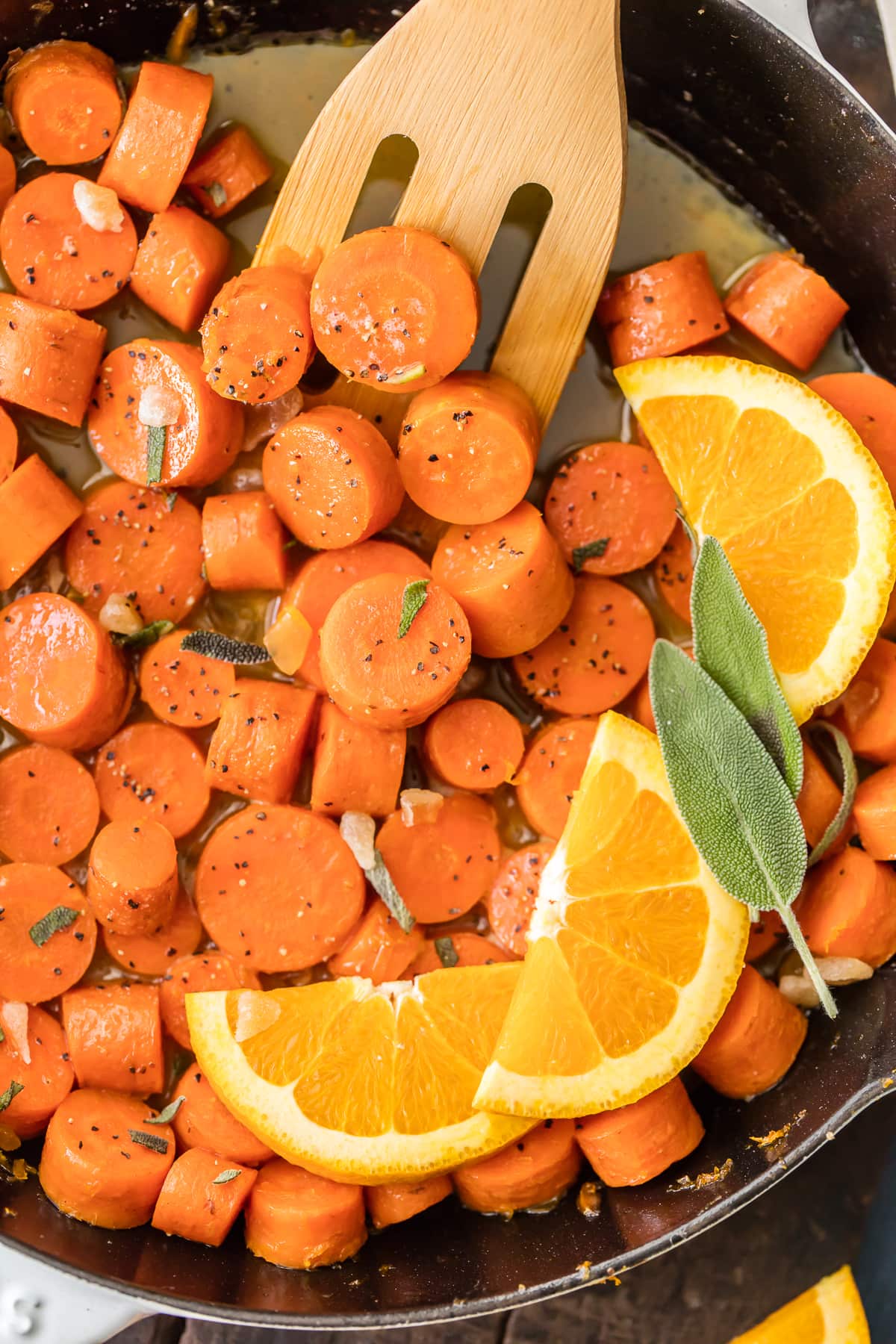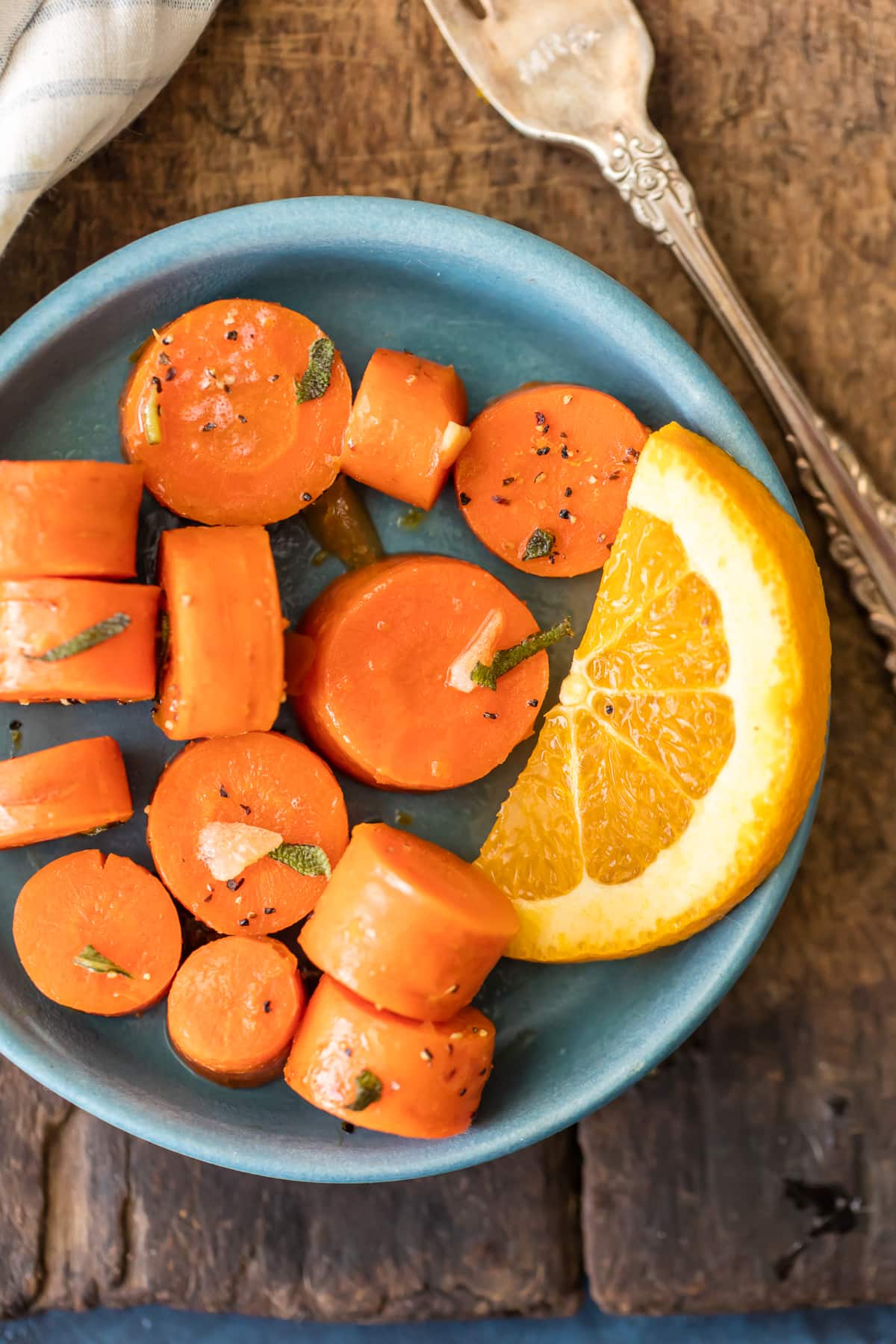 You can bet these beauties will be making an appearance at our Thanksgiving table. They're just so easy and fool-proof that I have to make them again and again. The unique flavor is one to remember, while still being subtle enough to please both kids and adults. (Don't worry, the alcohol all cooks out)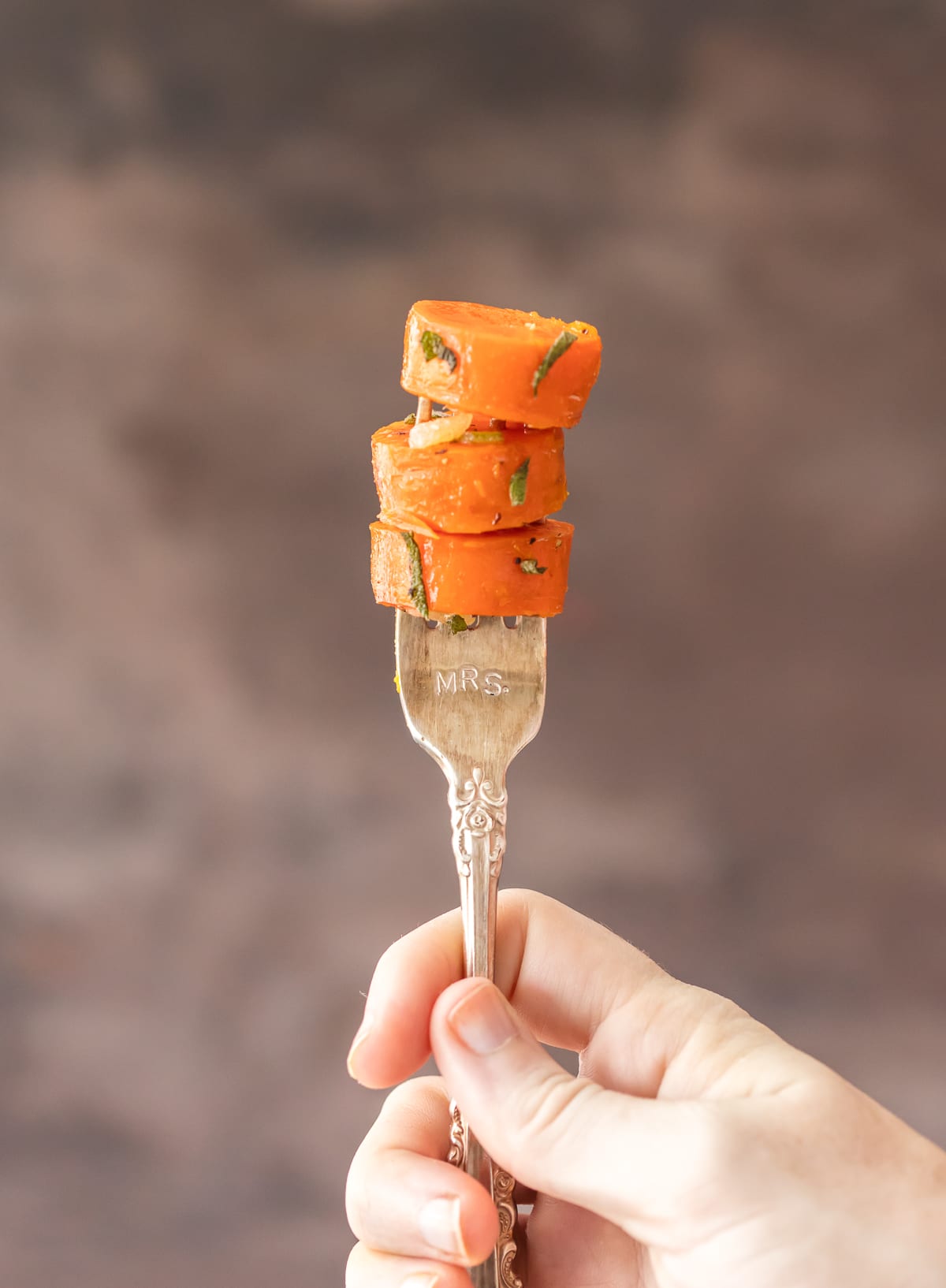 Happy Fall and happy holiday cooking! Enjoy!
Ingredients
1 tablespoon olive oil
2 pounds carrots, washed and cut into 1-inch slices
3/4 cup Crabbie's Spiced Orange Ginger Beer
1 cup orange juice
Zest from one orange
1 tablespoon crystalized ginger
salt and pepper to taste
1 tablespoon fresh sage, chopped
2 tablespoons brown sugar
2 tablespoons salted butter
Instructions
Add olive oil to a large skillet (12 inch) and heat on your stove over medium-high heat.
Toss in the carrots and cook for 1-2 minutes per side, or until just browned.
Add the ginger beer, orange juice and ginger to the skillet.
Bring mixture to a boil and then reduce the heat to a simmer. Cover and cook for 10 minutes.
Remove the cover and stir in the salt and pepper to taste and sage. Stir to combine.
Sprinkle the carrots with the brown sugar and then continue cooking for 10 more minutes, or until the carrots are fork tender to your liking.
Add in the butter in 1 tablespoon sections and stir skillet to melt completely, adding in the butter to the sauce.
Serve warm and enjoy!
7.6.4
2308
https://www.thecookierookie.com/drunken-orange-ginger-carrots/
This recipe was written in a partnership with Crabbie's Ginger Beer. As always, all opinions are 100% my own. Thanks for supporting the brands that help support The Cookie Rookie!

JOIN OUR MAILING LIST
TO GET COOKING!
Subscibe to recieve all the latest, greatest, and EASIEST recipes sent straight to your email inbox. If we post something yummy, you'll be the first to know.