Eggs Benedict Casserole has all the flavor you love from the classic dish, mixed into one super tasty breakfast casserole. This EASY eggs benedict recipe is made with english muffins, filled with ham, and topped off with a simple eggs benedict sauce. This makes the perfect Mother's Day or Easter brunch!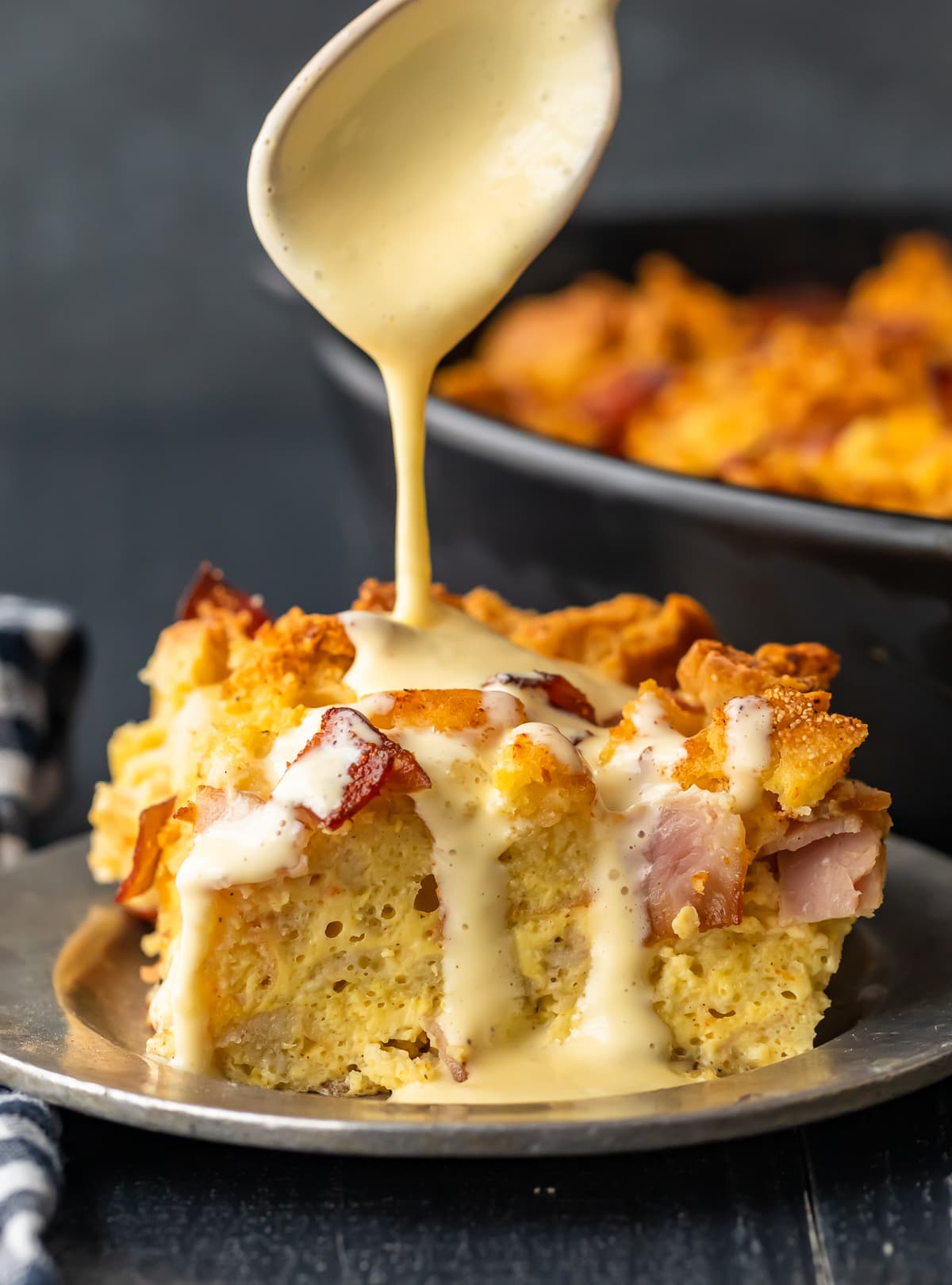 Eggs Benedict Casserole
This Eggs Benedict Casserole is the easiest way to make the classic breakfast dish that everyone loves. Who's ready for BRUNCH?
What do English Muffins, eggs, ham, and hollandaise sauce make? The perfect breakfast or brunch! There's nothing like a little Eggs Benny, and all the better when it's made into a delicious breakfast casserole.
This Easy Eggs Benedict Casserole has all the flavor you expect from the traditional dish, but in a much easier to make form. It's perfect for holidays, or any time you have lots of people to feed. Instead of making individual portions for everyone, you can make enough for everyone in one go. It bakes up into the most delicious thing, and then you get to top it off with a simple eggs benedict sauce (made in a blender!).
I'm putting this on the menu for a nice Mother's Day Brunch, and it makes a great Easter Brunch idea or Christmas breakfast too! Basically, any time you find yourself hosting breakfast/brunch, this recipe should be your go-to.
Make Eggs Benedict the EASY way with this amazing breakfast casserole!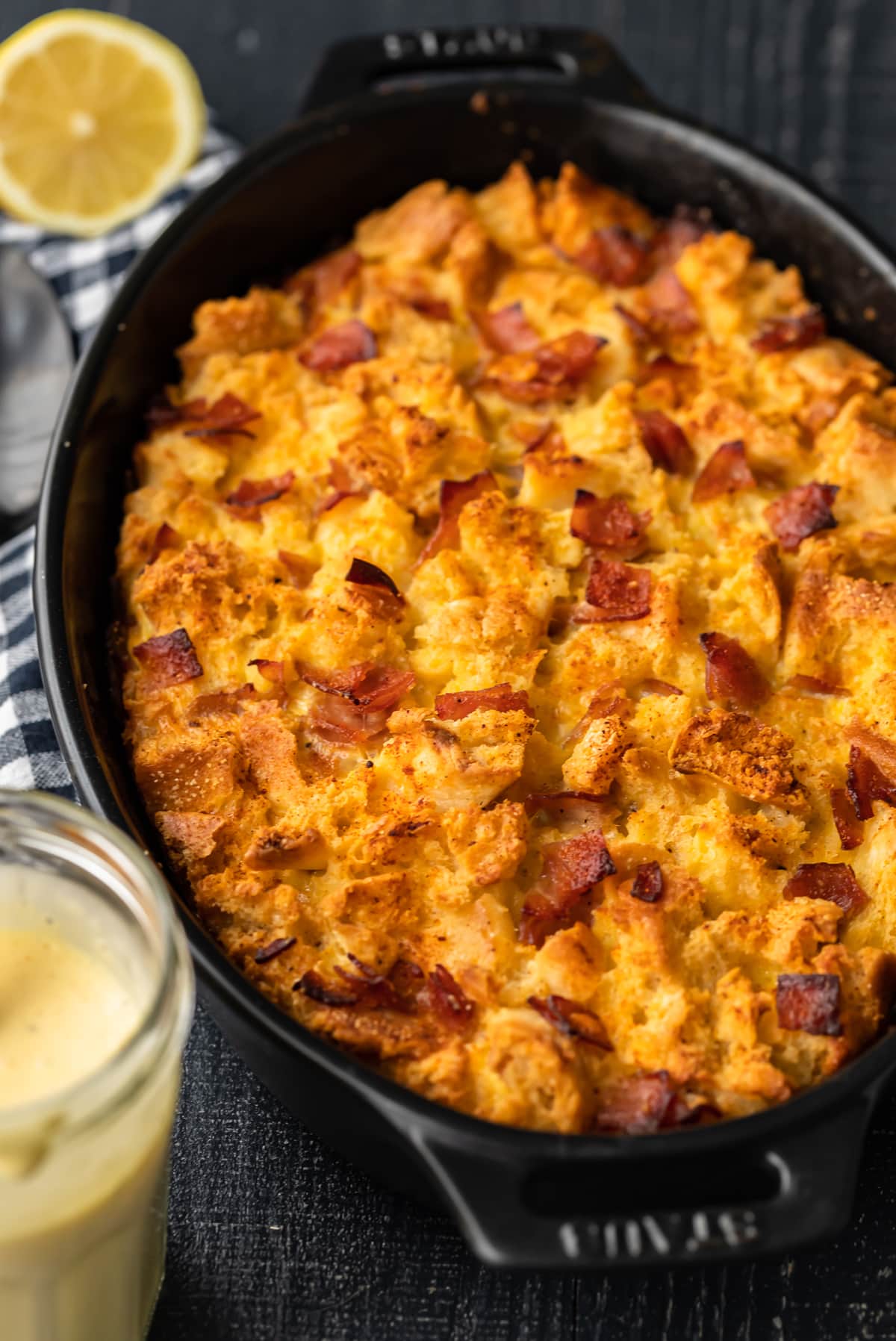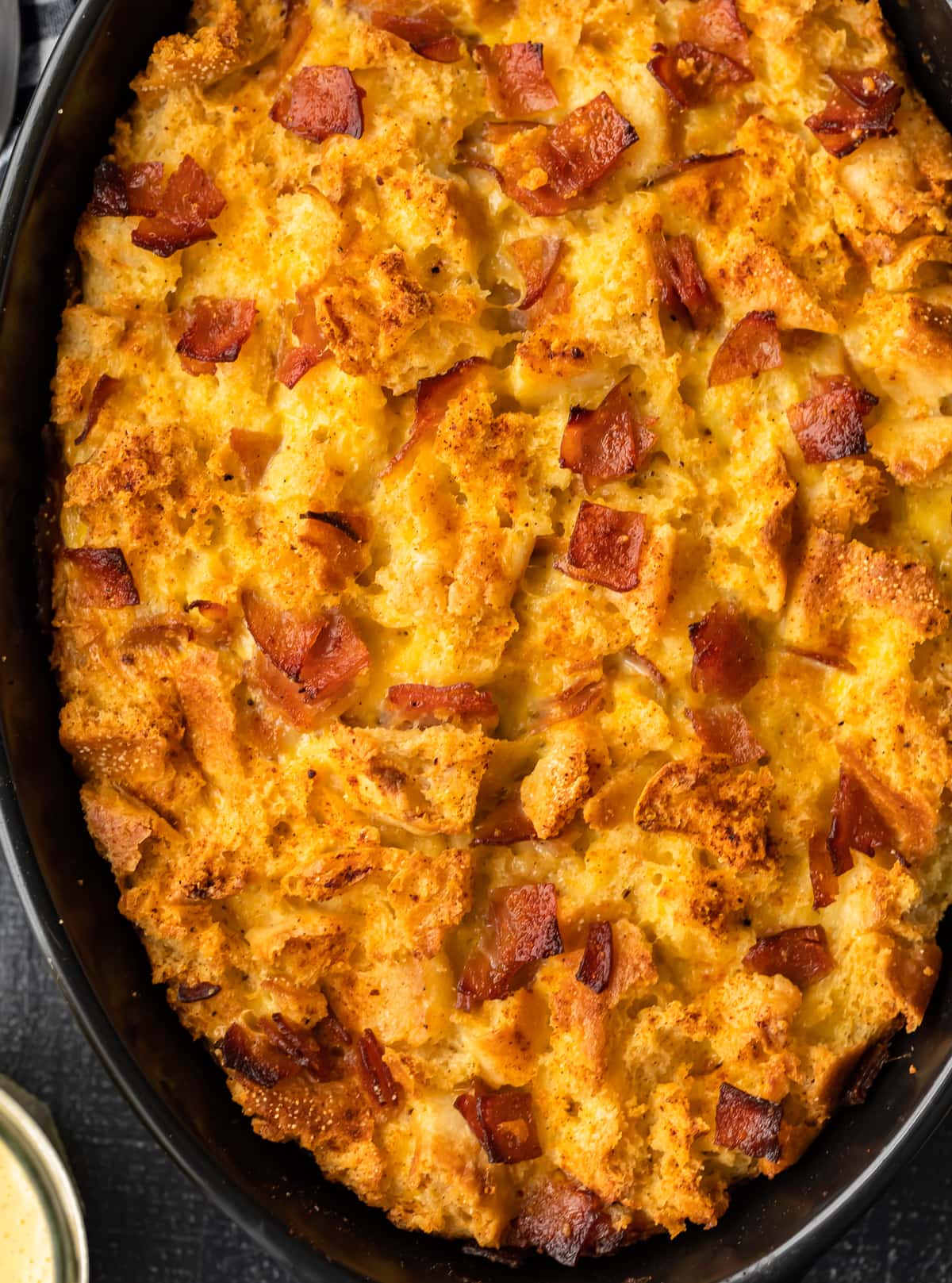 Easy Eggs Benedict
Poaching eggs, toasting English Muffins, assembling every plate one at a time. Call me dramatic, but that's too much work for me, especially when I have multiple people to feed.
If I can turn something into a casserole, you bet I will! And I must say, this Eggs Benedict Casserole turned out beautifully. It's so much simpler than making individual portions. You get the same great taste, enough to serve about 10 people, all made in one casserole dish. Easy!
Eggs Benedict Sauce
This dish wouldn't be complete without the eggs benedict sauce…I mean, Hollandaise Sauce! That creamy, lemony sauce absolutely makes the recipe, and this casserole wouldn't be quite right without it. Luckily I have a super quick way to make it: in a blender! It's so easy to prepare while the casserole is in the oven, and then you can drizzle it over the whole thing, or set it out so everyone can use as much as they please.
Find out how to make Blender Hollandaise Sauce right here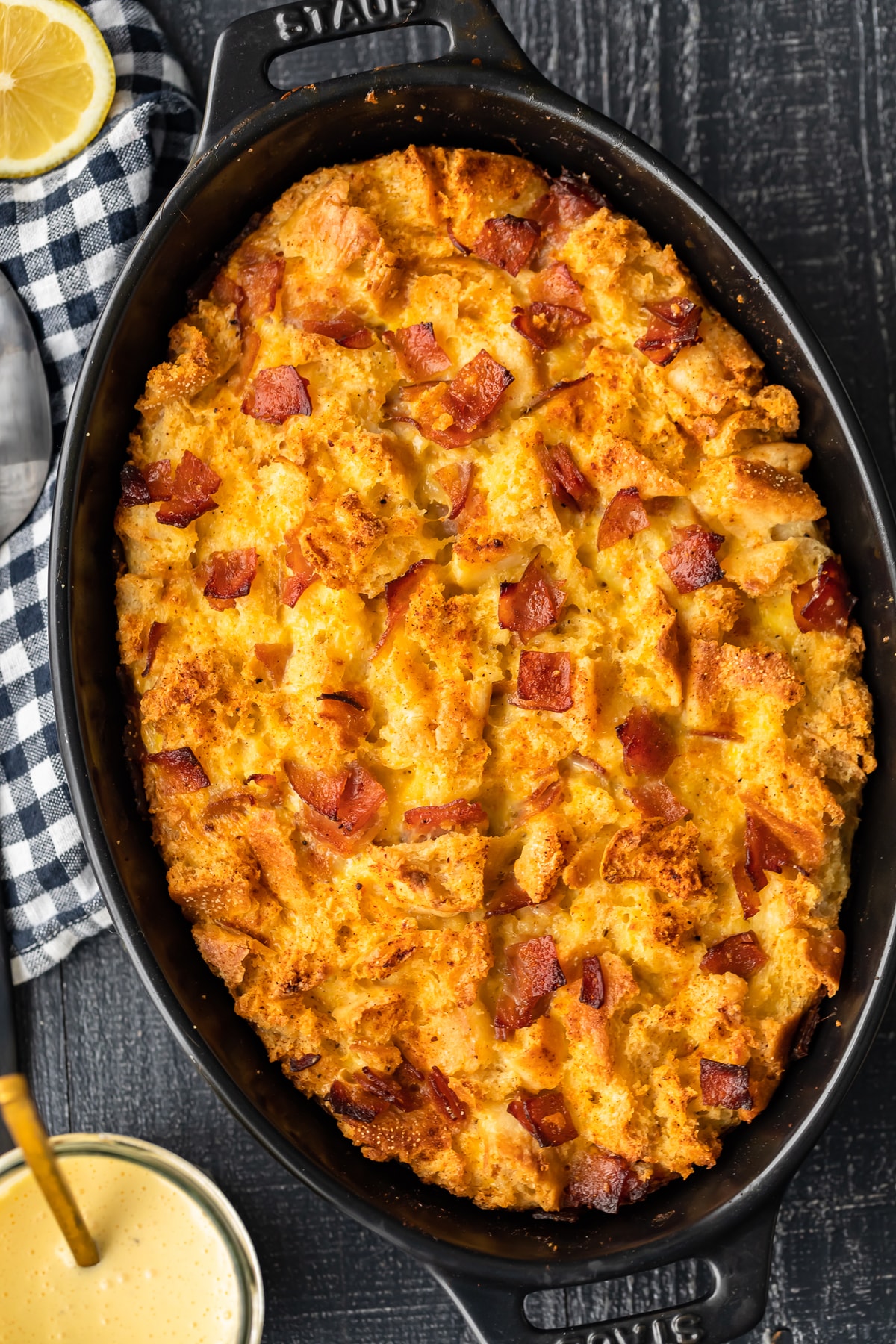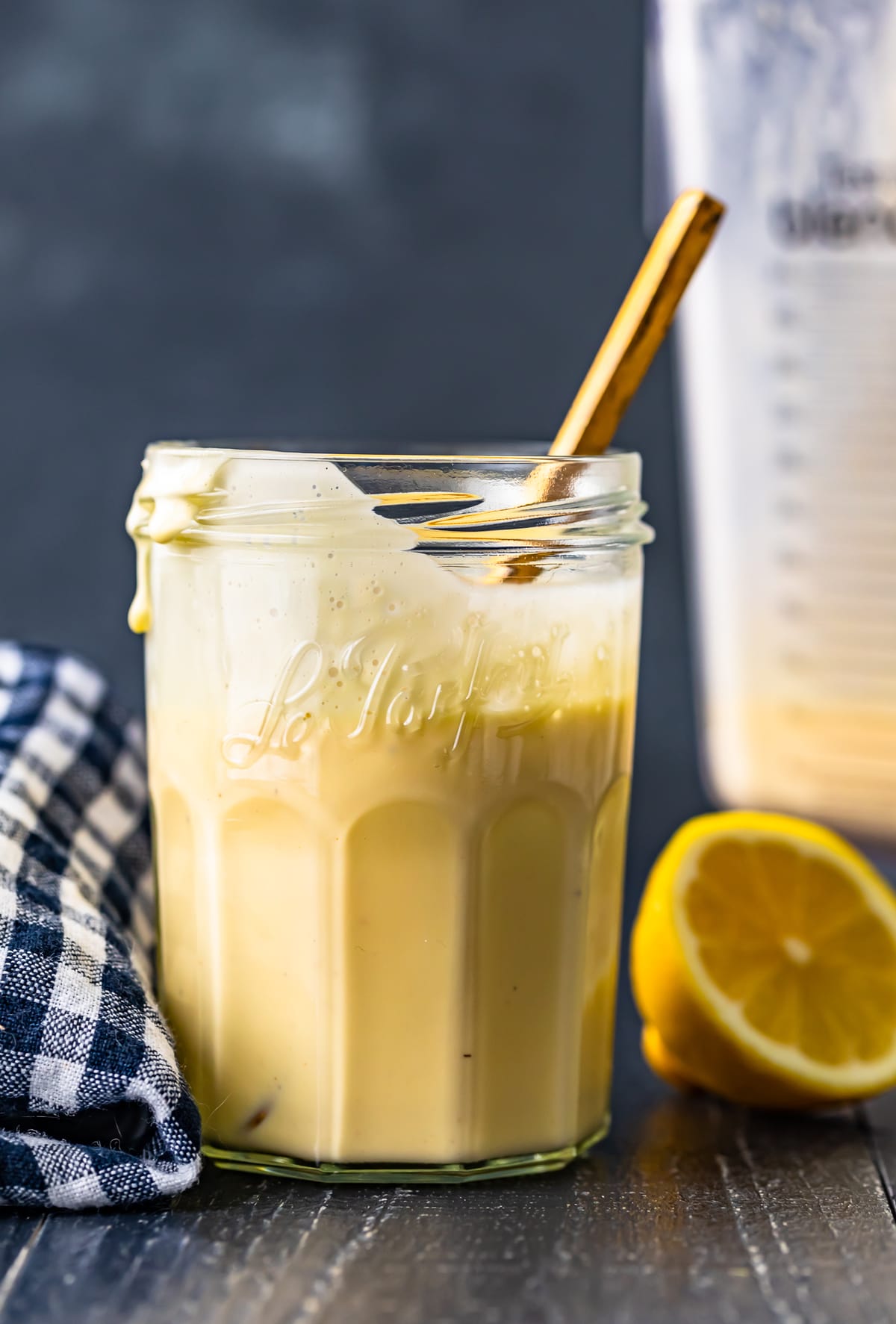 How to Make Eggs Benedict Casserole
This breakfast casserole is surprisingly simple. You can get up in the morning, spend about 15-20 minutes putting this together, and then let it bake. It's the perfect thing to make for breakfast when hosting guests, or when you have family over for the holidays.
The EASY way to make Eggs Benedict:
Preheat the oven to 375°F, and use softened butter to coat the inside of your casserole/baking dish.
Cut/tear English Muffins into pieces, and place them along the bottom of the dish.
Drizzle melted butter over the muffins, and then place the chopped pieces of ham on top.
In a mixing bowl, combine eggs, milk, heavy cream, nutmeg, garlic powder, dried mustard, salt & pepper. Pour the mixture over the muffins and ham so that it's fully covered.
Now cover the baking dish with aluminum foil and bake 30 minutes at 375°F.
Then remove the foil, sprinkle with a bit of paprika, return to the oven, and bake (uncovered) another 25-30 minutes.
Make the easy Hollandaise sauce while the casserole is baking so it's ready to drizzle on top when it's done. Check the recipe card for full detailed instructions.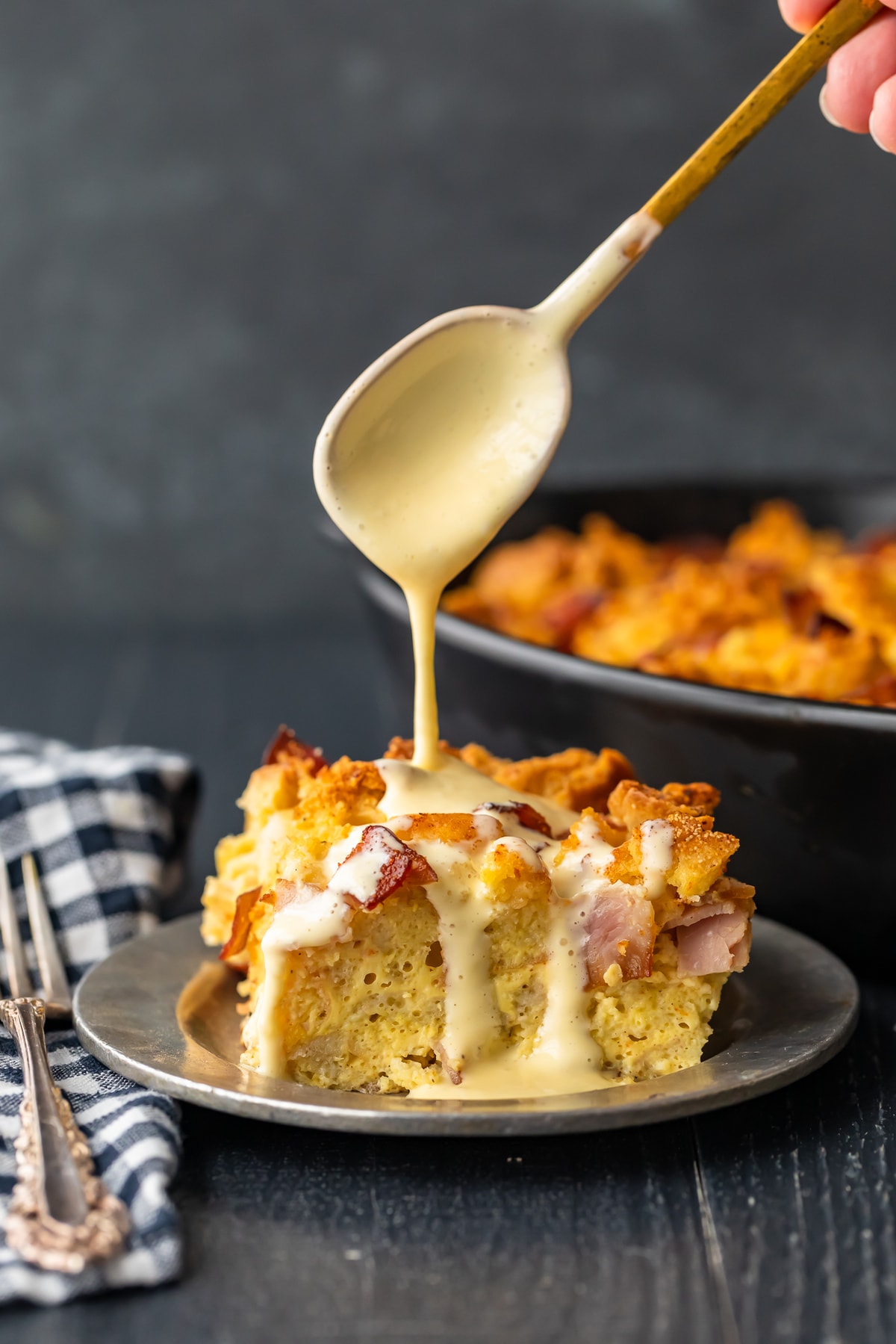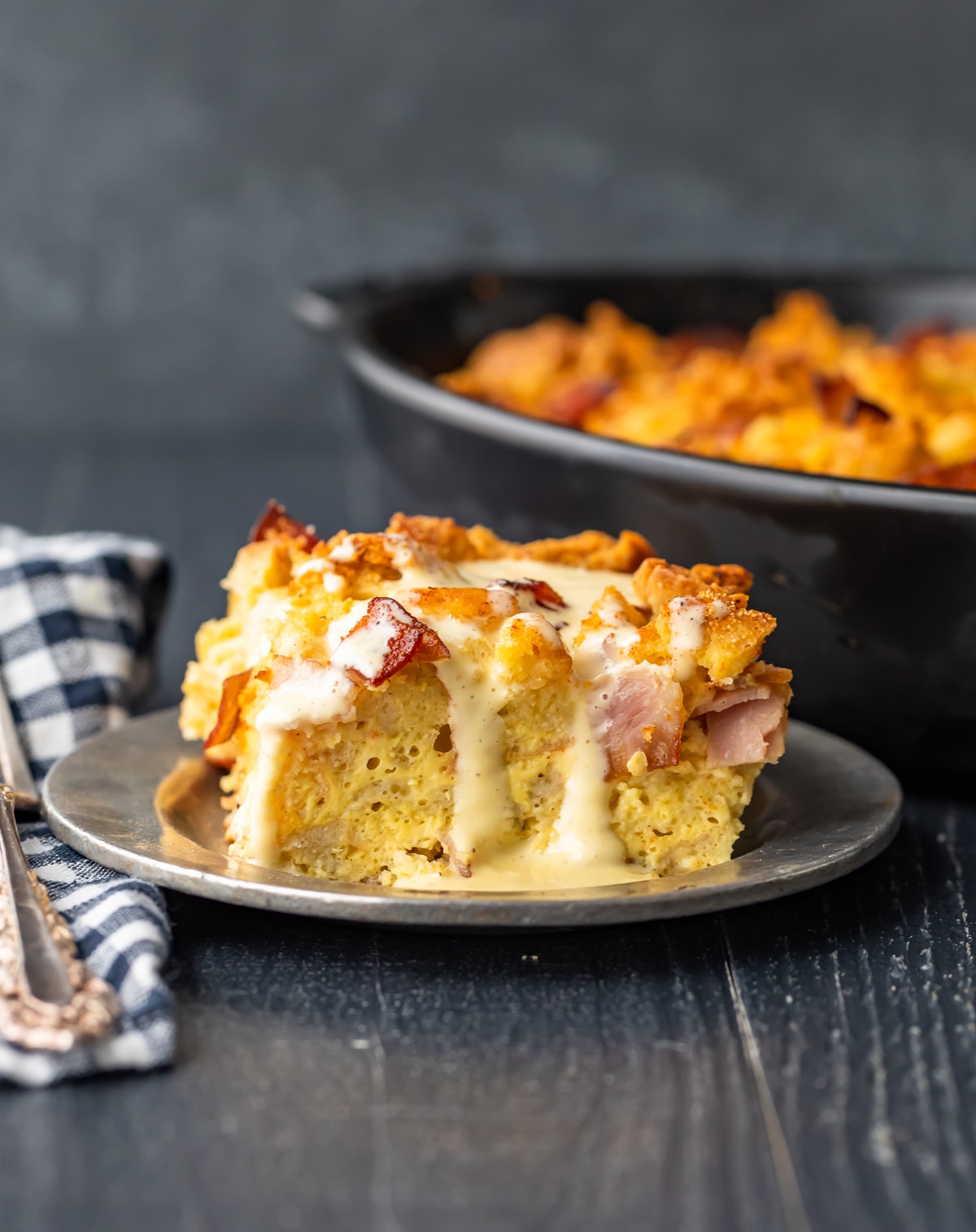 Easter Brunch Ideas
This easy eggs benedict casserole is the perfect Mother's Day Brunch recipe, and it's great for Easter too! I love serving brunch for Spring holidays. There's nothing like gathering late on a Sunday morning for some delicious breakfast food. Eggs, pancakes, french toast…it's all more than welcome around here! (It's even more fun when you set up a homemade bellini bar for the occasion!)
Here are some more Easter Brunch Ideas to consider: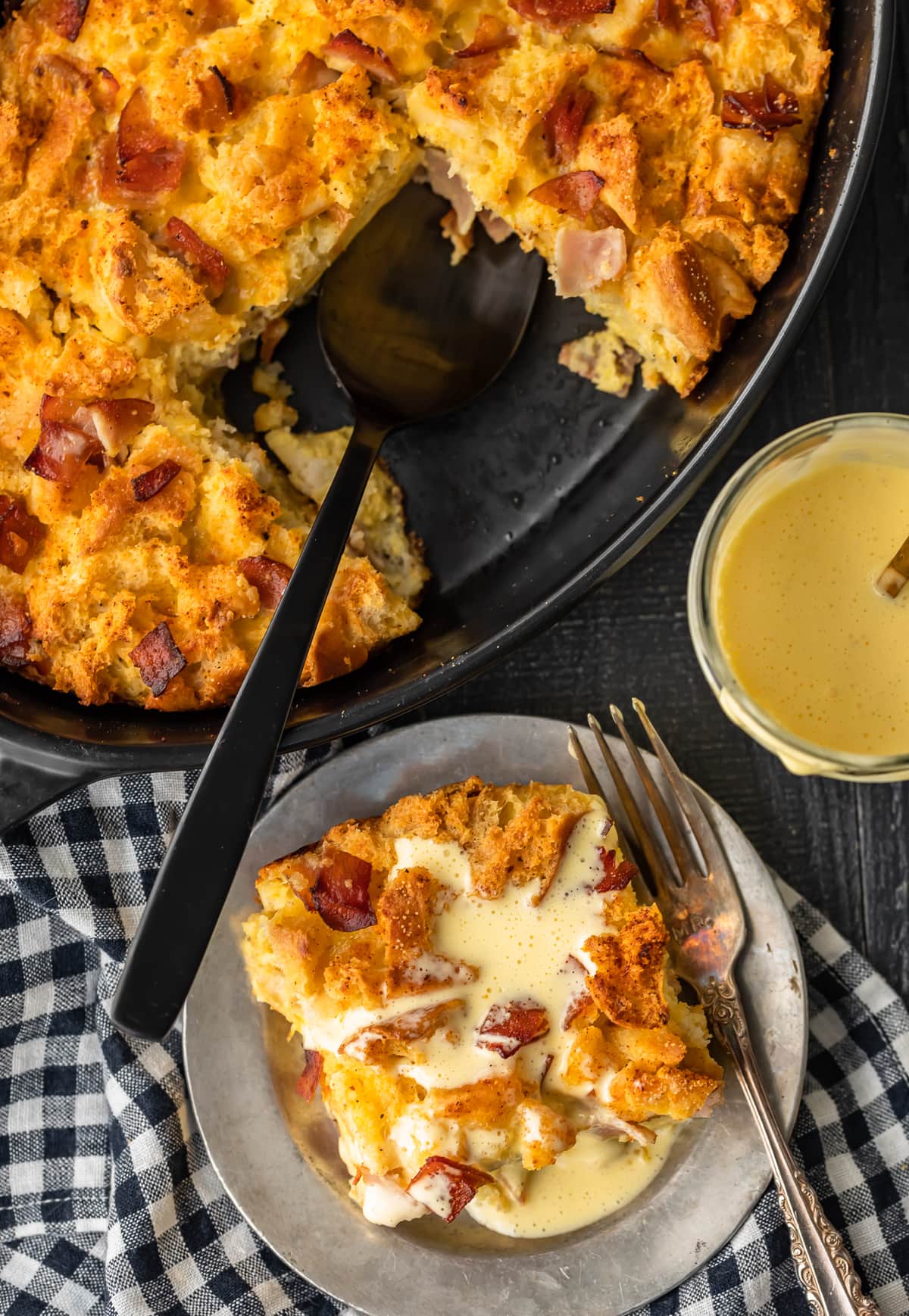 Whether you make this for the holidays, a weekend brunch, or just for a nice family breakfast, I hope you love this dish as much I do.
See the recipe card for details on how to make Eggs Benedict Casserole. Enjoy!
If you like this easy eggs benedict recipe, try these other breakfast ideas: