Black Bean Burger Sliders, with hummus and salsa for loads of fajita flavor!! Healthy, easy, and delicious! The Mexican flavors in this healthy appetizer recipe are perfect for tailgating!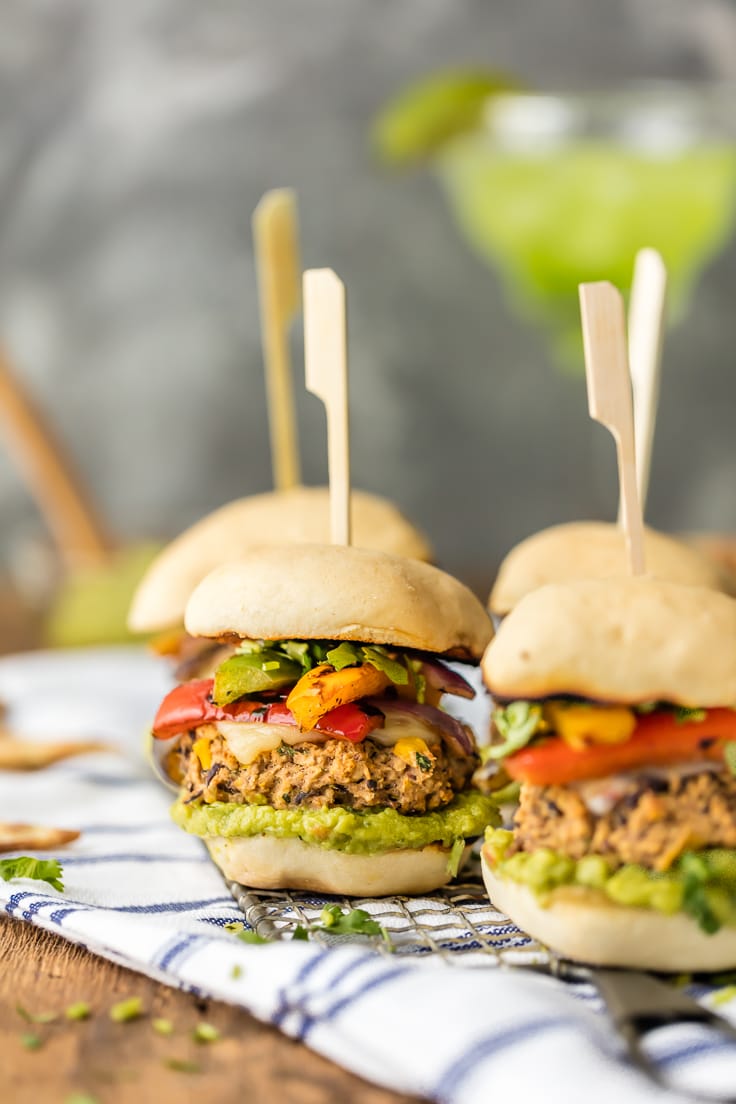 I am SO excited to share this easy sliders recipe with you. HUMMUS FAJITA BLACK BEAN BURGER SLIDERS!!! My first time making a veggie burger recipe AND my first time LOVING IT! I have tried veggie burgers in restaurants before, but have never been impressed. But this recipe is different. I challenge anyone and everyone to try this recipe! I'm super proud of it and I think it's just perfect for tailgating. Just perfect for THE SUPER BOWL!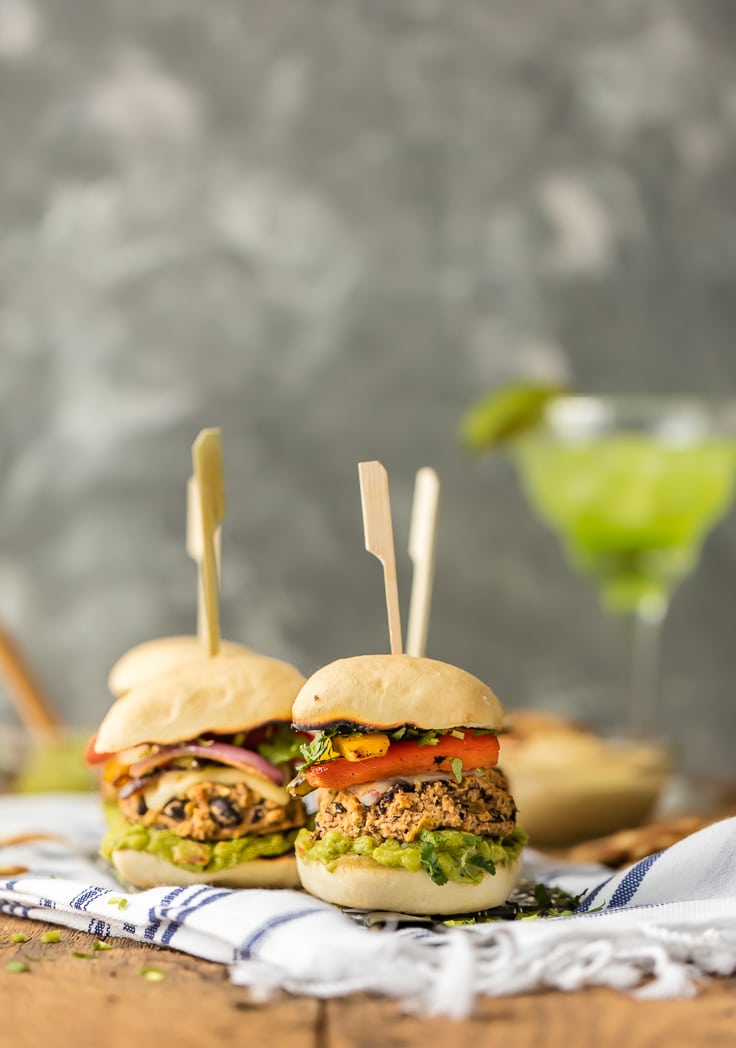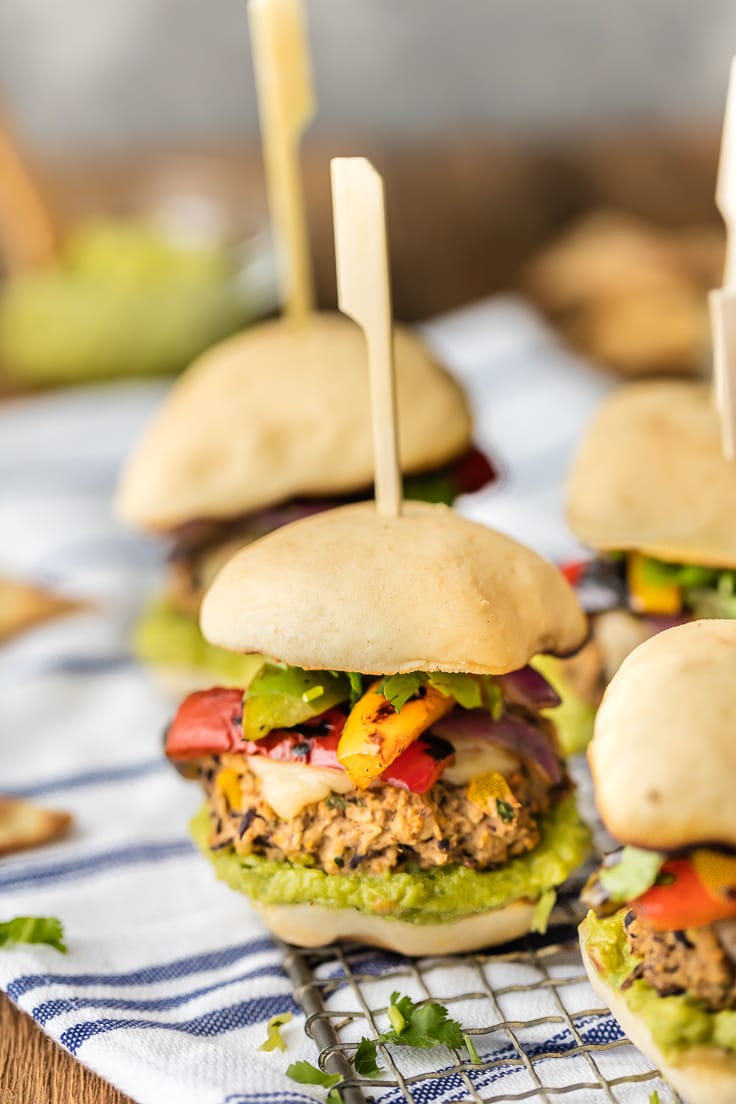 You guys know I love sports. I almost stroked out when the Royals won the World Series. Football is another one of my favorite things, and it just so happens the Super Bowl is coming up FAST. My Chiefs lost last weekend…but that's okay. I'm still on a high from the World Series and ready to chow down during the Super Bowl no matter who is in it!
I'll be ready with these Hummus Fajita Black Bean Burger Sliders, AND I won't even have to feel guilty when I eat 5 all by myself!
You guys…THE FLAVOR. I'm telling you, it surprised me. I'm a meat eater. But I'm trying to be a bit healthier for the New Year so I thought I'd try my hand at veggie burgers. I hit the veggie burger jackpot!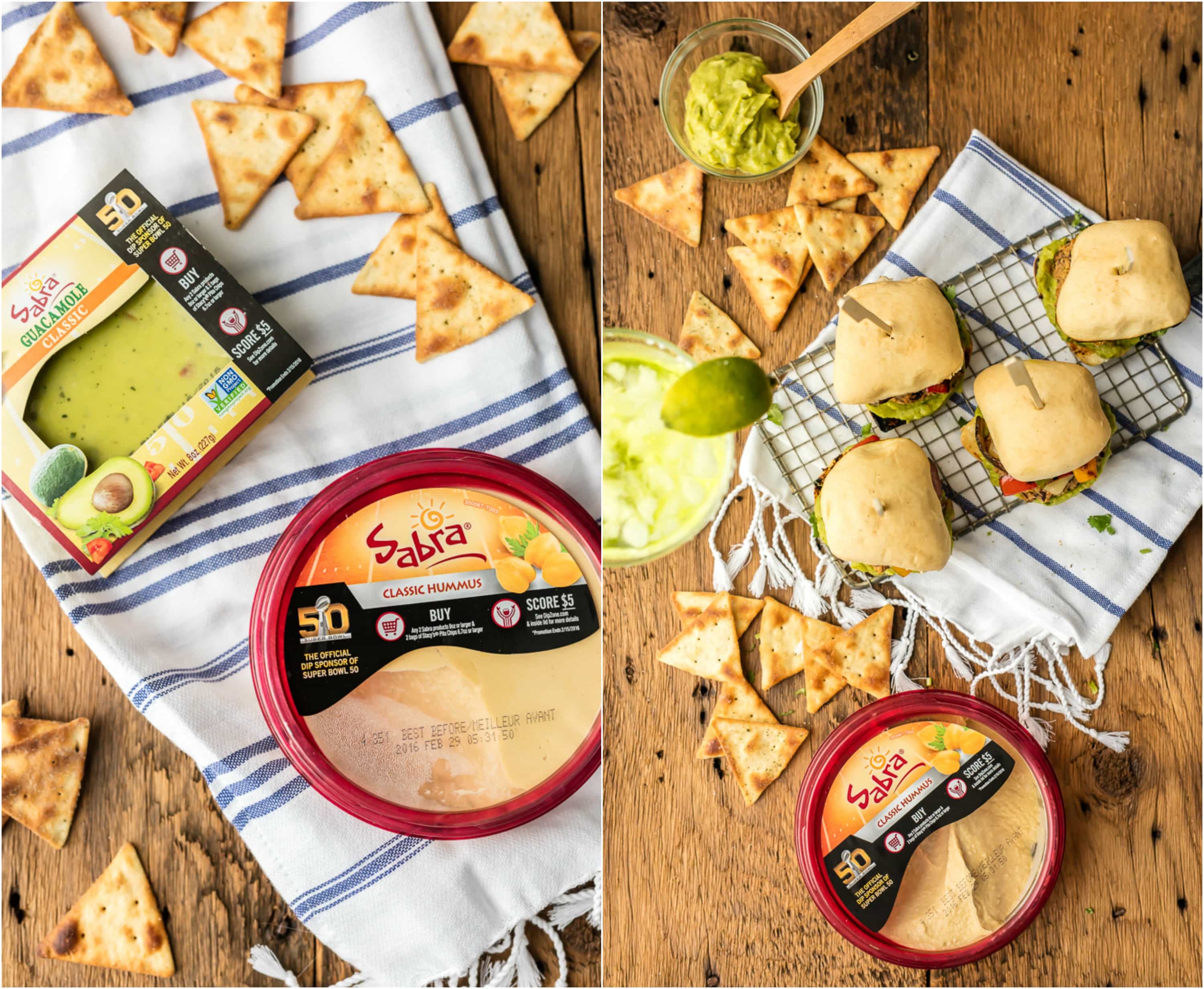 What gives these so much flavor is the addition of Sabra Hummus and the garnish of Sabra Guacamole. I am so thrilled to be partnering with Sabra to bring you this fun tailgating recipe. Sabra is the official dip sponsor of the Super Bowl, and they're ready to shower you with coupons to celebrate!
Their hummus is perfection. I added a tablespoon into the black bean burger mixture, and it was just what was needed to amp up the flavor. Their guacamole is hands down the best store-bought guac I have EVER tasted. Adding it as a topping to these fajita black bean burger sliders took them to the next level. You'll have leftover hummus AND guacamole when making this recipe, perfect for dipping as another appetizer during the big game. Or use the guac to make a batch of margarita guacamole. I seriously cannot get enough.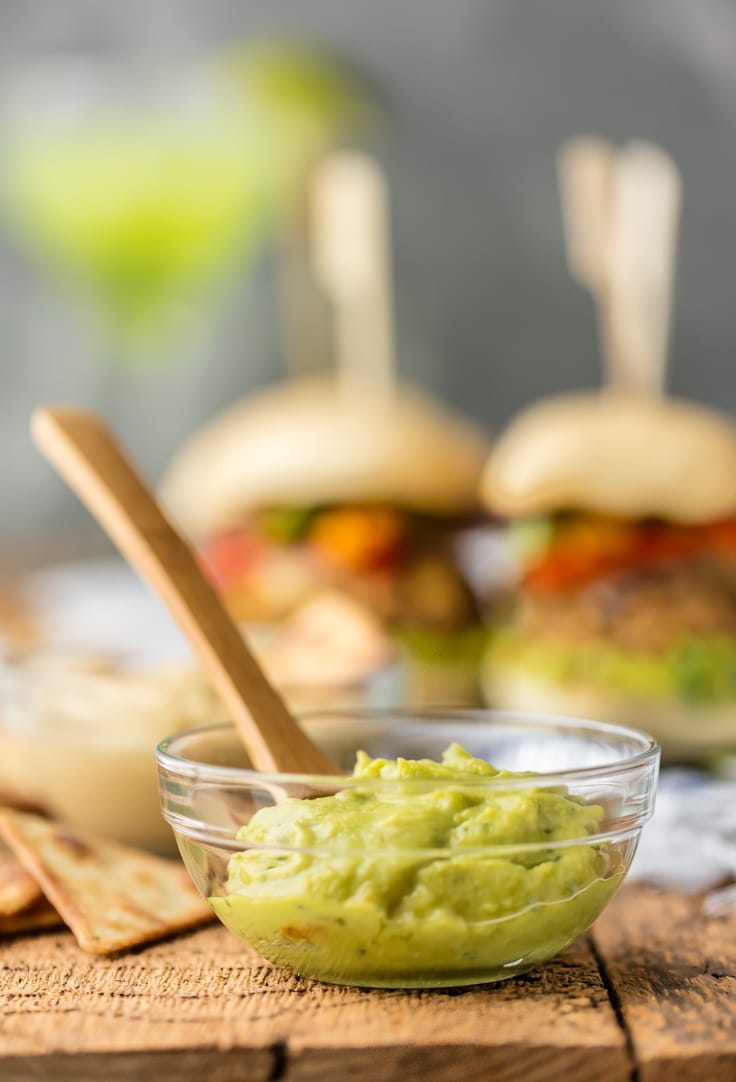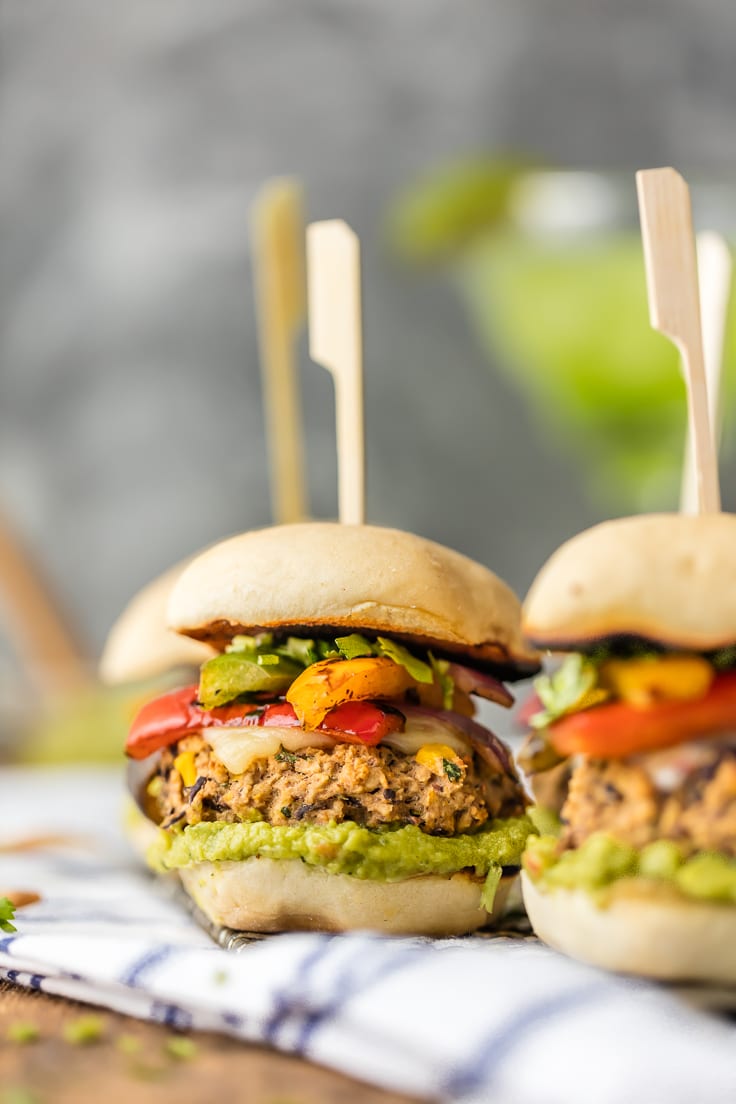 I hope the veggie burger lover and skeptics alike will try this black bean burger sliders recipe.
Let me know what you think! I added some cheese just to stay true to myself. :)
Be sure to take advantage of Sabra's awesome dips and spreads by pairing them with Stacy's Pita Chips before 2/15/15. Buy two of each together and you'll score a $5 gift card. Buy, snap, score! I can't imagine a better pairing for the Super Bowl.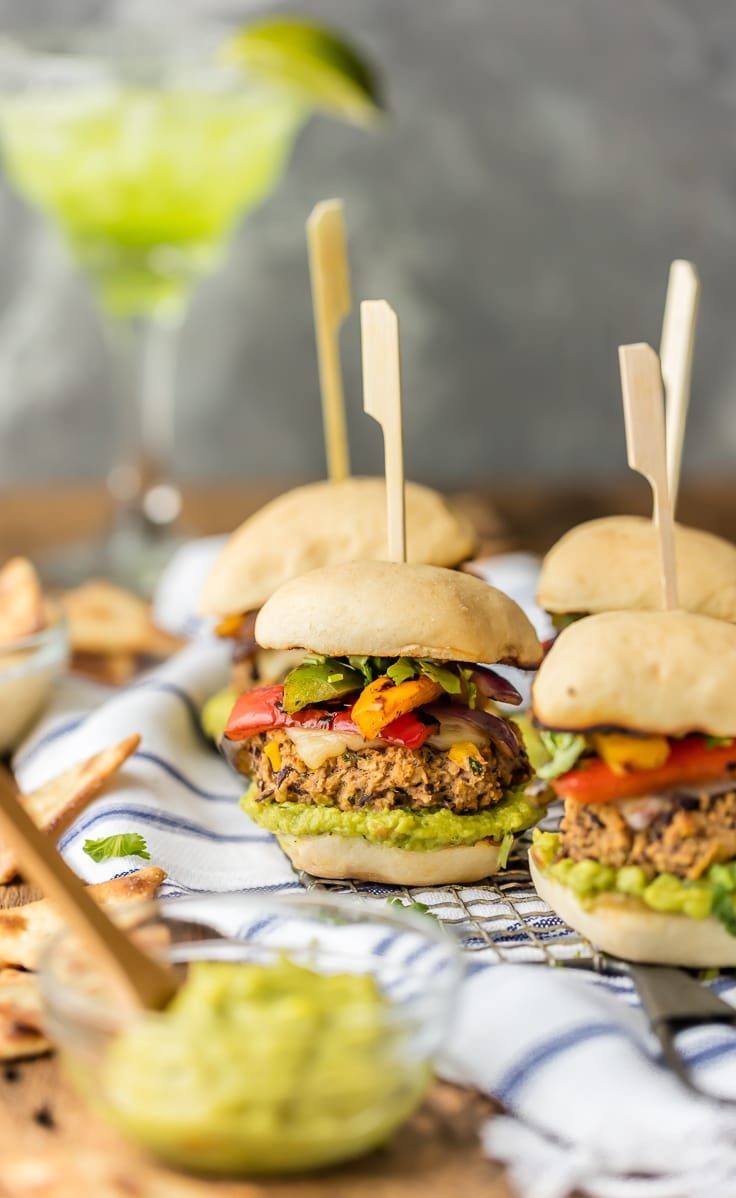 Enjoy!
Ingredients
1 (15 ounce) can black beans, drained and rinsed
1/4 cup Mexi-corn, drained and rinsed
1 tablespoon Sabra Hummus
1/4 cup freshly chopped cilantro (if you hate cilantro (SHAME! :)) you can use parsley instead!
1/2 ounce (half of one packet) fajita seasoning
1 1/2 tablespoon olive oil, divided
1 teaspoon salt
1 teaspoon black pepper
2 large eggs
1 cup panko bread crumbs
2 slices pepper jack cheese, cut in fourths
1 red pepper, sliced
1 green pepper, sliced
1/2 red onion, sliced
8 slider buns
1/2 cup Sabra Guacamole
Instructions
Preheat oven to 425F
In a food processor or blender, place the beans, corn, hummus, cilantro, fajita seasoning, 1 tablespoon olive oil, and salt and pepper. Pulse approximately 15-20 times or until a chunky paste forms. It's okay if there are still some bean and corn pieces, it shouldn't be fully smooth. Pour paste into a large bowl,
In a separate small bowl, lightly whisk the two eggs. Pour the eggs into the bean paste and stir to fully combine. Add in the bread crumbs, adding a bit more if need be. The consistency should be plyable and thick.
Make 8 small patties out of the bean mixture and place on a foil lined baking sheet. The beans won't change shape in the oven, so make the patties the shape you would like them to be when finished.
Cook the patties for 20 minutes, rotating the pan halfway through. (see note if you would rather grill!)
While patties are cooking, prepare you fajita veggies. In a large skillet over medium high heat, add your peppers and onion slices with the remaining 1/2 tablespoon olive oil. Cook, stirring occasionally, until the veggies are slightly charred and soft. You don't want to saute them completely, you want to keep a bit of crunch. Season with a pinch of salt and pepper and set aside.
When there are two minutes left on the burgers, Add a 1/4 of a slice of cheese to the top of each burger, letting the cheese melt in the oven.
To assemble your Hummus Fajita Black Bean Burger Sliders, spread a generous amount of guacamole on the bottom half of each slider roll. Top with a Black Bean burger, then top with a spoonful of the fajita veggies. Add the top half of the bun and enjoy!
Notes
If grilling, brush both sides of the patties with olive oil and grill over medium high heat for 4-6 minutes each, or until browned and cooked through. Place cheese on during the last 30 seconds on the grill.
7.6.4
2065
https://www.thecookierookie.com/fajita-black-bean-burger-sliders/
 This recipe is written in partnership with Sabra! Thank you so much for supporting the brands that help support The Cookie Rookie! As always, all opinions are 100% my own. Guac FOREVER!

JOIN OUR MAILING LIST
TO GET COOKING!
Subscibe to recieve all the latest, greatest, and EASIEST recipes sent straight to your email inbox. If we post something yummy, you'll be the first to know.