This unique chicken nuggets recipe is baked in the oven. They are super crispy because they are covered in a batter made from SunChips® French Onion Flavored Whole Grain Snacks. You get that delicious french onion flavor in homemade chicken nuggets. BEST EVER!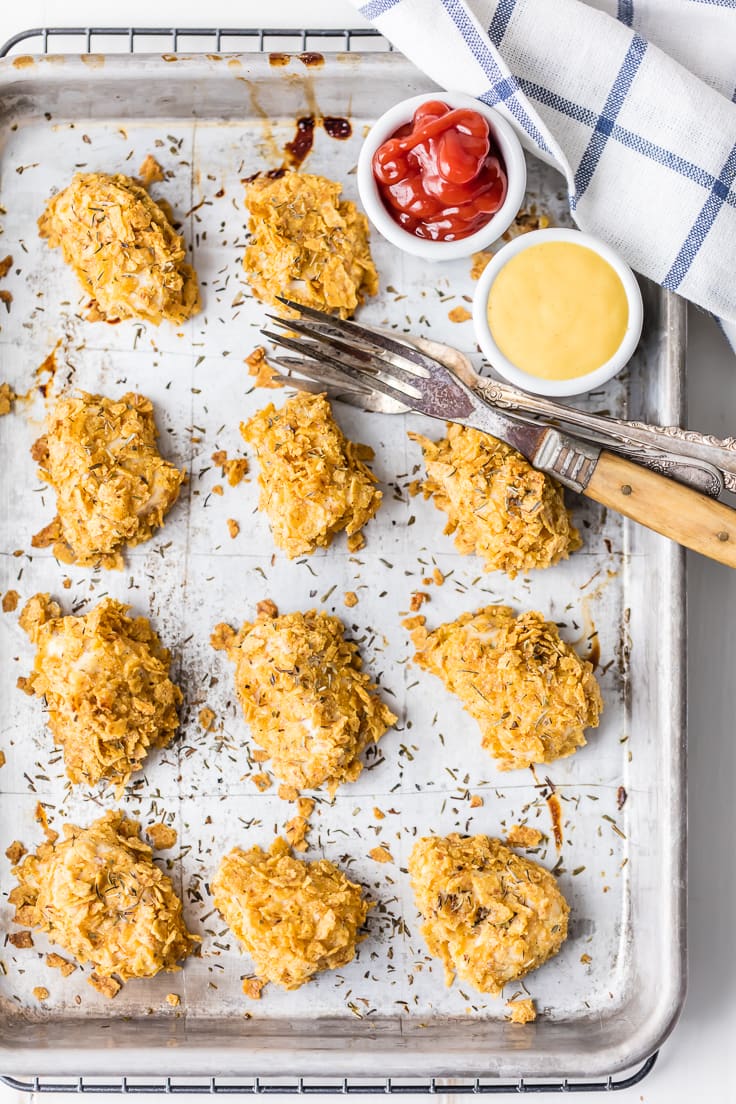 Crispy Chicken Nuggets Recipe
These crispy chicken nuggets are covered in French Onion chips for a delicious flavor. It's an easy dinner idea, and kids will eat them up!
This recipe is a game changer. GAME CHANGER. Why have I never made homemade chicken nuggets before? I mean…mind blown.
This French Onion Chicken Nuggets recipe is a homemade version of a childhood favorite, baked to crispy perfection in just minutes. The secret ingredient (not so secret…it's FRENCH ONION SUNCHIPS® French Onion Flavored Whole Grain Snacks!) makes the outside extra tasty while keeping them from being too heavily breaded.
Kids will LOVE these, but don't be fooled–adults can love chicken nuggets too! Best of all, these are freezer friendly, so you can save leftover, or make big batches ahead of time for quick meals.
Make these delicious baked chicken nuggets at home for a family-friendly meal that EVERYONE will love!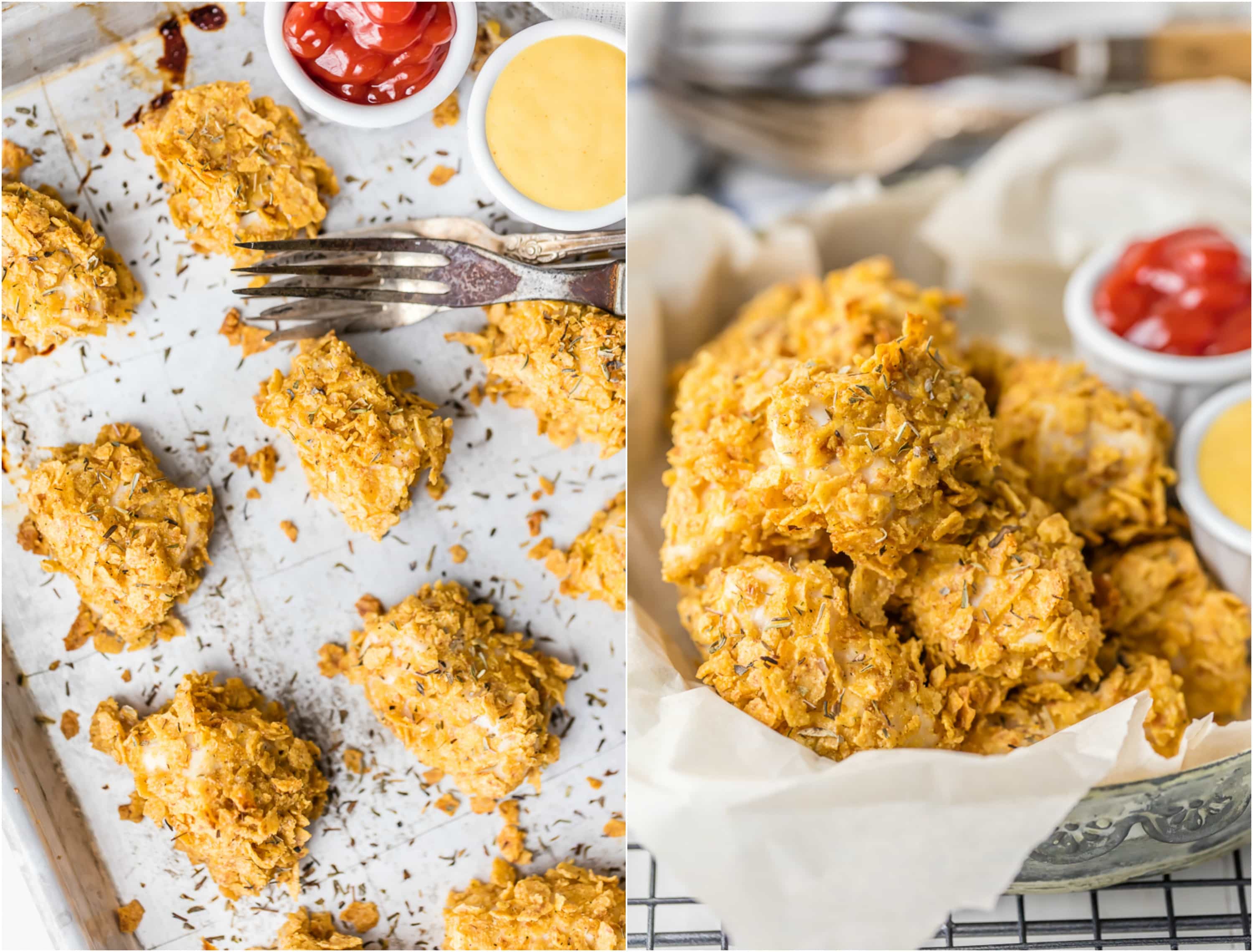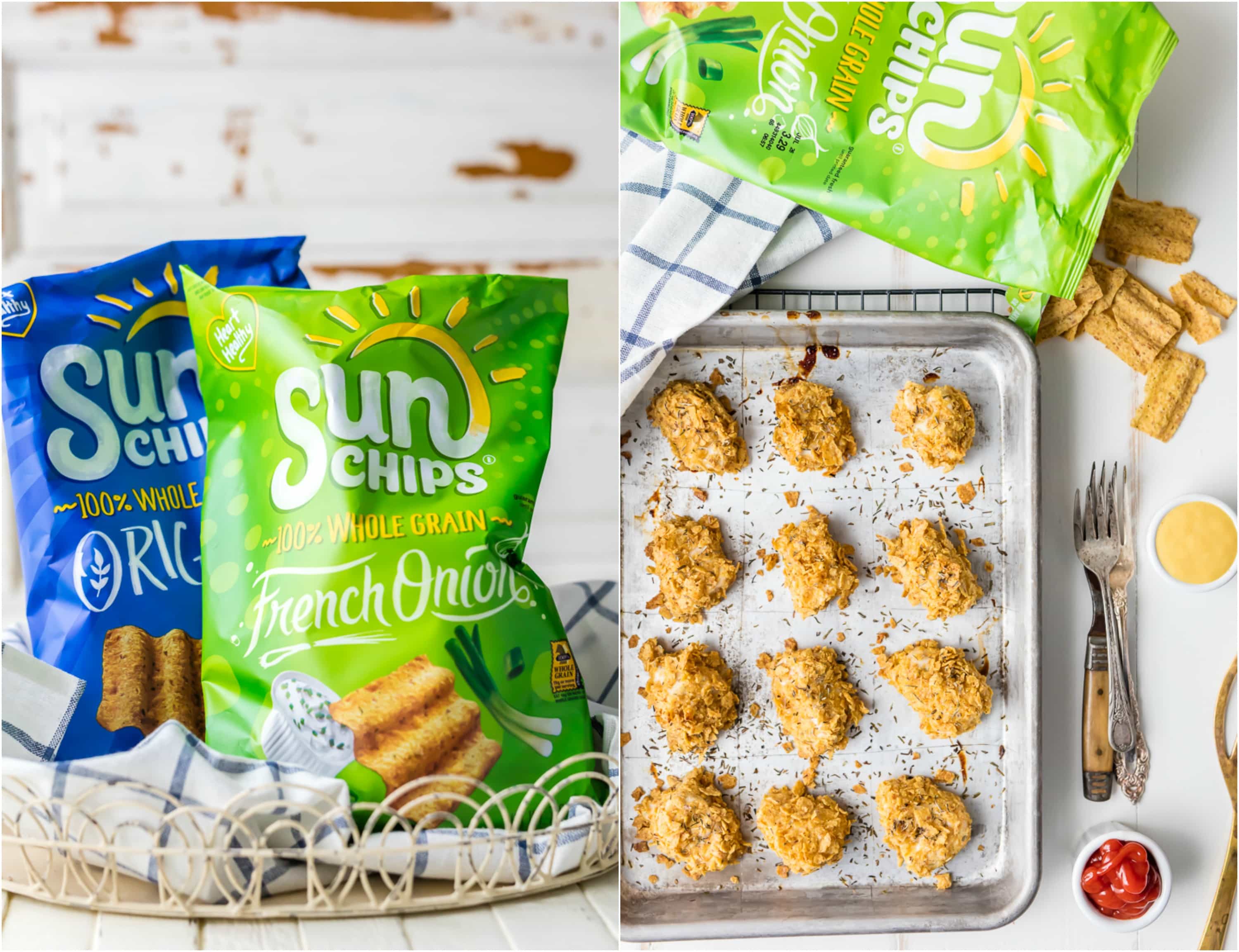 French Onion Chicken Nuggets
Like I said above, it's SunChips® Whole Grain Snacks that make these nuggets special. You could use any flavor of chips for this recipe, but I used the French Onion Flavor! I just love the subtle flavor of the "breading" for these chicken nuggets. It's not overwhelming, but it adds a nice touch.
These chips have always been a favorite, and they make the perfect crunchy topping to these Freezer Friendly Chicken Nuggets. If these can't put a smile on your face, I don't know what can!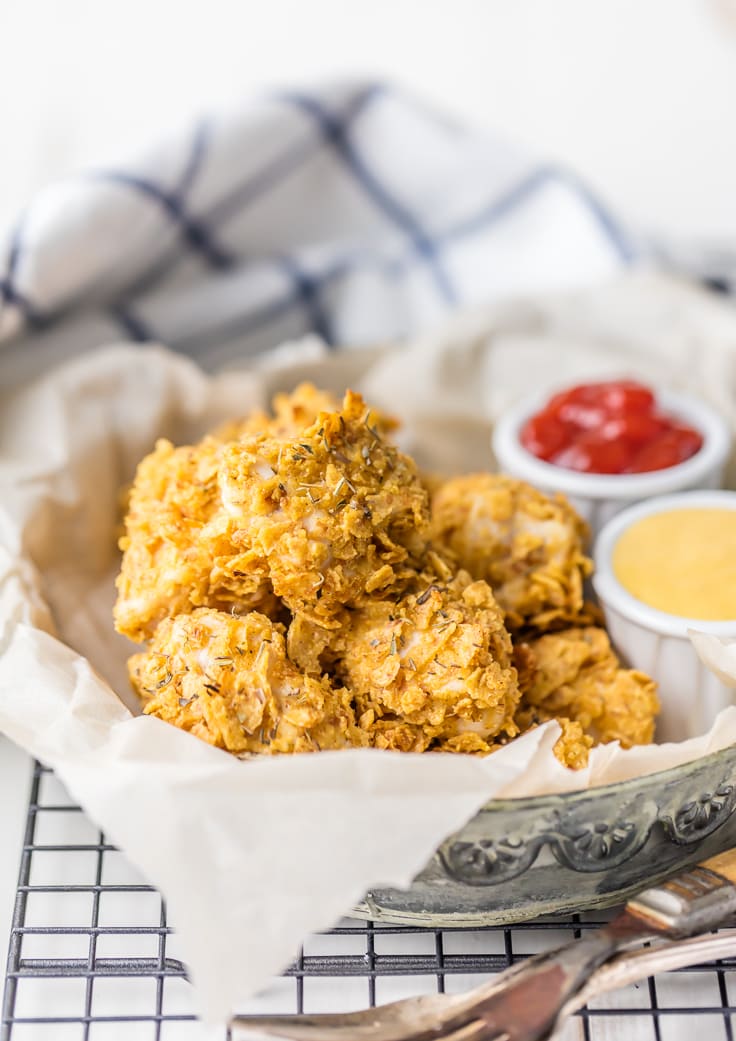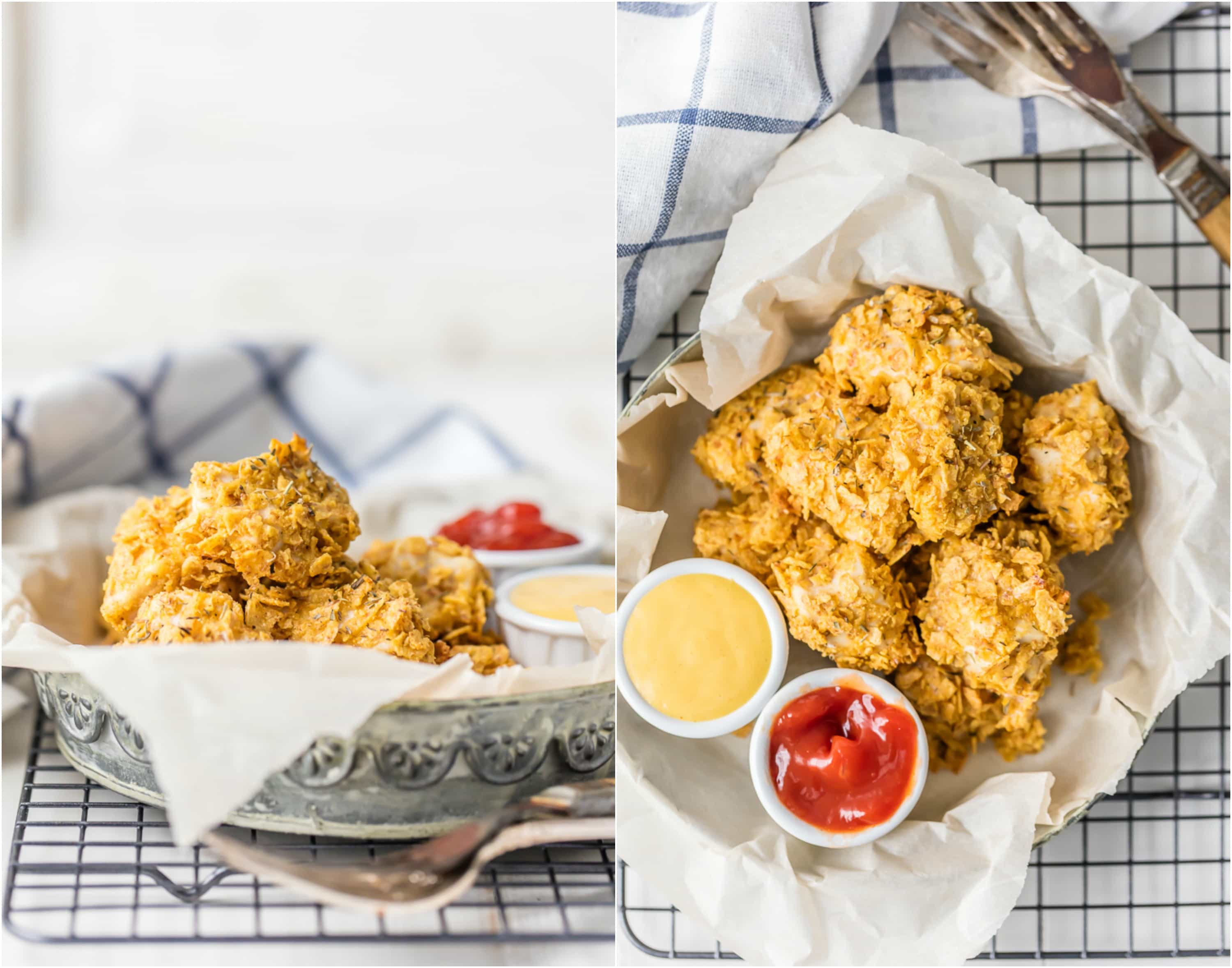 How to Make Chicken Nuggets Crispy
This chicken nuggets recipe is so easy to make! And did I mention these bad boys are freezer friendly? If you have any leftover after dinner (doubtful), just pop them in a freezer bag and freeze up to one month. You can easily warm them up in a microwave or in the oven when you're ready to eat again. Like I said, game changer!
How to Make French Onion Nuggets:
Crush up whatever chips you're using, and place them in a shallow bowl.
In another shallow bowl, whisk together egg and milk.
Preheat oven to 350°F, and cover a large baking sheet with non-stick spray.
Dip each piece of chicken into the egg mixture, then into the crushed chips and coat fully.
Place the nugget on the baking sheet and spray with olive oil spray.
Bake at 350°F for 15-18 minutes.
These nuggets are even better with our favorite dipping sauces! Add Honey Mustard, Ranch, BBQ, Sweet and Sour, or any other sauce you love.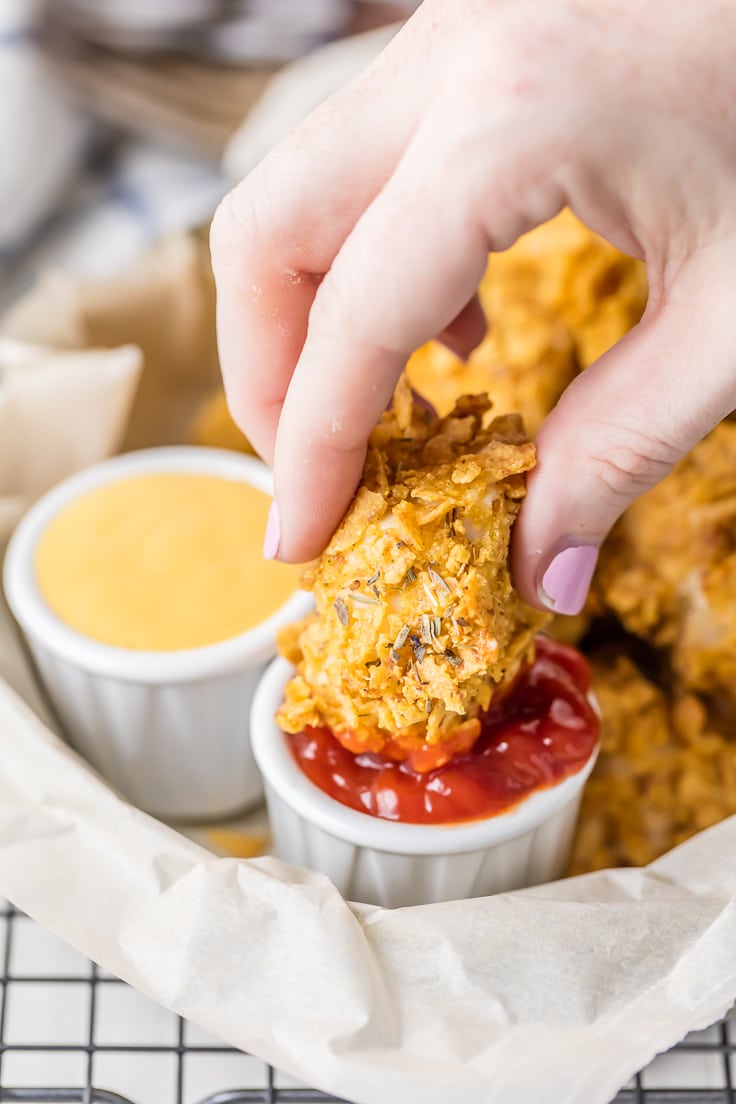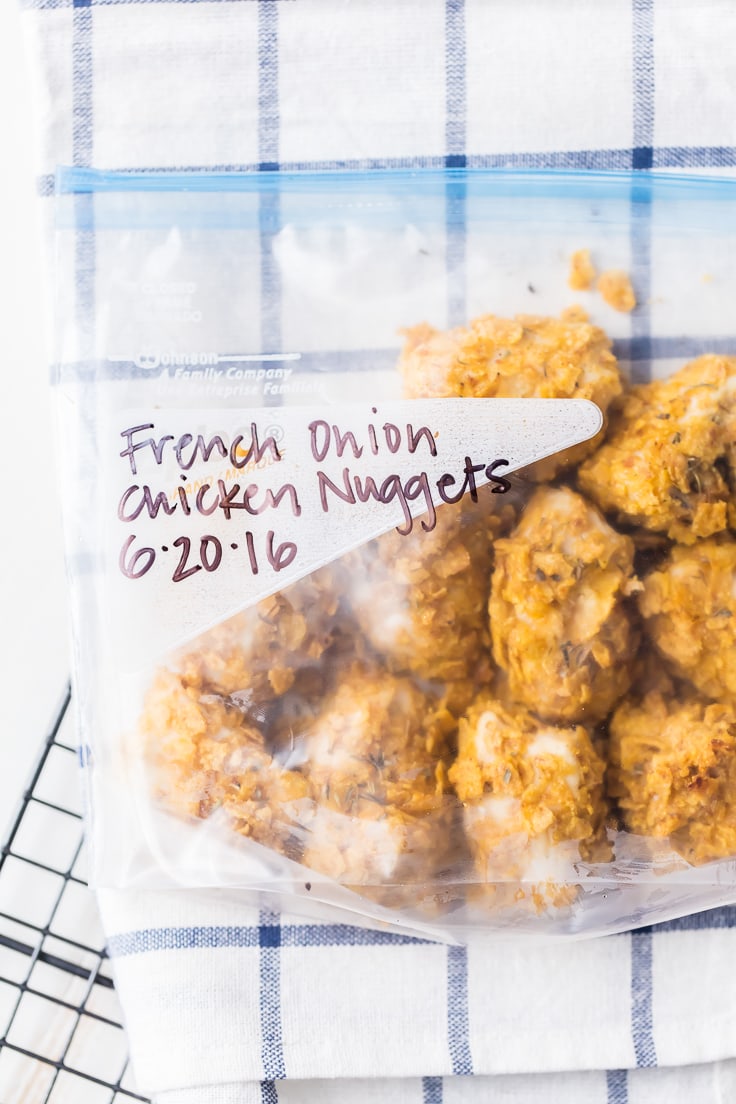 The kids will love these crispy chicken nuggets, and so will you! Easy to make, absolutely delicious, and definitely a family favorite.
See the recipe card for details on how to make Crispy French Onion Chicken Nuggets. Enjoy!
Try these other kid-friendly recipes that the whole family will love!