FRENCH SILK PIE FUDGE is an absolute must make for Christmas! This cute and creative chocolate fudge recipe is delicious, easy, and fun. Wow your holiday guests with this adorable twist on a holiday classic.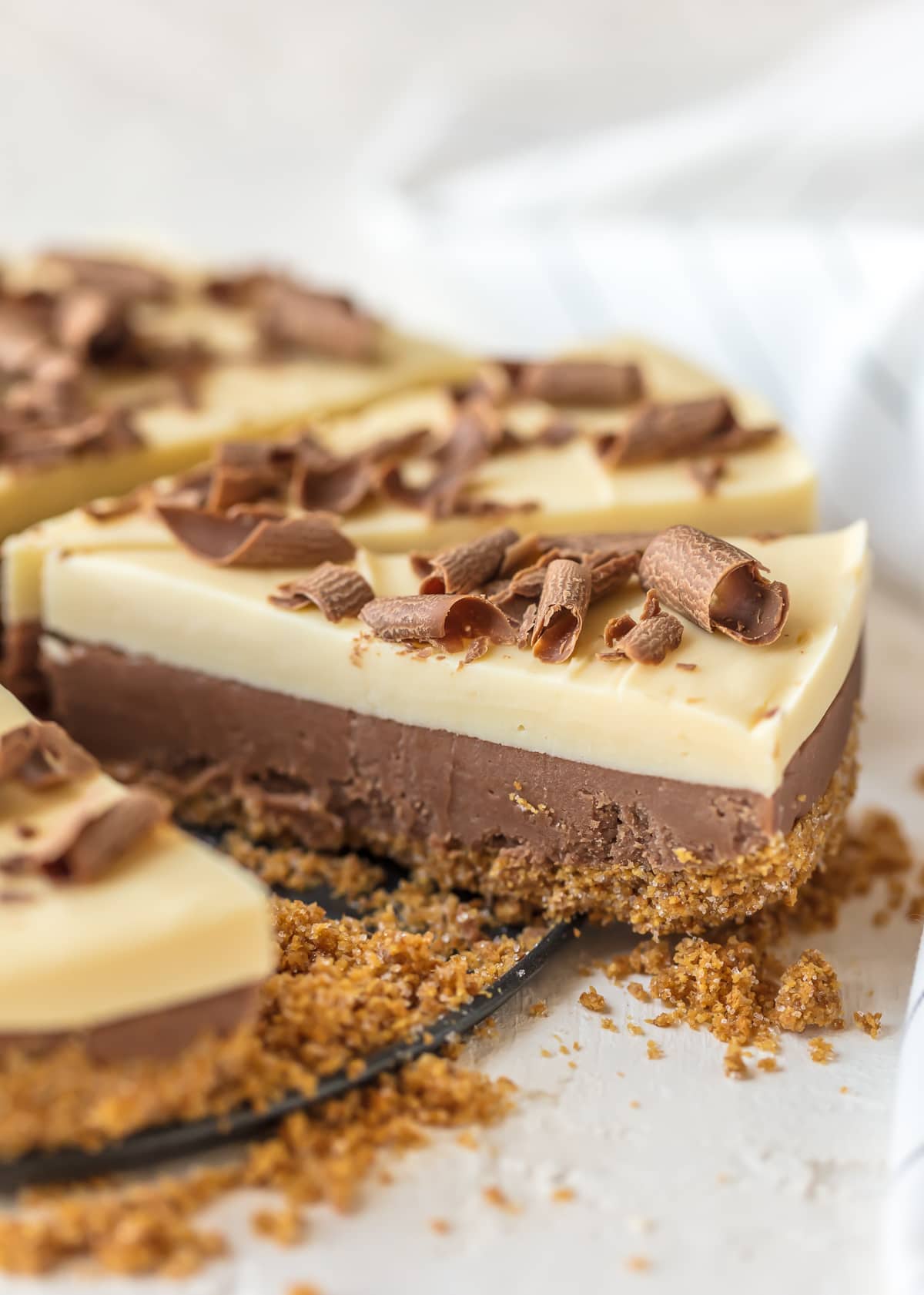 French Silk Pie Fudge
French Silk Pie Fudge is a delicious dessert inspired by the classic pie. This easy chocolate fudge recipe is SO addicting, and it's the perfect thing to serve during the holidays!
I cannot believe Christmas is almost here! How am I already posting holiday recipes? I'm in shock. I literally feel like we were just celebrating New Year's Eve last year, and now here we are. But the silver lining to the year going super super fast is that Christmas is just around the corner, and that means ALL THE BEST FOOD OF THE YEAR! We food bloggers wait for the holiday season the ENTIRE year…and it's gone in a flash. So this year I'm trying to slow it down, enjoy it, and start posting Christmas favorites early.
This French Silk Pie Fudge is one of my first Christmas themed posts of the year, and it also happens to be a favorite recipe. Everyone loves French Silk Pie, so I turned it into fudge because…well, why not? This chocolate fudge recipe is the perfect thing to serve during the holidays. It's made in layers, with white chocolate, chocolate, and graham cracker crust. It's got all of the traditional pie flavors but in fudge form. Yum!
Have you ever seen something so cute and fun? French Silk Pie Fudge also happens to be DELICIOUS, and it's the BEST FUDGE EVER…so it's a definite win win!
French Silk Pie Fudge is a fun treat to serve this holiday season. This chocolate fudge recipe will impress everyone's tastebuds!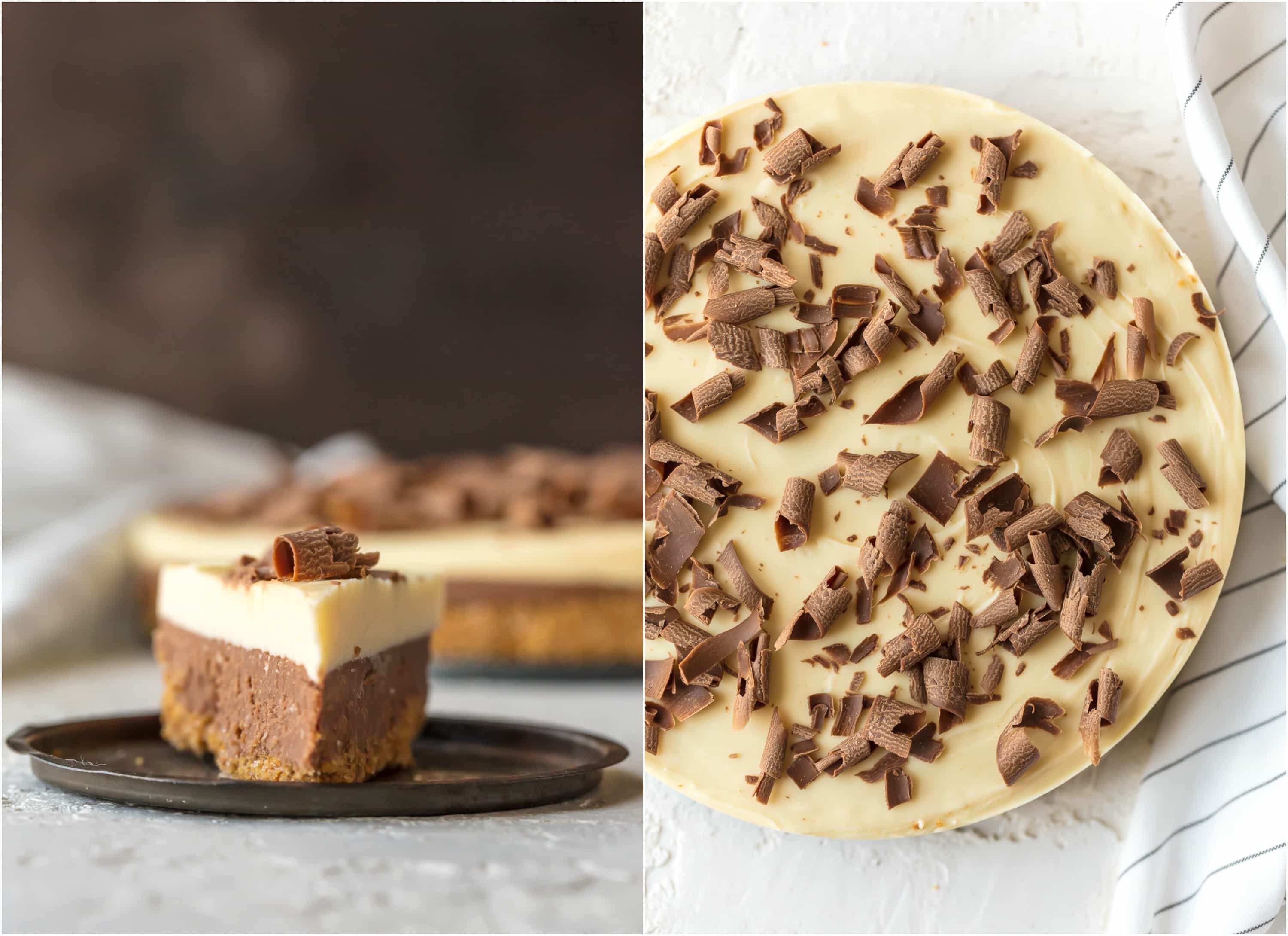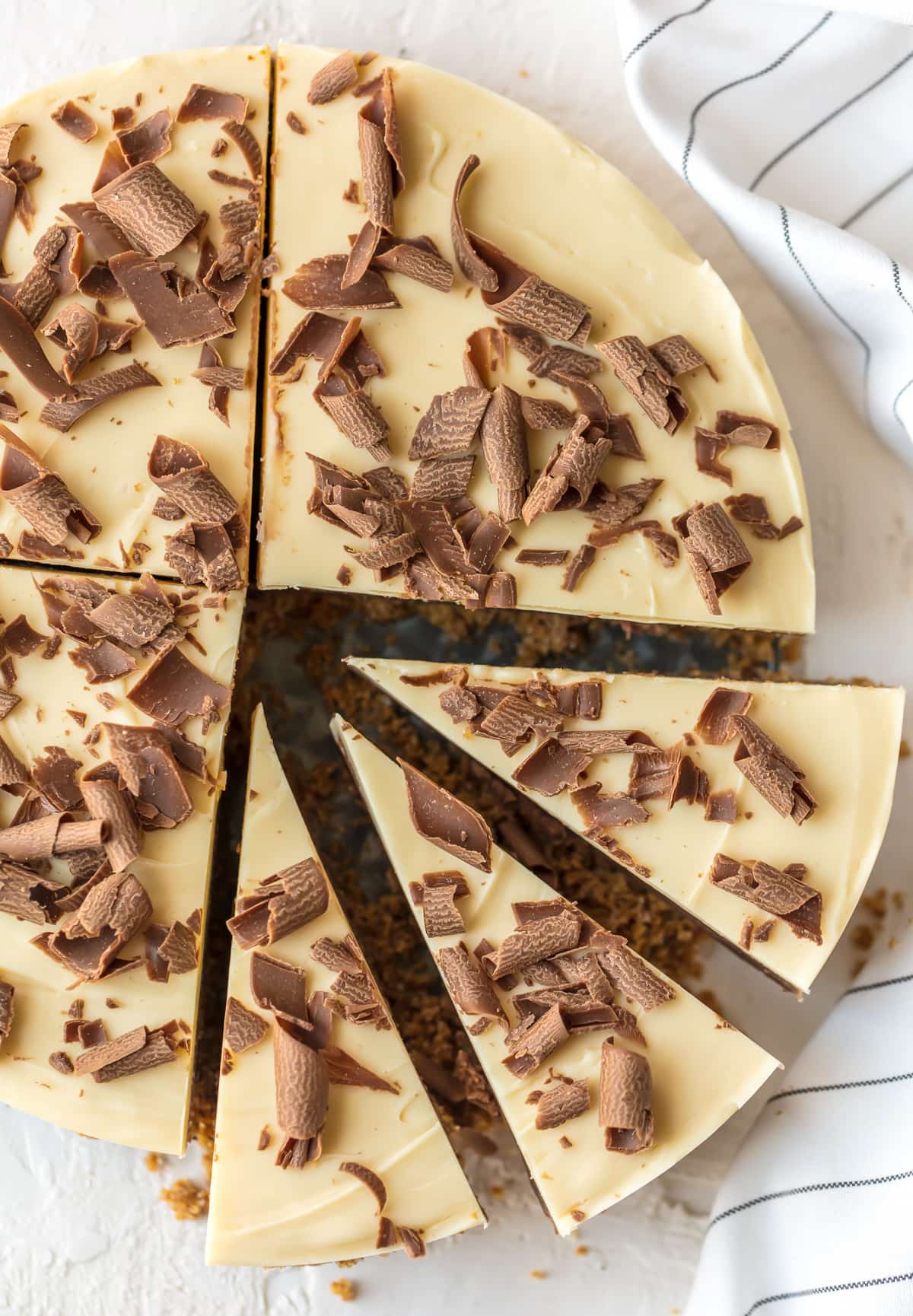 Easy Chocolate Fudge Recipe
French Silk Pie has always been my very favorite pie. Something about that creamy chocolate, whipped cream topping, and cute chocolate curls on top. I just can't get enough of it! This French Silk Pie Fudge emulates everything I love about the pie itself. I love a good chocolate fudge recipe, and this one is perfect. So much flavor, and so much fun!
This dessert doubles as an amazing holiday gift. I always have a hard time coming up with the right kind of gift to give people this season. This recipe solves that problem. Wouldn't you just love a coworker or family member to make this for you for Christmas?! I know I would! Fudge is always welcome on my doorstep!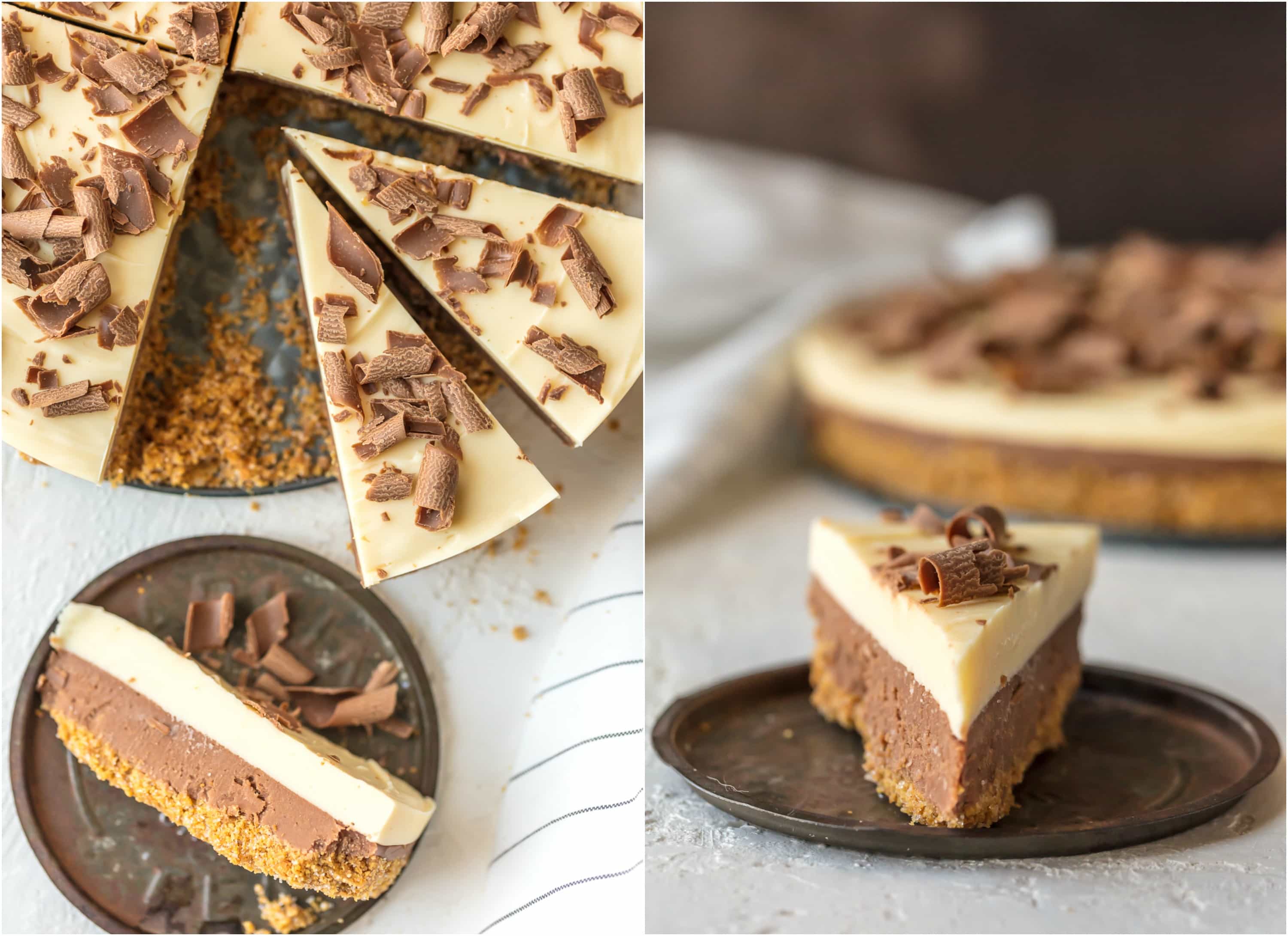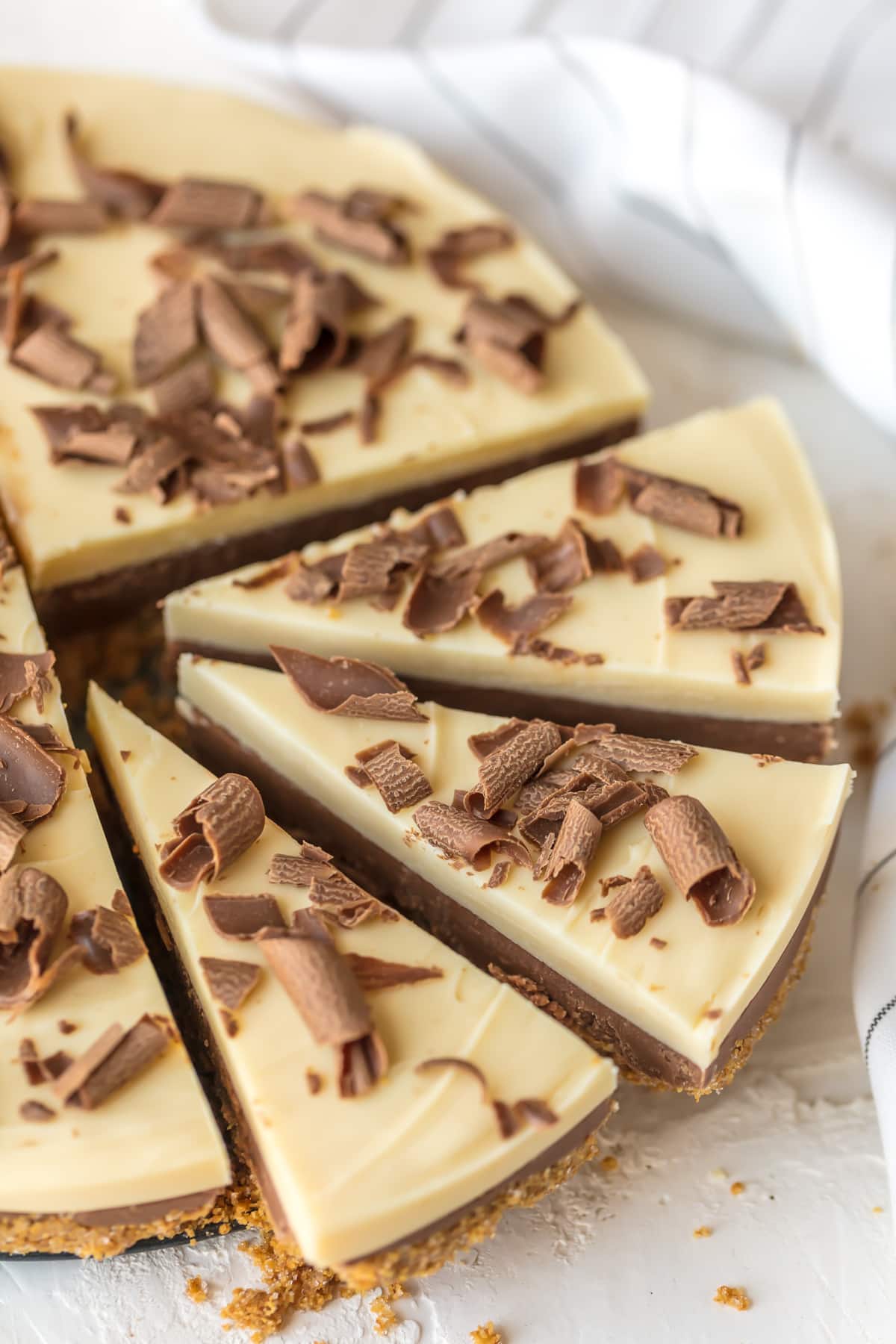 How to Make French Silk Pie Fudge
Fudge is a lot easier to make than it looks. It's made in layers, and then cooled to set it all into place. In the end, you have one seriously delicious chocolate fudge recipe! I love making this French Silk Pie Fudge during the holidays to share with guests.
Graham Cracker Crust – Use a food processor to make the graham cracker crust, and then press the mixture into the bottom of the pan. Refrigerate for 20-30 minutes before adding the second layer.
Chocolate Layer – Make the chocolate mixture in a saucepan. Then pour it over the graham cracker crust in an even layer, and let it cool in the freezer. Make sure it has set before adding the last layer.
White Chocolate Layer – Make the white chocolate layer in a saucepan. Let the mixture cool for 5 minutes, then pour over the chocolate fudge layer. Place in the freezer for 10 minutes, then transfer to the refrigerator until it becomes firm.
Sprinkle the fudge with chocolate shavings, and refrigerate for at least an hour to allow everything to finish setting.
Cut & Serve – Once the fudge has fully set, remove it from the pan. Cut it into slices to serve.
To store this chocolate fudge freezer pie, place it in an airtight container. It will keep at room temperature for up to 1 week, in the refrigerator for up to 1 month, or in the freezer for up to 4 months. See the recipe card below for detailed instructions.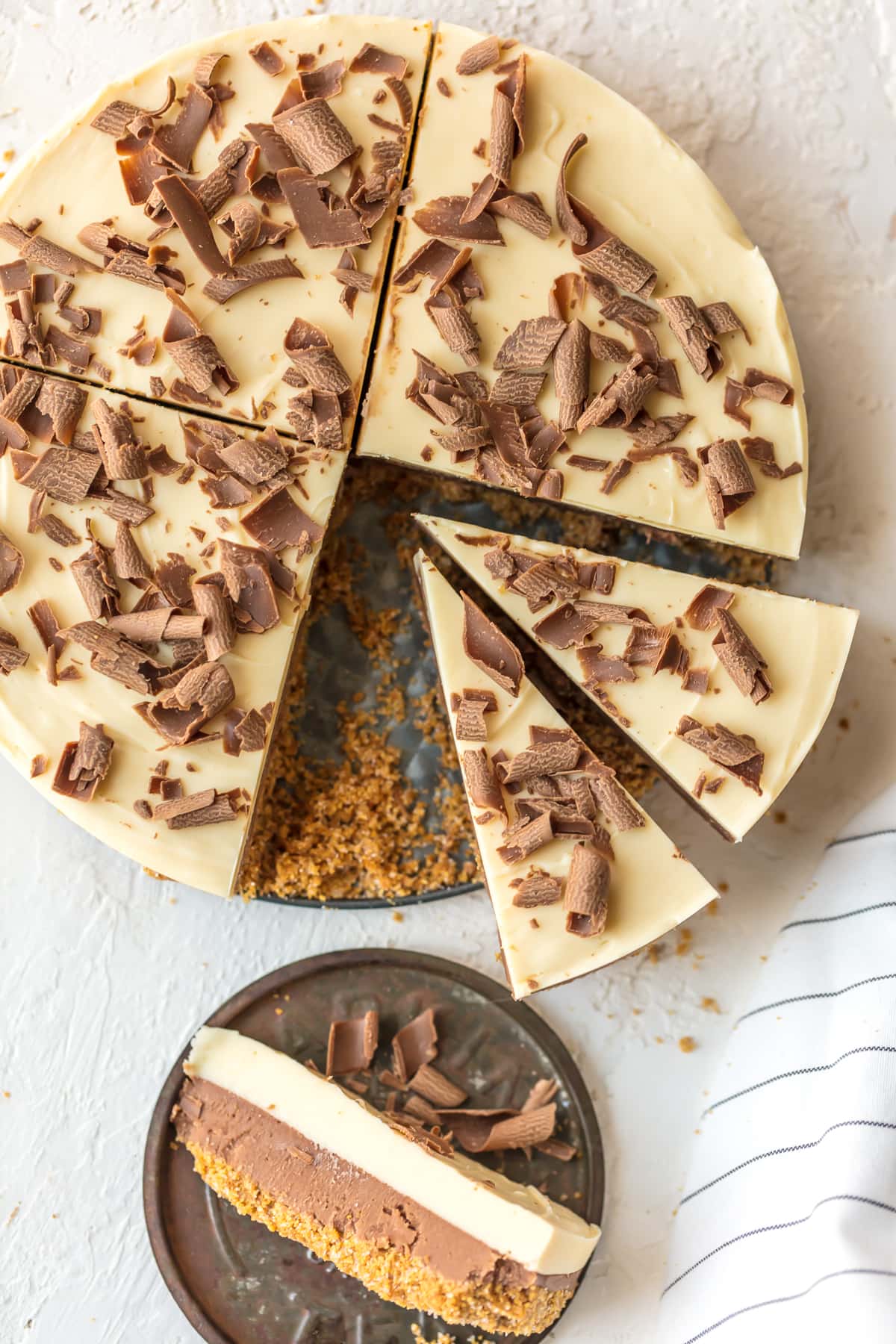 No Christmas dessert spread will be complete this year without this adorable French Silk Pie Fudge! I just can't get enough, and I hope that you love it as much as we do!
See the recipe card below or click the video to see how to make this French Silk Pie Fudge. Enjoy!
If you like this chocolate fudge recipe, you'll love these other recipes too:
Be sure to check out our favorite French Silk Pie if you love this recipe!