Slow Cooker Pulled Pork is perfect for tailgating and summer BBQs! Turn this garlic ginger pork into the most amazing pulled pork sandwiches, or use it on nachos, tacos, and more. Either way, you'll love this slow cooker pulled pork recipe, and so will everyone who tries it!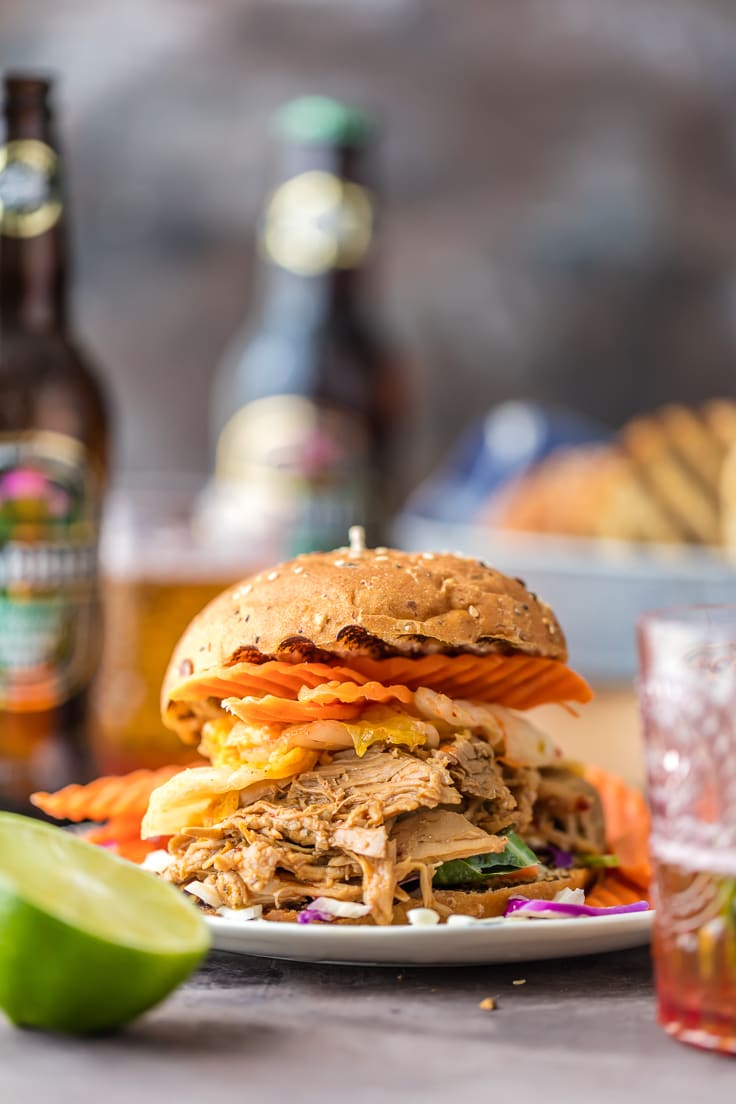 Slow Cooker Pulled Pork Recipe
These slow cooker pulled pork sandwiches are a crowd favorite on game day and at BBQs. The garlic ginger pork tastes incredible, and it makes the perfect sandwich!
Are you guys ready for summer? I cannot believe it's here! It hailed here yesterday (baseball sized!), so I'm still in denial, but the longer days, hotter temps, and my increasingly noticeable paleness leaves me knowing Summer is upon us. It's time for backyard bbqs, sunburns, and lots of amazing food!
Nothing is better than a great easy summer recipe, perfect for enjoying with friends and family. This Slow Cooker Pulled Pork recipe is just the thing!
This flavorful garlic ginger pulled pork is made in a slow cooker, so it's super easy. It's all flavor and zero stress. My kind of recipe!
We're stacking the ingredients and making pulled pork sandwiches that are just perfect for any summer party, and they are definitely a hit on game day. I can't wait for you to try them!
This EASY pulled pork recipes is made in a slow cooker for stress-free cooking, and extra delicious eating!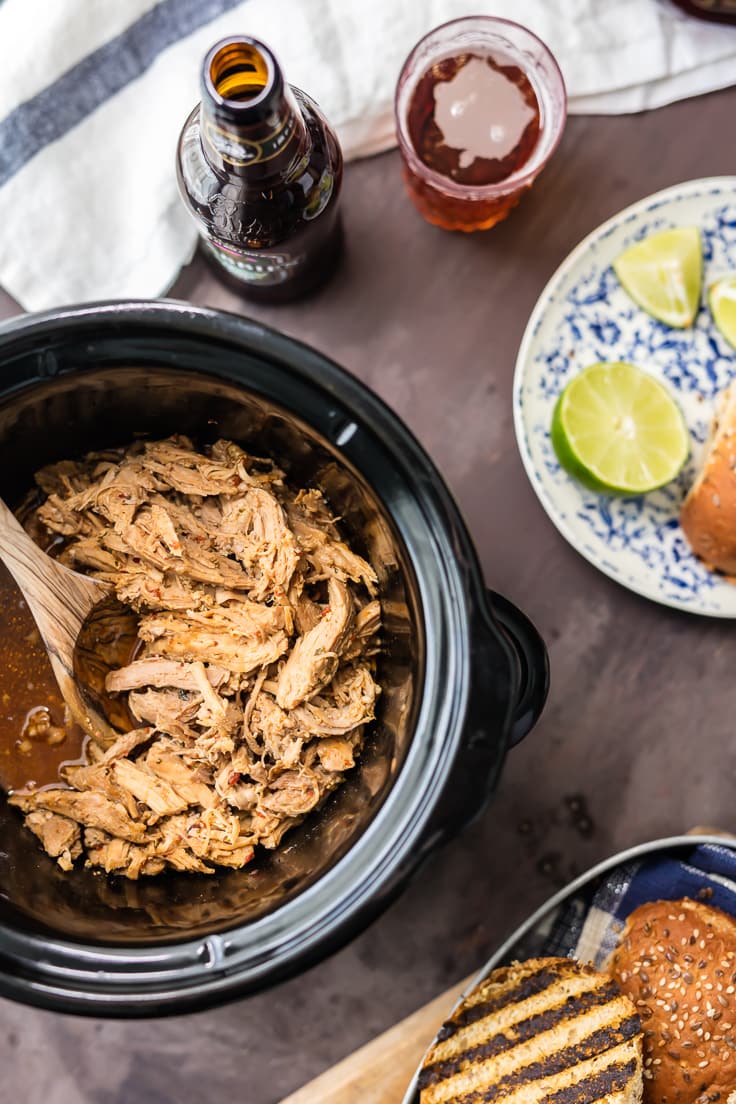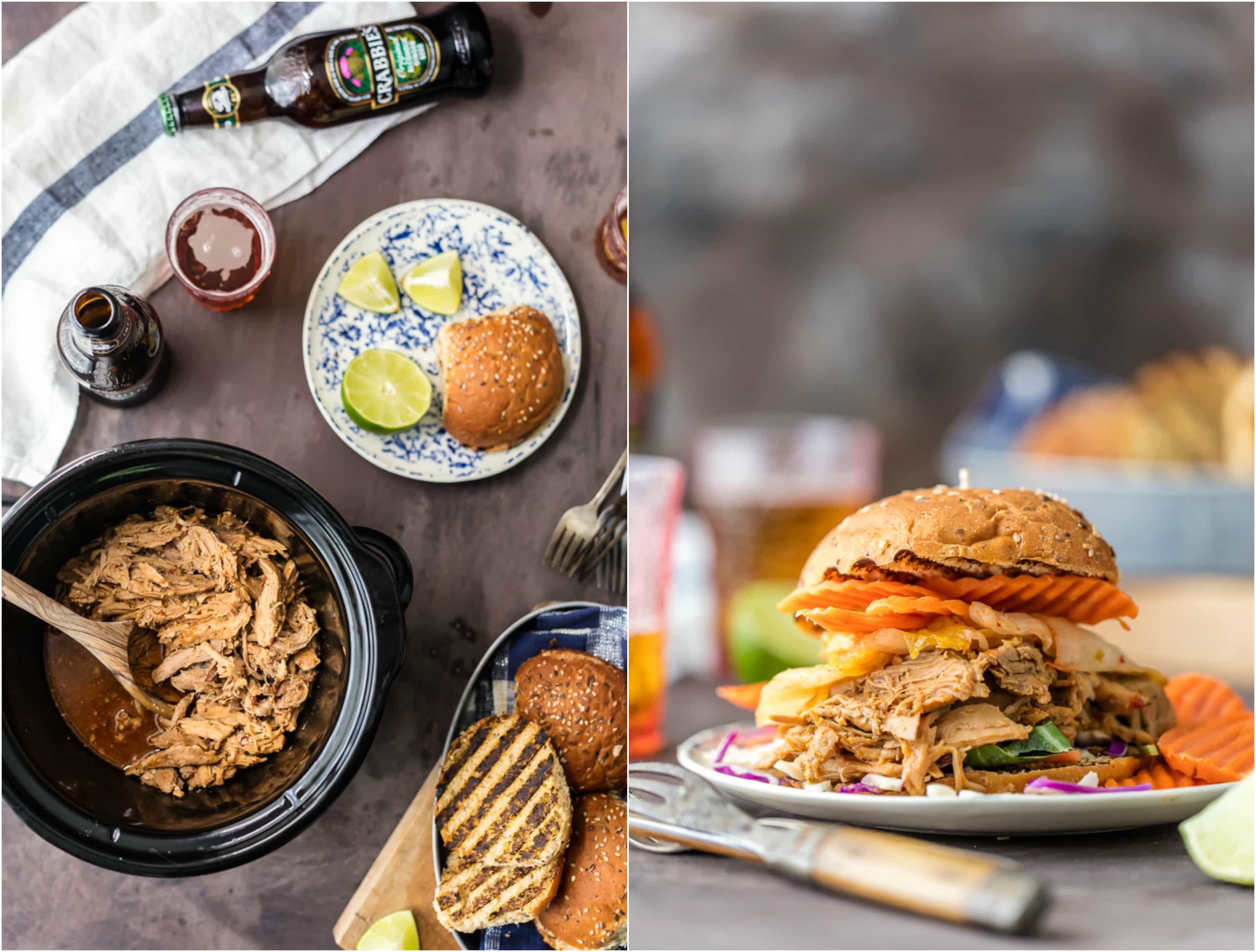 Pulled Pork Sandwiches
Summer entertaining should be SIMPLE. It shouldn't require slaving away in the kitchen, including easy clean up so that you can maximize your time with the ones you love. These Pulled Pork Sandwiches check ALL of the boxes. Nothing's easier than a slow cooker recipe!
I topped my pulled pork with crunchy slaw, carrot chips, and kimchi for the ultimate sandwich, but you can layer things however you like! The Garlic Ginger Pulled Pork is DIVINE, and works on other recipes too, like nachos, in a taco shell, or even by itself. You cannot go wrong, folks!
Drunken Garlic Ginger Pork
The secret to all the juicy flavor in the pork is Crabbie's Alcoholic Ginger Beer. YOU GUYS…I am OBSESSED with this stuff. Crabbie's originated in Leith, Edinburgh, and Scotland, and has made it's way to the states and I couldn't be more excited. Obviously, I love to drink it. It's the perfect combination of crisp and refreshing; made from a secret recipe of four special ingredients! I love that it's not too sweet; making it the absolute best mixer for cocktails OR cooking! It adds a fizzy ginger flavor to this pulled pork that just can't be replicated and I hope you give it a try!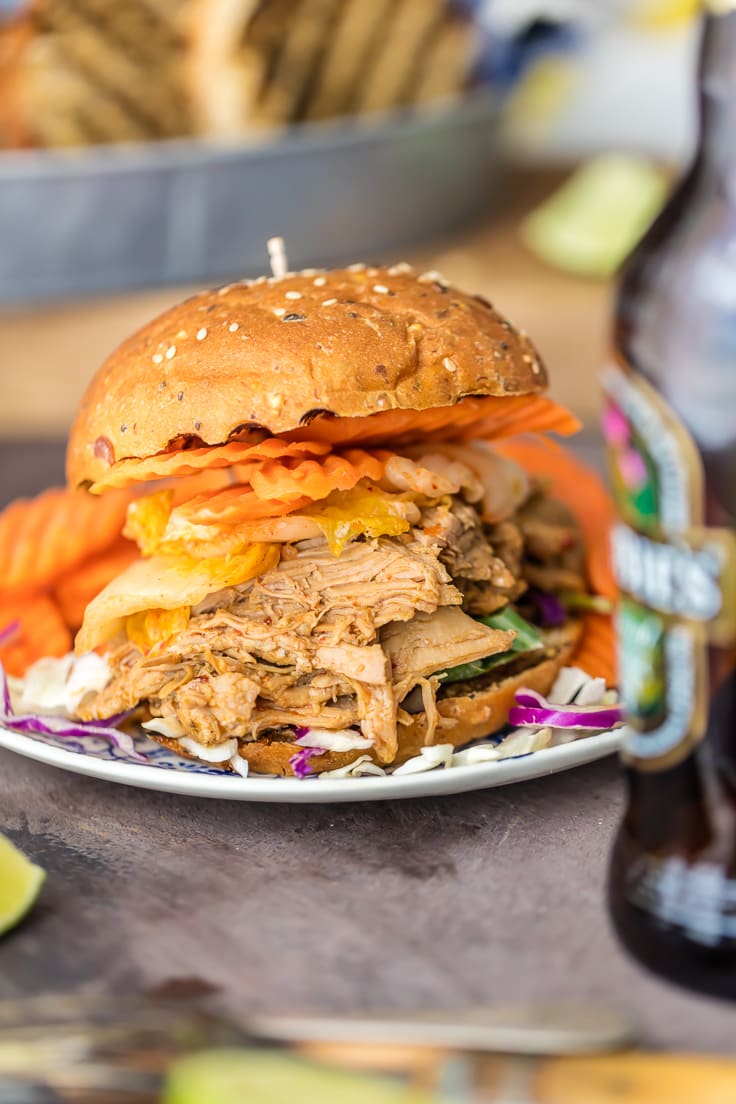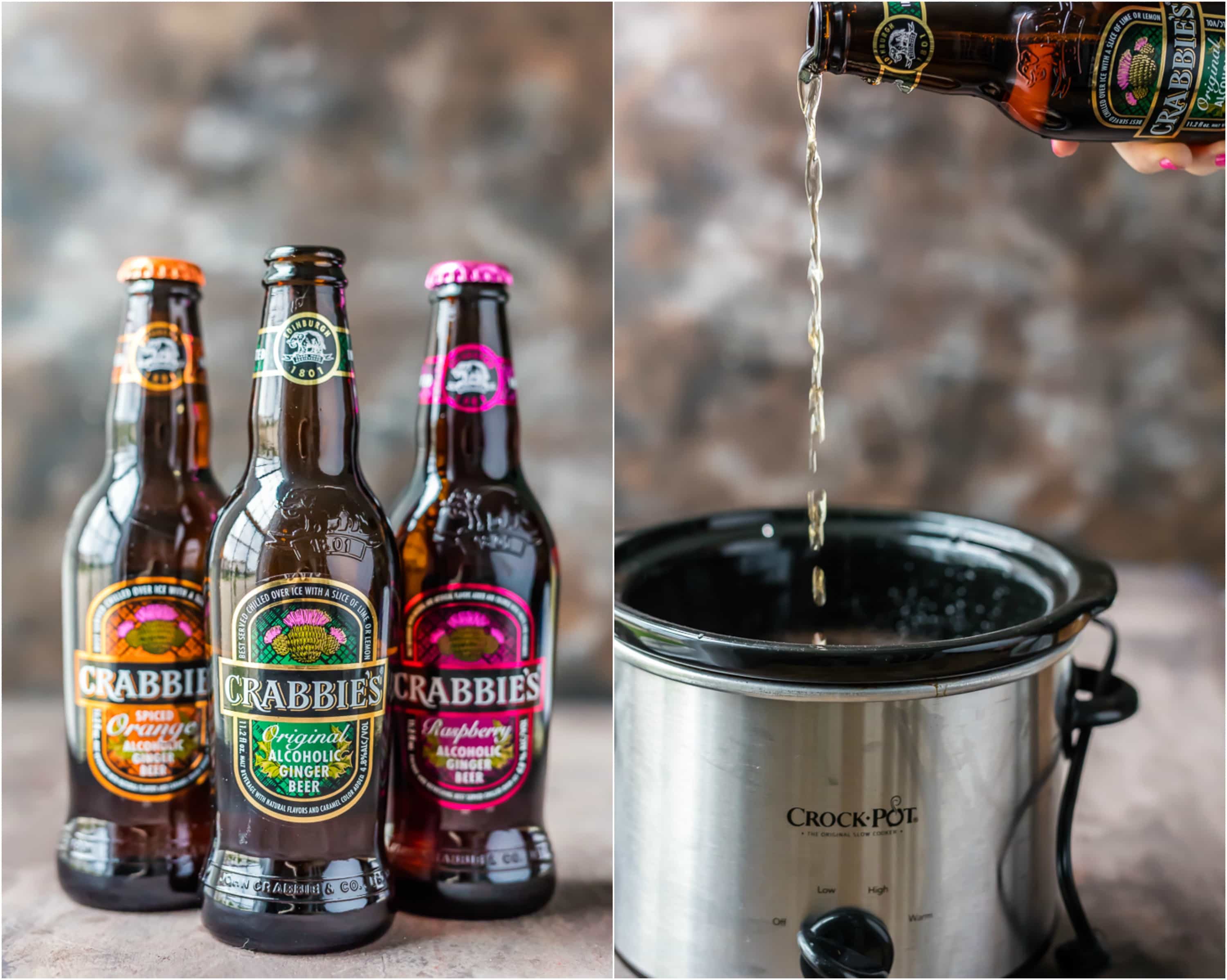 How to Make Pulled Pork in a Slow Cooker
Pulled pork is a BBQ favorite, and it's easier than ever when made in a slow cooker. It's the perfect start to easy pulled pork sandwiches, so you can serve a crowd!
To Make:
Rub pork with garlic, sea salt, and soy sauce.

Place pork in a small slow cooker.

Pour in the bbq sauce and ginger beer.

Cover and cook on low for 8 hours or high 3-4 hours.

Once tender and cooked through, remove from the slow cooker and place on a plate. Use two forks to shred the pork. Return to the slow cooker and stir completely to cover in all the juices.

Keep on warm until ready to serve.
How to Make Pulled Pork Sandwiches
You can do whatever you like with that delicious garlic ginger pork, but if you want to make these tasty sandwiches, here's what you need to do.
Put a small layer of cabbage slaw on the bottom bun.
Place a nice heaping portion of pulled pork on top.
Then top it off with carrots and kimchi.
I also like to grill or toast the buns before making the sandwiches for a better texture and flavor.
I love the asian-inspired flavor of the ginger pork, so I though the kimchi and slaw was the perfect way to complement the flavors. But of course you can try different toppings for your sandwiches!
What to serve with Pulled Pork Sandwiches
These slow cooker pulled pork sandwiches are pretty filling on their own, and I definitely recommend washing them down with a beer. But we're talking BBQs and tailgating here, so let's be honest: we're gonna need more food!
I tend to stick to pretty classic BBQ side dishes when serving these, so I like making coleslaw, baked beans, and of course you can't go wrong with fries.
What's the best cut of meat for pulled pork?
Any fatty pork cut will work. I used pork shoulder for this recipe.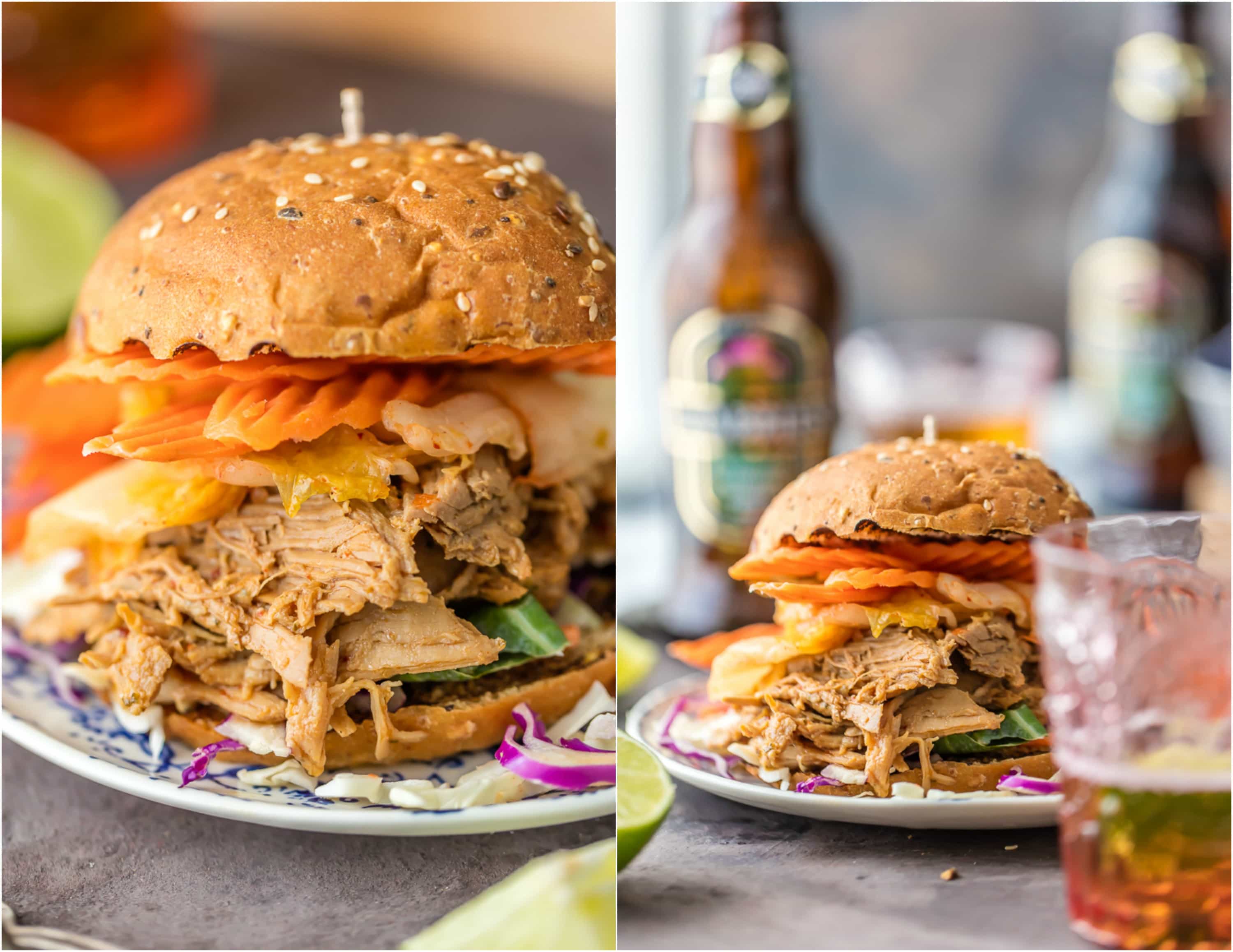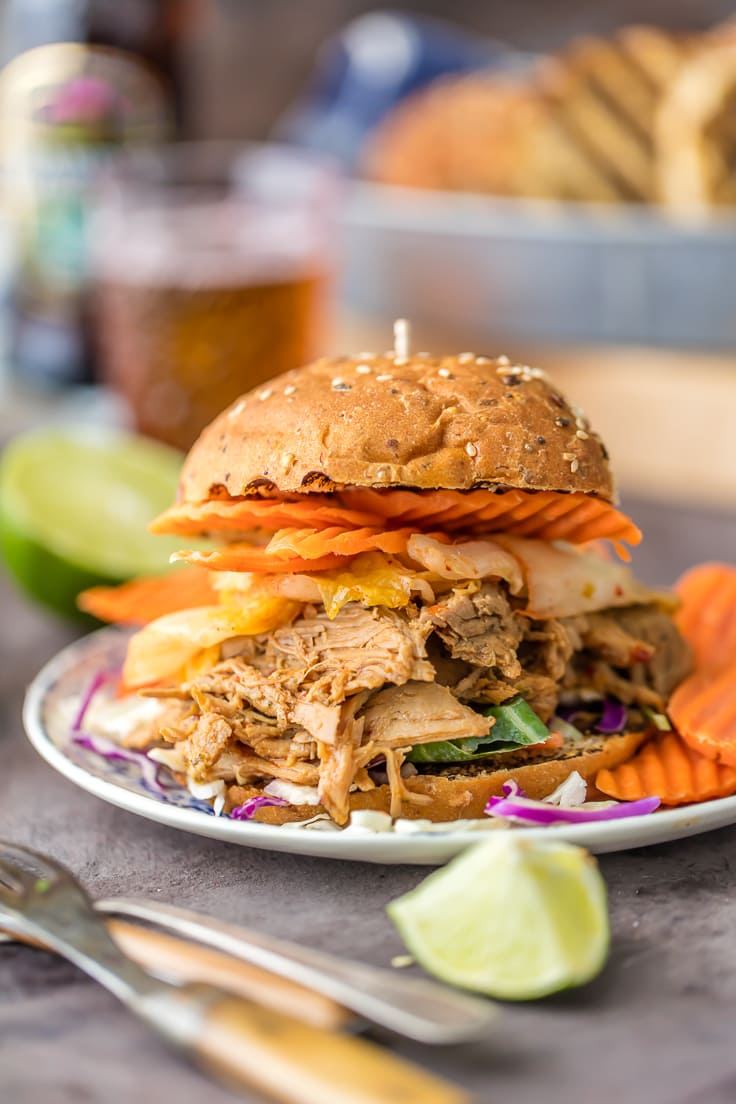 I hope this easy and fun recipe for Garlic Ginger Pulled Pork Sandwiches gets you one step closer to being ready for Summer!
See the recipe card for details on how to make Slow Cooker Pulled Pork Sandwiches. Enjoy!
Be sure to try these other easy and delicious slow cooker sandwiches!