Gingerbread cake is a must make this holiday season! Nothing says Christmas like gingerbread, so this delightful Gingerbread loaf recipe is exactly what you need. Top this tasty Christmas dessert with a lemon glaze to finish it off!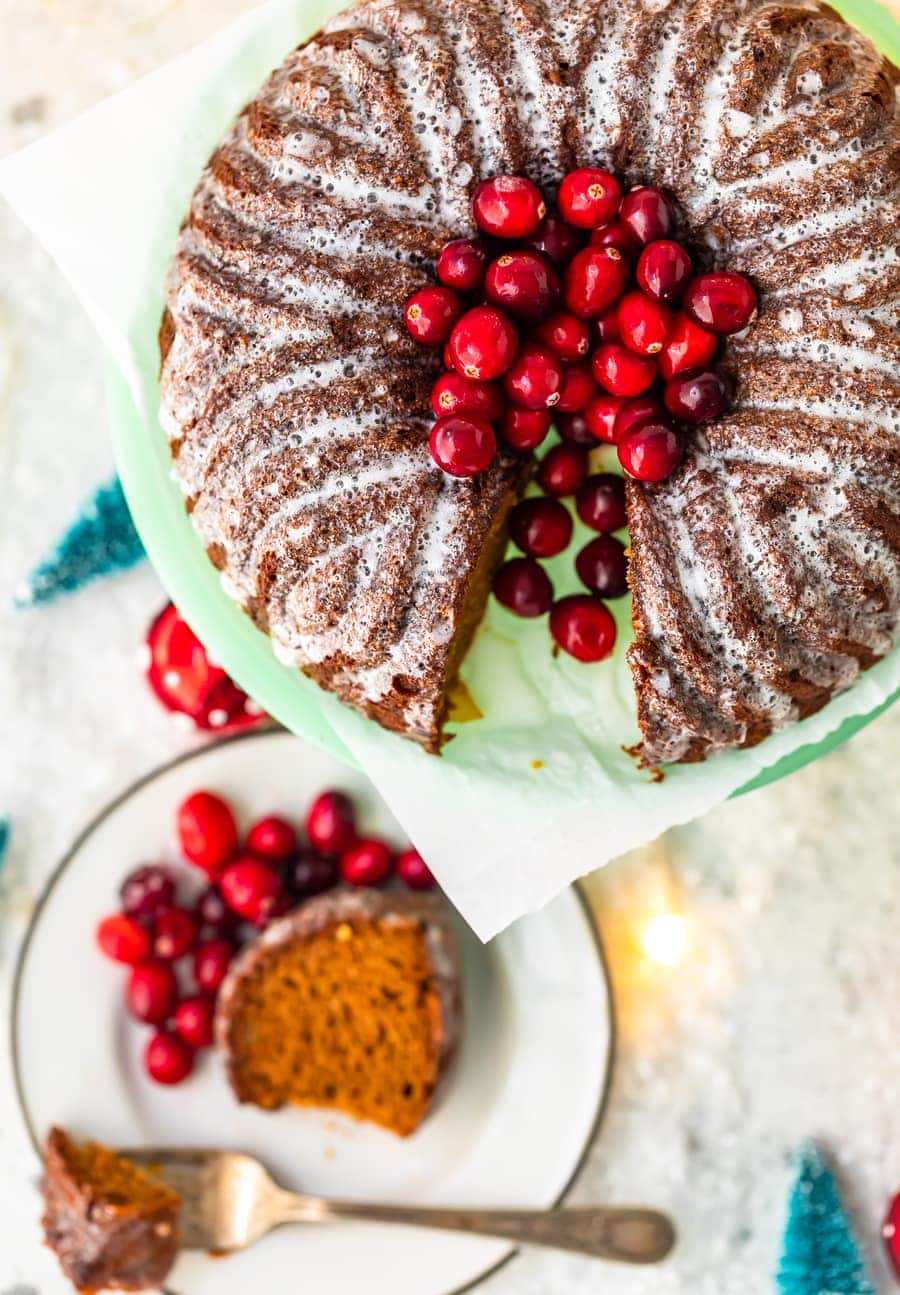 Gingerbread Cake Recipe
Gingerbread Cake is the perfect Christmas treat. Everyone will love this delicious loaf recipe for dessert or a bit of holiday snacking!
Thanksgiving is all about the savory sides, but Christmas is all about the sweet treats! You can't have Christmas without a bit of gingerbread, whether it's baking some fresh gingerbread cookies or just building the best gingerbread house. So, this gingerbread loaf cake is the perfect thing to add in to holiday festivities!
I love the aromatic spiciness of gingerbread, and it's even better mixed into this sweet, moist loaf cake. This gingerbread cake recipe is topped with a lemon glaze and some fresh cranberries for the ultimate Christmas flavor! Eating a slice of this on Christmas Eve or Christmas Day will fill everyone with that festive spirit.
Once you taste this gingerbread loaf recipe, you'll be making it every year. A new Christmas dessert that will surely become part of your holiday traditions!
This flavorful Gingerbread Loaf recipe is the Christmas dessert you need this holiday season!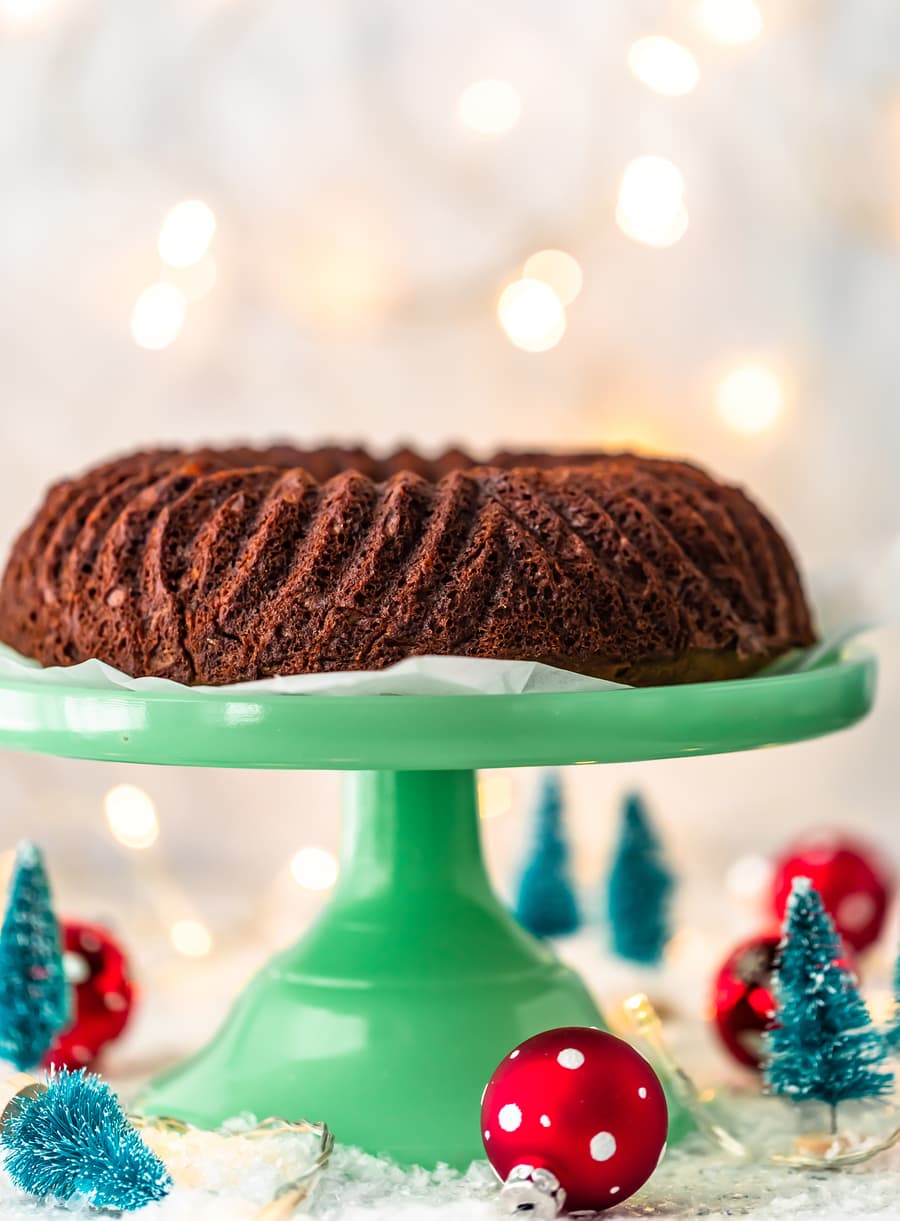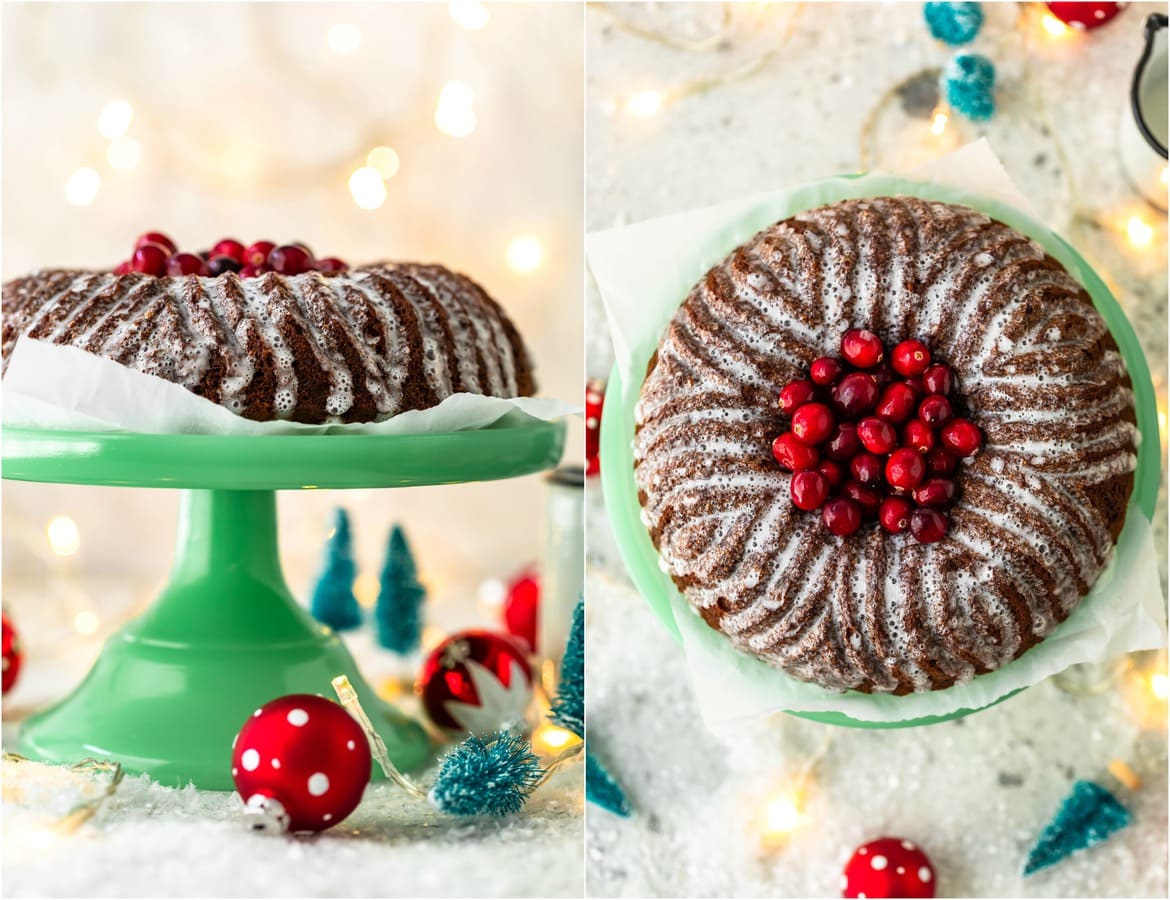 Sugar Free Gingerbread Loaf Recipe
I knew I wanted to come up with some healthy sugar-free desserts for the holiday season, and this Gingerbread Cake is the ultimate sweet treat! You will never ever know that it's sugar free. With Stevia In The Raw®, it's never been easier to make holiday baking lighter. Stevia In The Raw® is a zero-calorie sweetener made from the sweet leaves of the stevia plant, and is absolutely perfect for all your baking needs.
Stevia In The Raw® Bakers Bag measures CUP FOR CUP with sugar…making swapping it out in all your favorite holiday desserts so simple and delicious. I'm obsessed with using it in so many sweets this time of year! Up to 700 calories are saved with every cup that is swapped. Easy, right?? You better check it out!
I love that you can use stevia in place of traditional brown sugar in the cake itself, and swap it for the powdered sugar in the glaze. It's a tasty, easy, and low-cal switch in both places, making this recipe sugar free!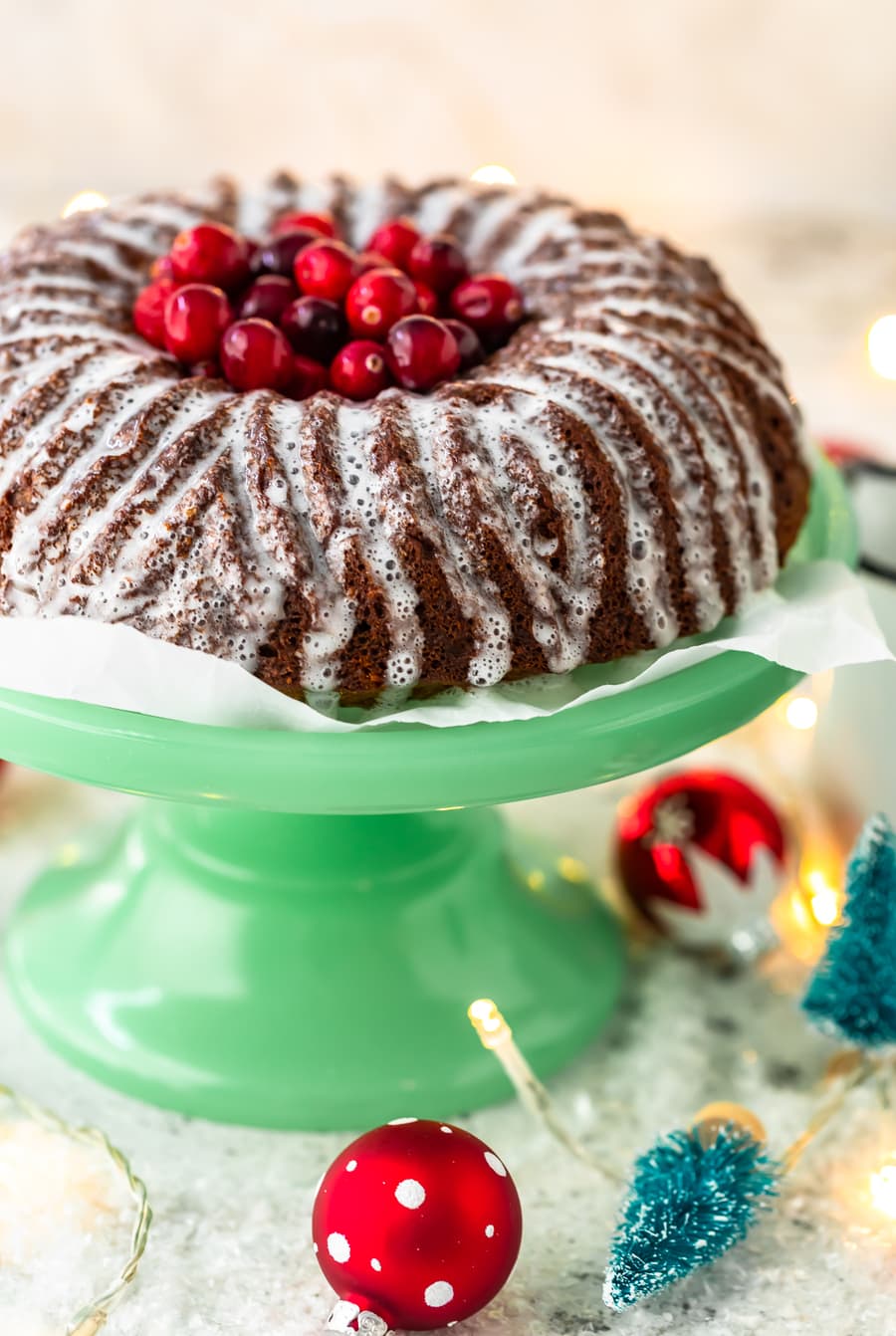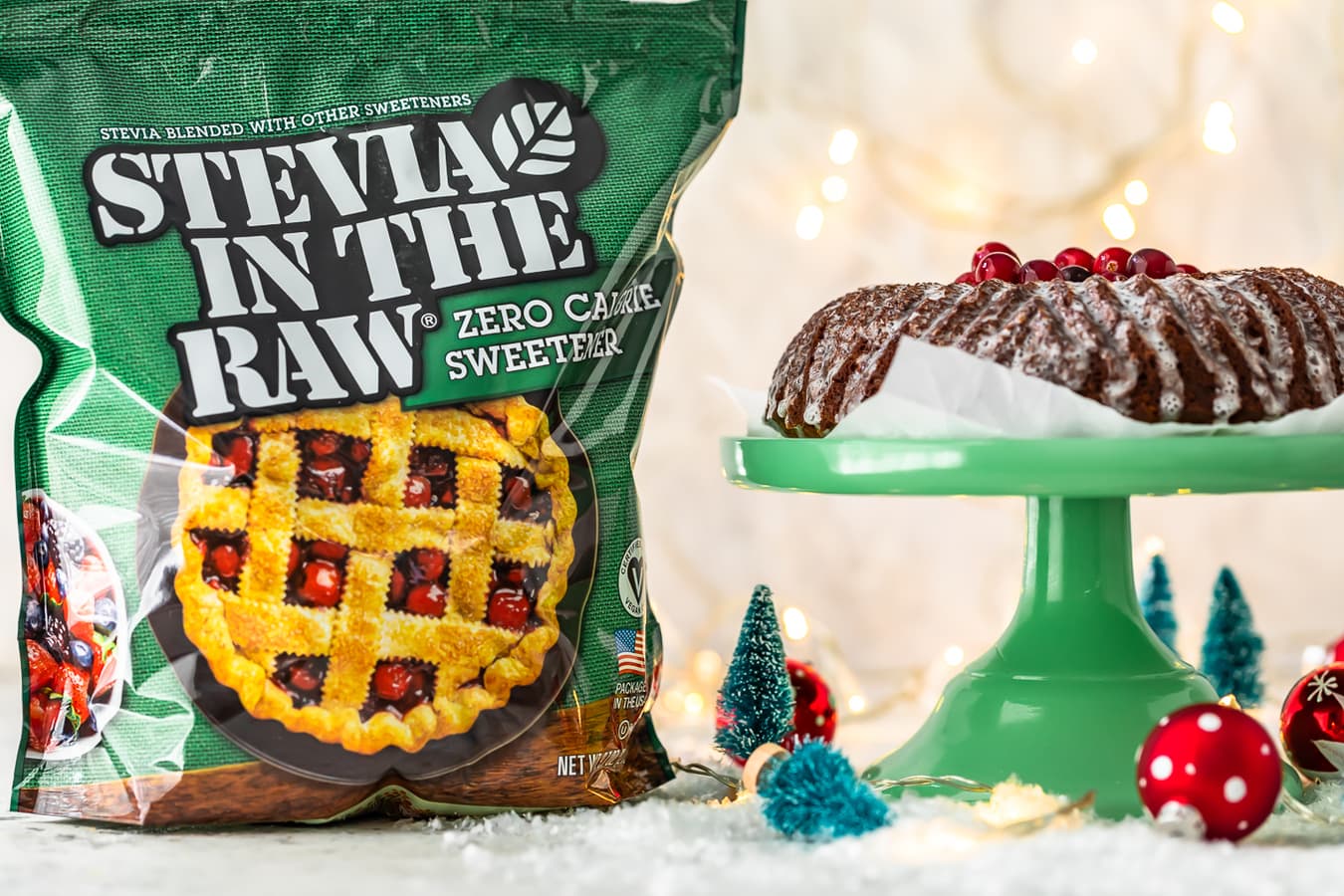 This gingerbread cake recipe is so easy to make. You can make it as a loaf cake or as a gingerbread Bundt cake–the choice is yours! Just note that this recipe will make a smaller Bundt cake rather than the full size of the pan. Either way, it will taste just as delicious.
I think a Bundt cake looks really beautiful for a holiday dessert, while the gingerbread loaf is convenient for a delicious gift (just wrap the loaf in plastic wrap and give it to friends, family, or co-workers).
How to make gingerbread cake:
Combine melted butter, Stevia In The Raw®, Greek yogurt, apple sauce, molasses, honey, and eggs (whisk eggs before combining).
In another bowl, stir together flour, baking soda, salt, ginger, cinnamon, and nutmeg.
Use a mixing spoon to stir the liquid ingredients into the dry ingredient mixture. (Stir in the crystallized ginger if using)
Pour mixture into your preferred baking dish (loaf or Bundt).
Bake gingerbread cake for 45 minutes at 350°F.
Let the cake cool for at least 20 minutes before cutting and serving.
To make the lemon glaze, just combine the listed ingredients (check recipe card below). Pour the glaze over the gingerbread loaf after it has cooled.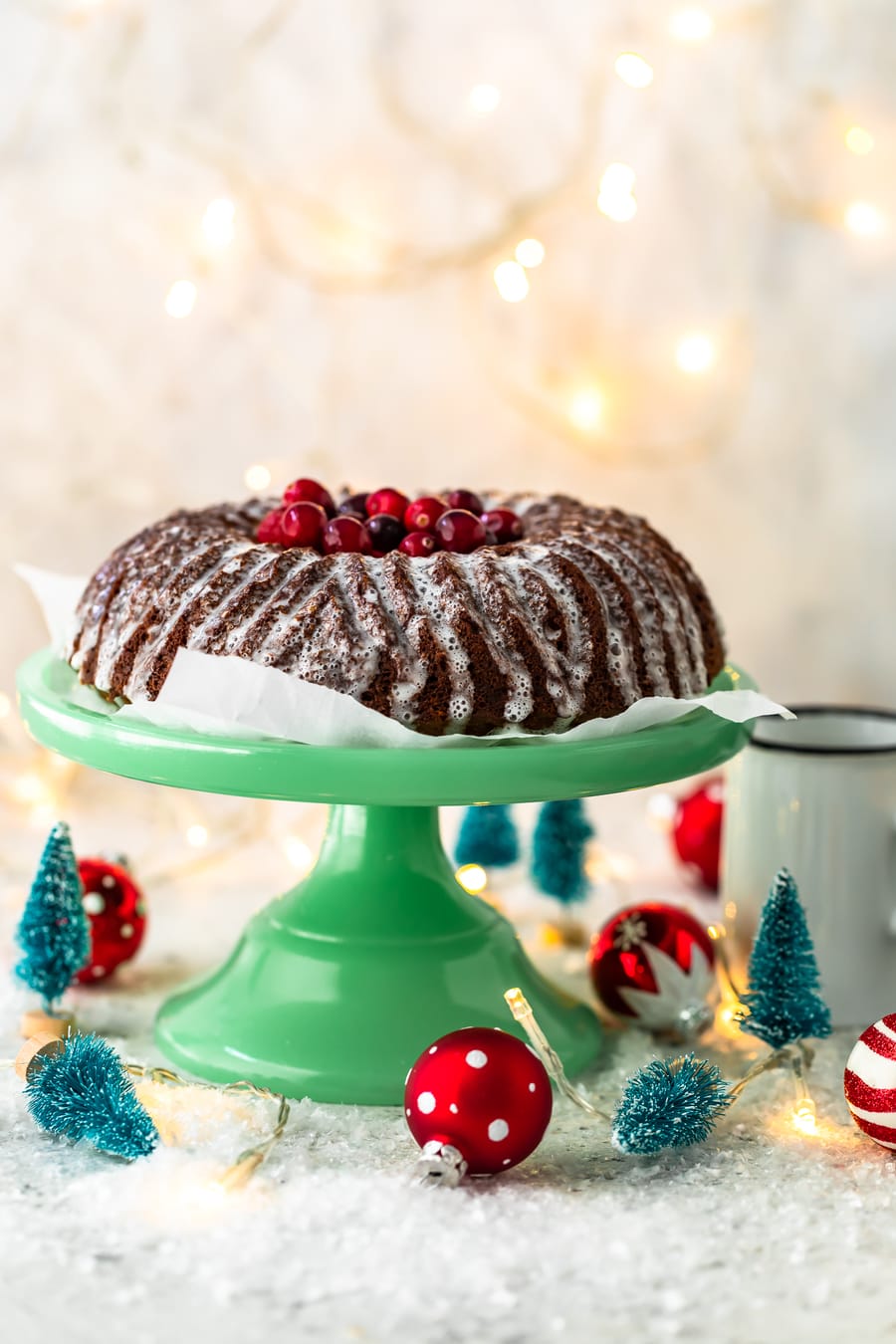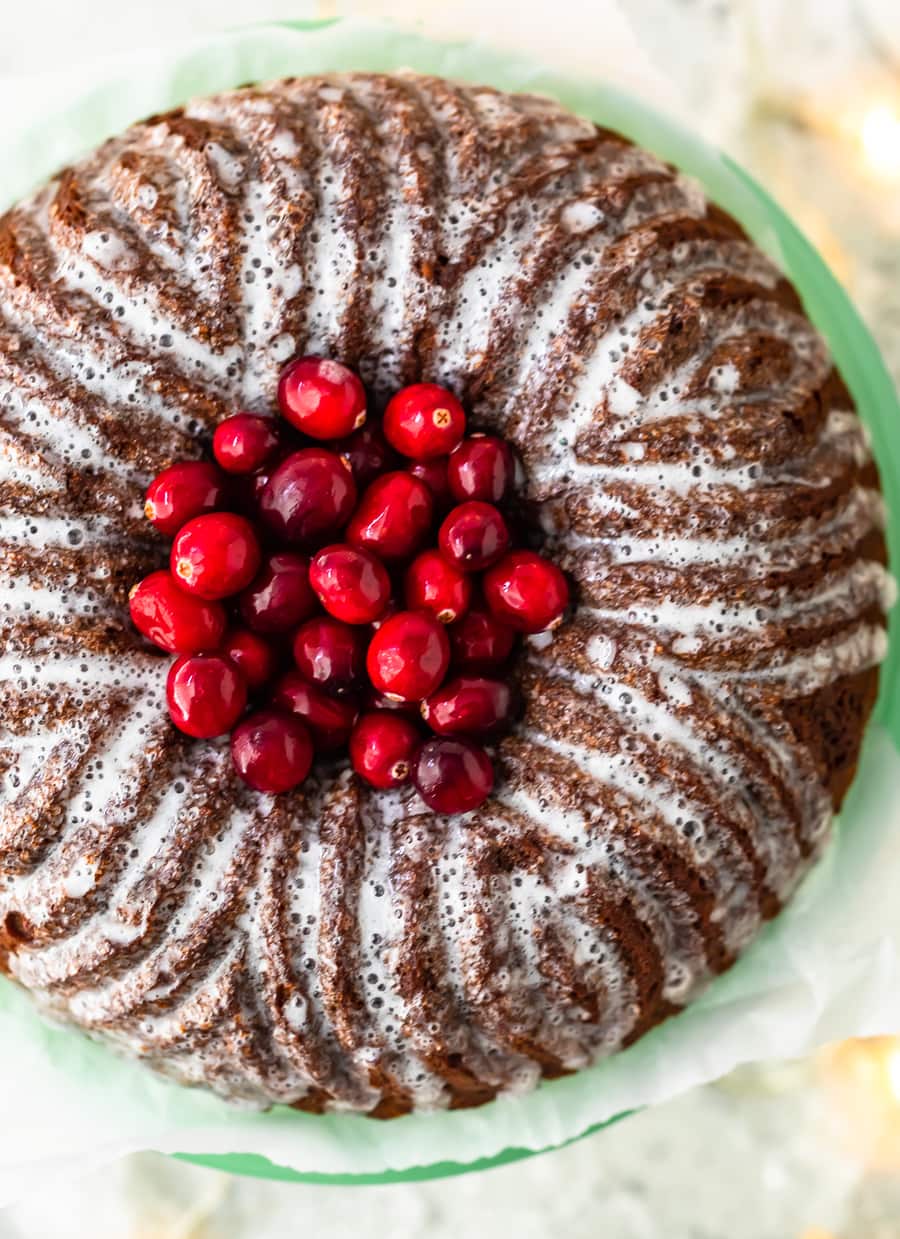 Can you freeze gingerbread loaf?
Yes, you can freeze gingerbread loaf if you want it to last longer. Once the gingerbread cake has cooled, wrap it in plastic wrap and then place it in an airtight, freezer safe container. Freeze it without the glaze, and then you can make that fresh when you thaw and eat the cake at a later time. The loaves are a more convenient shape for freezing. The Bundt cake might be better frozen in large slices, rather than as a whole cake.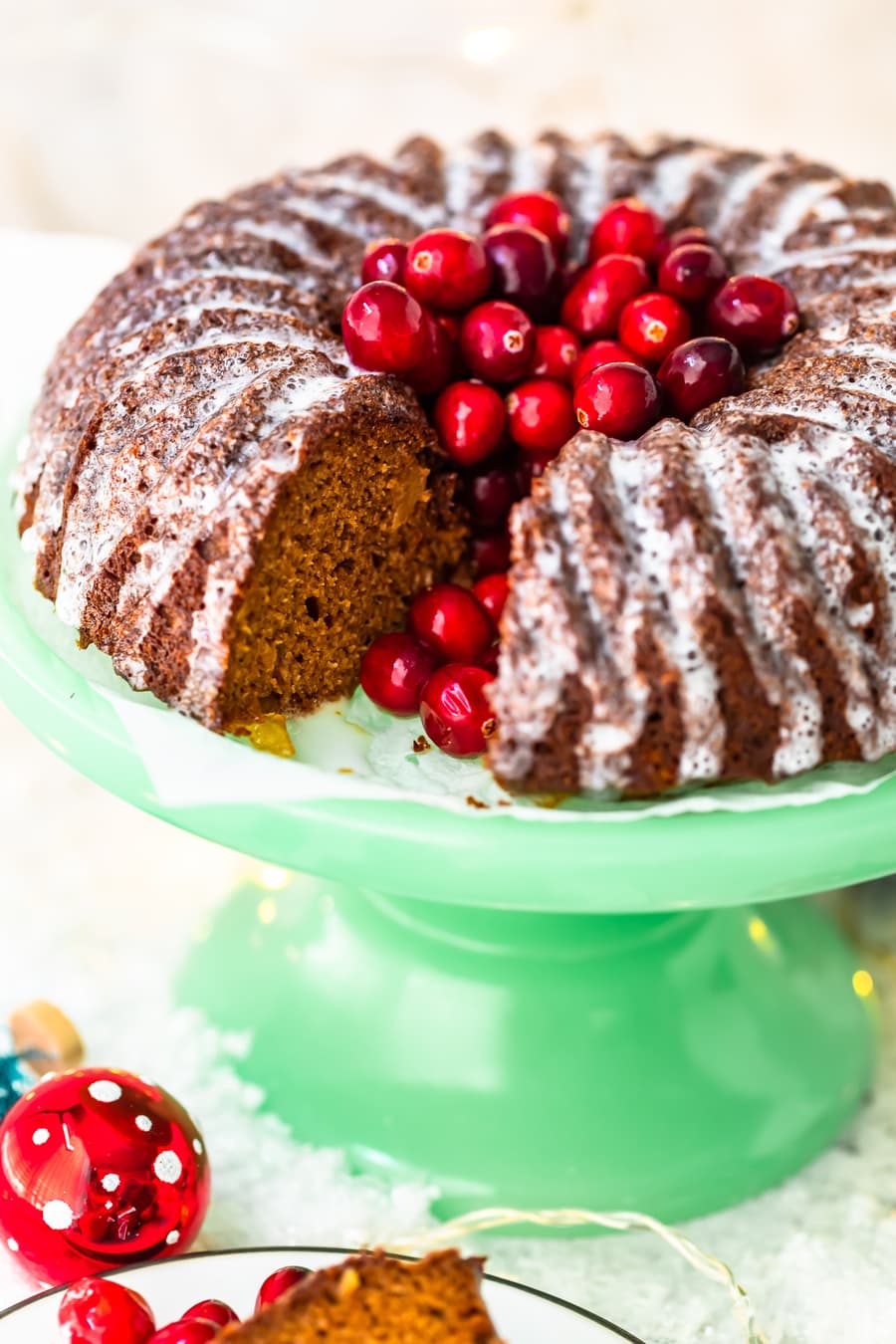 This Gingerbread Cake recipe is the perfect Christmas dessert. Everyone will love this gingerbread loaf cake!
See the recipe card below for details on how to make this Gingerbread Loaf recipe. Enjoy!
If you like this gingerbread cake recipe, try these other holiday desserts: