This GRAPE & WALNUT BAKED PROVOLONE is an easy, pretty, and delicious appetizer for the holiday season. Its so full of flavor but only has 3 INGREDIENTS! Obsessed.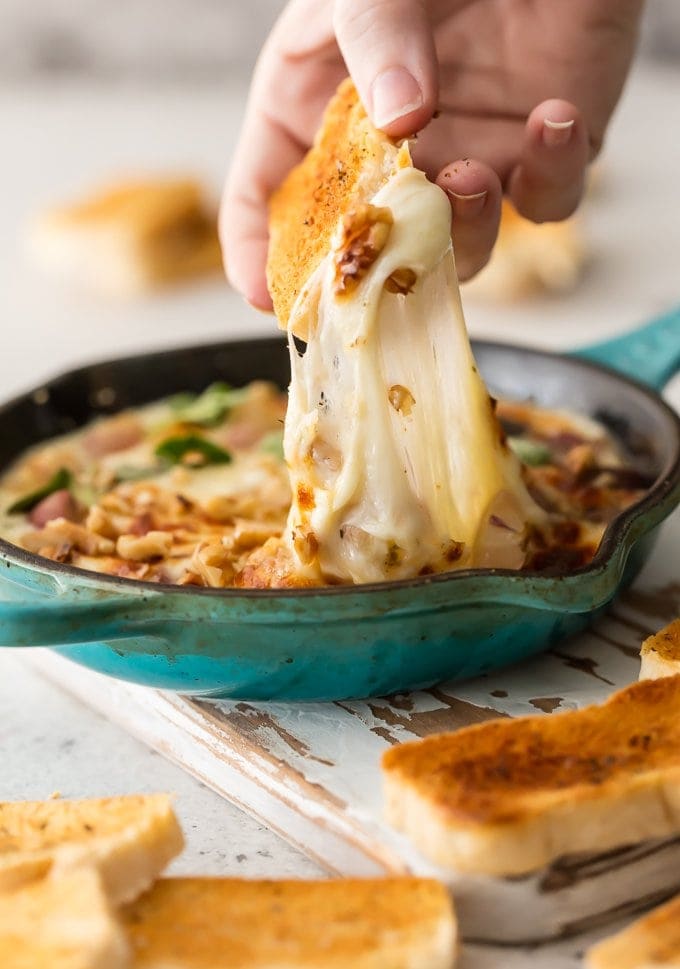 I have wanted to make a baked provolone recipe for SO LONG. I have my favorite white queso, my favorite loaded cheese dip, and my favorite baked brie…but I've never tried baked provolone! YOU GUYS…what was I missing! First of all, baked provolone is just that…the cheese and the oven. It's truly that simple, and you know I just love that. To spice things up a bit, I added sliced red grapes and chopped walnuts.
I basically wanted a cheese board but all melted together in a skillet. Is that too much to ask? It came together so beautifully and with such flavor, I'm OBSESSED! Only 3 ingredients stand between you and this goodness. What are you waiting for?!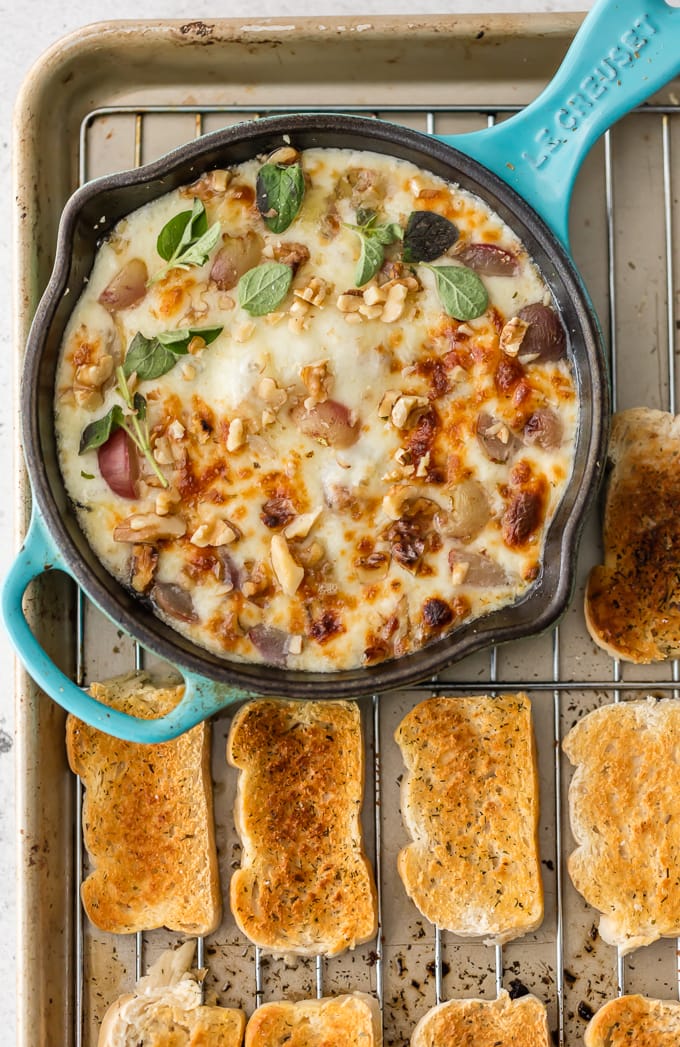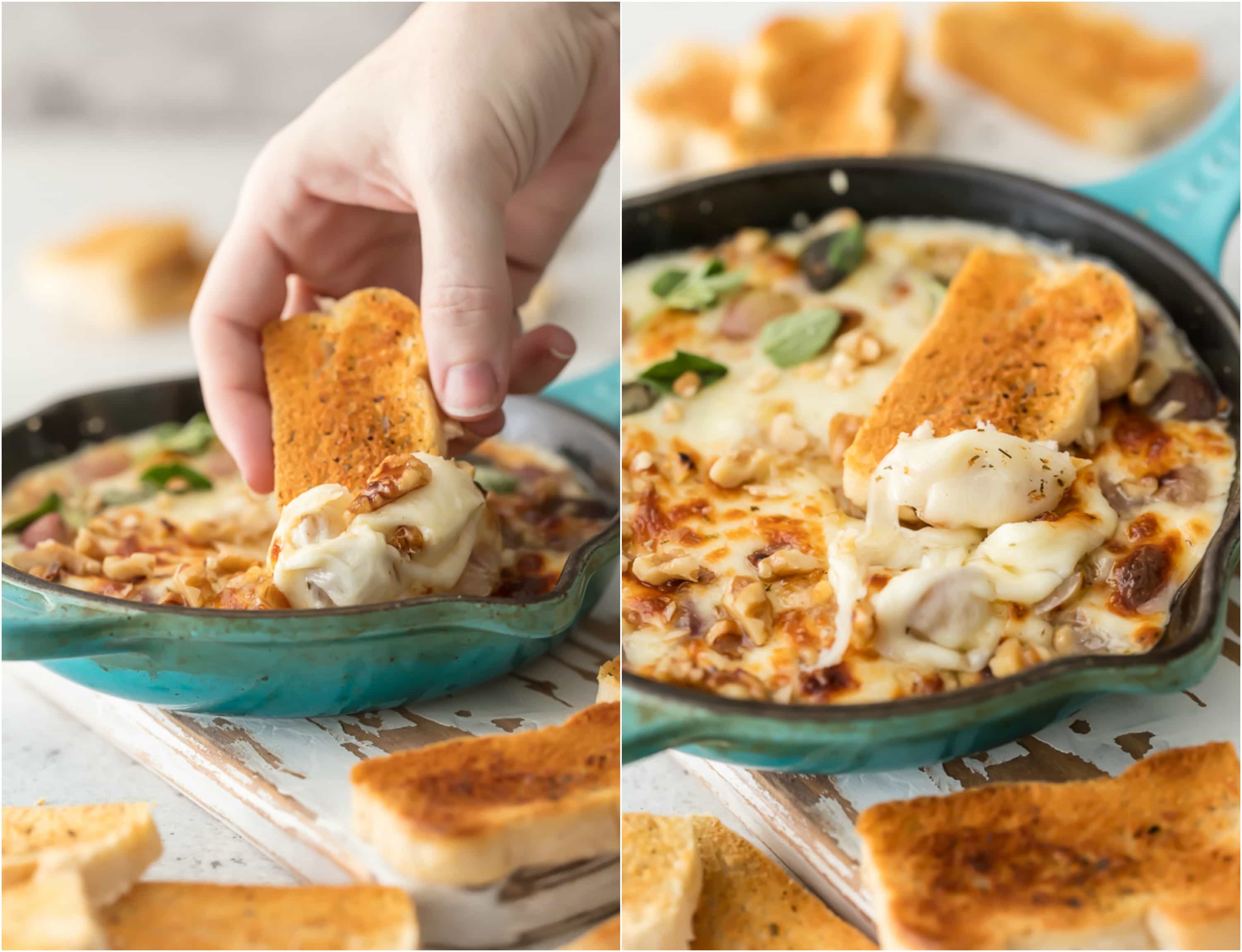 I love that you can toast the bread right along with baking your cheese…making this the perfect holiday appetizer that you can make in under 10 minutes start to finish. Did you hear that?! ONLY THREE INGREDIENTS AND ONLY 10 MINUTES! This is perfection, I really do think so. It's toasty, pretty, unique, and amazing. I cannot wait to make this again and again.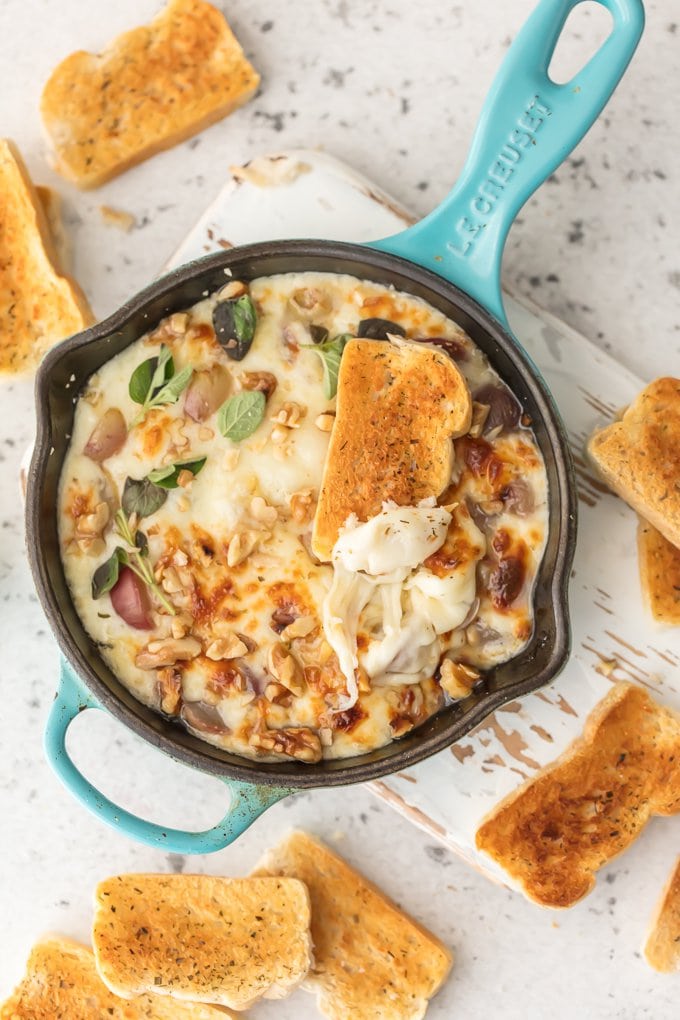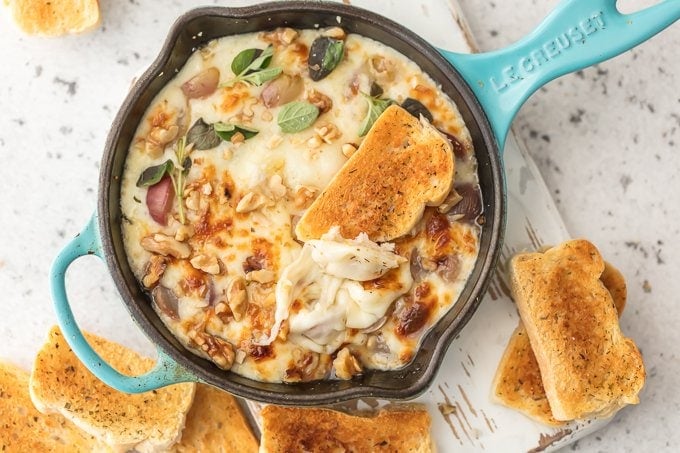 This Grape & Walnut Baked Provolone wouldn't be complete without the Walnuts baked right into the cheese and sprinkled on top. Talk about DELICIOUS! I'm so excited to be partnering with California Walnuts this year, and this favorite pretty holiday appetizer is my 2nd of 6 recipes for the year. Did you know just 1 ounce of walnuts is packed with 4 grams of protein, 2 grams of fiber, and 2.5 grams of plant based omega alpha-linolenic acid (Walnuts are the only nut that contain significant amounts of this beneficial nutrient!)
I love their rich flavor and versatility. You can use walnuts as a flour in baking, as an add in to starters like this baked cheese. So much love to go around.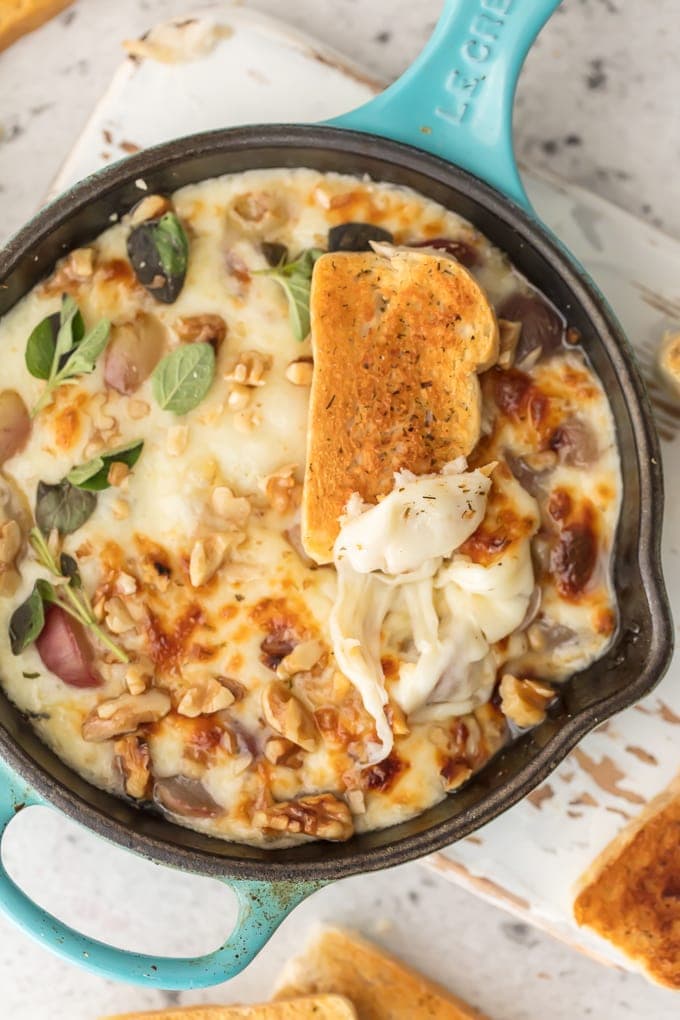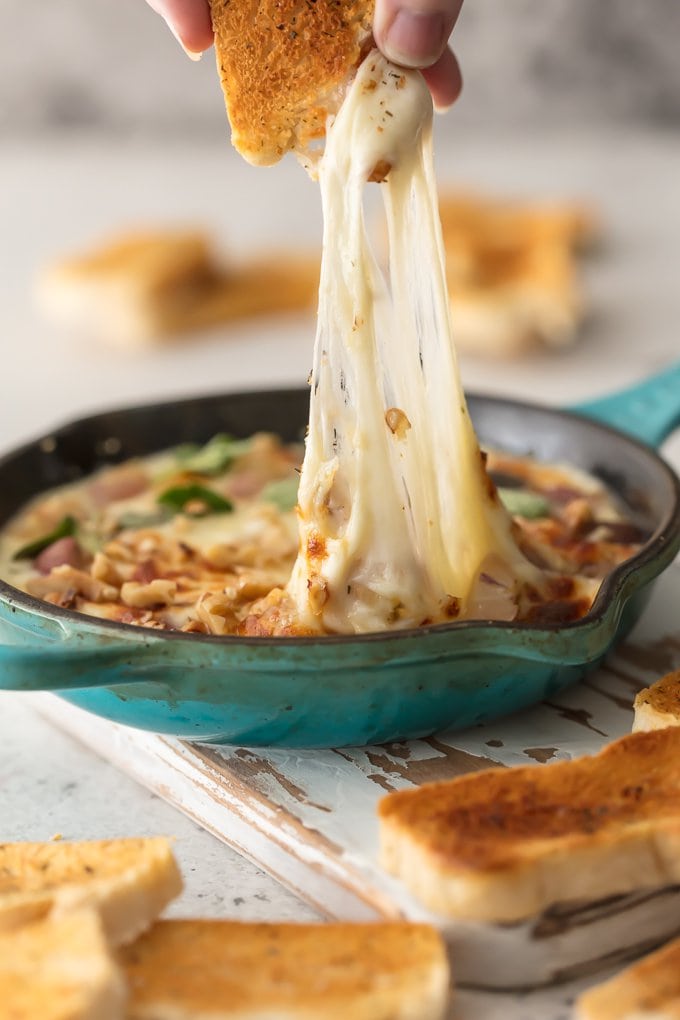 Christmas is in 12 days and I couldn't be more excited. Wait…is this the start of the 12 Days of Christmas?! How did I not put that together before. Hooray! You better celebrate with this Grape & Walnut Baked Provolone. Good thing it only takes 10 minutes!
Enjoy :)
Grape and Walnut Baked Provolone
This GRAPE & WALNUT BAKED PROVOLONE is an easy, pretty, and delicious appetizer for the holiday season. Its so full of flavor but only has 3 INGREDIENTS! Obsessed.
2 minPrep Time
8 minCook Time
2 minTotal Time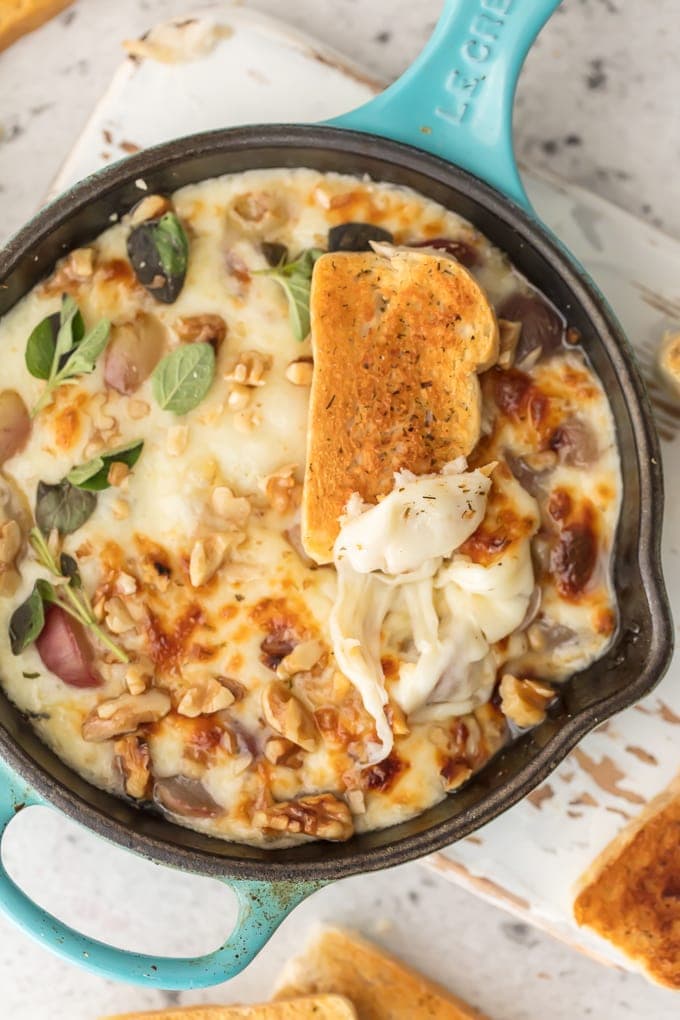 5 based on 1 review(s)
Ingredients
8 slices (approximately 8 ounces) good quality sliced provolone
1/4 cup chopped walnuts, divided
1/4 cup sliced red grapes, divided
sliced french bread
butter and garlic salt for the bread
fresh oregano for garnish (optional)
Instructions
Preheat the broiler in your oven to 550F
Spray a small oven safe skillet with nonstick spray. Lay the first 4 slices of provolone along the bottom of the skillet, covered the entire base.
Scatter half of the walnuts and grapes onto the cheese.
Top with the remaining 4 slices of cheese and the rest of the grapes and walnuts.
Slice the french bread and lay on a baking sheet. Brush with butter and sprinkle lightly with garlic salt if desired.
Place the provolone in the oven and broil for 8-9 minutes or until hot and bubbly to your liking.
Halfway through broiling the cheese, toss the bread under the broiler as well and allow to toast to your liking.
Serve immediately garnished with fresh oregano (optional).
Enjoy!
7.6.7
2498
https://www.thecookierookie.com/grape-walnut-baked-provolone/