Baked Salmon Fillet with Greek Yogurt Ranch is a healthy, easy, and DELICIOUS dinner that anyone can make in minutes. This simple baked salmon recipe is one of our absolute favorite summer meals! Flavorful oven baked salmon fillet with the creamiest topping. SO yummy!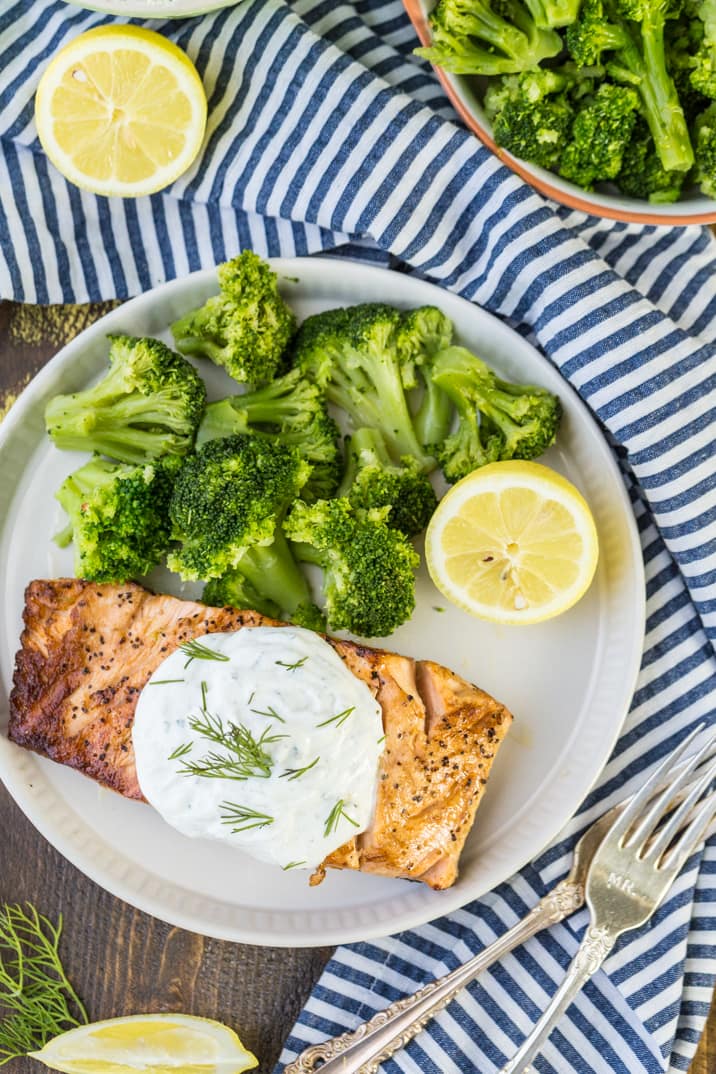 Baked Salmon Fillet Recipe
This baked salmon fillet recipe has a simple yet delicious flavor that is made even better with the creamy Greek Yogurt Ranch dip topping!
We are salmon lovers in this house. Pat is a PICKY eater, and even living with a food blogger, there are few foods that he seriously loves. But salmon? He loves salmon, which is great, because it's HEALTHY. And you know I need more healthy meals in my life!
Pat is always asking me to re-make the healthy salmon recipes that I've already made (and shared here). While I love everything I've already made, I'm always looking for new ways to spice things up for dinner. So here I am with another baled salmon fillet recipe!
This simple baked salmon recipe is exactly that: simple in flavor and simple to make! The real kicker with this oven baked salmon fillet is the topping. Greek Yogurt Ranch! This dip is super creamy and it makes the perfect topping for salmon. It tastes just like ranch dressing, but since it's made with Greek Yogurt, it's MUCH lighter and healthier. Win!
Anyone can make this simple baked salmon recipe, and EVERYONE will love it. Absolute perfection!
Looking for a healthy salmon recipe? This simple baked salmon fillet recipe with greek yogurt ranch is exactly what you need!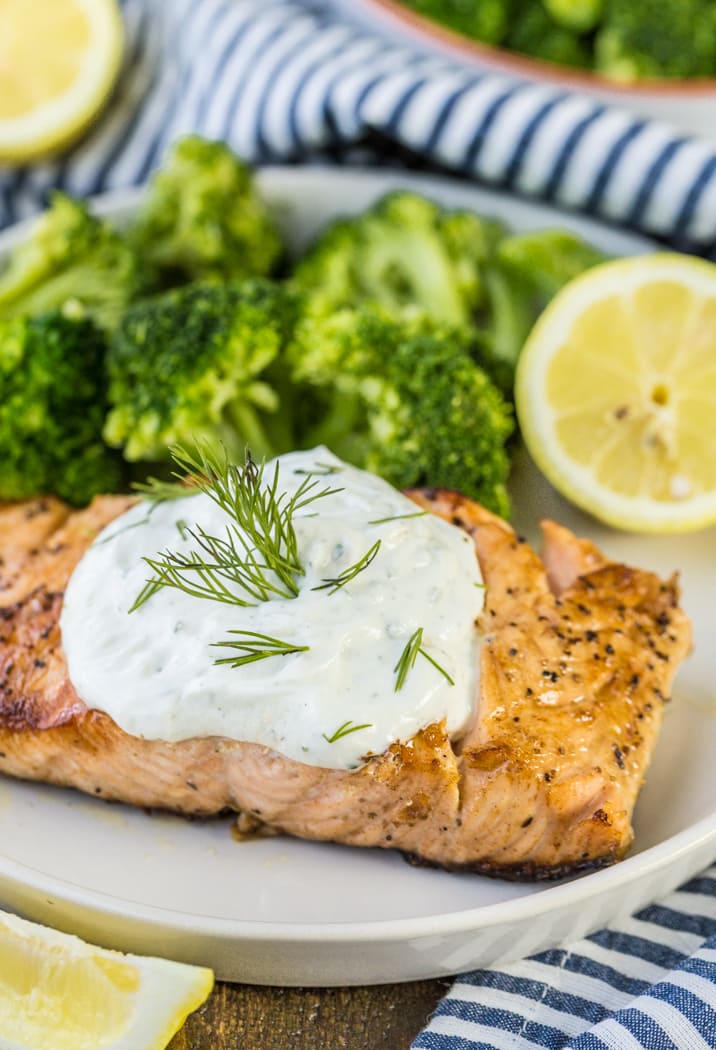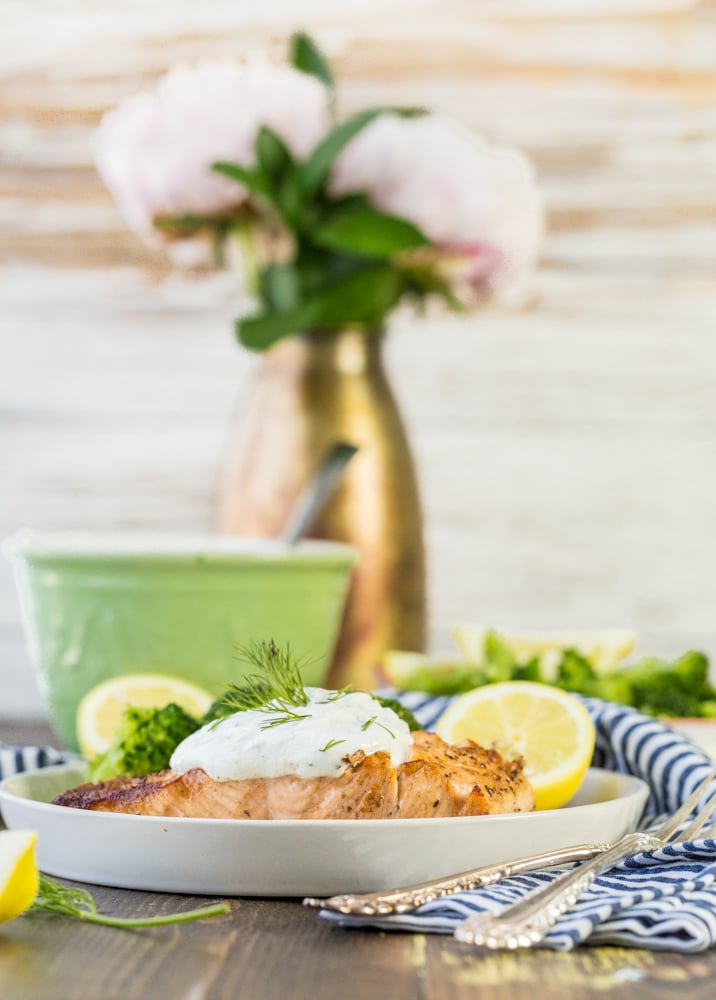 Simple Baked Salmon Recipe
When I say a SIMPLE baked salmon recipe, I mean it! Not only is this dish simple to make, but the flavors are really pared down for the simplest (yet most delicious) flavor.
We're just using butter, salt and pepper to add a bit of flavor to the oven baked salmon fillet, that's it! Of course we're letting the creamy greek yogurt ranch do all the work here, adding it's own spin to the simple salmon dish. A very light yet very tasty mix!
Greek Yogurt Ranch
The other great thing about this simple baked salmon recipe is how healthy it is. On a recent trip to Walmart (Pat's favorite because they have his favorite flavor of almonds…if he is shopping with me, we are shopping at Walmart!), I saw Hidden Valley's new Greek Yogurt Ranch Dips.
You simply add greek yogurt to their special pre-made ranch seasoning mix, and you're left with a creamy, dreamy (much healthier) ranch dip with all the flavors we already love from Hidden Valley. A real no brainer, right? I knew it would be the perfect topping to our favorite easy meal: oven baked salmon fillet!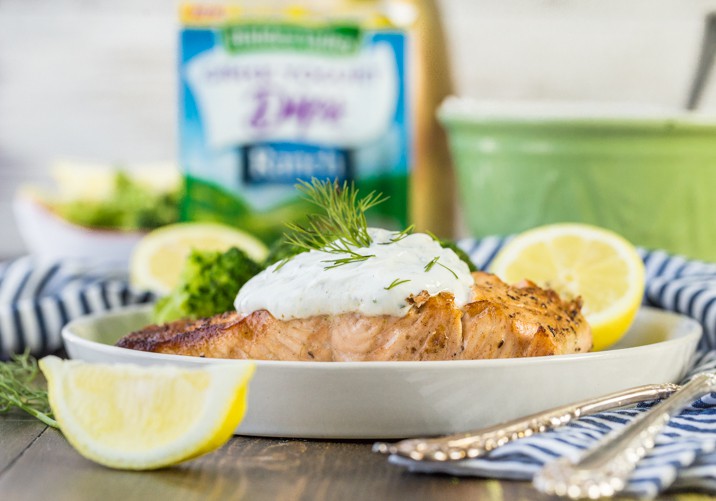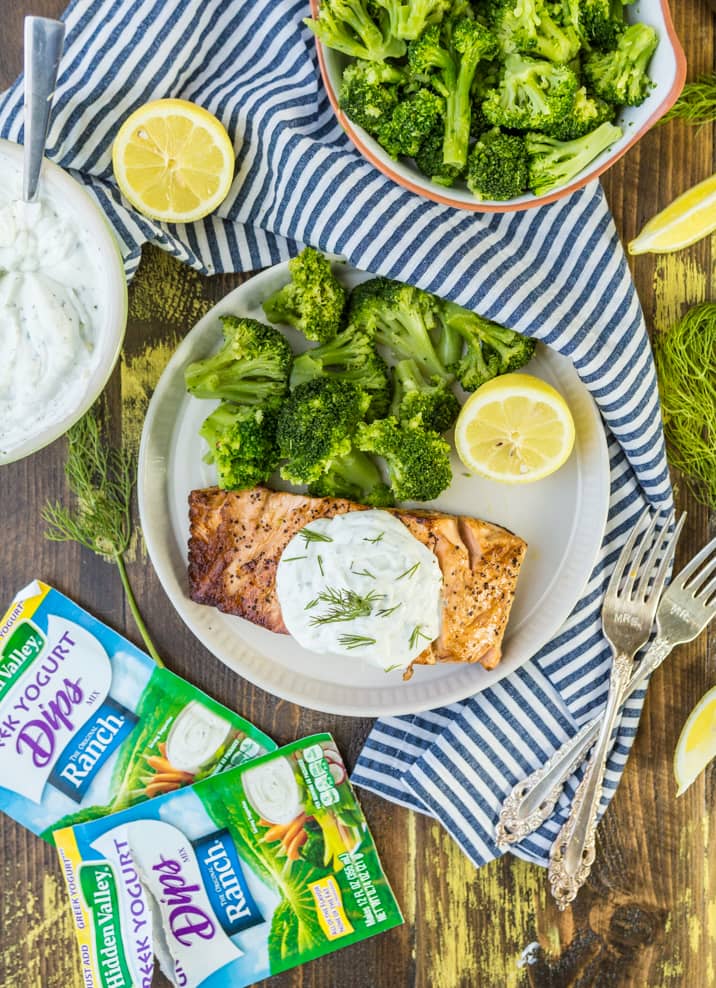 How to Bake Salmon Fillet
Oven baked salmon fillet with Greek yogurt ranch is the simplest of recipes, and it takes less than 30 minutes! Start by searing the salmon fillet in butter to seal in that flavor, then bake it to get it nice and flakey. There's not much to this process, and that's exactly why we love it! Well, besides the amazing taste…that's why we love most foods.
How to make simple baked salmon fillet:
Preheat the oven to 375°F, then season the salmon fillet with salt and pepper.
Heat oil and butter in a skillet. When the butter melts, add in the salmon and sear each side of the fillet for 3-4 minutes.
Move the salmon to a baking sheet, and bake in the oven for 8-10 minutes.
While the fish is in the oven, combine the Hidden Valley Ranch mix with the Greek Yogurt.
When the salmon is ready, top each fillet with a nice spoonful of the Greek Yogurt Ranch. I also like to add some lemon juice and dill to give it even more flavor. Serve the salmon with a big helping of broccoli, or whatever veggies you prefer. You could also serve over rice. This is such a beautiful summer meal!
How long to bake salmon fillet at 375?
When baking salmon at 375°F, 8-10 minutes will get it flaky and perfectly cooked. To be sure, check the internal temperature of the salmon before consuming. It should be between 125-145°F. Overcooked salmon (like most fish) is not particularly enjoyable to eat, so keep a close eye on it as it bakes. Remove it from the oven about 2° before it reaches the desired temperature.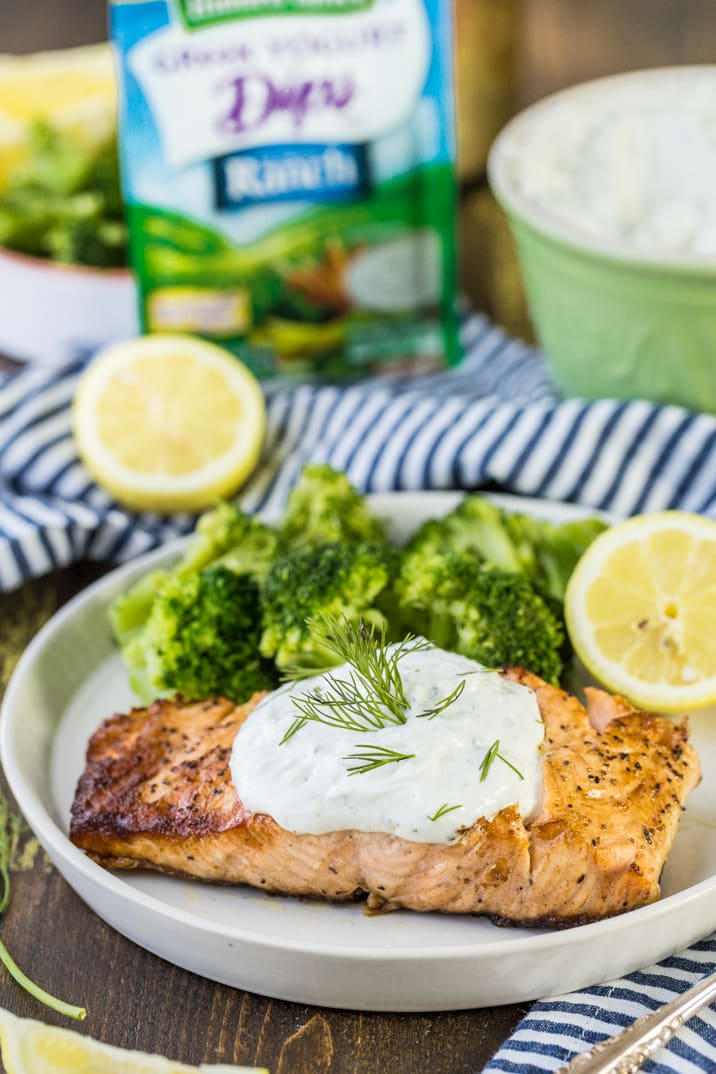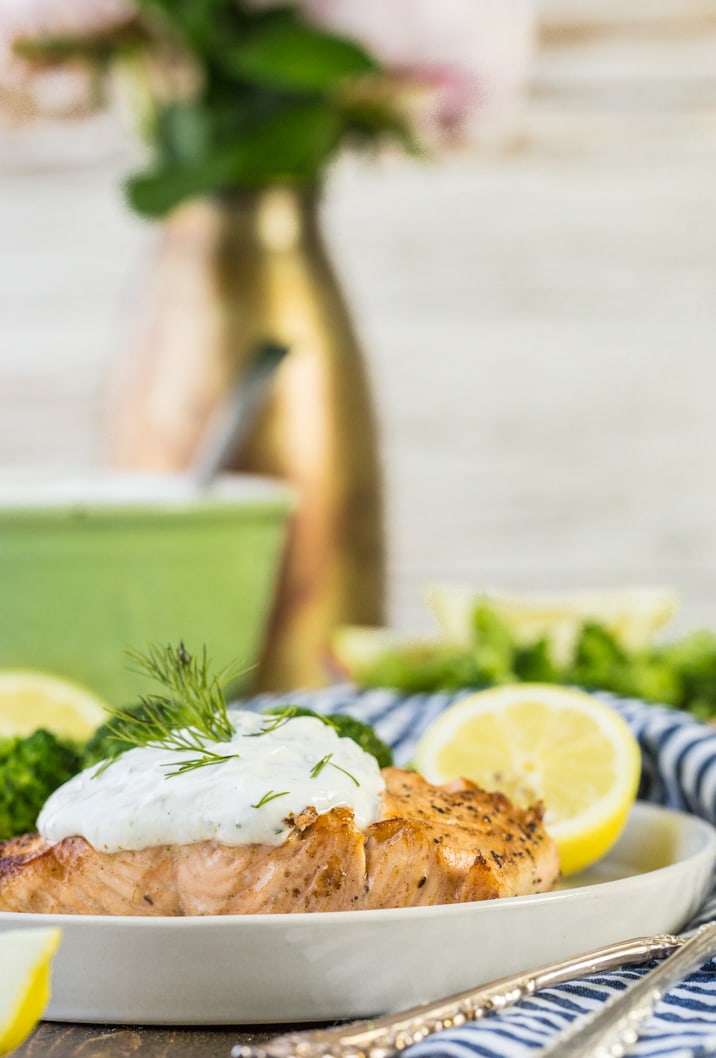 Healthy Salmon Recipes
This healthy salmon recipe is one of our favorites. It has such a light flavor, but it's SO tasty, especially with that greek yogurt ranch on top. Simple baked salmon fillet is the perfect healthy thing to eat for summer dinners, or any time you need a lighter meal in a hurry.
I love cooking salmon, so of course I have plenty of other healthy salmon recipes for you, baked and grilled!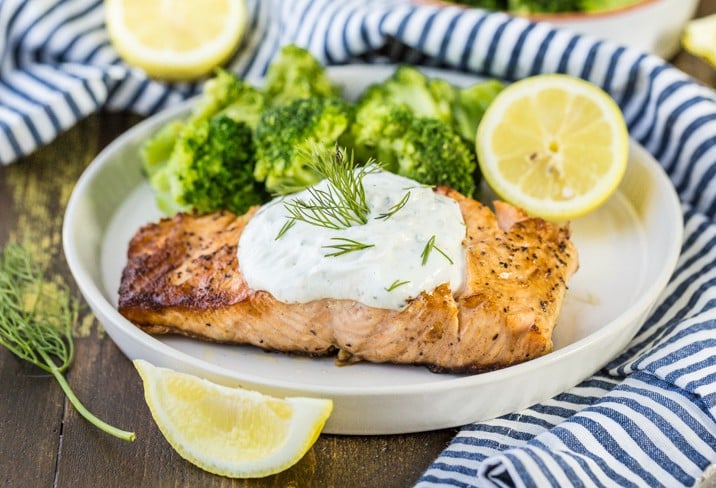 Make this healthy, delicious, simple baked salmon fillet recipe for your next quick dinner. You are going to LOVE the creamy greek yogurt ranch topping!
See the recipe card below for details on how to make Baked Salmon Fillet with Greek Yogurt Ranch topping. Enjoy!
If you like this simple baked salmon recipe, you'll love our other healthy recipes too: