There's no better comfort food than this loaded Green Goddess Grilled Cheese! Grilled cheese stuffed with avocado, pesto, and lots of cheese. Obsessed!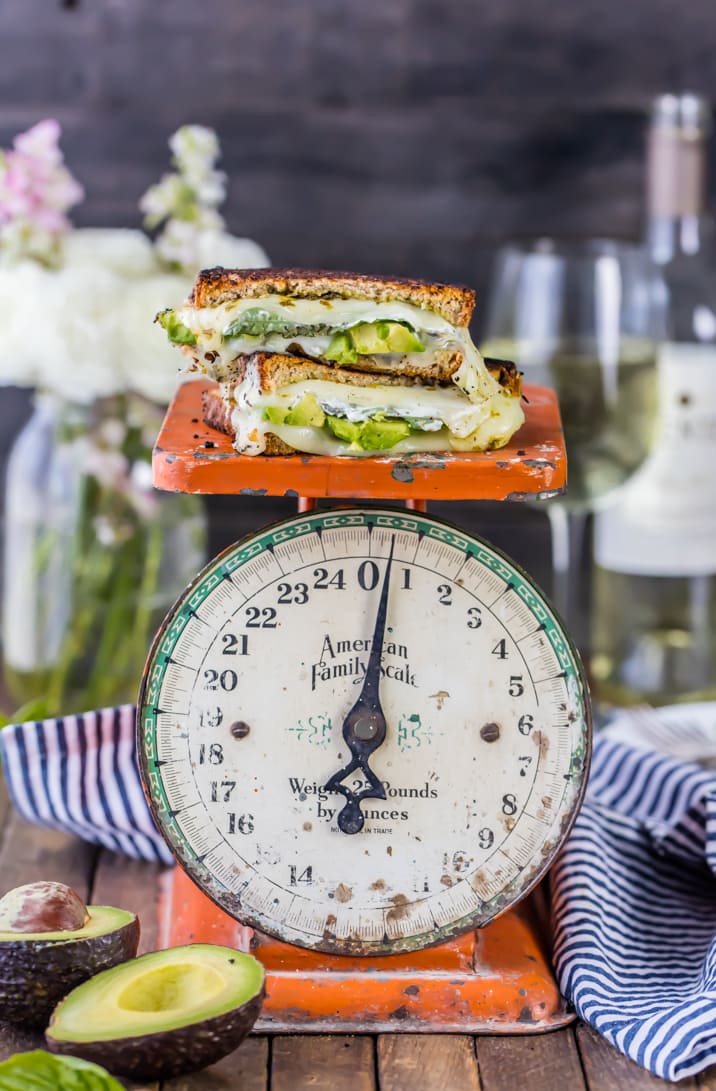 When I hear "Green Goddess", I think healthy. Well…I have to admit, this recipe is pretty far from healthy!! But if you're looking for a delicious, cheesy, amazing sandwich packed with tons of the best stuff on Earth, THIS IS YOUR RECIPE!! I'm going to use girl math here and say because it contains avocado, it's healthy. That makes sense to us all…right??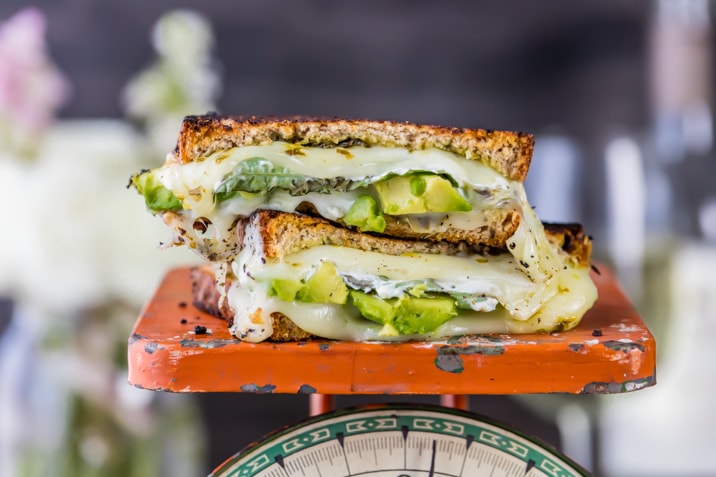 I adapted this Green Goddess Grilled Cheese recipe from one of the best food-porn sites on the web, Tastespotting!!
I submit all of my recipes to Tastespotting…it's a beautiful collection of delicious things. Little did I know they also have their own blog where they share their favorite recipes! Jackpot. I changed a couple things around (GIMME MORE BASIL!), but this genius idea is all theirs. Be sure to check out their site if it's not already on your favorites list!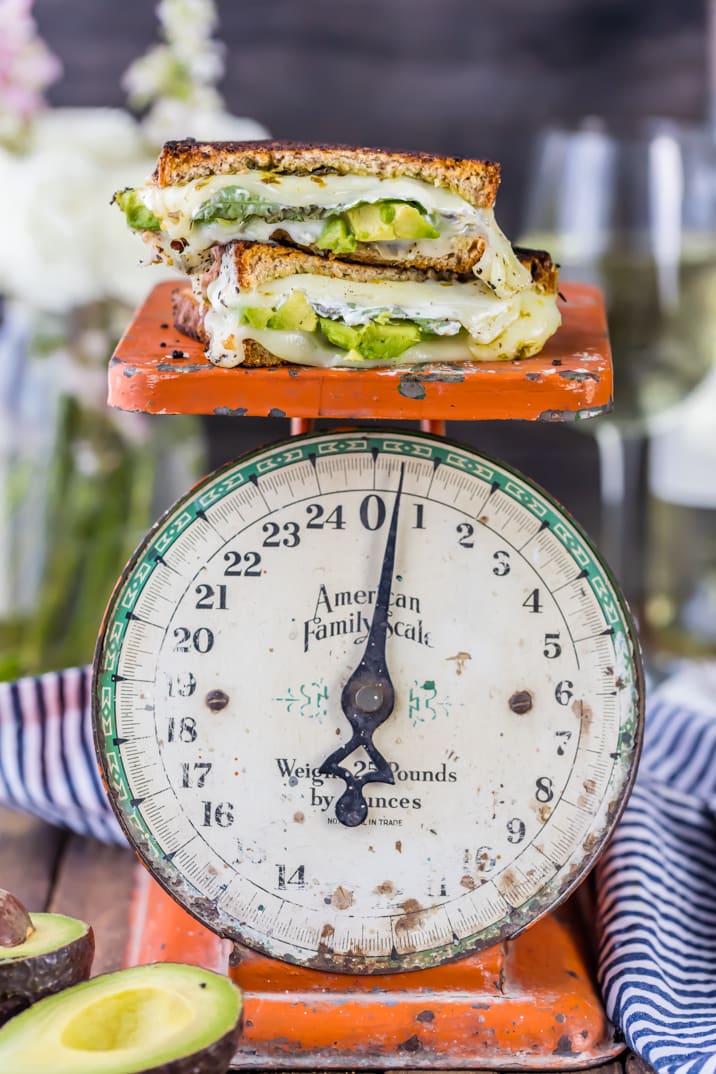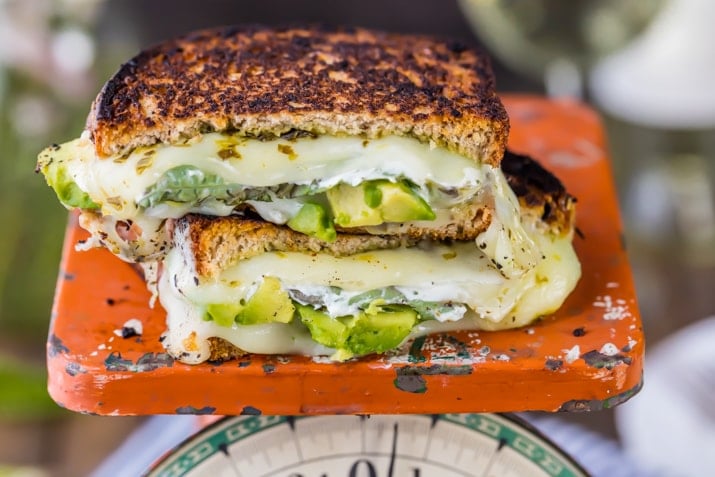 Stuffed full of mozzarella, boursin, avocado, and basil; this sandwich can't be beat!! Simply the best comfort food out there.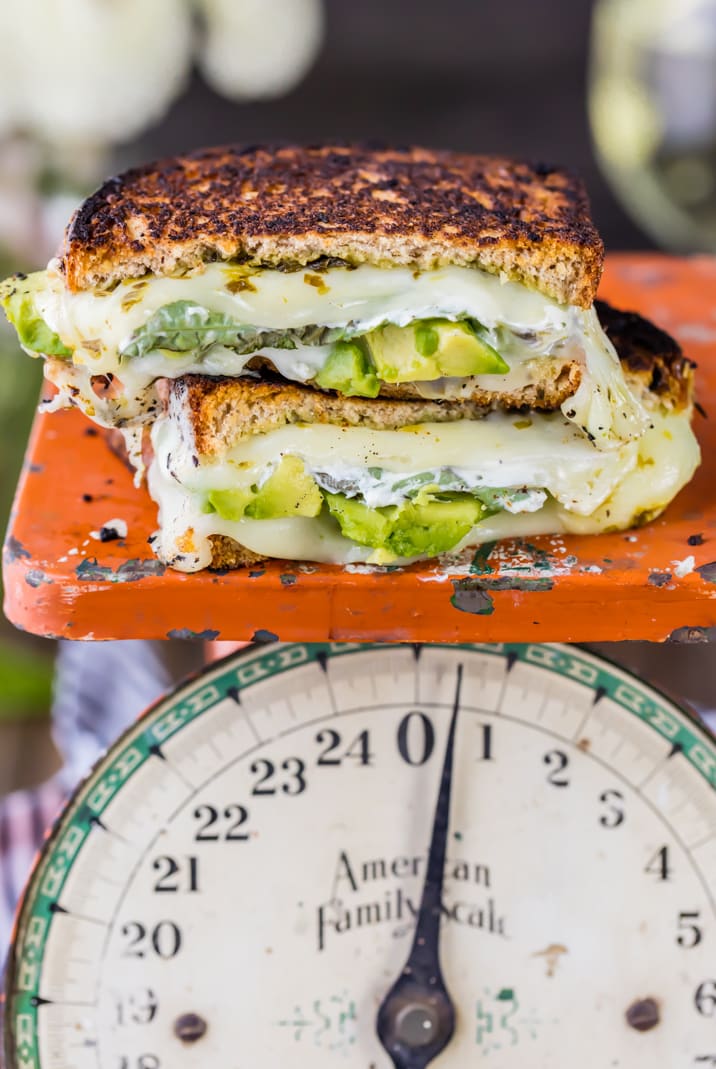 Enjoy enjoy enjoy!!!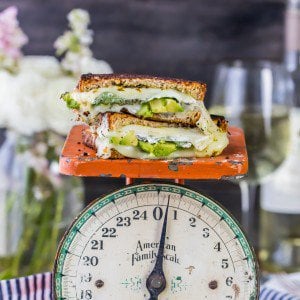 Green Goddess Grilled Cheese
Print
Ingredients
2

slices

oatmeal bread

or your favorite whole grain option

2

slices

mozzarella-provolone blend cheese

or mozzarella

1

tablespoon

boursin cheese

this is an herb blend spreadable cheese. it's optional but SO delicious!

1

avocado

cut into slices

4-5

large leaves basil

2

tablespoons

Green Goddess Pesto

recipe found HERE

2

tablespoons

butter
Instructions
Butter the outside side of each slice of bread.

Spread 1 tablespoon of the Green Goddess Pesto onto the inside of each slice of bread.

Top each a slice of mozzarella.

On one slice of bread, lay the avocado slices.

On the other slice, spread the boursin cheese onto the mozzarella. Top with the basil leaves.

Put the two slices of bread together to form your sandwich.

Place your sandwich on a preheated skillet over medium-high heat. Allow the underside of the bread to fully toast, and then carefully flip your sandwich.

Grill the other side of the bread, and allow your sandwich to get fully melty!!

Remove from heat and cut in half.

Serve and enjoy!