SALMON FOIL PACKETS are the perfect way to enjoy seafood on the grill this Summer. Grill salmon in foil to release and savor every bit of flavor! These tasty Grilled Caesar Salmon Foil Packets are filled with Salmon, tomatoes, artichokes, and sweet peppers. The easiest most delicious grilled dinner ever!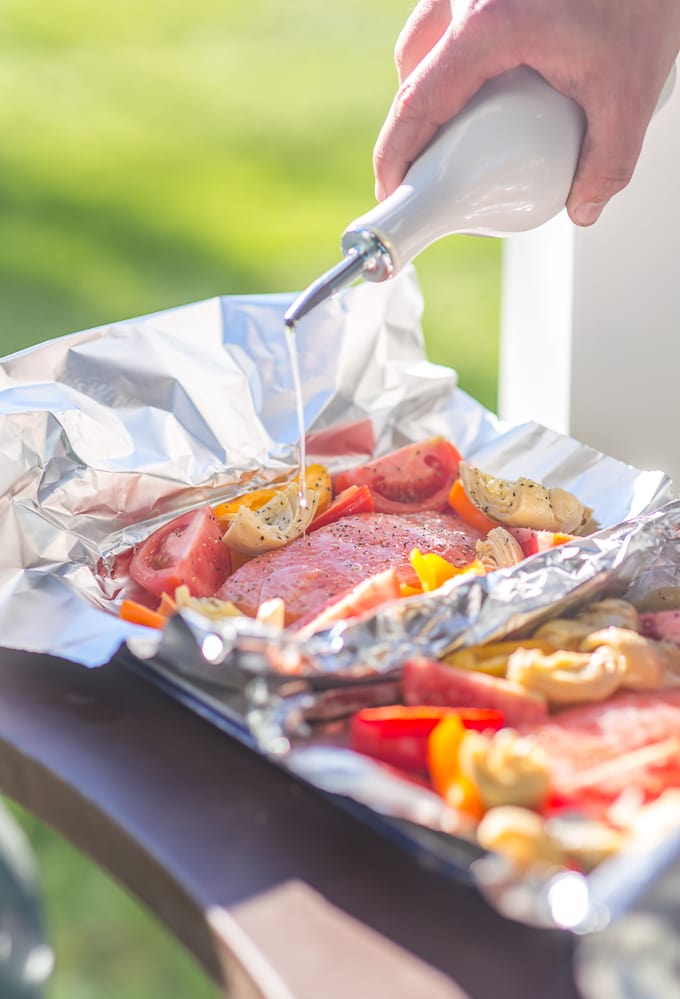 Salmon Foil Packets
Salmon Foil Packets are perfect for summer grilling! They're easy to make and easy to clean up. Grill salmon in foil to get the most flavorful fish recipe!
It's officially Summer and we have officially fired up our grill! As new parents, we are staying in more than ever (because I'm terrified of getting to a restaurant and Henry losing his mind!), and honestly it's been really nice. I love the opportunity to cook more at home together. I'm starting to realize how much we ate out now that we are home more often.
It's fun to get creative on the grill, and these Grilled Caesar Salmon Foil Packets are one of our most recent favorites. We love the simple flavors and how easy grilled salmon in foil packets cook together. Side dish and main dish all cooked in one easy grill foil packet. Oh so easy with ZERO cleanup (NO time for dishes, I have a 12 week old!!!). This is my kind of grilling recipe!
Learn how to grill salmon in foil to make the best summer meals! You'll want to make these over and over again.
Caesar Grilled Salmon in Foil Packets are the perfect summer grilling recipe. Everything cooked in one packet, how easy!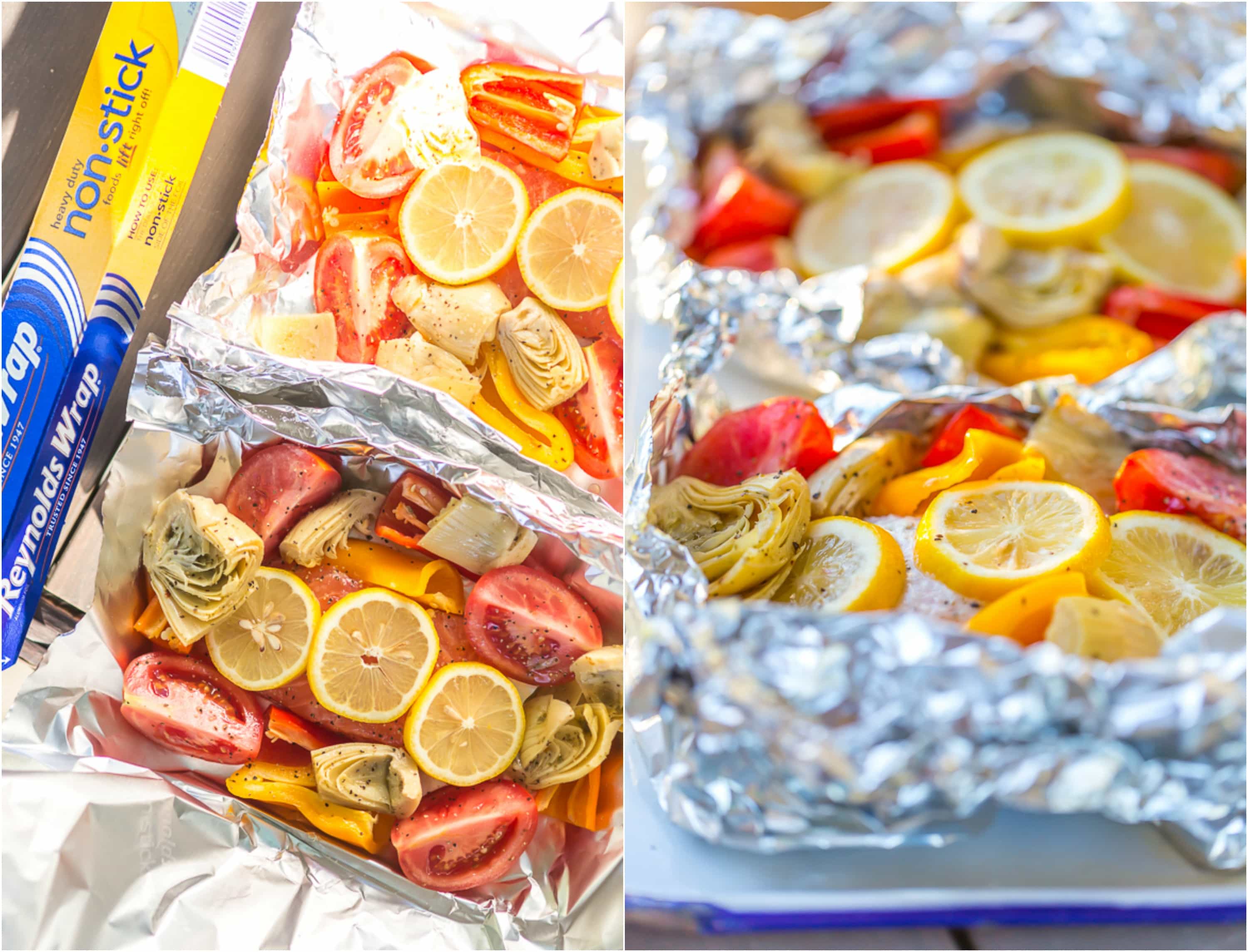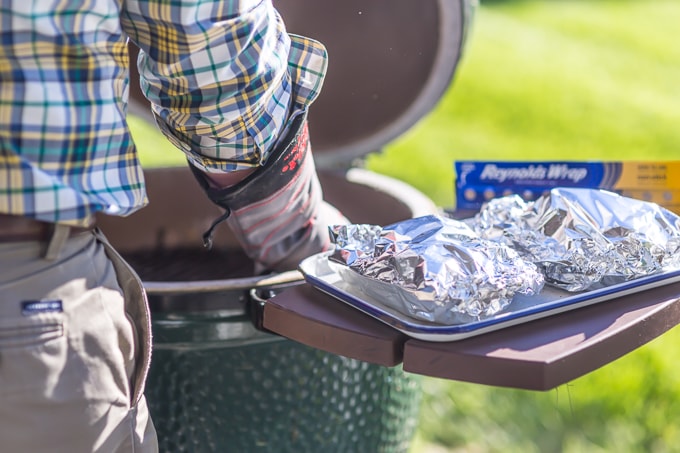 Summer Grilling with Grill Foil Packets
Pat had never heard of using foil packets for grilling, so I was so excited to show him how great the setup works. Reynolds Wrap is my fave ALWAYS when it comes to anything foil. Their nonstick foil is the ultimate for grilling. No mess and no heat transfer, so you don't have to worry about burning your fingers when you open the packets to test the doneness.
The foil makes sure the liquids don't soak through, so all the flavors stay sealed in the packets. This Caesar Salmon is proof that grill foil packets are a must this Summer.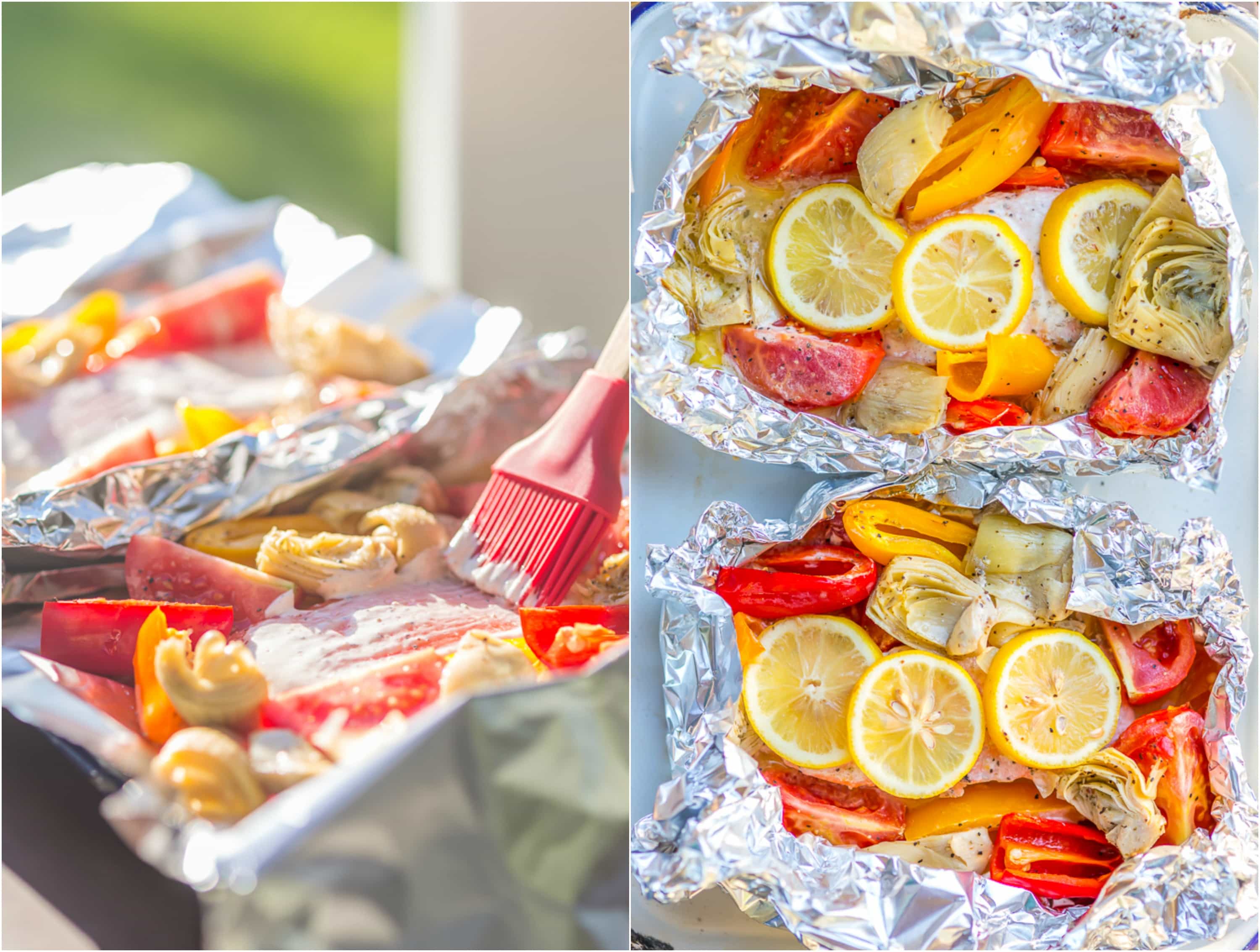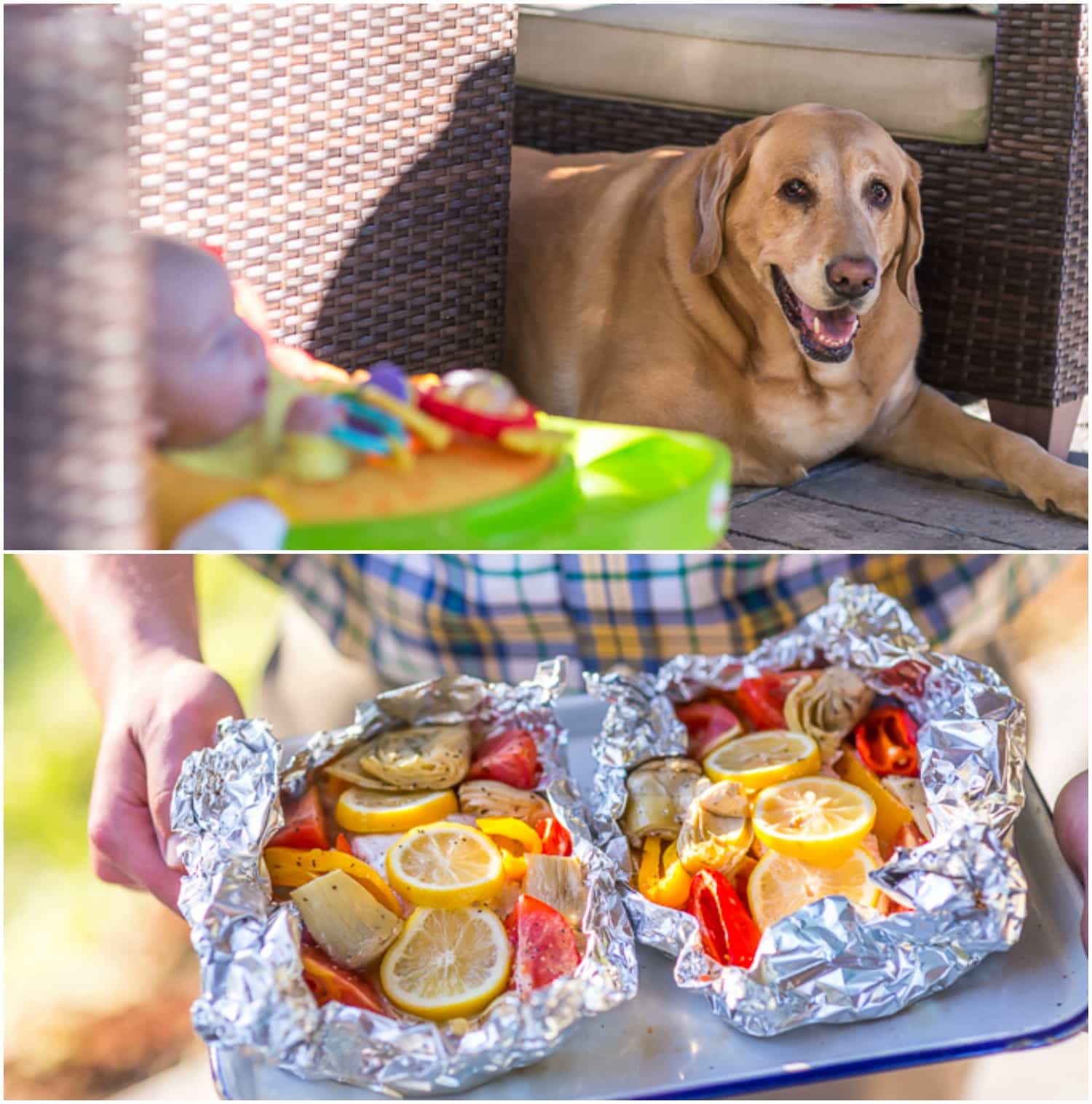 How to Grill Salmon in Foil
If you don't know how to grill salmon in foil, you're in for a treat! It's a simple way to cook salmon right along with vegetables for a whole meal in one foil packet.
We loaded the Grilled Caesar Salmon Foil Packets with artichoke hearts, tomato wedges, and sweet peppers before slathering the salmon with caesar dressing. When all the flavors steam together inside the grill foil packets, magic happens! Magic on the grill with all this flavor and also magic on the patio with family togetherness. Who could resist this smile?!
Here's how to grill salmon in foil:
Fold a sheet of foil in half, and place the salmon in the center of one side
Place vegetables around the salmon, staying on one side of the foil sheet
Season with salt & pepper, lemon juice, & olive oil
Brush each salmon filet with Caesar dressing
Place lemon slices on top of the salmon
Fold the other half of the foil packet over the salmon and vegetables, & cinch the foil closed to form a foil packet
Place salmon foil packets directly on the grill for 15 minutes at 450°F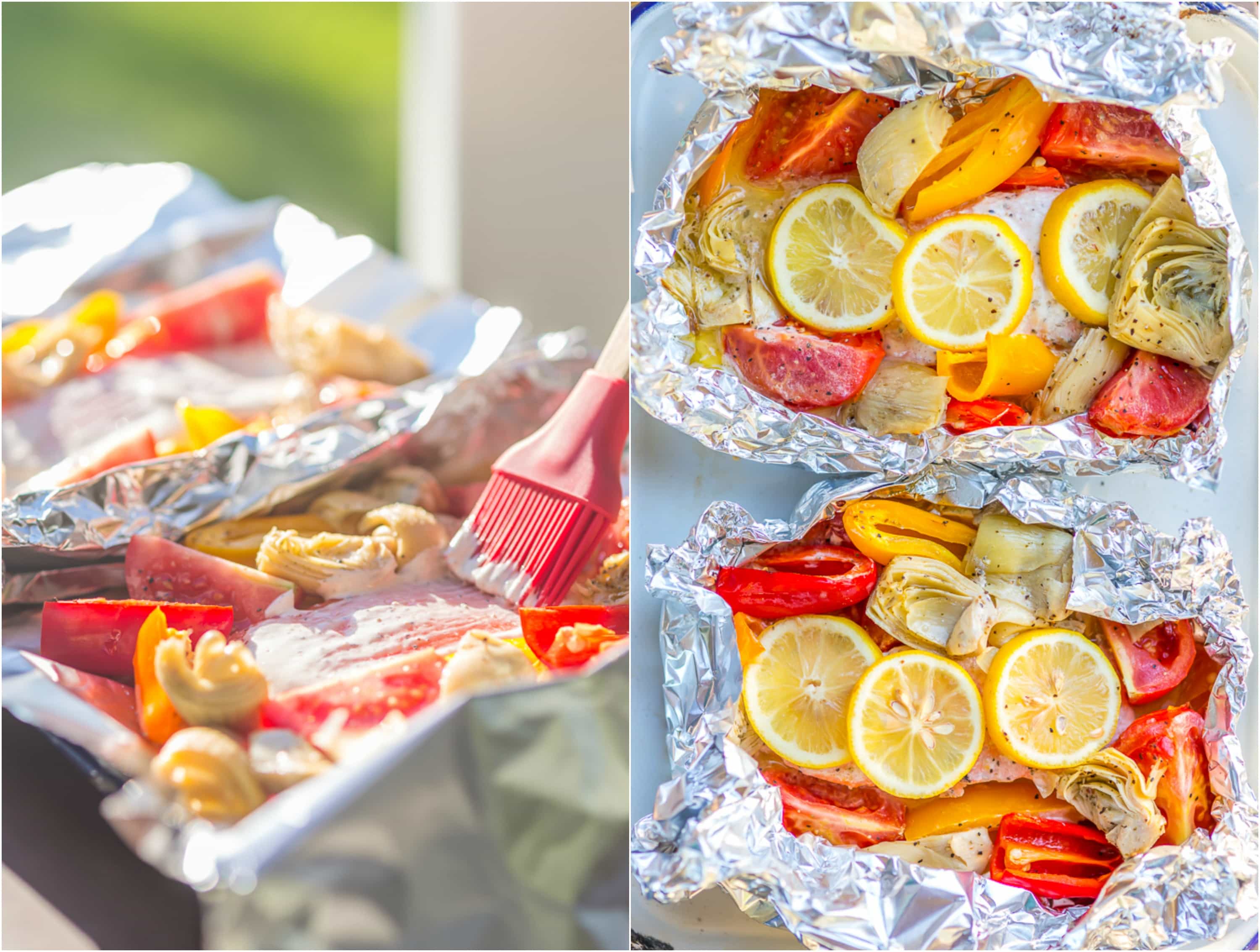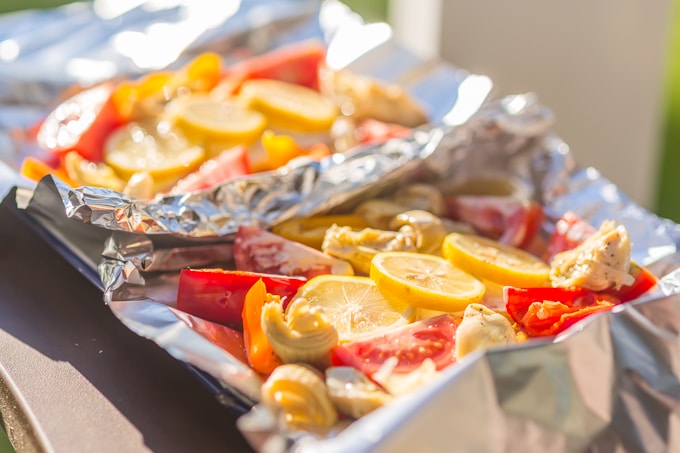 Foil Packet Recipes
Grill foil packets are perfect for summer grilling! They make both cooking and clean up super easy. I love these Grilled Caesar Salmon Foil Packets for any easy summer meal with family. You can make so many amazing meals with like this. I've also made these easy Foil Packet Nachos, which can be cooked on the grill or in the oven.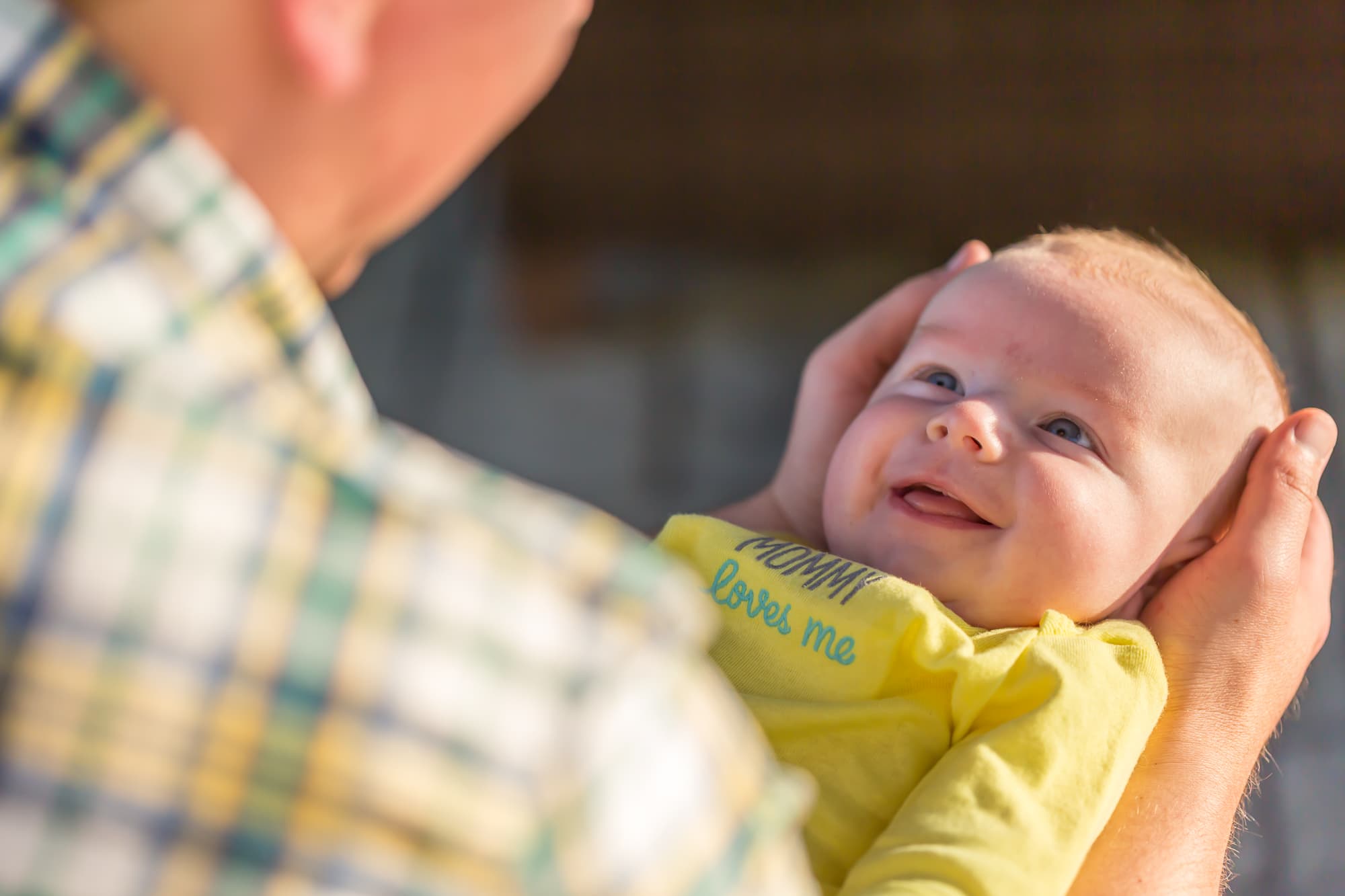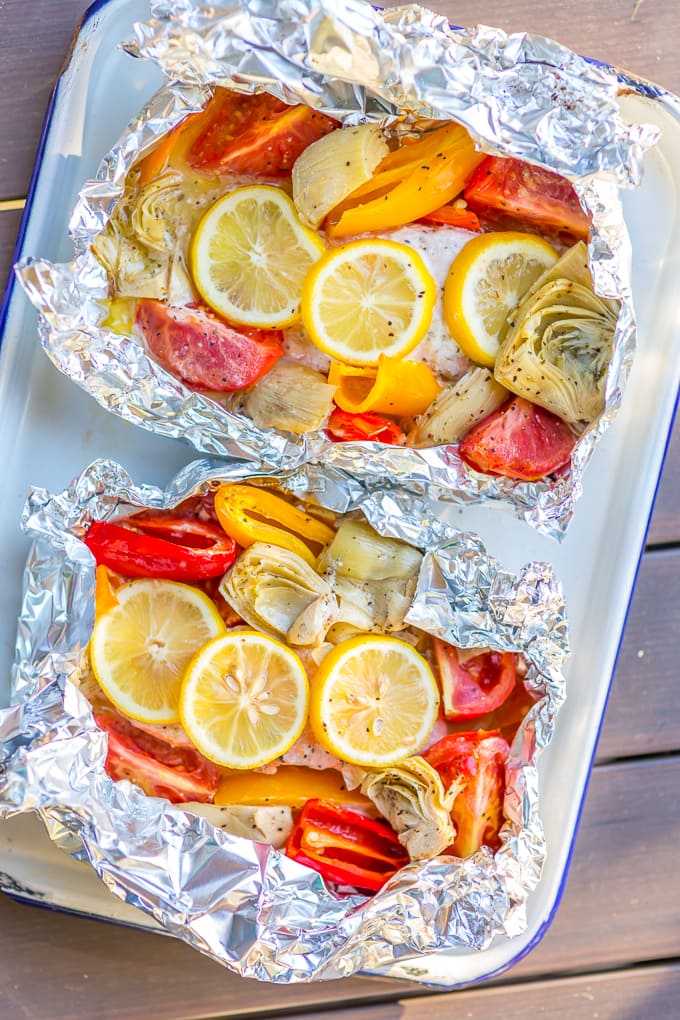 Try these Grilled Caesar Salmon Foil Packets at your next cookout. Throw your ingredients in the foil, fire up the grill, and let them cook. Grilling salmon in foil really brings out the flavor, and boy are these good! I can't wait for you to try them.
See the recipe card below for details on how to make Caesar Grilled Salmon Foil Packets. Enjoy!
If you like these salmon foil packets, try these other easy salmon recipes:
And check out our Summer Grilling Guide for more Grill Recipes & Ideas