Hawaiian Chicken Burgers are the perfect recipe for summer! These ground chicken burgers are topped with grilled pineapple, cheese, ham, and bbq sauce for a delicious island flavor. These pineapple BBQ chicken sliders recipe are just too good!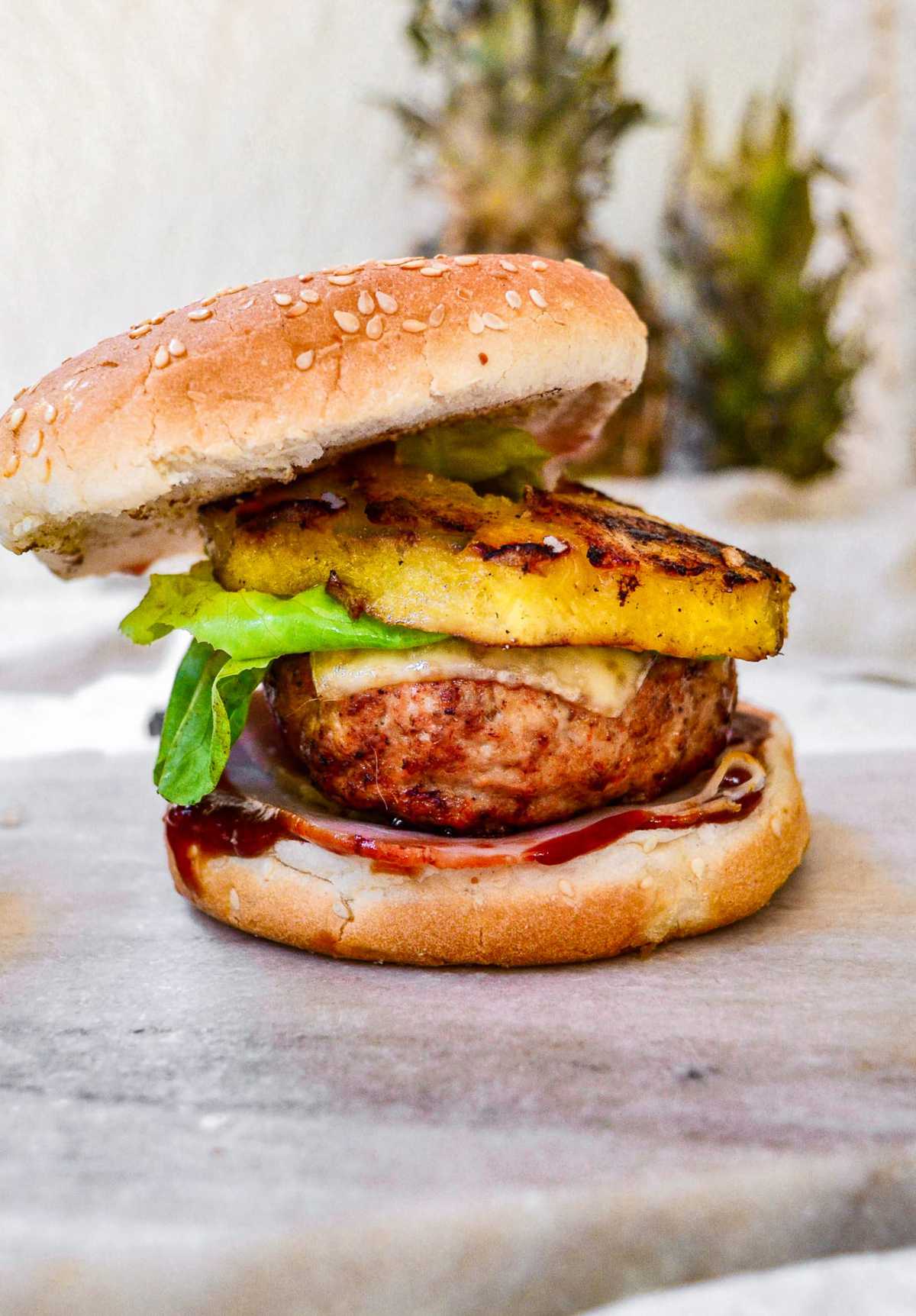 Hawaiian Chicken Burgers
These grilled Hawaiian chicken burgers have the perfect flavor for summer BBQs. Serve up these grilled chicken sliders for any party or occasion!
I am so excited for Summer BBQs! The friends, the fun, the FOOD. It's one of my favorite times of the year! These Grilled Hawaiian Chicken Burgers are the perfect meal to bring to the party.
These ground chicken burgers are topped with pineapple, BBQ sauce, ham, and served on hawaiian rolls! It's such a delicious mix of flavors, and I just can't get enough of them. Make them as regular-sized burgers, or halve the patties and make pineapple BBQ chicken sliders instead. Either way, they are incredible!
Chicken, pineapple, ham, cheese, and BBQ sauce makes for one tasty slider recipe!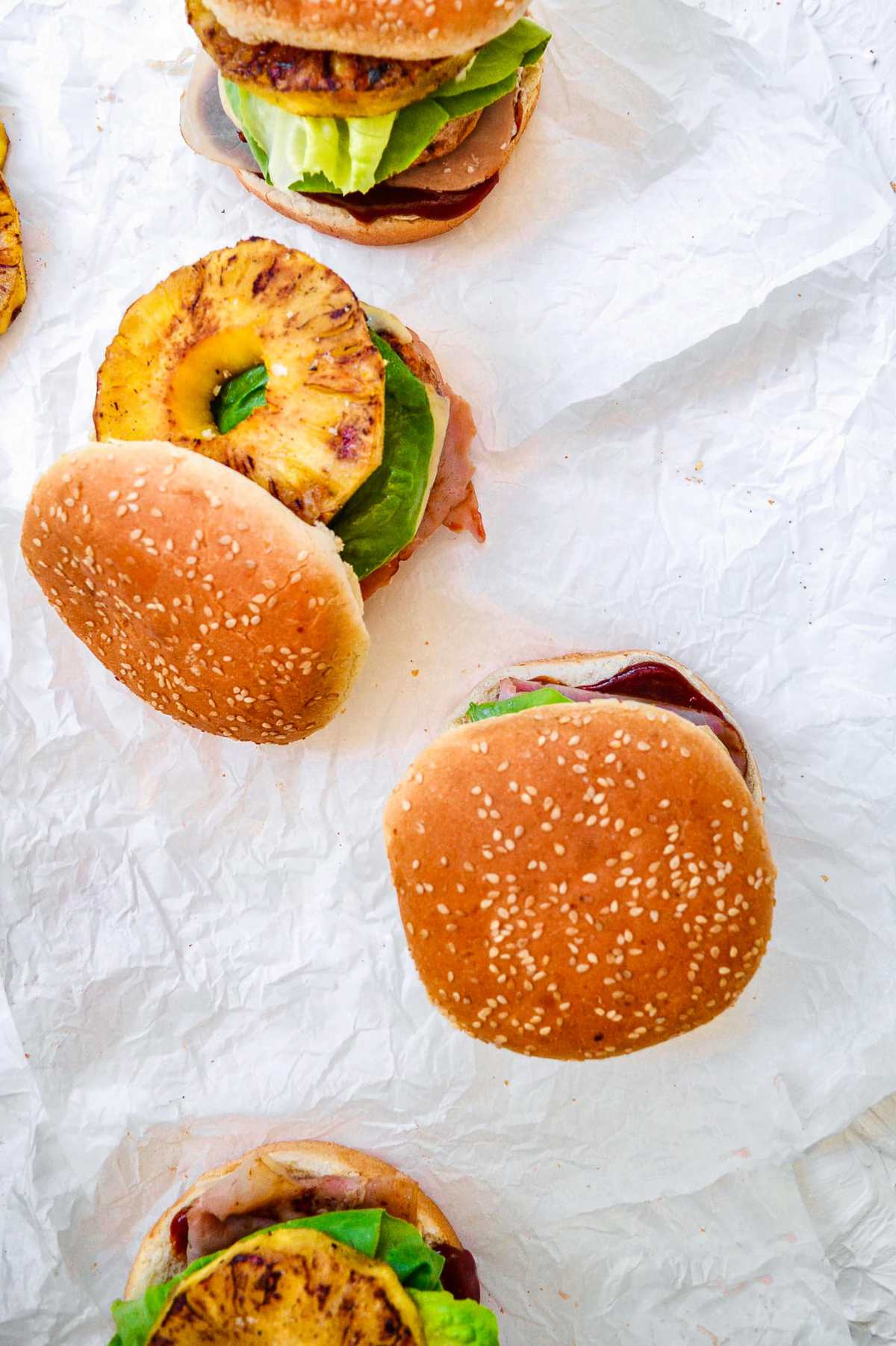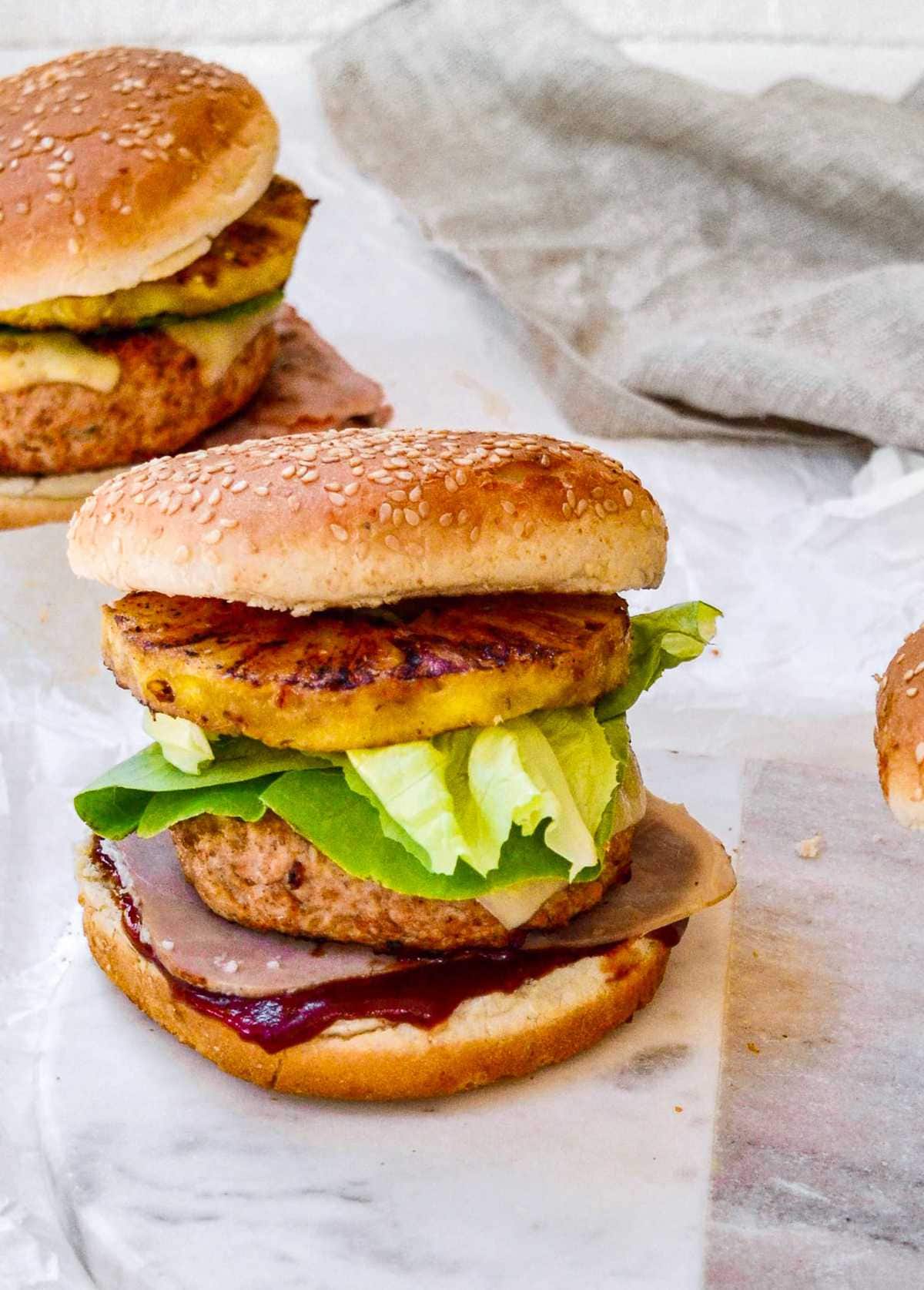 Ham Pineapple BBQ Chicken Sliders Recipe
These ground chicken burgers are so fun and easy to prepare. My entire family loved them, even my 2 year old niece! She's a pretty picky eater, so I'd say that's a win. The fresh flavors of the ham and pineapple were so delicious with the grilled chicken, Swiss cheese, and BBQ sauce.
I mean, what's not to love about grilled chicken sliders on hawaiian rolls? I love Hawaiian rolls, and I LOVE chicken, and BBQ sauce makes everything better. So when it's all combined, you get something really amazing.
What's in these Hawaiian Chicken Burgers?
Ground Chicken
BBQ Sauce (you could use our homemade BBQ sauce recipe or your favorite)
Pineapple Slices
Brown Sugar Ham
Provolone Cheese
Lettuce
Hawaiian Rolls or Buns
Plus a few more things to add even more flavor! See the full ingredients list in the recipe card below.
What else are you serving with these hawaiian sliders? Get some BBQ Side Dish ideas here!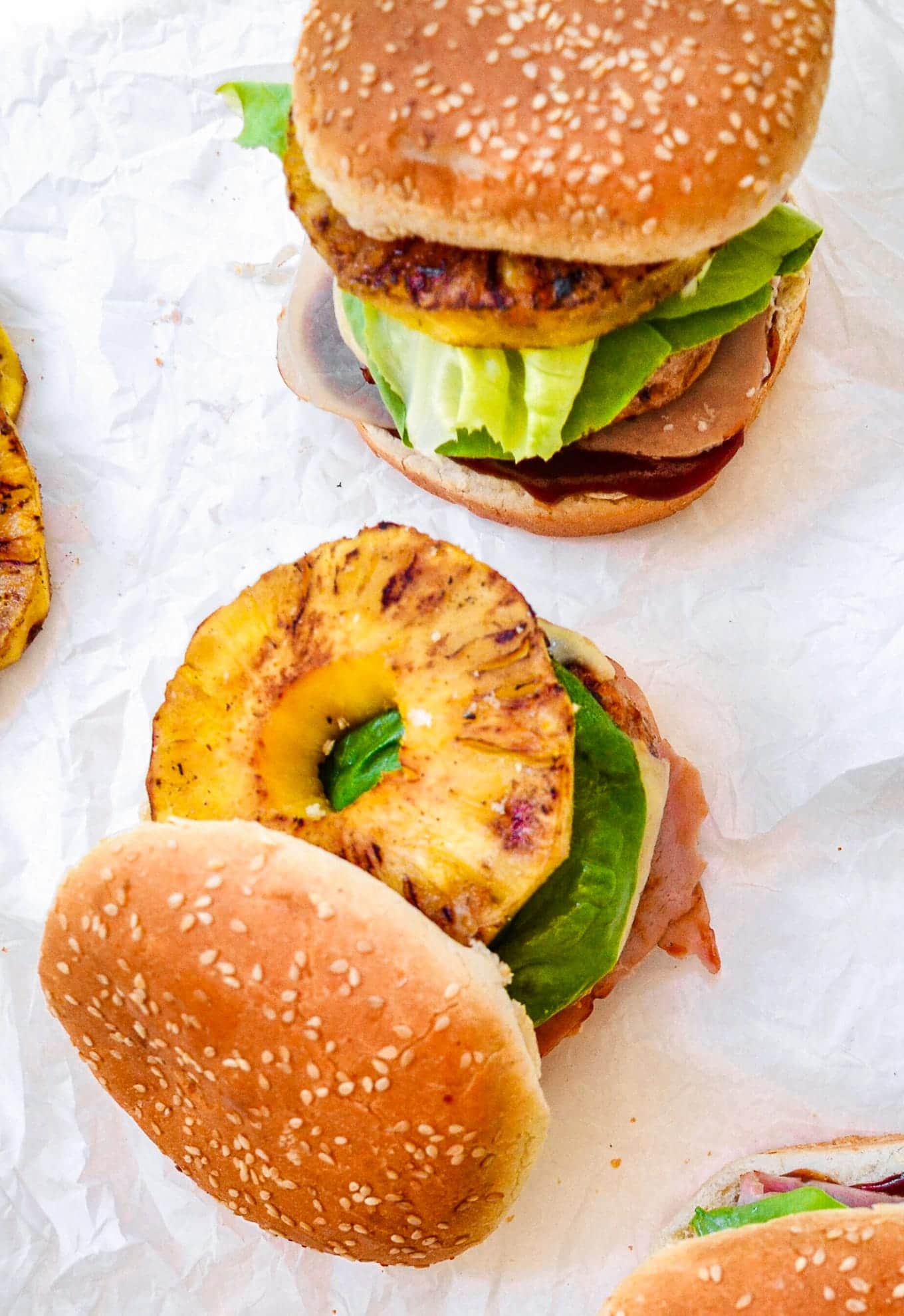 How to Make Grilled Hawaiian Chicken Burgers or Sliders
Lots of amazing ingredients are packed into these grilled Hawaiian BBQ chicken burgers, but it only takes a few steps and about 30 minutes to make them. It's an easy summer recipe to throw on the grill on weekends, or any night of the week.
Start by combing ingredients to make the ground chicken mixture for the burgers. Mix ground chicken, BBQ sauce, provolone, breadcrumbs, cilantro, garlic, pineapple juice, and salt & pepper.
Form the mixture into 4 patties (1/4 lb. burgers) or 8 smaller patties (sliders).
Grill them on medium heat for about 6-8 minutes on each side. Grill the pineapple slices for a couple of minutes alongside the burgers.
When done grilling, assemble the burgers. Start with Hawaiian rolls or buns, then place the chicken burgers, swiss cheese, grilled pineapple, lettuce, ham, and BBQ sauce on each one.
These pineapple BBQ chicken sliders are SO good and so fun to eat!
Learn How to Make Burgers of all kinds in our ultimate Guide to Cooking Burgers!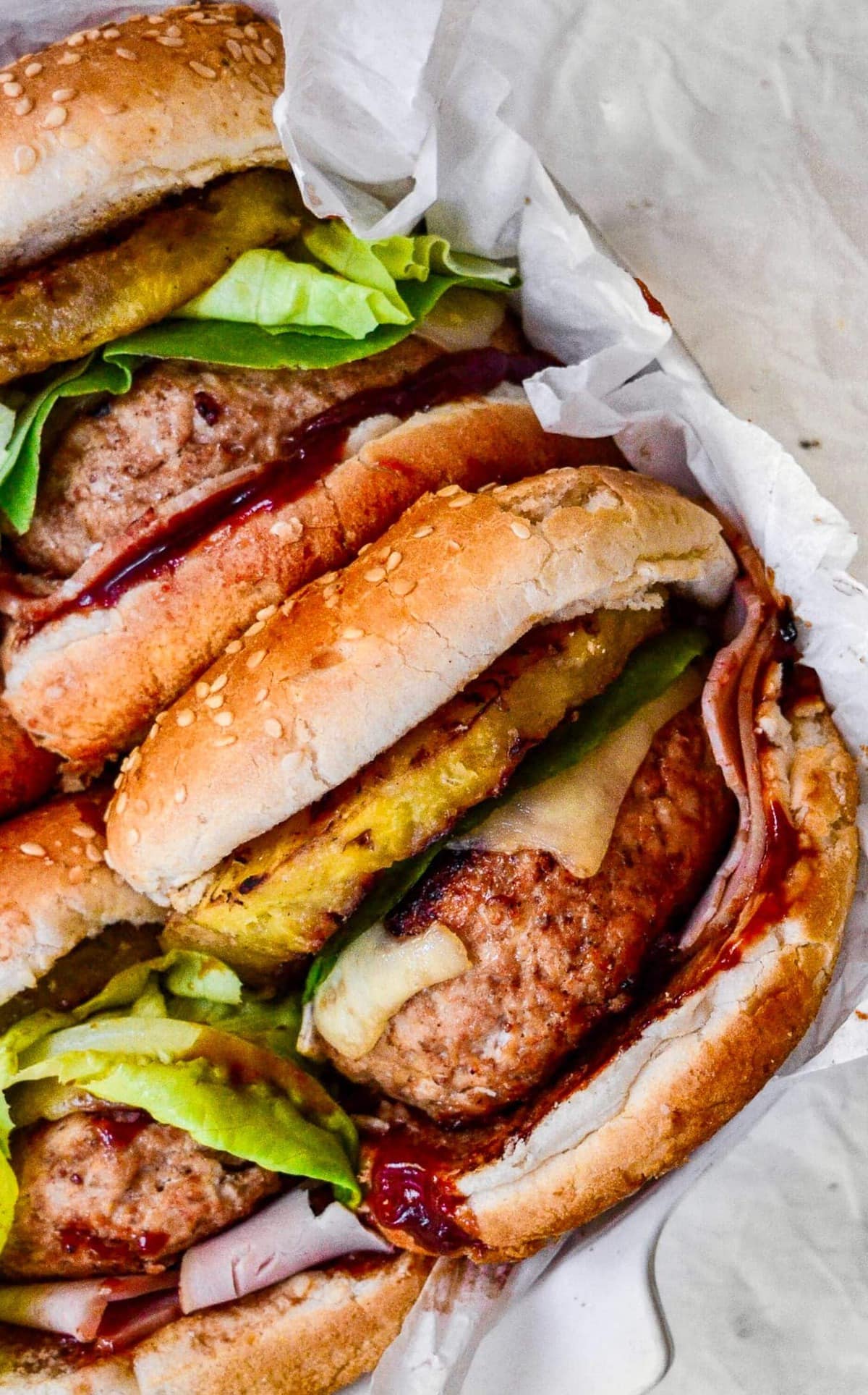 Ground Chicken Burgers
I had never made ground chicken burgers before this recipe, but I was so happy with the results that I just kept going with it. Ground chicken is very lean and low calorie, so these little Hawaiian BBQ chicken sliders are a guilt-free treat. Definitely a healthier alternative to beef burgers and red meat. And don't forget to try our Chicken Burgers with Feta and Sun-dried Tomatoes too. Both recipes will be a hit!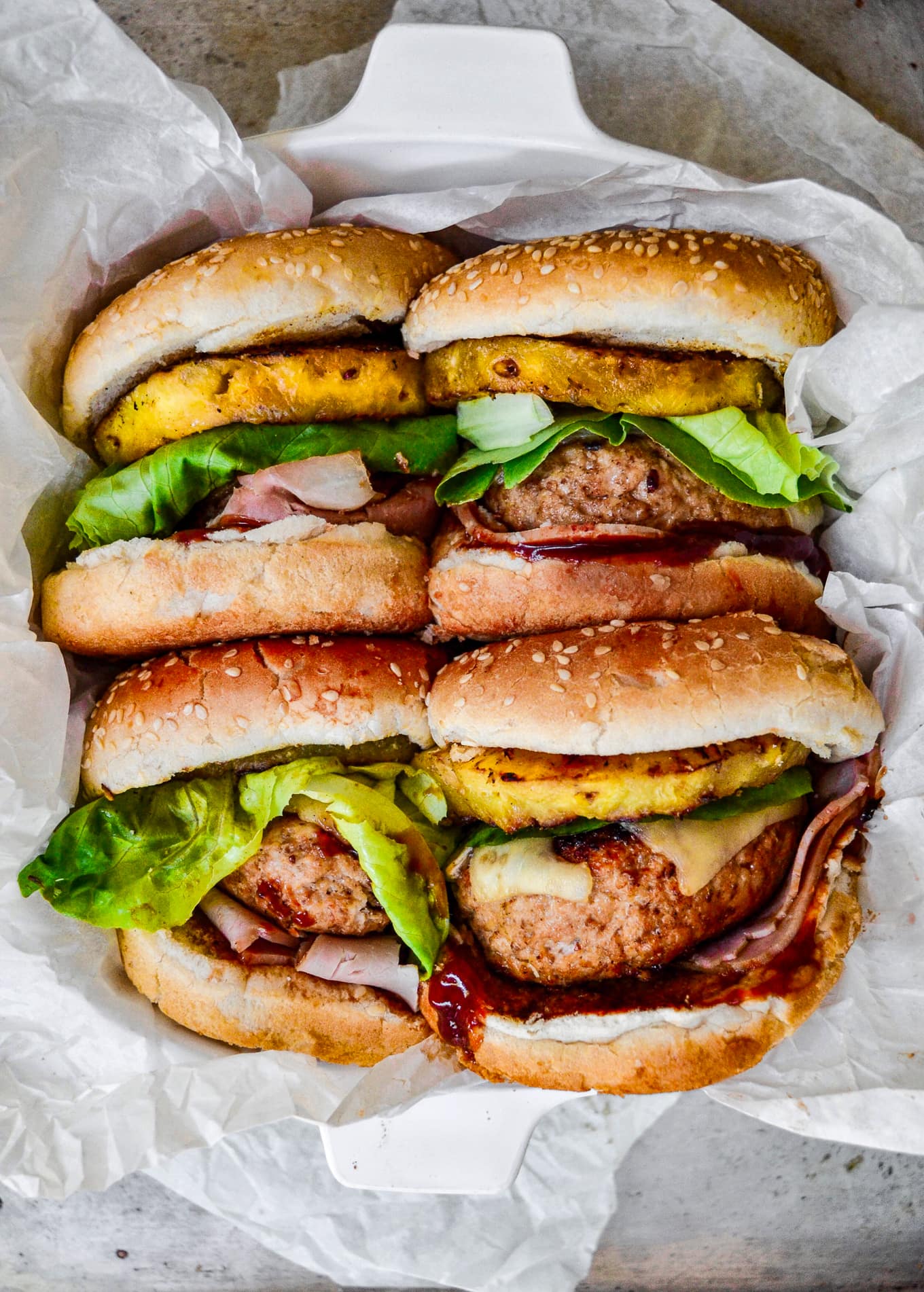 These ham, pineapple, BBQ, Hawaiian Chicken Burgers are not to be missed. Everyone will love them!
See the recipe card for details on how to make this Hawaiian BBQ Chicken Sliders recipe. Enjoy!
Try these other delicious burgers and sliders: