These Skinny Quinoa Hawaiian Pizza Stuffed Peppers are easy, indulgent, and still (relatively) healthy! You'll feel like you're eating pizza but you're actually eating a super healthy dinner!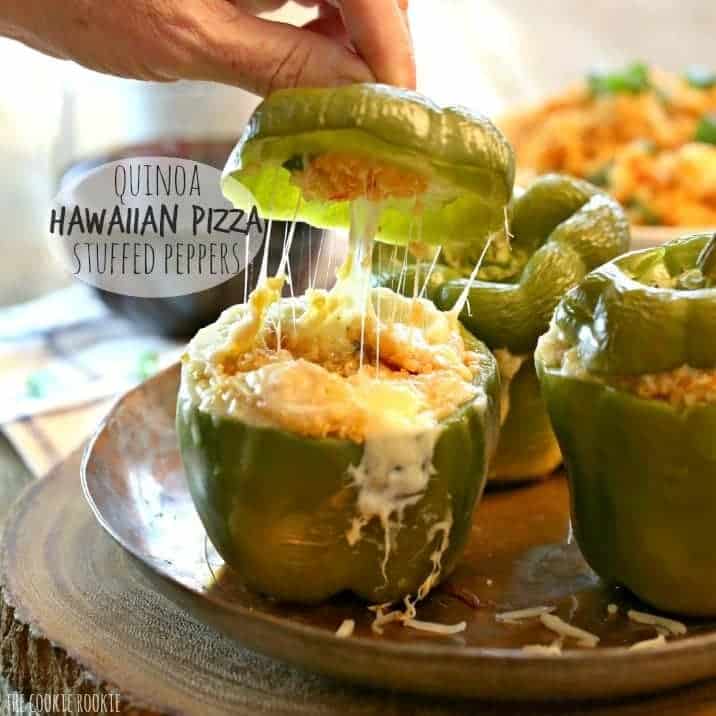 Quinoa…have you tried it? Its all the rage on Pinterest and the food blogs I follow.
I subscribe to a ridiculous amount of food blogs, and it seems that quinoa has taken over.  I wasn't sure what to think, but I had to at least try.  One great thing about documenting this journey is trying all sorts of new things, and finding some favorites along the way!
I can see why quinoa is popular.  It's easy, healthy, and super versatile.  It works great in fruity salads, savory casseroles, and even chicken nuggets!  In this case, it makes the perfect in cheesy (I had to) Hawaiian Pizza Stuffed Peppers.  Yum!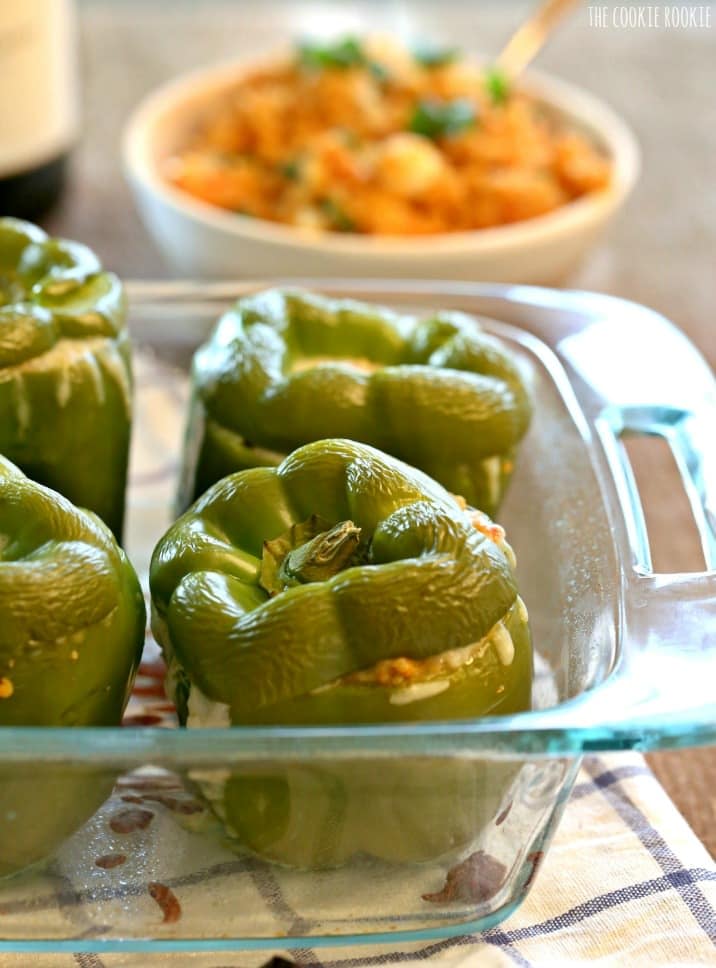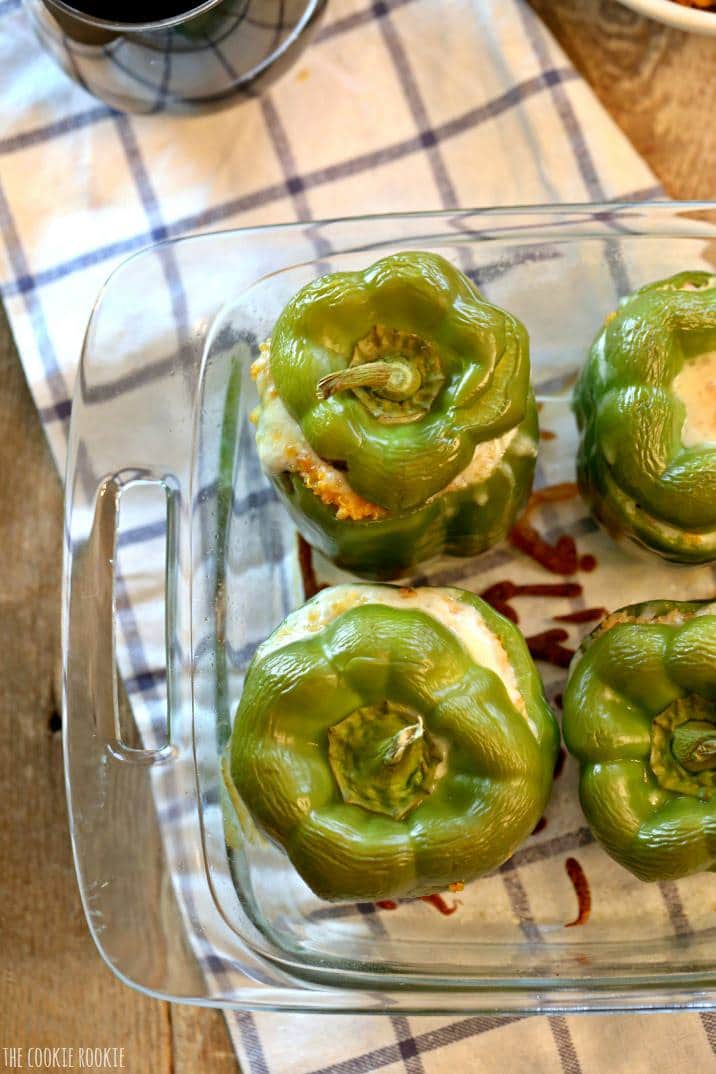 As I was making these, I wasn't sure.  Could something that's so trendy and good for you really be delicious? I'm always a skeptic when it comes to that.  I have to really be convinced to cross over into the healthy realm.  I'm working on it.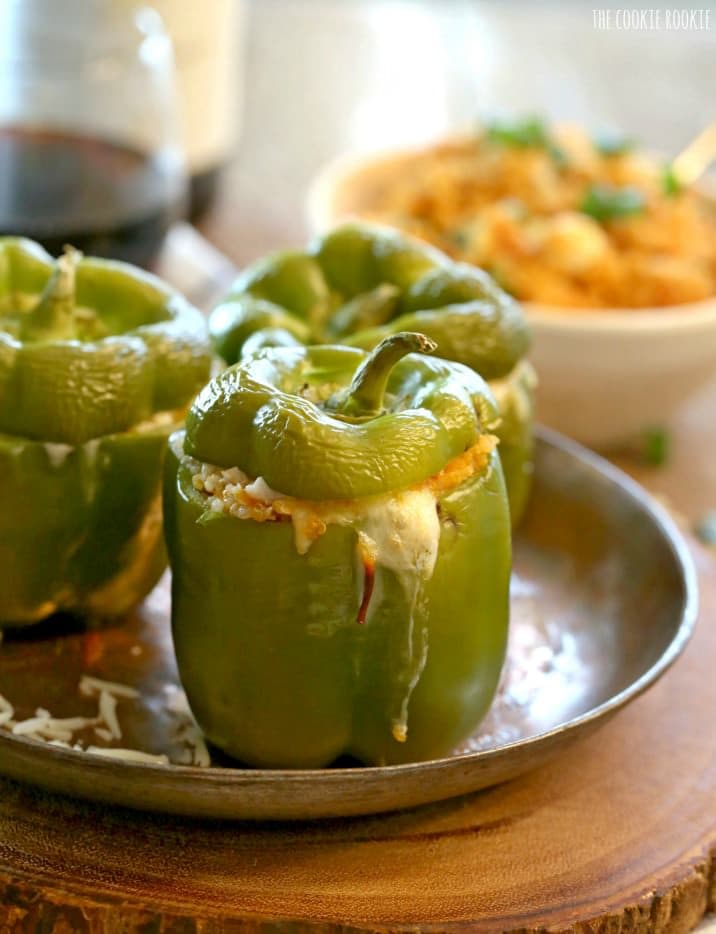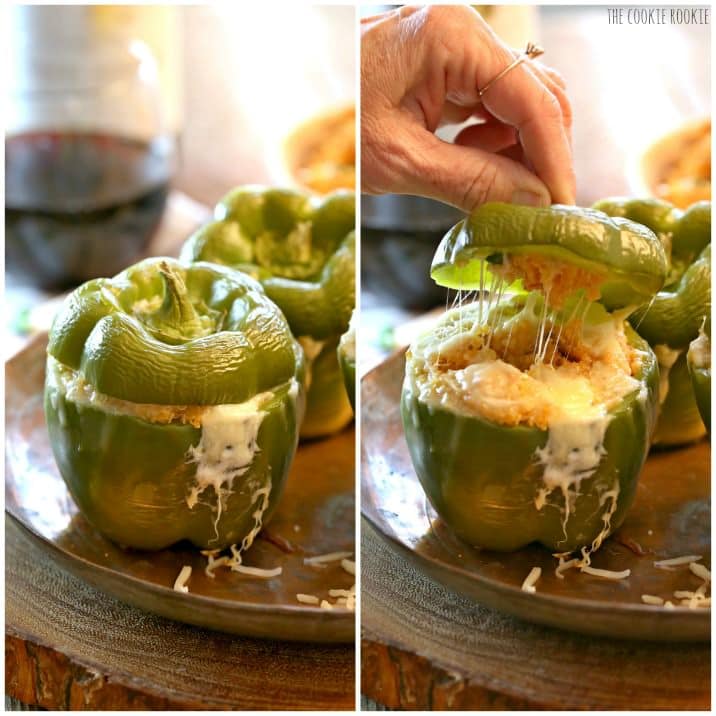 I knew as soon as my hand model mother started lifting the lid on this little beauty that we had a winner.  THE CHEESE!! It doesn't take much cheese to do the trick, you can add more or less depending on how skinny you want these to be.
These Skinny Quinoa Hawaiian Pizza Stuffed Peppers make such a delicious and romantic side dish or main course for Valentine's Day!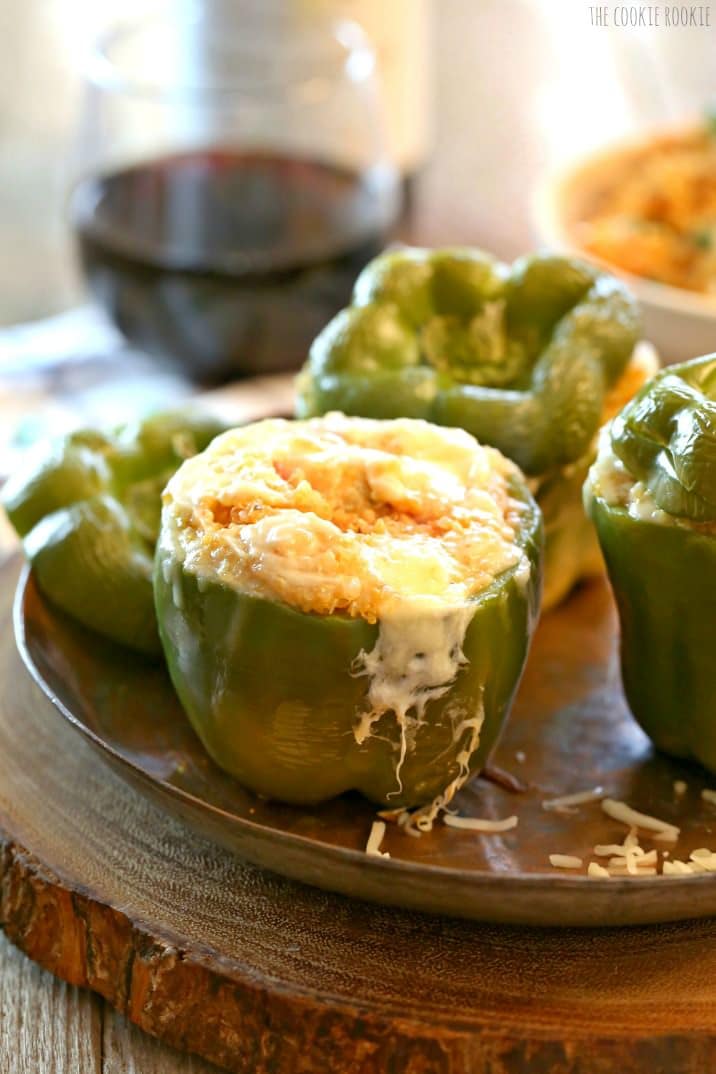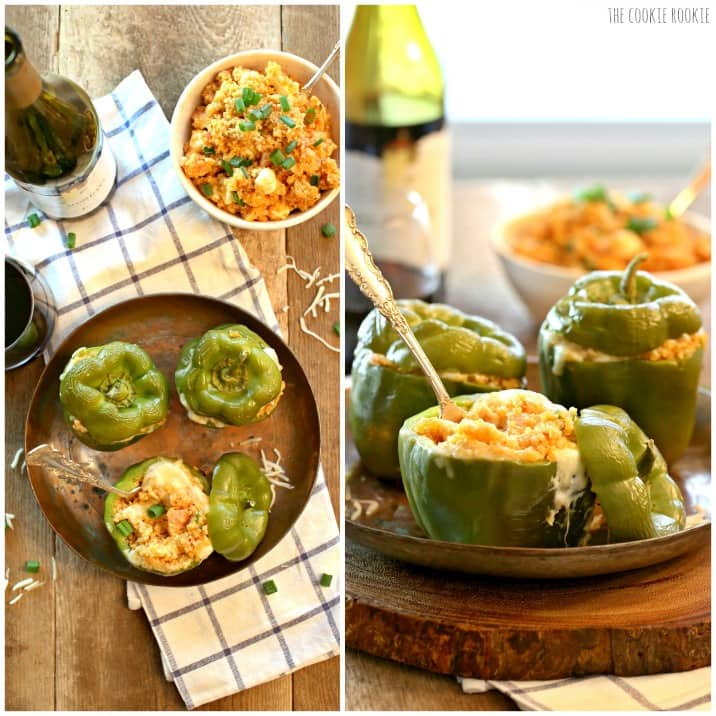 We paired these babies with the perfect restaurant style filet mignons (COMING SOON!) and it's been one of my favorite meals to date! These peppers are also great on their own.  The quinoa has a rice-like feel, very filling.  I might be hooked!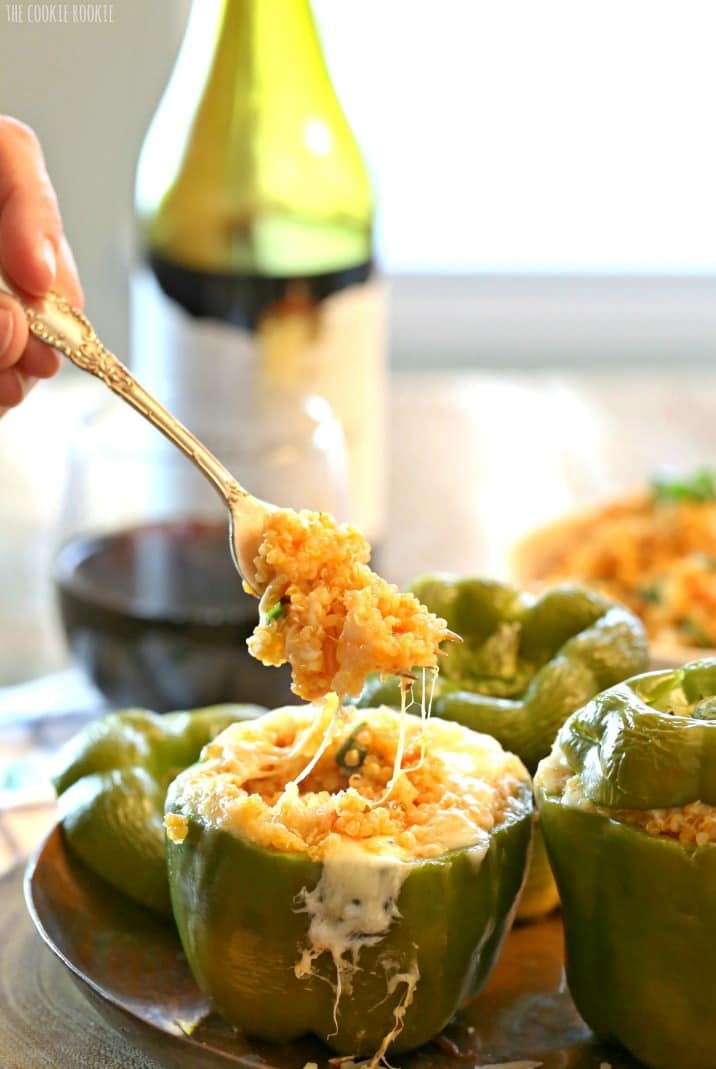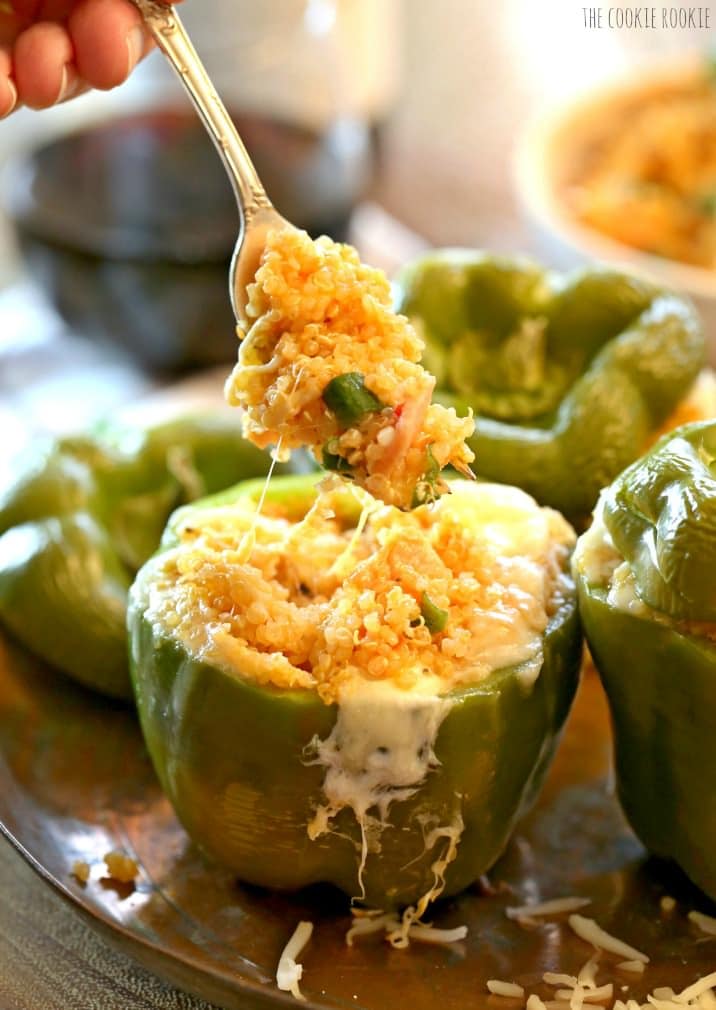 I can't wait to try quinoa in other ways.  I think this trend might be on to something.  Enjoy!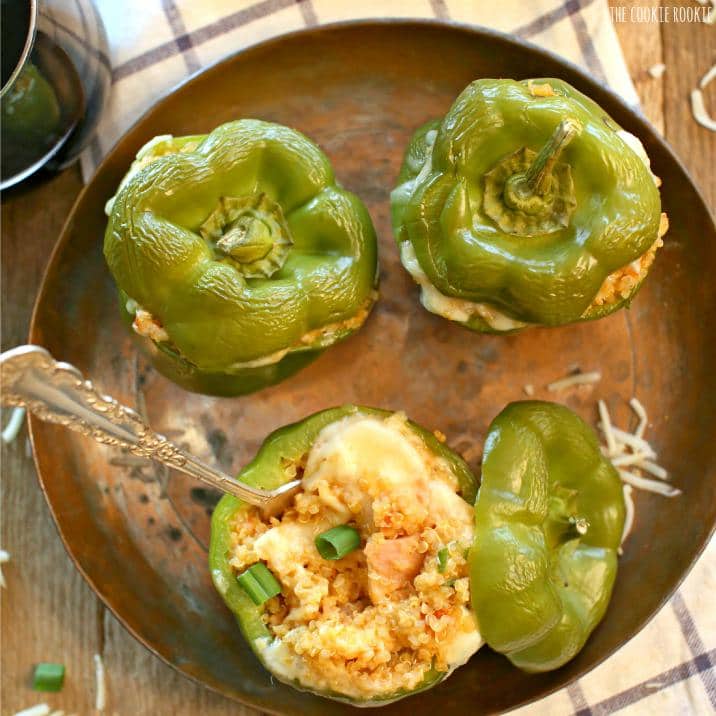 Quinoa Hawaiian Pizza Stuffed Peppers
20 minPrep Time
50 minCook Time
1 hr, 10 Total Time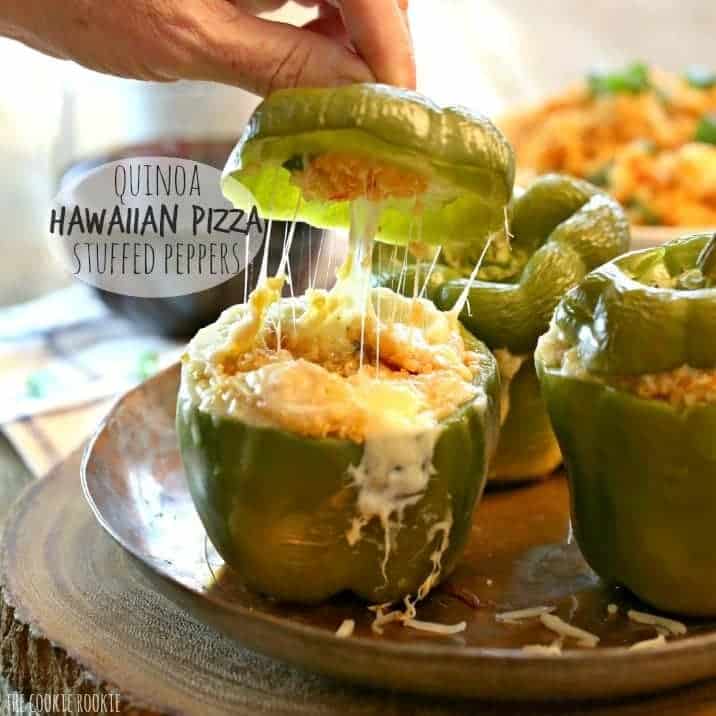 Ingredients
4 large green bell peppers
1 cup cooked quinoa, cooled
4 slices Canadian bacon, chopped
1 cup marinara sauce
1/4 cup whole milk mozzarella pearls
1 cup shredded mozzarella cheese
1/4 cup chopped green onion
1/2 cup grated parmesan
Instructions
Preheat oven to 350F
Cut the top off of each pepper to make it's hat You can see I cut one of them too shallow, you should cut about 1/2 inch down to keep the stem in tact. Using a knife, cut out the middle of each pepper and discard with the seeds. Set the peppers and hats aside.
In a large bowl, mix together quinoa, Canadian bacon, marinara sauce, mozzarella pearls, green onion, and grated parmesan.
Fill each pepper with the quinoa mixture. Sprinkle with the shredded mozzarella and place the tops back on. Put the four peppers into a small square baking dish and cover with foil. Cook for 45 minutes covered, and then another 10 uncovered.
Enjoy!
7.8.1.2
2067
https://www.thecookierookie.com/hawaiian-pizza-stuffed-peppers/