This Instant Pot Pot Roast recipe is quick to prep and just as delicious as a classic recipe. Chuck roast, red wine, carrots, potatoes, broth, and just a few other ingredients cook in a pressure cooker for an easy and comforting dinner. It's the best meal for cozy nights!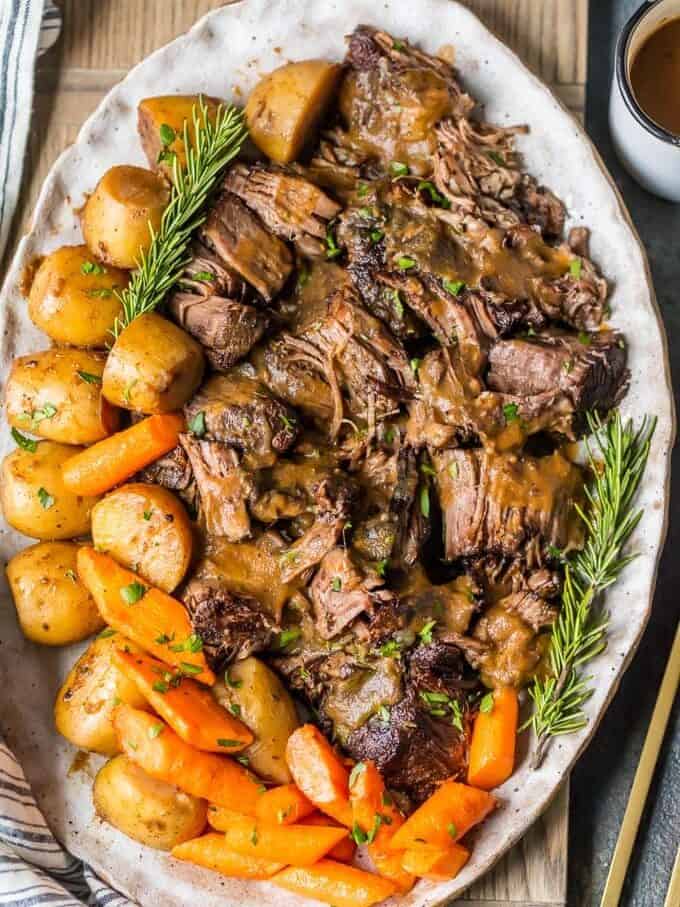 What's in this Instant Pot Pot Roast recipe
Making a classic pot roast in a pressure cooker is so easy thanks to quick prep time. A comforting dinner will be ready in no time!
Chuck Roast: Look for chuck roast, shoulder steak, boneless chuck roast, chuck shoulder pot roast, chuck seven-bone pot roast, or beef chuck arm.
Broth: Use beef or chicken broth. I use low-sodium, but that's up to you.
Red Wine: Use a dry red wine, like a Merlot or Cabernet Sauvignon.
Carrots: Cut into 2-inch pieces.
Garlic: Everything needs a little garlic!
Onions: Peel and cut onions into quarters. Sweet yellow onions work best.
Spices: Use smoky or sweet paprika (whichever you prefer), and some salt and pepper.
Herbs: Fresh rosemary and thyme adds the best flavor to pot roast.
Can I add carrots and potatoes to this easy pot roast?
There are some carrots in the pot roast, but you can add more vegetables to fill out your meal if you like. Add more carrots and onions, along with potatoes, to cook directly on top of the pot roast in the pressure cooker.
Instructions are included in the recipe card, but it's as simple as throwing them in the Instant Pot along with everything else!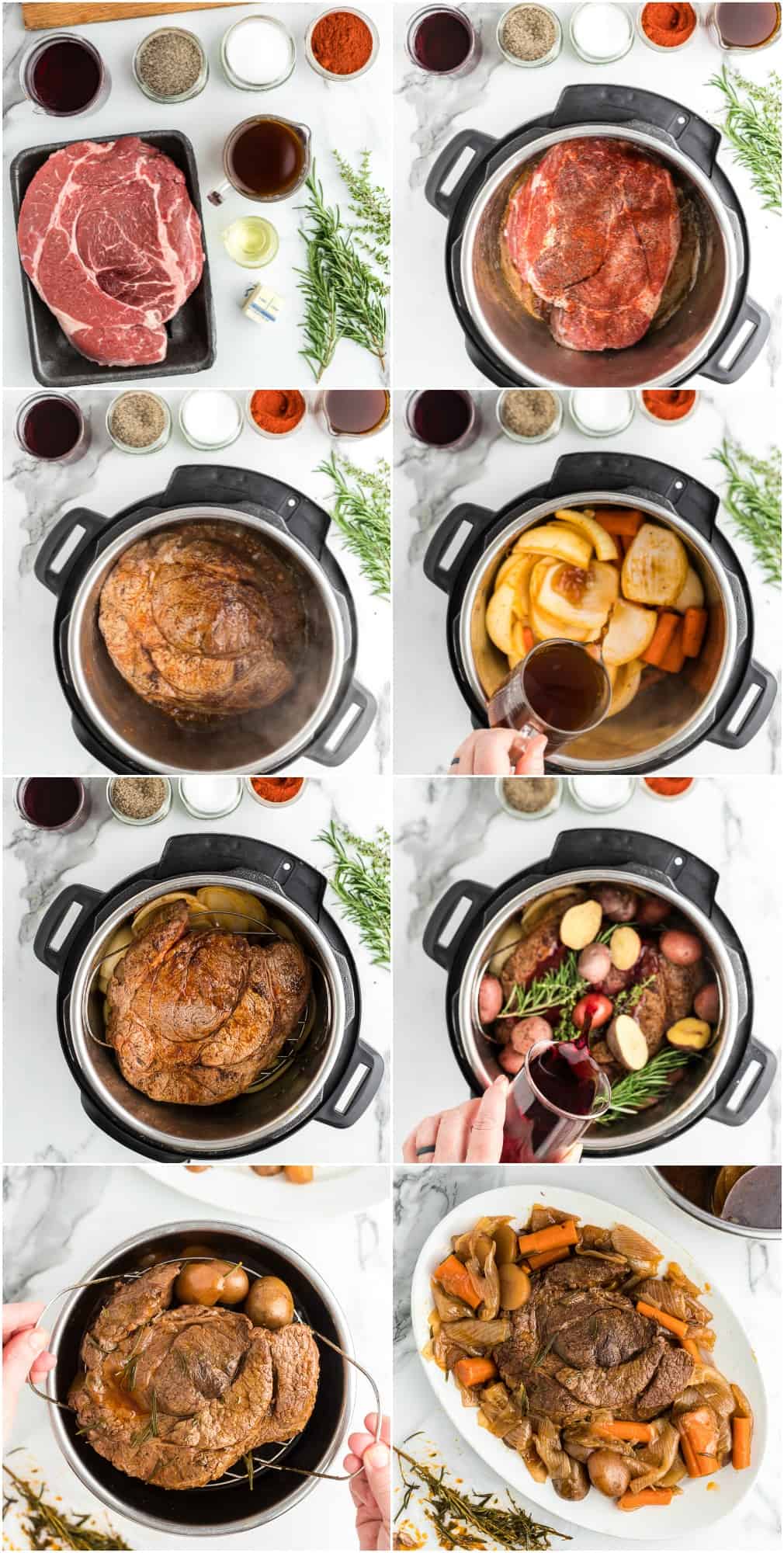 How long do you cook pot roast in an Instant pot?
The roast will take about 55 minutes to cook in the pressure cooker, but you will need to allow time for the pressure release and some prep beforehand.
What's the correct serving size?
I estimate about half a pound (or 8 ounces) of roast per person.
What is the best cut of beef for a pot roast?
Tougher cuts of meat are best for pot roast, because it will break down the longer it cooks, and become incredibly tender and juicy. I recommend using chuck roast, or you can use round cuts (like rump roast).
What's the best Instant Pot for this pot roast?
If cooking for a family of 4, I think the 6 quart is more than big enough, but I recommend getting an 8 quart for regular use.
How do you make gravy for the pot roast?
The easiest option is to use an immersion blender, so you can simply puree any leftovers directly in the bottom of the pot. Otherwise, pour into a high-power blender and puree.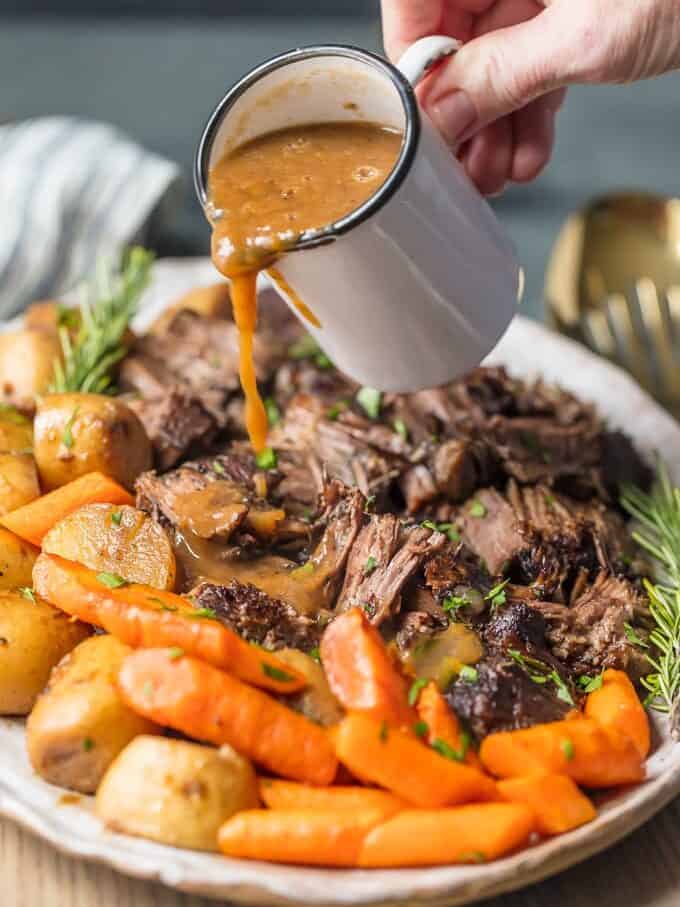 How to Store and Reheat Pressure Cooker Pot Roast
Store pot roast, gravy, and vegetables in airtight container. I recommend storing the gravy separately. Keep everything in the refrigerator up to 4 days.
You can reheat everything in the microwave, oven, or stove top.
How to Freeze Leftover Roast
Let leftovers cool to room temperature, then store in freezer-safe containers up to 2 months. Thaw in the fridge overnight before reheating.
What to Serve with Instant Pot Roast
This dish is filled with juicy beef and hearty vegetables, so you have pretty filling dinner as is. I always serve it along with some bread, like cheddar bay biscuits or just crusty pieces of French bread or sourdough. If you're skipping the potatoes in the Instant Pot, make these creamy mashed potatoes instead. And for an extra cozy meal, start with this flavorful mushroom soup.