This nostalgic Jello Salad recipe is a fun summer dessert made with refreshing cool whip, vanilla instant pudding, mini marshmallows, and fresh strawberries. This creamy and delicious update on a retro holiday recipe is always perfect for BBQs, cookouts, picnics, and other big buffet-style gatherings.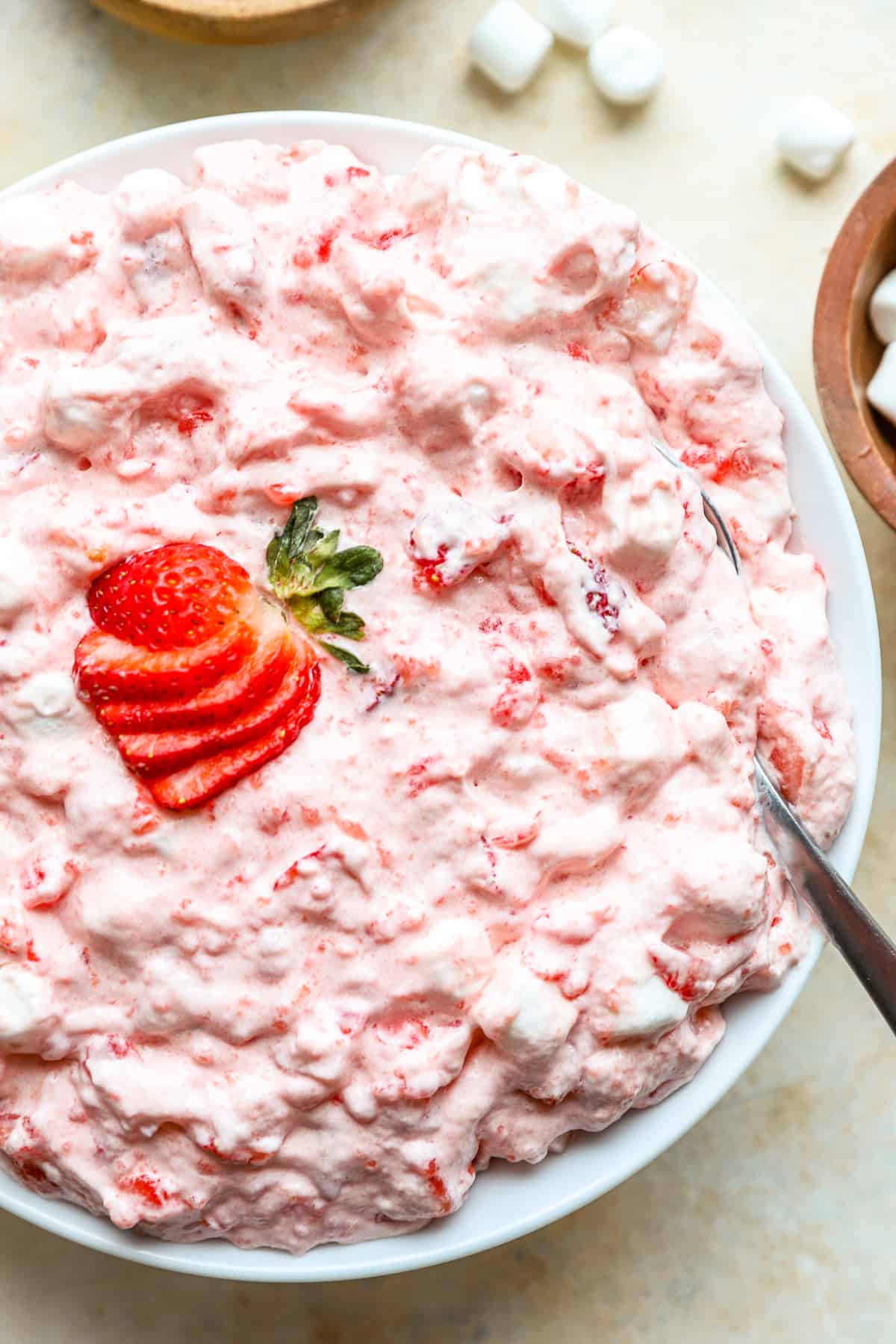 What's in Strawberry Jello Salad?
Jell-O salads in the 1950s were molded into works of art by the frugal housewives who proudly served them for Sunday suppers to their eager families. Lucky for us, versatile and iconic Jell-O is still with us, always affordable, and continues to be an American pantry staple we can easily love and enjoy anytime and any way we want!
Of all the ways to enjoy Jell-O, this Jello Salad is one of my favorite recipes. The creamy instant pudding and fluffy Cool Whip balance out the bold Jell-O fruit flavor – while the fresh strawberries add the perfect explosion of summer freshness in every bite.
Jell-O: You should have no trouble finding the Jell-O section of your local supermarket, where a rainbow of flavors await you.
Instant Pudding: Jell-O also makes the yummiest and best vanilla instant pudding.
Vanilla Extract: A little vanilla extract from the aromatic vanilla bean adds the perfect flavor to this dessert.
Cool Whip: Sweet Cool Whip has a light, creamy texture that enhances the deliciousness of any dessert.
Strawberries: Choose the ripest, juiciest strawberries for this recipe.
Mini Marshmallows: I usually keep these sweet, soft treats on hand for hot cocoa but they work great in this recipe.
Pro Tip: If you don't have any Cool Whip to throw into this retro holiday dessert, you can always whip up a stabilized whipped cream with heavy whipping cream, sugar, and a little vanilla extract, making sure the peaks are firm.
Variations on Jello Salad with Cool Whip
This Jell-O salad is endlessly riff-able! Try Swapping the strawberry Jell-O for raspberry, cranberry, lime, orange, fruit punch, mango, cherry, or pineapple! Try swapping the pudding mix for cheesecake, banana cream, coconut cream, pistachio, white chocolate, or tapioca! Swap the strawberries for cranberries, mandarin orange slices, canned mangoes, sweet cherries, or pineapple chunks! You can also add chopped nuts, like pistachios or walnuts, for a bit of crunch!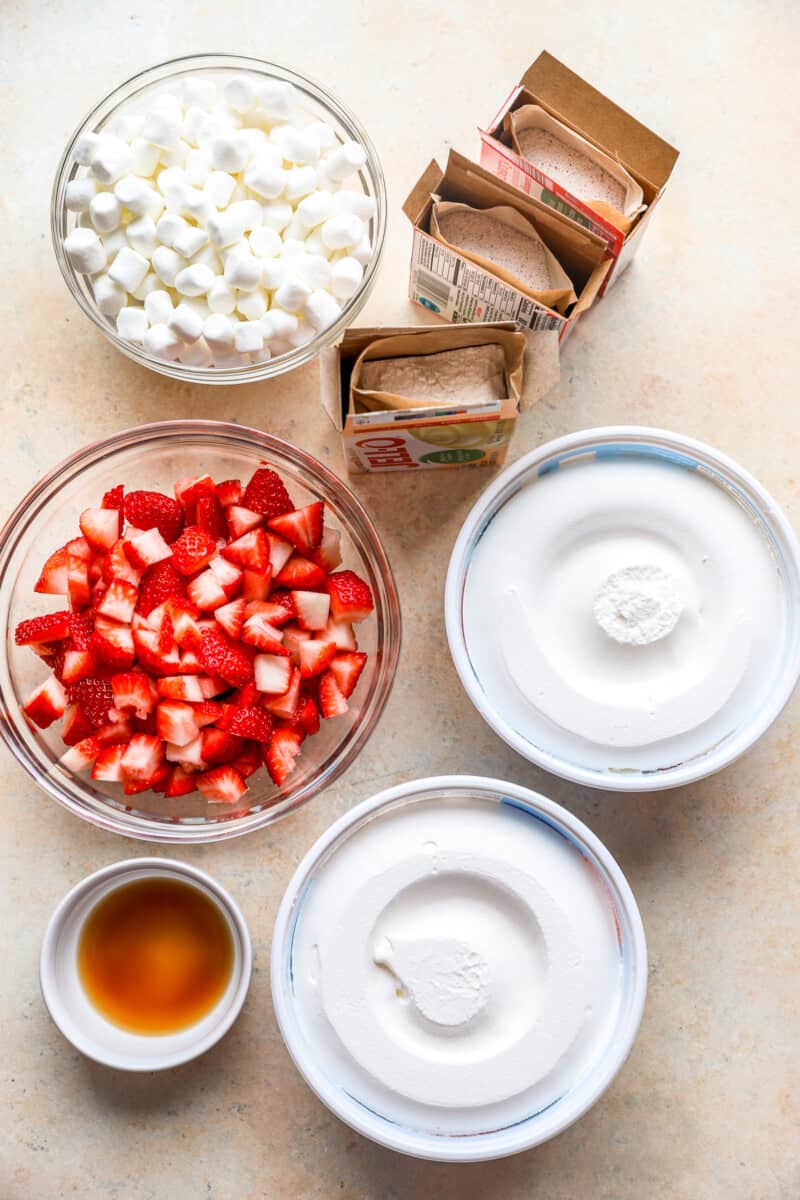 Trademark Note: In the spirit of transparency, I want to note that some of these ingredients are trademarked products. Jell-O and Cool Whip are proprietary brands that I want to acknowledge and give credit to.
Can I make Jello salad with a different flavor of Jell-O and/or pudding?
You absolutely can! Try classics like raspberry, cranberry, lime, or orange! Or mix it up and use a completely different flavor of Jello, like grape, fruit punch, or mango! Vanilla pudding is the most versatile flavor, but you could also use cheesecake, white chocolate, banana cream, coconut cream, pistachio, or tapioca pudding mix!
Is Jello salad a side dish or a dessert?
That's up for debate! Many people enjoy Jello salad as a traditional side dish at Thanksgiving or Easter, while others enjoy it as a sweet treat after a meal.
Can I make Jello salad with sugar-free Jell-O?
Yes! While I have not personally tried this, sugar-free Jell-O mix and Jell-O instant pudding mix should work!
Can I freeze Jello salad?
I do not recommend freezing this salad, as the texture will change significantly once thawed.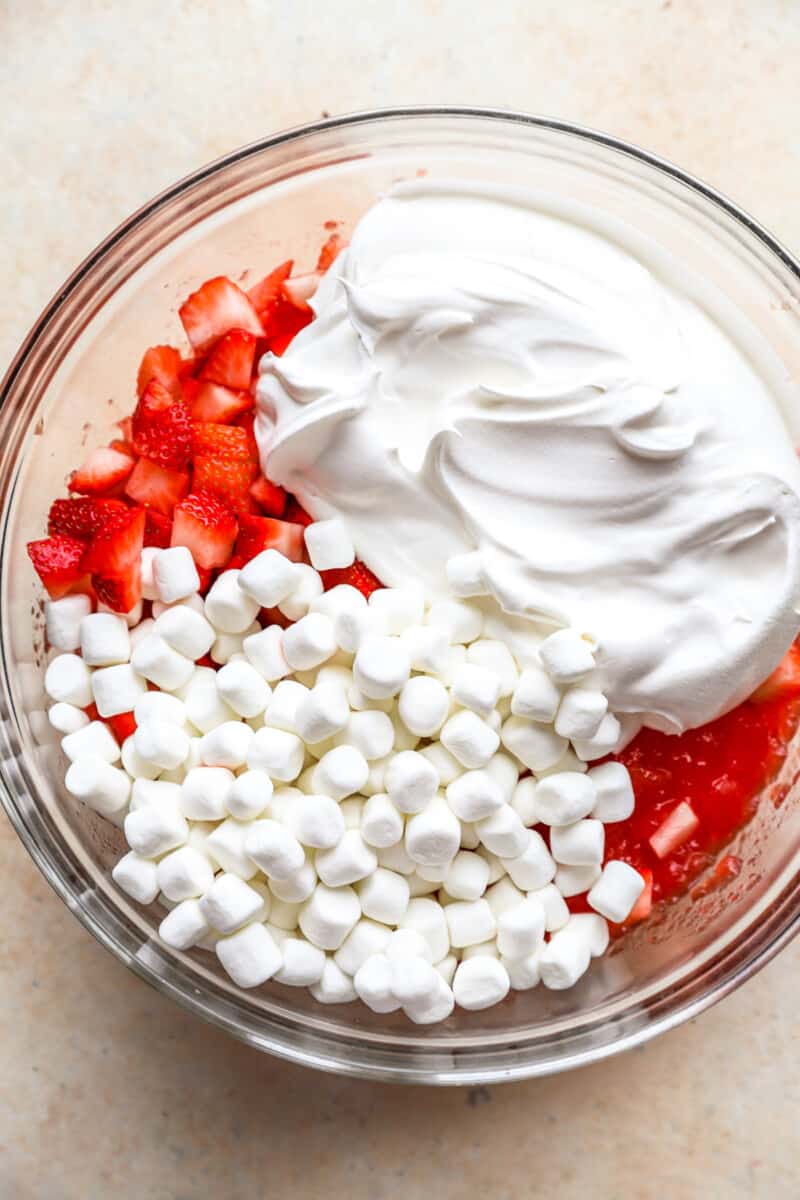 How to Store
Store leftover Jello salad in an airtight container in the refrigerator for up to 3 days. Enjoy chilled.
How to Serve
The only thing you need to enjoy this dessert is a big appetite and a spoon! It's the perfect potluck dessert or 4th of July dessert because it's simple, creamy, and fruity. Serve it along with fresh berries, soft sugar cookies, or this strawberry jello pie.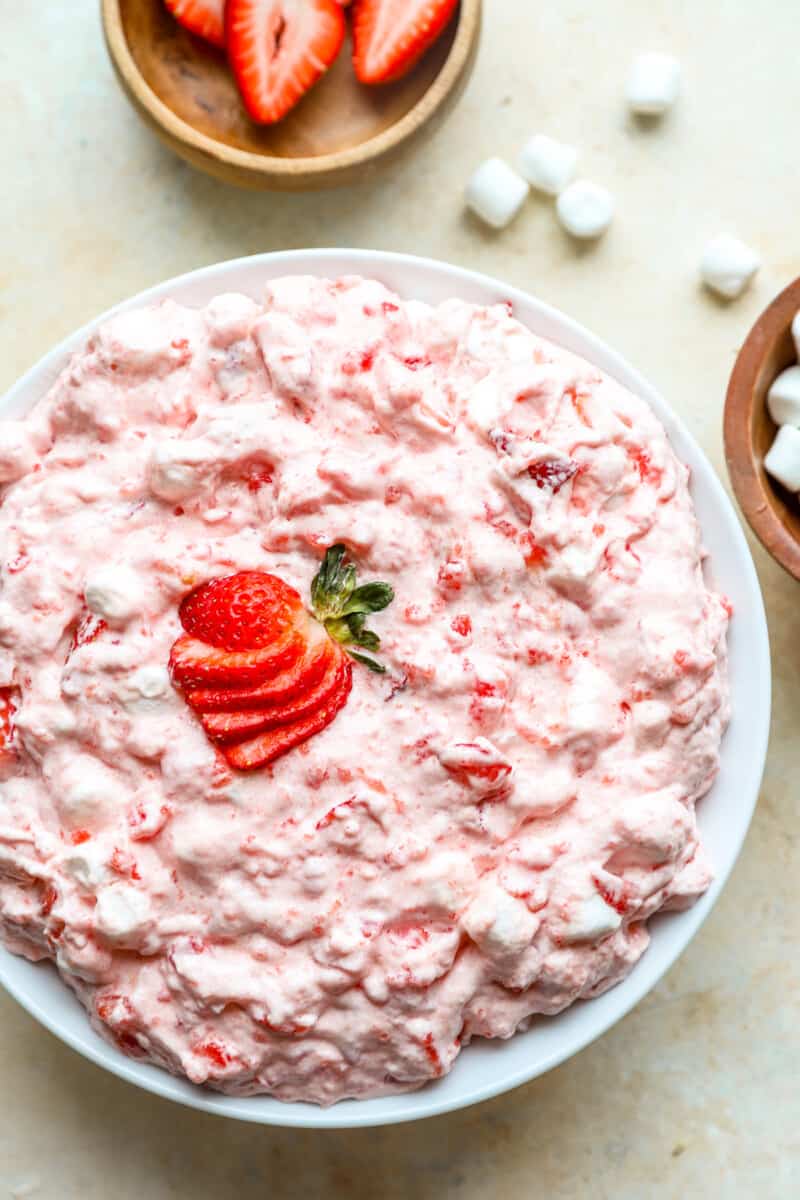 More Creamy Fruit Salad Recipes We Love