Raspberry Bars are a delicious and easy dessert to serve for any holiday, party, or summer afternoon. These fruity Raspberry Lemon Bars have the perfect flavor, the perfect texture, and the perfect pink color. Top them with some fresh fruit, powdered sugar, and whipped cream for a delightful treat!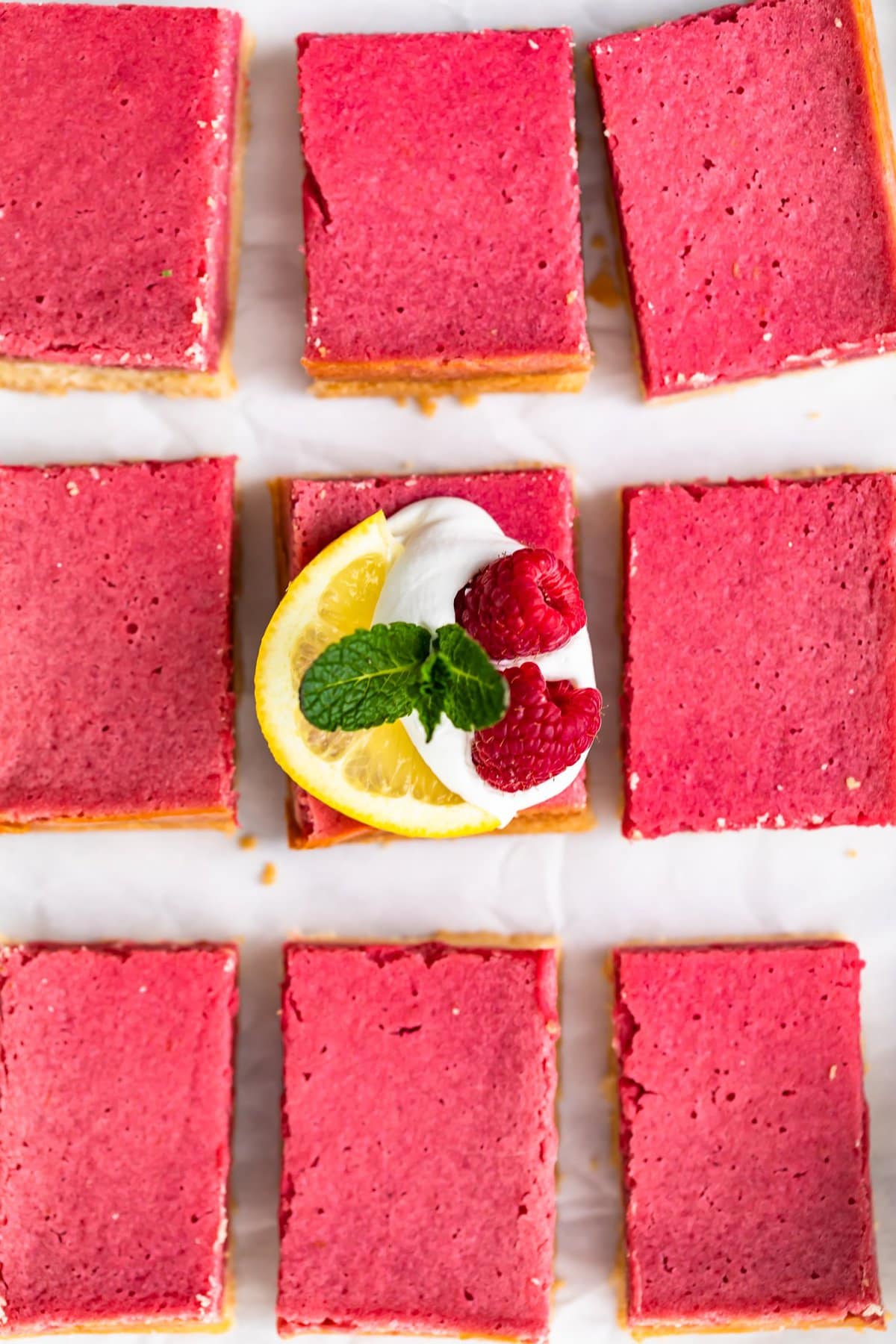 Raspberry Bars
These lemon raspberry bars are an easy dessert for Easter, Mother's Day, or any summer afternoon. Bite into one of these for a tasty treat!
Raspberry and lemon are the perfect flavors for spring and summer, so why not combine them into a tasty spring treat? These Raspberry Lemon Bars are such an easy thing to serve on summer afternoons, or along with a table full of desserts on the holidays.
I am loving these for Easter Sunday, but I think they're lovely for Mother's Day, Valentine's Day, or even Fourth of July. They are just as good for a "just because" occasion. Eating these on the patio on a summer afternoon along with a glass of fresh lemonade…THAT sounds like heaven!
These little fruity raspberry bars have the perfect mix of texture and flavor, and I just know you're going to love them!
Celebrate Easter, summertime, or any other occasion with these delightful Lemon Raspberry Bars!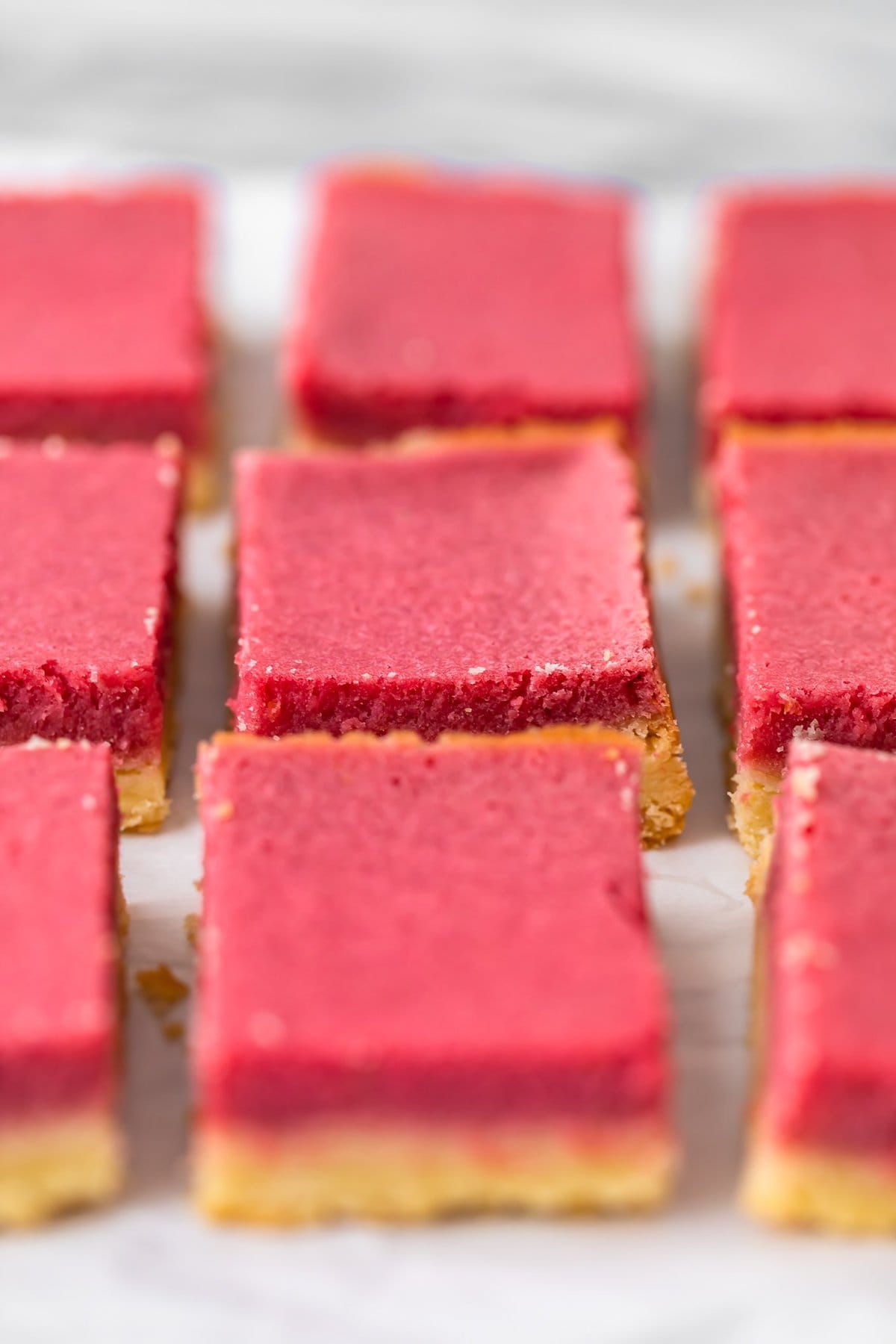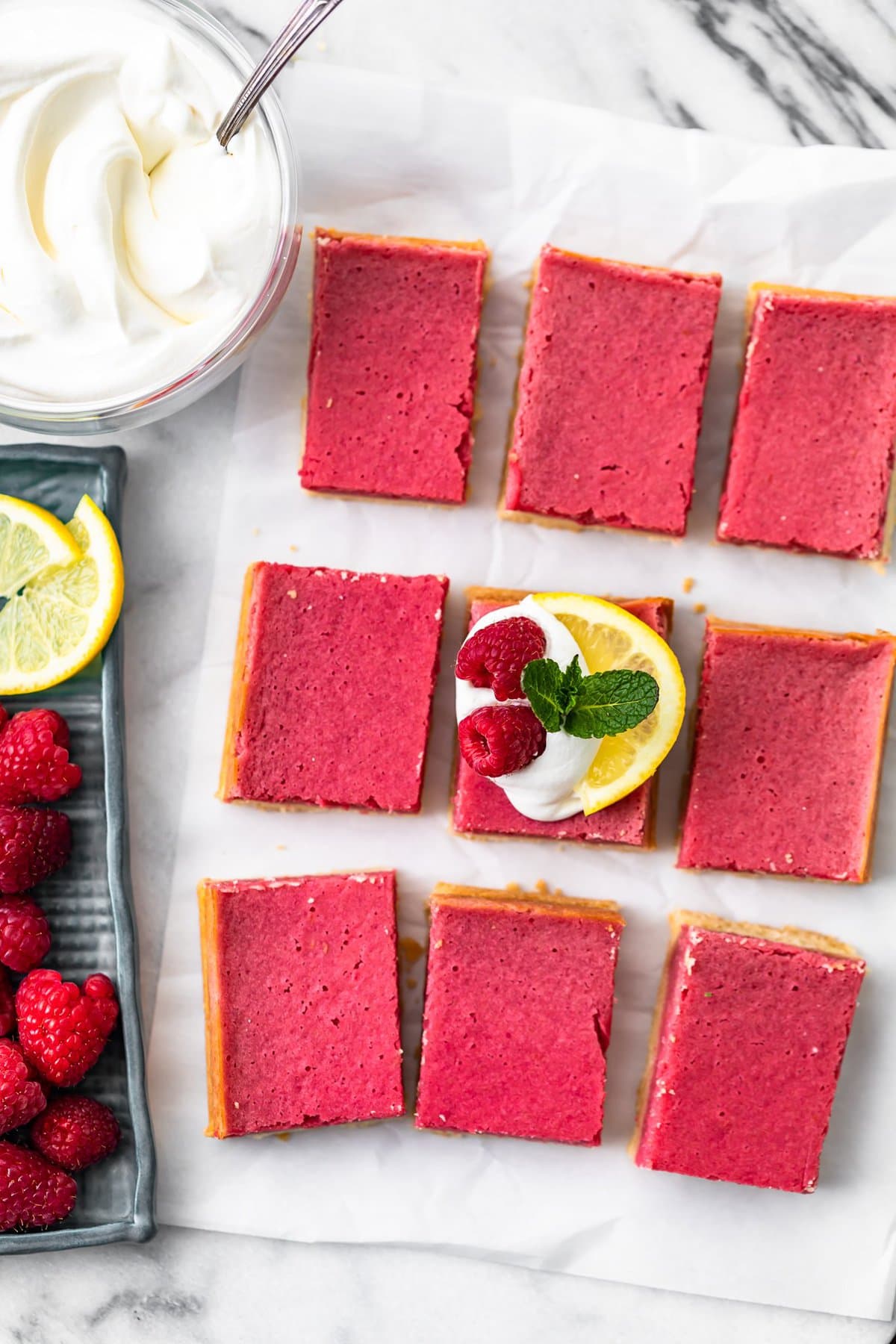 Best Raspberry Lemon Bars
If you love raspberry and lemon, then these are the dessert for you! They go together so well (wouldn't raspberry lemonade be amazing?), so of course they deserve to be combined into a fun treat.
These are the best raspberry lemon bars. So simple but SO good. I love recipes like this that can be used for any occasion. Any time you need a quick dessert, snack, or treat, these can be one of your go-to recipes. They don't take long to make, and they will definitely be a hit!
What's in the lemon raspberry bar filling?
Raspberries
Lemon Juice
Lemon Zest
Eggs
Egg Whites
Sugar
All-Purpose Flour
Salt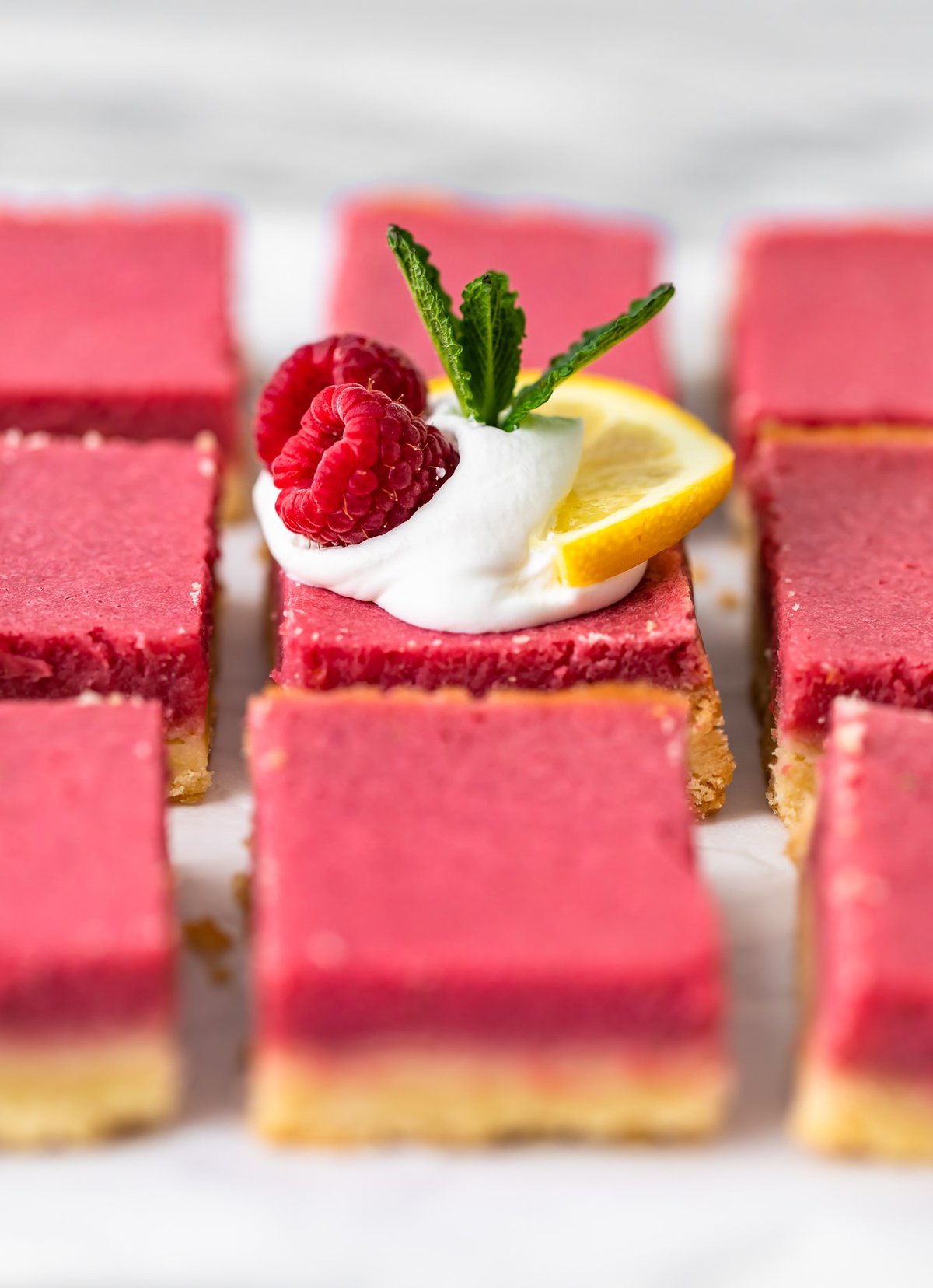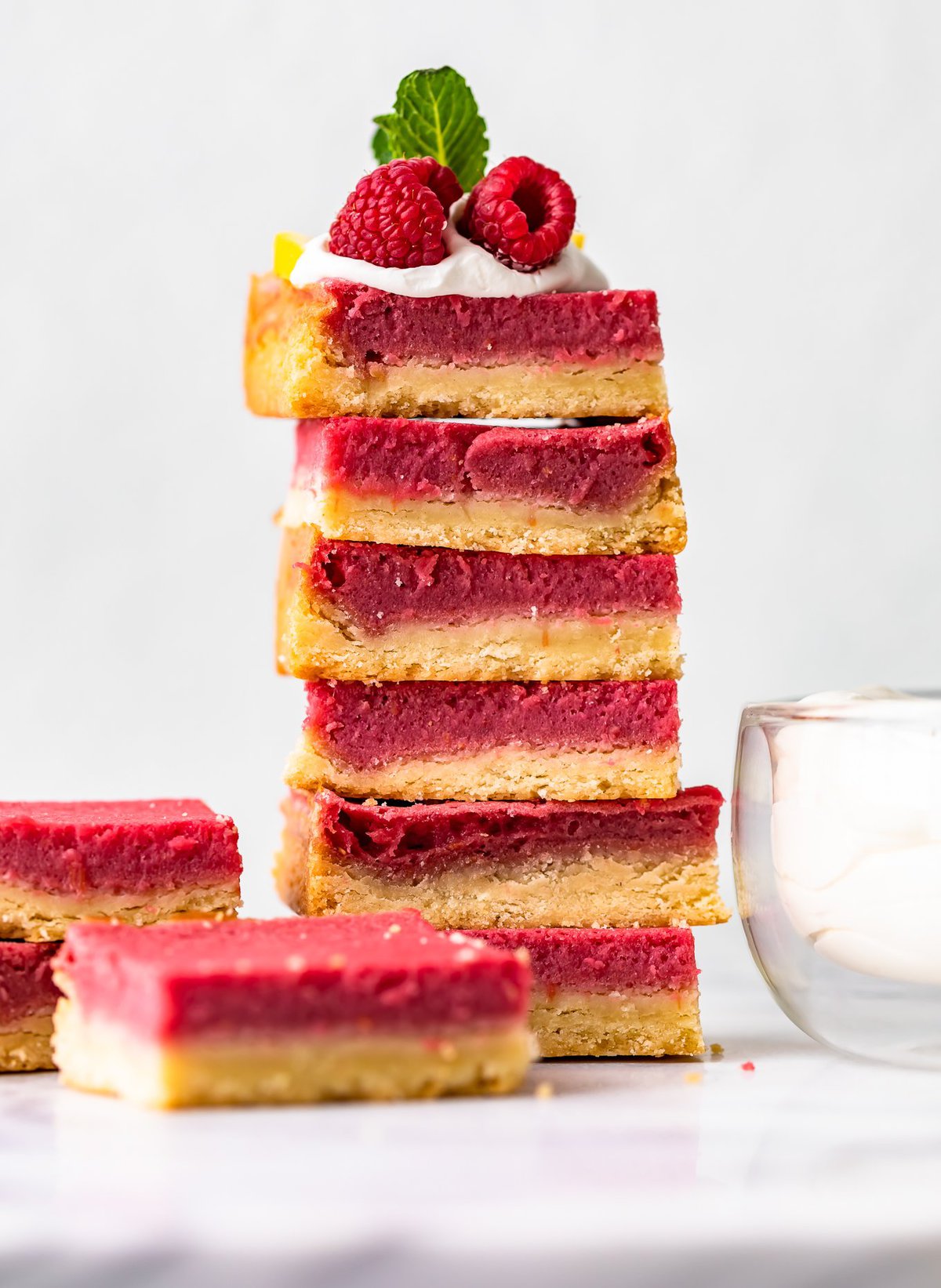 How to Make Lemon Raspberry Bars
These raspberry lemon bars are just as easy as they are delicious! They are made in two parts: first the crust, then the filling.
How to make the crust:
Preheat the oven to 350°F, then line your baking pan with aluminium foil or parchment slings.
Combine all-purpose flour, softened butter, confectioner's sugar, and salt into a food processor, and pulse until all ingredients are well combined and form a crumbly mixture.
Spread the crust dough into the bottom of the prepared baking pan, and bring it about 1/2 inch up around the sides to create a slight rim.
Bake the crust 15-20 minutes at 350°F.
While the crust is baking, start making the filling.
How to make the filling:
Puree the raspberries and lemon juice in a blender or food processor.
Place a wire sieve over a mixing bowl, and pour the raspberry mixture through it. Use a rubber spatula to press the raspberry juice through the sieve, so that only the seeds are left in the sieve.
Throw away the seeds and pour the juice back into the food processor.
Now add the lemon zest, eggs, egg whites, sugar, flour, and salt into the food processor, and puree for about 30 seconds.
By now, the crust should be done baking. You can remove it from the oven and place it on the counter top.
To finish the raspberry bars:
Pour the filling into the cooked crust in an even layer.
Bake at 350°F for 30-35 minutes. You want the filling to set so that it doesn't jiggle when shaken, but you don't want to overcook it.
When done baking, place the baking pan on a cooling rack. Let the bars cool completely in the pan before serving.
To serve, cut them into 16 squares (or whatever size you want them). Sprinkle with powdered sugar, add a dollop of whipped cream, and add some fresh raspberries, lemon, or mint.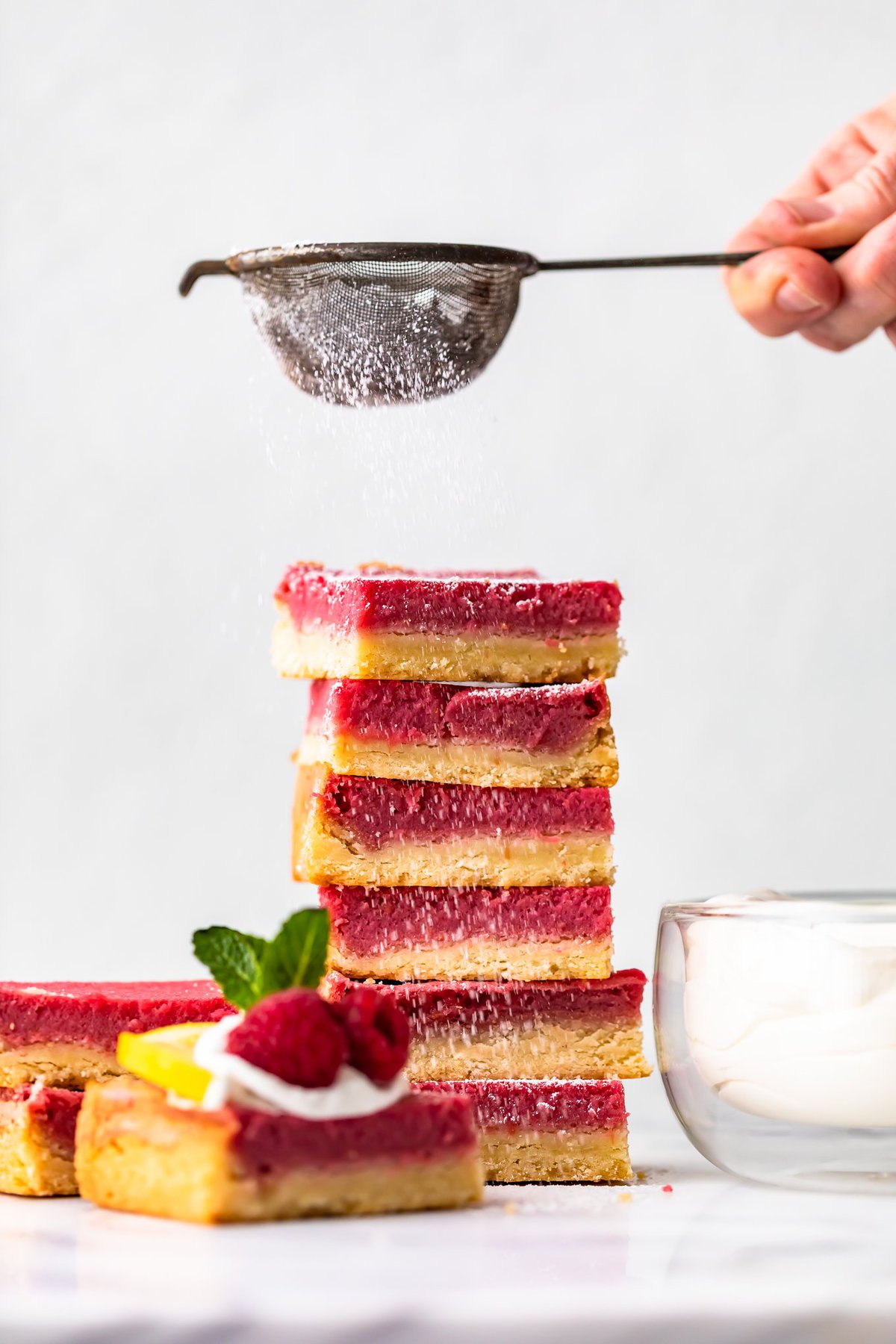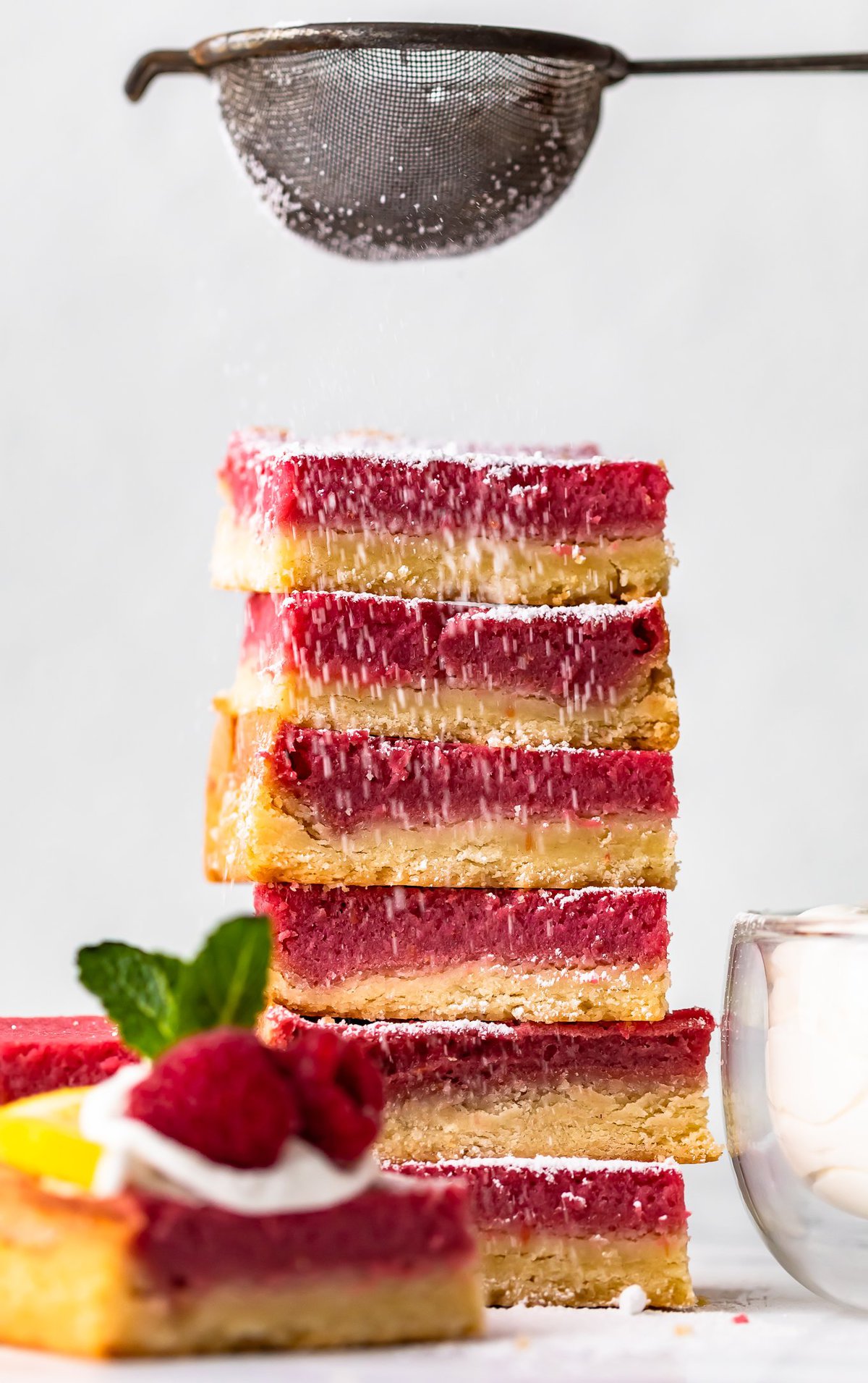 Easy Easter Desserts
These are one of the best little Easter desserts because they are simple, fruity, and so easy to make for a lot of people. Just like any holiday, I like having LOTS of desserts to choose from on Easter. So while I might serve a pie, a cake, or some cookies, I also like having something like these raspberry lemon bars to serve. They're easy for people to grab them for a quick little bite.
Don't forget to try some of our other favorite Easter desserts!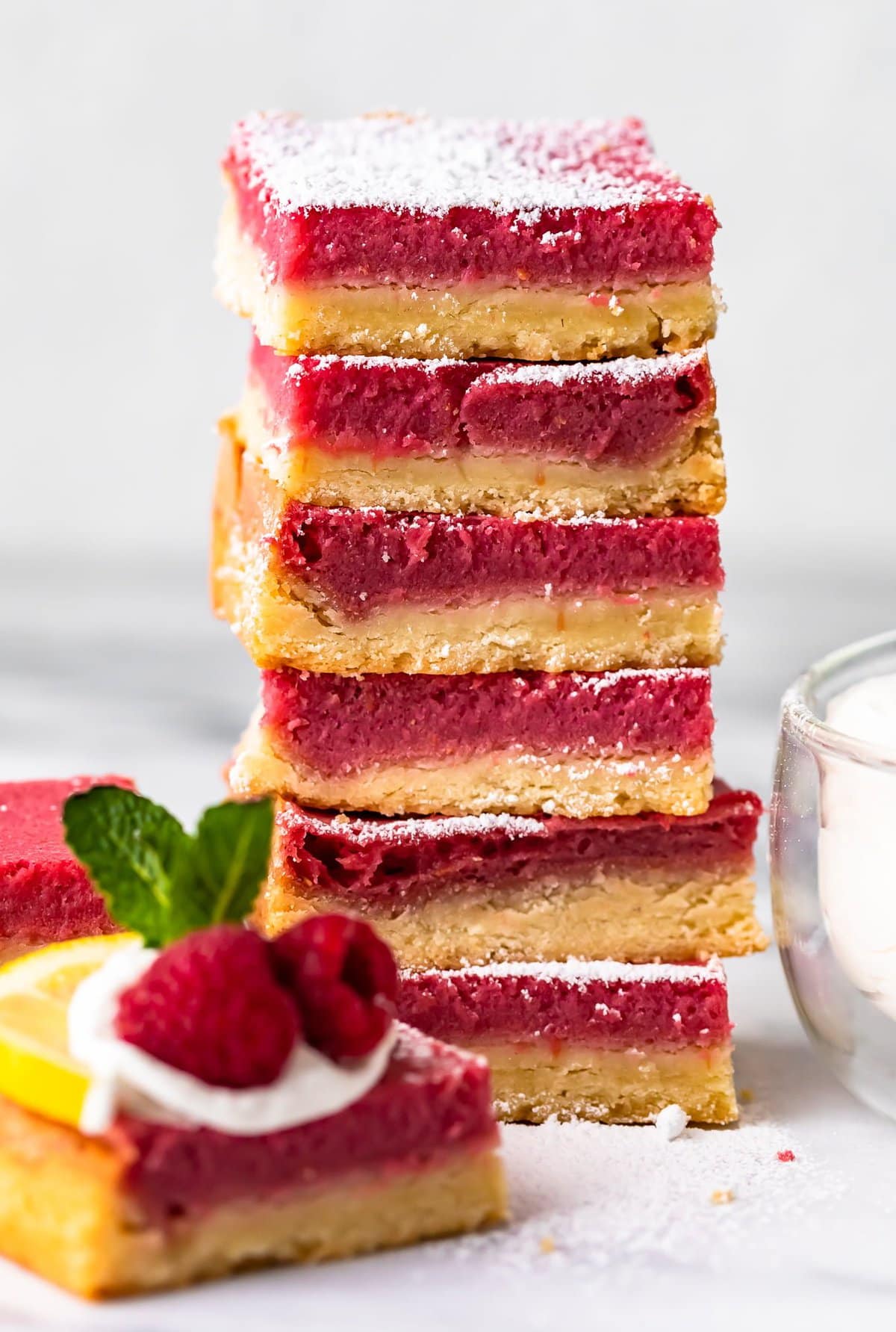 I hope you love these little raspberry bars as much as we do. They are so fruity and fresh…It's hard to eat just one!
See the recipe card for details on how to make Raspberry Lemon Bars. Enjoy!
Be sure to try some of these other tasty desserts: