LOADED CHICKEN TACO CUPS are so fun and full of flavor. The Superbowl is this weekend! Get your entertaining on point by adding these Loaded Chicken Taco Cups to your snack lineup!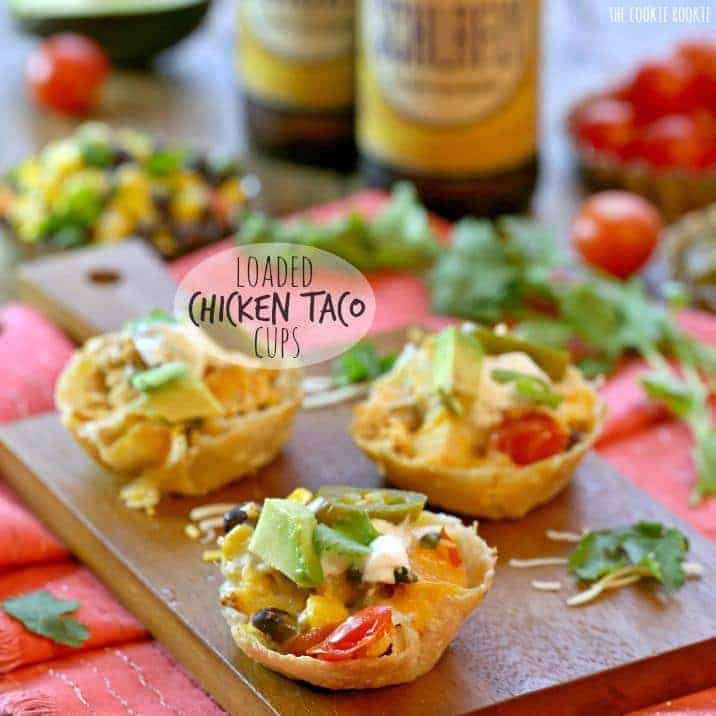 I've been posting Superbowl recipes like a mad woman lately!! Be sure you didn't miss the homemade marinara, gameday sangria, beergaritas, baked bloomin' onion, and especially the gameday roundup from around the web!! Whatever you want to make for your guests, this weekend, I have you covered!! I'm wrapping up the fun with one of my favorite recipes, Loaded Chicken Taco Cups.  I love these as an appetizer, or even a meal.  Delicious, fun, and (most importantly) easy! These will be gone from your party in no time, so be sure you make enough!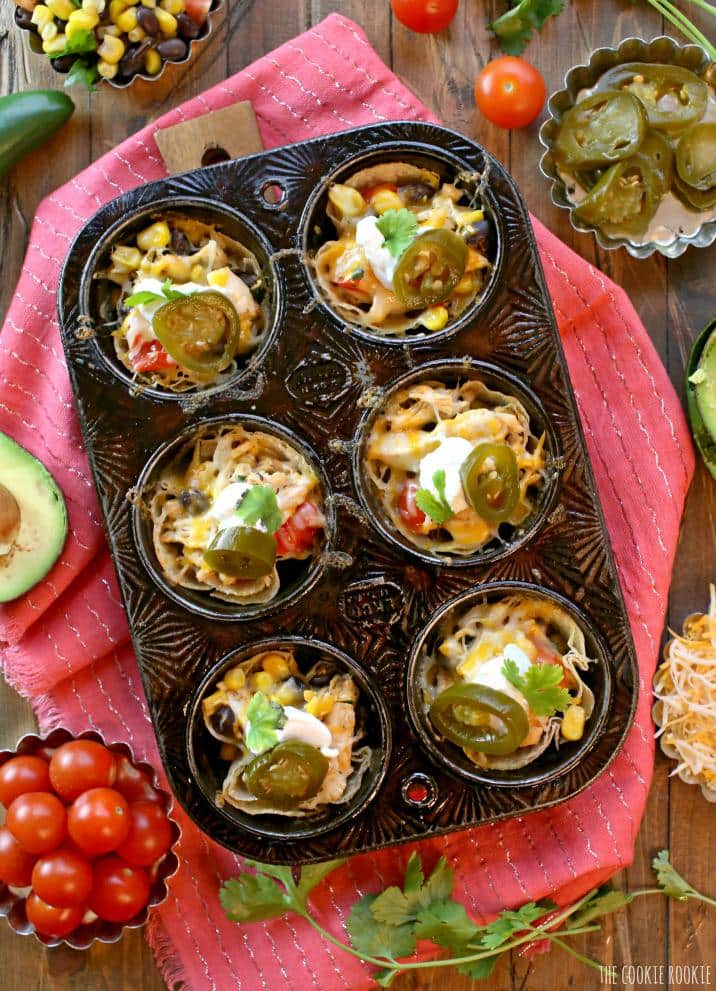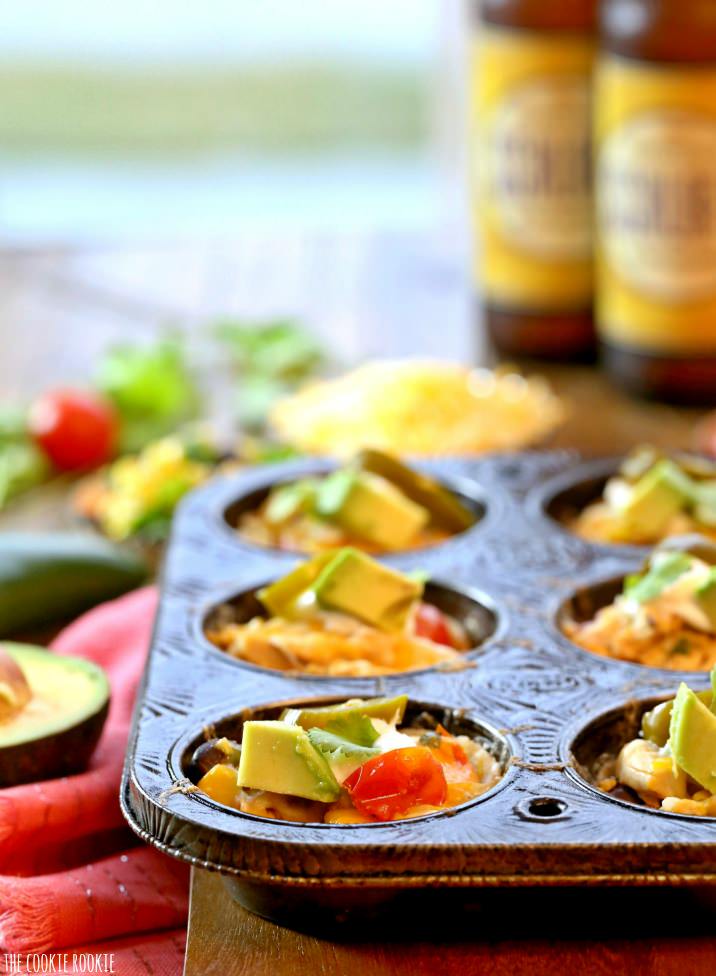 These cups.  They have everything I love in one tiny appetizer.  Chicken, taco seasoning, tomatoes, avocado, cilantro, CHEESE.  Delicious food doesn't get easier than this, folks.  Plus they're cute.  Everybody loves cute food.  Even football obsessed husbands.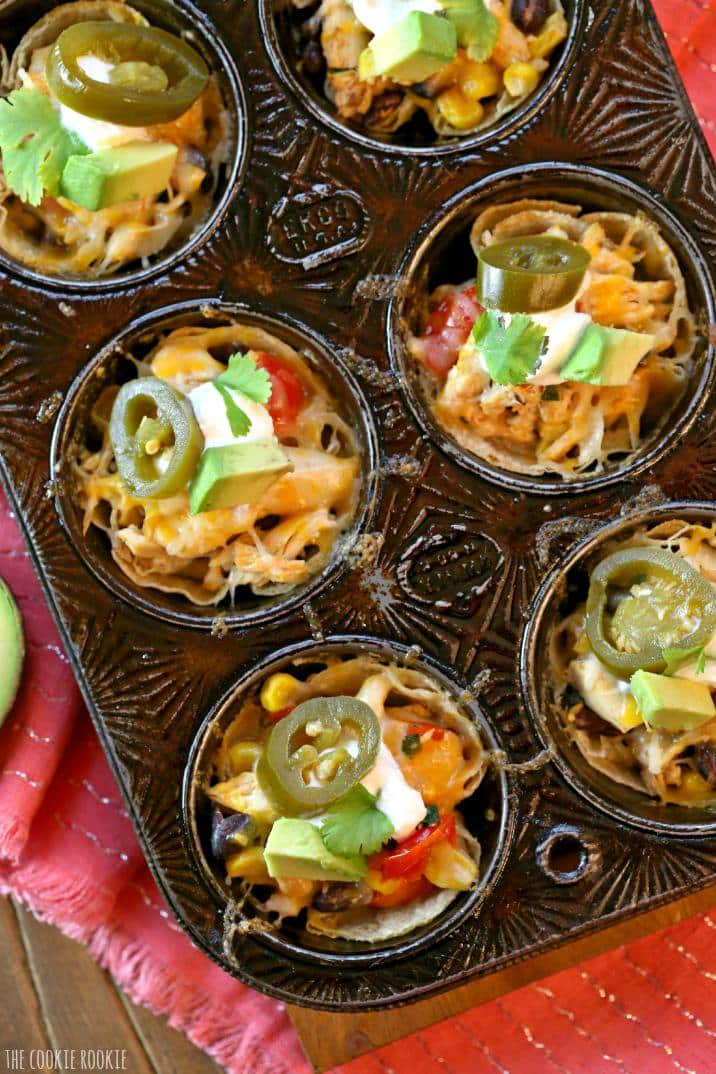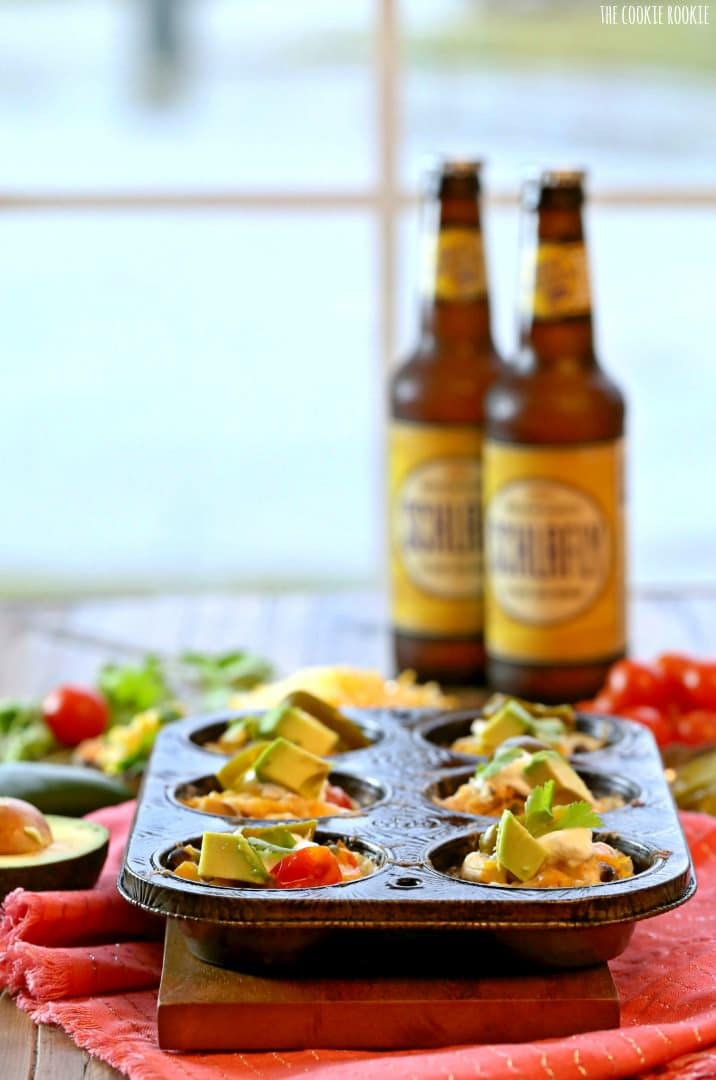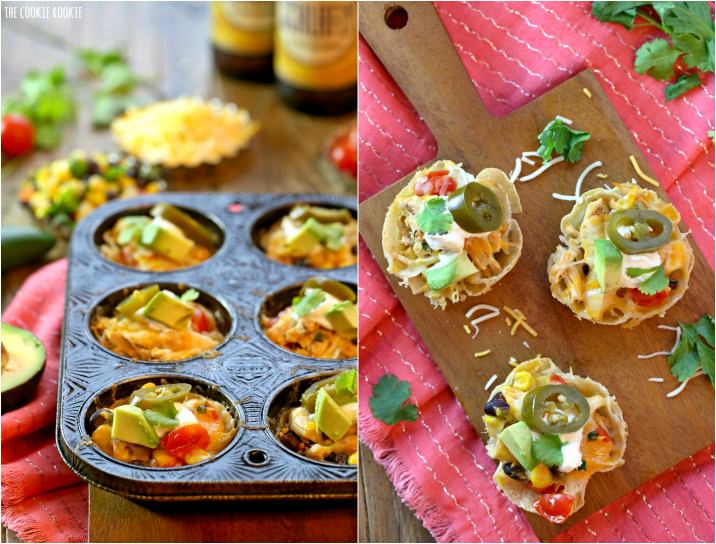 See what I mean? So cute.  But most things this cute aren't packed with this much flavor.
This Loaded Chicken Taco Cups dish is one of my favorite recipes for a reason!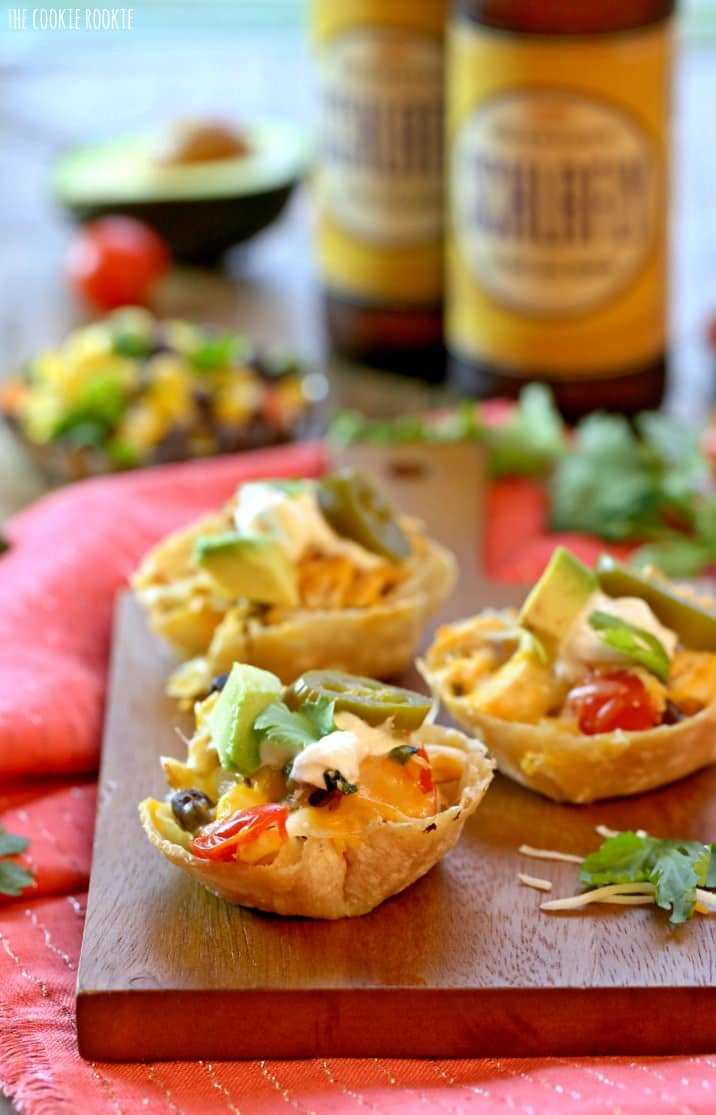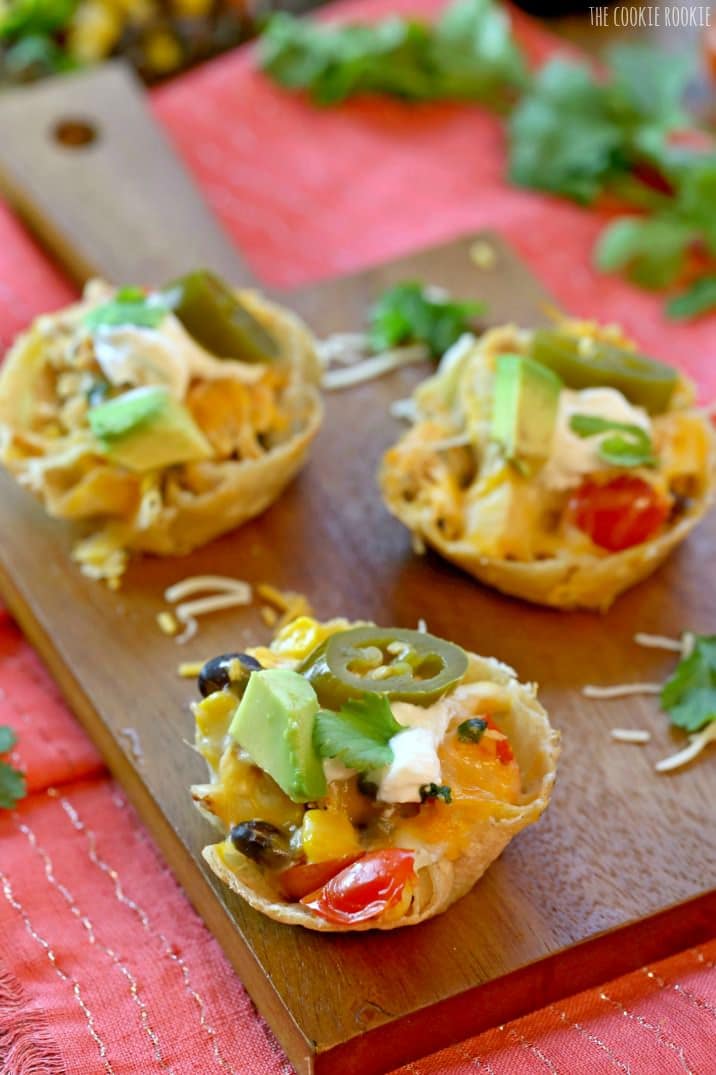 The other fun thing about this recipe is loading it up with all of your favorite toppings.  I'm a very new lover of jalapenos…they were such a great flavor addition to these.  You could add guacamole, sour cream, whatever you love! Go crazy guys!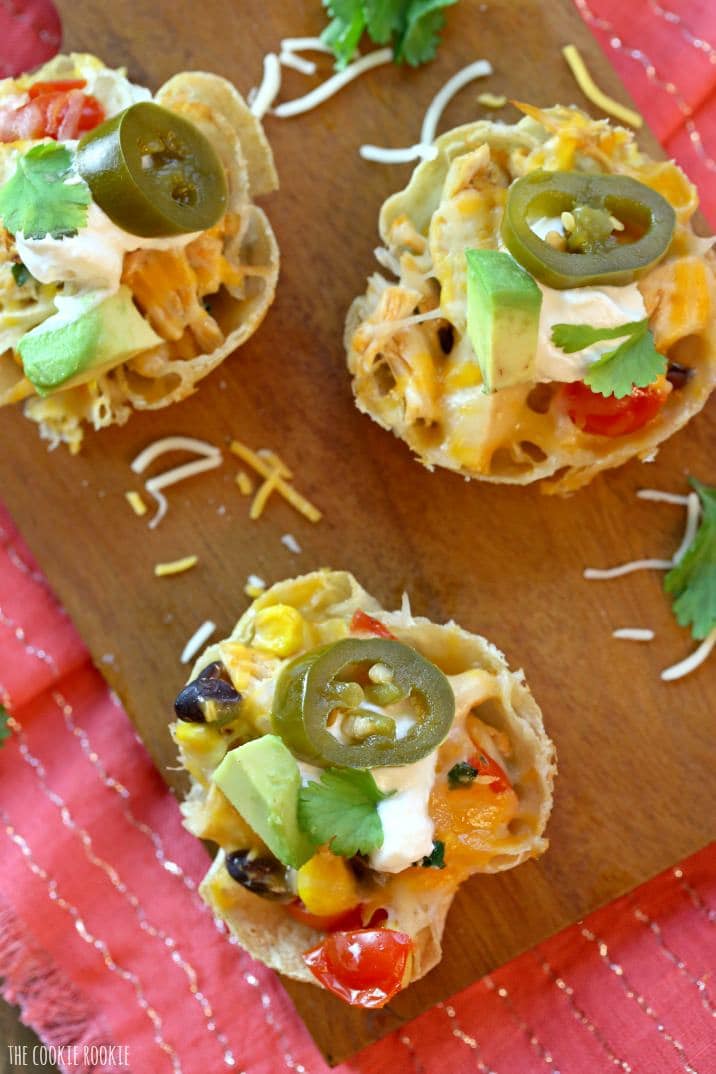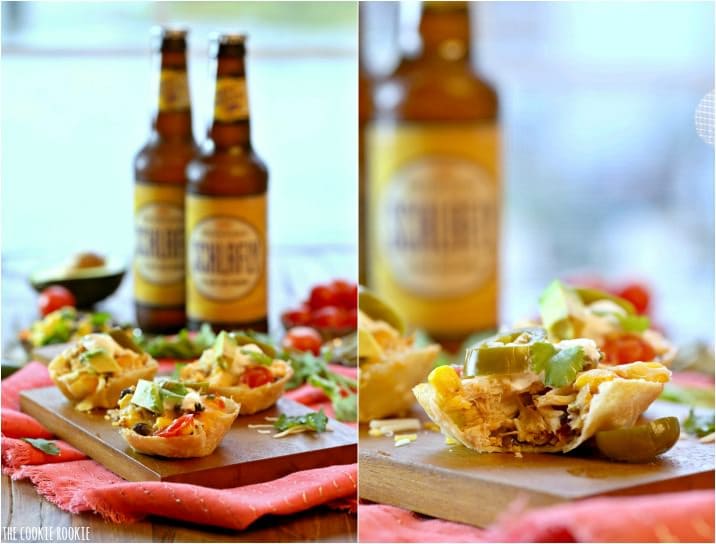 Enjoy!
Ingredients
4 large corn tortillas
2 cups cooked shredded rotisserie chicken
1 1/2 tablespoon taco seasoning
1 tablespoon olive oil
1/4 cup corn, drained
1/4 cup black beans, drained
1/2 cup chopped cherry tomatoes
1/2 cup shredded Mexican blend cheese
8 jalapeno slices
Sour cream, salsa, cilantro, guacamole for garnish (optional)
Instructions
Preheat oven to 350F
Cut the corn tortillas into 8 circles, using a large cookie cutter or the top of a red wine glass. Place each circle into a sprayed muffin tin, pressing and folding the tortillas as you go. This will form â??cupsâ? with the tortillas.
Bake the tortillas for 10 minutes.
While the tortillas cook, heat the chicken, taco seasoning, corn, black beans and tomatoes with olive oil in a medium skillet on medium heat until heated through and sizzling.
Take tortillas out of the oven and fill each cup with the chicken mixture. Top with cheese and jalapenos. Continue baking for about 5 more minutes or until cheese is melted and tortillas are browned/crisp.
Take out of oven and top with your choice of toppings. I used sour cream, cilantro, and avocado.
Enjoy!
7.6.4
1774
https://www.thecookierookie.com/loaded-chicken-taco-cups/

JOIN OUR MAILING LIST
TO GET COOKING!
Subscibe to recieve all the latest, greatest, and EASIEST recipes sent straight to your email inbox. If we post something yummy, you'll be the first to know.