Mini pizzas are the perfect appetizer for tailgating, game day, or any casual gathering! These tortilla pizza appetizers are so easy, fun, and yummy. We made margherita pizzas and loaded them with tomatoes, mozzarella, and basil.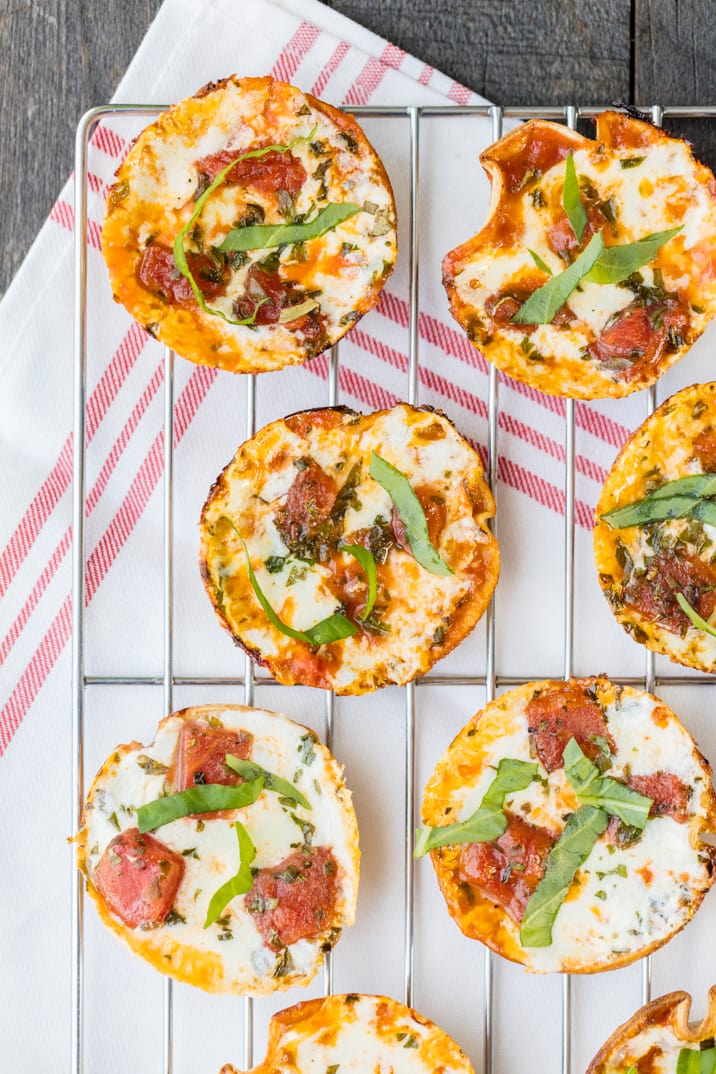 Mini Pizzas for Appetizers
These mini margherita pizzas are the perfect appetizer for game day. They're easy to make, can serve a crowd, and they're just plain delicious!
These tiny tortilla pizzas are topped with tasty ingredients and then baked in the oven, so they come out super crispy and delicious. They're almost like little pizza chips!
We went with the classic margherita pizza toppings (mozzarella, tomatoes, basil). But you could easily follow the same directions and use whatever toppings you like.
Why You'll Love These Mini Margherita Pizzas
QUICK: You can put these together, cook, and have them ready in less than 30 minutes! Perfect for last-minute appetizers.
BITE-SIZED: These mini pizzas can be eaten in just one or two bites. So they're easy to grab and eat at a party.
PERFECT FOR A CROWD: These are the perfect appetizer for a crowd. People can just grab and go, and it's easy to make more as you need them.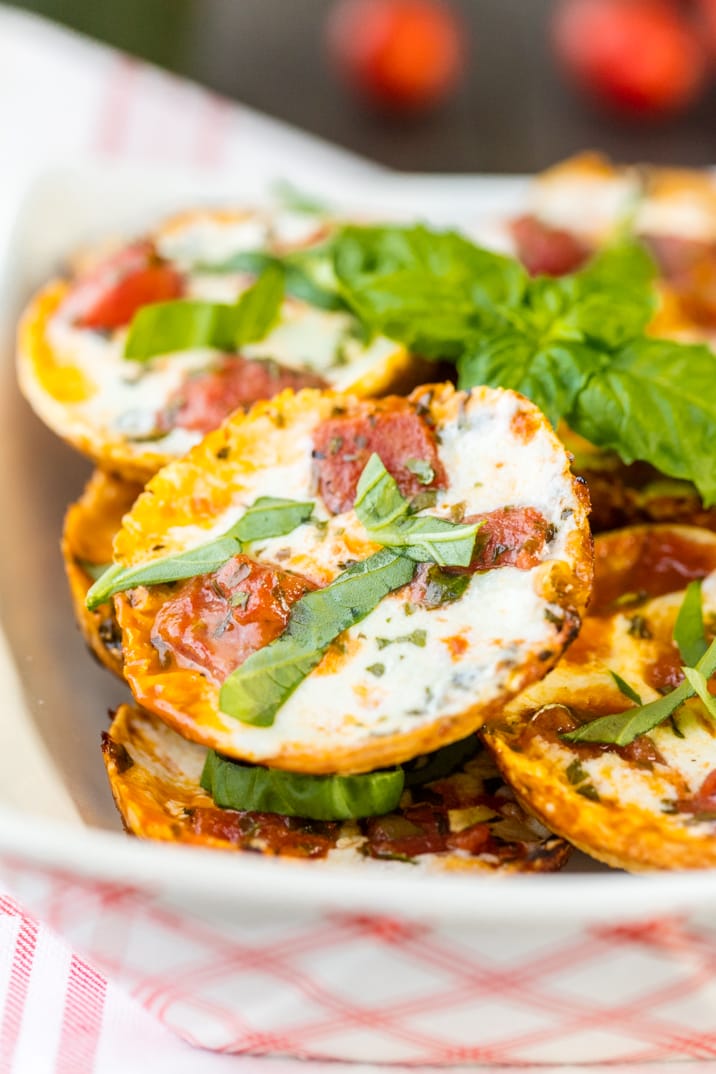 How to Make Mini Pizzas with Tortillas
These pizza appetizers are super easy to make. Just 5 ingredients and about 15 minutes to make these babies and you're good to go!
We're using those large burrito-size tortillas to make smaller tortillas that will become our pizza crusts. Use the bottom of a can or glass to make "cut-outs" and create 12 crusts.
Spray a cupcake tin with non-stick spray and place each tortilla in a separate cup.
Place marinara, mozzarella, tomatoes, and basil on each tortilla.
Cook for 10-12 minutes at 450°F (oven should be preheated).
*Be sure to check the printable recipe card below for the full ingredients and instructions.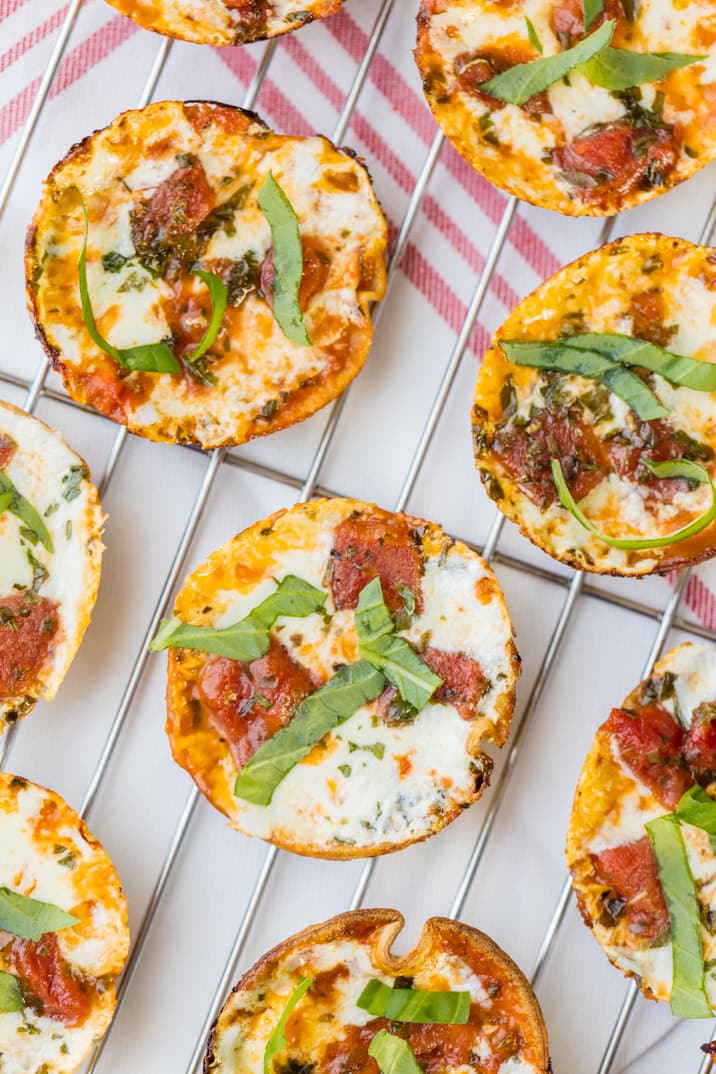 What toppings do I put on these tortilla pizzas?
I love the classic margherita pizza toppings for these, but you can change the type of pizza and use any toppings you like. Here are a few ideas.
Margherita: mozzarella, diced tomatoes, basil
Meat Lovers: sausage and pepperoni
Veggie: diced onion, olives, diced peppers
Chicken: shredded chicken, alfredo/white sauce, garlic
I recommend keeping ingredients to maybe 2-3 things in addition to the cheese and sauce. These pizzas are small, so you want to make sure there's room for everything.
How long does it take to cook mini pizzas?
These mini tortilla pizzas only take about 10-12 minutes to cook in the oven.
Can I save leftovers?
Absolutely! Don't let any of these mini pizzas go to waste.
Store leftovers in an airtight container up to 3 days. You can eat them cold or reheat them.
To reheat, pop them in the microwave for about 30-60 seconds until warm. Or place them in the oven at 400F for just a few minutes to make them crispy.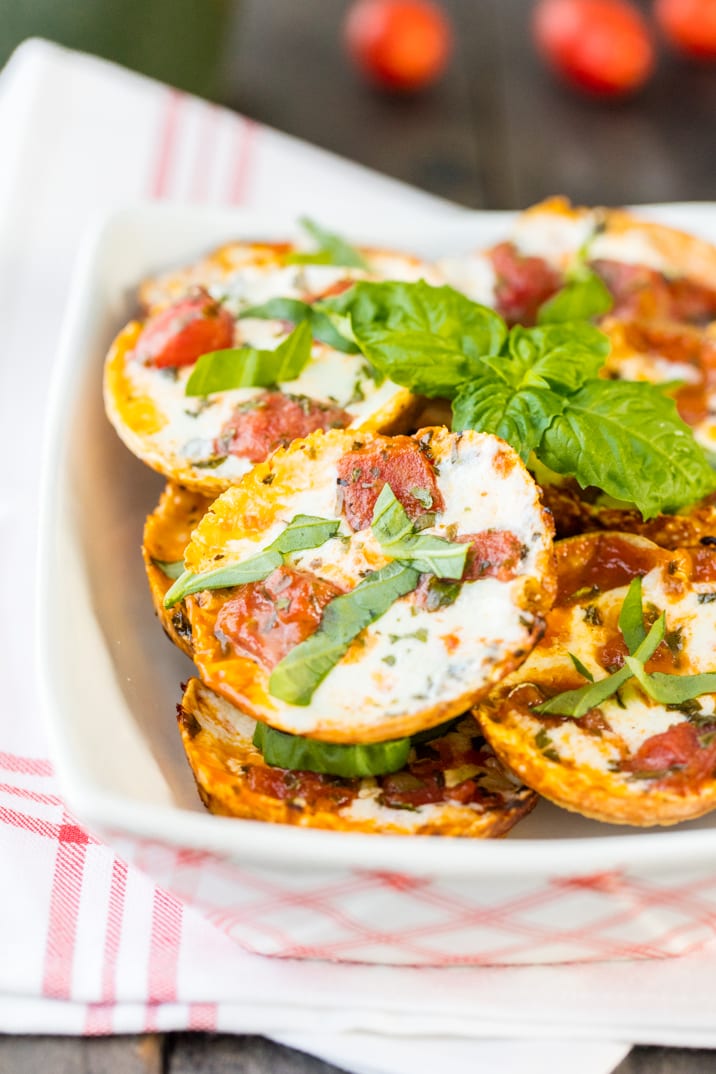 Recipe Tips & Notes:
I used the bottom of a can to press and cut out the tortillas. You could also use a glass.
You could make these pizzas larger but you'd need to bake them on a sheet pan instead of in the cupcake tins.
Stick to 2-3 ingredients for toppings for these mini pizzas.
Serve straight out of the oven, or eat leftovers out of the fridge while still cold. Either way, they taste great.
I hope you love these little pizzas! They are so fun to serve to guests, and kids will especially love them. They seem to enjoy eating anything mini, and I really can't blame them. The cuter the food, the more fun it is to eat, right?
Here are some more pizza appetizer ideas:
If you make this recipe be sure to upload a photo in the comment section below or leave a rating. Enjoy! You can also jump to recipe.