S'mores Pie is one of my favorite easy Valentine's Day dessert recipes! These Red Velvet Mini Tarts are single serving pies with chocolate, graham cracker, and toasted marshmallow fluff. These Mini Red Velvet S'mores Pies are just so fun and tasty!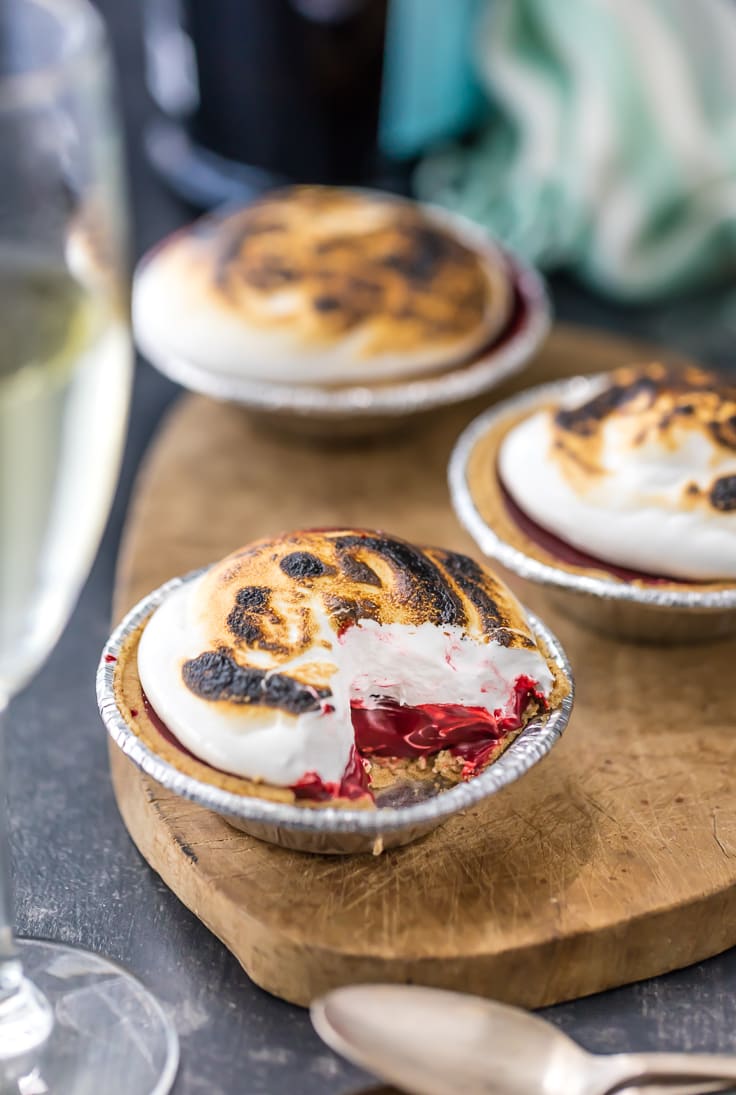 S'mores Pie (Mini Red Velvet Tarts)
These mini s'mores pies are so cute and so tasty. Plus they've got a red velvet twist that's perfect for Valentine's Day!
So I have a thing with S'mores (S'mores Dessert Pizza, S'mores Cookies)…and with red velvet (BEST Red Velvet Cupcakes). Both are welcome in any and every dessert, so this seemed like the perfect time to combine them! I love the marshmallow, graham cracker, chocolate combination of S'mores, and since red velvet is basically just chocolate that's been dyed red…well, Valentine's Day is the perfect time to use the color of love.
These Mini Red Velvet S'mores Pies are so easy to make, and they are SO delicious. Start with pre-made mini pie crusts, fill them with chocolate (dyed red), and top with fluffy marshmallow. They are single serving, so be sure to make one for you and one for your significant other. This is strictly a NO SHARE dessert. Keep your spoon away from my mini tart! This recipe makes 6 mini s'mores pies though, so there are plenty to go around.
These mini pies are so perfect for Valentine's Day, whether it's just you and your partner, or you and the whole family. Everyone will love this fun s'mores recipe!
Mini Red Velvet S'mores Pies are the cutest little Valentine's Day dessert!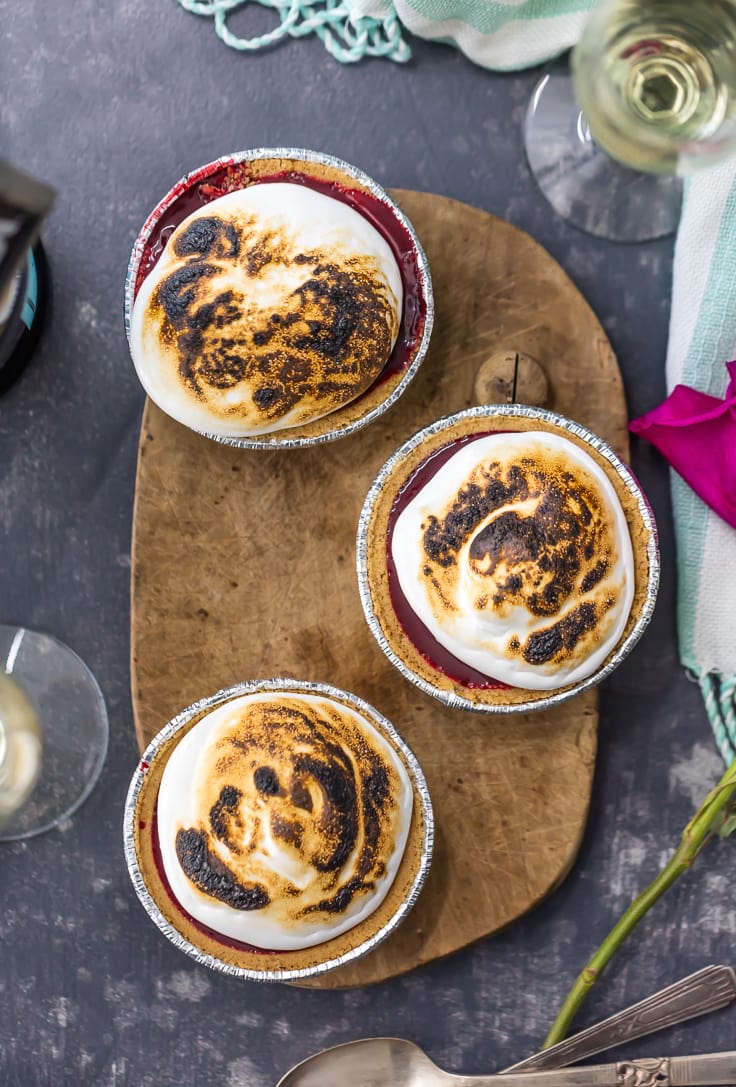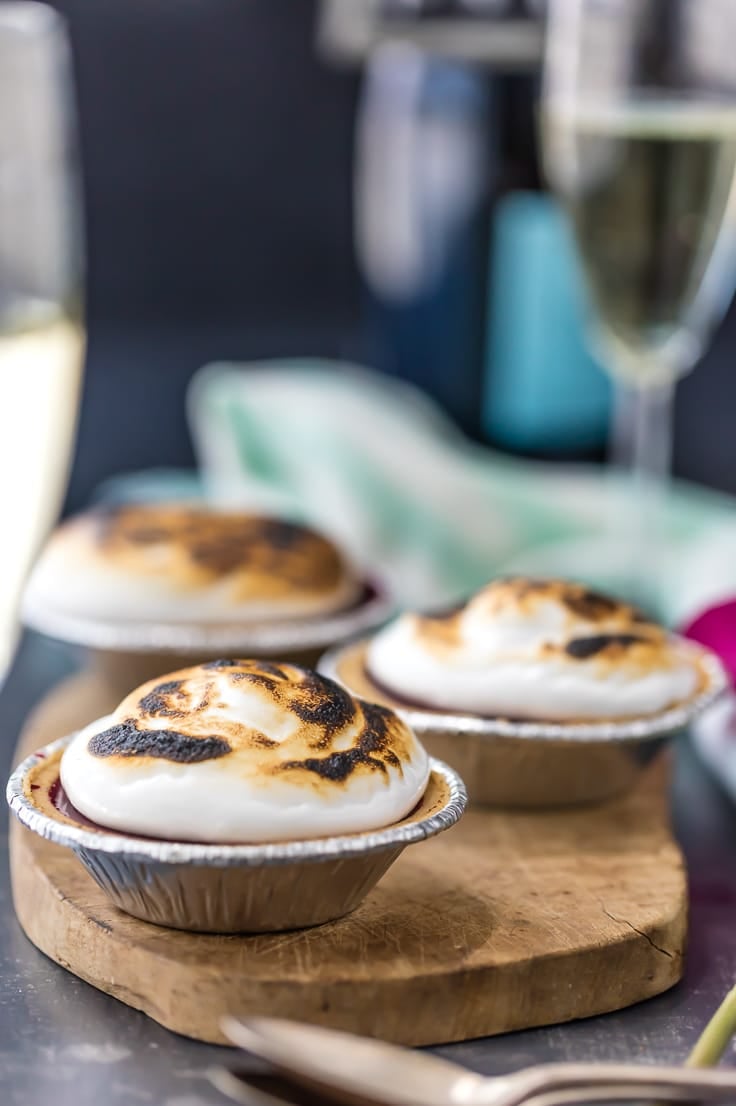 S'mores Mini Tarts Recipe
Whether you want to call them pies or tarts, it doesn't really matter. The point is, these mini tarts/mini pies are super fun and delicious. The red velvet part makes them fun for VDay, whether you add the red coloring or not, these Mini S'mores Pies are a fun treat for many occasions. I think these would be so fun to serve at a kid's party or a backyard camp out with the family!
Mini S'mores Pie Ingredients
I know there are some people in the world that want to make everything from scratch. I respect you, a lot, but I'm more of a semi-homemade type of gal. If there are shortcuts that taste great, I'm going to take them. So I took a few with this Mini S'mores Pie recipe!
Those of you who know where I'm coming from will be happy to know that these mini tarts only have 5 ingredients (6 if you count the food coloring, which is optional). The mini pie crusts and marshmallow fluff are pre-made, so you can have this dessert whipped up in no time!
Red Velvet S'mores Pie Ingredients:
Pre-made Mini Pie Crusts
Heavy Cream
Milk Chocolate
Butter
Marshmallow Fluff
Red Food Coloring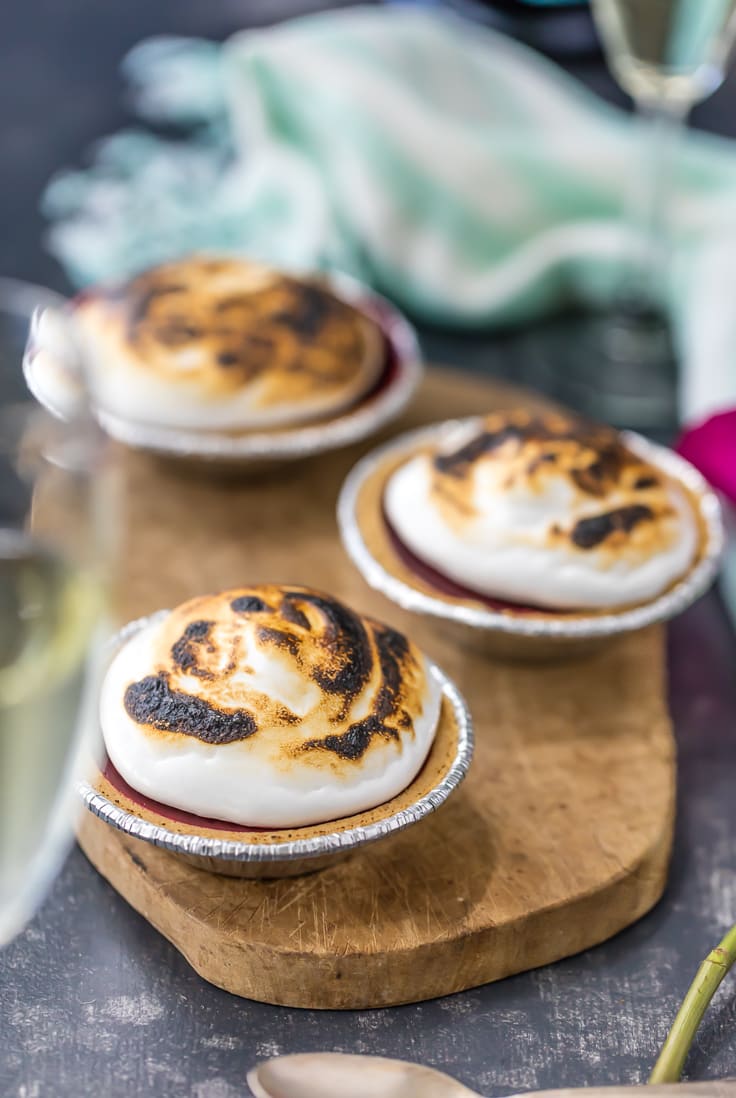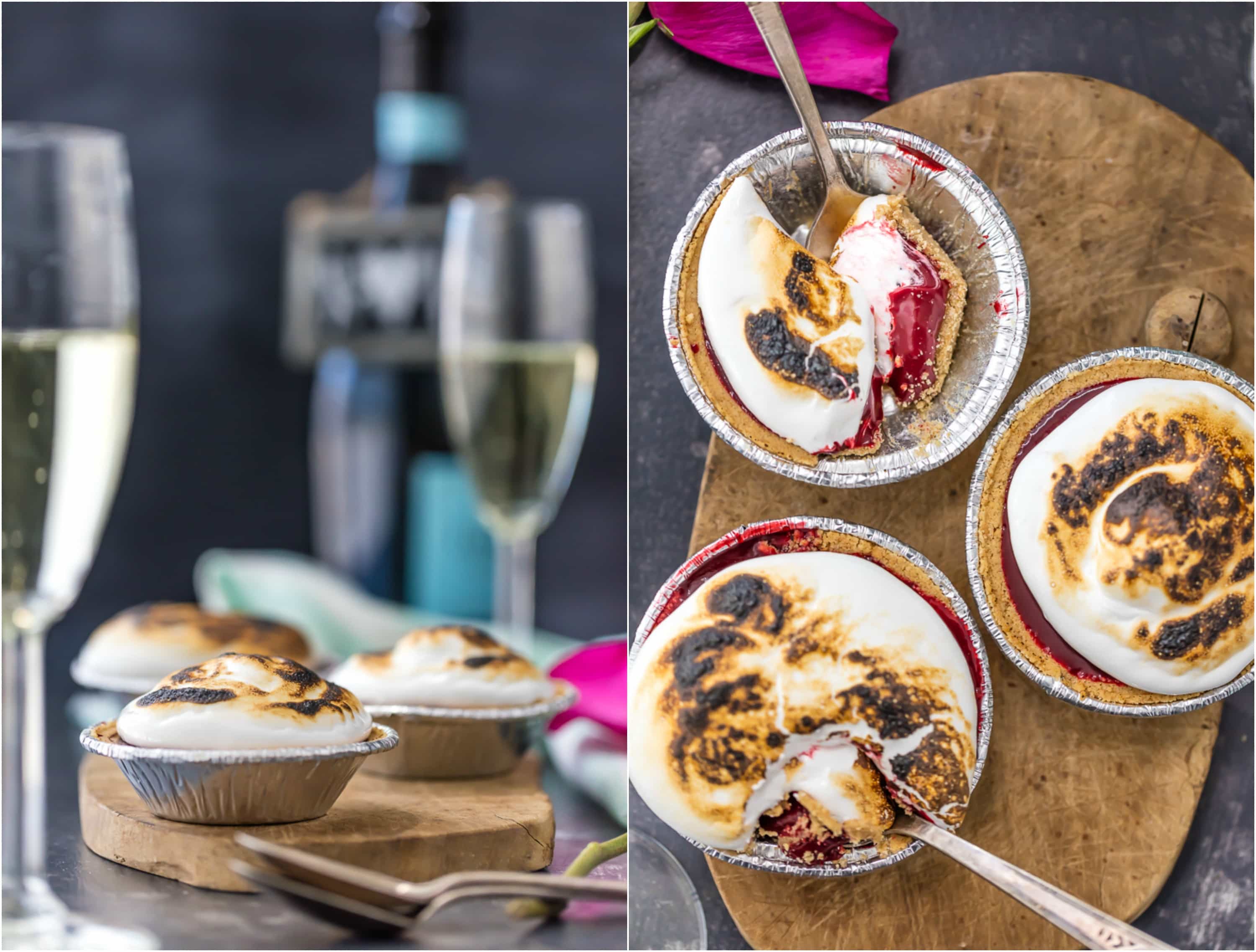 How to Make Mini S'mores Pie
There's not much cooking here, so this Mini S'mores pie recipe is super simple. Other than making the chocolate mixture, it's mostly just assembling the pies and letting them chill. You could easily put this red velvet mini tarts together with the kids for a special dessert making session!
Place your mini pie crusts out on a baking sheet.
Heat the heavy cream in a saucepan, just until it boils, then turn off the heat. Stir in the chocolate and butter until everything is fully combined.
Stir in the food coloring if you are using it.
Pour the chocolate into the pie crusts. Then place the baking tray with the pies on it in the refrigerator, and let them chill for at least 2 hours to let the chocolate set.
Spoon the marshmallow fluff on top of each pie, then place them under the broiler for about 1 minutes to get that toasted marshmallow topping.
Serve them up and enjoy! These mini red velvet s'mores pies are just so delicious!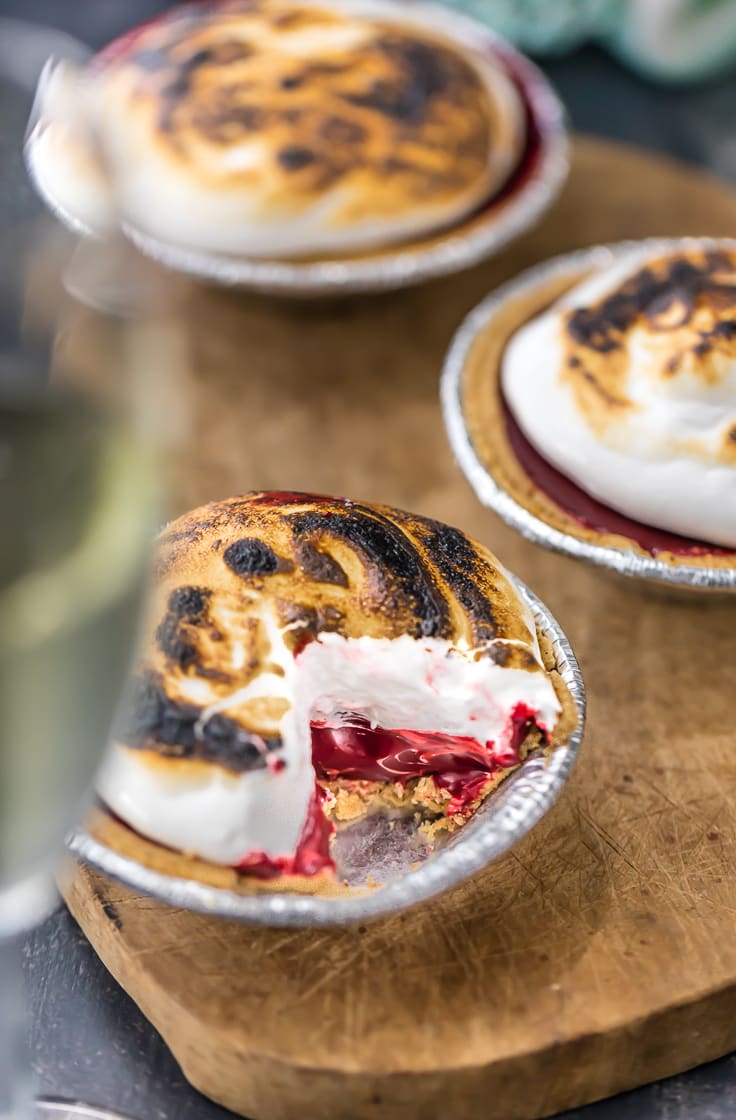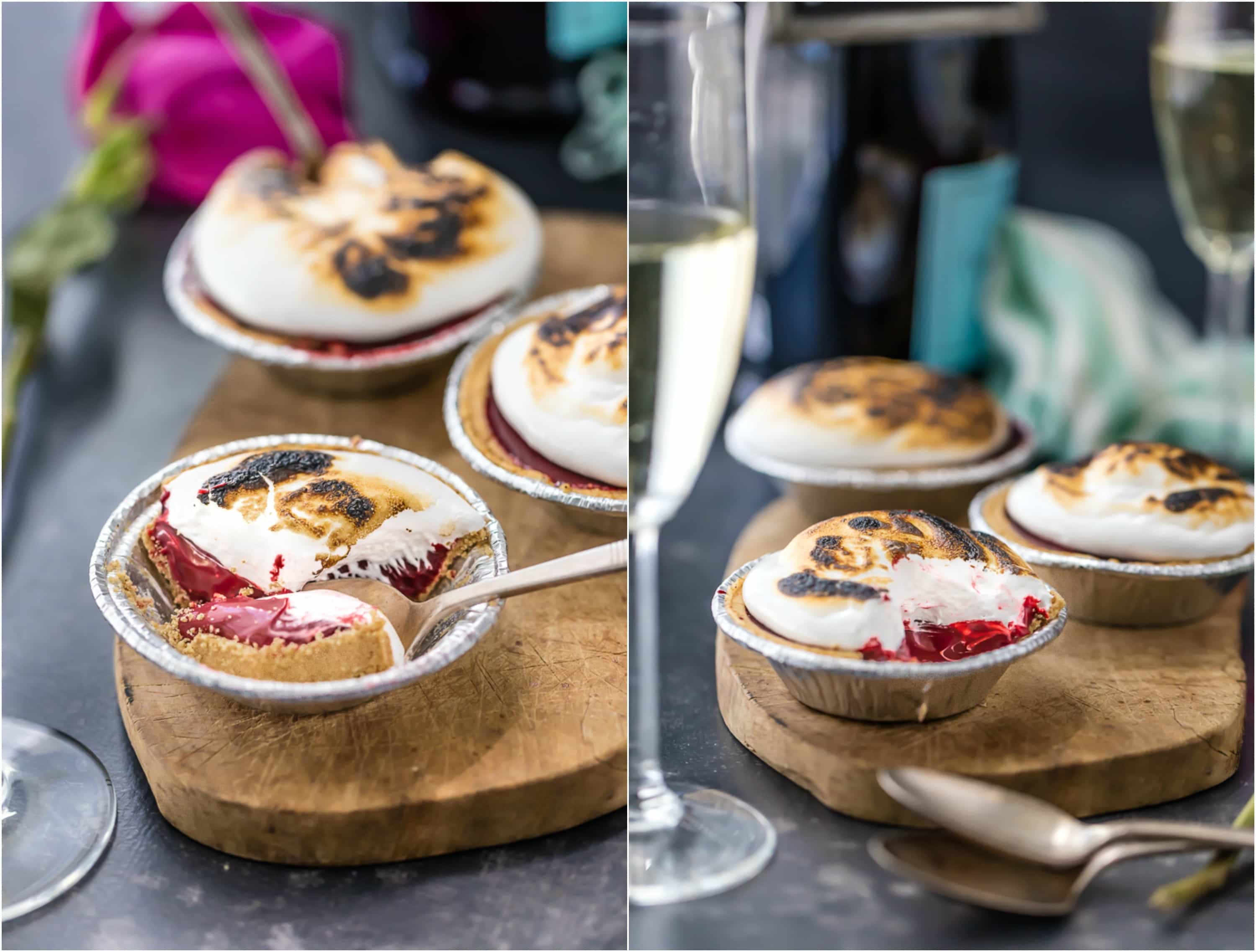 Valentine's Day Desserts
These don't HAVE to be for Valentine's Day, but they sure do make a fun Valentines Day dessert! I love adding in the red coloring to the chocolate to make them extra fun. These Mini S'mores Pies are just delicious.
Here are a few other Valentine's Day Desserts to try: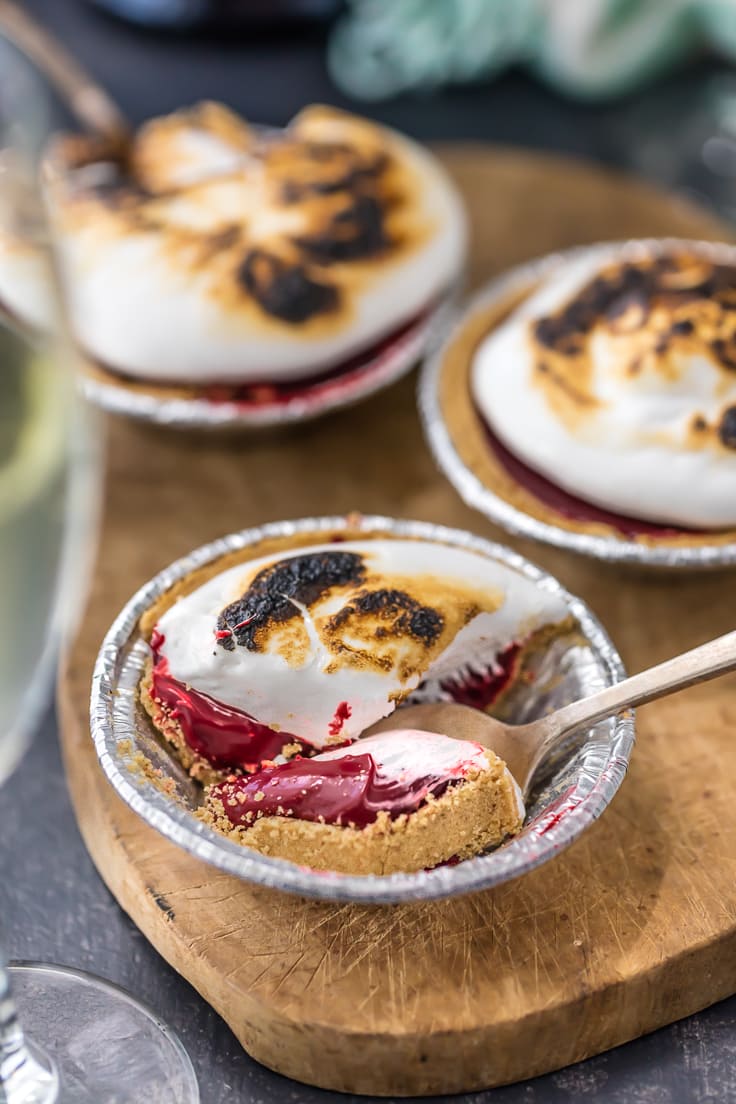 There's just something about Valentine's Day and Red Velvet. A match made in lover's heaven! But don't get me wrong, these Mini Red Velvet S'more Pies should be enjoyed year round. They're perfect for baby showers, bridal showers, or just a fun mini sweet treat for after a weeknight dinner at home! MINI DESSERTS ARE THE BEST DESSERTS!
See the recipe card below for details on how to make these Mini Red Velvet S'mores Pies. Enjoy!
If you like these s'mores mini tarts, try these other tasty S'mores inspired recipes: