Oatmeal Bread Rolls with Molasses are such a substantial and easy bread recipe. This Oatmeal Molasses Bread is the perfect dinner roll recipe for your Thanksgiving feast! These dinner rolls are a holiday favorite and have such an amazing flavor and texture.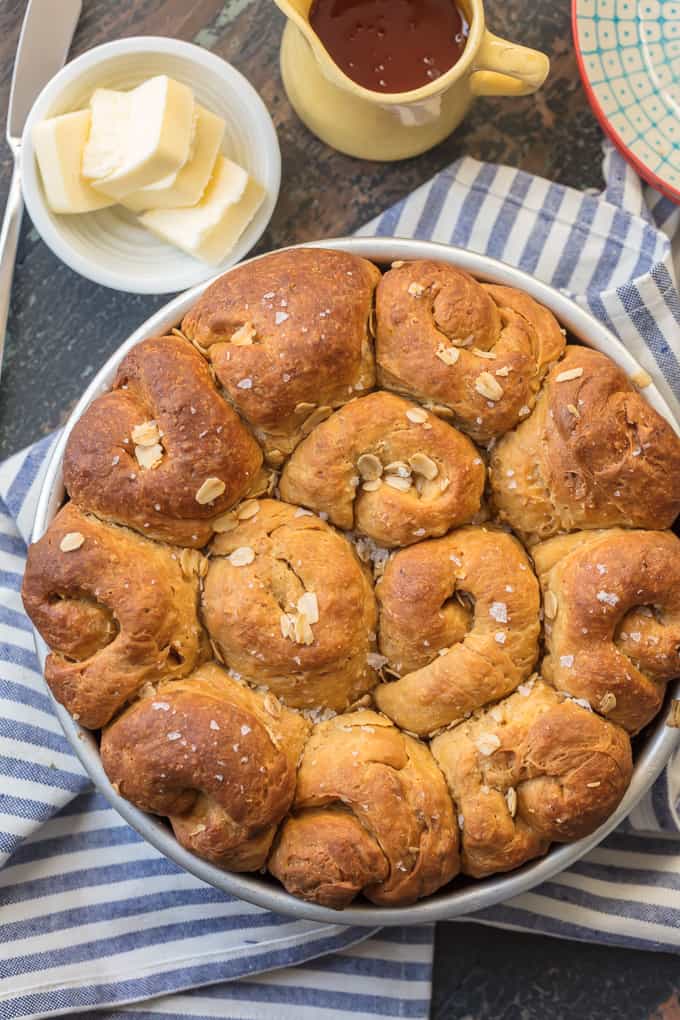 Oatmeal Bread Rolls
These oatmeal rolls are a family favorite bread recipe for holiday dinners. They're easy to make and the molasses makes them extra delicious!
These Oatmeal Bread Rolls are one of the Thanksgiving recipes I was most excited to share with you. I'm so proud of the holiday recipes we have rounded up for you this year, and I hope you love them as much as we do!
We have made everything from Brown Sugar Pumpkin Pie to Instant Pot Turkey Breast to Cherry Vanilla Party Punch. With all the great sides on your Thanksgiving table, a great bread dish is a MUST.
These Oatmeal Molasses Bread Rolls are always a hit, so they make the perfect side. I love that I can make these FROM SCRATCH and still feel like it's an easy recipe. Fresh homemade rolls for Thanksgiving is a must!
These Oatmeal Rolls with Molasses are flavorful, unique, and totally delicious!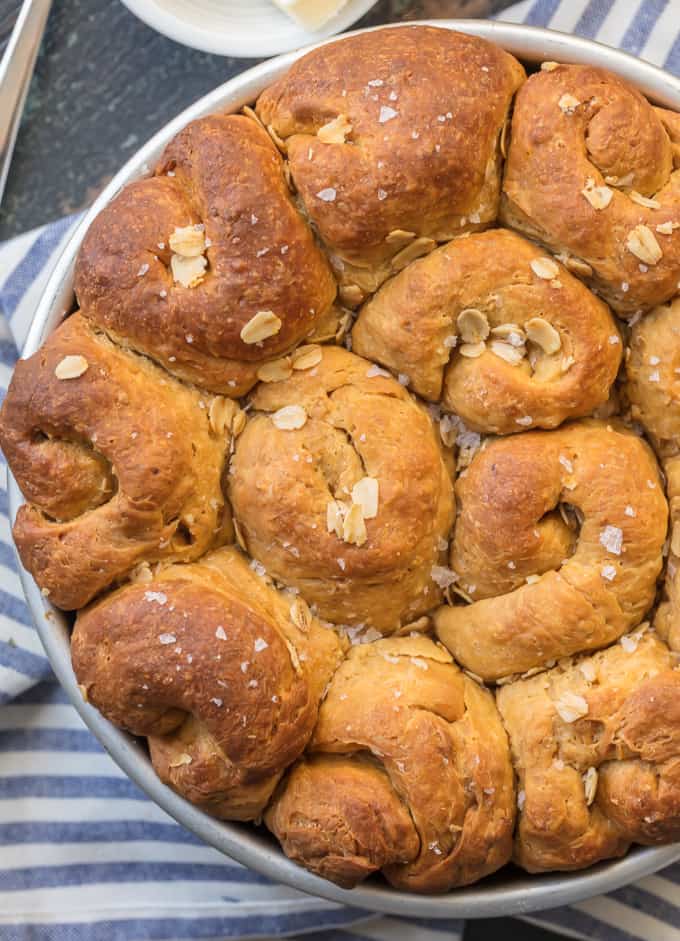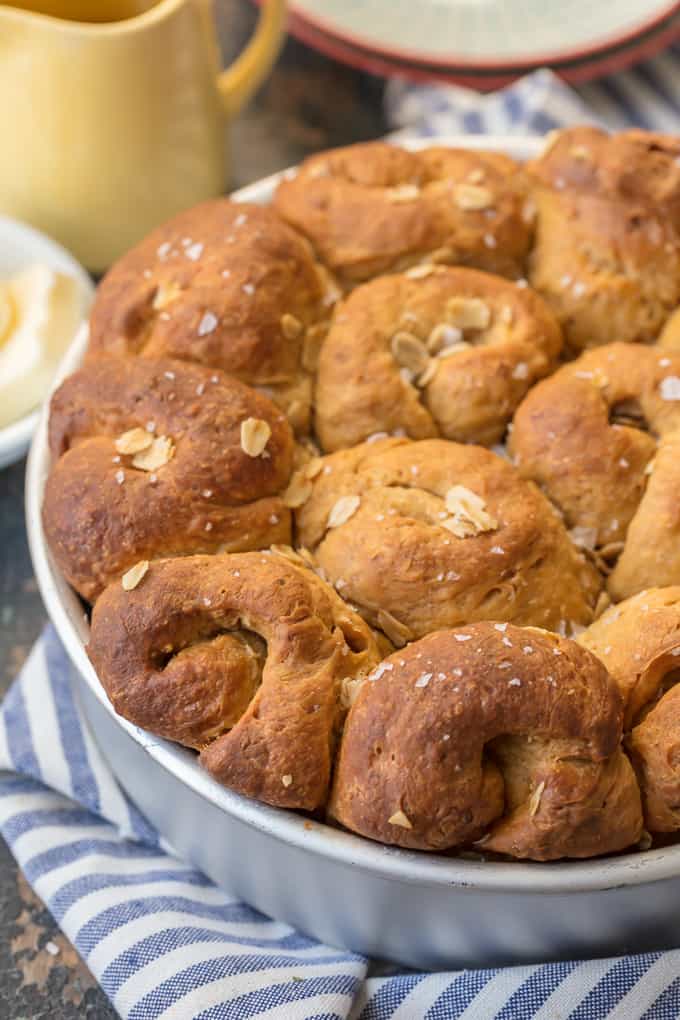 Oatmeal Rolls with Molasses
A great bread roll recipe is something every holiday table needs. We are all about easy bread recipes around here! I'm way too inexperienced for the hard stuff, so only SIMPLE rolls, muffins, and breads on The Cookie Rookie. Yes, we're making the dough and doing the whole thing from scratch, but if I can do it, so can you!
We have lots of bread hacks around here, like Garlic Butter Hawaiian Rolls; twists on classics like Garlic Cheddar Cornbread Drop Biscuits; and now these Oatmeal Bread Rolls. They're slightly sweet, hearty, beautiful, and delicious! A winning Thanksgiving recipe for sure!
You'll be craving these Oatmeal Rolls throughout the year, not just during the holidays! They're the perfect complement to all your other favorite holiday recipes.
Oatmeal Bread Ingredients:
Active Dry Yeast
Granulated Sugar
Butter
Milk
Dark Brown Sugar
Water
Old-Fashioned Oats
Molasses
Honey
Egg
Salt
Bread Flour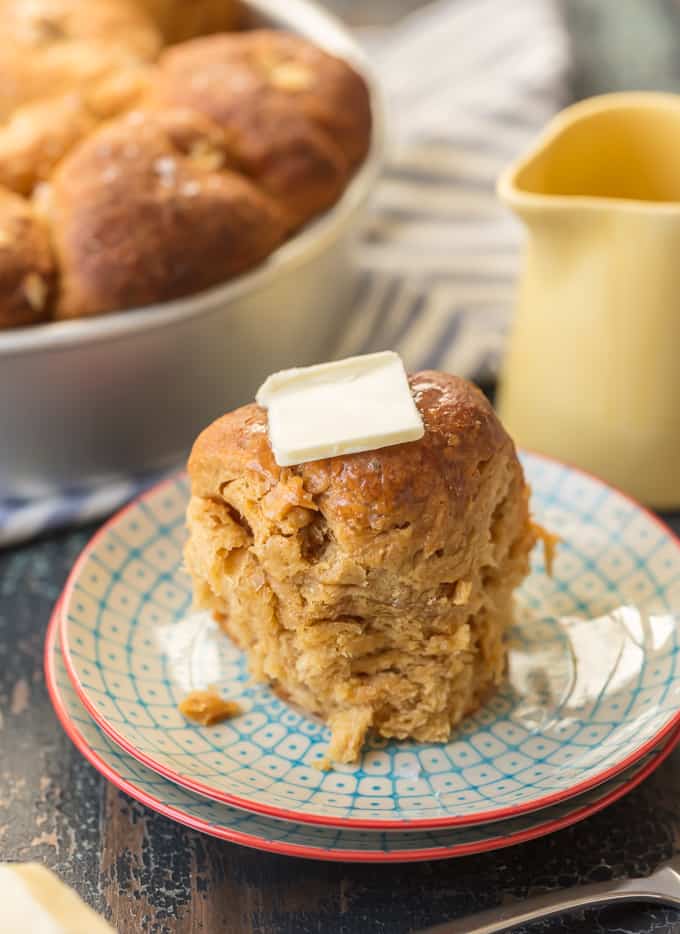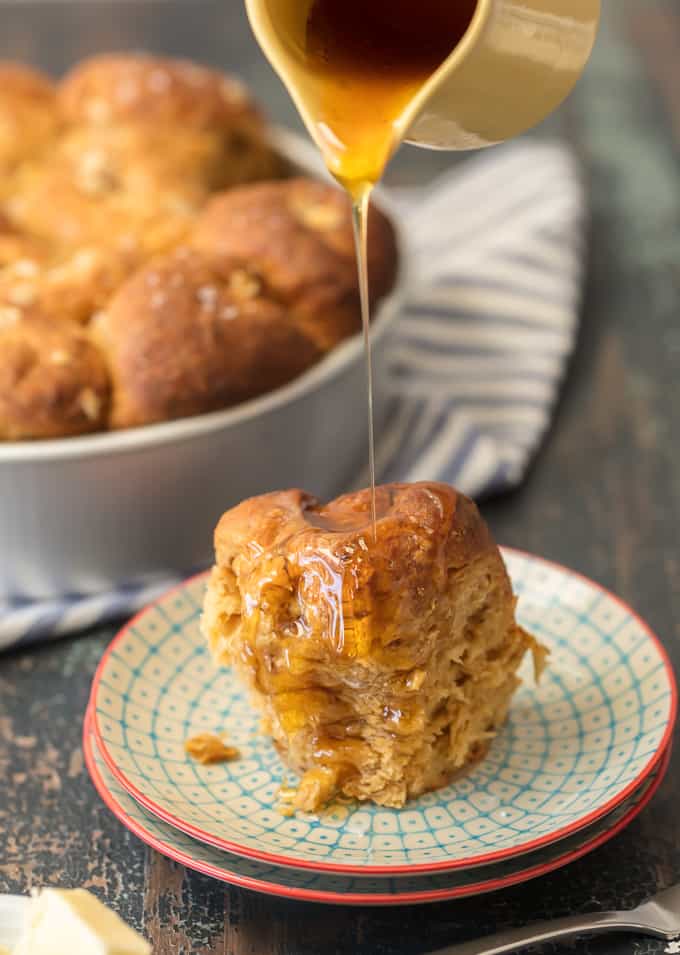 How to Make Oatmeal Bread Rolls
Heat water per directions on the yeast package. Dissolve yeast in ¼ cup lukewarm water and stir in a large pinch of granulated sugar. Set the yeast water aside until bubbly about 3-5 minutes. This ensures the yeast is active. If bubbles don't form, replace the old yeast with new.

Place cubed butter in a large mixing bowl.

In a small saucepan, heat milk to scalding temperature, 180°F, and pour the hot milk over the butter. Stir occasionally until butter has melted.

Add brown sugar, oats, molasses, honey and salt. Blend thoroughly and cool the mixture until lukewarm.

Add egg and mix well. Add the yeast mixture and stir to incorporate.

Mix in 2½ cups flour, stir until incorporated and let dough rest 10 minutes. Place dough on lightly floured surface and knead 10 minutes. Add enough of the remaining ½ cup of flour if dough is too sticky, but it should be a little tacky to the touch.

Butter a large mixing bowl, place the dough inside and turn it over so all sides of the dough gets a coat of butter. Cover the bowl with plastic wrap. Refrigerate the dough 4 hours or overnight. The dough won't rise a lot. 3-4 hours before cooking the rolls, transfer the dough the room temperature. Allow the dough to rest 30 minutes.

When ready to bake, butter a 9-inch round pan (or equivalent). Melt 6 tablespoons of butter in a small saucepan or, covered, in the microwave.

Transfer the dough to a lightly floured work surface, and knead the dough a couple of minutes. Pull the dough into 12 equal sized balls. Press each ball into a square and flatten slightly with your fingers. Bring the edges up to make a ball then turn & tuck the edges so the rounded side is up.

Place the balls, seam-side down, in the pan. Brush with half of the melted butter (save the other half for the cooked rolls).

Sprinkle the rolls with old-fashioned oats and a little coarse sea salt.

Allow the rolls to rise until doubled, in a warm place or proofing oven, at least 2 hours.

When rolls have risen, preheat oven to 350°F and bake 350-40 minutes or until nicely browned and sound hollow when tapped. Internal temperature should read 190°F.

Transfer rolls to a cooling rack and brush with the remaining melted butter. Allow rolls to cool 5-10 minutes (or just until you can't take it any longer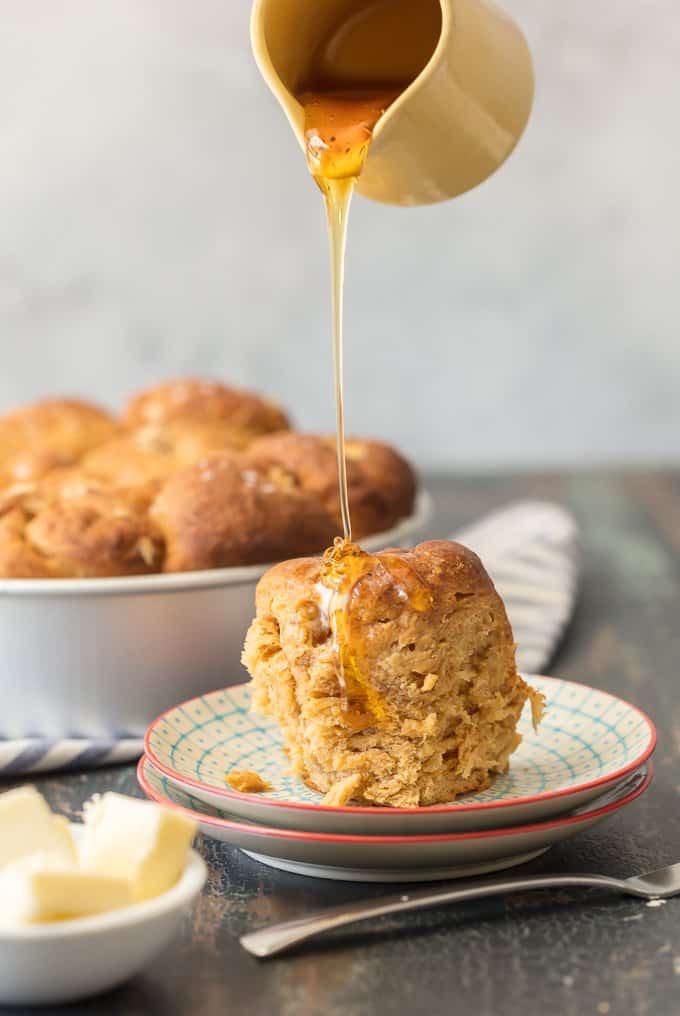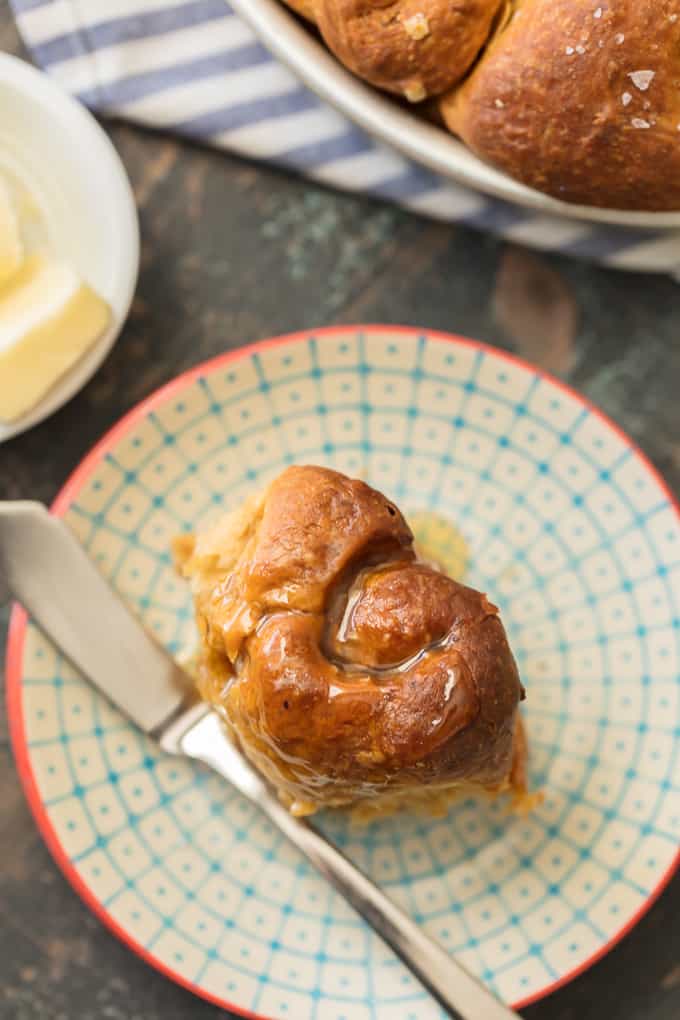 Easy Rolls
I hope these Oatmeal Bread Rolls make an appearance at your holiday celebrations. The holiday season is the best time of year for foodies like us. So many amazing eats and treats to go around. I hope you have an amazing Thanksgiving and Christmas filled with all of the family recipes that bring joy and fulfillment.
If you have favorite recipes your family loves to make, I'd love to hear about them! Be sure to tag #thecookierookie on Instagram!
See the recipe card below for full details on How to Make Oatmeal Rolls. Enjoy!
Other Bread Recipes you MUST MAKE: