Dark Chocolate and Orange are a match made in Heaven! Orange Chocolate Fondue, the perfect treat!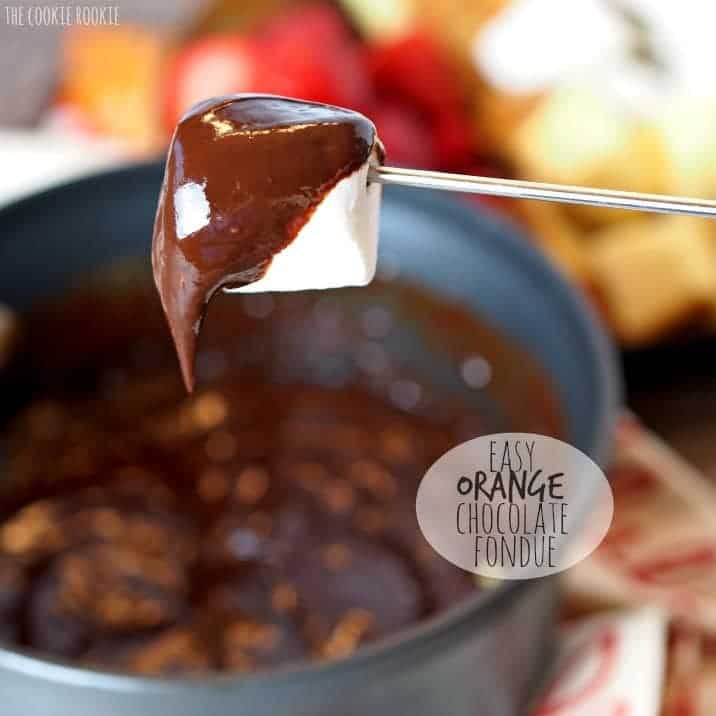 Have I told you guys how much I love chocolate?! I'm sure I have.  Some of my favorite recipes on the site have been full of one of my favorite things…CHOCOLATE! (Peanut Butter Chocolate Lava Cakes anyone?!) It may not be ranked as highly as cheese in my book…but it ranks pretty high.
And Orange Chocolate Fondue is the best ever.
Give me all of the Chocolate Fondue!
When Pat and I were dating, one of our favorite restaurants for date night was The Melting Pot.  I could have all the cheese and chocolate my heart desired.  Now that we are married…the dates are less frequent.  We are an old boring married couple.  So I'll just make fondue at home.  It's cheaper, and I can eat as much as I want without being judged! Win Win!!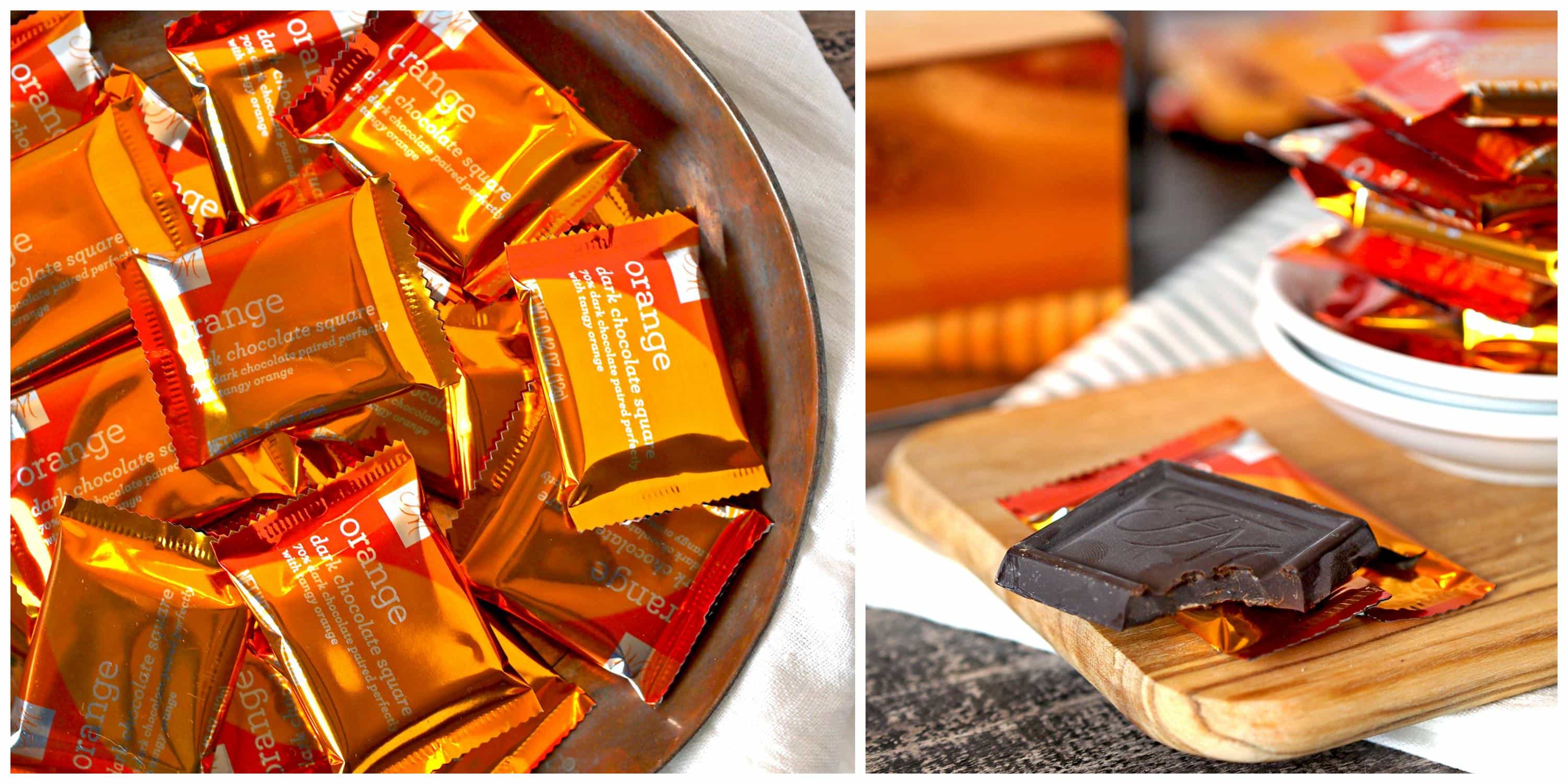 I loved using Orange Dark Chocolate for this fondue, but you can make it with all bittersweet chocolate if that's easier.  It will still have the orange taste because of the GRAND MARNIER.  I'm going to say the Grand Marnier is optional…but really…you should use it.  Just kicks the entire thing up a notch. Delish!
Once you have the fondue heated up, be sure you have your dippers ready.  I dipped marshmallows, biscotti, fruit, and even pound cake.  You could dip cheesecake bites (OMG), brownies, pretzels (boring)…anything you want! So fun.  Perfect for a date night in.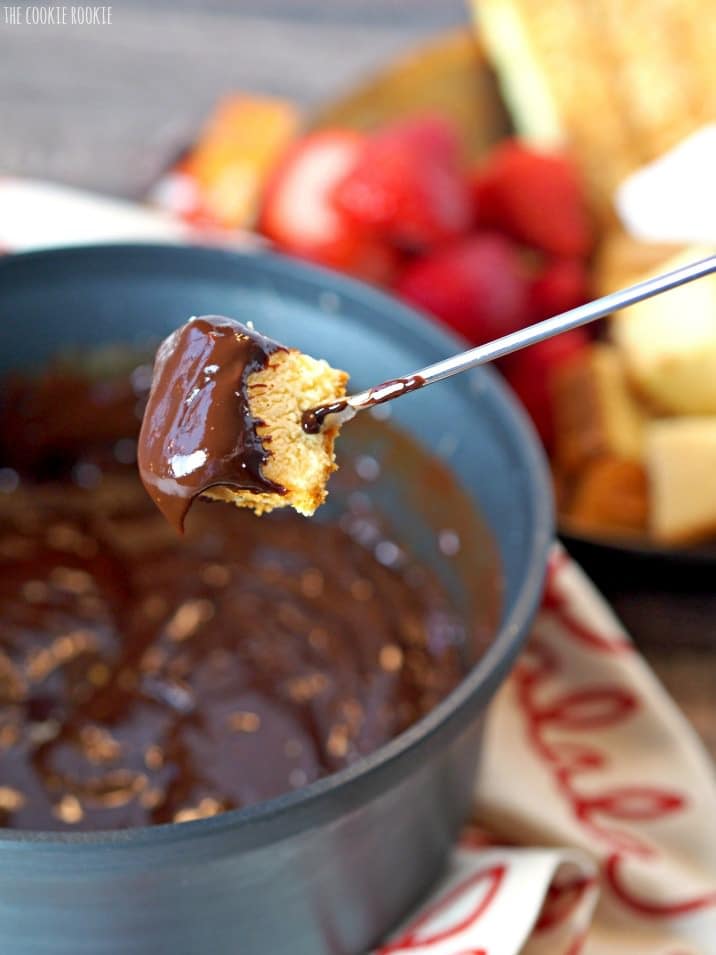 I'm going to tackle cheese fondue next.  Then I really will have everything I need at home! My animals, my husband, and my cheese and chocolate.  That's my heaven.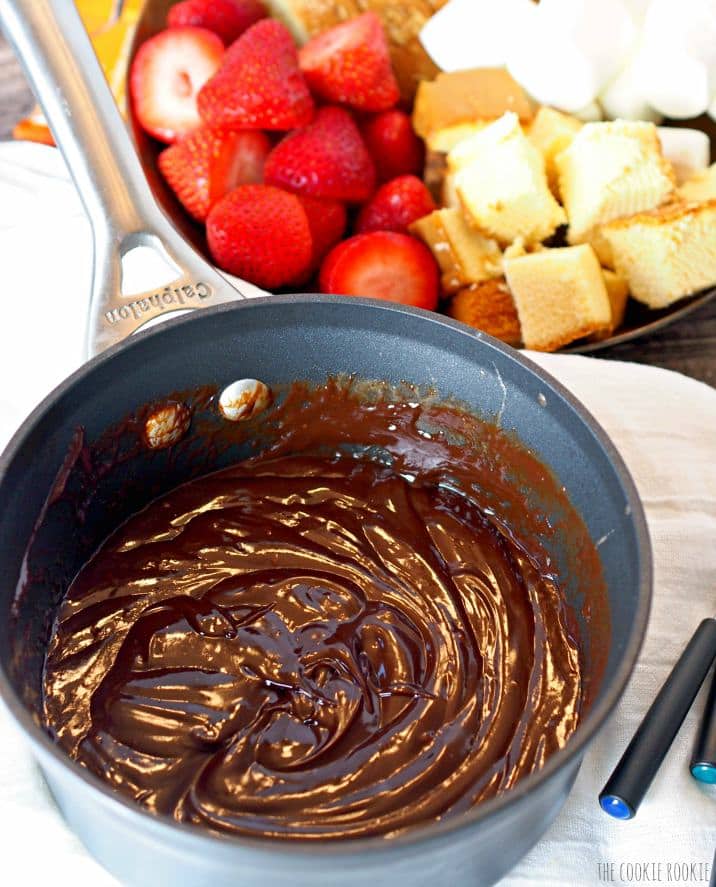 Enjoy!
Ingredients
3/4 cup heavy cream
8 ounces bittersweet baking chocolate
8 ounces (1 package) Orange Chocolate Squares, finely chopped (I used Fannie May Orange Chocolate. If you can't find an Orange Chocolate option, you can use 8 ounces german chocolate. The Grand Marnier will take care of the orange taste!)
1/4 cup Grand Marnier (optional)
Marshmallows, fruit, pound cake, biscotti, brownies, or whatever else your heart desires as dippers!
Instructions
In a small sauce pan, heat the cream until its bubbling at a nice page.
Lower heat to simmer and stir in chocolate, 1/2 cup at a time. Stir rapidly to melt the chocolate completely into the cream.
Take the chocolate sauce off of the heat and stir in the optional Grand Marnier. Serve with your choice of dippers and enjoy!
7.6.7
1735
https://www.thecookierookie.com/orange-chocolate-fondue/