Granita is such a fun and refreshing treat! It's an Italian fresh fruit dessert much like Italian Ice or Sorbet. It's icy, it's fruity, and it tastes so good! We created an Orange Cream Granita recipe that takes it to another level. Make the granita, then add scoops of it alongside ice cream for a fun summer dessert. The orange creamsicle flavor is just so perfect!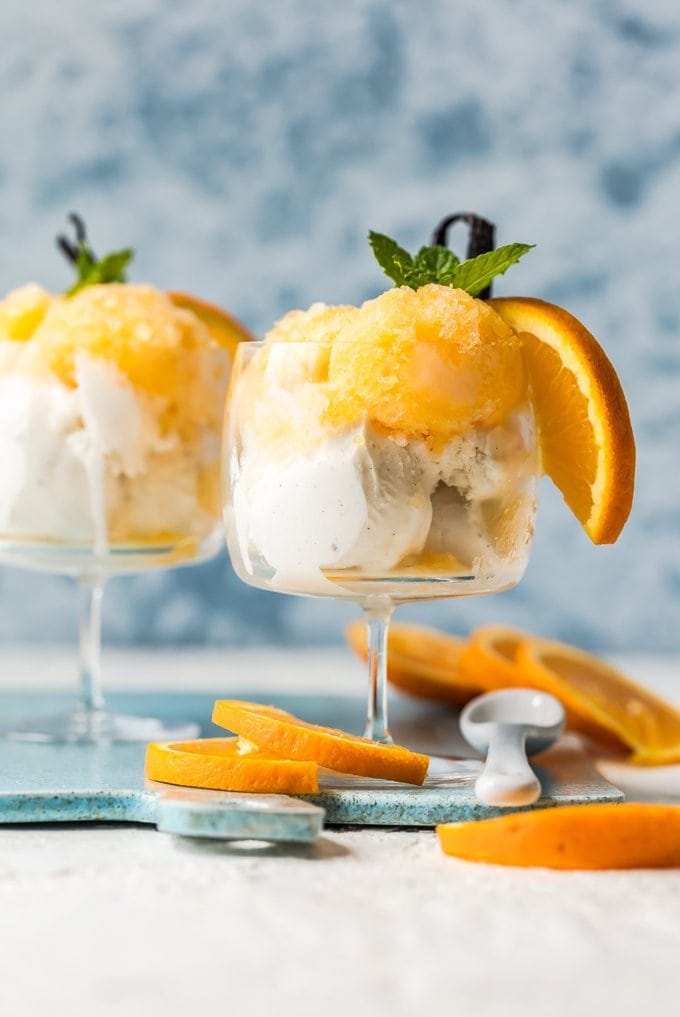 Orange Cream Granita Recipe
Granita is a fresh and fun recipe I'll be adding to my regular dessert schedule all summer long. Much like sorbet, it's a frozen dessert that is essentially made up of fruit/juice and sugar. This is then frozen to create an icy, slushy mixture that can be eaten in many ways.
This Orange Cream Granita recipe is absolutely perfect for summer. The orange granita is eaten along with ice cream to add in that creamy texture to balance out the iciness. I love the way the two slowly melt together into a creamy, icy concoction!
Granita can also be eaten on top of yogurt, added to a fancy cocktail, or eaten simply on its own by the spoonful.
Make this Orange Creamsicle Granita recipe for a refreshing summer dessert!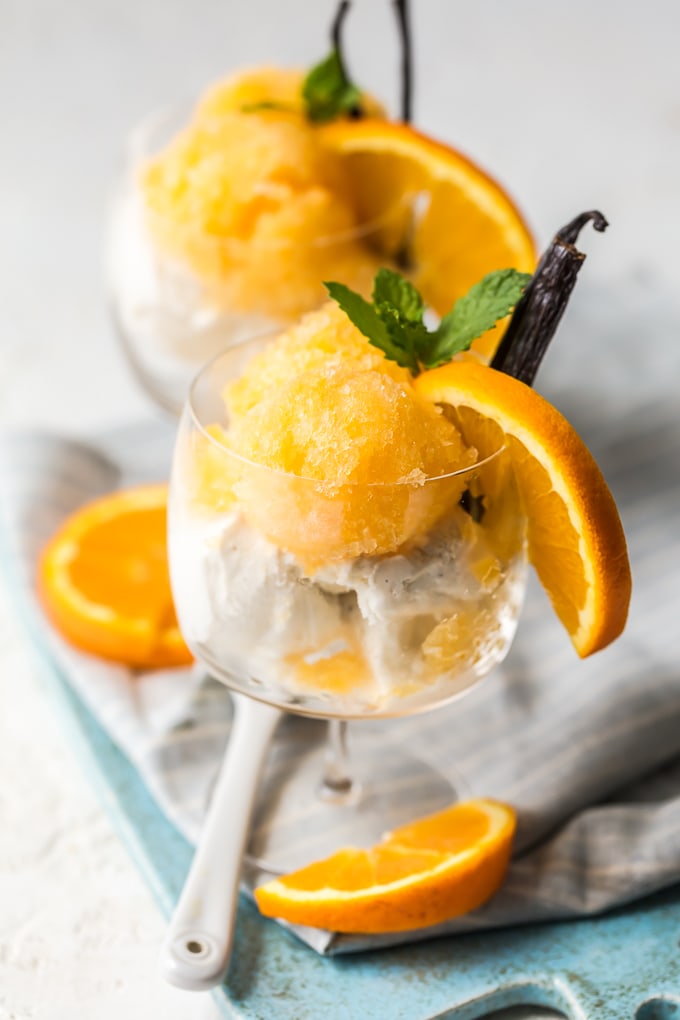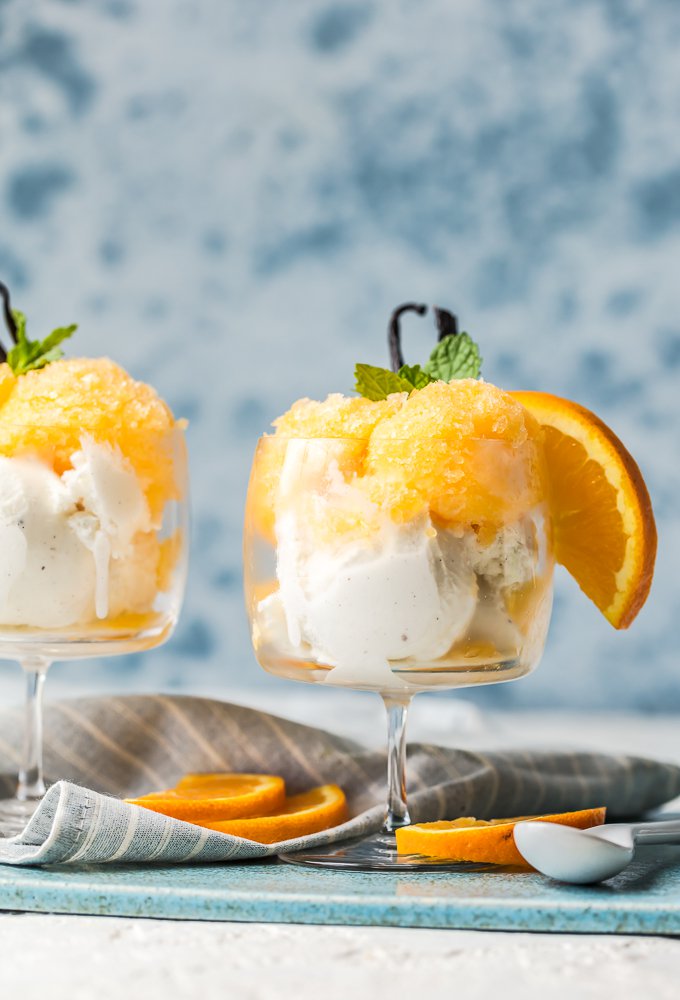 What is Granita?
Granita is an icy dessert or slushy drink from Italy. It is essentially frozen juice that is turned into a slushy concoction. It's similar to Italian Ice, and even similar to sorbet, but it has a much coarser, chunkier texture. The only necessary ingredients are fresh juice and sugar, which are then frozen.
Granitas can be made with any fruit or citrus juice and in a wide range of flavors. It's such a refreshing treat, especially on hot days. It can be eaten as a slushy with a spoon or straw. But it can also be served as a dessert, as it is in this Orange Cream Granita recipe! Place a scoop of it alongside ice cream for a fruity dessert!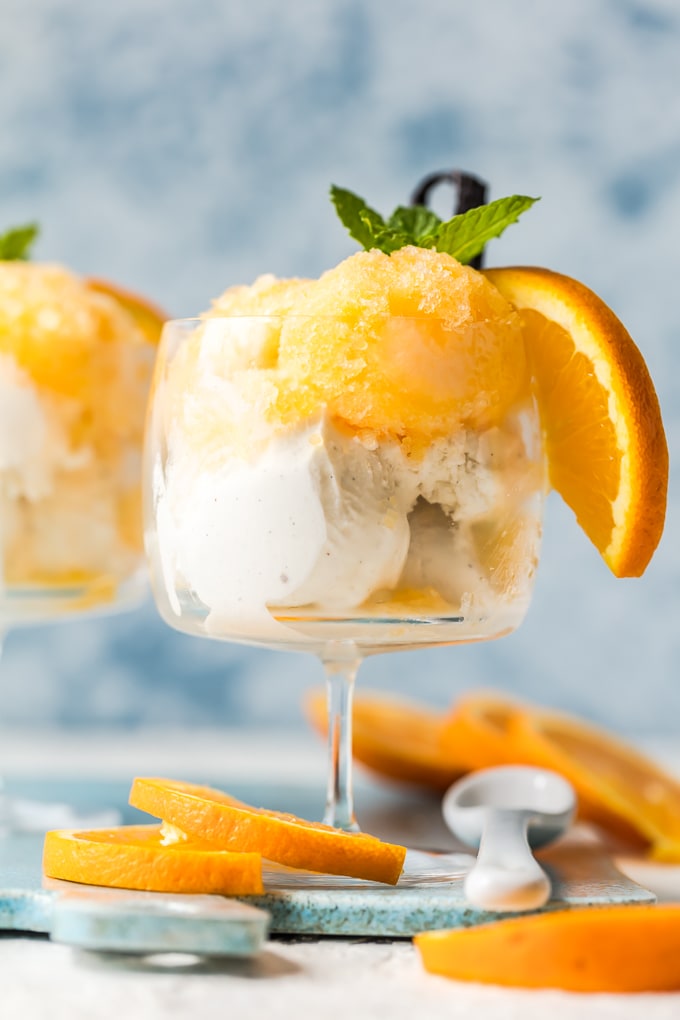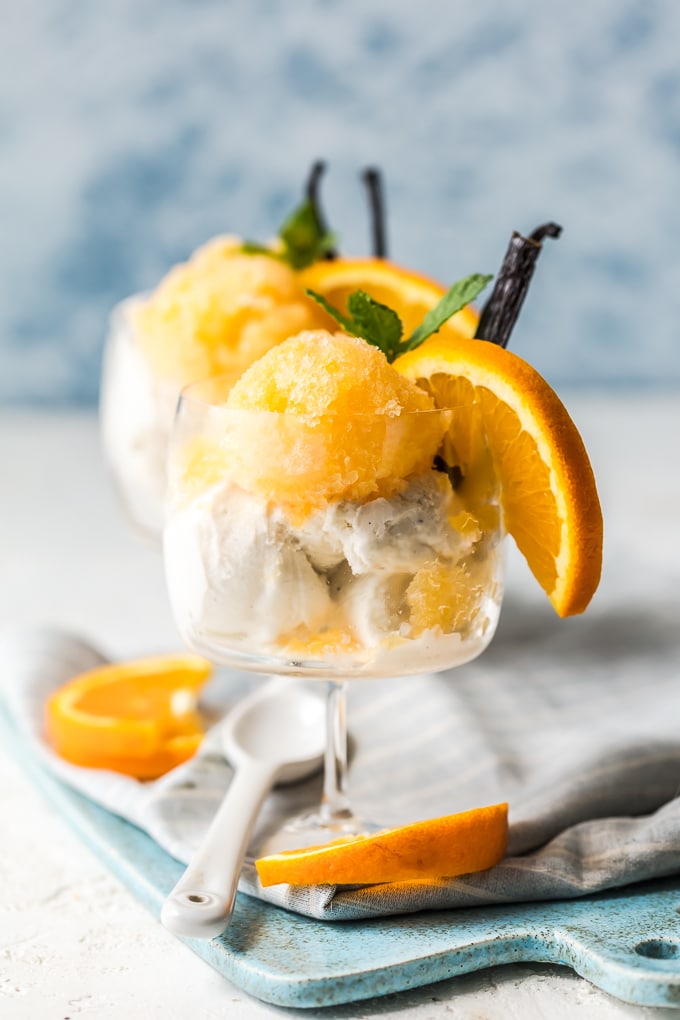 How to Make Granita
Granita is super easy to make, and you can choose any flavor you want! With fruit, there are a couple different ways to make it. You can either make fresh squeezed juice if you're using citrus, or you can blend cubed fruit in a food prcoessor if you want to use watermelon, peaches, or something similar. For these orange cream granitas, we'll be using fresh orange juice!
Here are the basic steps:
Mix fresh-squeezed orange juice with sugar until it dissolves
Pour the orange juice into a large dish, set it level in the freezer, and cover it
After about an hour, use a fork to scrape and break up the ice
You'll need to keep stirring & breaking up the ice every 30 minutes
Hop over to Simply Sated for full details & instructions to get it just right!
Once the mixture is fully frozen and turned into perfect icy crystal, you can serve it along with ice cream like we did in this Orange Cream Granitas recipe! You can also add in a bit of Cointreau to the orange juice mixture if you want for an extra kick.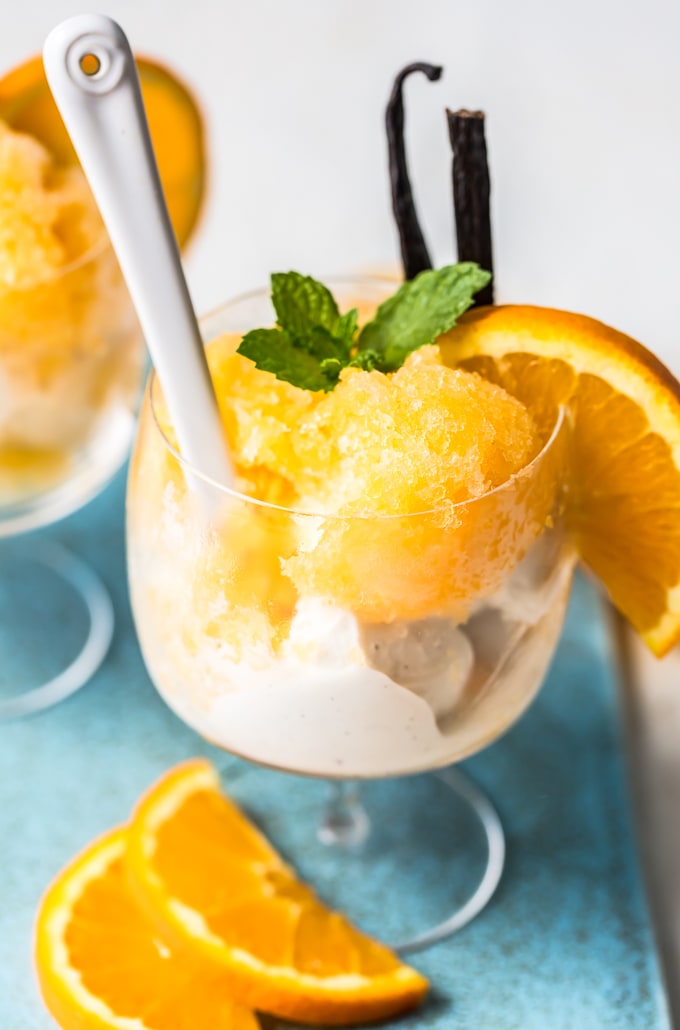 Jump over to my mom's amazing site to get the full recipe, with details on how to make it and serve it. I hope you enjoy this as much as I did!
Get the full recipe (<—- CLICK) over on Mom's site Simply Sated!
Click above for the recipe and if you like this recipe, you'll love these other recipes too: