Eggnog Ice Cream is the perfect Christmas dessert! This Peppermint Ice Cream is spiked with bourbon to give it an extra kick, and then covered in homemade candy cane syrup. This Peppermint Eggnog Ice Cream recipe is basically CHRISTMAS in a cup!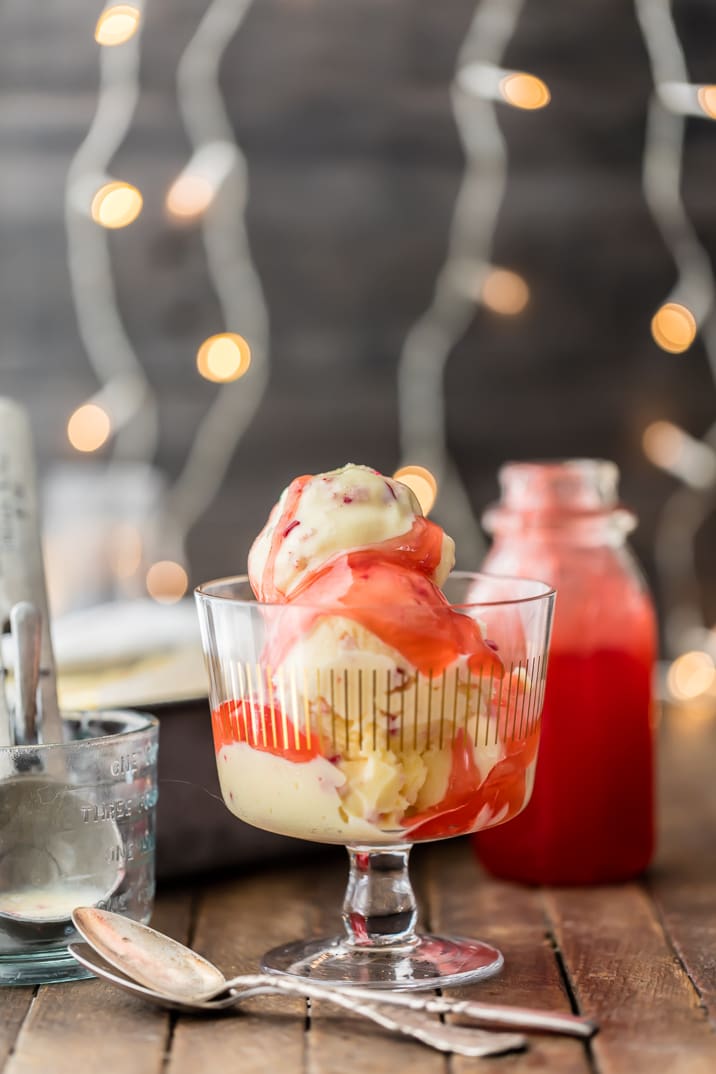 Peppermint Eggnog Ice Cream
Eggnog Ice Cream is the perfect mix of a Christmas classic and one of my favorite types of desserts. This Spiked Peppermint Ice Cream just screams Christmas, and I can't get enough of it!
I'm the kind of girl who eats ice cream year round. I don't know why people don't? Our houses aren't cold on the inside…why can't we enjoy some ice cream no matter what the temperature is outside? Every season is ice cream season for me, so Peppermint Eggnog Ice Cream for Christmas seemed like a must!
I think it's so much fun to play around with festive flavors during the winter season, and nothing says Christmas quite like eggnog and peppermint. When the holiday comes around, I immediately think of red and white striped candy canes and homemade eggnog. Yum! So let's combine the two flavors into one delicious dessert: Peppermint Eggnog Ice Cream it is!
So make ice cream a part of your holiday traditions ASAP with this Peppermint Ice Cream. You will thank me later! You can add the bourbon to make an alcoholic ice cream treat, or leave it out so you can share with the whole family. It's up to you!
Peppermint Ice Cream + Eggnog + Bourbon + Candy Cane Syrup = the BEST Christmas dessert!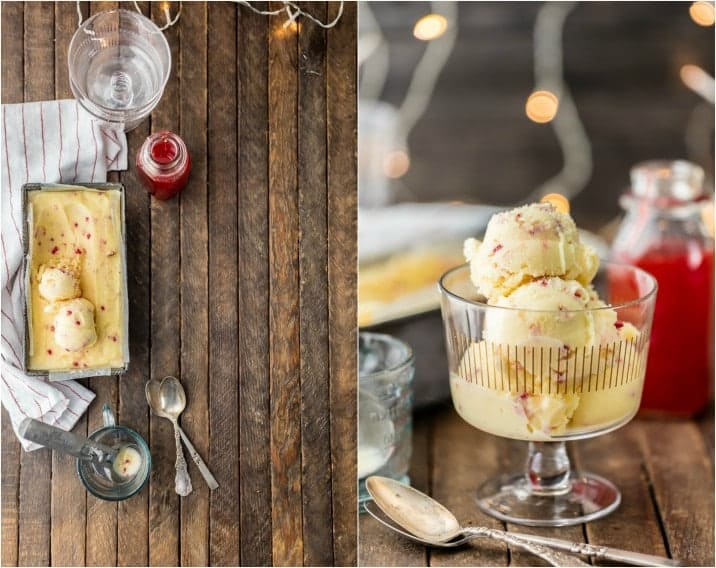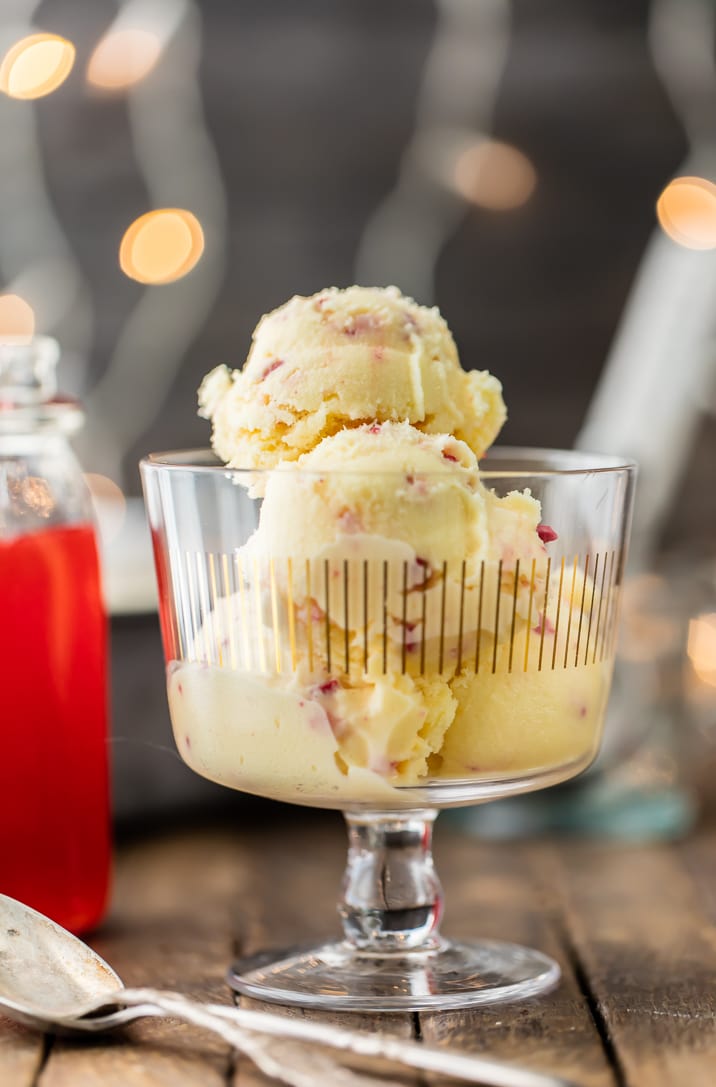 Peppermint Ice Cream
Having an ice cream maker means I want to make every type of ice cream imaginable. Hence the eggnog ice cream. And if we are going to mix eggnog and peppermint, we might as well make it spiked too…right? It's the holidays after all! This is all in the spirit of Christmas! Peppermint ice cream tastes so cool and fresh, but that's just not enough. Infuse it with creamy eggnog flavors, add some bourbon to make an alcoholic ice cream (this part is totally optional), and top it off with a homemade candy cane syrup! This dessert is ALL I want for Christmas…
What's in this peppermint eggnog ice cream?
Whole Milk
Heavy Whipping Cream
Eggs
Vanilla Extract
Cinnamon Sticks
Nutmeg
Sugar
Peppermint Baking Chips (or finely crushed candy canes)
Bourbon or Rum (optional)
If you prefer, you can buy eggnog at the store to use in this recipe instead of making the ice cream mixture completely from scratch. So all you would need is eggnog, peppermint baking chips, and bourbon if you want to make it an alcoholic ice cream.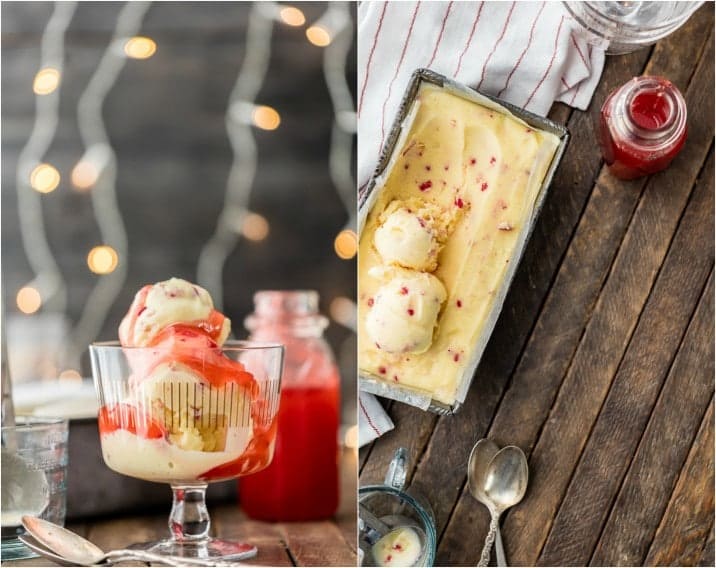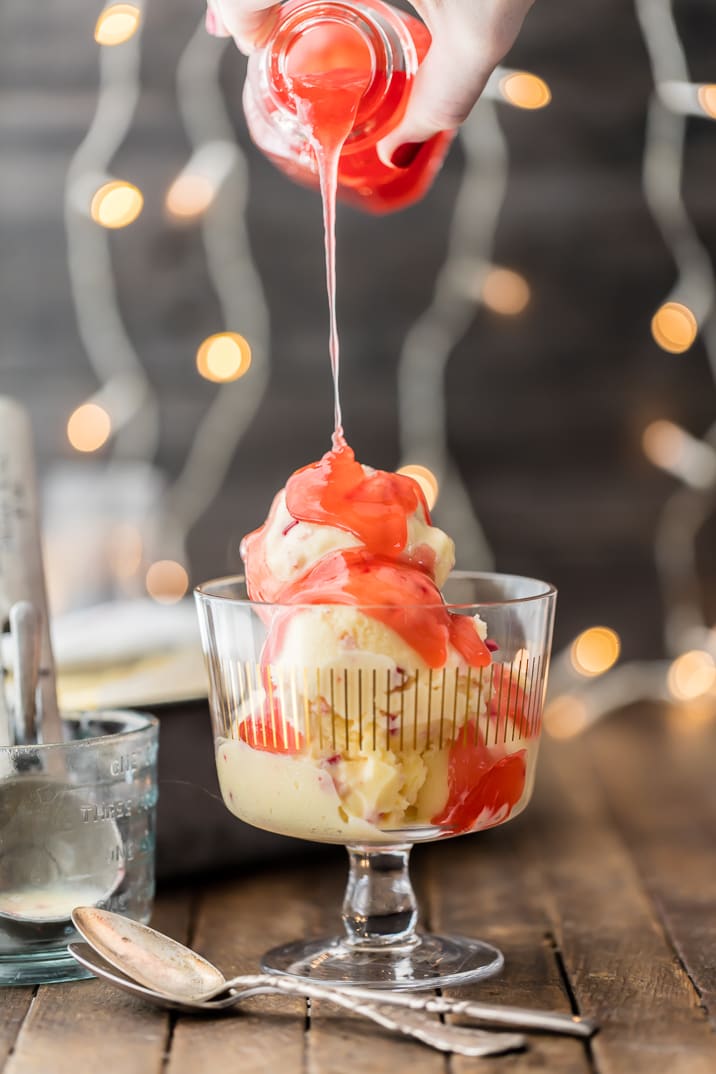 How to Make Spiked Peppermint Eggnog Ice Cream
The other great thing about this Peppermint Eggnog Ice Cream is just how easy it is. You can make your own eggnog from the recipe below…OR you can just use a store-bought quart that's premade. Sometimes you're in need of a quick ice cream fix and there is NOTHING wrong with that! This recipe uses an ice cream maker (if you don't have one, here are 6 ways to make ice cream without one).
How to Make Eggnog Ice Cream:
Combine milk, cream, cinnamon, and nutmeg in a saucepan, and bring to a boil. Remove from heat as soon it boils.
Let it sit off heat for 5-10 minutes to that it cools before the next step.
Beat eggs and sugar together in a stand mixer, then pour egg mixture into milk mixture, and quickly whisk together.
Stir in the bourbon/rum if you are making a spiked version.
Refrigerator the eggnog for at least 2 hours, until it is cold.
Pour eggnog mixture into your ice cream maker (follow the instructions that came with your ice cream maker to complete this step).
When ice cream is almost done, add in the peppermint baking chips.
If you are using store-bought eggnog or another recipe, start by stirring in the bourbon and then just pour the eggnog into your ice cream maker. SO simple with pre-made eggnog, but super fun if you make your own. Then top it off with the candy cane syrup (details below).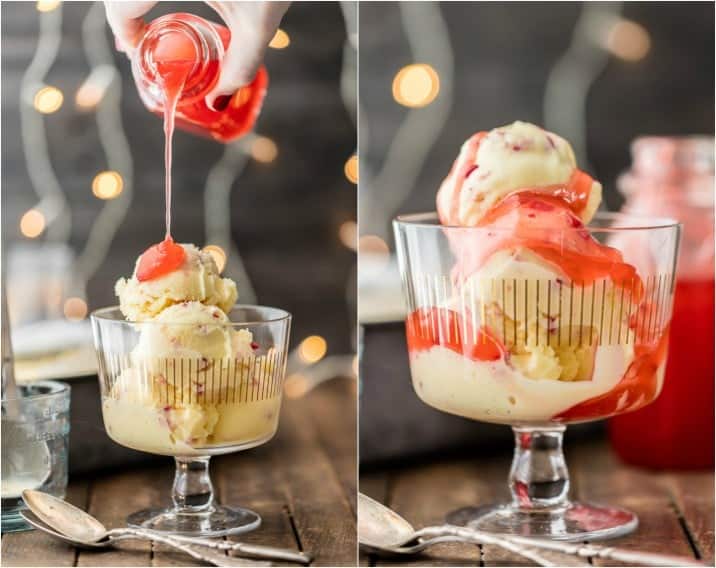 Candy Cane Syrup
I topped this delicious Peppermint Eggnog Ice Cream with a homemade Candy Cane Syrup. A Candy Cane Simple Syrup to be exact! I thought it would be the perfect way to top off a Christmas ice cream recipe, and I was so right. The syrup is easy to make, and it the flavor is perfect for this peppermint ice cream.
To make the Candy Cane Syrup:
Combine sugar, water, and crushed candy canes in a saucepan, and bring to a boil.
Reduce to a simmer and let the mixture cook down for about 10 minutes.
Just simply pour the syrup directly over the ice cream when serving and you're good to go. So yummy!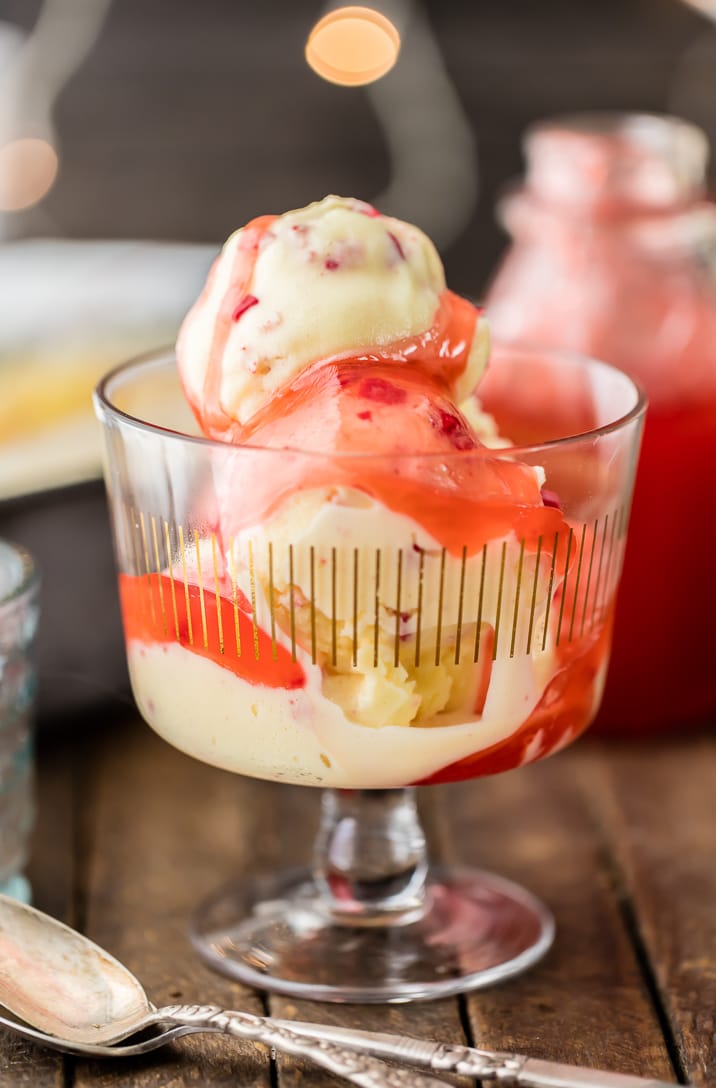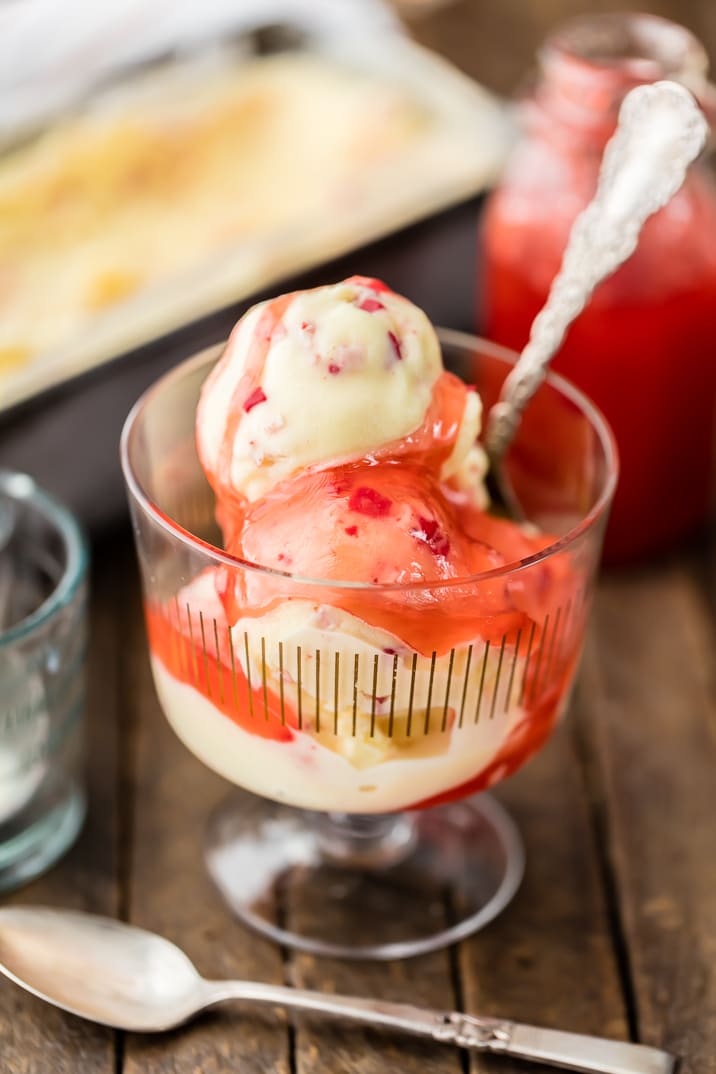 I'm so happy with this Peppermint Eggnog Ice Cream. It's the perfect Christmas treat! I hope you all enjoy this peppermint ice cream as much as I do. Happy Holidays!
See the recipe card below for details on how to make Spiked Peppermint Eggnong Ice Cream. Enjoy!
Want more ice cream recipes? Try these:
Looking for more peppermint treats? We've got those too:
Want more boozy holiday desserts? Try these!