Easy and delicious, this Peppermint Hot Chocolate Martini recipe serves up a delicious cocktail, perfect for fall or winter!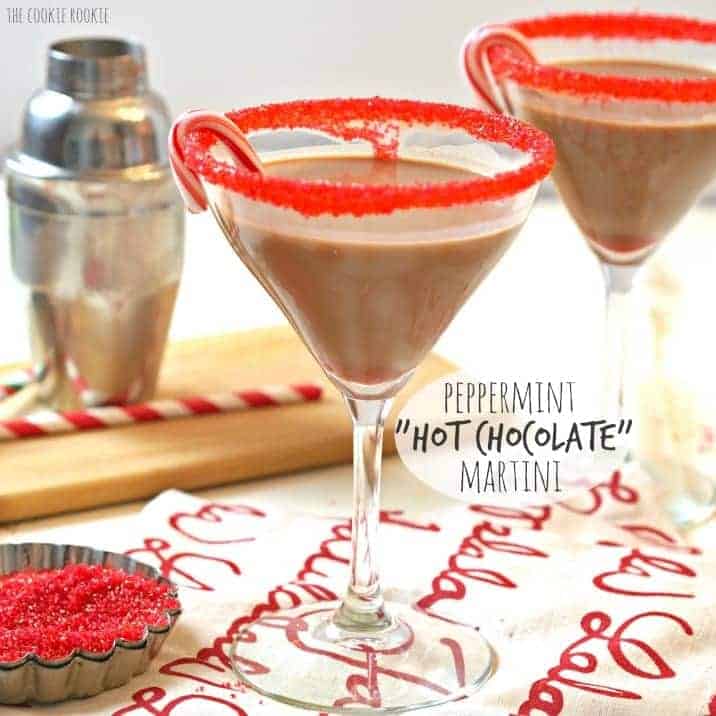 An Easy Festive Cocktail
Who says you can't have the cozy flavors of hot chocolate and enjoy a nice martini? Possibly nobody, but nevertheless, this Peppermint Hot Chocolate Martini recipe is the perfect festive cocktail, and it screams Christmas!
And I photographed it with a "fa la la" napkin…but…still. It's cold outside, and that means its okay to enjoy peppermint. So, let's enjoy it! Glad we got that cleared up!
So it goes like this. You make some peppermint hot chocolate. Then you add some vodka. Add some RumChata. Then you serve it to your friends. Love.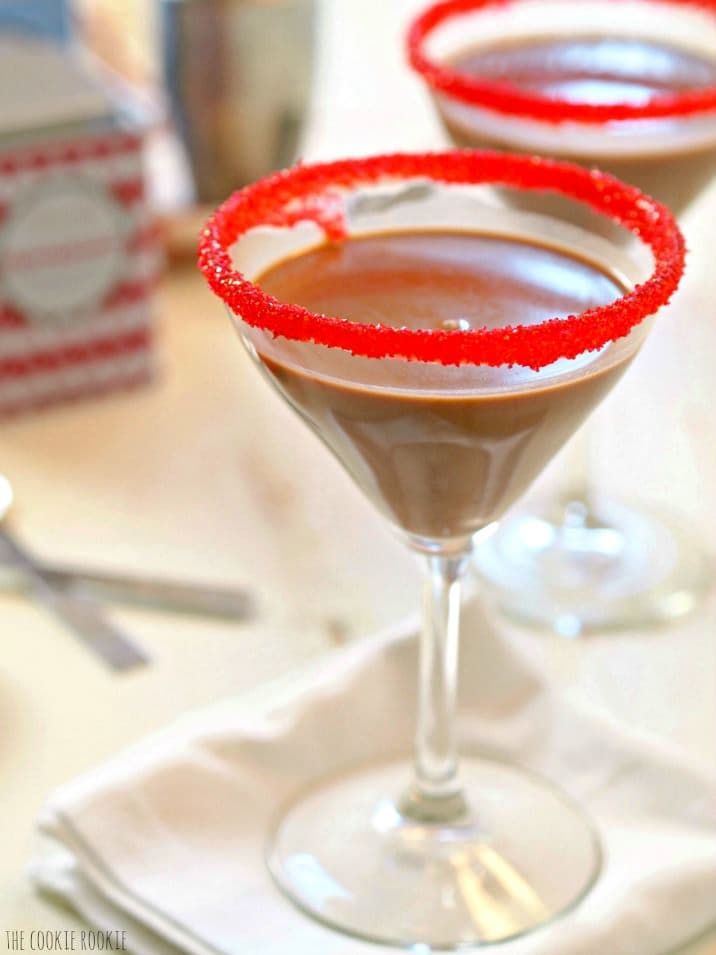 Why You'll Love Peppermint Hot Chocolate Martinis
A super-festive cocktail. This mint chocolate cocktail is Christmas in a glass!
Easy to make. Using store-bought hot chocolate mix makes this cocktail quick and simple, perfect for parties. Only four ingredients!
Delicious! Peppermint chocolate, mixed with RumChata and vodka, it's zesty, warming and chocolatey – so good!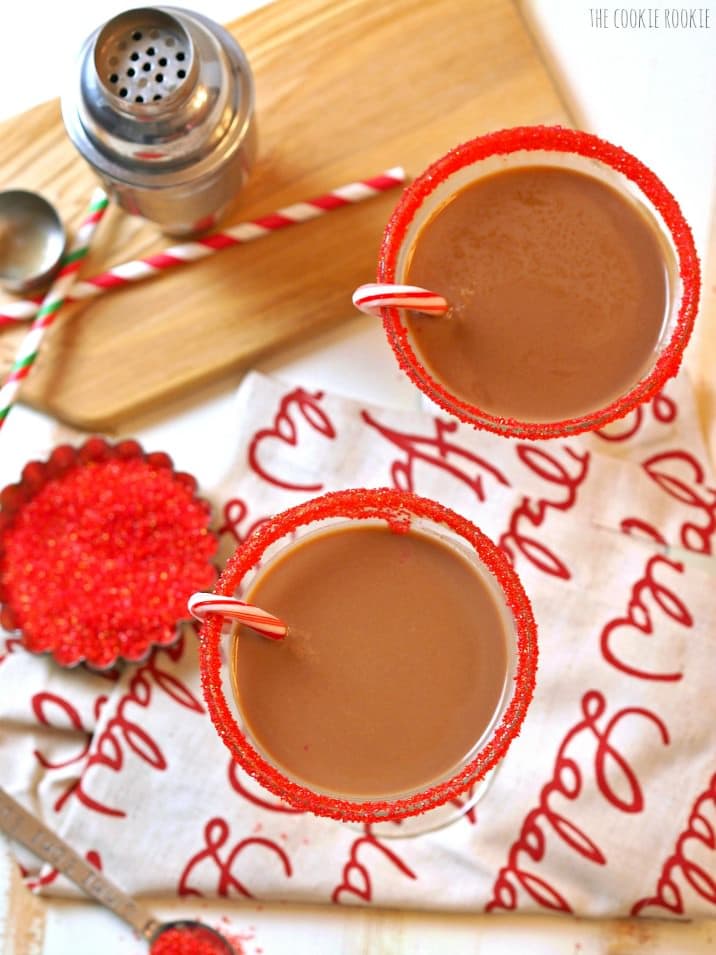 Ingredients
Almond milk: Any type of milk works here, so if you prefer, you can use dairy milk or soy milk.
Peppermint hot chocolate mix: Use your favorite brand. I love Fannie May. You can also use regular hot chocolate with peppermint extract.
RumChata: It's a mix of rum, cream, cinnamon and vanilla, reminiscent of horchata, a Latin-American drink. In a pinch you can use Bailey's Irish Cream.
Vodka: Go for a good-quality vodka, for a smoother taste.
How to make this Hot Chocolate Martini recipe
Heat and stir the milk, hot chocolate mix and RumChata.
Allow to cool slightly.
Add the mixture to a cocktail shaker, along with vodka.
Shake with ice.
Pour into martini glasses. See directions below for instructions on rimming the glasses with sugar.
Serve!
Trademark note: In the spirit of transparency, please note that some of these ingredients are trademarked products. RumChata, Fanny May, Bailey's, Starbucks, and Williams and Sonoma are proprietary brands that I want to acknowledge and give credit to.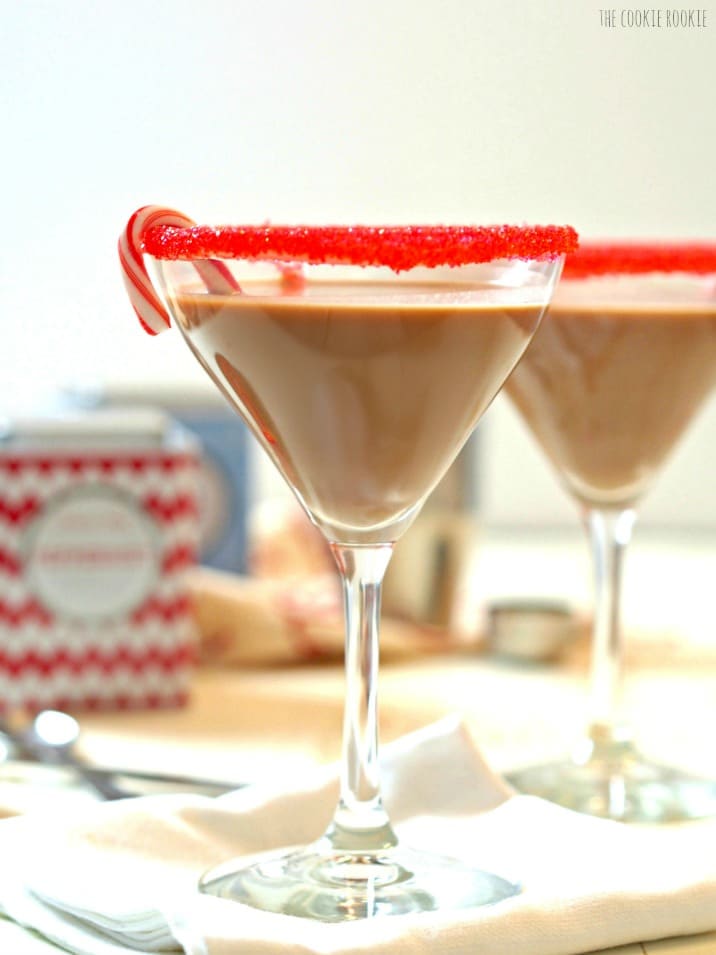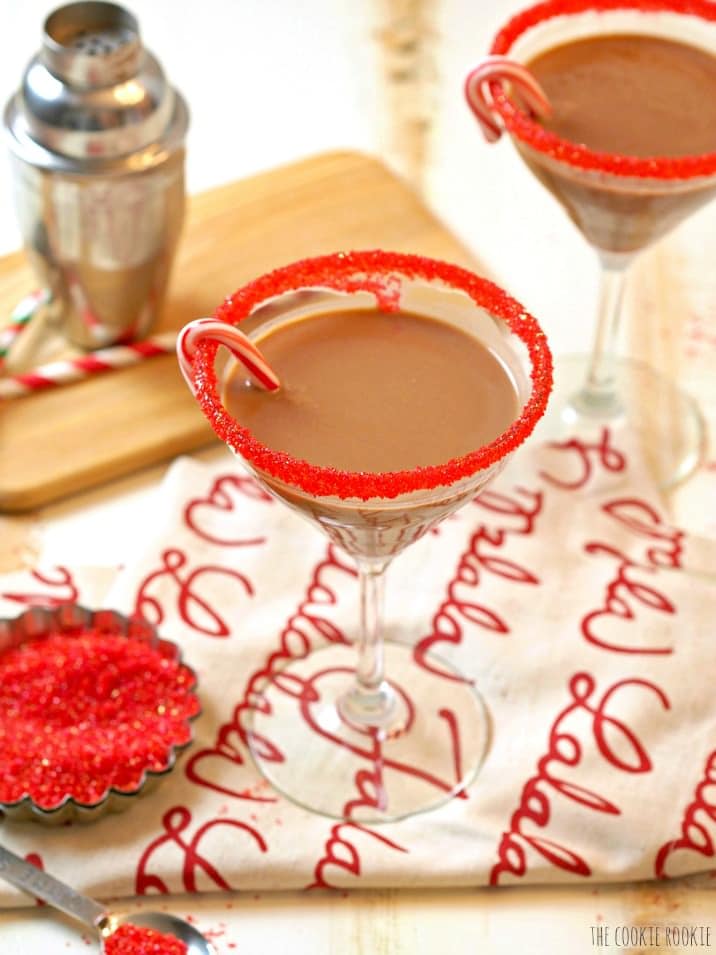 What are Some Garnishes for This Hot Chocolate Martini Recipe?
Hang a few mini candy canes on the edge of the glass.
Rim the glass with colored sugar or cocoa ruger (a type of finely crushed chocolate cookies).
Float a few chocolate curls on top.
Add a chocolate swirl to the glass.
How Do You Rim a Glass With Sugar?
Rimming a glass in sugar or cocoa is an easy way to add a special touch to any dessert cocktail.
Follow these easy steps:
Place colored sugar/rimming ingredient on a small plate (wider than the glass).
Fill a small bowl with some water. Dip the glass in it. Shake off the excess water.
Gently press your glass into the sugar and twist. Lift off carefully and give it a minute to set.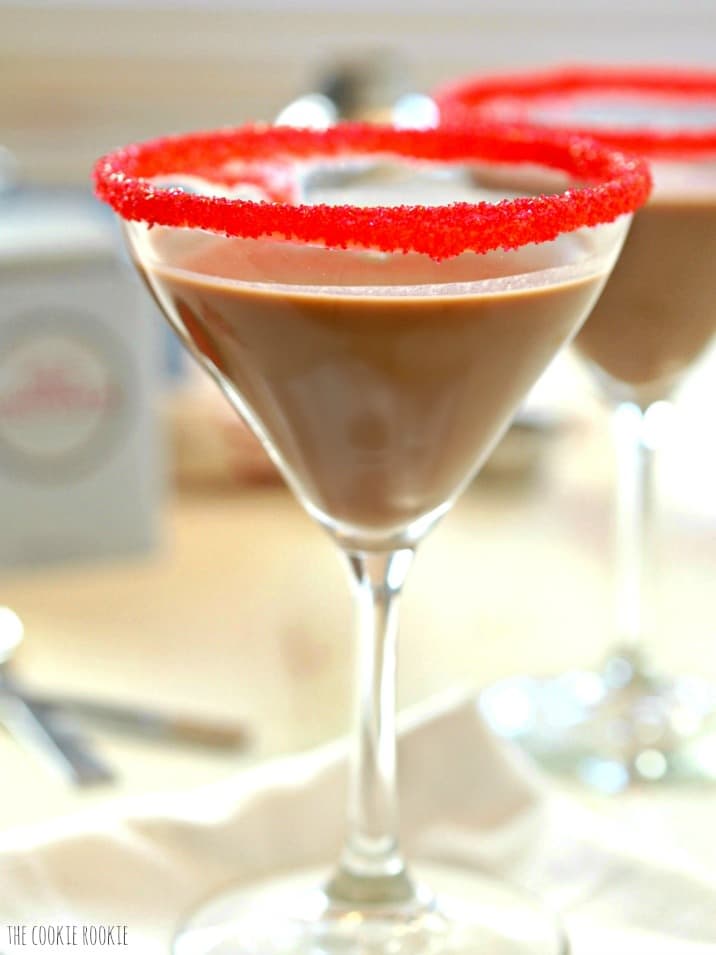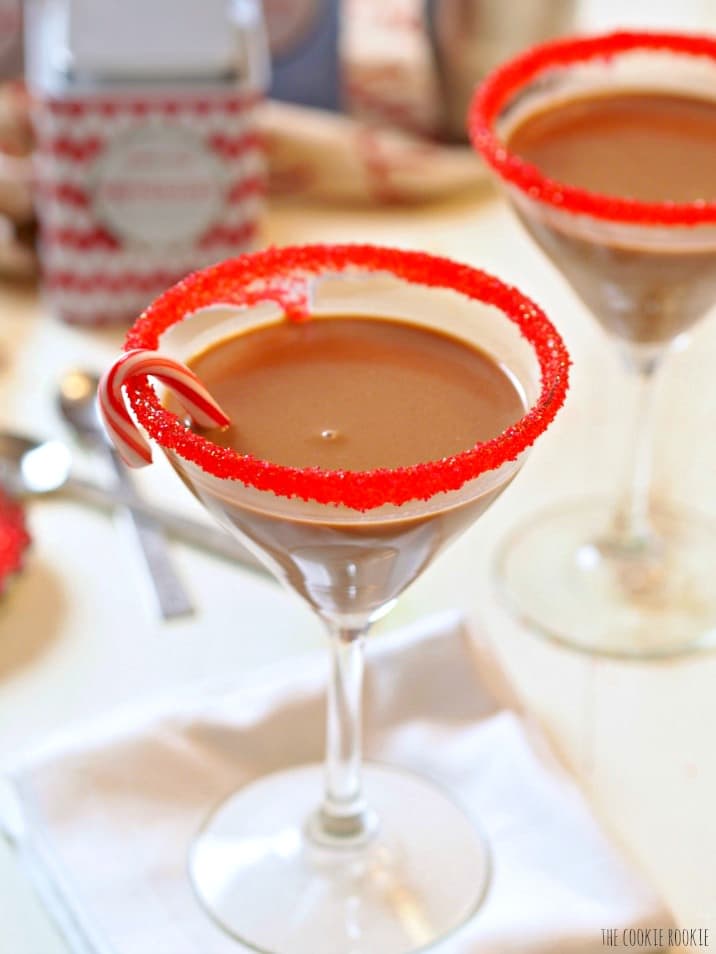 Other delicious cocktails
Have you tried this Peppermint Hot Chocolate Martini recipe? Feel free to leave a star rating and I'd love to hear from you in the comments below!