I'm a big believer in ice cream year round. Peppermint Ice Cream Brownie Bars are the perfect winter treat! Easy to make and packed with mint chocolate flavor.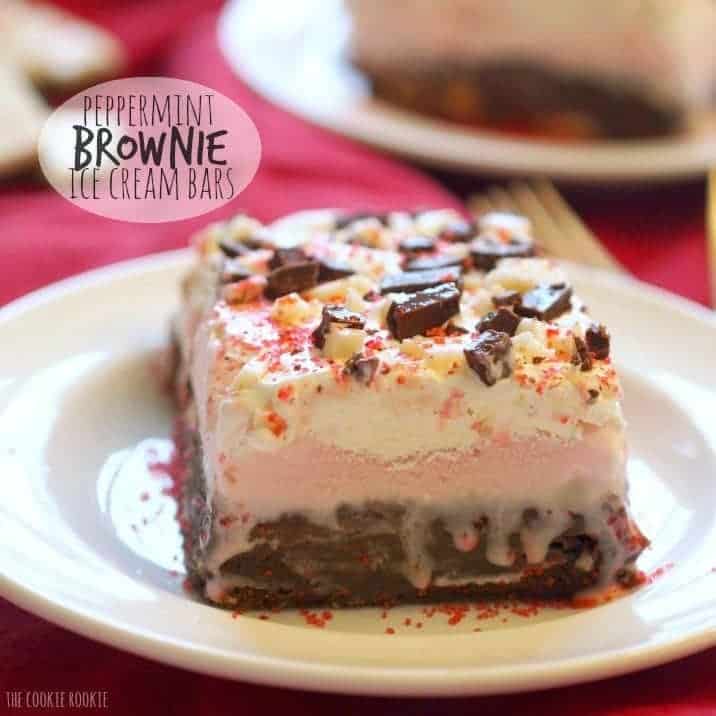 Am I the only one that gets overwhelmed when thinking about holiday baking?! I know that food bloggers are supposed to relish making food for parties…but it still scares me. All the baking, who has the time? Christmas is still over a month away, and I'm already tired. Give me the easy recipes. The easy recipes that will still be the hit of the party. These Peppermint Ice Cream Brownie Bars are just the thing!
Why these are so good
An easy dessert. Using store bought items like ice cream and brownie mix, this is a cinch to whip up!
The perfect party dessert. This recipe makes a big batch, enough to serve a dozen people!
Brownies and ice cream – together at last! This mixes two classic desserts int one delicious dish
Ingredients
Brownie Mix: Choose your fave.
Chocolate: White chocolate chips and good quality white chocolate baking chocolate.
Heavy Cream
Ice Cream: Peppermint
Peppermint Bark: Coarsely chopped. I used Fannie May, but you could also you Andes mint peppermint crunch baking chips.
Cool Whip
How to make these Brownie Bars
Be sure to the bottom for the full recipe
Make brownies according to package directions, allow to cool. Heat the heavy cream and mix in baking chocolate, then top the cooled brownies with the chocolate sauce and place in the freezer for about 20 mins. Take out the brownies and top with ice cream, cool whip and bark.
Freeze for at least 4 hours, serve and enjoy!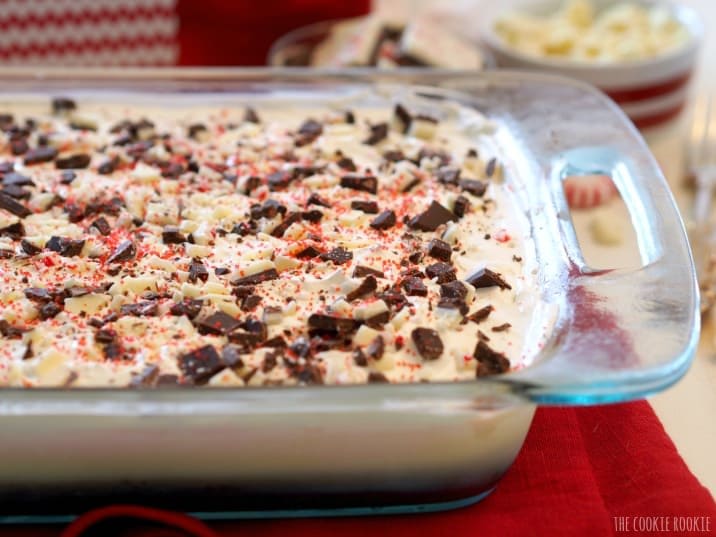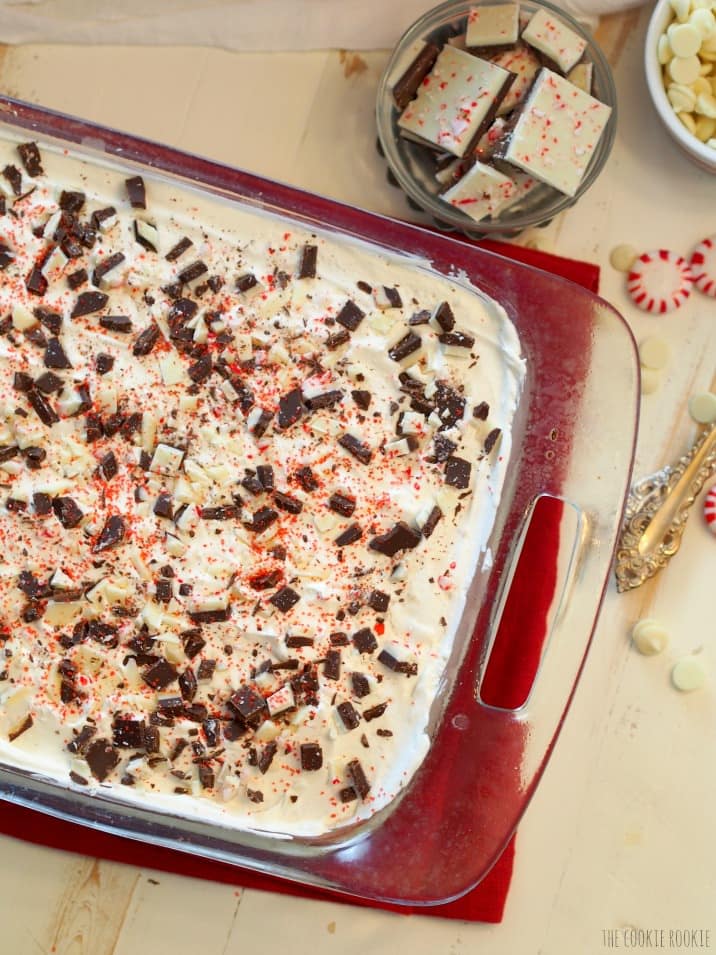 An easy dessert
I know I should be ashamed that this DELICIOUS dessert is made with store bought ice cream and store bought brownie mix. Oh and store bought cool whip. But honestly…I'm not. Its great when you can make things from scratch, but its not always feasible. Its great to have a couple winning recipes up your sleeve that you can make quickly. I think you're going to like this one!
Keep this recipe close for when you're in a pinch, and need something delicious. You can make something from scratch next time!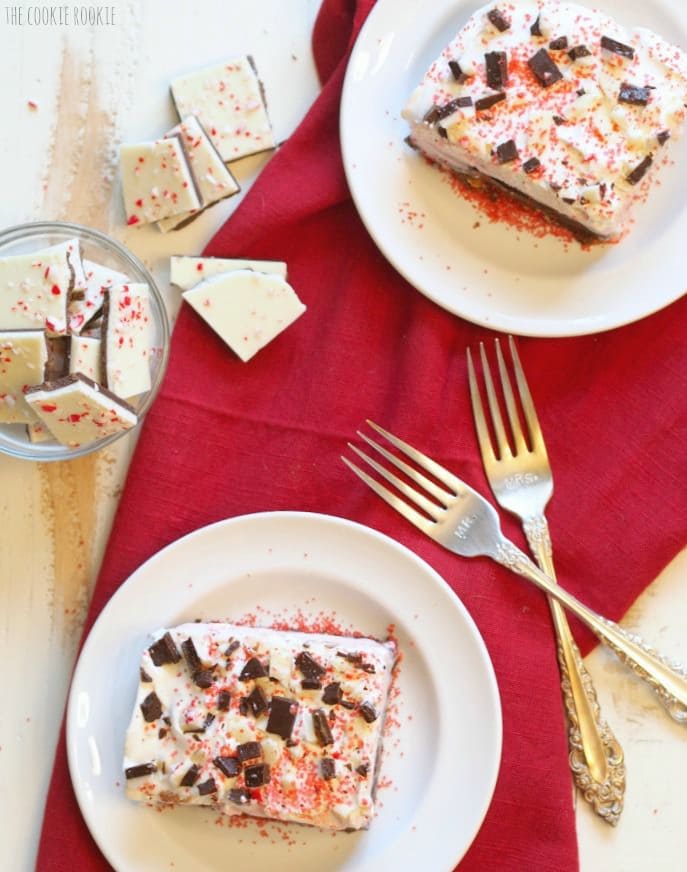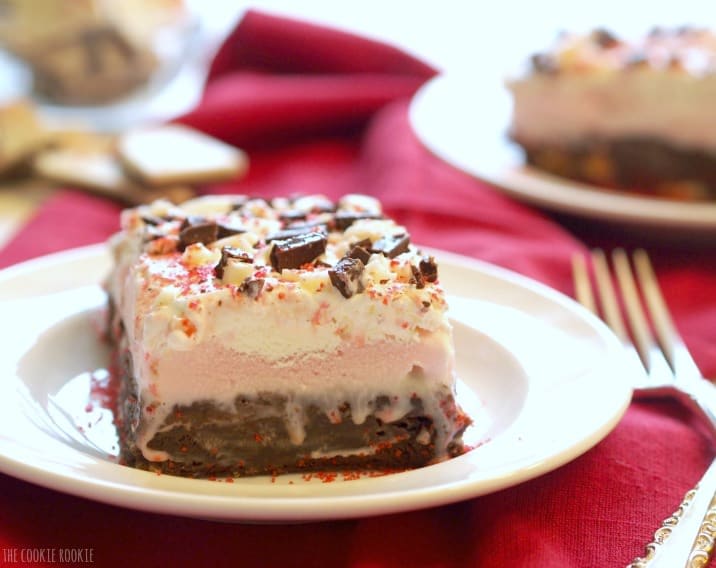 Christmas Brownies
These minty brownie bars just SCREAM Christmas. White chocolate, peppermint bark, indulgence. All the good things. I can't get enough!
Variations
These brownie bars have loads of variations. Peppermint is great for the festive season, but there's tonnes of flavor possibilities:
Mint Chocolate Chip Ice Cream.
Strawberry Ice Cream.
Vanilla: Sometimes simple is best!
Rocky Road: This could be great with chopped peanuts on top of the cool whip.
Cookies and Cream: With chopped Oreo cookies as a garnish so good!
Butter Pecan: Top the brownie with caramel instead of frosting and sprinkle the cool whip with chopped candied pecans.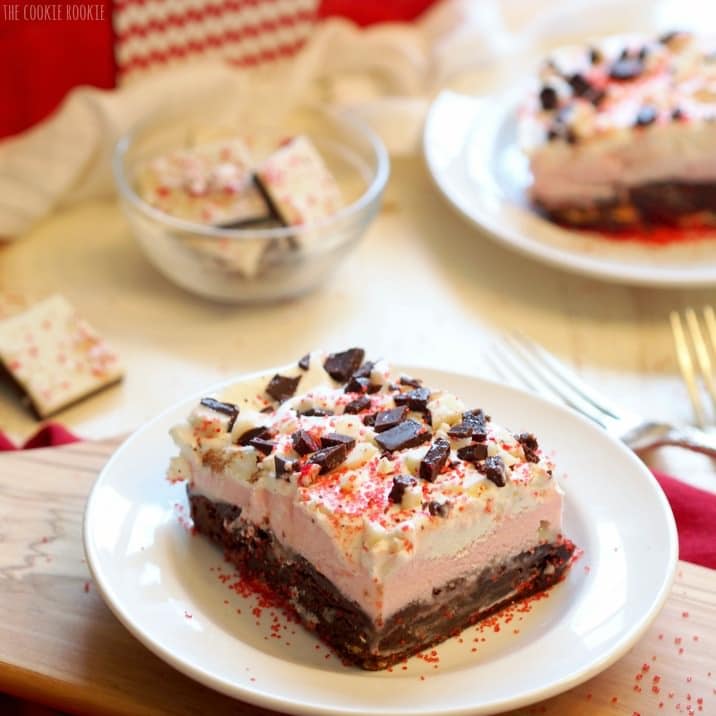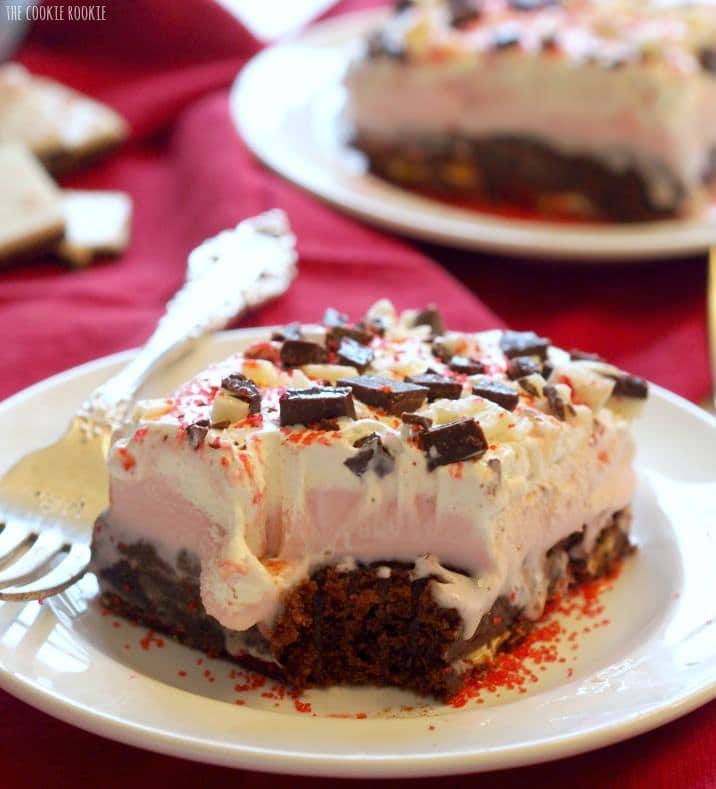 Top Tips
Allow the cake to sit out for 15-20 minutes or so before you slice it.
Bake brownies until a toothpick inserted an inch or two from the edge of the pan comes out clean.
Make sure you run a sharp knife under hot water in between each cut.
Garnish with peppermint bark.
Store air-tight in freezer for up to 2 weeks.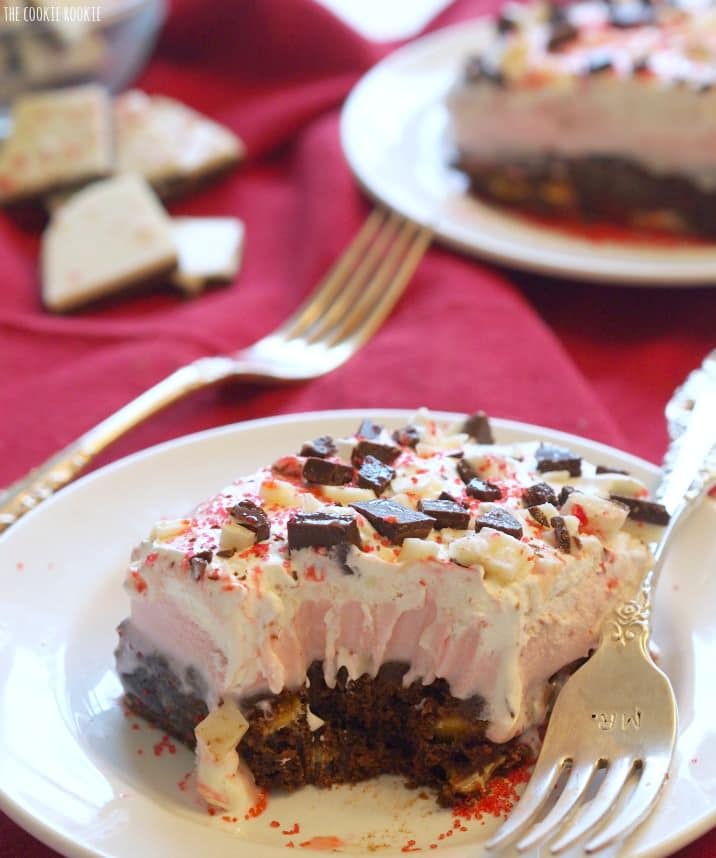 Other delicious chocolate desserts
Have you tried these Ice Cream Brownie Bars? Feel free to leave a star rating and I'd love to hear from you in the comments below!