The perfect decorated cookie takes time, but can be SO fun because there are no limits! I have a few tips and tricks I have learned through the years to share with you so you can perfect your decorated cookies in time. If you have a tip for me, be sure to comment below!
Susie here with another 'How-tos with Suse". I have a confession to make. I am a NOVICE cookie decorator. I really enjoy the process, but still have much to learn. Now after confessing my lack of expertise, I have learned some valuable lessons about cookie decorating.
Look closely at the picture of needed tools – these are the basic tools for cookie decorating and depending on what design you are making, you probably will need a few more items. The stencils are not necessary, but made the Conversation Heart cookies much simpler. I love, love using the squeeze bottles and there are even better (some smaller) ones available. I plan on purchasing some that have removable decorating tips soon.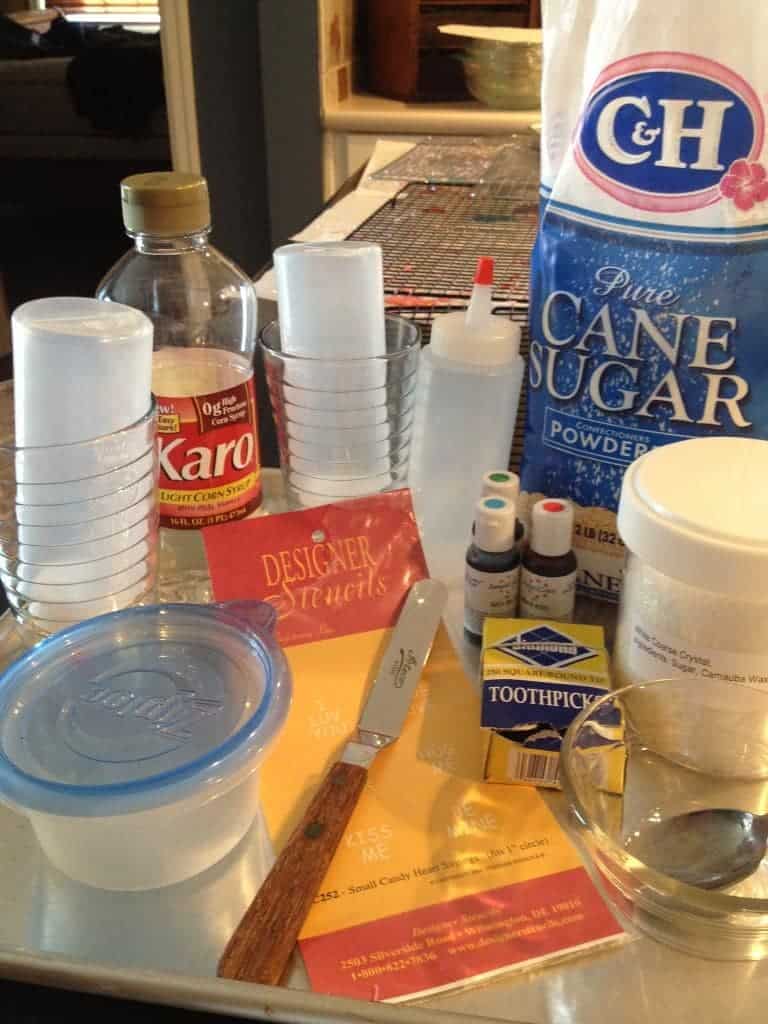 I love this powdered sugar glaze simply because I like the taste better than Royal Icing. I do think it is more difficult to use and is a little limiting, but cute cookies can still be made. So, here we go…
Start with a simple design – maybe one that is one or two colors and think through which color is needed first.
Once the glaze is prepared and the colors for the cookies chosen, place the needed amount of glaze in a small bowl and add the color (very slowly) until the desired color is reached. (Tip: I dip a toothpick into the color needed, then poke the colored-covered toothpick end into the glaze – adding just a little at a time.) Keep in mind it is much easier to darken a color than it is to lighten a color. After the desired color and consistency is obtained, pour it into a squeeze bottle (like the one shown). Set aside that bottle of colored glaze upside-down in a glass. Repeat the process until all colors are ready.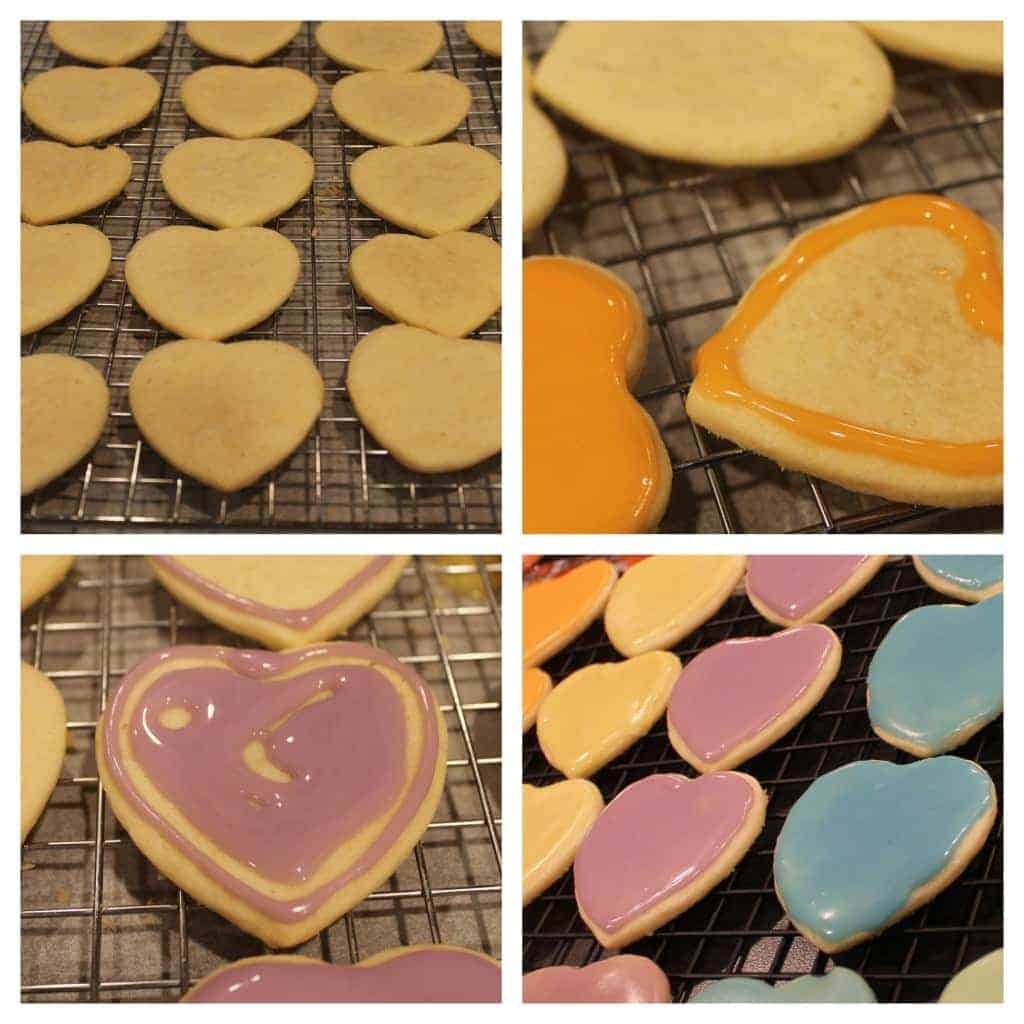 Now, BE BRAVE-BE VERY, VERY BRAVE – It is time to decorate:-) Hold the color glazed needed (tip down) and slowly outline the cookie – just start in one corner and go in the direction most comfortable for you. Once you have the cookie outlined, flood (fill-in) the middle. Use a toothpick if the glaze needs to be scooted into a corner or edge. Once this step is completed on all cookies, take a break for 6-8 hours or overnight – the glaze needs to be completely dry before adding the next color. If adding sanding sugar or sprinkles for a little glitter or fun – sprinkle it on while the icing/glaze is wet. One other thing to keep in mind – colors do bleed onto adjacent colors. Dark colors (especially red and black) bleed even more, so be sure the icing is completely dry before adding other colors.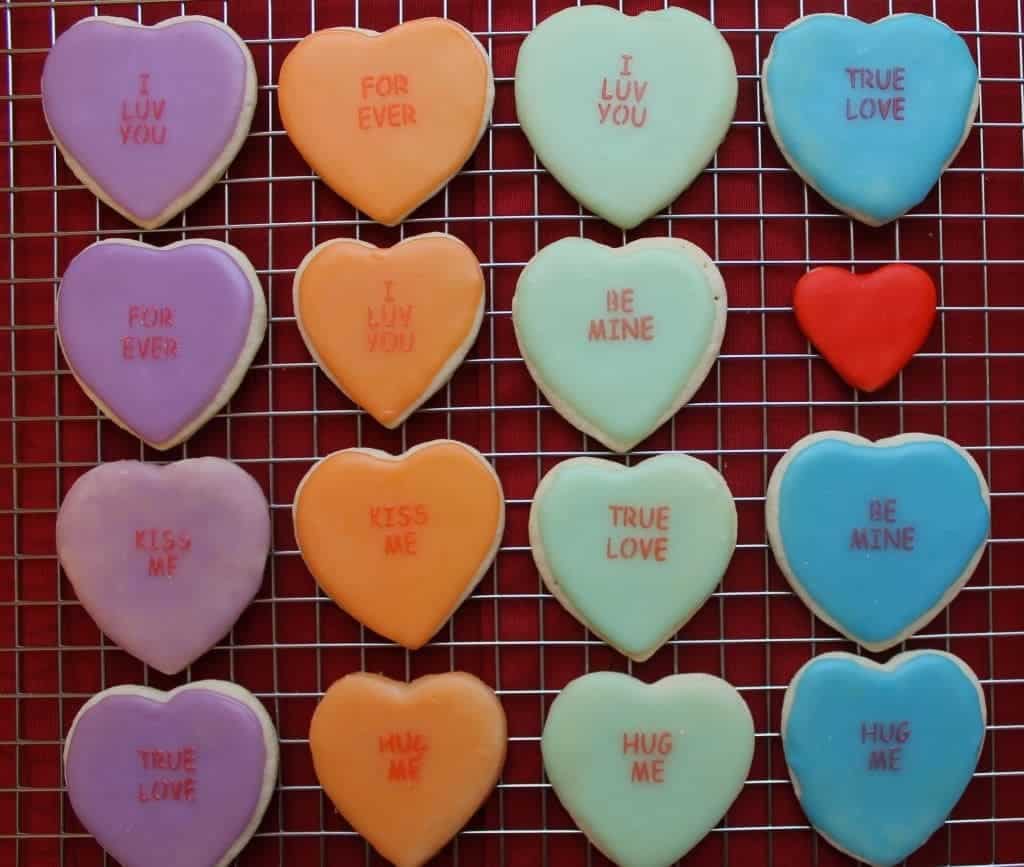 That is basically it – except it really isn't. There is so much more you need to know and here are a couple of websites that will be incredibly helpful. Please read the info provided and search YouTube for cookie-decorating videos. The main thing to remember is to have fun with it all.
This website has great info if glaze is your desired icing: www.sweetsugarbelle.com
This website is great if Royal Icing is your desired icing: www.cookiecrazie.com
and for more decorating ideas by yours truly…click HERE for our next post!!!